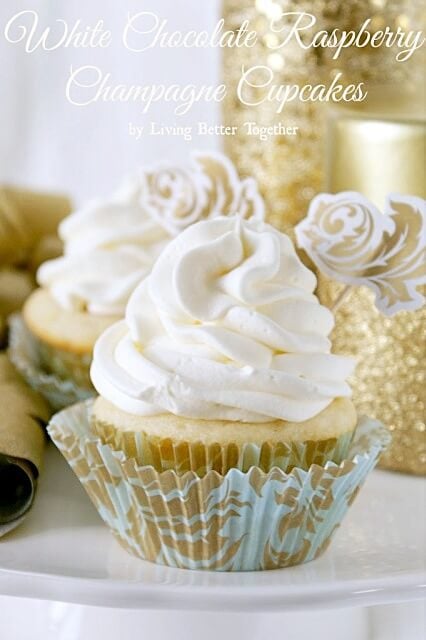 I'm about to ruin all of your new year resolutions.With these cupcakes… absolutely delicious White Chocolate Raspberry Champagne Cupcakes!
Fluffy cake with a hint of white chocolate, homemade raspberry filling, and an amazing champagne buttercream.
Yup, you're done for.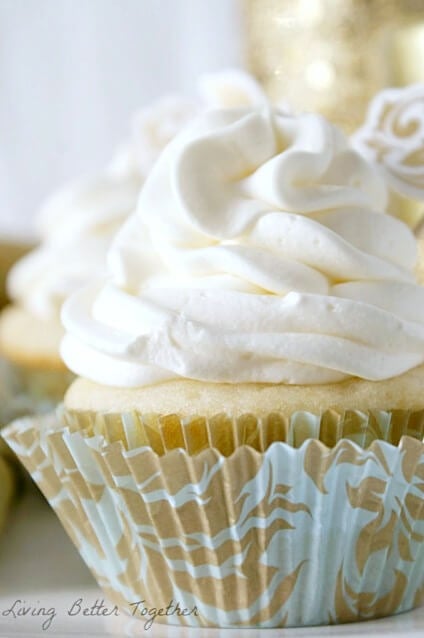 I chose to use Barefoot Bubbly Pink Moscato Champagne because of the hints of candied cherries. I thought it would pair nicely with the raspberries, and boy was I right. I think champagne buttercream is my new favorite, I love the depth of flavor, yet its still light and silky. These were a hit at our New Year's Eve party last night and a few guests even took them home for breakfast.Okay, I admit it, I might have had one for breakfast too, they were just too good!
Happy 2014 everyone! It's going to be a great year and I can't wait to share it with all of you!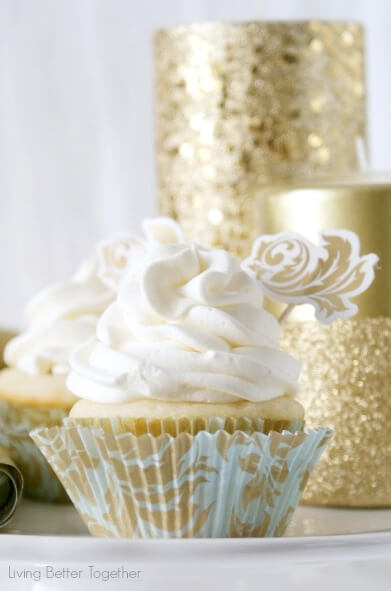 Yields 24 Cupcakes
White Chocolate Raspberry Champagne Cupcakes
Light and fluffy white chocolate cupcakes with a homemade raspberry filling and a silky and addictive champagne buttercream!
Ingredients
Cupcakes:

1 Box Betty Crocker White Cake Mix
1- 3.4 oz. package White Chocolate Instant Pudding
4 Egg Whites
1 cup Sour Cream
1 cup Vegetable Oil
1/2 cup Milk
1 tsp Vanilla Extract
1/4 tsp Sea Salt

Frosting:

1 cup (2 sticks) Unsalted Butter
4 - 5 cups Confectioners' Sugar
3 tbsp Barefoot Bubbly Pink Moscato Champagne
Instructions
Cupcakes:

Preheat oven to 375 F.
Line cupcake pan with liners.
Beat all ingredients together until smooth.
Fill liners about 2/3 full of batter.
Turn oven down to 325 F.
Bake cupcakes for 18 - 20 minutes.
Test with a toothpick to check that they are done, transfer cupcakes to a cooling rack.
Once cooled, use a cupcake corer to make a hole, fill with Easy Raspberry Filling

Frosting:

Cream butter.
Add confectioner's sugar a 1/2 cup at a time.
Beat on high for about 3 minutes, frosting should be fluffy and smooth.
Add champagne and beat for 2 more minutes.
Frost cupcakes.
http://www.sugarandsoul.co/2014/01/raspberry-champagne-cupcakes.html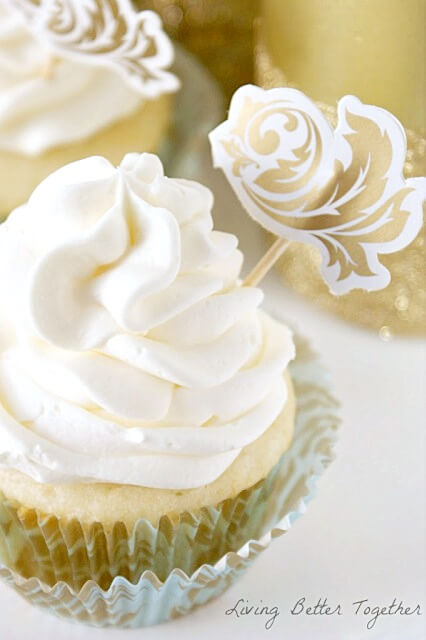 Update: This post is the most popular post on Living Better Together and in my real life. I've made a wedding cake with this recipe that everyone loved and I've made the cupcakes several times over. The champagne buttercream is absolutely amazing. I love the gorgeous pearl sheen it gives the frosting making it perfect for any special occasion! Not to mention the flavor! One of my favorite things about this frosting is that you know it's ready based on the flavor… once you have enough champagne in the buttercream it has a fruity flavor that just sings! One second it's sugary and the next it's fruity in a sophisticated and decadent way! I hope you all enjoy this recipe as much as those who have checked it out and pinned it before you!