These 10 Podcasts You Should Be Listening To are all high quality and entertaining. They'll do everything from educating and inspiring you to put bad ideas in your head and making you slightly sick to your stomach.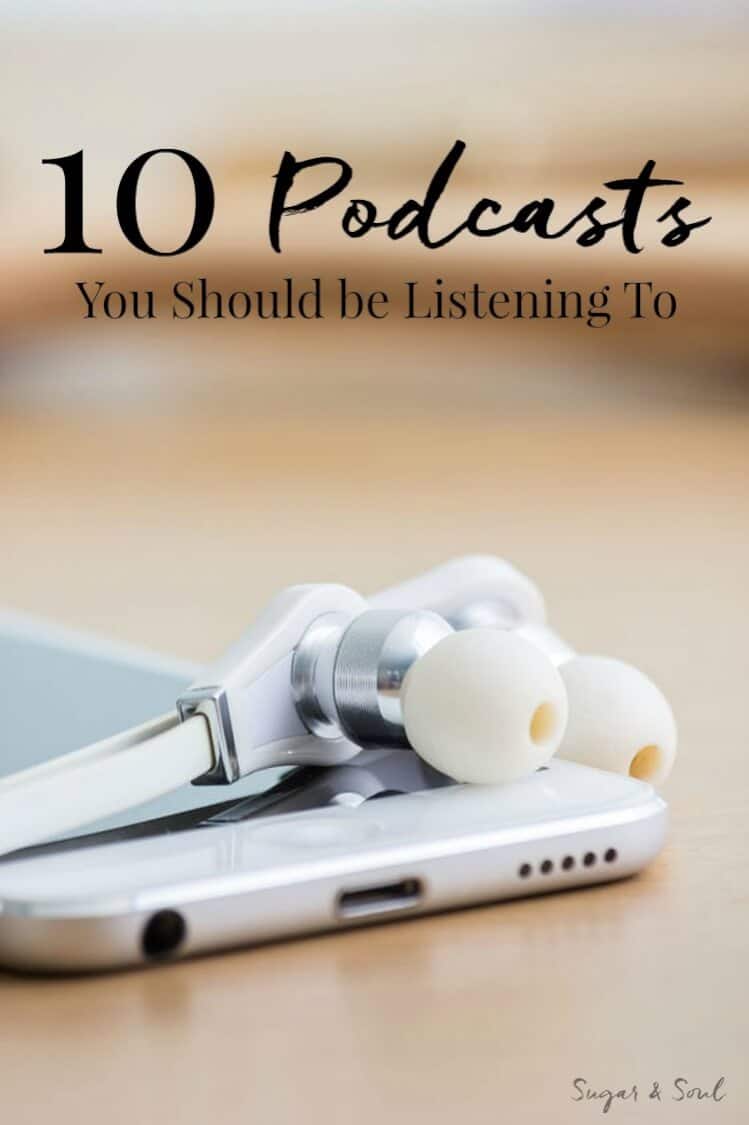 When the topic of podcasts comes up in conversation I only really ever get two responses from the people in my life, "What's a Podcast?" or "Oh, do mean like Serial? I love Serial!", and that's when I realize we can't talk about podcasts and I abruptly change the subject.
Don't get me wrong, Serial is really good, but most people's exposure to the medium ends there and that kind of bums me out when there is so much good (and absolutely free) content out there.
So I've compiled a list of podcasts I listen to that run the gamut in topics and subject matter, the only real common thread is that they are high quality. This is not a top ten, but hopefully everyone can find at least one thing here they can claim as an addiction of their very own in short order.
1. The Adventure Zone – This is one of my favorite pieces of media. Full Stop. Like if aliens landed and told me they were going to erase my memory of Hamilton, Red Rising, or The Adventure Zone I couldn't make the call. The premise here is simple the Mcelroy brother get together with their dad once every two weeks and play Dungeons and Dragons. Also they don't really know the rules, but they don't let that get in the way. The story they've been telling over the past three years has been light, funny, and full of heart. It's just four full grown men playing pretend but it reminds me of just how fun the world could be if every one would just be cool.
2. Alice Isn't Dead – A while ago the writers of 'Welcome to Night Vale' decided to expand and make like ten more podcasts and as a fan I've tried them all. Sadly, some were too conceptual for me, but 'Alice Isn't Dead' hits a sweet spot. It's the story of a trucker voiced by Jaskia Nicole (who you might know as Astrid from Fringe) who is driving the country in search of her missing wife Alice. There is a nicely paced plot that keeps you interested, but the magic here is listening to the monologues praising and condemning the oddity that is the miles and miles of open space in the good old U. S. of A.
3. Dan Carlin's Hardcore History – I liked my history teachers, I swear I did. That being said I've learned more about history from Dan Carlin in the past two years than I did in my entire college career. Hardcore History takes deep dives into historical topics ranging from Genghis Khan all the way up through World War II. Although this has the widest publishing stretch of any podcast on this list, sometimes between one and two months between episodes, the content always delivers, just catch it before it rotates out as only the last ten or so published shows remain free before they are locked away in a vault reserved for donors.
4. Adam Ruins Everything – Do you have people in your life that are too happy? I do, and Adam Conover helps me remedy that. Adam Ruin's everything is a web short, turned TV show, turned podcast based around the idea of pointing out the awful truth behind things people like. Like why trophy hunting can be good for animals, or why most internships are actually illegal. If you haven't guessed by now I'm a hoot at parties. The podcast, in particular, is an in depth dive with the experts he had on the show and can help you fill your pockets with metaphorical thumb tacks you can use to burst other people's balloons.
5. Nerdist – Back in the 90s there was a dating show called Singled Out hosted by Jenny McCarthy and Chris Hardwick. One of theses people went on to spearhead a crusade to get people to stop vaccinating their kids and the other fell off the virtual map, for a while anyway. The podcast is one of the products Chris brought with him on his climb back into the American consciousness. The show is just an hour long conversation between Chris and a guest who could be anyone from a virtual unknown to an A list celebrity. This show used to put out two or three hour of content a week but it has dropped off lately due to the fact that Chris Hardwick now hosts all of the shows on TV. He's made up for it however by posting whole episodes of "Talking with Chris Hardwick" as podcasts.
6. Lore – In the spirit of Halloween I've included Aaron Mahnke's podcast. Every two weeks a thirty minute story is released covering the different supernatural topic. These stories however are at least based in truth. Aaron does research and gives perspective on why we as a species may have made up monsters, or in some cases become the monsters ourselves, but still leaves room for the unknown, never able to truly rule out a more mysterious origin for these stories.
7. The Flop House – There are several bad movie podcast out there but this is my favorite. Elliott, Dan, and Stuart get together and watch a movie that is supposed to be bad (and almost always is) and talk about it, simple enough. The first half of the show is a recap of the movie, a la MST3K, the second is fan mail. If we're being honest here folks I use this show for its first half only, but it's still worth it.
8. Revisionist History – Have you ever read a Malcolm Gladwell book? Well if you haven't they're interesting and meticulous. He takes a subject that he finds interesting, researches it and presents it in a fascinating light. He then strings a bunch of these stories together under a fairly loose theme and publishes them as a book. Well, he's going that now and it won't cost you twenty bucks just twenty minutes of your time. The premise of 'Revisionist History' is that Malcolm Gladwell is shining a new light on subjects from history we all thought we knew, and some times he does that. Other times he spends twenty minutes delving into the property tax law of L.A. golf courses. Which sounds boring as all get out, but he makes it fascinating, he makes it all fascinating.
9. The Moth – This is a podcast I've been listening to since before I knew the term podcast. Simple concept here folks, just people telling stories, with a few caveats. These stories are told live and by memory, some are done at the spur of the moment and some are practiced for months, some are hilarious some are tragic but they are all true and told by the people who lived them.
10. Saw Bones – Justin Mcelroy doesn't know anything about medicine, but that's okay because neither do you. His wife, Sydnee, however is a doctor, and she is walking him step by step through all the awful, stupid things we humans used to do to each other in the name of medicine. Although the warning at the beginning of the show makes it explicitly clear none of this is medical advice I think you'll at least walk away with a laundry list of things not to do next time you get sick.
Also, aside from anything on this list, the beauty of podcasts is that there is literally something for everyone and they slide nicely into the slots created by modern day life. I like mine during my morning commute, when I'm at my desk at work or when I'm doing mindless chores at home. So even if you hate everything on this list just search for "podcast"+"insert your favorite topic here" and you're going to find five different shows you actually will like.