This list of 15 Books to Read this Summer has everything from chick lit to adventure to mystery. Find your next great read and escape!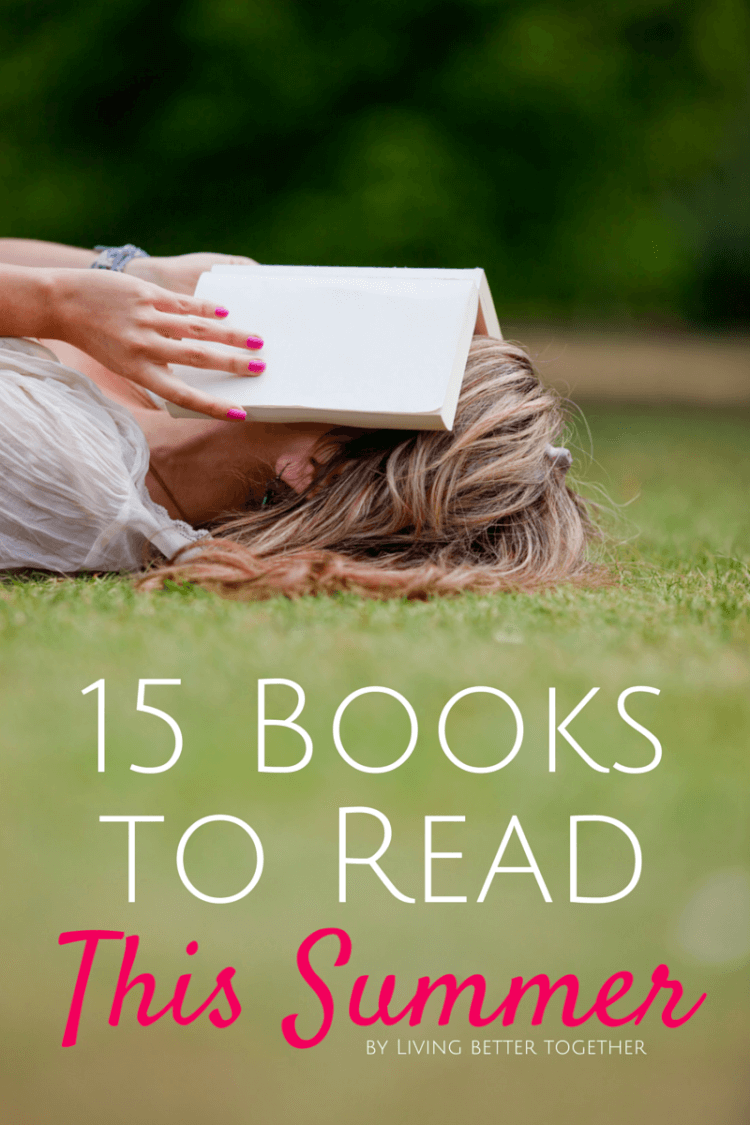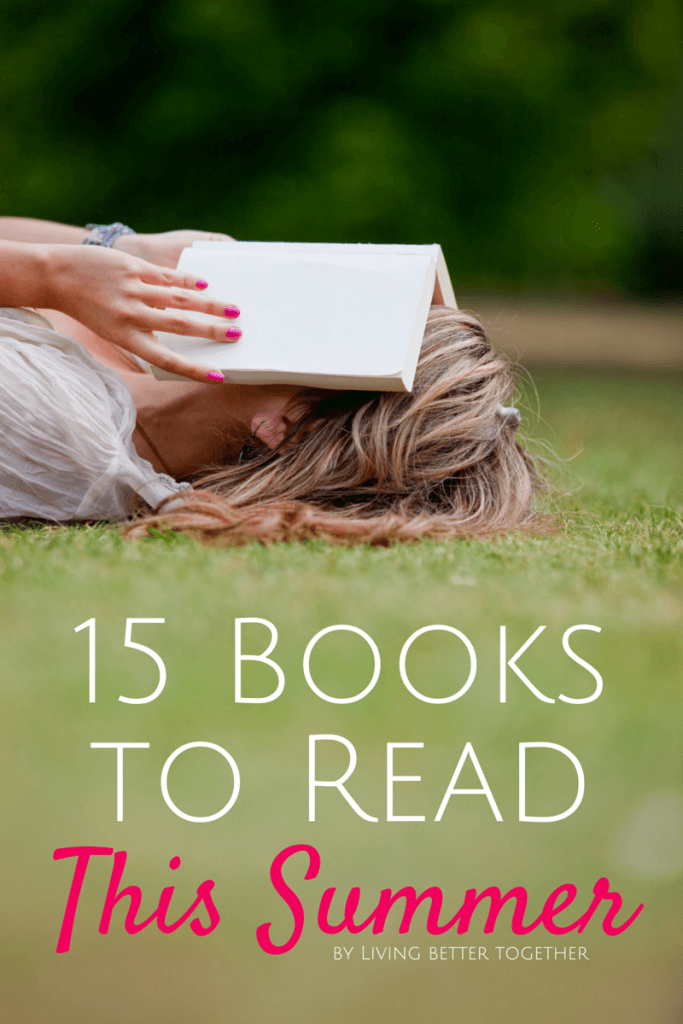 We've finally had weather in the 60s for about a week now here in Maine, some of you are probably thinking "brrrrr", while we're up here overjoyed that summer is upon us! Actually, 72 and sunny is ideal summer weather here, but after the winter we've had, we'll take what we can get.
Now I know that we seemed to have jumped straight from winter into summer, but these books are actually great spring reads too! I've only read 5 of the books on the list, but I'm excited to tackle each of the others over the coming months. Eleanor & Park is The Blissful Bookworms Book Club book for April, and I think Burnt Toast Makes You Sing Good will be a great companion on my 14 hour flight to Oregon in May.
I pride myself on putting together great lists for you guys to help you find something new to add to your reading list! There are a lot of great titles here and a little something for everyone, I think. However, if you're looking for something a little bit darker than what you see here, check out my Winter Reading List. You can follow me on Goodreads to keep up with what I'm reading!
Check out my Summer 2016 Reading List.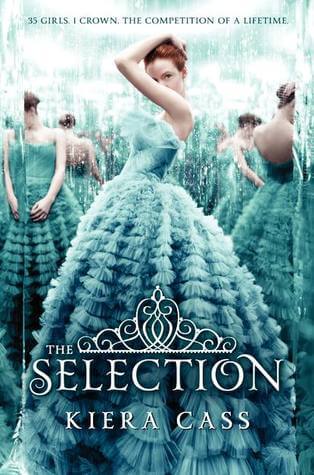 The Selection by Kiera Cass
"It's always the fear of looking stupid that stops you from being awesome."
― Kiera Cass, The Selection
Synopsis from Goodreads: For thirty-five girls, the Selection is the chance of a lifetime. The opportunity to escape the life laid out for them since birth. To be swept up in a world of glittering gowns and priceless jewels. To live in a palace and compete for the heart of gorgeous Prince Maxon.
But for America Singer, being Selected is a nightmare. It means turning her back on her secret love with Aspen, who is a caste below her. Leaving her home to enter a fierce competition for a crown she doesn't want. Living in a palace that is constantly threatened by violent rebel attacks.
Then America meets Prince Maxon. Gradually, she starts to question all the plans she's made for herself–and realizes that the life she's always dreamed of may not compare to a future she never imagined.
Why it made the list: I read through the first three books in this series in just a few days! I loved it and can't wait for the 4th book to come out in just a few weeks. Read my review and grab the recipe for America's Strawberry Nutella Tarts!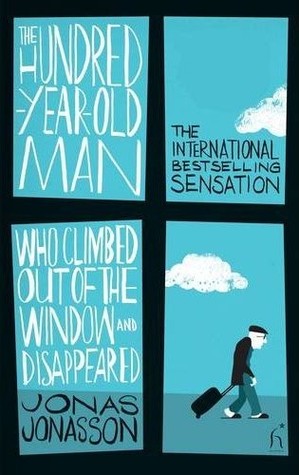 The Hundred-Year-Old-Man Who Climbed Out of the Window and Disappeared by Jonas Jonasson
"…you'll see that things will turn out like they do, because that is what usually happens – almost always, in fact"
― Jonas Jonasson, The Hundred-Year-Old Man Who Climbed Out of the Window and Disappeared
Synopsis from Goodreads: It all starts on the one-hundredth birthday of Allan Karlsson. Sitting quietly in his room in an old people's home, he is waiting for the party he-never-wanted-anyway to begin. The Mayor is going to be there. The press is going to be there. But, as it turns out, Allan is not… Slowly but surely Allan climbs out of his bedroom window, into the flowerbed (in his slippers) and makes his getaway. And so begins his picaresque and unlikely journey involving criminals, several murders, a suitcase full of cash, and incompetent police. As his escapades unfold, we learn something of Allan's earlier life in which – remarkably – he helped to make the atom bomb, became friends with American presidents, Russian tyrants, and Chinese leaders, and was a participant behind the scenes in many key events of the twentieth century. Already a huge bestseller across Europe, The Hundred-Year-Old Man Who Climbed Out of the Window and Disappeared is a fun and feel-good book for all ages.
Why it made the list: We read this book a couple of months ago and loved the Forest Gump like story. It was funny story about life and adventure and you'll instantly fall in love with Allan!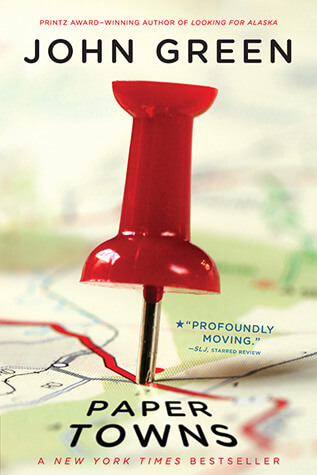 Paper Towns by John Green
"What a treacherous thing to believe that a person is more than a person."
― John Green, Paper Towns
Synopsis from Goodreads: Quentin Jacobsen has spent a lifetime loving the magnificently adventurous Margo Roth Spiegelman from afar. So when she cracks open a window and climbs back into his life – dressed like a ninja and summoning him for an ingenious campaign of revenge – he follows.
After their all-nighter ends and a new day breaks, Q arrives at school to discover that Margo, always an enigma, has now become a mystery. But Q soon learns that there are clues – and they're for him. Urged down a disconnected path, the closer Q gets, the less Q sees the girl he thought he knew.
Why it made the list: This is one of Matt's all time favorite books. Plus the movie is coming out and this as an awesome coming of age story that everyone should pick up. Plus – we love John Green!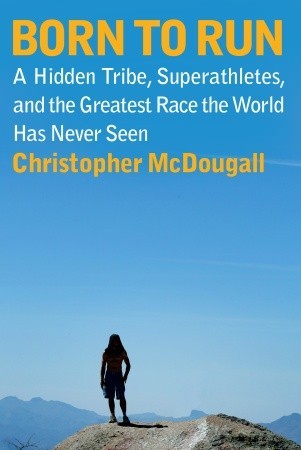 Born to Run by Christopher McDougall
"If you don't have answers to your problems after a four-hour run, you ain't getting them."
― Christopher McDougall, Born to Run: A Hidden Tribe, Superathletes, and the Greatest Race the World Has Never Seen
Synopsis from Goodreads: Isolated by the most savage terrain in North America, the reclusive Tarahumara Indians of Mexico's deadly Copper Canyons are custodians of a lost art. For centuries they have practiced techniques that allow them to run hundreds of miles without rest and chase down anything from a deer to an Olympic marathoner while enjoying every mile of it. Their superhuman talent is matched by uncanny health and serenity, leaving the Tarahumara immune to the diseases and strife that plague modern existence. With the help of Caballo Blanco, a mysterious loner who lives among the tribe, the author was able not only to uncover the secrets of the Tarahumara but also to find his own inner ultra-athlete, as he trained for the challenge of a lifetime: a fifty-mile race through the heart of Tarahumara country pitting the tribe against an odd band of Americans, including a star ultramarathoner, a beautiful young surfer, and a barefoot wonder.
Why it made the list: This books has intrigued me for years. It's non fiction, and has a Goodreads score of 4.28 after 81K ratings – now that's saying something! I finally snagged it on sale on Audible a few weeks back and I can't wait to start it!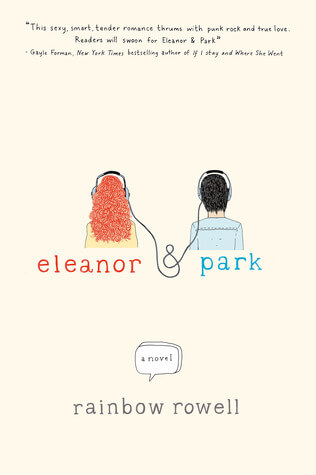 Eleanor & Park by Rainbow Rowell
"I just want to break that song into pieces and love them all to death."
― Rainbow Rowell, Eleanor & Park
Synopsis from Goodreads: Two misfits. One extraordinary love.
Eleanor… Red hair, wrong clothes. Standing behind him until he turns his head. Lying beside him until he wakes up. Making everyone else seem drabber and flatter and never good enough…Eleanor.
Park… He knows she'll love a song before he plays it for her. He laughs at her jokes before she ever gets to the punch line. There's a place on his chest, just below his throat, that makes her want to keep promises…Park.
Set over the course of one school year, this is the story of two star-crossed sixteen-year-olds—smart enough to know that first love almost never lasts, but brave and desperate enough to try.
Why it made the list: It's April's book club book and who doesn't enjoy a sweet love story in the summer!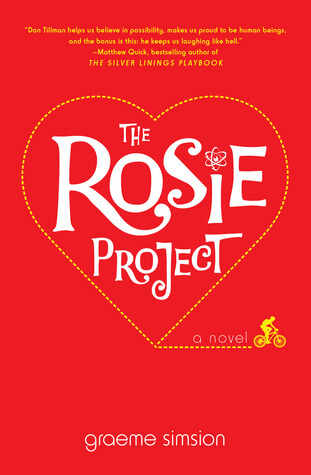 The Rosie Project by Graeme Simsion
"Humans often fail to see what is close to them and obvious to others."
― Graeme Simsion, The Rosie Project
Synopsis from Goodreads: Don Tillman, professor of genetics, has never been on a second date. He is a man who can count all his friends on the fingers of one hand, whose lifelong difficulty with social rituals has convinced him that he is simply not wired for romance. So when an acquaintance informs him that he would make a "wonderful" husband, his first reaction is shock. Yet he must concede to the statistical probability that there is someone for everyone, and he embarks upon The Wife Project. In the orderly, evidence-based manner with which he approaches all things, Don sets out to find the perfect partner. She will be punctual and logical—most definitely not a barmaid, a smoker, a drinker, or a late-arriver.
Yet Rosie Jarman is all these things. She is also beguiling, fiery, intelligent—and on a quest of her own. She is looking for her biological father, a search that a certain DNA expert might be able to help her with. Don's Wife Project takes a back burner to the Father Project and an unlikely relationship blooms, forcing the scientifically minded geneticist to confront the spontaneous whirlwind that is Rosie—and the realization that love is not always what looks good on paper.
Why it made the list: It's said to have a Big Bang Theory vibe, so of course I'm game!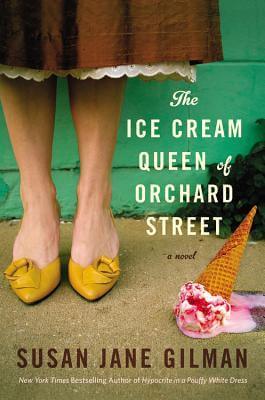 The Ice Cream Queen of Orchard Street by Susan Jane Gilman
"Everybody thinks that once you reach the top, you can lie back on a divan with a goddamn mai tai. No. Wrong. Success is not a mountain climb. Success is a treadmill."
― Susan Jane Gilman, The Ice Cream Queen of Orchard Street: A Novel
Synopsis from Goodreads: In 1913, little Malka Treynovsky flees Russia with her family. Bedazzled by tales of gold and movie stardom, she tricks them into buying tickets for America. Yet no sooner do they land on the squalid Lower East Side of Manhattan, than Malka is crippled and abandoned in the street.
Taken in by a tough-loving Italian ices peddler, she manages to survive through cunning and inventiveness. As she learns the secrets of his trade, she begins to shape her own destiny. She falls in love with a gorgeous, illiterate radical named Albert, and they set off across America in an ice cream truck. Slowly, she transforms herself into Lillian Dunkle, "The Ice Cream Queen" — doyenne of an empire of ice cream franchises and a celebrated television personality.
Lillian's rise to fame and fortune spans seventy years and is inextricably linked to the course of American history itself, from Prohibition to the disco days of Studio 54. Yet Lillian Dunkle is nothing like the whimsical motherly persona she crafts for herself in the media. Conniving, profane, and irreverent, she is a supremely complex woman who prefers a good stiff drink to an ice cream cone. And when her past begins to catch up with her, everything she has spent her life building is at stake.
Why it made the list: A complicated life story and ice cream – sounds like the perfect summer read to me!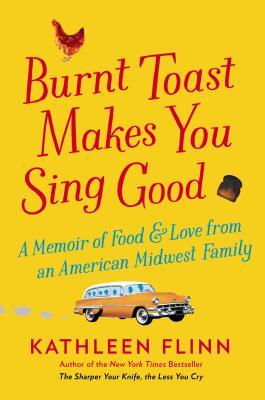 Burnt Toast Makes Your Sing Good by Kathleen Flinn
"I don't have to tell you I love you. I fed you pancakes."
― Kathleen Flinn, Burnt Toast Makes You Sing Good: A Memoir of Food and Love from an American Midwest Family
Synopsis from Goodreads: In this family history interwoven with recipes, Kathleen Flinn returns readers to the mix of food and memoir beloved by readers of her bestselling The Sharper Your Knife, the Less You Cry. Burnt Toast Makes You Sing Good explores the very beginnings of her love affair with food and its connection to home. It is the story of her midwestern childhood, its memorable home cooks, and the delicious recipes she grew up with. Flinn shares tales of her parents' pizza parlor in San Francisco, where they sold Uncle Clarence's popular oven-fried chicken, as well as recipes for the vats of chili made by her former army cook Grandpa Charles, fluffy Swedish pancakes from Grandma Inez, and cinnamon rolls for birthday breakfasts. Through these dishes, Flinn came to understand how meals can be memories, and how cooking can be a form of communication. Brimming with warmth and wit, this book is sure to appeal to Flinn's many fans as well as readers of Marcus Samuelsson, Ruth Reichl, and Julie Powell.
Why it made the list: Take a look around this place – I REALLY like food!
Aristotle and Dante Discover the Secrets of the Universe by Benjamin Alire Saenz
"Words were different when they lived inside of you."
― Benjamin Alire Sáenz, Aristotle and Dante Discover the Secrets of the Universe
Synopsis from Goodreads: Aristotle is an angry teen with a brother in prison. Dante is a know-it-all who has an unusual way of looking at the world. When the two meet at the swimming pool, they seem to have nothing in common. But as the loners start spending time together, they discover that they share a special friendship—the kind that changes lives and lasts a lifetime. And it is through this friendship that Ari and Dante will learn the most important truths about themselves and the kind of people they want to be.
Why it made the list: I've had this book on my to read list for quite some time and the cover just kind of screams summertime to me!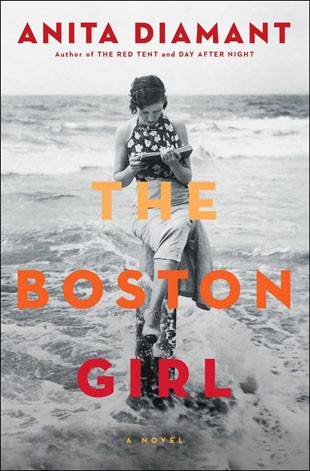 Boston Girl by Anita Diamant
"being an artist is more than a job or a skill; it's a way of walking through the world."
― Anita Diamant, The Boston Girl: A Novel
Synopsis from Goodreads: Addie Baum is The Boston Girl, born in 1900 to immigrant parents who were unprepared for and suspicious of America and its effect on their three daughters. Growing up in the North End, then a teeming multicultural neighborhood, Addie's intelligence and curiosity take her to a world her parents can't imagine – a world of short skirts, movies, celebrity culture and new opportunities for women. Addie wants to finish high school and dreams of going to college. She wants a career and to find true love.
Eighty-five-year-old Addie tells the story of her life to her twenty-two-year-old granddaughter, who has asked her "How did you get to be the woman you are today." She begins in 1915, the year she found her voice and made friends who would help shape the course of her life. From the one-room tenement apartment she shared with her parents and two sisters, to the library group for girls she joins at a neighborhood settlement house, to her first, disastrous love affair, Addie recalls her adventures with compassion for the naïve girl she was and a wicked sense of humor.
Why it made the list: I love a good storytelling story and this one sounds great!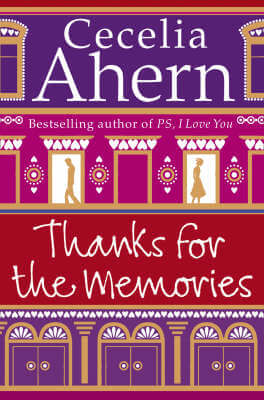 Thanks for the Memories by Ceceila Ahern
"Be patient and tough; someday this pain will be useful to you."
― Cecelia Ahern, Thanks for the Memories
Synopsis from Goodreads: How can you know someone you've never met?
Joyce Conway remembers things she shouldn't. She knows about tiny cobbled streets in Paris, which she has never visited. And every night she dreams about an unknown little girl with blonde hair.
Justin Hitchcock is divorced, lonely and restless. He arrives in Dublin to give a lecture on art and meets an attractive doctor, who persuades him to donate blood. It's the first thing to come straight from his heart in a long time.
When Joyce leaves hospital after a terrible accident, with her life and her marriage in pieces, she moves back in with her elderly father. All the while, a strong sense of déjà vu is overwhelming her and she can't figure out why…
Why it made the list: I'll be honest, I love the title. Also, she wrote P.S. I Love You, so yes, sign me up for this one too!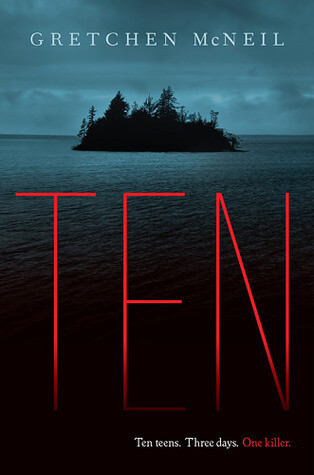 Ten by Gretchen McNeil
Synopsis from Goodreads: SHHHH!
Don't spread the word!
Three-day weekend. Party at White Rock House on Henry Island.
You do NOT want to miss it.
It was supposed to be the weekend of their lives—an exclusive house party on Henry Island. Best friends Meg and Minnie each have their reasons for being there (which involve T.J., the school's most eligible bachelor) and look forward to three glorious days of boys, booze and fun-filled luxury.
But what they expect is definitely not what they get, and what starts out as fun turns dark and twisted after the discovery of a DVD with a sinister message: Vengeance is mine.
Suddenly people are dying, and with a storm raging, the teens are cut off from the outside world. No electricity, no phones, no internet, and a ferry that isn't scheduled to return for two days. As the deaths become more violent and the teens turn on each other, can Meg find the killer before more people die? Or is the killer closer to her than she could ever imagine?
Why it made the list: I read this a couple summers back and thought it was a great summer "who done it" book! It's a super quick read too!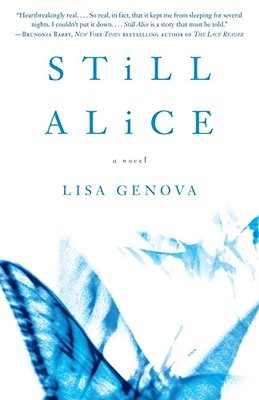 Still Alice by Lisa Genova
"At some point, there would simply be no point. "
― Lisa Genova, Still Alice
Synopsis from Goodreads: Alice Howland is proud of the life she worked so hard to build. At fifty years old, she's a cognitive psychology professor at Harvard and a world-renowned expert in linguistics with a successful husband and three grown children. When she becomes increasingly disoriented and forgetful, a tragic diagnosis changes her life–and her relationship with her family and the world–forever.
At once beautiful and terrifying, Still Alice is a moving and vivid depiction of life with early-onset Alzheimer's disease that is as compelling as A Beautiful Mind and as unforgettable as Judith Guest's Ordinary People.
Why it made the list: It's been recommended to me about a million and three times…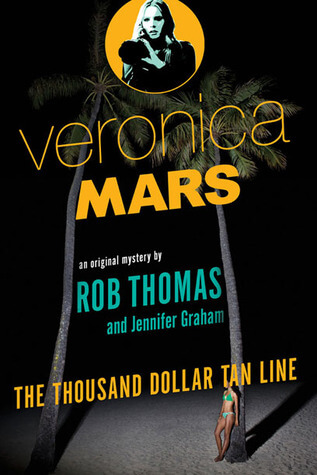 The Thousand-Dollar Tan Line by Rob Thomas and Jennifer Graham
"There weren't many people in this world who would let you be vulnerable and still believe you were strong."
― Rob Thomas, The Thousand-Dollar Tan Line
Synopsis from Goodreads: Ten years after graduating from high school in Neptune, California, Veronica Mars is back in the land of sun, sand, crime, and corruption. She's traded in her law degree for her old private investigating license, struggling to keep Mars Investigations afloat on the scant cash earned by catching cheating spouses until she can score her first big case.
Now it's spring break, and college students descend on Neptune, transforming the beaches and boardwalks into a frenzied, week-long rave. When a girl disappears from a party, Veronica is called in to investigate. But this is not a simple missing person's case. The house the girl vanished from belongs to a man with serious criminal ties, and soon Veronica is plunged into a dangerous underworld of drugs and organized crime. And when a major break in the investigation has a shocking connection to Veronica's past, the case hits closer to home than she ever imagined.
Why it made the list: I'm a marshmallow.
Party Girl by Rachel Hollis
"Tequila makes me dream up things like dance battles."
― Rachel Hollis, Party Girl
Synopsis from Goodreads: Landon Brinkley's dreams are all coming true. She's landed an internship with the fabulous Selah Smith, event planner for the Hollywood elite, taking her from small-town Texas to the bright lights of LA. Landon soon finds herself in a world in which spending a million dollars on an event—even a child's birthday party—is de rigueur and the whims of celebrity clients are life-and-death matters. At first, the thrill of working on A-list parties and celebrity weddings is enough to get Landon through the seventy-five-hour workweeks and endless abuse at the hands of her mercurial boss. But when the reality of the business reveals itself, she's forced to make a choice: do whatever it takes to get ahead, or stay true to herself.
Why it made the list: I love Rachel's Blog and her books look like great summer chick lit!