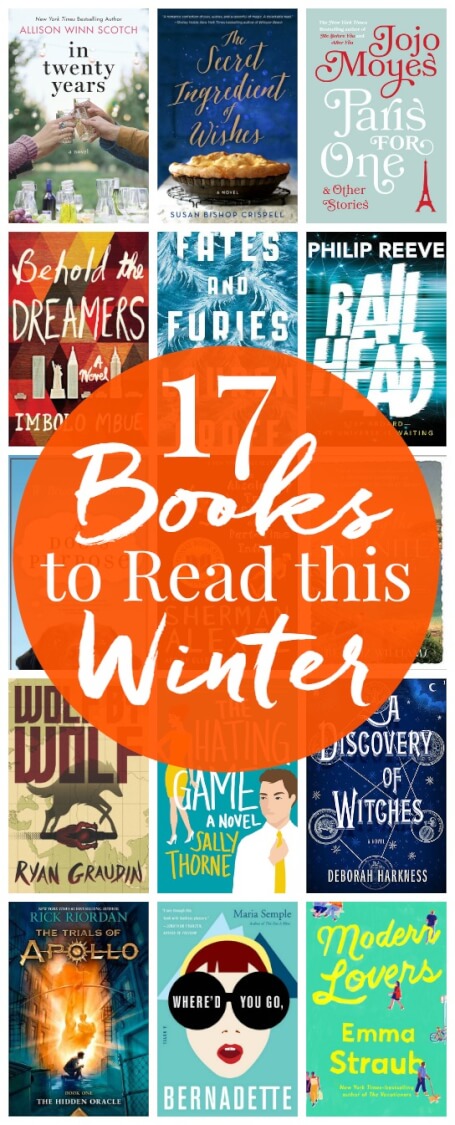 These 17 Books to Read This Winter are the best mix of fiction, fantasy, YA, chick lit, and historical fiction, there's sure to be at least one you'll want to add to your own to your own reading list!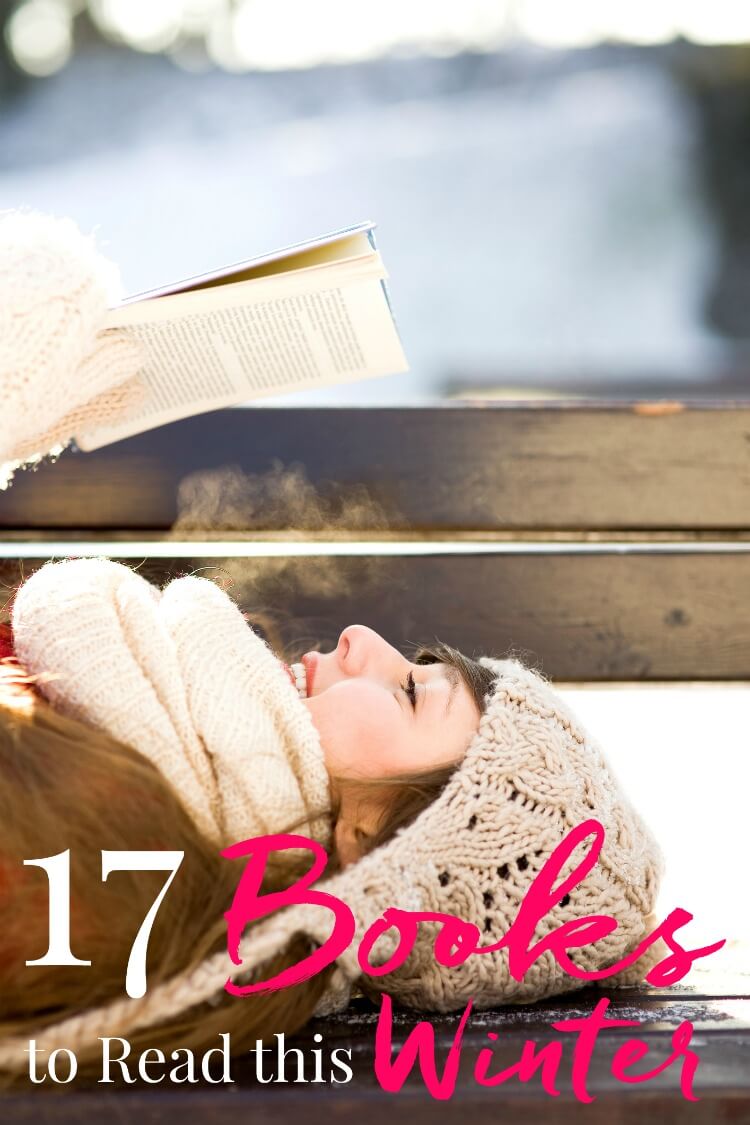 So, once upon a time, this post was going to be published in November… and now we're well into January and I really have no excuses except that life has been crazy. But life will always be crazy and that is exactly why it's so important to carve out time to READ! I don't know about you guys, but indulging in a good book is one of the best things for me when I'm stressed, lonely, or avoiding the cold outdoors!
But, my 2017 Winter Reading List is finally here, and, well, I've already read almost half of it. So even if I haven't gotten the post together until now, at least I've been making time to read. I usually try to select a good variety of books to read, and I feel like I've done a pretty good job of that this time around as well. There's some sci-fi, fantasy, historical fiction, chick lit, YA, and some of what I like to call dramatic fiction.
My Summer 2016 Reading List was all about strong female leads, but I think you'll find that this list definitely mixes things up and I doubt any book is really like the other in terms of stories and characters.
I also love mixing up how I consume books, I'm pretty much addicted to Audible, I never leave home for a trip without my kindle, and nothing beats turning the pages of a book with a comfy blanket and a mug of hot cocoa. Several of these books were part of my Book of the Month subscription, I love this subscription because it makes new hardcover books only $9.99 and I get a peek a books I might never consider reading otherwise. You can SIGN UP HERE, I do earn a small credit for every subscription.
Don't forget to follow me on Goodreads and you can find all the books here on my Winter 2017 shelf which will make them easy to add to your own! Check out my video to see all the books on this list and continue to scroll to read their synopsises and why they made my reading list!
A Discovery of Witches by Deborah Harkness
"As fast as I can tell there are only two emotions that keep the world spinning year after year…One is fear. The other is desire."
― Deborah Harkness, A Discovery of Witches
Why it made the list: This book was actually on my Supernatural Reading List back in 2015, but I never got around to it then. But I've continued to hear good things about the series and think the mix of supernatural and historical fiction sounds rather fun!
Synopsis: Deep in the stacks of Oxford's Bodleian Library, young scholar Diana Bishop unwittingly calls up a bewitched alchemical manuscript in the course of her research. Descended from an old and distinguished line of witches, Diana wants nothing to do with sorcery; so after a furtive glance and a few notes, she banishes the book to the stacks. But her discovery sets a fantastical underworld stirring, and a horde of daemons, witches, and vampires soon descends upon the library. Diana has stumbled upon a coveted treasure lost for centuries-and she is the only creature who can break its spell.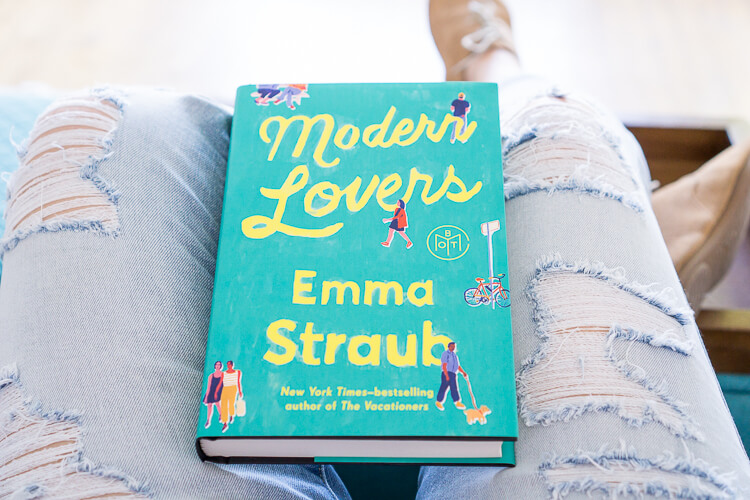 "Choices were easy to make until you realized how long life could be."
― Emma Straub, Modern Lovers
Why it made the list: Alright, so this was definitely a "cover" that caught my eye, but the story sounds pretty intriguing as well! It's sounds like it's got all the makings of a primetime drama and I can't wait to read it!
Synopsis: Friends and former college bandmates Elizabeth and Andrew and Zoe have watched one another marry, buy real estate, and start businesses and families, all while trying to hold on to the identities of their youth. But nothing ages them like having to suddenly pass the torch (of sexuality, independence, and the ineffable alchemy of cool) to their own offspring.
Back in the band's heyday, Elizabeth put on a snarl over her Midwestern smile, Andrew let his unwashed hair grow past his chin, and Zoe was the lesbian all the straight women wanted to sleep with. Now nearing fifty, they all live within shouting distance in the same neighborhood deep in gentrified Brooklyn, and the trappings of the adult world seem to have arrived with ease. But the summer that their children reach maturity (and start sleeping together), the fabric of the adults' lives suddenly begins to unravel, and the secrets and revelations that are finally let loose—about themselves, and about the famous fourth band member who soared and fell without them—can never be reclaimed.
All The Birds In The Sky by Charlie Jane Anders
"Society is the choice between freedom on someone else's terms and slavery on yours."
― Charlie Jane Anders, All the Birds in the Sky
Why it made the list: Ummmm…. hello, witchcraft and time travel! This book sounds a little dark, but crazy fun and I can't wait to dive in a see what awaits me within it's pages!
Synopsis: Childhood friends Patricia Delfine and Laurence Armstead didn't expect to see each other again, after parting ways under mysterious circumstances during high school. After all, the development of magical powers and the invention of a two-second time machine could hardly fail to alarm one's peers and families.
But now they're both adults, living in the hipster mecca San Francisco, and the planet is falling apart around them. Laurence is an engineering genius who's working with a group that aims to avert catastrophic breakdown through technological intervention into the changing global climate. Patricia is a graduate of Eltisley Maze, the hidden academy for the world's magically gifted, and works with a small band of other magicians to secretly repair the world's ever-growing ailments. Little do they realize that something bigger than either of them, something begun years ago in their youth, is determined to bring them together–to either save the world, or plunge it into a new dark ages.
A deeply magical, darkly funny examination of life, love, and the apocalypse.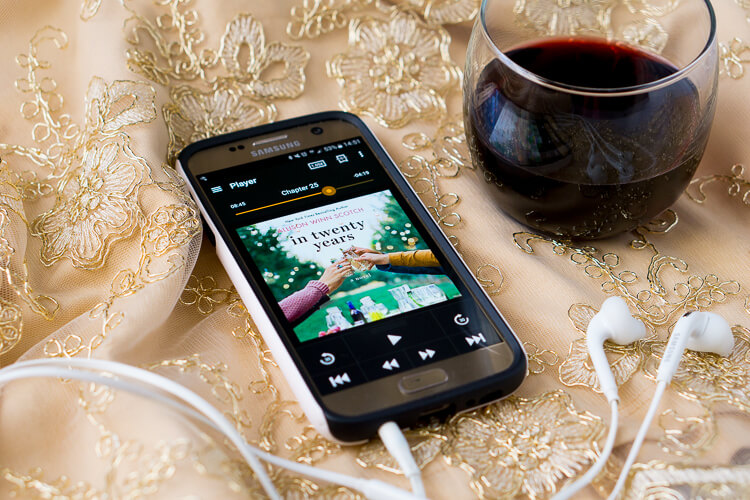 In Twenty Years by Allison Winn Scotch
"She's found, after all, that if you force yourself not to think of things, they lose their power; they shift from reality to mirage, from true to almost imaginary."
― Allison Winn Scotch, In Twenty Years: A Novel
Why it made the list: My friend Maggie from The Love Nerds recommended this book last summer and after reading the synopsis, I knew it would be right up my alley! I love books that are relatable and cause you to reflect a bit on your own life after reading them and I have no doubt this book will do just that!
Synopsis: Twenty years ago, six Penn students shared a house, naively certain that their friendships would endure—until the death of their ringleader and dear friend Bea splintered the group for good. Now, mostly estranged from one another, the remaining five reluctantly gather at that same house on the eve of what would have been Bea's fortieth birthday.
But along with the return of the friends come old grudges, unrequited feelings, and buried secrets. Catherine, the CEO of a domestic empire, and Owen, a stay-at-home dad, were picture-perfect college sweethearts—but now teeter on the brink of disaster. Lindy, a well-known musician, is pushing middle age in an industry that's all about youth and slowly self-destructing as she grapples with her own identity. Behind his smile, handsome plastic surgeon Colin harbors the heartbreaking truth about his own history with Bea. And Annie carefully curates her life on Instagram and Facebook, keeping up appearances so she doesn't have to face the truth about her own empty reality.
Reunited in the place where so many dreams began, and bolstered by the hope of healing, each of them is forced to confront the past.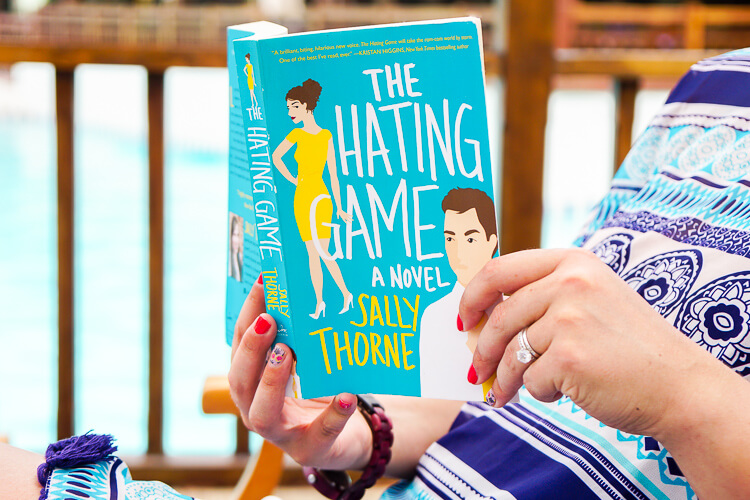 The Hating Game by Sally Thorne
"It's a corporate truth universally acknowledged that workers would rather eat rat skeletons than participate in group activities."
― Sally Thorne, The Hating Game
Why it made the list: This was recommended by Rachel from The Chic Site and I knew it had to be a fun book! I thought the plot sounded cute and cheesy which would make it the perfect vacation/beach read!
Synopsis: Lucy Hutton and Joshua Templeman hate each other. Not dislike. Not begrudgingly tolerate. Hate. And they have no problem displaying their feelings through a series of ritualistic passive-aggressive maneuvers as they sit across from each other, executive assistants to co-CEOs of a publishing company. Lucy can't understand Joshua's joyless, uptight, meticulous approach to his job. Joshua is clearly baffled by Lucy's overly bright clothes, quirkiness, and Pollyanna attitude.
Now up for the same promotion, their battle of wills has come to a head and Lucy refuses to back down when their latest game could cost her her dream job…But the tension between Lucy and Joshua has also reached its boiling point, and Lucy is discovering that maybe she doesn't hate Joshua. And maybe, he doesn't hate her either. Or maybe this is just another game.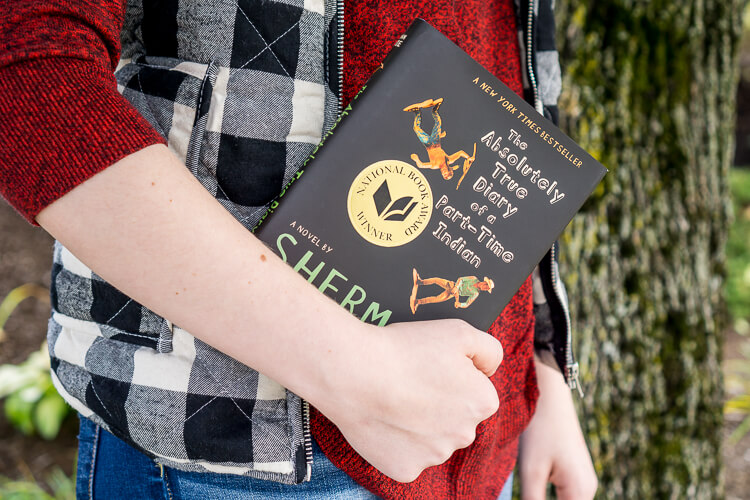 The Absolutely True Diary of a Part-Time Indian by Sherman Alexie
"If you let people into your life a little bit, they can be pretty damn amazing."
― Sherman Alexie, The Absolutely True Diary of a Part-Time Indian
Why it made the list: Okay, so, don't laugh, but about 2-ish years ago, Hugh Jackman posted a picture of this book on facebook, and since I love Hugh Jackman, I added it to my TBR shelf on Goodreads. Well, now it's finally time to read it, AND it was announced last month that Hugh Jackman will actually be producing the film adaptation of the book!
Synopsis: Bestselling author Sherman Alexie tells the story of Junior, a budding cartoonist growing up on the Spokane Indian Reservation. Determined to take his future into his own hands, Junior leaves his troubled school on the rez to attend an all-white farm town high school where the only other Indian is the school mascot.
Heartbreaking, funny, and beautifully written, The Absolutely True Diary of a Part-Time Indian, which is based on the author's own experiences, coupled with poignant drawings by Ellen Forney that reflect the character's art, chronicles the contemporary adolescence of one Native American boy as he attempts to break away from the life he was destined to live.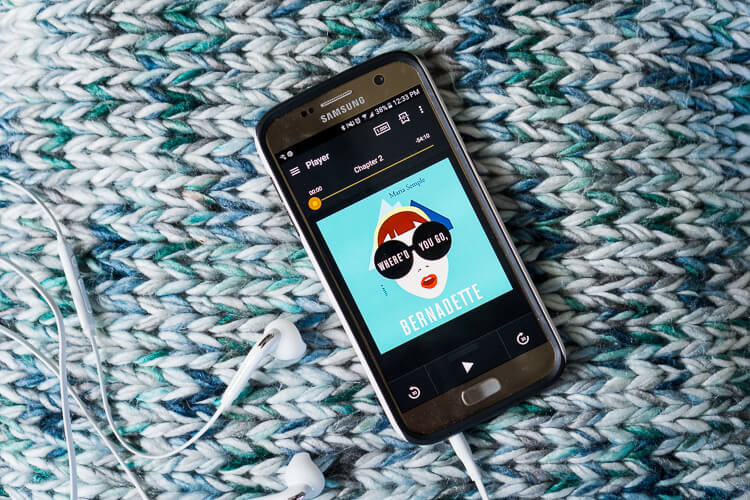 Where'd You Go Bernadette? by Maria Semple
"That's right,' she told the girls. 'You are bored. And I'm going to let you in on a little secret about life. You think it's boring now? Well, it only gets more boring. The sooner you learn it's on you to make life interesting, the better off you'll be."
― Maria Semple, Where'd You Go, Bernadette
Why it made the list: I feel like pretty much everyone has been recommending this book to me, and it was also our book club book for December 2016. I thought the story sounded intriguing, especially since it was told from the daughter's point of view!
Synopsis: Bernadette Fox is notorious. To her Microsoft-guru husband, she's a fearlessly opinionated partner; to fellow private-school mothers in Seattle, she's a disgrace; to design mavens, she's a revolutionary architect, and to 15-year-old Bee, she is a best friend and, simply, Mom.
Then Bernadette disappears. It began when Bee aced her report card and claimed her promised reward: a family trip to Antarctica. But Bernadette's intensifying allergy to Seattle—and people in general—has made her so agoraphobic that a virtual assistant in India now runs her most basic errands. A trip to the end of the earth is problematic.
To find her mother, Bee compiles email messages, official documents, secret correspondence—creating a compulsively readable and touching novel about misplaced genius and a mother and daughter's role in an absurd world.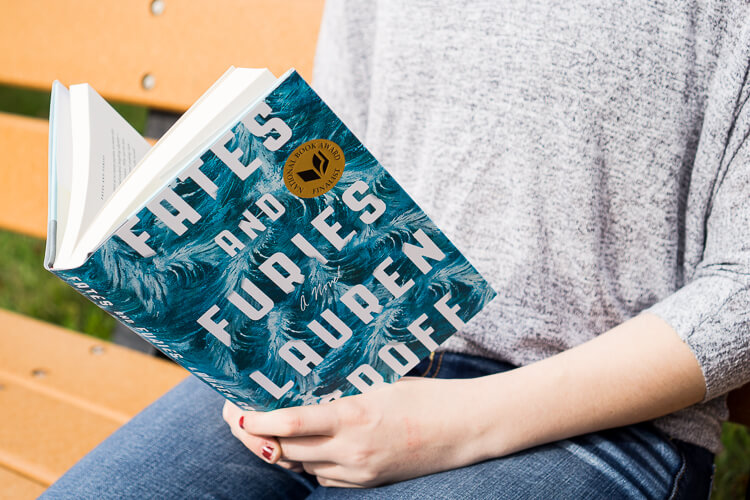 Fates and Furies by Lauren Groff
"Storytelling is a landscape, and tragedy is comedy is drama. It simply depends on how you frame what you're seeing."
― Lauren Groff, Fates and Furies
Why it made the list: This isn't normally the type of book I'd gravitate too, but it has my curious. Matt and I are a little more than a decade into our relationship and I'm interested in where this story goes.
Synopsis: Every story has two sides. Every relationship has two perspectives. And sometimes, it turns out, the key to a great marriage is not its truths but its secrets. At the core of this rich, expansive, layered novel, Lauren Groff presents the story of one such marriage over the course of twenty-four years.
At age twenty-two, Lotto and Mathilde are tall, glamorous, madly in love, and destined for greatness. A decade later, their marriage is still the envy of their friends, but with an electric thrill we understand that things are even more complicated and remarkable than they have seemed.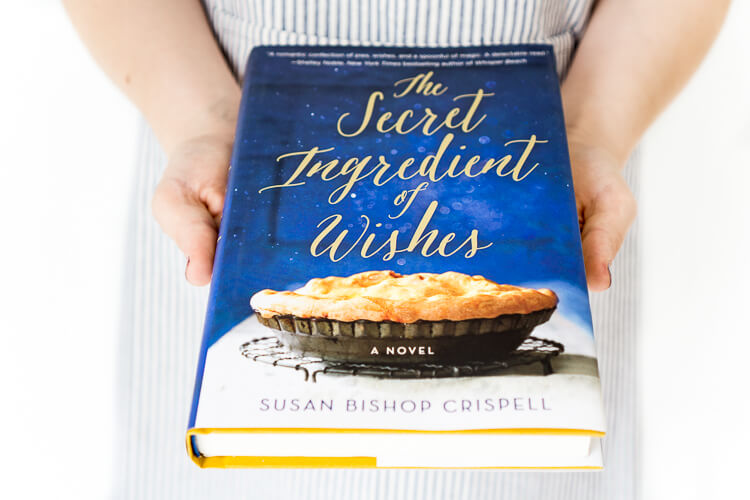 The Secret Ingredient of Wishes by Susan Bishop Crispell
"Don't let some stupid what if get in the way of enjoying a little slice of happiness."
― Susan Bishop Crispell, The Secret Ingredient of Wishes
Why it made the list: Well, at the time this was added to the list, I was 26, and I always enjoy reading about characters who are a similar age as myself. Plus, BAKING! This is also our January book cluc book and while I haven't started it yet, everyone really seems to be loving it!
Synopsis: 26-year-old Rachel Monroe has spent her whole life trying to keep a very unusual secret: she can make wishes come true. And sometimes the consequences are disastrous. So when Rachel accidentally grants an outlandish wish for the first time in years, she decides it's time to leave her hometown—and her past—behind for good.
Rachel isn't on the road long before she runs out of gas in a town that's not on her map: Nowhere, North Carolina—also known as the town of "Lost and Found." In Nowhere, Rachel is taken in by a spit-fire old woman, Catch, who possesses a strange gift of her own: she can bind secrets by baking them into pies. Rachel also meets Catch's neighbor, Ashe, a Southern gentleman with a complicated past, who makes her want to believe in happily-ever-after for the first time in her life.
As she settles into the small town, Rachel hopes her own secrets will stay hidden, but wishes start piling up everywhere Rachel goes. When the consequences threaten to ruin everything she's begun to build in Nowhere, Rachel must come to terms with who she is and what she can do, or risk losing the people she's starting to love—and her chance at happiness—all over again.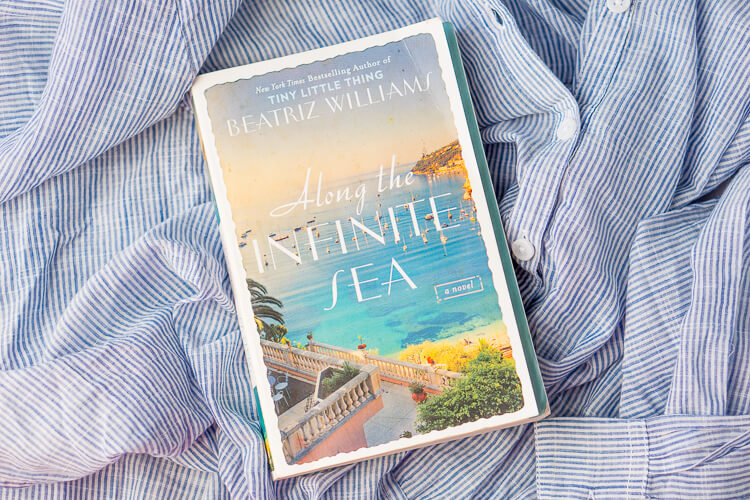 Along The Infinite Sea by Beatriz Williams
"I knew exactly where he existed in my heart; I had no idea where he existed in the universe."
― Beatriz Williams, Along the Infinite Sea
Why it made the list: I've said it again and again, I love stories with multiple POVs that take place in different times, add in that one of those time is just before the breakout of WWII and this book takes place in Italy, France, Germany, and the US, and I obviously couldn't resist!
Synopsis: Each of the three Schuyler sisters has her own world-class problems, but in the autumn of 1966, Pepper Schuyler's problems are in a class of their own. When Pepper fixes up a beautiful and rare vintage Mercedes and sells it at auction, she thinks she's finally found a way to take care of herself and the baby she carries, the result of an affair with a married, legendary politician.
But the car's new owner turns out to have secrets of her own, and as the glamorous and mysterious Annabelle Dommerich takes pregnant Pepper under her wing, the startling provenance of this car comes to light: a Nazi husband, a Jewish lover, a flight from Europe, and a love so profound it transcends decades. As the many threads of Annabelle's life from World War II stretch out to entangle Pepper in 1960s America, and the father of her unborn baby tracks her down to a remote town in coastal Georgia, the two women must come together to face down the shadows of their complicated pasts.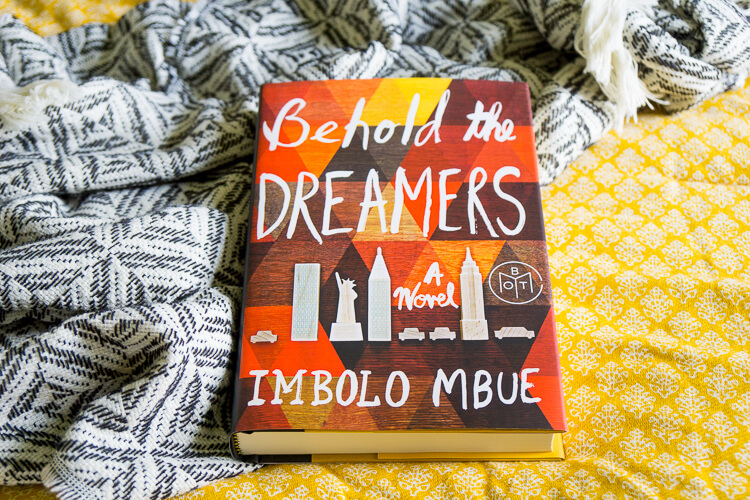 Behold the Dreamers by Imolo Mbue
"indeed, bad news has a way of slithering into good days and making a mockery of complacent joys."
― Imbolo Mbue, Behold the Dreamers
Why it made the list: I love reading stories about "The American Dream" and I think this take on it could be rather interesting, especially since the financial crisis is still so recent.
Synopsis: Jende Jonga, a Cameroonian immigrant living in Harlem, has come to the United States to provide a better life for himself, his wife, Neni, and their six-year-old son. In the fall of 2007, Jende can hardly believe his luck when he lands a job as a chauffeur for Clark Edwards, a senior executive at Lehman Brothers. Clark demands punctuality, discretion, and loyalty—and Jende is eager to please. Clark's wife, Cindy, even offers Neni temporary work at the Edwardses' summer home in the Hamptons. With these opportunities, Jende and Neni can at last gain a foothold in America and imagine a brighter future.
However, the world of great power and privilege conceals troubling secrets, and soon Jende and Neni notice cracks in their employers' façades.
When the financial world is rocked by the collapse of Lehman Brothers, the Jongas are desperate to keep Jende's job—even as their marriage threatens to fall apart. As all four lives are dramatically upended, Jende and Neni are forced to make an impossible choice.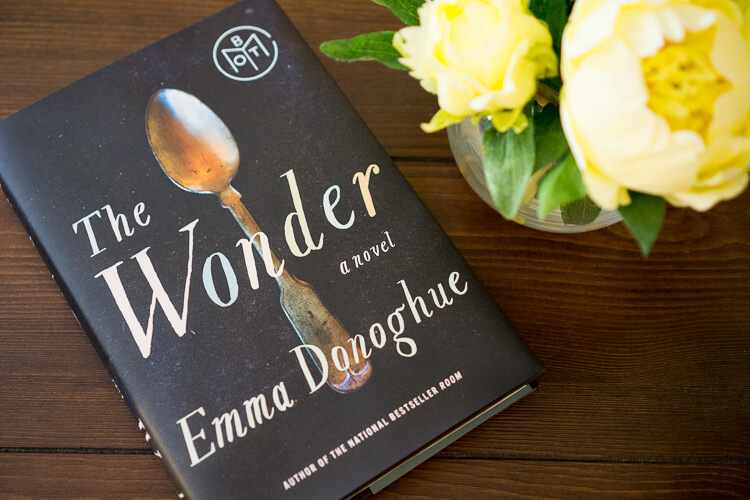 "A fast didn't go fast; it was the slowest thing there was.Fast meant a door shut fast, firmly. A fastness, a fortress. To fast was to hold fast to emptiness, to say no and no and no again."
― Emma Donoghue, The Wonder
Why it made the list: Okay, so this book is probably the farthest out there for me. I didn't read Room and didn't particularly like the movie, but this popped up as one of my Book of the Month options a couple of months back and it intrigued me. The Irish setting initially drew me in and the storyline sounds rather unique and interesting.
Synopsis: In the latest masterpiece by Emma Donoghue, bestselling author of Room, an English nurse brought to a small Irish village to observe what appears to be a miracle-a girl said to have survived without food for months-soon finds herself fighting to save the child's life.
Tourists flock to the cabin of eleven-year-old Anna O'Donnell, who believes herself to be living off manna from heaven, and a journalist is sent to cover the sensation. Lib Wright, a veteran of Florence Nightingale's Crimean campaign, is hired to keep watch over the girl.
Written with all the propulsive tension that made Room a huge bestseller, THE WONDER works beautifully on many levels–a tale of two strangers who transform each other's lives, a powerful psychological thriller, and a story of love pitted against evil.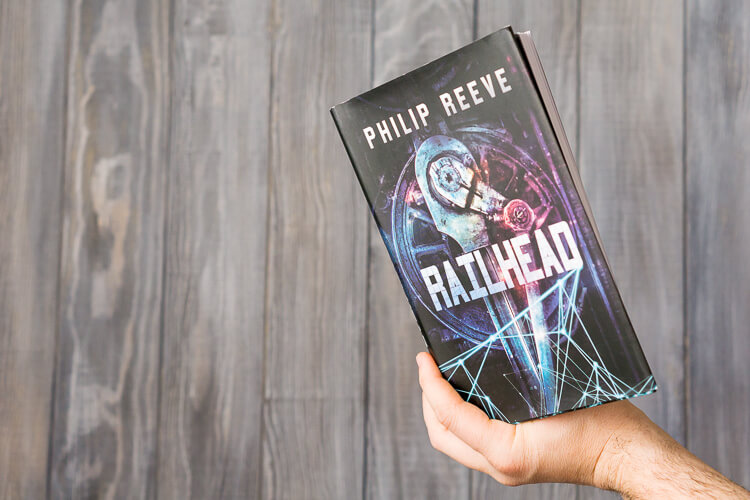 "You know, sometimes a thing, a system, a creation grows so old, and corrupt, and weighed down by its own baggage, that all you can do is change it. Move on. Start afresh. It's frightening, but it has to be done."
― Philip Reeve, Railhead
Why it made the list: You didn't think I'd leave sci-fi off this list did you? I'm actually very excited to read this book, but am holding off in the hopes it's one that Matt and I can listen to together.
Synopsis: Come with me, Zen Starling, she had said. The girl in the red coat. But how did she know his name?
The Great Network is a place of drones and androids, maintenance spiders and Station Angels. The place of the thousand gates, where sentient trains criss-cross the galaxy in a heartbeat.
Zen Starling is a petty thief, a street urchin from Thunder City.
So when mysterious stranger Raven sends Zen and his new friend Nova on a mission to infiltrate the Emperor's train, he jumps at the chance to traverse the Great Network, to cross the galaxy in a heartbeat, to meet interesting people – and to steal their stuff.
But the Great Network is a dangerous place, and Zen has no idea where his journey will take him.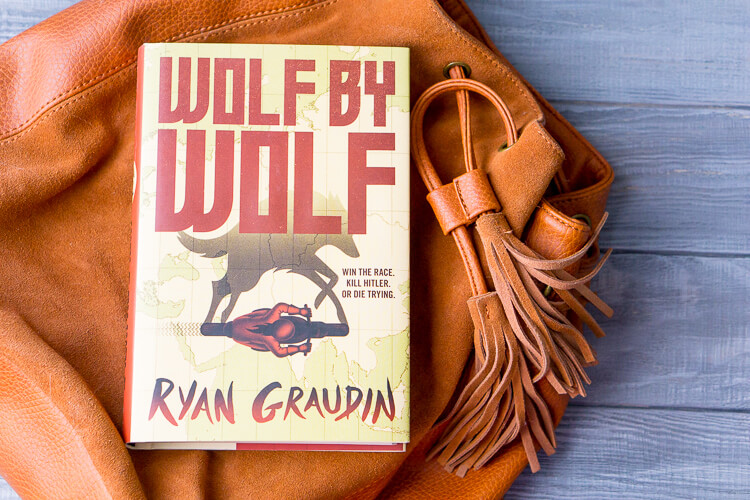 "I'm tired of fixing things that always break."
― Ryan Graudin, Wolf by Wolf
Why it made the list: When I spotted this book at the book store a few weeks ago, I'd never heard of it before. But after reading the description, I knew I needed to read the whole thing! I love anything relating to Nazi Germany and WWII, and this kind of reminds me of The Man in the High Castle meets The Hunger Games!
Synopsis: The year is 1956, and the Axis powers of the Third Reich and Imperial Japan rule. To commemorate their Great Victory, Hitler and Emperor Hirohito host the Axis Tour: an annual motorcycle race across their conjoined continents. The victor is awarded an audience with the highly reclusive Adolf Hitler at the Victor's Ball in Tokyo.
Yael, a former death camp prisoner, has witnessed too much suffering, and the five wolves tattooed on her arm are a constant reminder of the loved ones she lost. The resistance has given Yael one goal: Win the race and kill Hitler. A survivor of painful human experimentation, Yael has the power to skinshift and must complete her mission by impersonating last year's only female racer, Adele Wolfe. This deception becomes more difficult when Felix, Adele twin's brother, and Luka, her former love interest, enter the race and watch Yael's every move.
But as Yael grows closer to the other competitors, can she bring herself to be as ruthless as she needs to be to avoid discovery and complete her mission?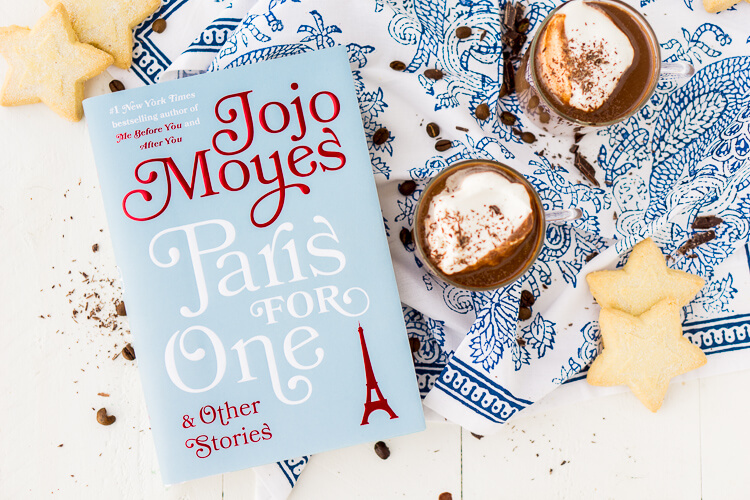 "You don't ever do something just because it makes you feel good?" The assistant shrugs. "Mademoiselle, you need to spend more time in Paris."
― Jojo Moyes, Paris for One
Why it made the list: I've never really been one for short stories, but I love Jojo Moyes and figured this selection would be worth checking out!
Synopsis: Nell is twenty-six and has never been to Paris. She's never even been on a romantic weekend away to anywhere before. Everyone knows travelling abroad isn't really her thing. But when Nell's boyfriend fails to show up for their romantic mini-vacation, she has the opportunity to prove everyone including herself wrong. Alone and in Paris, Nell uncovers a version of herself she never knew existed: independent and intrepid. Could this turn out to be the most adventurous weekend of her life? Funny, charming, and irresistible, "Paris for One"is vintage Moyes as are the other stories that round out the collection."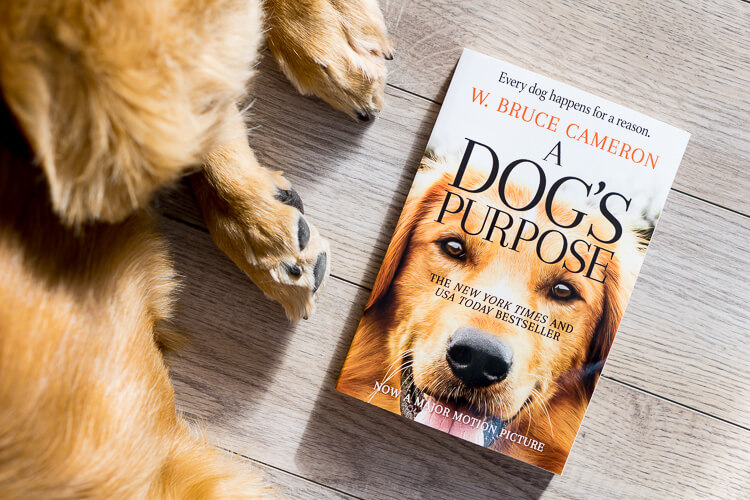 A Dog's Purpose by W. Bruce Cameron
"Dogs have important jobs, like barking when the doorbell rings, but cats have no function in a house whatsoever."
― W. Bruce Cameron, A Dog's Purpose
Why it made the list: This wasn't on the list until last week. I'm sure by now most of you have seen the previews for the film adaptation and I decided I should read the book first. I'm sure it will be along the lines of The Art of Racing in the Rain and will probably leave me in a puddle of tears, but oh well.
Synopsis: This is the remarkable story of one endearing dog's search for his purpose over the course of several lives. More than just another charming dog story, this touches on the universal quest for an answer to life's most basic question: Why are we here?
Surprised to find himself reborn as a rambunctious golden haired puppy after a tragically short life as a stray mutt, Bailey's search for his new life's meaning leads him into the loving arms of 8 year old Ethan. During their countless adventures Bailey joyously discovers how to be a good dog. But this life as a beloved family pet is not the end of Bailey's journey. Reborn as a puppy yet again, Bailey wonders, will he ever find his purpose?
Heartwarming, insightful, and often laugh out loud funny, this book is not only the emotional and hilarious story of a dog's many lives, but also a dog's eye commentary on human relationships and the unbreakable bonds between man and man's best friend. This story teaches us that love never dies, that our true friends are always with us, and that every creature on earth is born with a purpose.
The Hidden Oracle by Rick Riordan
"Things can turn out differently, Apollo. That's the nice thing about being human. We only have one life, but we can choose what kind of story it's going to be."
― Rick Riordan, The Hidden Oracle
Why it made the list: So, I used to really love Rick Riordan's books, but I outgrew the Percy Jackson series pretty fast. So I'm hoping this well lend well to a more grown up audience while still getting a fill of Camp Half-Blood!
Synopsis: How do you punish an immortal?
By making him human.
After angering his father Zeus, the god Apollo is cast down from Olympus. Weak and disorientated, he lands in New York City as a regular teenage boy. Now, without his godly powers, the four-thousand-year-old deity must learn to survive in the modern world until he can somehow find a way to regain Zeus's favour.
But Apollo has many enemies—gods, monsters and mortals who would love to see the former Olympian permanently destroyed. Apollo needs help, and he can think of only one place to go… an enclave of modern demigods known as Camp Half-Blood.