Havana, Cuba's vibrant capital has so much to offer. But what if you're crunched for time? No problem. This is a guide for how to experience the best of Havana Cuba in 48 hours.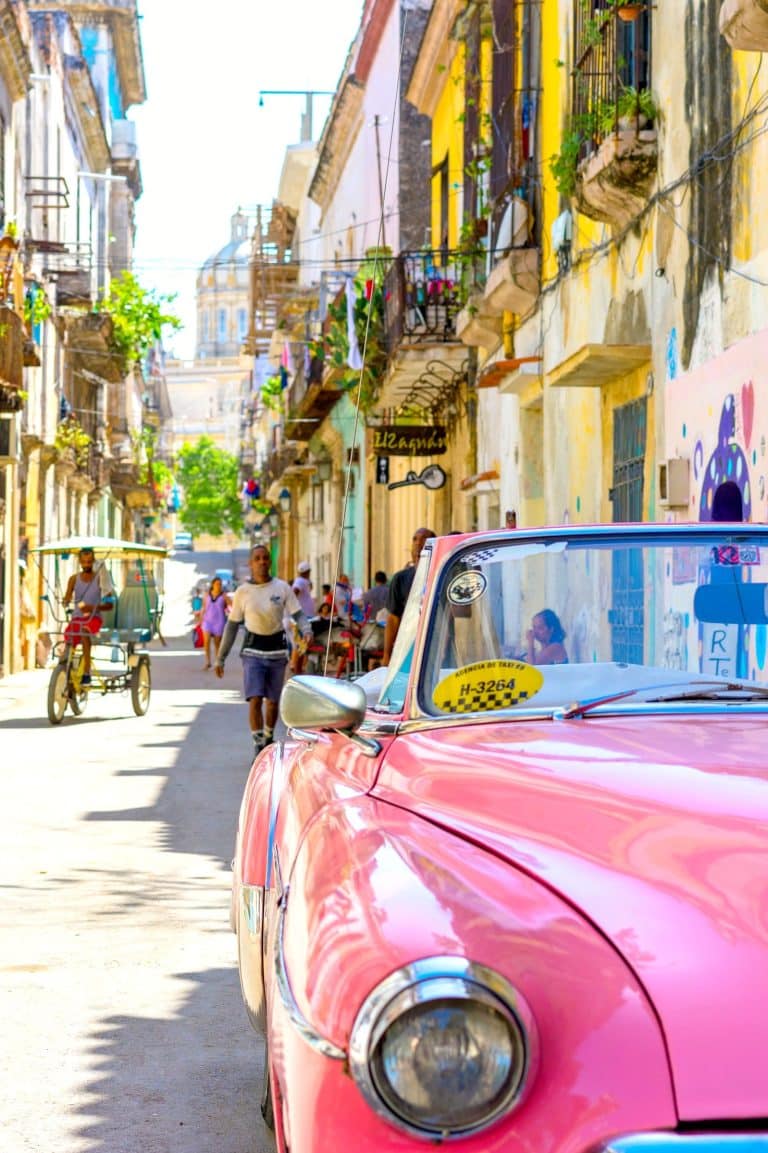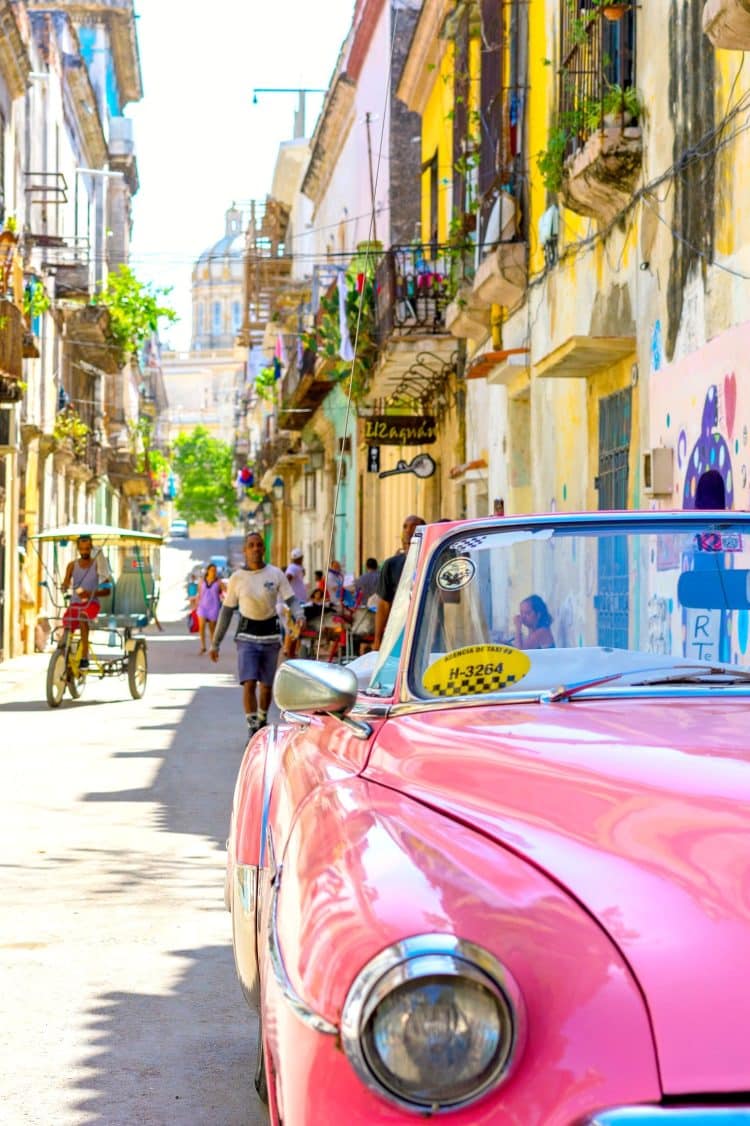 Oh, Cuba! It seems like everyone is talking, or I should say raving, about this country lately. Since Obama removed travel restrictions to the small island nation, Americans have been flocking there in droves. Trump's travel restrictions haven't quite set in so there's still time for a getaway to Havana Cuba.
Havana, the lively and colorful capital, is the hottest destination. From salsa to cold war history to the best piña coladas you'll ever have, there is so much to experience in Havana. But, of course, not everyone has endless vacation days to go traveling. That's why I've created this guide to show you how to explore Havana in 48 hours. Let's go!
48 Hours in Havana Cuba
PIN IT TO YOUR TRAVEL BOARD ON PINTEREST!
FOLLOW SUGAR & SOUL ON PINTEREST FOR MORE TRAVEL IDEAS!
Before You Leave:
First, you'll have to do some preparation to make your trip as smooth as possible. Here is what you need to do.
Get a Cuban visa – You can usually get your visa through the airliner you fly. Alaska Airlines, the airliner I used, asks you to order visas online through Cuba Travel Services. You can also get your visa at the airport, but you'll have to arrive very early. Check with your airline to find out their visa policies.
Book a casa particular – These are Cuba's equivalent of an Airbnb. Locals, not the government, run them so staying in one supports the Cuban people. You can browse different options on the Airbnb website. I would recommend you stay in the Vedado neighborhood. It's centrally located and a short drive from many attractions, like the scenic el Malecon strip. Unlike staying in a hotel, you actually get a feel for how ordinary Cubans live.
Order euros from your bank – You can exchange dollars to dollars to euros at the airport too, but the rates are a ripoff. Due to America's long-standing embargo on Cuba, there is a 10% commission to exchange dollars to Cuban CUC (the currency for foreigners. Locals use a currency called CUP. 1 CUC equals 25 CUP.) You don't get charged a commission to exchange euros so you get more bang for your buck.
Day 1: Havana Nueva and Havana Vieja
Woohoo! You've arrived in Cuba. Now the fun begins. Let me tell you the secret to seeing the highlights of Havana Cuba effortlessly in 48 hours: do a classic car tour!
Calle Almendrales in Vedado is a major taxi street. Starting at around 11 am classic cars, known locally as almendrones, start to whiz by in droves. Charter one and negotiate a deal with the driver to give you a tour of the city. I traveled with two friends and we paid 20 CUC each per day. Our guide was a good-looking gentleman called Alejandro, whom I wholeheartedly recommend. You can pre-arrange a tour with him even before you arrive in Cuba. Interested? Let me know in the comment section.
The tour will take you around Havana Nueva, the newer part of Havana, and Havana Vieja, the old town with Spanish-style architecture.
Top attractions to see on your Havana Cuba tour:
El Morro Castle – this fortress, previously used to guard Havana against invaders, is a sight to behold. You can take a tour of the castle. Climb to the top of the lighthouse for stunning of Havana Vieja in the distance. At 9 pm every night, El Cañonazo, the firing of the cannon, occurs in front of the castle. This is a long-standing tradition that is definitely worth experiencing.
El Malecon – this iconic strip is a must-see in Havana Cuba. It overlooks the Caribbean Sea and offers a beautiful view of the city's skyline. Go there during sunset to experience a truly magical moment.
Havana Vieja – this colorful neighborhood is the heartbeat of Havana. With Spanish-style architecture and colorfully- dressed street performers, every corner is filled with charm. Head over to Calle Obispo in the evening to watch a live performance of Salsa. You can also join in! There are people looking for a dance partner.
El Bosque de Havana – this is the only forest in Havana. After exploring the colorful architecture of Havana Vieja, it's nice to retreat to nature. Parque de Almendrales is located in the forest. The bar there has the best piña colada I've ever had in my life!
Plaza de la Revolución – this is the largest square in Havana and the site of many political rallies during and after the Cuban revolution. You can learn a little bit about Cuban history here and also get some great shots.
Day 2: La Feria and Playa del Este
Now that you've seen the highlights of Havana Cuba, you probably want to buy some souvenirs to remember the amazing experience. Head over to La Feria, a large indoor market in Havana Vieja. You can find unique handicrafts, instruments, clothes, you name it. Best of all, you get to haggle and come away with a steal!
Let's not forget about the beaches! You can't go to Cuba without experiencing its pristine beaches so I've worked that into the itinerary. When it comes to beaches in Cuba, Varadero is king. It's two hours away from Havana though. If you're short on time, it's probably not a great option.
A better alternative? Playa del Este. This stunning paradise is 45 minutes away from Havana Cuba in an area called Havana del Este. You can lounge on a beach chair for hours, sipping a coconut and taking in the beautiful scenery. It's a relaxing way to end your 48 hours in Havana.
Like what you've read? There's more to the story. Click here to find out how Hurricane Irma impacted my trip.