Recapping the first few months as new parents with our daughter, Evangeline.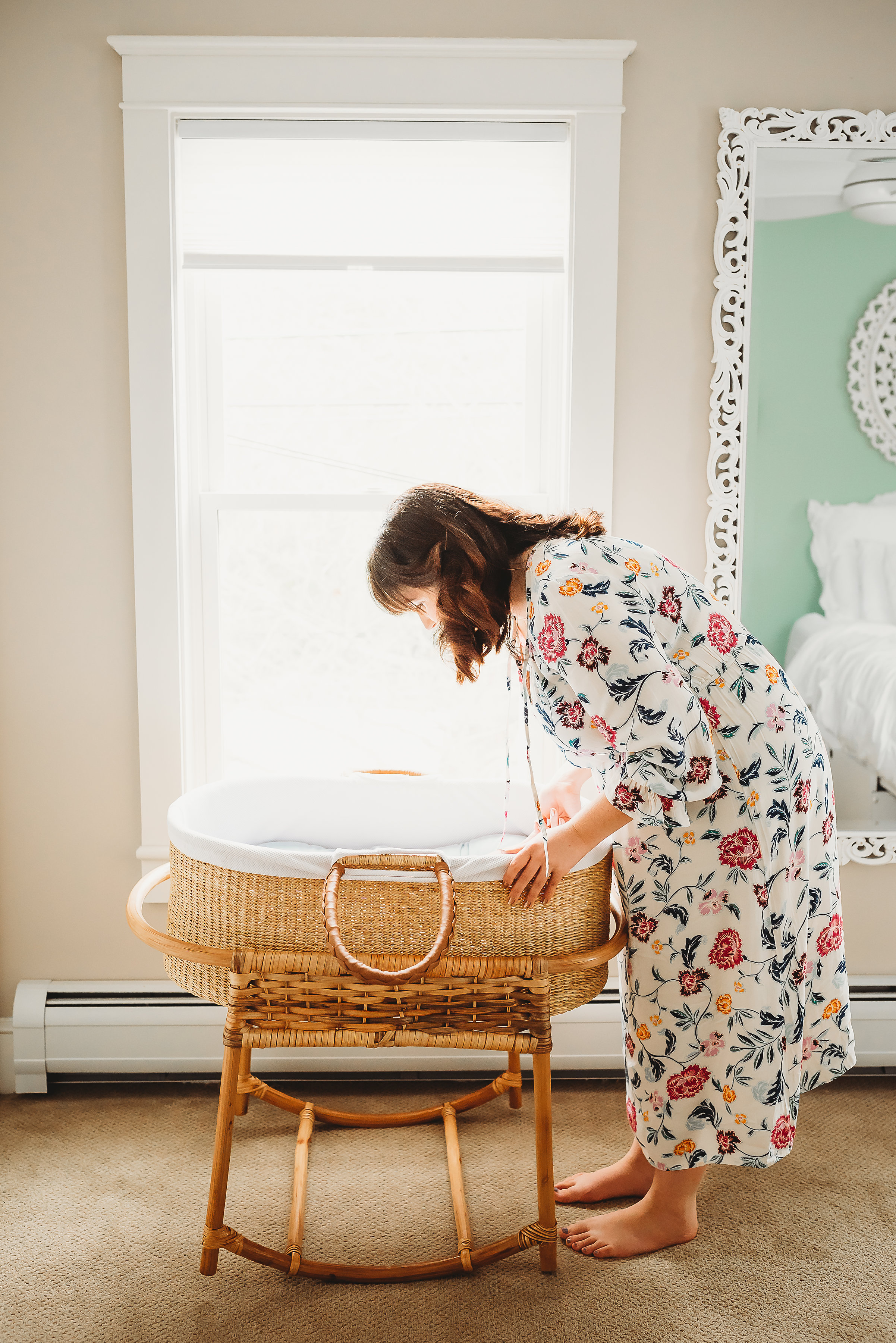 Yes, I'm fully aware that "trimester" indicates three, but the initial postpartum period is often referred to as the 4th trimester, for those who didn't know.
I'm actually 16 weeks postpartum and I've been meaning to sit down for the last few of weeks to recap our new life with Miss Evie, but holidays and life have prevented me from doing so.
I know I shared some details about my recovery in my Postpartum Recovery Products a while back, but I'm going to take this opportunity to share in more of a journalistic way if that makes sense.
Really, me just spewing thoughts.
Do you know how everyone always says you're never ready for children? At least this is what people always said to us when they would inquire as to why we didn't have them yet and I would respond with "We'll have them when we're ready."
But the thing is, we were ready.
We waited until we had done many of the things we wanted to do, we waited until we were financially set, and we waited until it felt right.
And while we were and are ready to be parents and I feel like for the most part, we've had a pretty successful go at it these last few months, this chapter in our lives has been hard.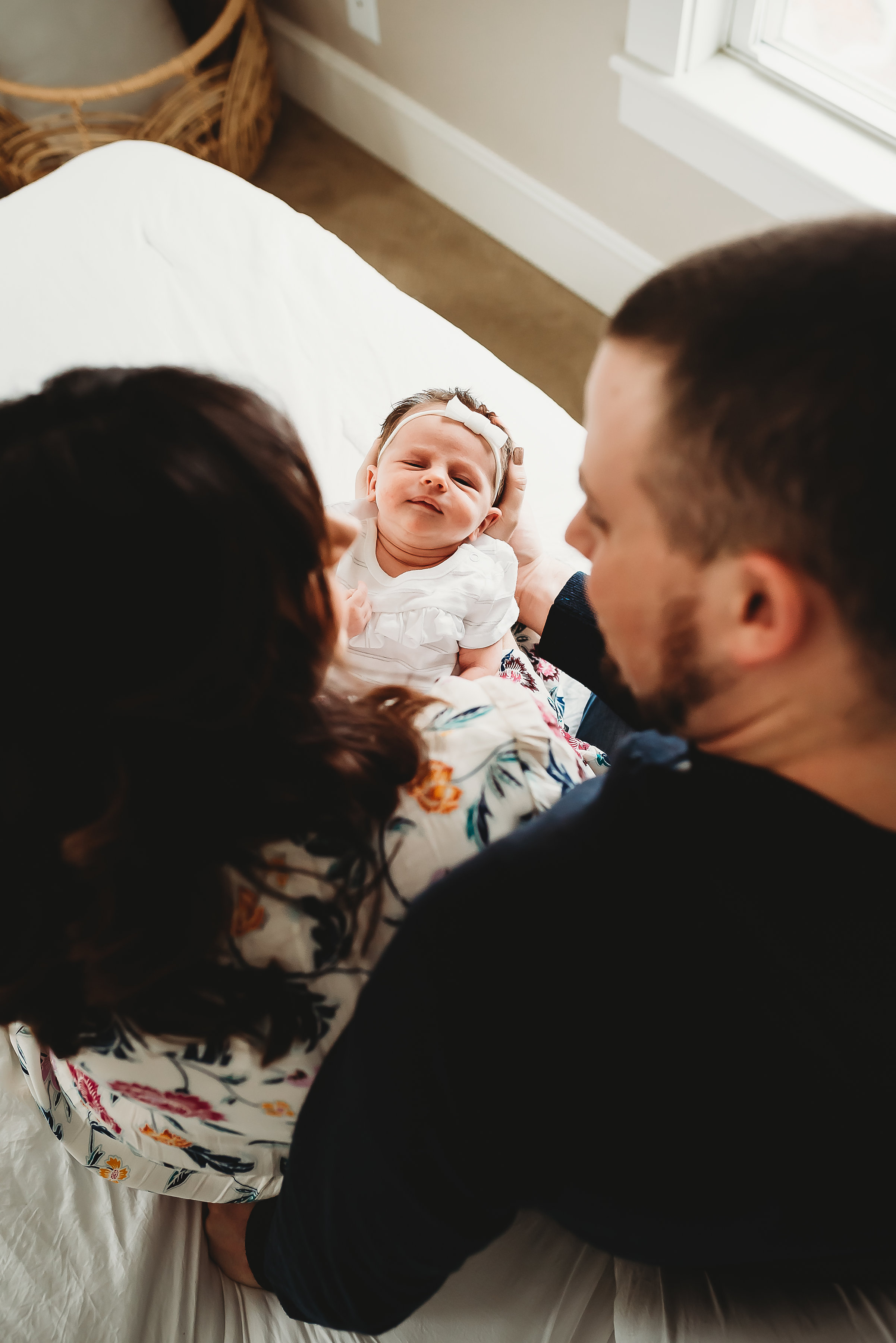 I have never been so tired both mentally and physically.
And I still feel, even now, that we were ready, so I can't imagine what life with a newborn is like for those who aren't. For people like my parents who were just teenagers when I was born.
Like how the hell did they survive?
And to all the single parents out there, mad props, because parenthood sure isn't for the weak.
I had a feeling that the postpartum recovery would be the worst part of pregnancy and I was right, especially when not only are you trying to recover, but you have this little life that fully depends on you for everything.
It's a huge adjustment.
If you read Evie's Birth Story, then you know about some of the physical challenges I was dealing with and it wasn't until just a couple of weeks ago, around Christmas time, that I actually started feeling "normal".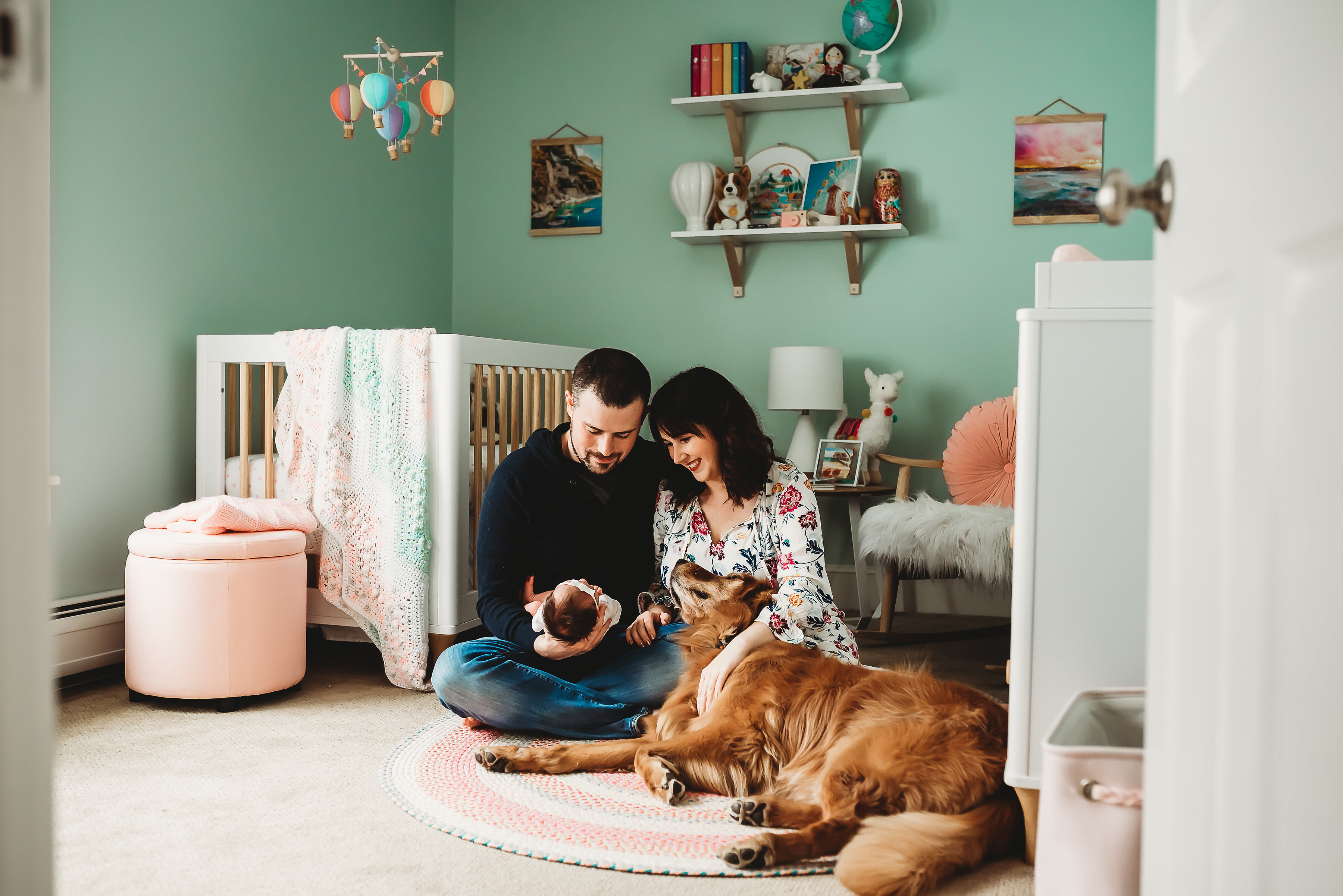 Those first three weeks or so were the hardest, the baby blues hit me big time (or maybe they just hit since I really have nothing to compare them to) and every day was a struggle to keep my shit together.
Luckily, Matt was home the first two weeks and took on the majority of the work around the house and with Evie so that I could focus on recovery.
But that third week was rough.
Leading up to it I had a lot of anxiety about being Evie's sole caregiver during the day.
It was a huge adjustment for me.
Before Evie, I worked from home and for myself, and while I was busy and worked more than full time – my schedule was my own.
Those first few weeks were a dark period for me.
I was emotionally drained and hormonally imbalanced, everything set me off and everything was pointless.
But at the same time, those little baby snuggles are the best thing in the world.
I'm not sure if you can cry tears of happiness and frustration at the same time, but that's what it felt like.
I felt like a hormonal monster and I was.
But I have always been good, and diligent, and driven when it comes to my work. And my new job was to take care of this little being the best that I could.
So that's what I did.
I worked. I worked to build a bond with my daughter even in the moments when it didn't come easy.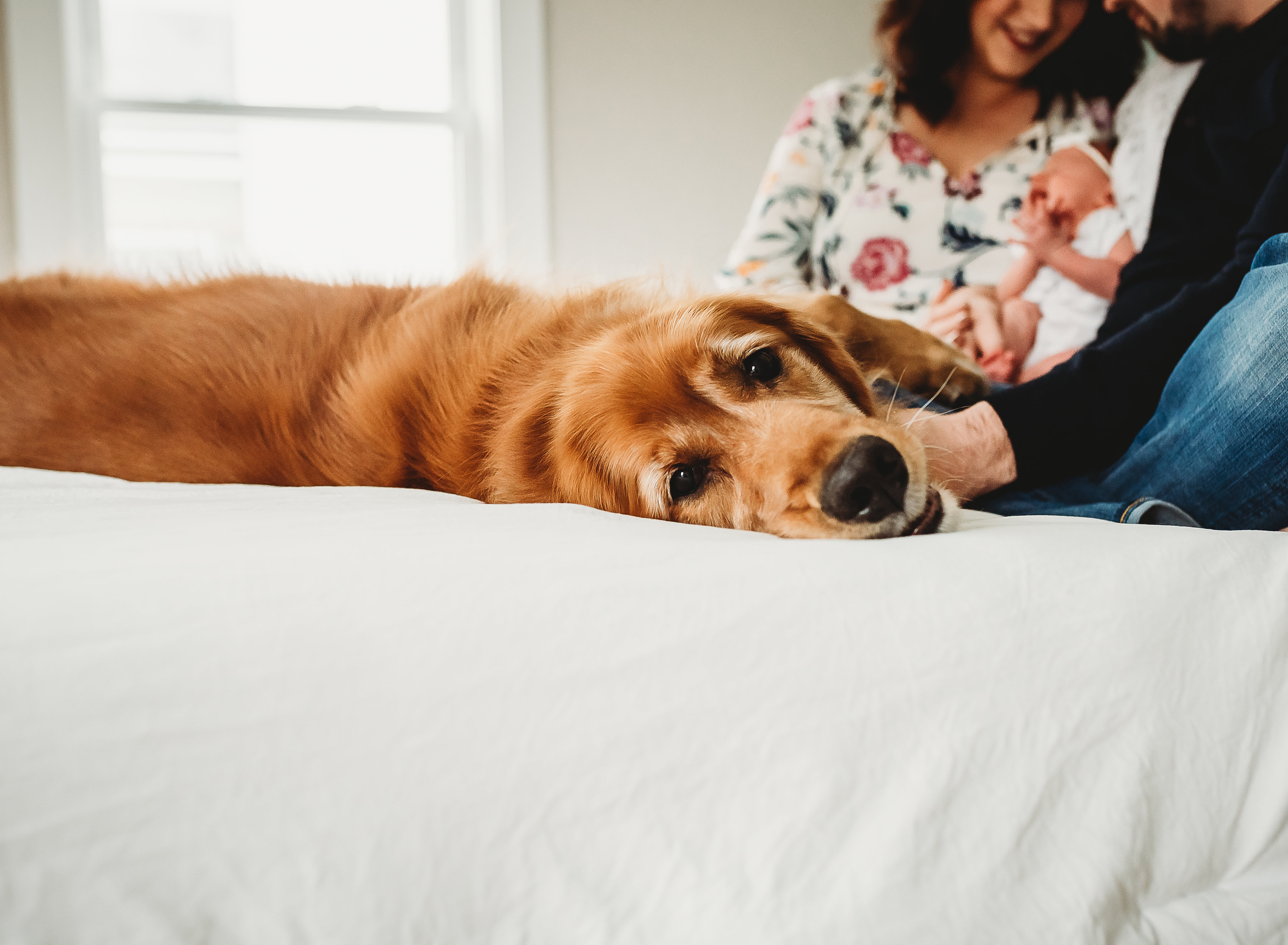 A week after Evie was born, a local woman took her own life quite horrifically and had attempted to take her 2-year-old son's as well.
The public may never know for certain why she did it, but as a mom of two under two, I imagine she was suffering from postpartum depression.
Did you know that postpartum depression can develop anytime within the first year after birth and it can last years when left untreated?
I think being in a fragile state myself, this event really shook me and I promised myself that I would seek help when and if I needed it.
And I have.
Thankfully, the baby blues passed and I haven't been hit with postpartum depression yet.
But help is still something we have needed and I've gotten better at asking for it.
Something I hardly ever did before.
Our family has been great about helping with Evie so we can nap, catch up on work, and even enjoy a date night here and there.
And those few hours each week have seriously been a saving grace.
It helps us not feel so far behind so that we can spend the time we do have with her fully focused on her.
In fact, Evie's uncle is watching her right now so Matt can study for his CMA exam tomorrow and I can finish up this post four weeks after starting it.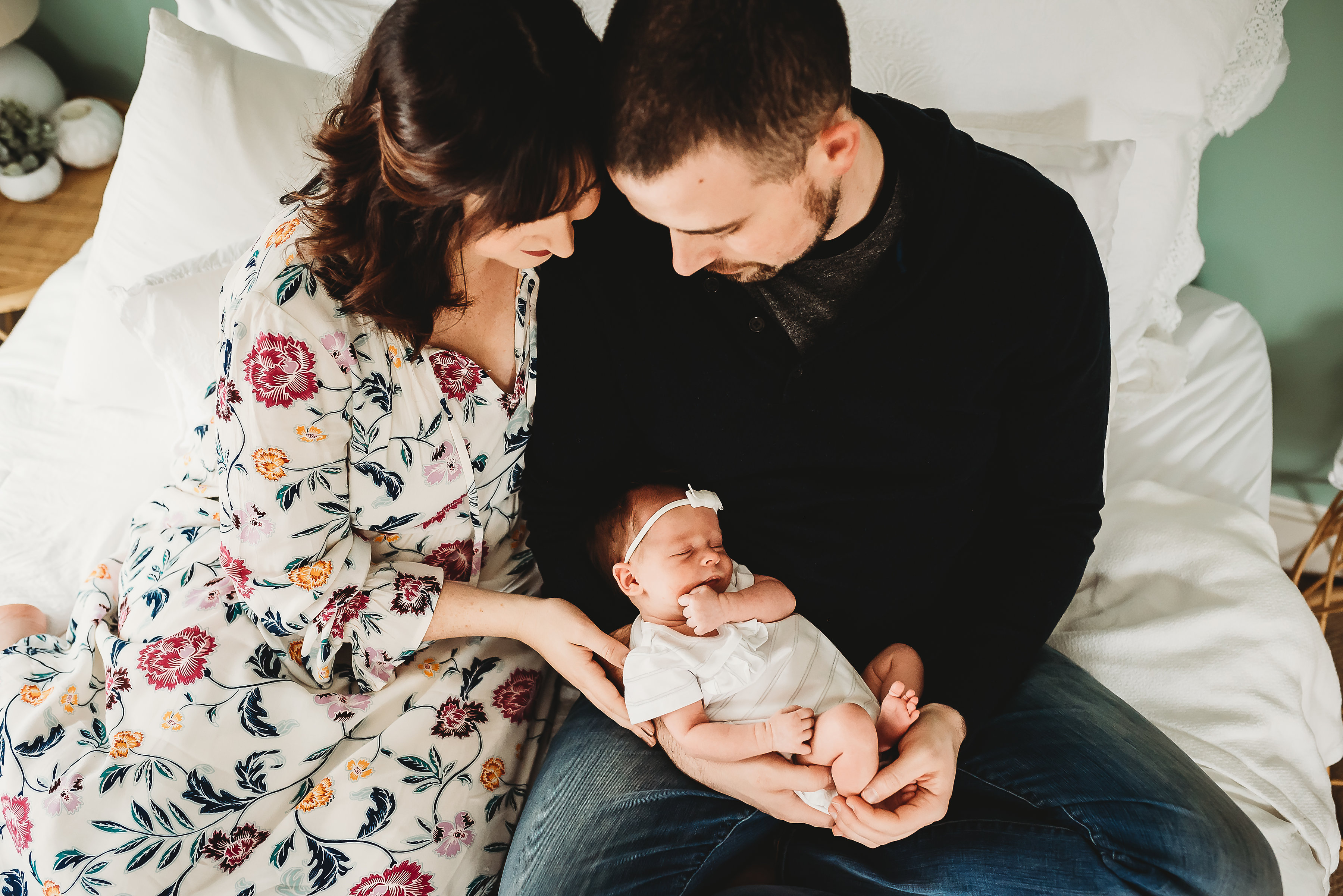 These photos were taken by our high school friend, Vanessa Kelso, she owns Kelso Photography and was home visiting from Hawaii for a few weeks in October and I was excited that we were able to reconnect with her and have her photograph us in our home.
I'll be honest though, I was not feeling my best when these were taken and when I first got them back, all I could see was my extra soft and bloated waist, enormous breasts (I can't wait to be done pumping), and double chin.
But then I reminded myself that I shouldn't be so hard on myself. Because the images are truly beautiful and I'm so glad I have these keepsakes of such a hard but joyous time in our lives.
And one day, I hope Evie looks back on them and can tell just how much she was loved from the very beginning.
I've never had a ton of body confidence. But I'm much more comfortable with it now.
And by comfortable, I mean that for the most part, I really don't give a crap what other people think.
I'm still in hibernation mode (it's winter) and I've decided when I'm done pumping I'll try and lose the last 5lbs, but until then – bring on the cake!
And I have a greater appreciation for it too.
So I try not to get too down about it. Although oftentimes easier said than done.
I'm trying to give myself a little grace and respect my body for what it's gone through in the last year.
I honestly didn't know what kind of mother I would be, and I guess I really still don't, but I know what kind of mother I want to be. And I feel like I've actually found my rhythm in this new role. And hey, I'm not half bad 😉
Matt's a pretty great dad too!
But on top of being a mom, I'm also an entrepreneur and work from home.
I've said a million times that I'm a workaholic. I've worked or gone to school 60 to 80 hours a week since graduating high school.
I did this for a number of reasons, but the biggest was to help set Matt and me up for when it was time to start our family.
These last couple week's I've realized that I don't need to kill myself day in and day out to do ALL the things.
I've already done it.
I did it then so I wouldn't have to do it now.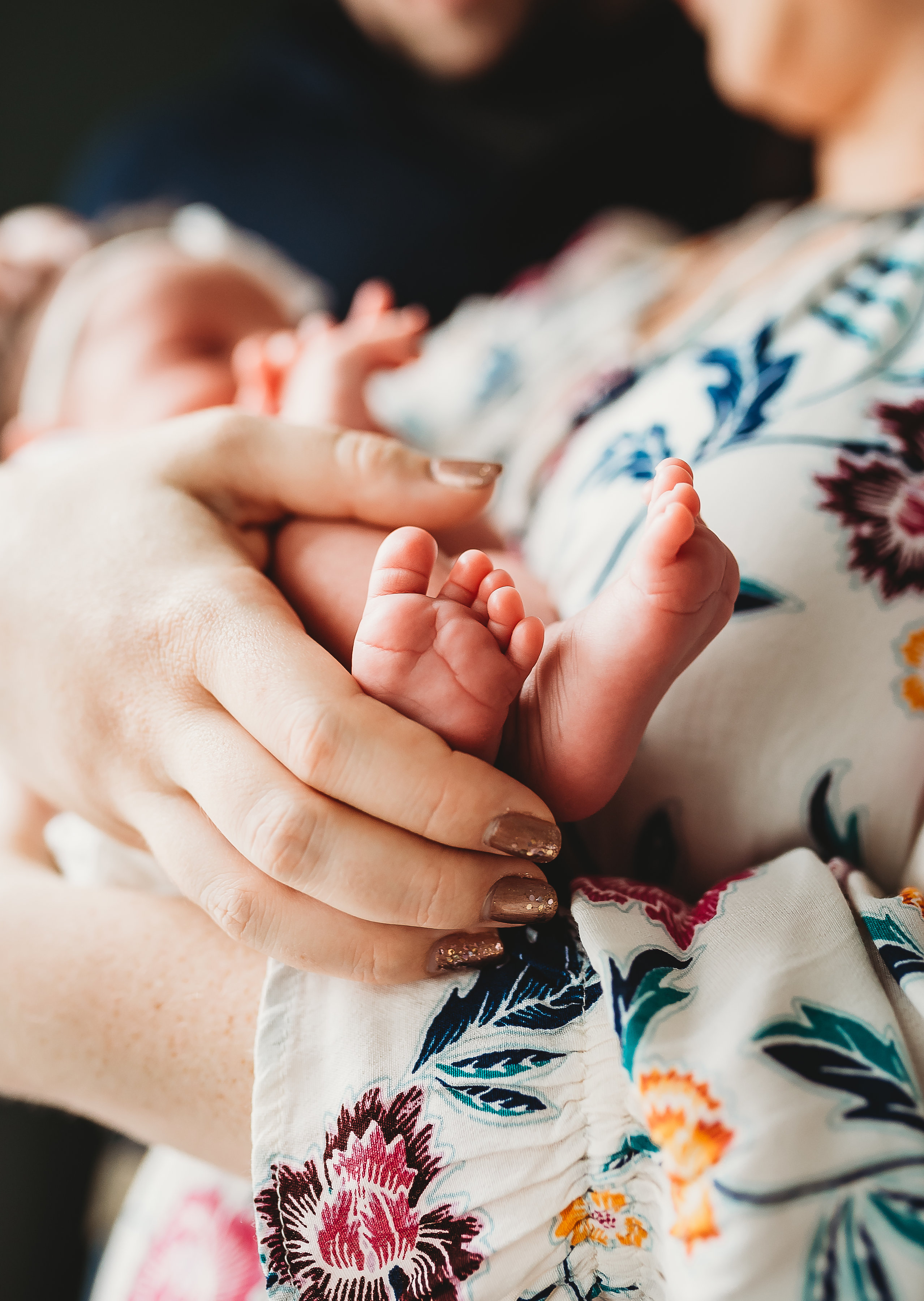 I worked hard so that I could comfortably work from home while raising my little girl.
I need to stop making things harder than they have to be for myself.
I didn't put in all hours so I could struggle with trying to balance work and motherhood.
I want the balance to come easy.
And by easy I mean that I want to put my daughter first and fit work in where I can AND be okay with that.
I need to not be so hard on myself. I need to stop valuing myself based on how well my business is doing.
As much as I love blogging, I love my family more and I need to make sure that they come first.
And yes, part of that is financial responsibility, but I have faith that it will all work out and that maybe reining in my work a little bit and establishing some boundaries is just what me and my business need.
And I know when all is said and done, I'll be grateful that I took this time. That I stepped back from the work a little and gave my daughter everything I have.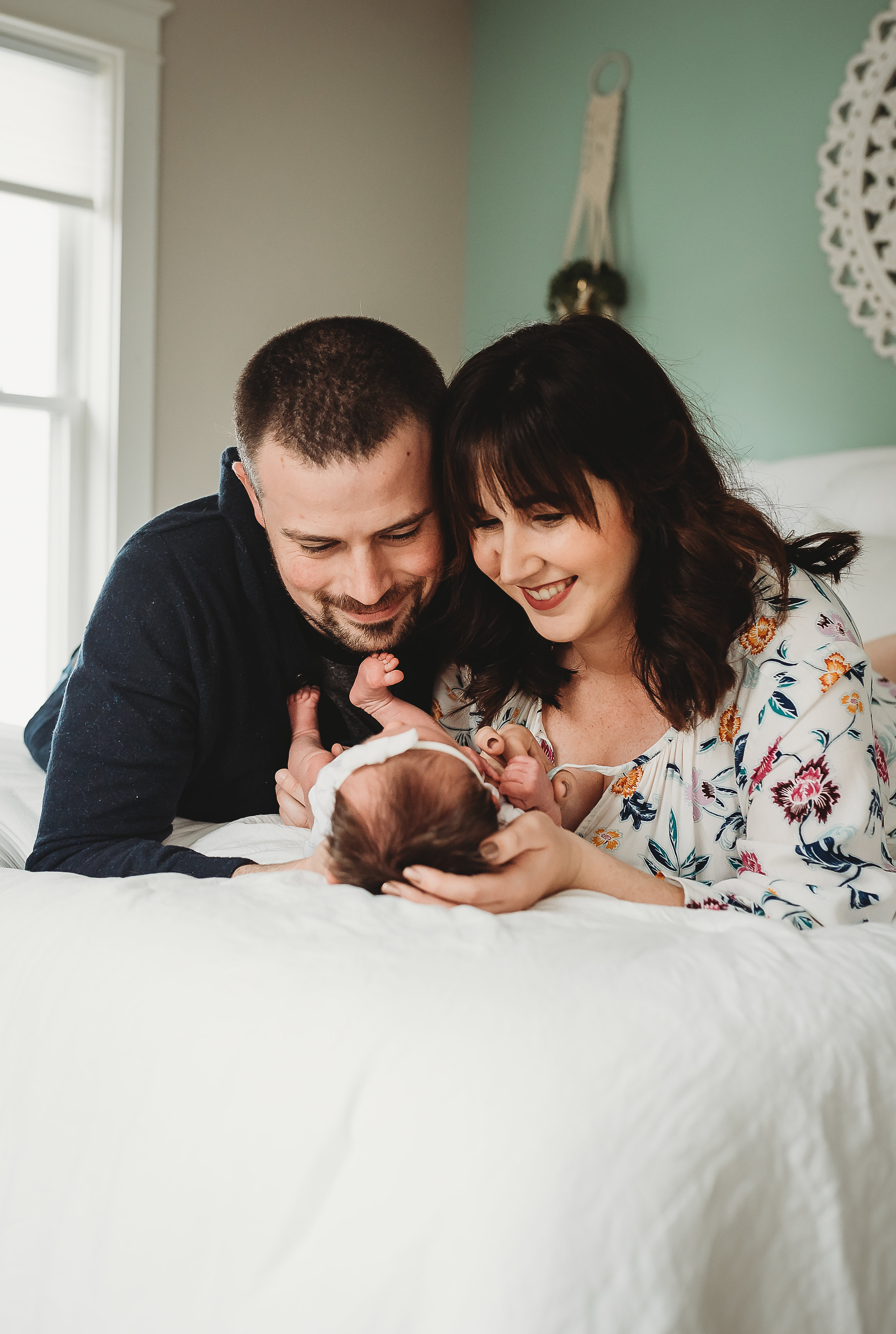 Okay, so enough of me rambling about the scattered thoughts rattling around in my brain, I know you're all really here for an update on the little one 😉
Evie is such a good baby.
Yes, she has her days (don't we all), but for the most part, she doesn't really fuss, she's a really good sleeper (thanks to the Taking Cara Babies Newborn Class – lifesaver!), and she's almost always all smiles and coos.
We had her newborn photos done by Danielle Brady Photography nine days after she was born, and it's her photos that you'll see from this point on.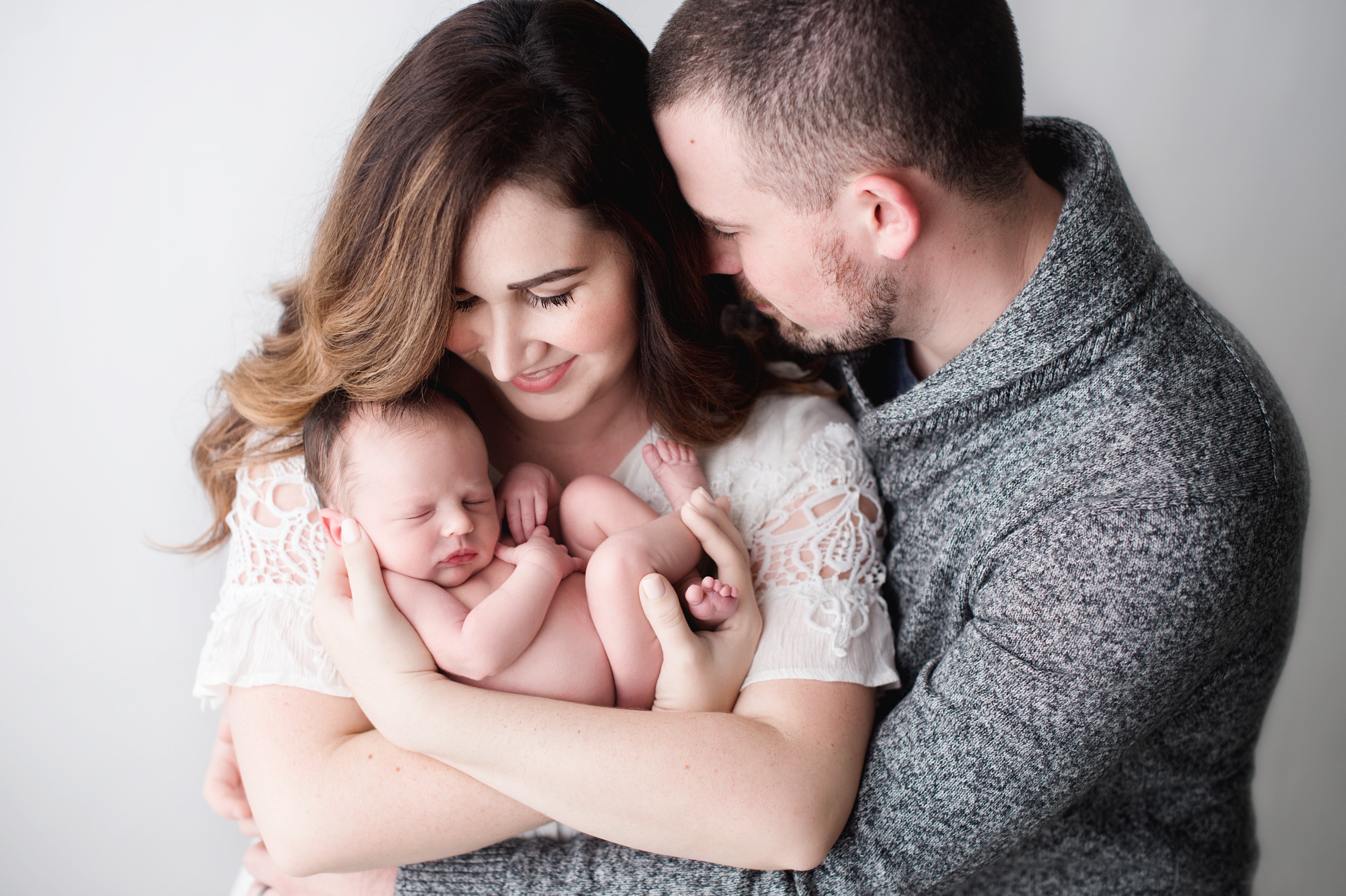 Around a month old we noticed that Evie had some symptoms of reflux and started working to make her more comfortable.
Unfortunately, at her 2-month check-up, the reflux had caused her to drop a few percentiles.
She was still happy and healthy, her gas drops had really helped with the discomfort, but she just wasn't gaining weight at the rate she should have been.
She's a tiny little thing.
So we began a two week battle for weight gain, she was such a little rockstar with the new routine and feeding methods and the pediatrician called her a showoff for gaining almost 2 lbs in two weeks!
Now she is growing right along with her own healthy curve!
It's hard to believe that she's almost 4 months old and she's weighing in around 11 lbs now.
And now she stands well with help and is almost sitting up on her own and is losing all her hair (wah) – basically growing up way too fast!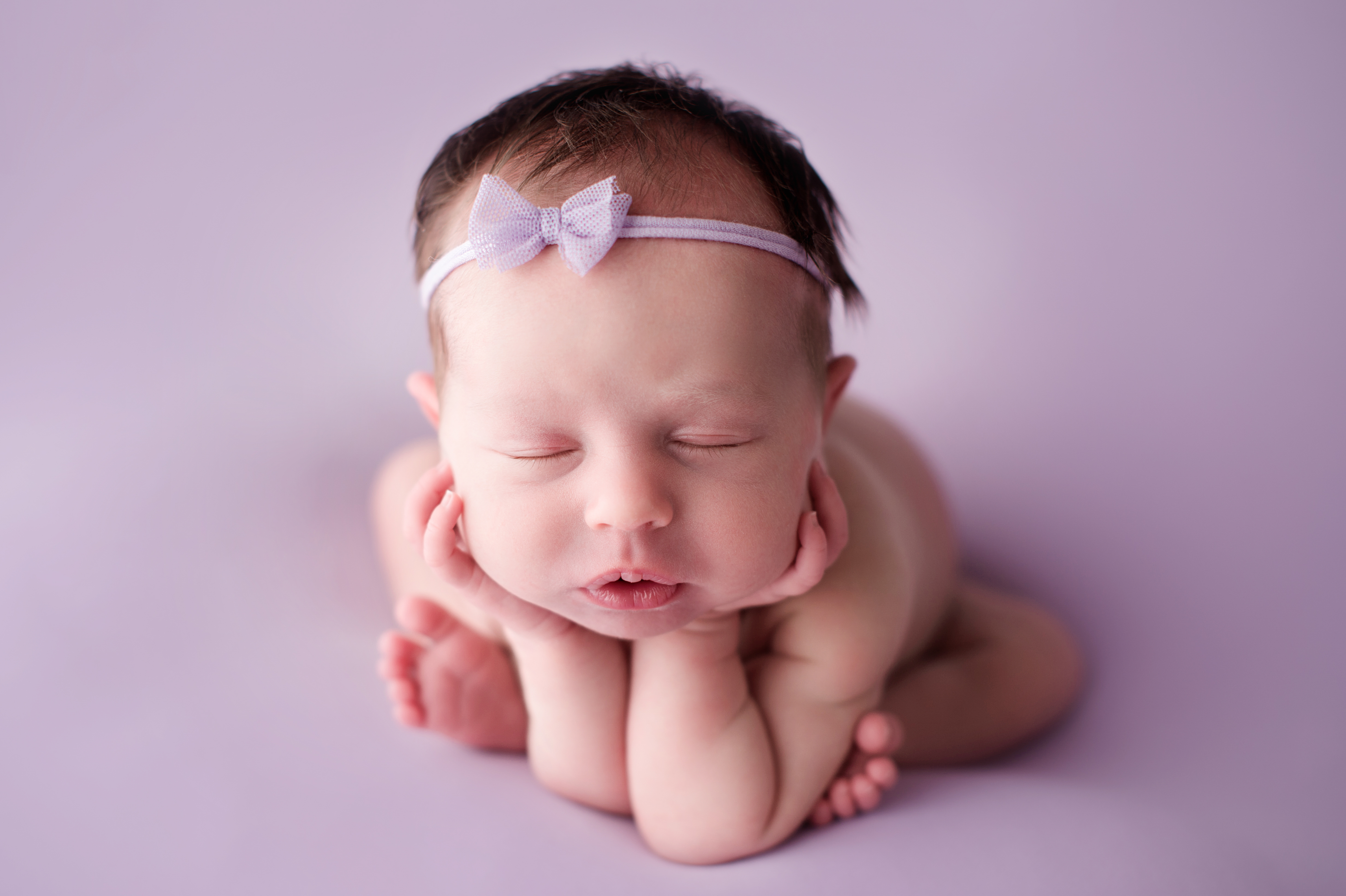 She's such a happy girl and she's hitting that stage where she's starting to understand and really observe the world around her. And it's so fun!
She's the first of a lot of things for many people in our family – first daughter, niece, granddaughter, great-granddaughter, a great-great-granddaughter. To say she is cherished and loved (and possibly a little spoiled) would be an understatement.
She has brought so much joy to our lives these last few months (and definitely passed the Kon Mari test when we purged a couple of weeks ago 😉 )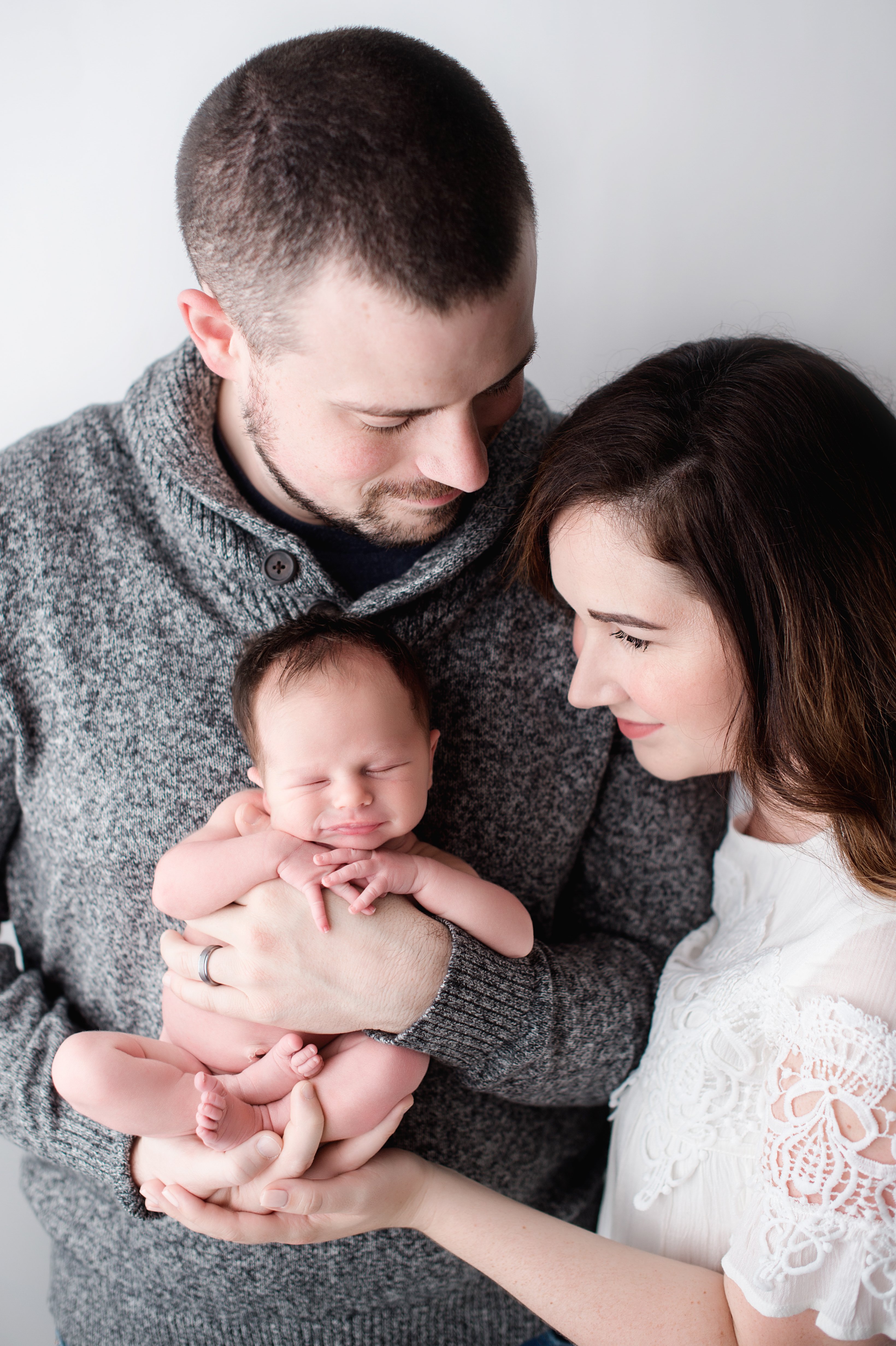 Right now Evie loves milk, snuggles, fuzzy blankets, babywearing with dad, people-watching, Baby Rock Lullaby, her Halo Swaddle, and Mr. Fox.
She dislikes clothes (especially socks), burping, belly time, babywearing with mom.
Her and Shoe are still getting used to each other. She loves watching him but he wants nothing to do with her other than the occasional sniff.
Oh, but he does guard her pretty thoroughly.
I know he'll come around and I think he'll really love it once she's mobile and dropping food from the table.
But right now he just wishes she'd share her toys with him.
So I guess that's all for now. I know there's no real order to this post. But I plan on sharing Evie's nursery reveal in a couple of weeks since we just finished it last weekend and I also plan on doing a post about the baby items we can't live without.