This is a sponsored conversation written by me on behalf of Vaseline. The opinions and text are all mine.
These 5 Tips to Save Your Skin this Winter are crucial in maintaining that hydrated glow through the dry and chilly months!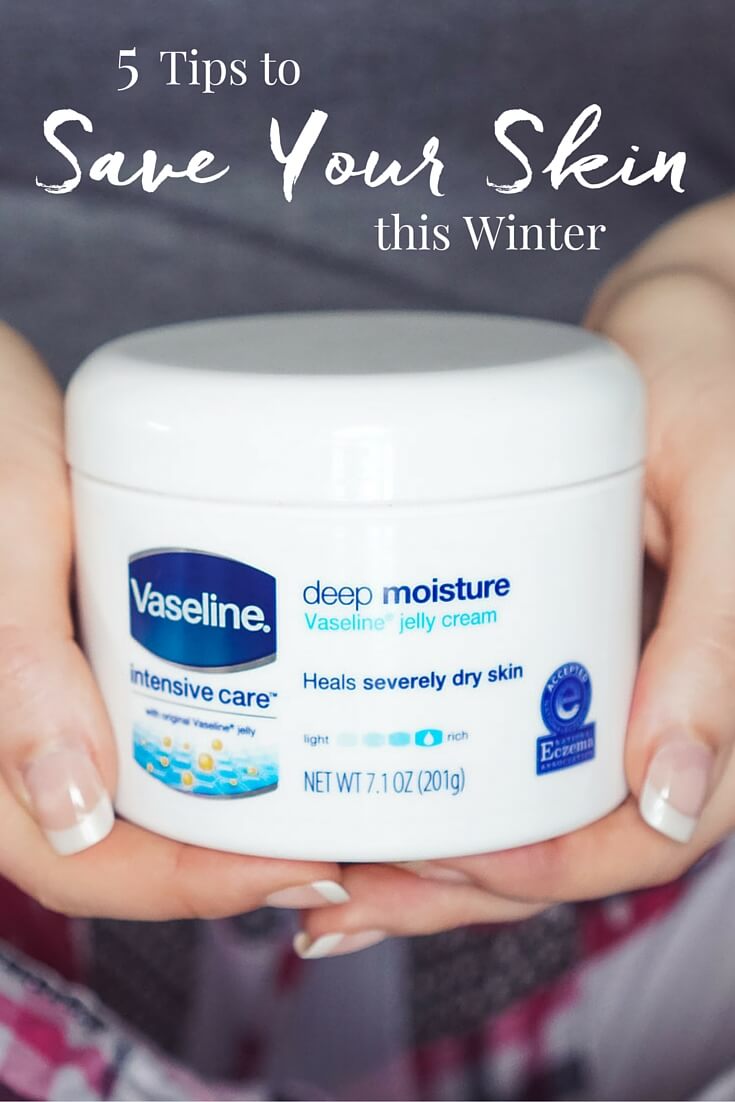 Winter and it's weather is creeping right up on us. Regardless of the warmer temps I mentioned in yesterday's post, the air is still drying out and with it, our skin. I'm young, but still my skin gets dry during the winter months. I know there are a few out there who were born with naturally radiant and moisture rich skin, but for the rest of us I'm sharing my 5 best tips for saving your skin and feeling good in it this winter!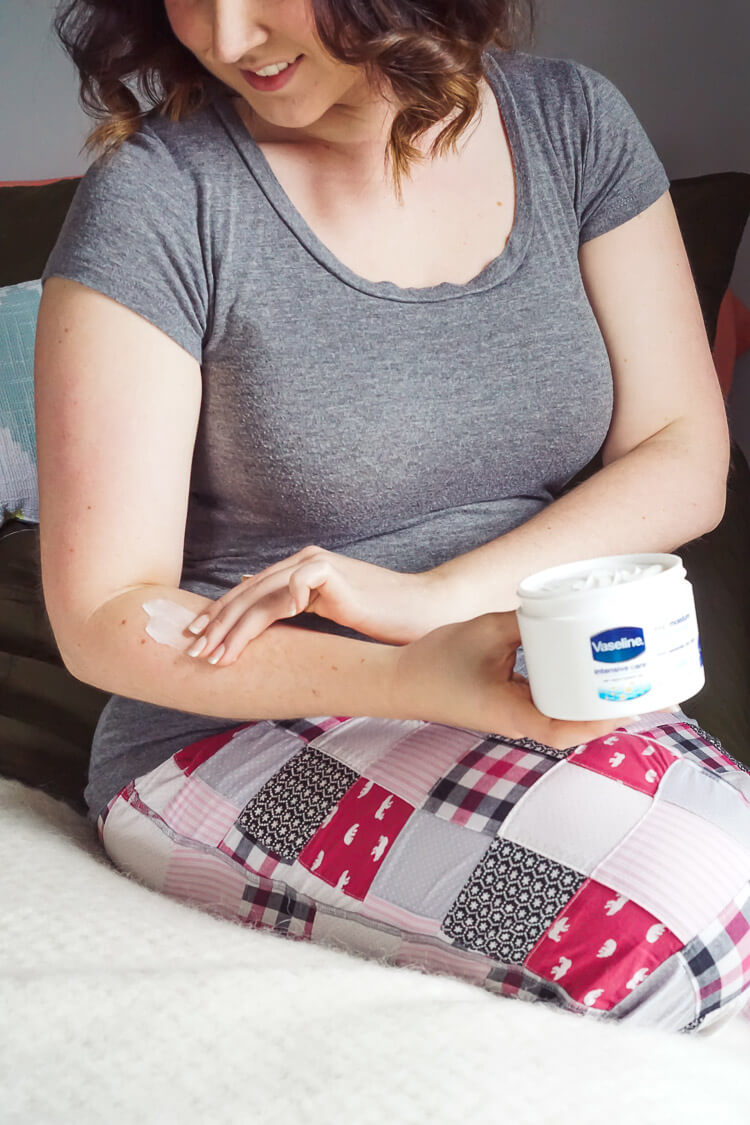 1. Moisturize – I know this seems like a no-brainer, but you'd be surprised how many people don't acknowledge the value of a good moisturizer. Not only is moisturizing important, but choosing the right one and doing it the right way makes a huge difference in the way your skin feels. I've been using the Vaseline Intensive Care Spray Moisturizer for a while now, I loved the ease of the spray bottle over the summer, but knew it wasn't going to be enough in the winter.
The Vaseline Intensive Care Deep Moisture Jelly Cream is the perfect substitute as it moisturizes skin by 250% for 18 hours! It's great for those with eczema and holds a National Eczema Association seal of approval. It's made with a new formula that's unscented, hypoallergenic, loaded with Vitamin E, and won't clog pores which is perfect for those with sensitive skin! The key to getting the most out of your moisturizer is to apply it immediately after a shower, this helps to lock in moisture and keeps your skin feeling good all day long!
2. Drink Water – This is actually pretty controversial in the skincare world, some swear by it and other will deny it till their dead. However, I'm going to go with what I know and that's that staying hydrated is crucial to great skin. When your skin is hydrated, it has more elasticity and in turn is less prone to cracking. Plus, drinking water is good for your whole body and you should aim to drink it consistently throughout each day.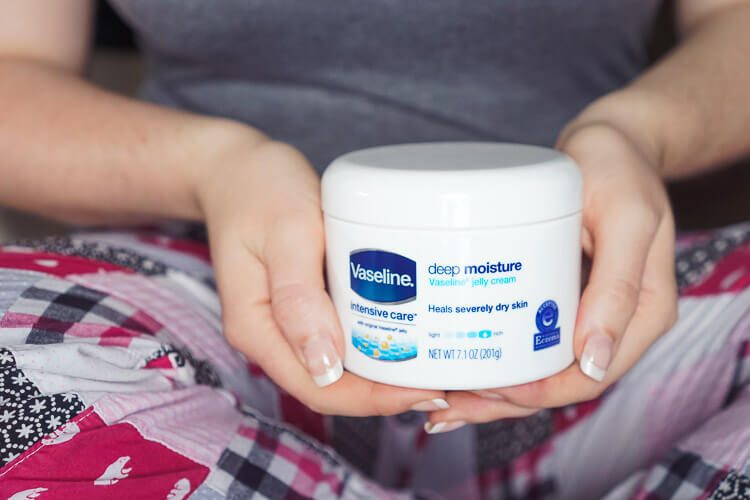 3. Get a Humidifier (or several) – When it starts getting chilly, we start turning up the heat. The dry heat from our furnaces and fire places sure aren't helping our skin out any, that's why a humidifier can be a huge help this time of year. Place small ones throughout your home to keep things consistent, your skin will thank you!
4. Avoid Hot-Hot Water – For those of you like my husband who need the water boiling when you take a shower or bath, you're not doing your skin any favors. Sure, it might feel nice at first, but over time that super hot water is breaking down the lipid barriers in your skin and loss of moisture. It's best to take shorter, warm showers this time of year. But for the days when you're frozen to a crisp after being out on the snowmobile or the slopes, take that hot shower, but slather on some extra Vaseline Intensive Care Deep Moisture Jelly Cream for good measure!
5. Reduce Alcohol Consumption – For some of us, this is the hardest of all. We've all just come out of summer with evenings full of ice cold beers by the lake and weekends full of weddings and open bars. Then we transition into colder weather and want nothing more than a spiked hot chocolate or a mug of mulled wine, but guess what, alcohol dehydrates. Now I'm not saying give it up, just try to reduce it for your skins sake. Absence will make that spiked Eggnog taste all the merrier, right?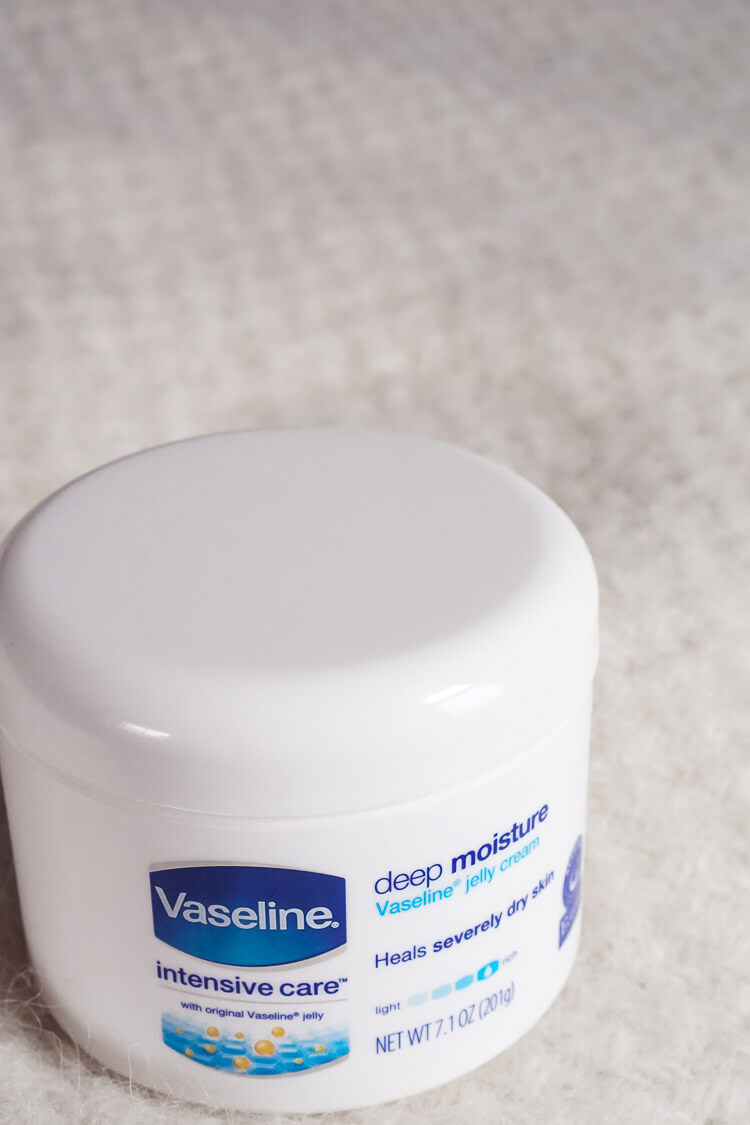 I hope you picked up at least a few good tips to lend your skin a hand this winter, because when you look and feel good on the outside, you feel it on the inside too. Visit Vaseline.us to learn more or pick up your 7.1 ounce tub of Vaseline Intensive Care Deep Moisture Jelly Cream (SRP $7.99); Available at food, drug and mass retail outlets. I'd love to hear your tips for keeping your skin fresh and glowing in the comments! And a big thanks to Vaseline for this amazing gift box, a couple of the jellies will be making an appearance in tomorrow's post, so stay tuned!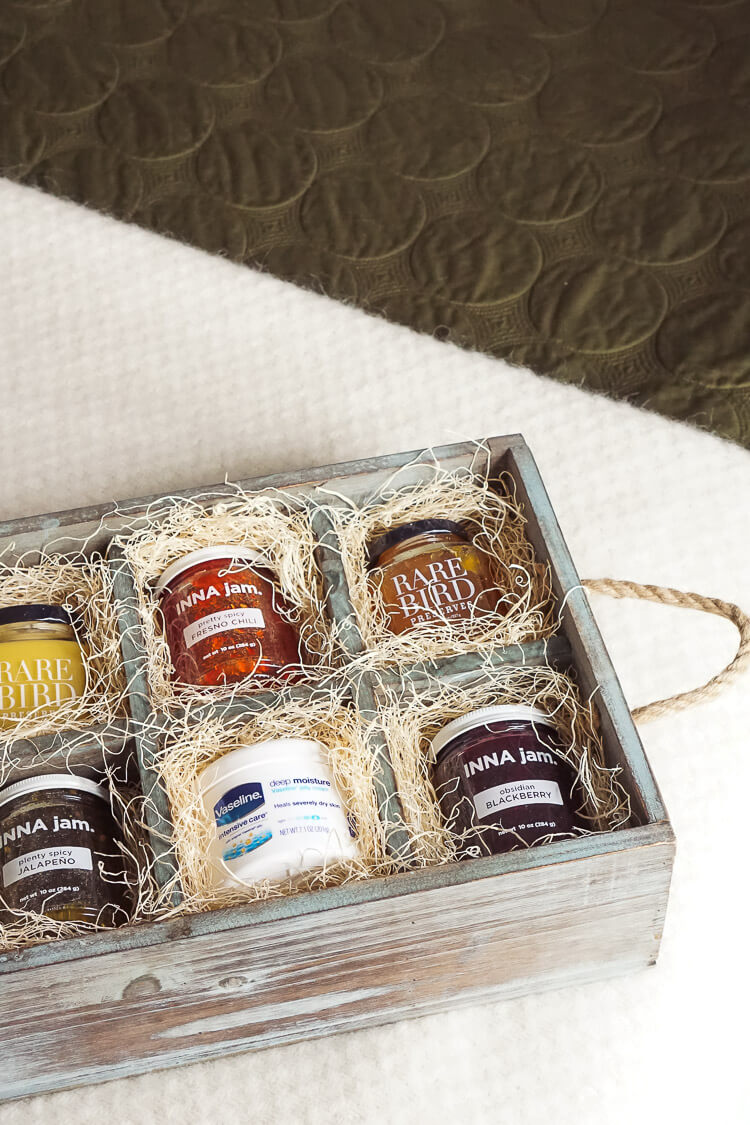 This is a sponsored conversation written by me on behalf of Vaseline. The opinions and text are all mine.