These 5 Ways to Wear Leggings All Winter Long are chic and stylish and will have you falling in love with these comfy bottoms all over again!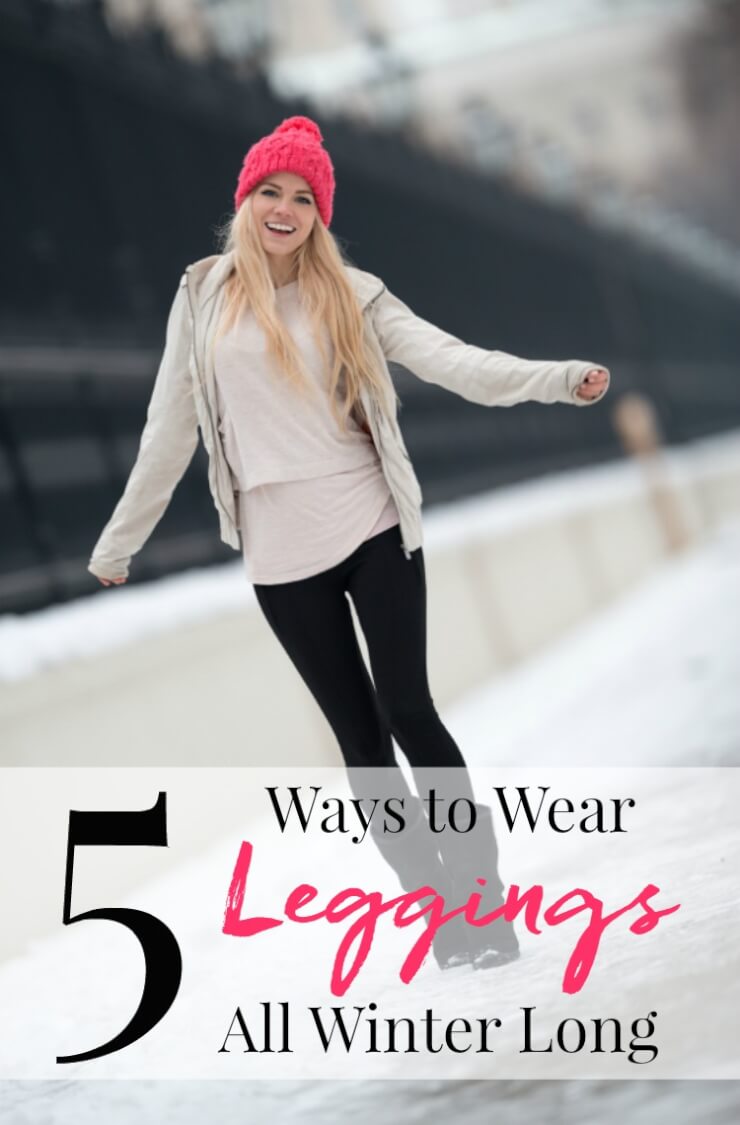 Hello to all you loyal (and new!) Sugar & Soul readers. It's Karen here, and I'm thrilled to be back! I think I speak for about 99% of all US females when I say that leggings are a versatile and comfy wardrobe staple. While you'd love to wear your leggings every single day, there is one problem: you want to avoid looking like you're perpetually going to the gym, bed, yoga studio, etc. (plus you must, must, must wear a top that covers your bum, because leggings ain't pants, folks!). So if you're not ready to give up your comfiest bottoms in the name of fashion, don't! Here are five styled ways to wear this soft, stretchy staple and still look polished through the winter. Long live leggings!
1.  Pair With Plaid Or Flannel
The great thing about basics is that they can easily be paired with of-the-season trends. Buffalo check is so having a moment right now, so take a break from your usual plaids and embrace it! High black boots add a dose of sophistication, while feminine gold accessories prevent you from looking too much like a lumberjack. This outfit is perfect for running errands and can even take you into the evening for happy hour drinks and apps with the girls.
2. Rock With Tough-Girl Accents
Whether wearing basic or moto embelished leggings, just add a leather jacket and studded statement pieces to score instant cool points. The keys to this look are the third layering piece and edgy accessories, the foundational items being your basic leggings and extra-long tank (how easy is that?!). Throw this look together and you're ready for a night out on the town!
3. Layer In Lieu Of Tights
Leggings do three jobs when worn under a dress: they're e a great substitute for itchy, constricting tights, they add an extra layer of warmth, plus they double as shapewear! Knit, cowl-neck dresses are the perfect cute-meets-comfy option as the air chills. Wear this ensemble to brunch, church, or Sunday dinner with the family.
4. Wear With An Oversized Sweater
There's nothing cozier than cashmere! Your softest, snuggliest sweater is the perfect piece to wear over your stretchiest bottoms, whether you're heading to a coffee shop, book store, or leaving town: this is a great outfit to wear if you want to travel in comfort but arrive in style. Booties, studs, and a pastel scarf make the outfit looked polished, while a large carry-all and sunglasses will have onlookers mistaking you for a celebrity in disguise.
5. Layer With Long Coats And Boots 
One of the best things about slim-fitting pants is how easily they slip into your favorite seasonal boots! Now, if you're wearing a top long enough to cover your bum, you must wear a coat that's long enough to cover the top. Traditional wool trench coats make a statement when they pop in an unexpected color against gray winter skies. Top with a chunky knit hat, gloves, and your softest plaid scarf, and you'll be prepared to face all types of winter weather, no matter how unpredictable.
Now, who said leggings weren't fashionable?