October is National Adopt-a-Dog month! These 7 great tips are meant to prepare you for the new furry love of your life!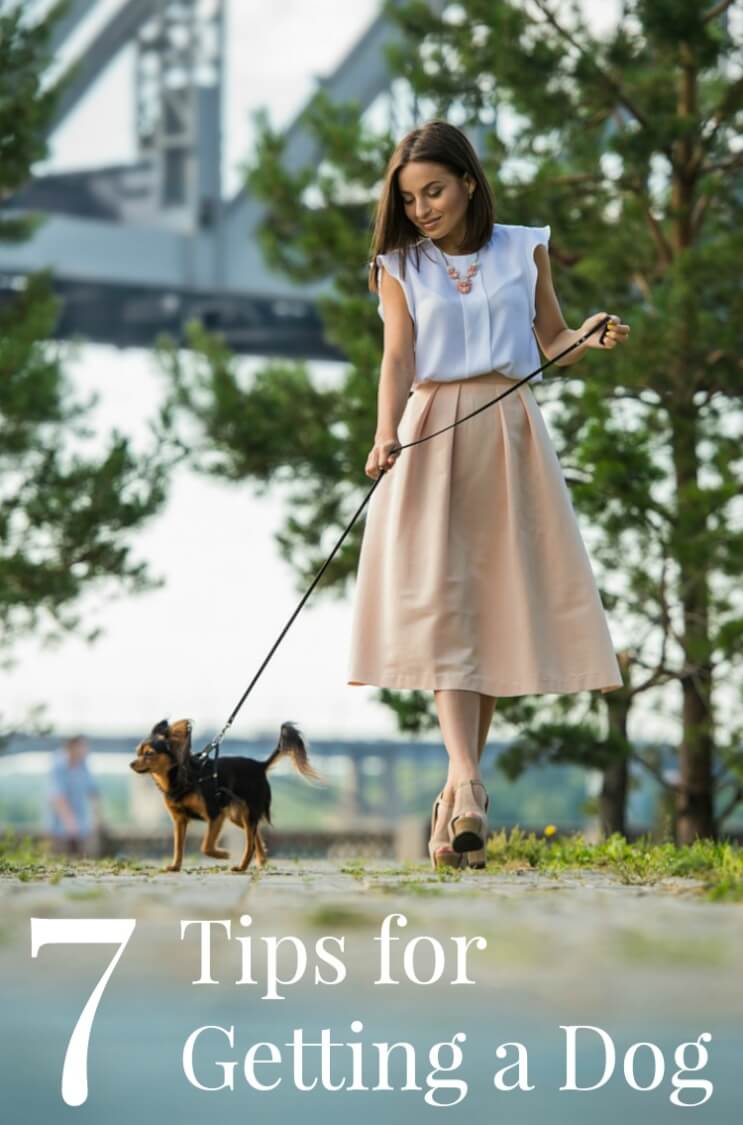 Hey guys, it's Karen again! About six months into living together (and 10 months into our relationship), my boyfriend Rob and I started thinking about adopting a puppy. At the time, we were in an apartment that did not allow pets, so it was obvious that we would have to wait. That turned out to be a blessing, because four months later, at the end of August, Rob got a promotion that moved us from Portland, Maine to Greenville, South Carolina.
As we settled into our new apartment in a new city with new jobs, the thought crossed our minds once more: we wanted a puppy. We began researching breeds and scouring the local humane society website every day, and finally went to visit a playful, floppy-eared pup named Pandora. But there was one small detail that stopped us from taking her home: we had a Disney vacation planned at the end of October. As much as we wanted to adopt Pandora, we decided that there was no way we were going to take this puppy home, only to board her in a kennel a couple weeks later.
We had a blast in Disney (with no puppy-abandonment guilt), but when we got home, we wanted a little furball more than ever. So three days later, on November 3, 2014, we visited the Greenville Humane Society and introduced a fuzzy little Shar-Pei/Retriever mix into our lives.
As our one-year anniversary with Luna approaches, I realize that there were several factors that aligned to make our transition from pupless to pup-parents pretty successful. I would recommend getting a dog to anyone, that is, anyone who can provide the right circumstances. Here are seven factors that worked for us, and things that you might want to consider before getting a tiny tail-wagger of your very own.
1. Be Financially Stable
Now, I want to be clear: Rob and I were on a fairly tight budget. In fact, we paid for Luna with a series of Visa gift cards that I was awarded for signing up with AT&T U-Verse. The fact is, we could still afford the bare essentials, and we cut back on surplus expenses like coffee-shop lattes, restaurant dinners, and unnecessary shopping trips. What Luna has cost us in food, toys, and shots are so worth the happiness she has brought into our lives. In many ways, she has even prevented us from going out and spending money on entertainment, because we love spending time with her. (iheartdogs.com has a great article that breaks down the costs) If you are able to save at least $600 to help cover your dog's first-year expenses, you're definitely off to a good start.
2. Live In A Dog-Friendly Area
Yes, if you live in an apartment, you should probably (definitely) make sure that your complex allows for dogs. And to that, make sure you know about breed and weight restrictions ahead of time. Other things you need to think about are where you will take your dog to potty, where you can walk her, and where the nearest dog park is to play some fetch and socialize her with other dogs.
3. Have A Partner In Crime
As mentioned earlier, my boyfriend and I decided to adopt Luna–together. We are able to share responsibility taking care of her, and our differing schedules ensure that she is not home alone eight hours a day, five days a week. Also, marriage is in our near future. I would never recommend that someone get a dog with a boyfriend/girlfriend if there was any uncertainty about their future together. Not only could a custody battle ensue, but a confusing and shifty home life is not good for the poor pup.
https://instagram.com/p/u_EbUNqZpg/?taken-by=lifewithluna14
4. Have A Balanced Social Life
Because Rob and I live far from our friends and family in Maine, we are homebodies, which has worked out wonderfully for Luna. In fact, she has even supplemented our social life; I met my neighbor and friend Laura because Luna could not keep her paws off her dog, Tyago! (Now they're best friends.) Leaving your dog home to go to brunch or for drinks for a few hours won't hurt her. However, if you have a very active social life and love late nights, crashing on friend's couches, and spontaneous weekends away, good for you…but getting a dog might not be the best decision right now. It would really tie you down.
5. Don't Care About Having Nice Stuff
You know that phrase, "When you got kids, you got nothing else"? Well, the same is true when you have a puppy. They'll chew everything, from shoes, to doors, to the legs of your dining room table. Lucky for us, Rob and I have not invested too much in furnishing our home, so we endured puppyhood at a great time in our lives. Luna has pulled the skirt off our consignment loveseat and destroyed our white comforter with her drool-covered rawhide, but fortunately, neither of those things were that valuable.
Also remember that most dogs shed, and you will get dog hair on E-V-E-R-Y-T-H-I-N-G. I'm mean, your carpet will become a fur rug, you'll find dog hair tumbleweeds in the corners of your kitchen floor, and you'll start find little strands puppy stuck in your food. Again, for Rob and me the extra cleaning and surplus lint brushes are totally worth it. But if you love keeping a spotless home and wardrobe, you may want to think twice about cleaning up after a canine. And don't get me started about how much they love mud…
6. Know What You Want In A Dog
We knew we were going to adopt a mutt (#adoptdontshop), and did a lot of breed research every time we scoped out a batch of pups. (Bonus: mutts are less likely to suffer from diseases that purebreds may be prone to.) Figure out what you want in a dog. Are you looking for a big, protective guard dog? A medium-sized family-friendly dog? A small relaxed lap dog? Also, consider age. Puppies need training and play time, but you have the opportunity raise them; young adult and older dogs could have a history of abuse or neglect, but tend to be more relaxed, and are often all the more loving for having been rescued.
7. Love The Outdoors
Luna has to be exercised every day–and that's okay! If you enjoy spending time in nature, a dog is the perfect companion to take on your adventures. Whether you enjoy leisurely walking or 10-mile hikes, getting a dog is a great way to keep you company and an excuse to get some fresh air. And of course, if you're an "indoor type," you may want to consider a cat, instead.
https://instagram.com/p/ylNMpMKZsv/?taken-by=lifewithluna14