These 9 Weekend Reads for Summer are fantastic stories you can breeze through while still enjoying the sunshine!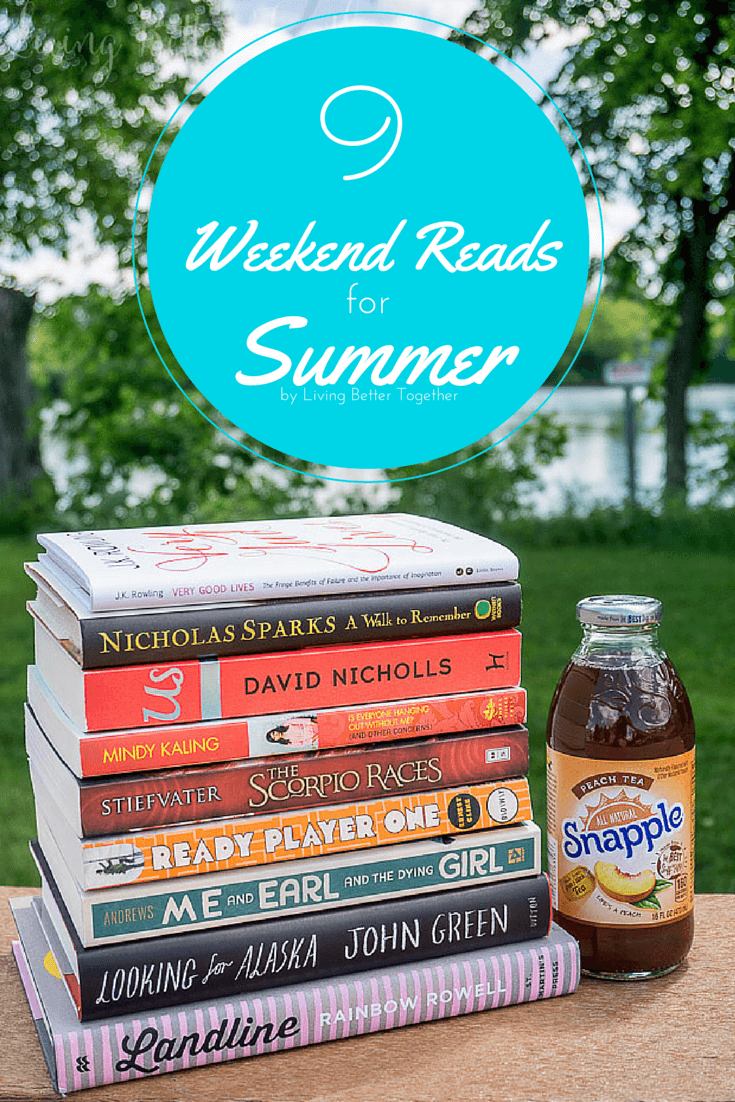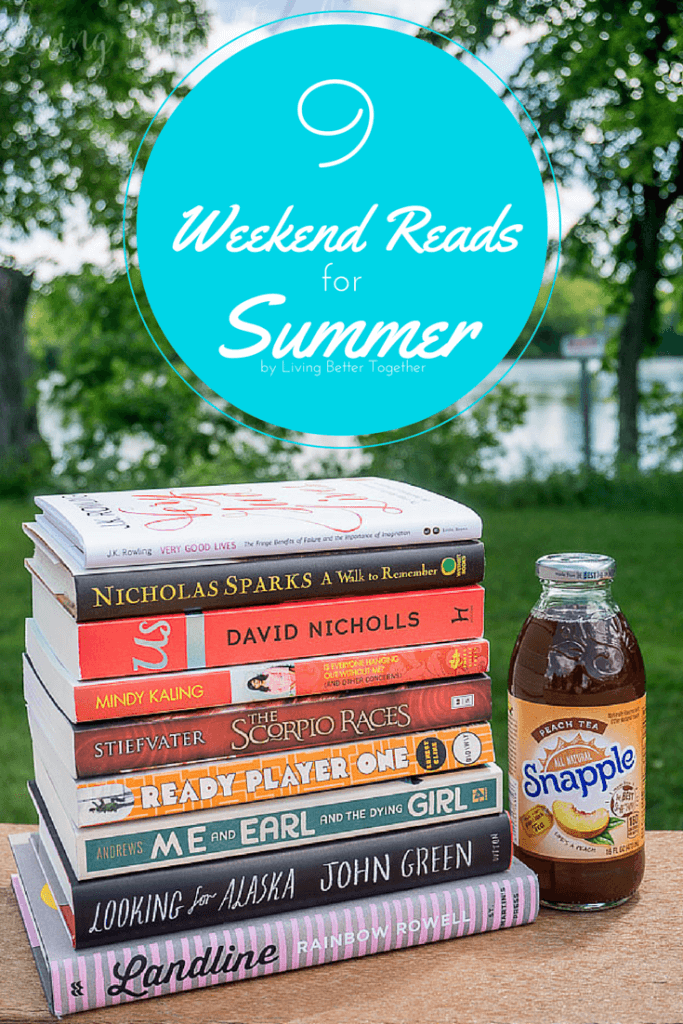 I know we covered my Summer Reading List a couple of months ago, but I thought I'd expand on it a bit with some Weekend Reads. These being books that are short, fun, or you just can't put them down, basically you can easily cruise through each of them in a weekend!
No matter what your summer plans are, there's no reason a good book can't join you. For me, reading is the perfect way to pass the time on a sunny or rainy summer day. You can go on big adventures right at home, laugh out loud at the public park, and sob quietly to yourself on an airplane (oh, wait, we said we weren't going to do that anymore). So grab a Snapple and a good book and head out on the boat, to the pool, or just to your back yard for a little "me time".
Landline by Rainbow Rowell
"I love you more than I hate everything else." ― Rainbow Rowell, Landline
Synopsis from Goodreads: Georgie McCool knows her marriage is in trouble; it has been in trouble for a long time. She still loves her husband, Neal, and Neal still loves her, deeply — but that almost seems beside the point now. Maybe that was always beside the point. Two days before they're supposed to visit Neal's family in Omaha for Christmas, Georgie tells Neal that she can't go. She's a TV writer, and something's come up on her show; she has to stay in Los Angeles. She knows that Neal will be upset with her — Neal is always a little upset with Georgie — but she doesn't expect him to pack up the kids and go home without her. When her husband and the kids leave for the airport, Georgie wonders if she's finally done it. If she's ruined everything. That night, Georgie discovers a way to communicate with Neal in the past. It's not time travel, not exactly, but she feels like she's been given an opportunity to fix her marriage before it starts… Is that what she's supposed to do? Or would Georgie and Neal be better off if their marriage never happened?
Why it made the list: This is a very good question since I've been kind of disappointed with Rowell's other books I've read. Here's the thing though, even though the stories usually fall flat for me in the end, I love her writing style throughout the books. Also, friends said this one was very different from her usual so I'm going to give it a shot!
Us by David Nicholls
"perhaps grief is as much regret for what we have never had as sorrow for what we have lost."
― David Nicholls, Us
Synopsis from Goodreads: Douglas Petersen understands his wife's need to 'rediscover herself' now that their son is leaving home.
He just thought they'd be doing their rediscovering together.
So when Connie announces that she will be leaving, too, he resolves to make their last family holiday into the trip of a lifetime: one that will draw the three of them closer, and win the respect of his son. One that will make Connie fall in love with him all over again.
The hotels are booked, the tickets bought, the itinerary planned and printed.
What could possibly go wrong?
Why it made the list: When we were in the UK last month, this book was everywhere! Eventually on the second to last day of our trip, we went into a book store that was selling it for just $4, I figured it needed to come home with me at that point.
Ready Player One by Ernest Cline
"No one in the world gets what they want and that is beautiful."
― Ernest Cline, Ready Player One
Synopsis from Goodreads: In the year 2044, reality is an ugly place. The only time teenage Wade Watts really feels alive is when he's jacked into the virtual utopia known as the OASIS. Wade's devoted his life to studying the puzzles hidden within this world's digital confines, puzzles that are based on their creator's obsession with the pop culture of decades past and that promise massive power and fortune to whoever can unlock them. When Wade stumbles upon the first clue, he finds himself beset by players willing to kill to take this ultimate prize. The race is on, and if Wade's going to survive, he'll have to win—and confront the real world he's always been so desperate to escape.
Why it made the list: For geeks like Matt and I, this book was awesome! A quick read with a lot of throwback fun! We actually listened to this on Audible because Will Wheaton narrates it.
The Scorpio Races by Maggie Stiefvater
"There are moments that you'll remember for the rest of your life and there are moments that you think you'll remember for the rest of your life, and it's not often they turn out to be the same moment."
― Maggie Stiefvater, The Scorpio Races
Synopsis from Goodreads: It happens at the start of every November: the Scorpio Races. Riders attempt to keep hold of their water horses long enough to make it to the finish line. Some riders live. Others die.
At age nineteen, Sean Kendrick is the returning champion. He is a young man of few words, and if he has any fears, he keeps them buried deep, where no one else can see them.
Puck Connolly is different. She never meant to ride in the Scorpio Races. But fate hasn't given her much of a chance. So she enters the competition — the first girl ever to do so. She is in no way prepared for what is going to happen.
Why it made the list: I LOVE The Raven Cycle series and I've heard great things about this stand alone novel.
A Walk to Remember by Nicholas Sparks
"Love is like the wind, you can't see it but you can feel it."
― Nicholas Sparks, A Walk to Remember
Synopsis from Goodreads: Every April, when the wind blows from the sea and mingles with the scent of lilacs, Landon Carter remembers his last year at Beaufort High. It was 1958, and Landon had already dated a girl or two. He even swore that he had once been in love. Certainly the last person in town he thought he'd fall for was Jamie Sullivan, the daughter of the town's Baptist minister. A quiet girl who always carried a Bible with her schoolbooks, Jamie seemed content living in a world apart from the other teens. She took care of her widowed father, rescued hurt animals, and helped out at the local orphanage. No boy had ever asked her out. Landon would never have dreamed of it. Then a twist of fate made Jamie his partner for the homecoming dance, and Landon Carter's life would never be the same. Being with Jamie would show him the depths of the human heart and lead him to a decision so stunning it would send him irrevocably on the road to manhood…
Why it made the list: I'm not a huge fan of Sparks, but this one is my favorite. I read it my freshman year of high school and it never ceases to bring me to tears. It's the perfect acquaintance while you're fighting a summer cold.
Is Everyone Hanging Out Without Me? (And Other Concerns) by Mindy Kaling
"In my mind, the sexiest thing in the world is the feeling that you're wanted."
― Mindy Kaling, Is Everyone Hanging Out Without Me?
Synopsis from Goodreads: Mindy Kaling has lived many lives: the obedient child of immigrant professionals, a timid chubster afraid of her own bike, a Ben Affleck–impersonating Off-Broadway performer and playwright, and, finally, a comedy writer and actress prone to starting fights with her friends and coworkers with the sentence "Can I just say one last thing about this, and then I swear I'll shut up about it?"
Perhaps you want to know what Mindy thinks makes a great best friend (someone who will fill your prescription in the middle of the night), or what makes a great guy (one who is aware of all elderly people in any room at any time and acts accordingly), or what is the perfect amount of fame (so famous you can never get convicted of murder in a court of law), or how to maintain a trim figure (you will not find that information in these pages). If so, you've come to the right book, mostly!
Why it made the list: Because we all need a good laugh and I was laughing in the introduction.
Very Good Lives by J.K. Rowling
"It expresses, in part, our inescapable connection with the outside world, the fact that we touch other people's lives simply by existing."
― J.K. Rowling, Very Good Lives
Synopsis from Goodreads: In 2008, J.K. Rowling delivered a deeply affecting commencement speech at Harvard University. Now published for the first time in book form, Very Good Lives offers J.K. Rowling's words of wisdom for anyone at a turning point in life, asking the profound and provocative questions: How can we embrace failure? And how can we use our imagination to better both ourselves and others?
Drawing from stories of her own post-graduate years, the world-famous author addresses some of life's most important issues with acuity and emotional force.
Why it made the list: Mostly, because I'm at a bit of a turning point and I think this woman is pure genius!
Me and Earl and the Dying Girl by Jesse Andrews
"When you convert a good book to a film. stupid things happen"
― Jesse Andrews, Me and Earl and the Dying Girl
Synopsis from Goodreads: Greg Gaines is the last master of high school espionage, able to disappear at will into any social environment. He has only one friend, Earl, and together they spend their time making movies, their own incomprehensible versions of Coppola and Herzog cult classics.
Until Greg's mother forces him to rekindle his childhood friendship with Rachel.
Rachel has been diagnosed with leukemia—-cue extreme adolescent awkwardness—-but a parental mandate has been issued and must be obeyed. When Rachel stops treatment, Greg and Earl decide the thing to do is to make a film for her, which turns into the Worst Film Ever Made and becomes a turning point in each of their lives.
And all at once Greg must abandon invisibility and stand in the spotlight.
Why it made the list: It came highly recommended from one of my favorite Goodreads reviewers and I want to read it before seeing the movie, you know, because of the quote above.
Looking for Alaska by John Green
"Thomas Edison's last words were 'It's very beautiful over there'. I don't know where there is, but I believe it's somewhere, and I hope it's beautiful."
― John Green, Looking for Alaska
Synopsis from Goodreads: Before. Miles "Pudge" Halter's whole existence has been one big nonevent, and his obsession with famous last words has only made him crave the "Great Perhaps" (François Rabelais, poet) even more. He heads off to the sometimes crazy, possibly unstable, and anything-but-boring world of Culver Creek Boarding School, and his life becomes the opposite of safe. Because down the hall is Alaska Young. The gorgeous, clever, funny, sexy, self-destructive, screwed-up, and utterly fascinating Alaska Young, who is an event unto herself. She pulls Pudge into her world, launches him into the Great Perhaps, and steals his heart.
After. Nothing is ever the same.
Why it made the list: I'm a huge Green fan and this is my favorite of his works. It's a quick and easy read – A little funny and a little depressing.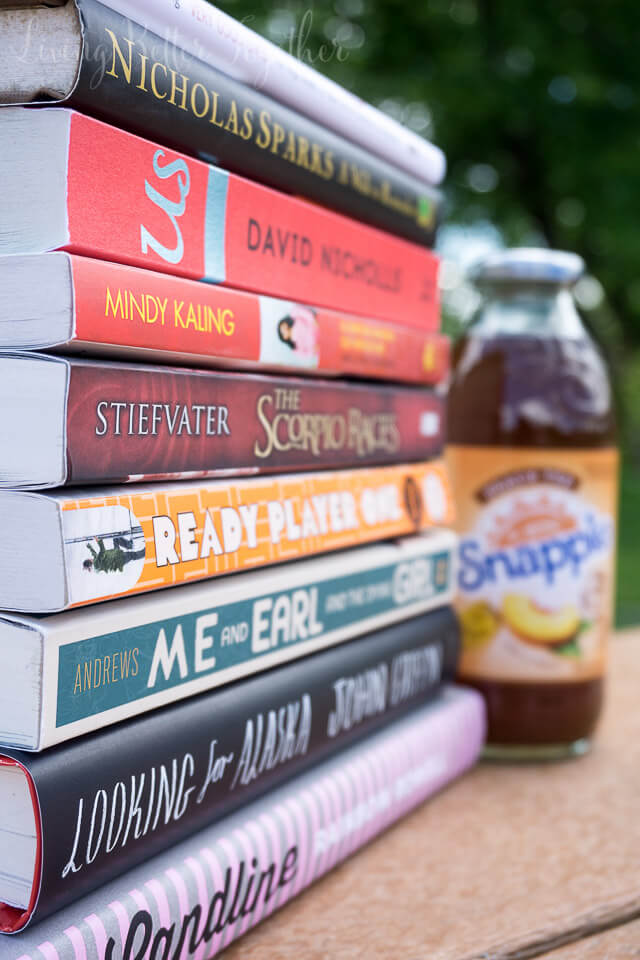 So, I hope you found at least one book that peaked your interest! There are so many great ones here and a little something for everyone, I think. And don't forget to pick up a bottle of Snapple Tea at Walmart where 18.5 oz Straight Up Tea and Premium Glass items are on Rollback for $1.00 in-store at Walmart.