Heading out into the great unknown we call adulthood? Here's a little helpful Advice I'd Give to my College Freshman Self and hopefully it will get you off to a strong start!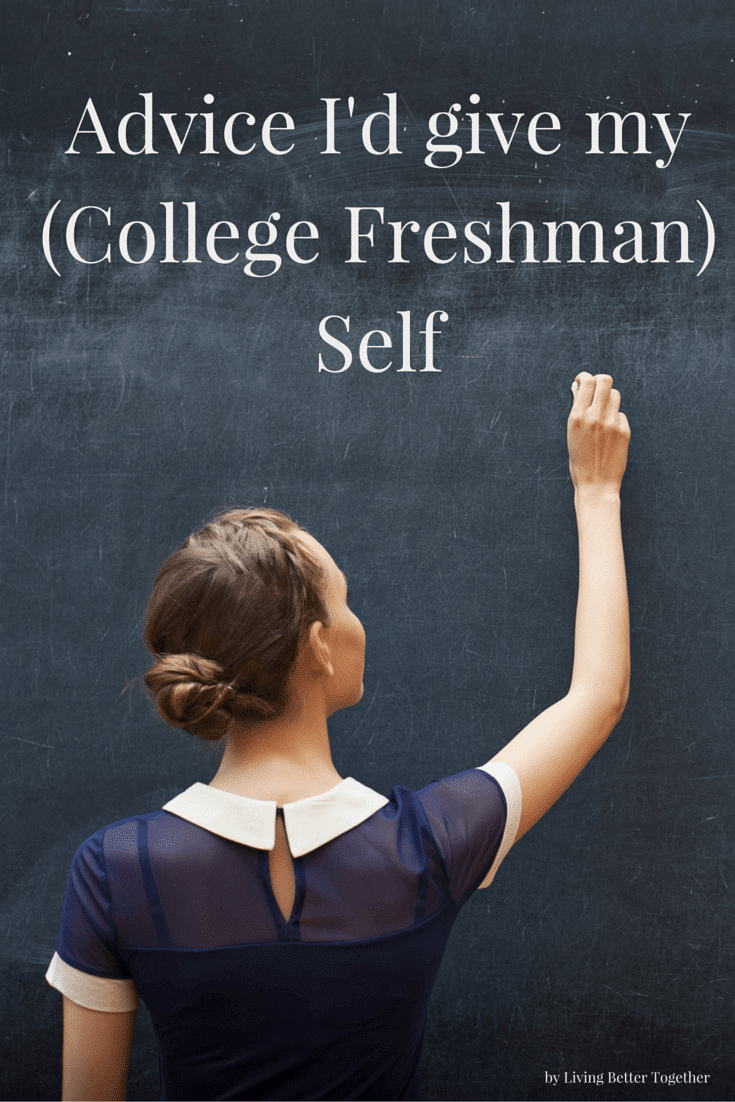 It's "back to school" time again, and if you're about to embark on your very first semester of college, you're in for a school year unlike any other you've had before. As a college freshman, you'll get your first real taste of freedom to make your own real-world decisions, whether it's what to buy at the grocery store, how late you're going to stay out the night before your midterm, or how you're going to pay for all those school books.
I began college eight years ago (eek!), transferred twice, but graduated from my final and favorite choice, Emerson College, which is in Boston. Looking back, here is some advice that I would give my anxious, eager, college-freshman self, and I hope that it will help make the most out of your college career.
1. Get A Concept Of Your School Loans
I hate to start off with a downer, but this one is so important! When my parents tried to sit me down to discuss the repercussions of borrowing money (like, that you have to pay it back), I didn't want to hear it! Borrowing money for school is almost inevitable, so I thought that the discussion would be irrelevant…but it could have helped me save thousands.
At the time, I was certain that if I invested in a great school, I'd be a shoe-in to begin a successful and lucrative lifelong career the second after I received my diploma. Reality hit hard when I graduated with no job and had to leave Boston to move back home. I began working a string of unfulfilling jobs (like selling at a call center, making recruitment phone calls for an insurance agency, and serving at restaurants, to name a few) that not only left me miserable but also unable to pay my college bills.
Let me be clear: college is one of the most important investments you will ever make; but it is not a golden ticket into your dream career. I am proud of the education that I received, and in my college years, I grew to become responsible and independent, and realized that my dream to write could actually become a reality (this article = proof). But there are a few decisions that I could have made differently that would've better prepared me for the future. Read on, and learn from my mistakes.
2. If Possible, Start At A Community College
Talk about a way to save money! If you can be patient, take your core classes at a local college (and make sure they're transferable!), then transfer to your dream school. Save money by living and eating at home. You will still be getting the diploma from the college you graduate from, just with a much smaller price tag.
3. Network With Your Professors
When you take classes that inspire you to pursue your dream career, make sure your professors know it! Pick their brains, take other classes that they teach, and most importantly, keep in touch. Chances are, they have connections with others in the field, and if you stand out to them, they can recommend you for a great internship or job opportunity. Which brings us to…
4. Complete An Internship (Or Two!)
By far, one of my biggest regrets is not pursuing an internship while i was in school. If you're concerned that you won't have time because you already have a full course load and a part-time job (hey, you'll need spending money) don't stress: many internships are applicable for school credit and can be taken in place of classes. Or, opt for one that pays and you won't need a job.
Remember that you're in a generation where almost everyone has a degree, so work experience will set you apart from the competition, and also help you network within the industry. The more you build your resume, the better the chances you'll land a job right after you graduate.
5. If You Want To Study Abroad, Start Planning Now
I was very fortunate to study abroad in Europe during the last semester of my senior year. It was an amazing, once-in-a-lifetime experience. But to be honest, I would have gotten more out of it if I'd done a few things differently. For starters, I didn't know anyone who was going on the trip, and I wish that I'd gone with at least one or two friends.
Some people can feel comfortable amongst complete strangers and I wanted to be one of those people–but I wasn't. I was in a foreign country with people I hardly knew, and there were a lot of lonely, anxiety-filled moments where it would have been a relief to have just one familiar face. Over time, I made friends with my fellow travelers, but right as we were getting close, the semester ended. More of my short time there would have been more enjoyable, had I been comfortable with at least a couple people from the get-go.
The end of my trip was also the end of my college years. It would have been smarter to have studied abroad earlier so that I could have better prepared for life after graduation (read: looked for a job). Additionally, traveling overseas meant taking out more school loans, because I had not planned ahead to save. Don't get me wrong: if you want to study abroad, you should do it! It's a once in a lifetime opportunity. Just be honest with yourself, both as a person and in terms of preparation.
6. Don't Buy Your Books
Of course, you want to get the most out of your classes, but don't waste money on a stack of crisp, shiny new textbooks. Once the semester is over, they'll be nothing more than a pile of overpriced dust-collectors, and if you sell them, you'll only make back a tiny fraction of what you spent. Instead look for used versions online, like on Amazon or eBay.
As you settle into college, you'll realize that some professors barely use the textbooks at all. By my sophomore year, I began checking the library to see if they had copies of my "required" textbooks before I bought them (most libraries have to have at least one copy on hand). That way, if I only needed to use a book once or twice, I'd just do those assignments in the library. If the professor started using it on a daily basis, then I'd invest in purchasing a used copy.
7. There Will Always Be Another Party
Maybe you have an exam to study for, or you just want to stay in for a quiet night. Don't feel obligated to go to every party; I promise you, there will always be more! Remember that especially during the first week of college and on big party holidays like Halloween, cops are on the lookout for underage drinkers to set the precedent for the rest of the year. Be wary of going to a raging party that is likely to get busted–your parents won't be too impressed when they find out you got a summons on your first weekend away.
8. Always. Stick. Together.
Your college years will probably be some of the best you've had so far, but they can also put you in some of the most dangerous situations you've yet to encounter. When you go out, always stick with a group of friends who look out for each other. There are two things that allow for bad things to happen: intentions and circumstances. You can usually prevent the latter one: don't travel alone after dark, initiate a buddy system when you go to parties, and make sure you're always in close proximity to friends you trust.
Now go forth, dear freshman. I hope you feel more enlightened than lectured, and I wish you the best, safest, and most successful college experience that the next four (or more!) years have to offer!