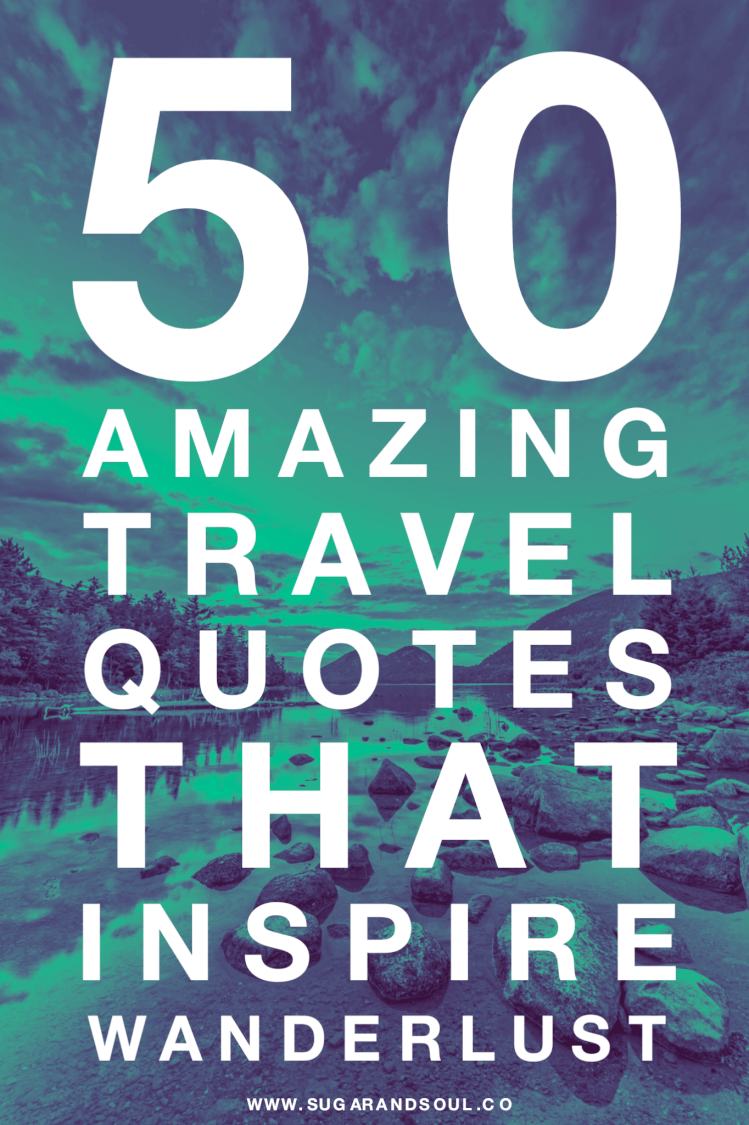 These 50 Amazing Travel Quotes will inspire wanderlust and leave you dreaming of your next adventure and booking that plane ticket!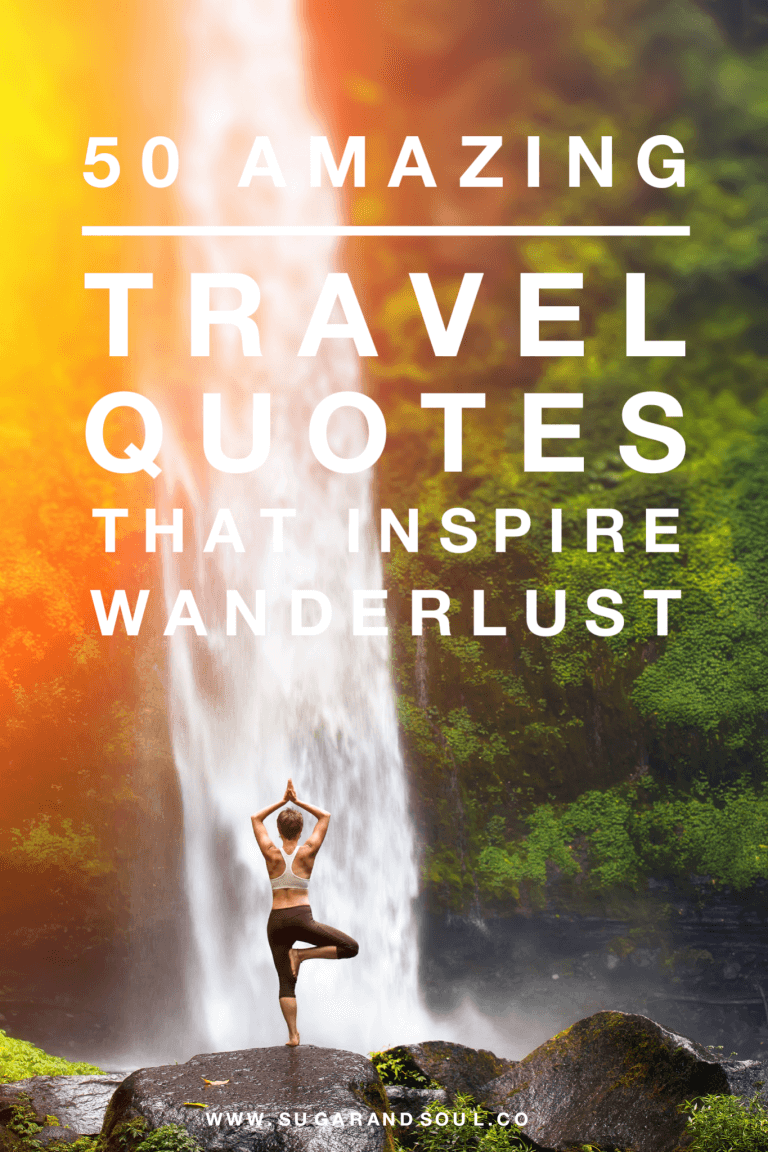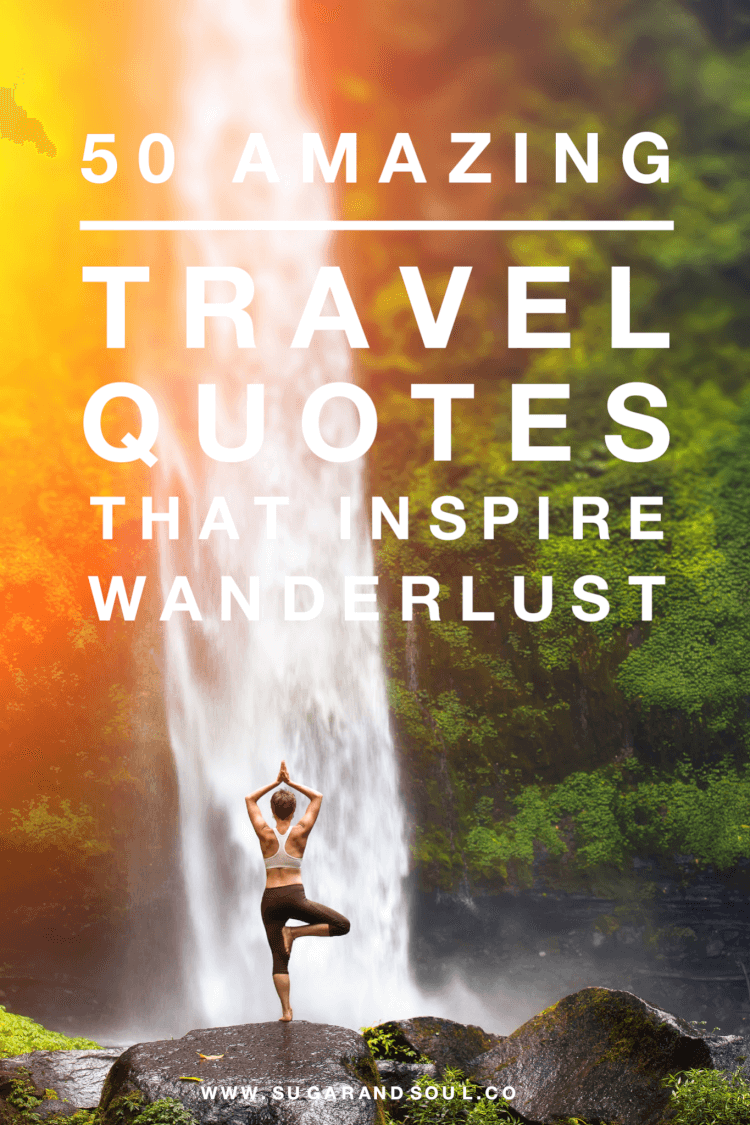 Amazing Travel Quotes
These travel quotes will have you dreaming of far off places and new experiences! A new year means new adventures! I'm sure many of you, like me, are planning your trips for the year or maybe you're just dreaming of faraway lands and the day you get to explore them. Well, let me tell you, that day should be today. I am very fortunate to have had some incredible opportunities, as well as the ability to share my experiences with you on my blog.
Whether it's taking the train to Boston or flying across the world to Sydney, Australia, travel simultaneously opens your eyes while making you feel more deeply connected to yourself. And I believe it is something we should all do a lot more!
Words cannot fully describe the complex emotions and insights that come from exploring new places, and it's something I think that everyone should experience if they can. Here are 50 travel quotes that will inspire you and make you want to get out there and see the world RIGHT NOW!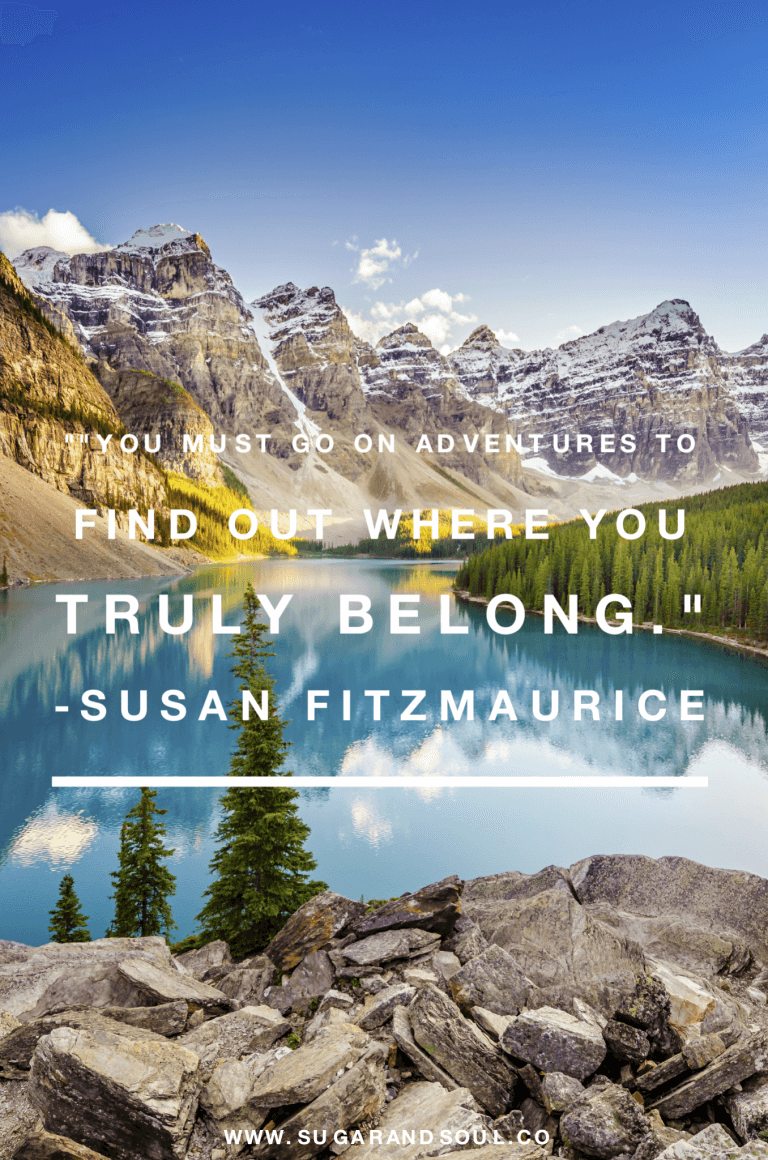 10 Travel Quotes You'll Love!
1. "You must go on adventures to find out where you truly belong." -Sue Fitzmaurice
2. "Everything you look at can become a fairy tale and you can get a story from everything you touch." – Hans Christian Andersen
3. "Then one day, when you least expect it, the great adventure finds you." – Ewan Mcgregor
4. "Travel changes you. As you move through this life and this world you change things slightly, you leave marks behind, however small. And in return, life—and travel—leaves marks on you." – Anthony Bourdain
5. "I haven't been everywhere, but it's on my list." – Susan Sontag
6. "In order to be lost, I'd have to know where it is I'm going." – Unknown
7. "Travel far enough, you meet yourself." – Cloud Atlas
8. "You will never be completely at home again, because part of your heart will always be elsewhere. That is the price you pay for the richness of loving and knowing people in more than one place." – Miriam Adeney
9. "And at the end of the day, your feet should be dirty, your hair messy and your eyes sparkling." – Shanti
10. "Now more than ever do I realize that I will never be content with a sedentary life, that I will always be haunted by thoughts of a sun-drenched elsewhere." – Isabelle Eberhardt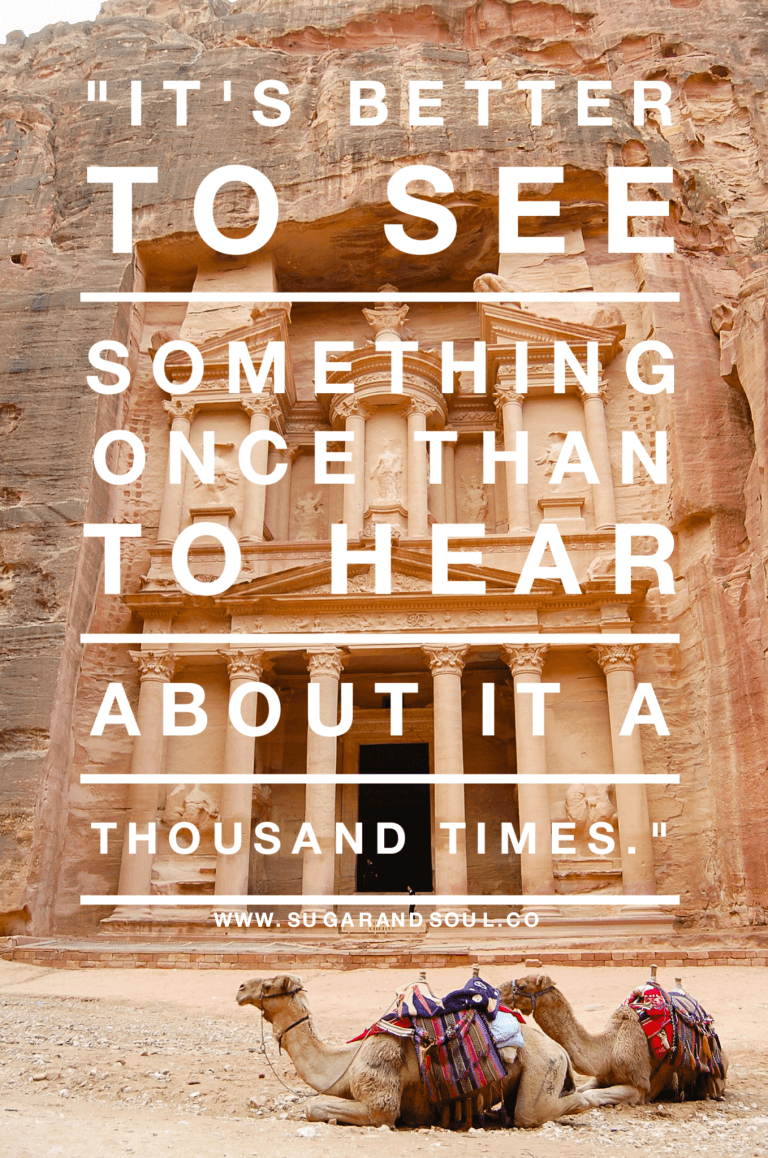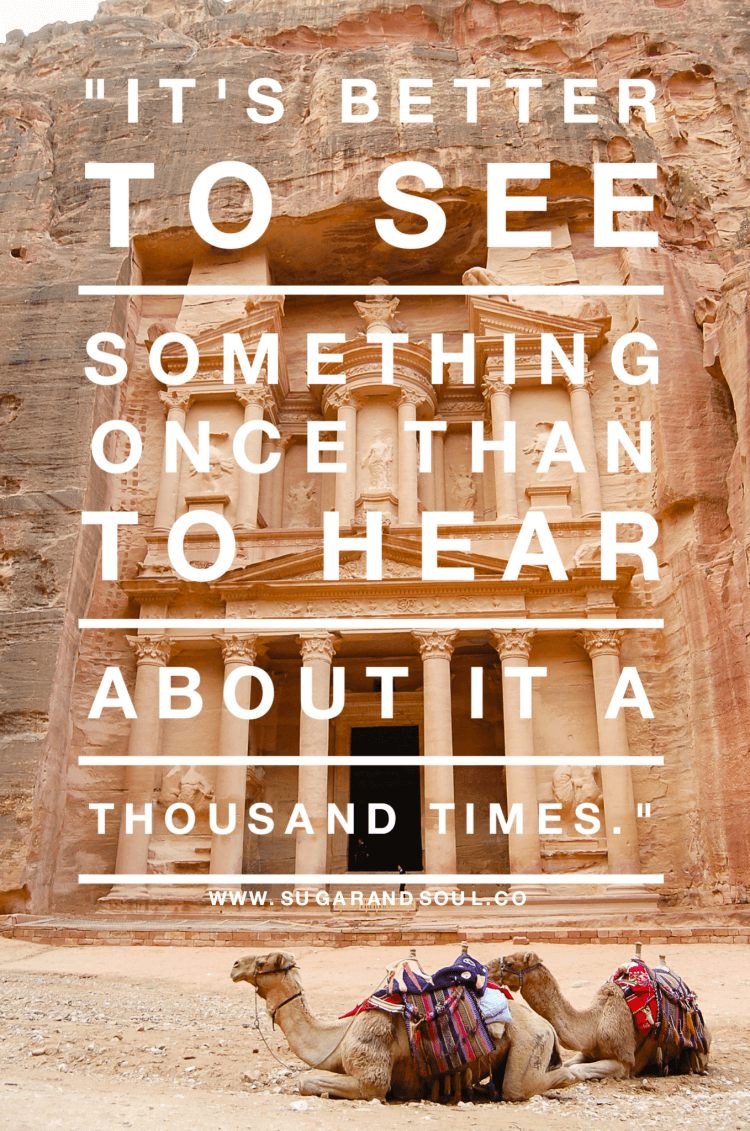 10 More Travel Quotes to Inspire You!
11. "It's better to see something once than to hear about it a thousand times." – Unknown
12. "Don't tell me how educated you are, tell me how much you've traveled." – Mohammed
13. "Travel brings power and love back to your life." – Rumi
14. "Of all the books in the world, the best stories are found between the pages of a passport." – Unknown
15. "Traveling is a brutality. It forces you to trust strangers and to lose sight of all that familiar comforts of home and friends. You are constantly off balance. Nothing is yours except the essential things. -air, sleep, dreams, the sea, the sky. -all things tending towards the eternal or what we imagine of it." – Cesare Pavese
16. "Blessed are the curious for they will have adventures." – Unknown
17. "I'm in love with cities I've never been to and people I've never met." – Unknown
18. "Actually – the best gift you could have given her was a lifetime of adventures…" – Lewis Carroll
19. "Travel. As much as you can. As far as you can. As long as you can. Life's not meant to be lived in one place." – Unknown
20. "To see the world, things dangerous to come to, to see behind walls, draw closer, to find each other, and to feel. That is the purpose of life." – Walter Mitty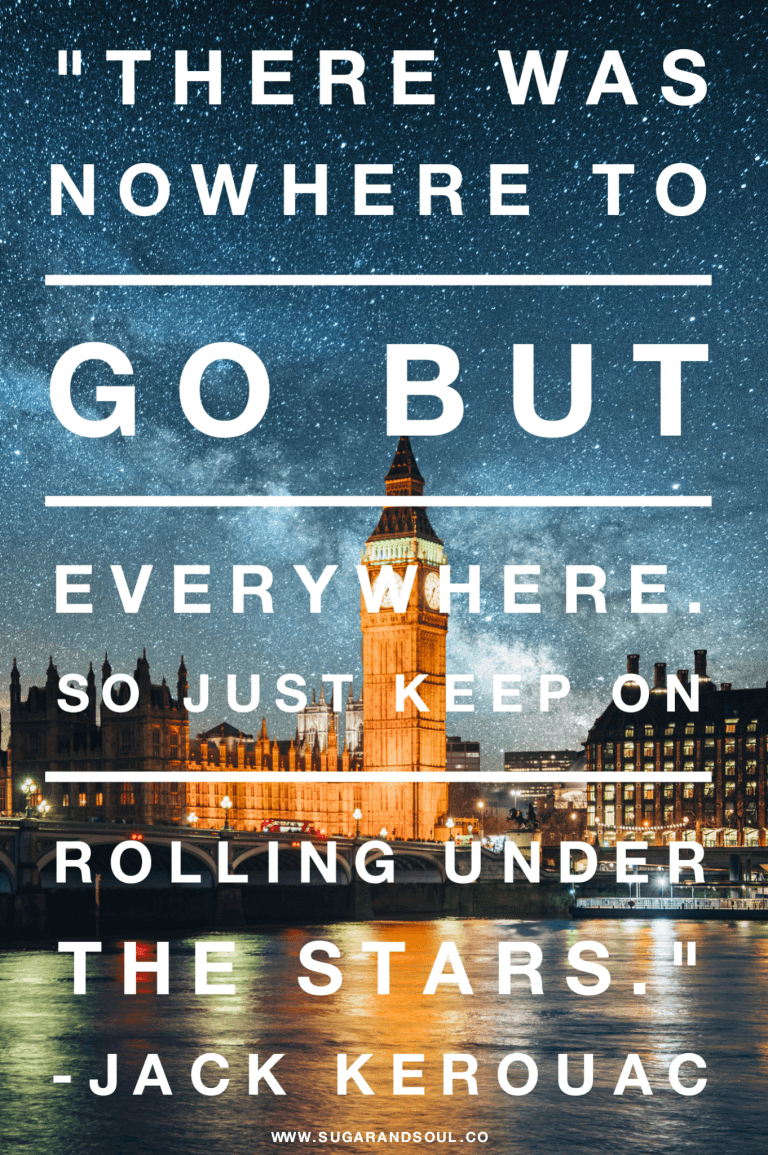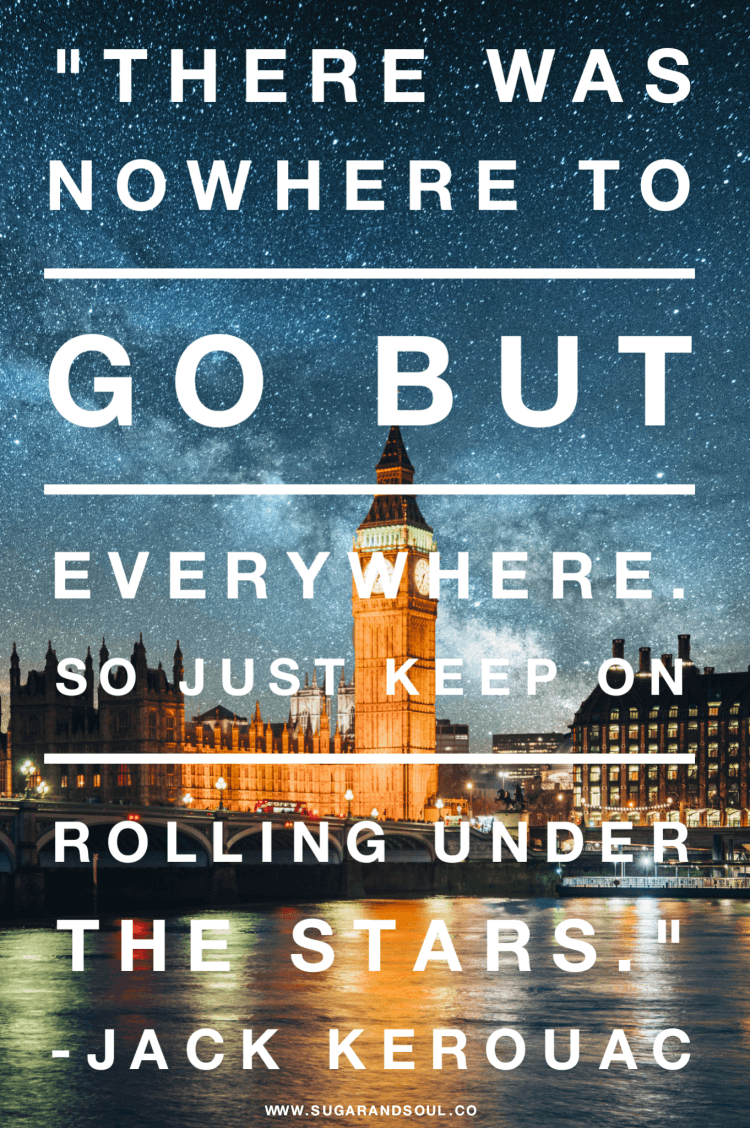 10 Travel Quotes that Make You Want to Travel!
21. "There was nowhere to go but everywhere. So just keep on rolling under the stars." – Jack Kerouac
22. "Wherever you go, you take yourself with you." – Neil Gaiman
23. "Exploration is really the essence of the human spirit." – Frank Borman
24. "Perhaps travel cannot prevent bigotry, but by demonstrating that all peoples cry, laugh, eat, worry, and die, it can introduce the idea that if we try and understand each other, we may even become friends." – Maya Angelou
25. "I get pretty much all the exercise I need walking down airport concourses carrying bags." – Guy Clark
26. "All journeys have secret destinations of which the traveler is unaware." – Martin Buber
27. "I still believe in paradise. But now at least I know it's not some place you can look for. Because it's not where you go. It's how you feel for a moment in your life when you're a part of something. And if you find that moment… It lasts forever." – The Beach
28. "If you want to succeed you should strike out on new paths, rather than travel the worn paths of accepted success." – John D. Rockefeller
29. "I see my path, but I don't know where it leads. Not knowing where I'm going is what inspires me to travel it." – Rosalia de Castro
30. "To travel is to discover that everyone is wrong about other countries." – Aldous Huxley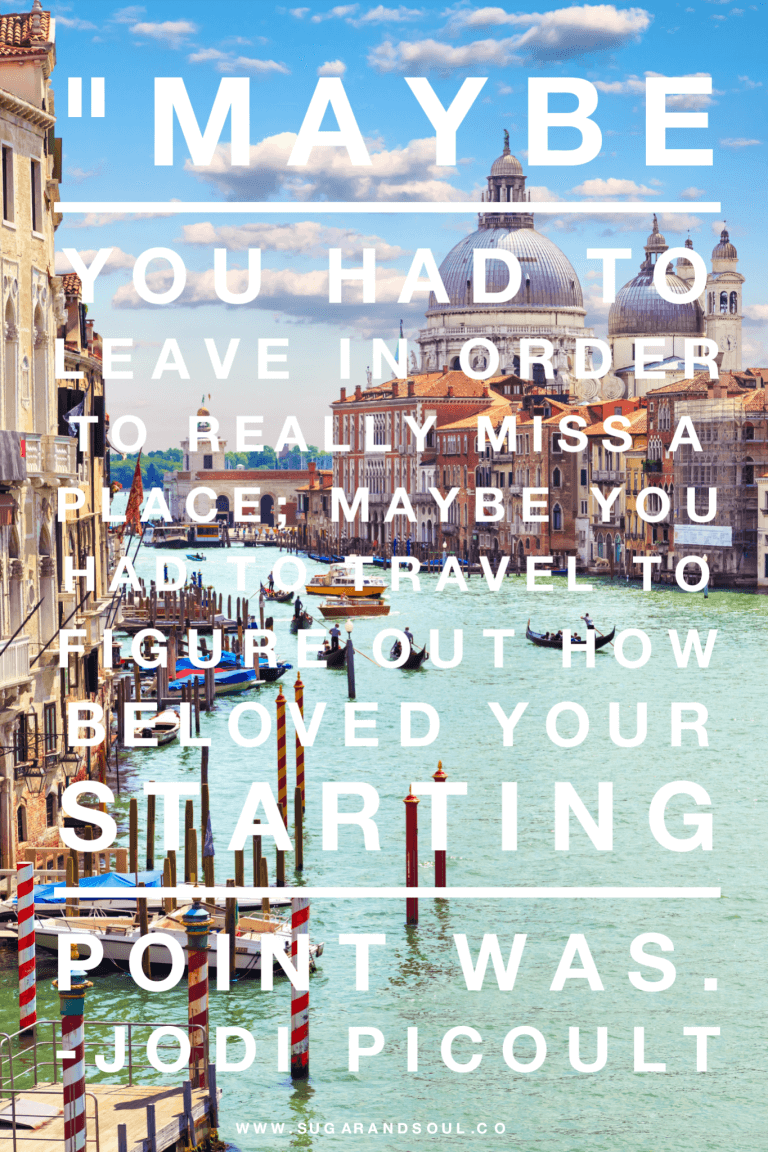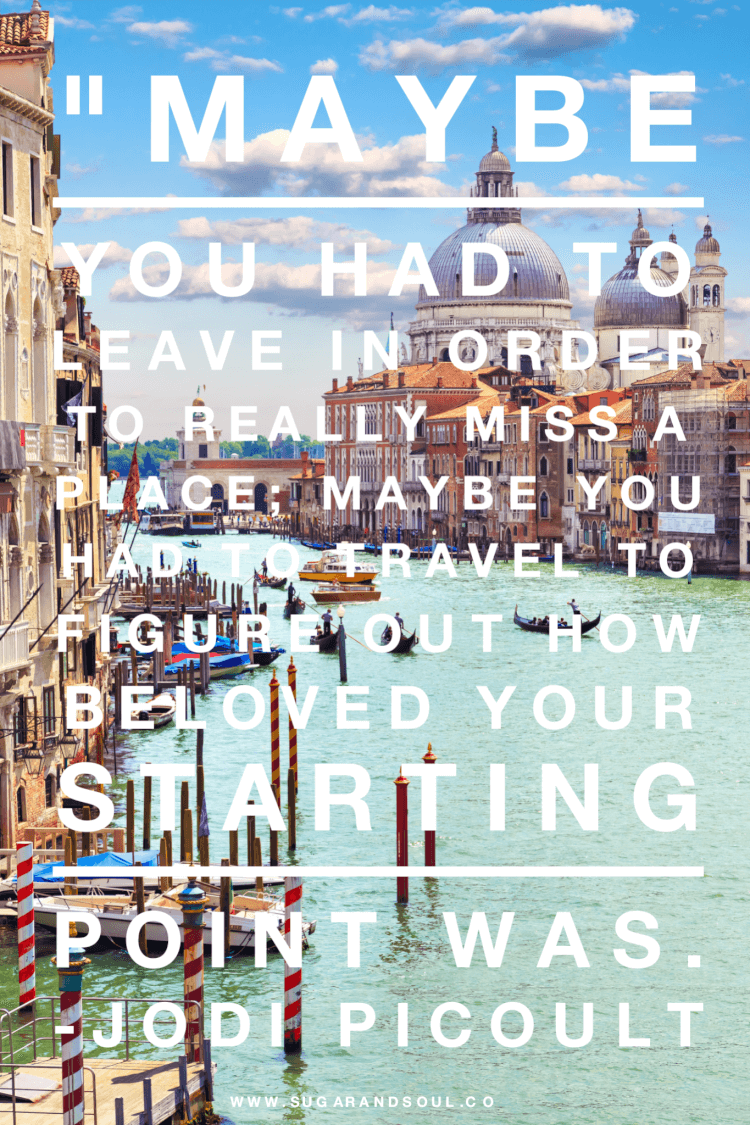 10 Great Travel Quotes!
31. "Maybe you had to leave in order to really miss a place; maybe you had to travel to figure out how beloved your starting point was." – Jodi Picoult
32. "If you wish to travel far and fast, travel light. Take off all your envies, jealousies, unforgiveness, selfishness and fears." – Cesare Pavese
33. "Though we travel the world over to find the beautiful, we must carry it with us or we find it not." – Ralph Waldo Emerson
34. "Traveling – it leaves you speechless, then turns you into a storyteller." – Ibn Battuta
35. "How often I found where I should be going only by setting out for somewhere else." – R. Buckminster Fuller
36. "Never did the world make a queen of a girl who hides in houses and dreams without traveling." – Roman Payne
37. "I am not a great cook, I am not a great artist, but I love art, and I love food, so I am the perfect traveler." – Michael Palin
38. "You do not travel if you are afraid of the unknown, you travel for the unknown, that reveals you with yourself." – Ella Maillart
39. "I am not the same having seen the moon shine on the other side of the world." – Mary Anne Radmacher
40. "You know more of a road by having traveled it than by all the conjectures and descriptions in the world." – William Hazlitt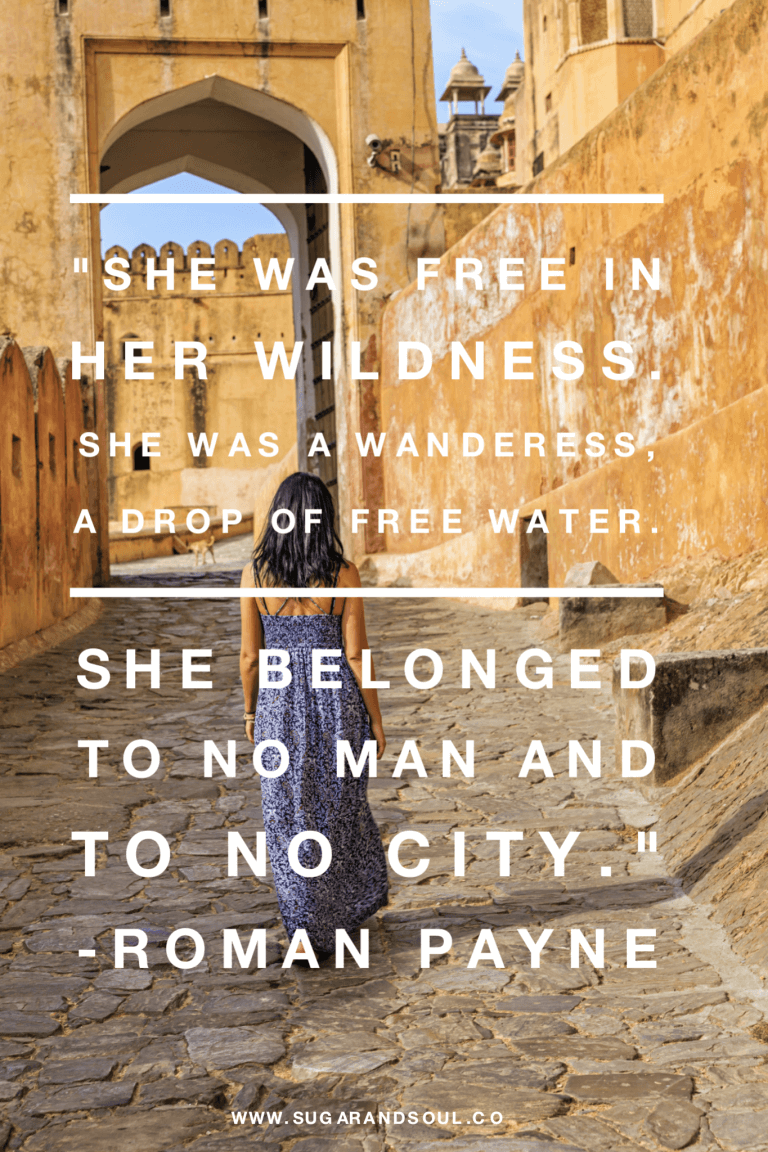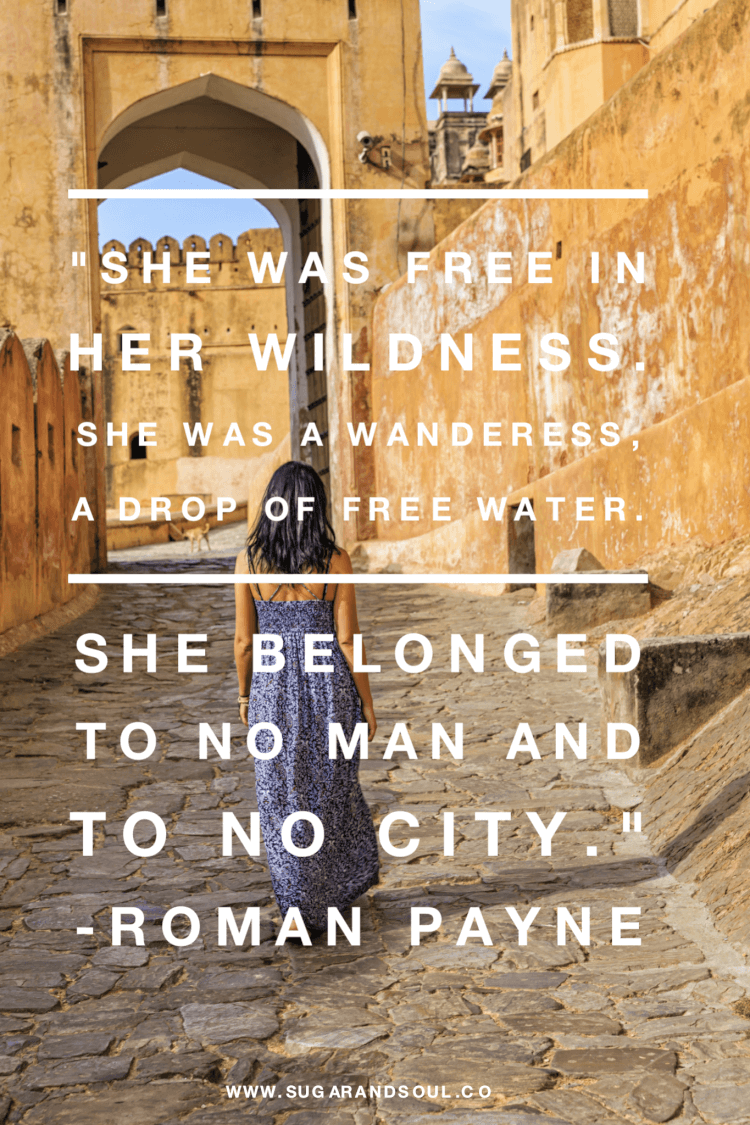 10 Instagramable Travel Quotes!
41. "She was free in her wildness. She was a wanderess, a drop of free water. She belonged to no man and to no city." – Roman Payne
42. "The trouble with traveling back, later on, is that you can never repeat the same experience." – Michael Palin
43. "I travel light. I think the most important thing is to be in a good mood and enjoy life, wherever you are." – Diane von Furstenberg
44. "The trouble is, you think you have time." – Buddha
45. "If you're twenty-two, physically fit, hungry to learn and be better, I urge you to travel – as far and as widely as possible. Sleep on floors if you have to. Find out how other people live and eat and cook. Learn from them – wherever you go." – Anthony Bourdain
46. "Don't tell me how educated you are, tell me how much you traveled." – Mohammed
47. "Why do you go away? So that you can come back. So that you can see the place you came from with new eyes and extra colors. And the people there see you differently, too. Coming back to where you started is not the same as never leaving." – Terry Pratchett
48. "There are no foreign lands. It is the traveler only who is foreign." – Robert Louis Stevenson
49. "Everything I was I carry with me, everything I will be lies waiting on the road ahead." – Ma Jian
50. "We are travelers on a cosmic journey, stardust, swirling and dancing in the eddies and whirlpools of infinity. Life is eternal. We have stopped for a moment to encounter each other, to meet, to love, to share. This is a precious moment. It is a little parenthesis in eternity." – Paulo Coelho
Pin these Travel Quotes for Later!