This post has affiliate referral links, when you sign up for Stitch Fix under my referral, I receive credit towards my next fix. You can earn too once you sign up!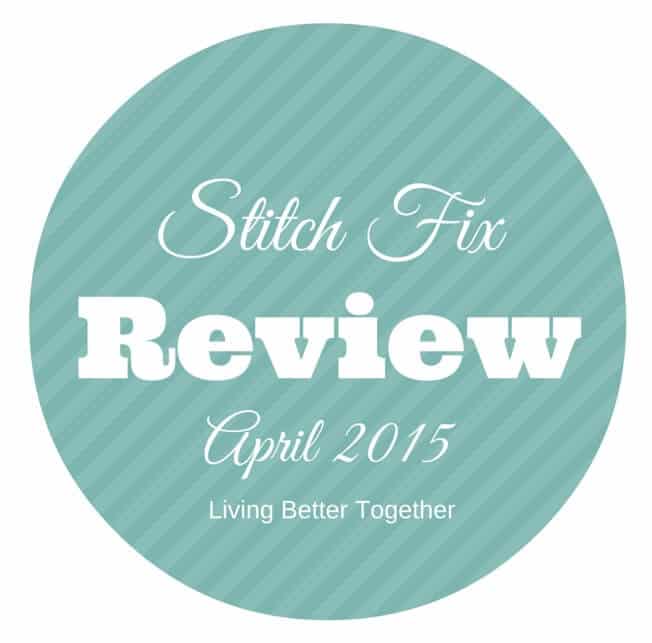 It's time for my April 2015 Stitch Fix Review! I really enjoyed March's Fix, but this one was even better! I feel like this stylist, Meredith, has known me forever and I hope she never leaves me! I had some really awesome pieces in this fix, and what I kept might shock you! I was excited to see a piece I actually requested, as well as some fun pieces I never would have picked for myself but that I actually really liked.
P.S. Don't mind my ghostly white skin, this girl hasn't seen the sun in 6 months! 
[line]
How it works:
Sign up for Stitch Fix here and schedule your first shipment!
You pay a $20.00 stylist fee when your fix ships, which you can put towards anything you keep from it. You can choose bi-monthly, monthly, or bi-weekly shipments.
You will be matched with a personal stylist that will select five items she thinks will be PERFECT for you and ship them directly to your door. Try them on, decide what to keep, fill out your fix feedback survey and send the rest back in a prepaid package included from Stitch Fix. Easy, right?
If you keep everything from your fix, you get a 25% discount on the entire fix!
Only available within the US.
Check out my tips for getting a great fix here.
[line]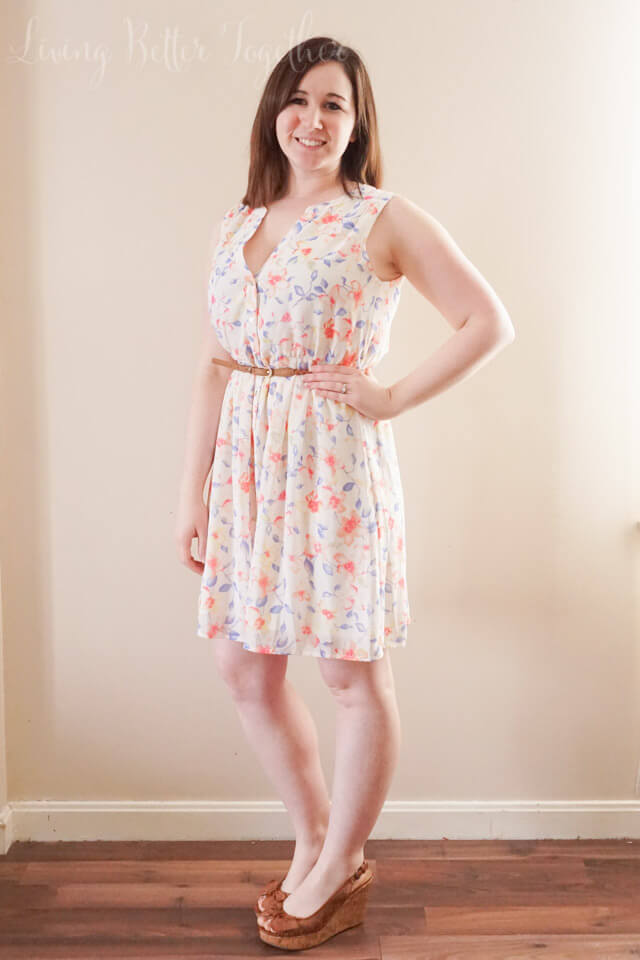 Item #1: Skies are Blue – Winifred Floral Print Dress ($68)
Thoughts: This isn't a piece I would have ever picked out for myself, but I really liked it. It was lightweight and a different cut than any other dress I own. The colors were nice for spring and summer. It was way too big though, you can see that I look a little more top heavy than I already am. The belt I'm wearing is in two notches since I last wore it last summer! Now that was exciting!
Verdict: Returned, but I hope to see it in a Small in a future fix!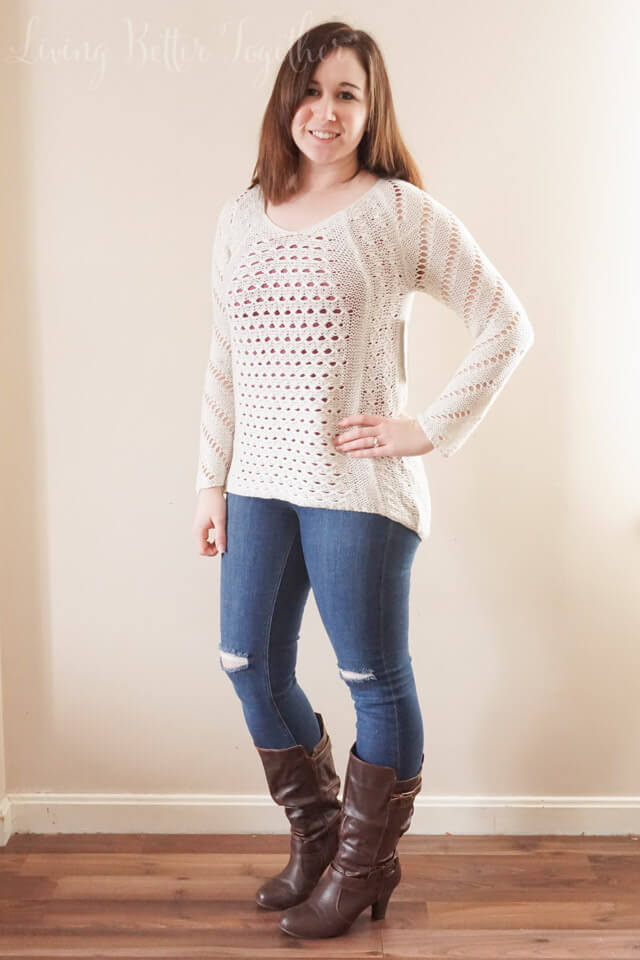 Item #2 & #3: RD Style – Braddon Airy Knit V-Neck Sweater ($68) and Just Black Johanna Distressed Skinny Jean ($78)
Thoughts: This sweater was so soft and the details were absolutely beautiful. I loved that you could easily throw this over a dress in the summer or layer it up for colder seasons. I asked my stylist for a pair of distressed jeans, so she sent me some! I liked the shade, but I do already have a pair of jeans this shade and since I don't get to wear jeans often, I like to have some variety. Matt said it looked like someone just took a razor blade across the knees of a brand new pair of jeans. I couldn't argue, the symmetrical "wear" was a little off for me. I was hoping for something a little more like this. However, these jeans are the next size down from what I've been getting in my last few fixes and they fit great!
Verdict: Returned both. I really loved the sweater, but I knew I couldn't be trusted with it, I'd have snags all over it in just a few wears. I'm holding out on the jeans because I know the right pair will come along.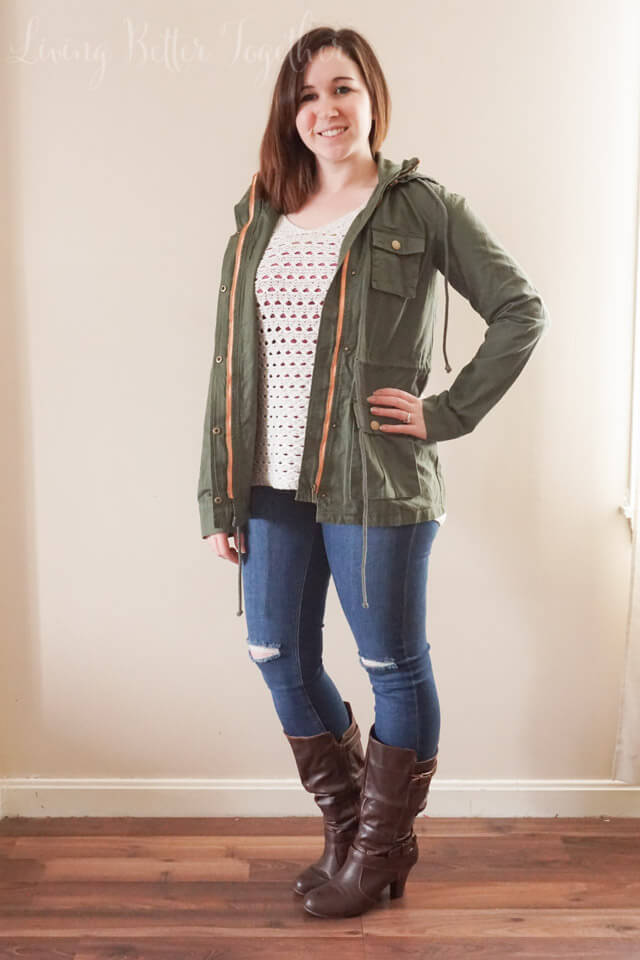 Item #4: Market & Spruce – Chaplin Hooded Anorak Cargo Jacket ($88)
Thoughts: Seriously LOVED this jacket. I actually requested it in my style profile a few days before it shipped. However, I stumbled upon the one below at TJMaxx a few days later for just $50.00. It's Max Studio and it's super soft. However, I liked the coloring in the Stitch Fix one better and it probably would have been a bit warmer, but I got the stink eye and knew it had to go back.
P.S. If you ever get this jacket in your fix, keep it and love it and cherish it forever!
Verdict: Returned, though I really didn't want to. Queue tears.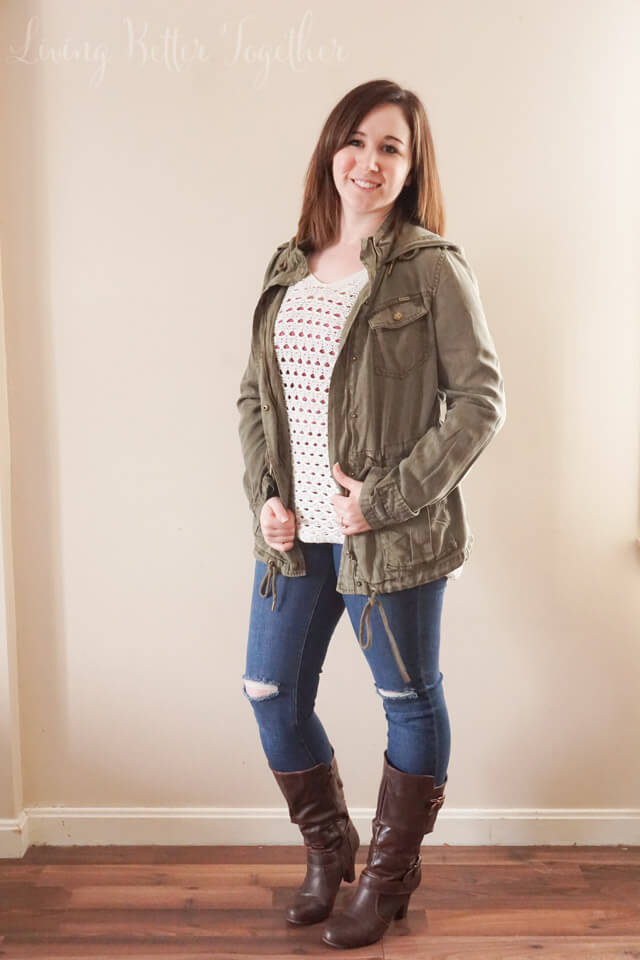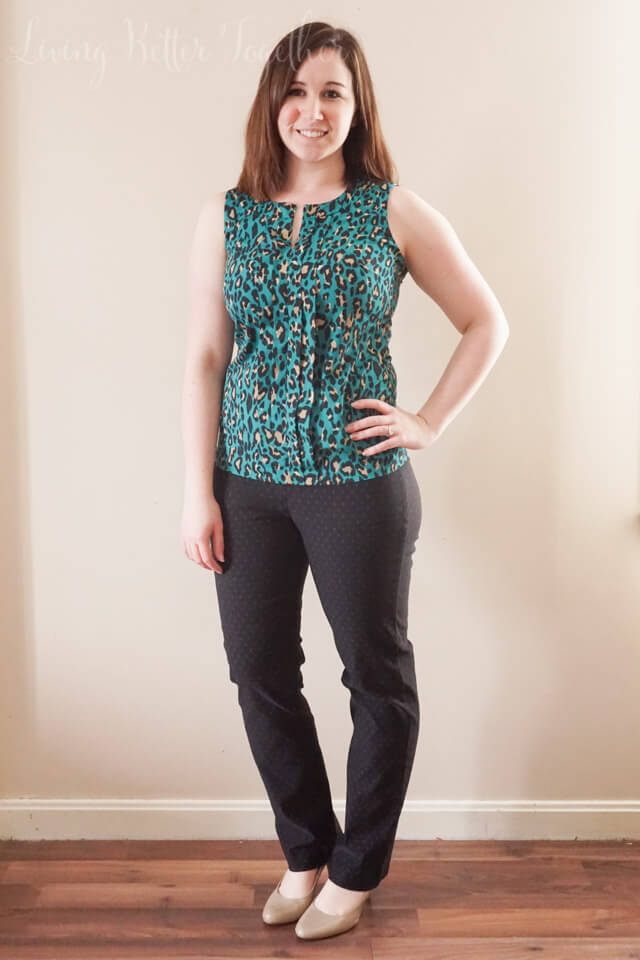 Item #5: Margaret M – Emer Polka Dot Print High Waisted Cropped Pant ($98)
Thoughts: Once I got over the sticker shock, I tried these puppies on. They might just be the most comfortable work pants EVER. They were stretchy with no buttons or zippers, now those are my kind of pants. Plus, I need work pants like you wouldn't believe. I loved the tiny dots, it gave them a little extra style and made them unlike anything else in my closet.
Verdict: Returned. I loved these pants, but really needed a small. I hope they turn up in a future fix because I would love to have these in my life forever!
[line]
That's right, you're probably just now realizing that I didn't keep anything, yet somehow this was my best fix yet. That's because each item was so me and I was so thankful that my stylist took my requests into consideration and sent me specific items I wanted to try. If all of my future fixes are like this and in the right size (which was my bad – gotta keep that style profile updated) I just might be keeping a lot of full boxes!
If you're ready to take the plunge and get a personal stylist of your own, I would love it if you'd sign up under my referral link and If you have already signed up with my link, thank you!