This post has affiliate referral links, when you sign up for Stitch Fix under my referral, I receive credit towards my next fix. You can earn too once you sign up!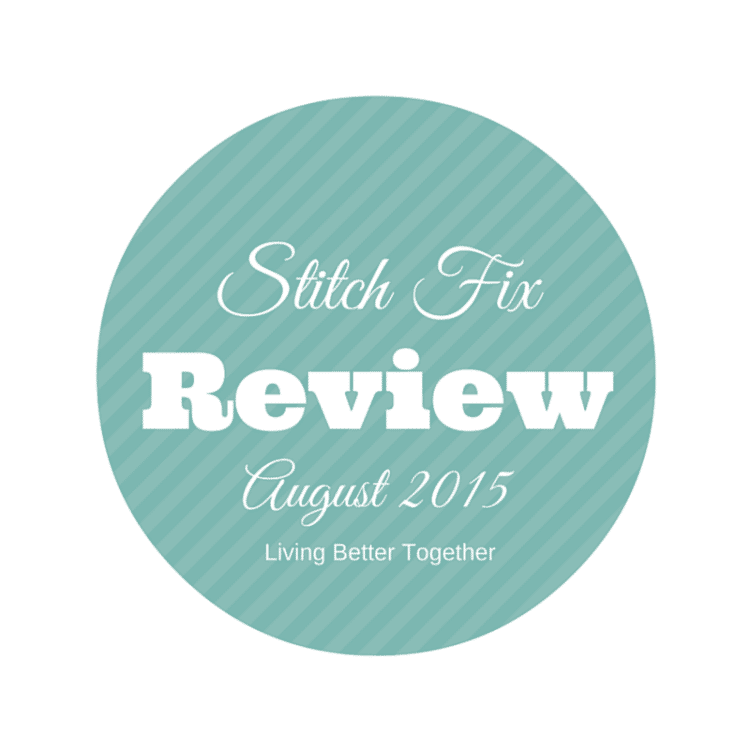 It's time for my August 2015 Stitch Fix Review! I know I've been a bit missing in action on the Stitch Fix front the last few months. I've still been getting them, life's just gotten so crazy and Stitch Fix has change my shipping schedule which makes it harder for me to get photos of everything. But I'm back and I'm excited to share this month's fix, plus my nest one will be here next week!
If this is your first time hearing about Stitch Fix, you've been missing out! It's a subscription box that comes with a personal stylist who select 5 items per box to send you to try! Keep what you love, send back what you don't! It's awesome!
---
How it works:
Sign up for Stitch Fix here and schedule your first shipment!
You pay a $20.00 stylist fee when your fix ships, which you can put towards anything you keep from it. You can choose bi-monthly, monthly, or bi-weekly shipments.
You will be matched with a personal stylist that will select five items she thinks will be PERFECT for you and ship them directly to your door. Try them on, decide what to keep, fill out your fix feedback survey and send the rest back in a prepaid package included from Stitch Fix. Easy, right?
If you keep everything from your fix, you get a 25% discount on the entire fix!
Only available within the US.
Check out my tips for getting a great fix here.
[line]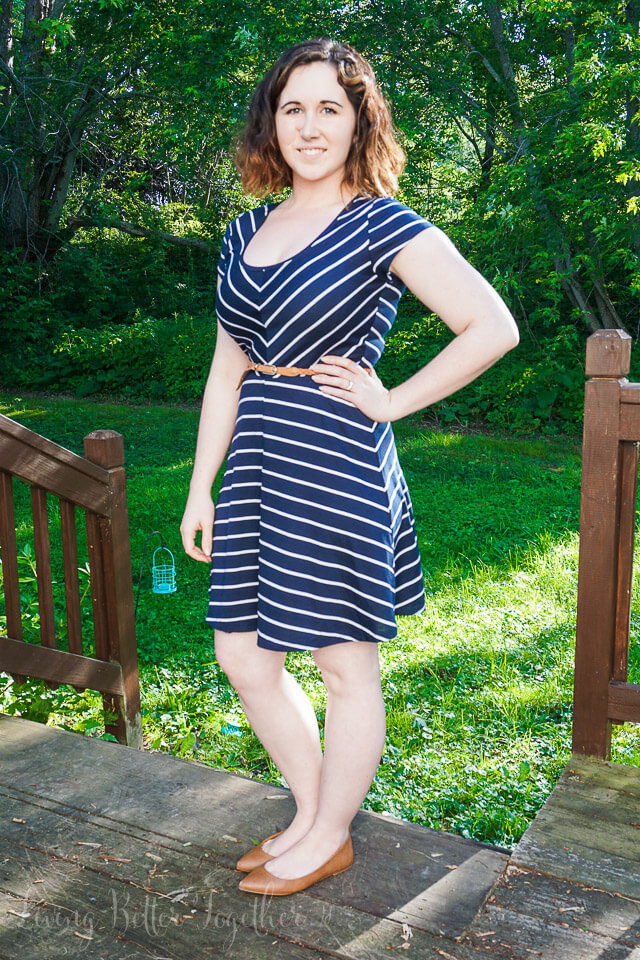 Market & Spruce Spencer Striped Jersey Dress ($54): This was a direct request to my stylist, I originally asked for the grey, but she could only get me the blue. I'm so glad that's what I ended up with, I love it! The angle of the stripes is flattering and the material was super lightweight and soft! It's a great summer dress!
Verdict: Kept!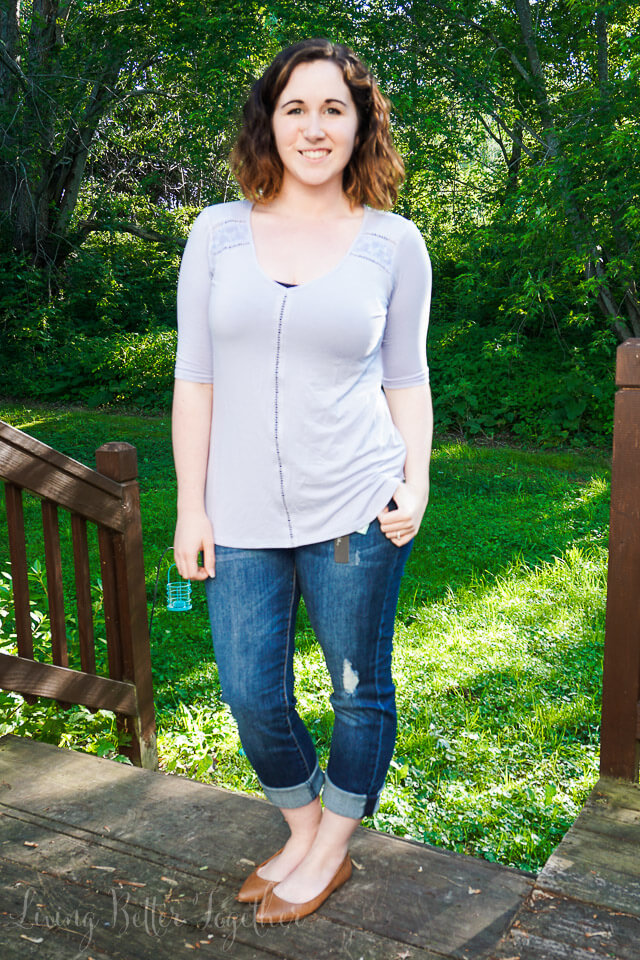 Market & Spruce Gretta Embroidery Detail Knit Top ($58): This was another direct request. It was super soft and super expensive, at least in my opinion. The color was pretty but it really wasn't doing me any favors.
Verdict: Returned
Kut From The Kloth Kate Distressed Boyfriend Jean (I think these were $88 or $98): The color and distress was nice, but the fit was kind of boxy, I know, I know: boyfriend jeans. However, they were long at the ankle and big around the waist and gaped in the back. I already have all the jeans I need except for a nice white pair, so I've made sure to put no jeans for future fixes.
Verdict: Returned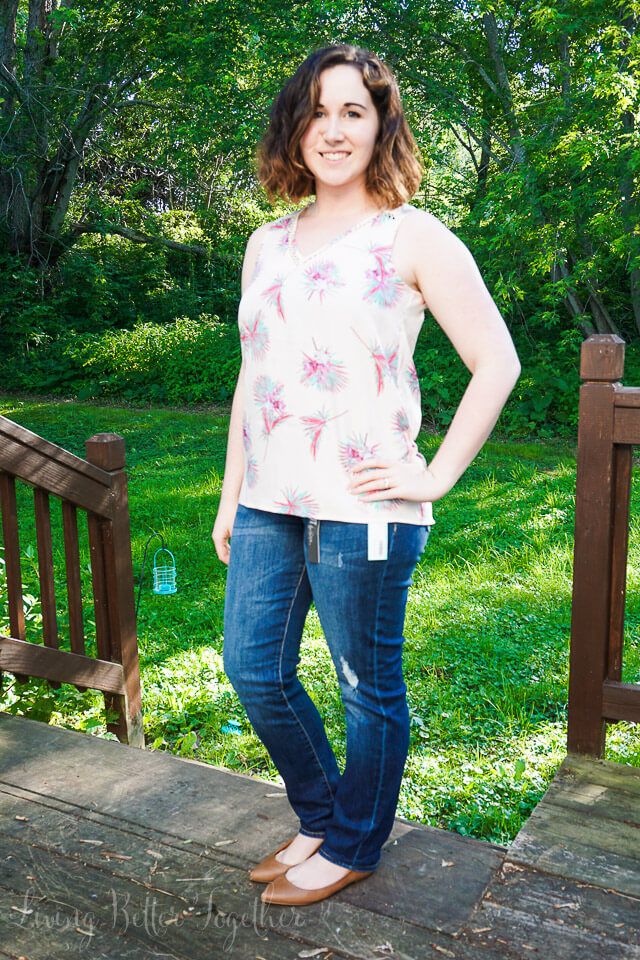 Collective Concepts Ravenna V-Neck Blouse ($44): Everything about this top was wrong for me. The design was pretty ugly if you ask me and the cut was so boxy and not at all flattering. The base color really washed me out.
Verdict: Returned
Renee C Bali Keyhole Detail Blouse ($48): This was cute, but I felt like a T-E-N-T in it! Also, it drove me nuts that the trim on one sleeve was all navy and the other sleeves trim was floral, it made the top look unbalanced.
Verdict: Returned
[line]
So there it is, my August Stitch Fix Review! Are you ready to get a personal stylist and hand picked clothes sent right to your doorstep? You can sign up here.