[disclaim]This shop has been compensated by Collective Bias, Inc. and its advertiser. All opinions are mine alone. #AvengersUnite #CollectiveBias[/disclaim]
MARVEL's The Avengers: Age of Ultron hits theaters in just a couple weeks! Here are some great party ideas to get you excited for the premiere!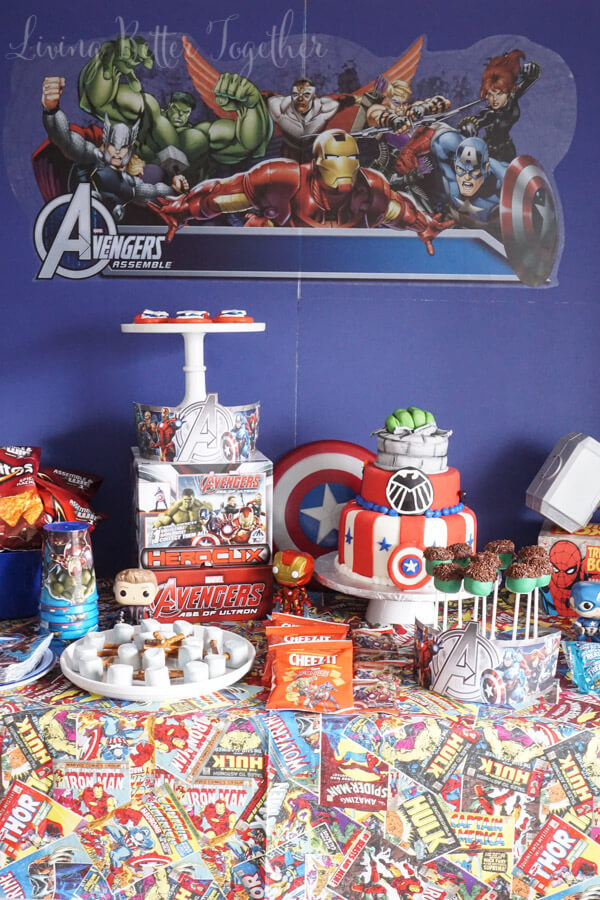 So if you haven't figured it out by now, we're geeks. If it sounds geeky, we've probably watched it, read it, and played it. Sometimes we get REALLY crazy and do things like throw parties and dress up to celebrate new geeky things! An Avengers party definitely seemed necessary!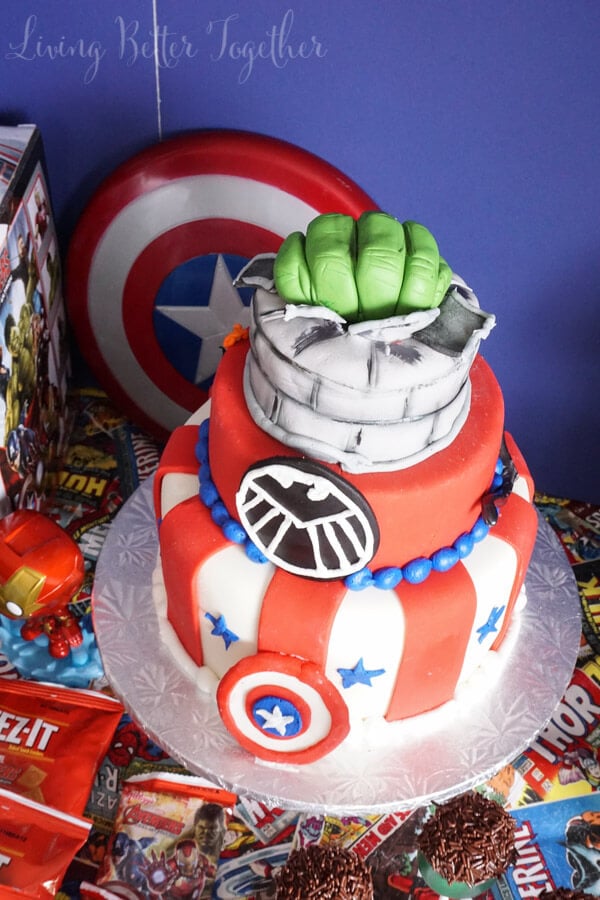 Since the early years of our relationship, we've always been midnight showing die hards. Luckily, trends have changed to adapt to the midnight showing loving millennials who are now out in the workforce and can't go to a three hour movie at midnight and be at work at 8. Yup, I'm getting way too old for that stuff. So we'll be hitting up the 8 pm early screening on April 30th, because we're cool like that.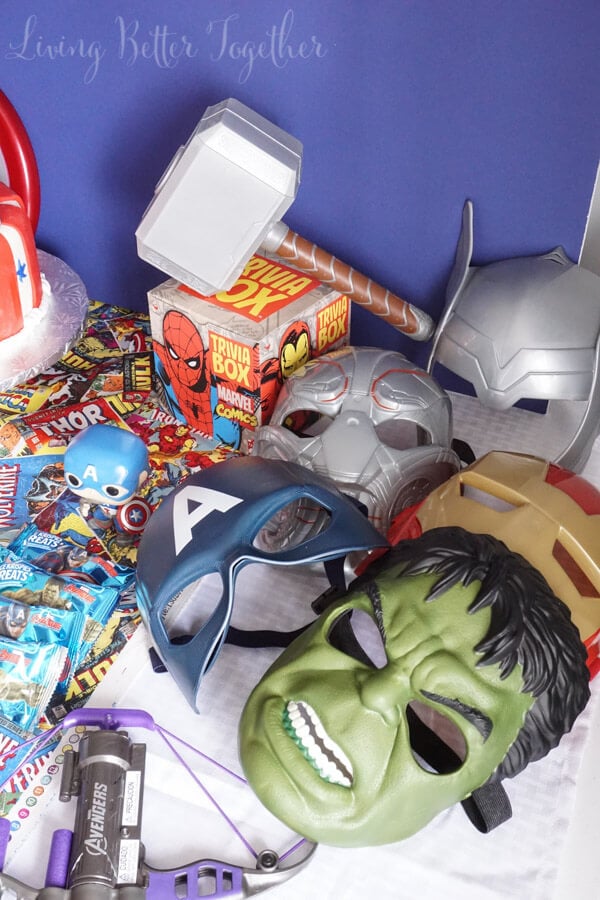 But of course we had to watch the first Avengers movie in anticipation, and then because it's me, we had to have food – lots of it! And cute food to boot! Oh, and I put together a photo booth and invited friends for the occasion too, because, why not?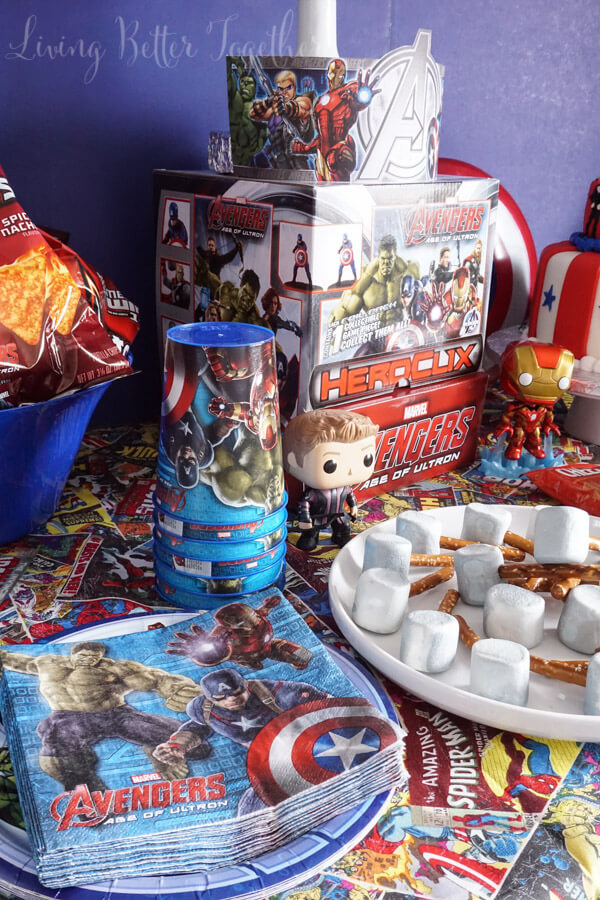 I had so much fun putting everything together, and this is by far my favorite party spread yet! It's just so much fun and I was definitely geeking out over how awesome it turned out! I especially loved Thor's Hammers that I made out of marshmallows and pretzel sticks with the help of some edible silver spray paint that I found at Walmart! Watch the step-by-step video here.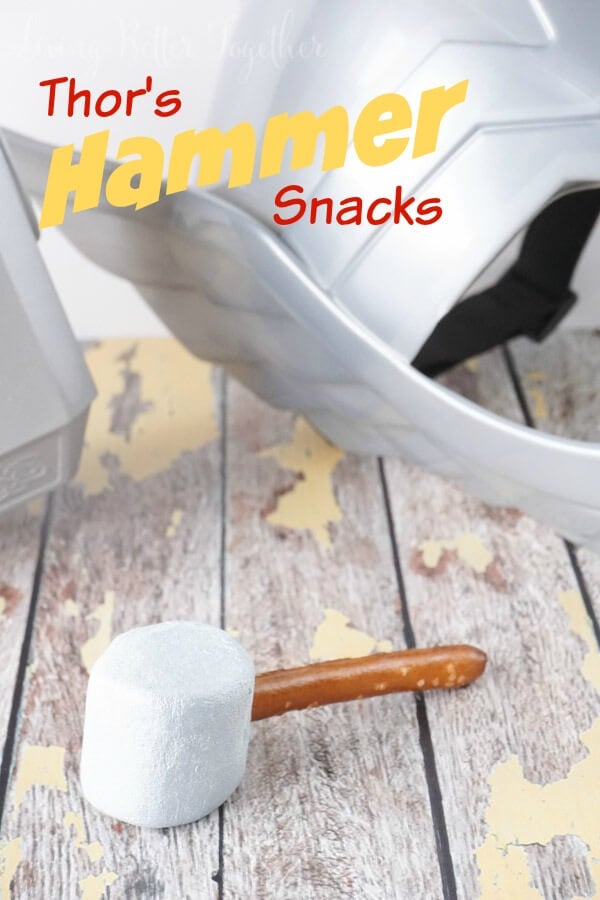 Pretty freakin' adorable, right?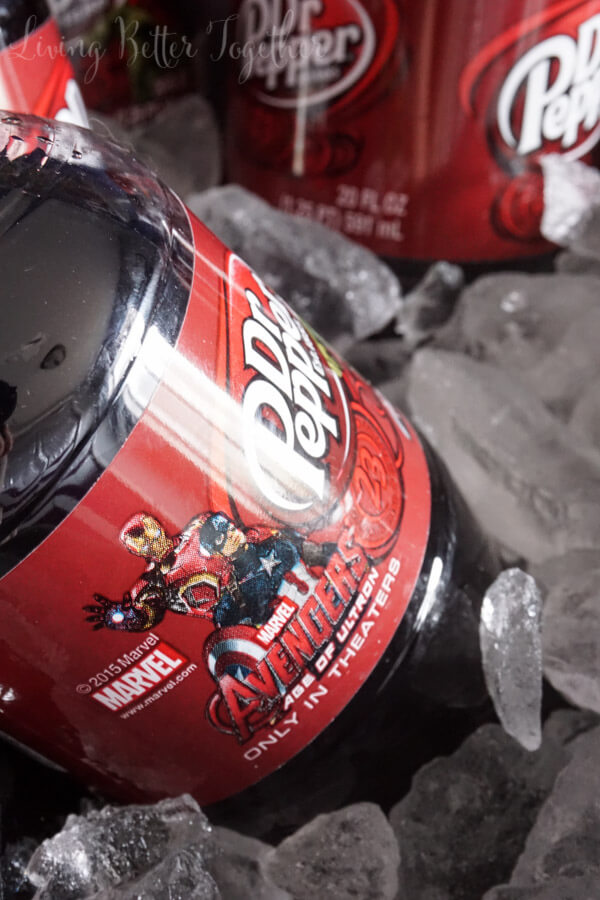 Oh and then there were these super easy Hulk Pops, made with marshmallows, candy melts, and sprinkles. You can check out the step-by-step video here.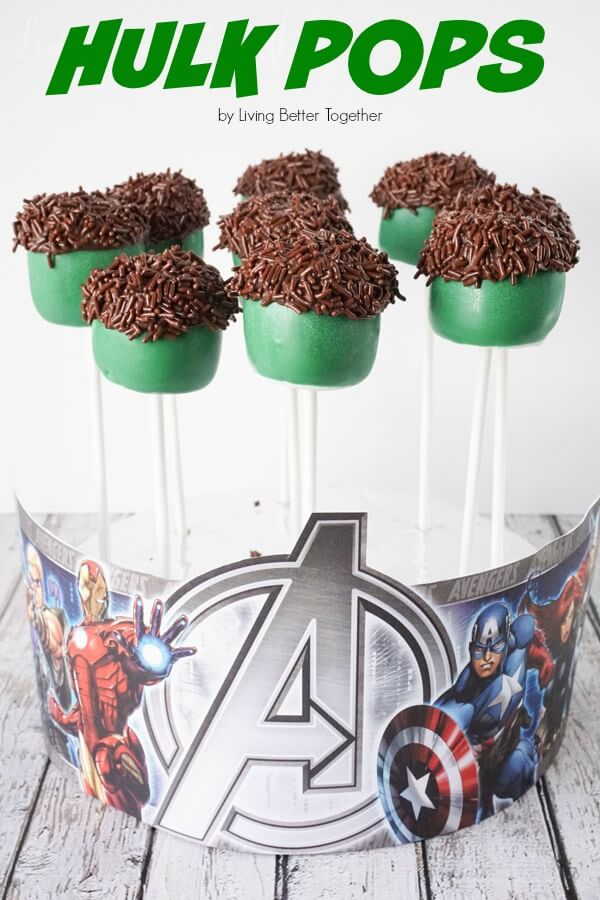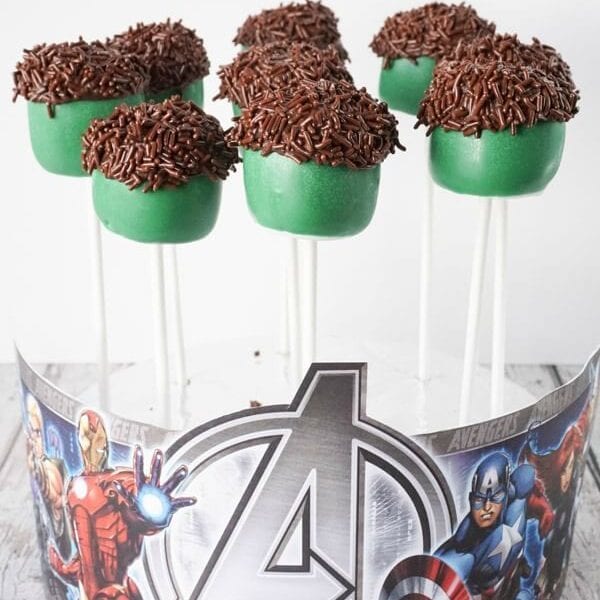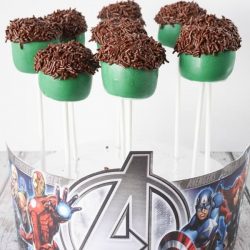 Hulk Pops
These Hulk Pops are so easy to make with just 4 ingredients!
Ingredients
1

bag Marshmallows

1

bag Green Candy Melts

1

cup

Chocolate Melts

1/2

cup

Chocolate Sprinkles

Lollipop Sticks
Instructions
Stick each marshmallow on a lollipop stick.

Add sprinkles to a small bowl and set aside.

Melt green candy melts in the microwave on 30 second intervals until melted, stirring between each session.

Dip the entire marshmallow in the melted green candy, twirling to catch any excess.

Stand in a cake pop stand or a Styrofoam disc until candy has set.

Once set, microwave chocolate on 30 second intervals, stirring in between, until melted.

Gently, dip the top of the marshmallow in melted chocolate and then immediately into the bowl of chocolate sprinkles.

Place back in the stand and allow to set.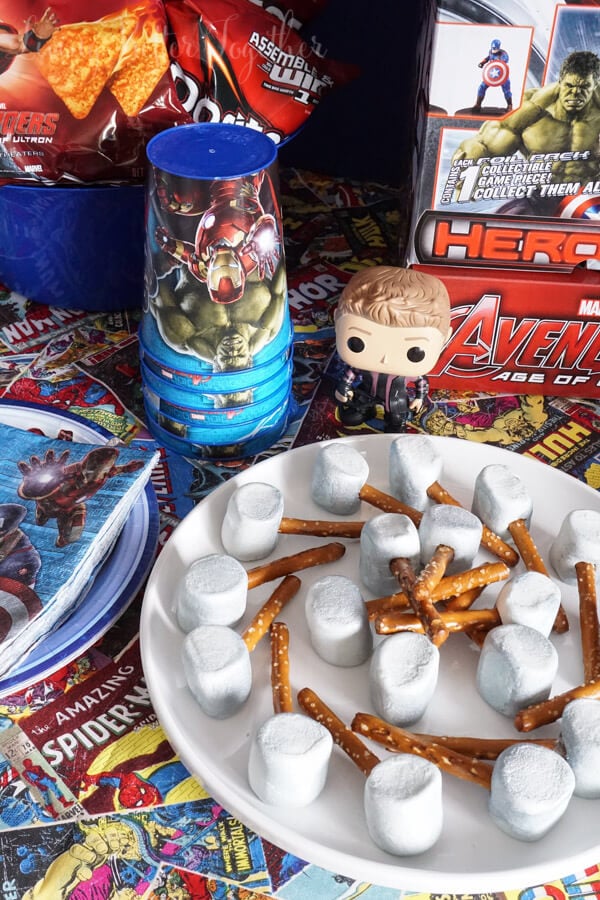 I love when brands team up with our favorite movies! It makes shopping and party planning so much easier! I actually didn't bake anything (I know, crazy, right)! But it kept the stress level down and allowed to me to enjoy the party myself!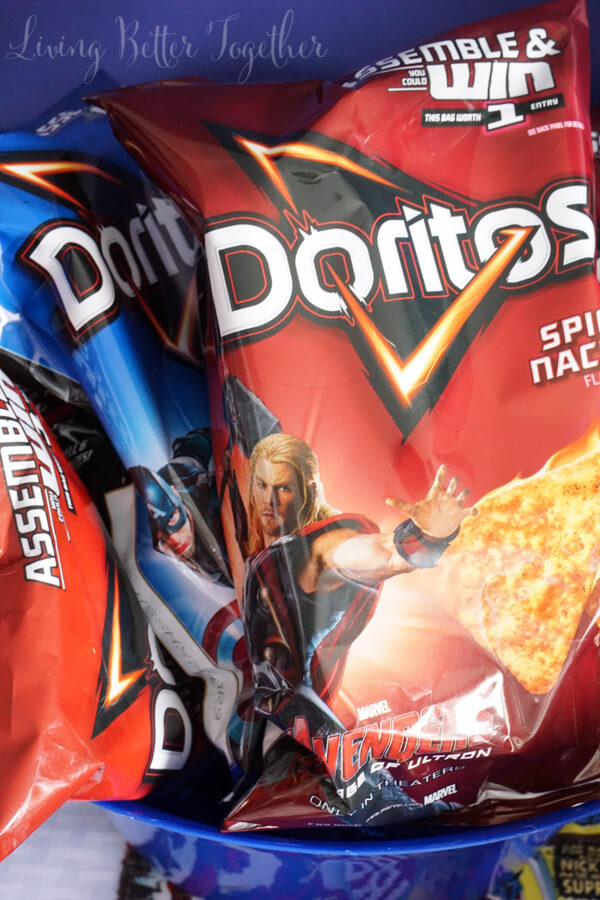 Really though, everywhere you turn right now, there's SUPER cool Avengers merchandise! From Dr. Pepper to Hawkeye's Nerf Bow (which everyone fought over by the way!), there's just so much cool stuff. Matt made me put some stuff back when our cart started getting a little crazy, but I may or may not have gone back to get the bobble heads!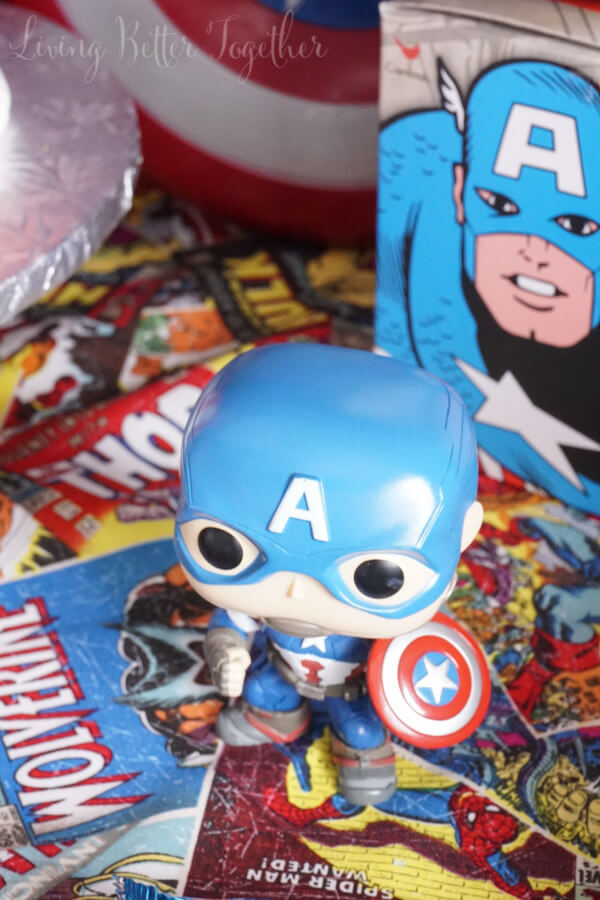 I really try to focus on keeping my parties fun and simple. I want anyone to be able to be inspired and put together a killer celebration for their family and friends! One of the best ways to make a party table pop is by adding height and a fun background, the rest of the details will fall into place if you have those two things!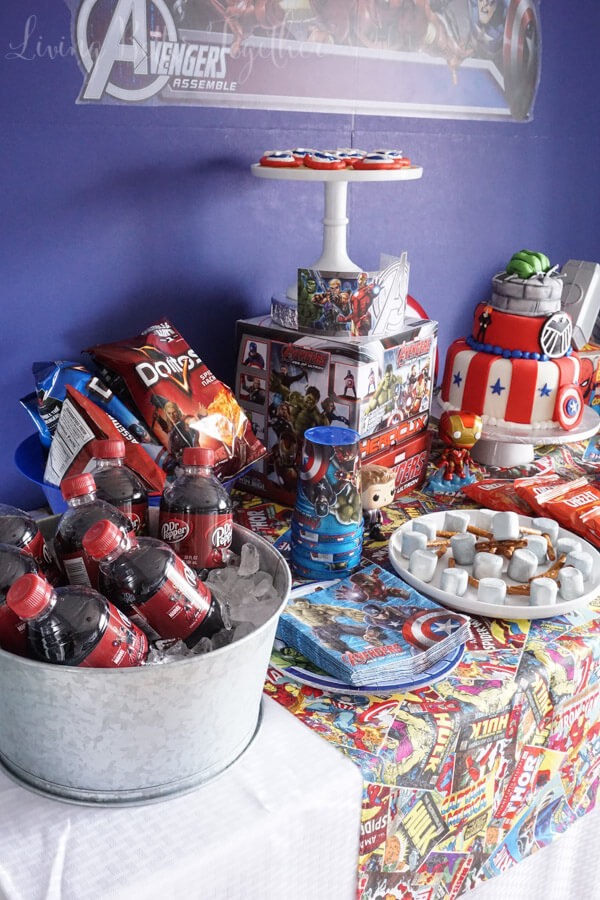 These Captain America Cookies are a total cheat and you can find them over on The Love Nerds!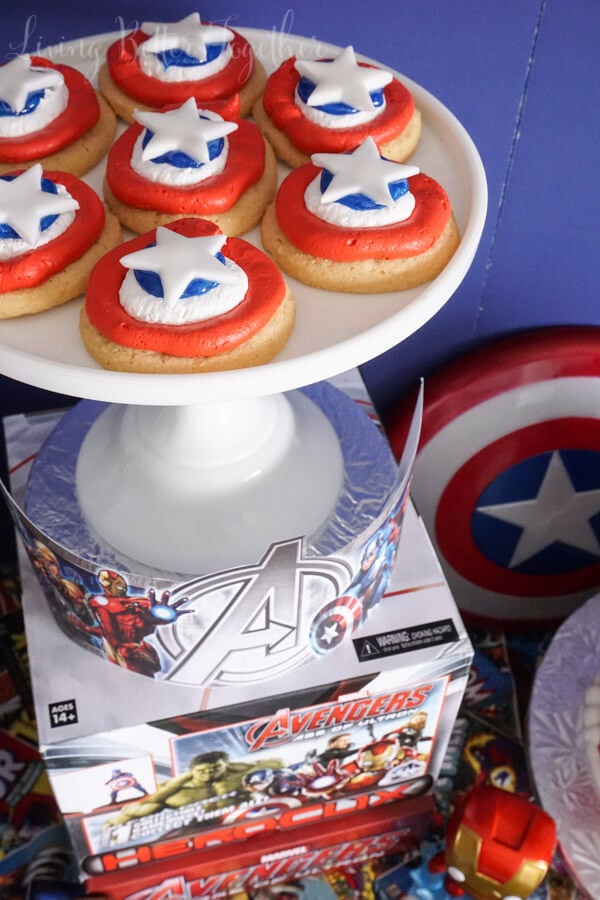 Avengers, Avengers, everywhere!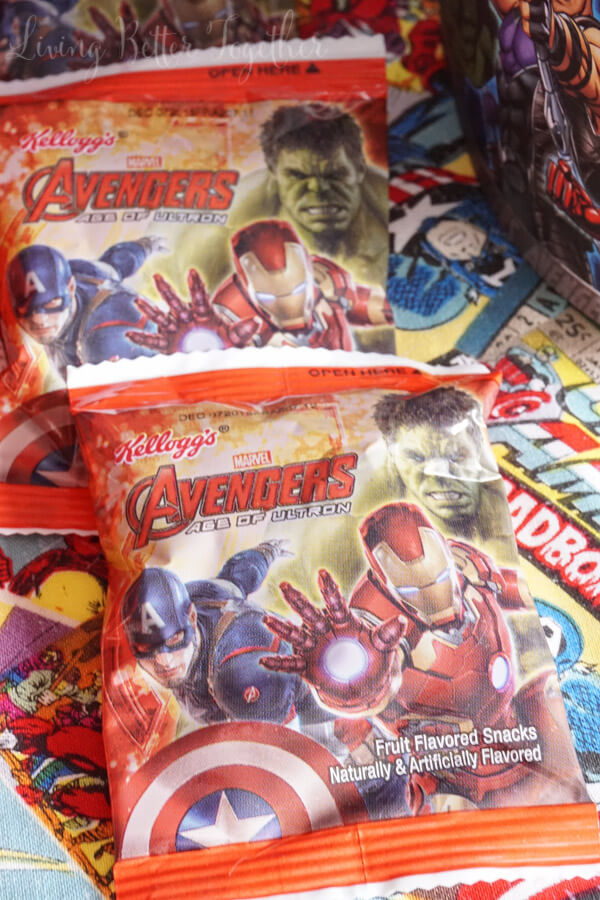 Oh yeah, and this cake! It's pretty incredible! I love getting custom cakes from the local bakery to really bring the party together. He did such a fantastic job and made sure to include all of The Avengers!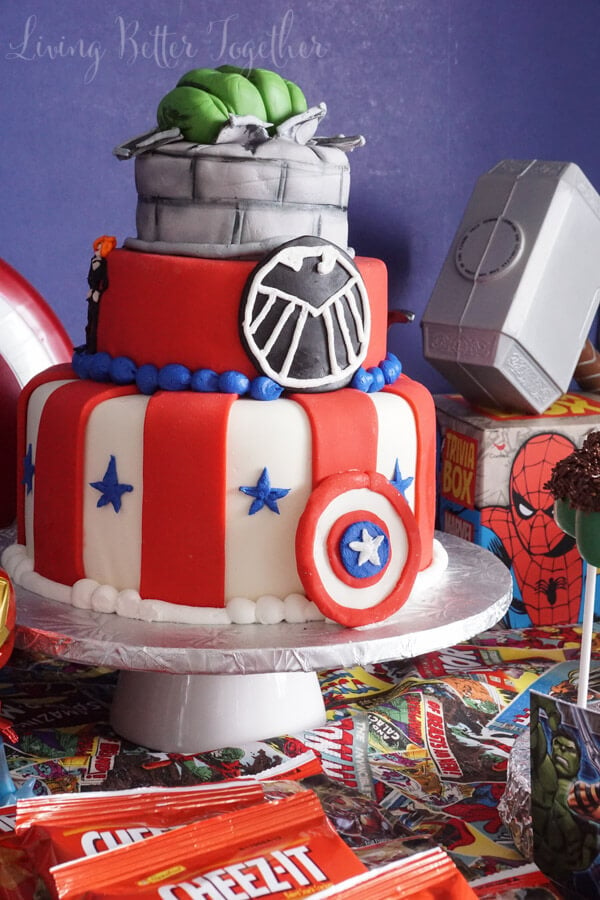 We picked up the MARVEL Trivia Box game in the entertainment department at Walmart, the guys had fun testing their knowledge!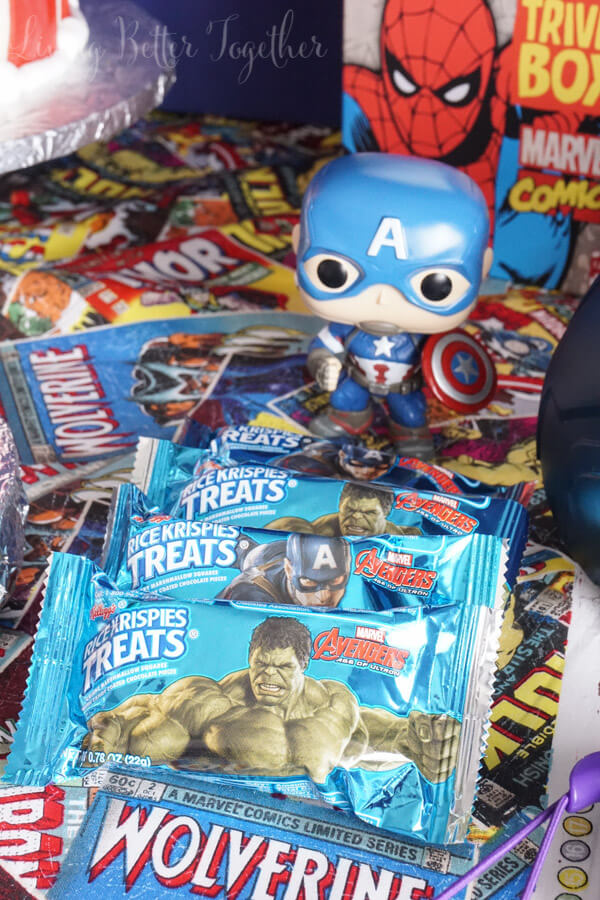 As you can tell, we're pretty excited for the movie to come out! I'm excited for Scarlet Witch and Quicksilver and Matt can't wait to see Hulkbuster in action! Oh, oh, and James Spader as Ultron, Yes, please! He's absolutely perfect for the role! What are you most excited about?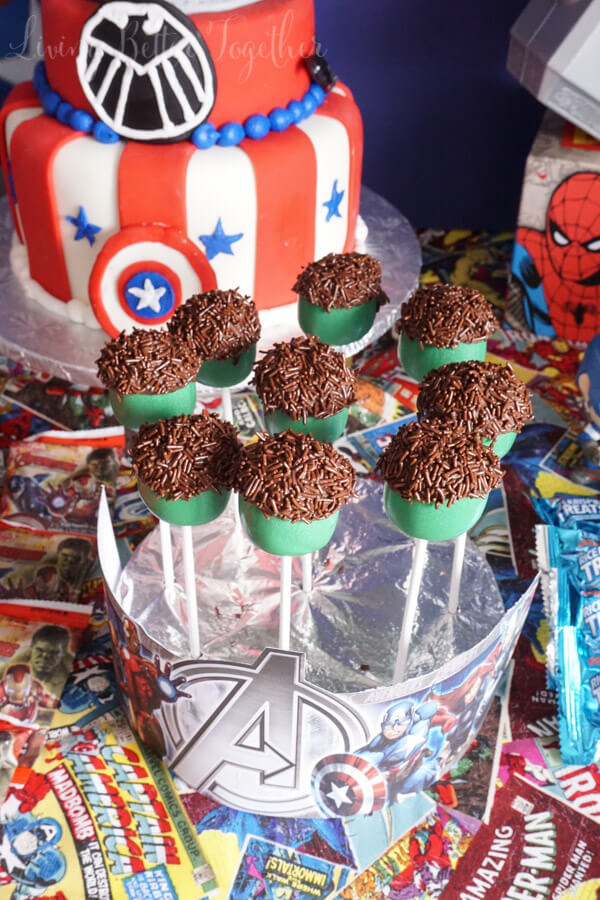 Matt threw together an Iron Man Pizza to chow down on while we watched the movie!
Seriously though, how cool is that Hulk fist!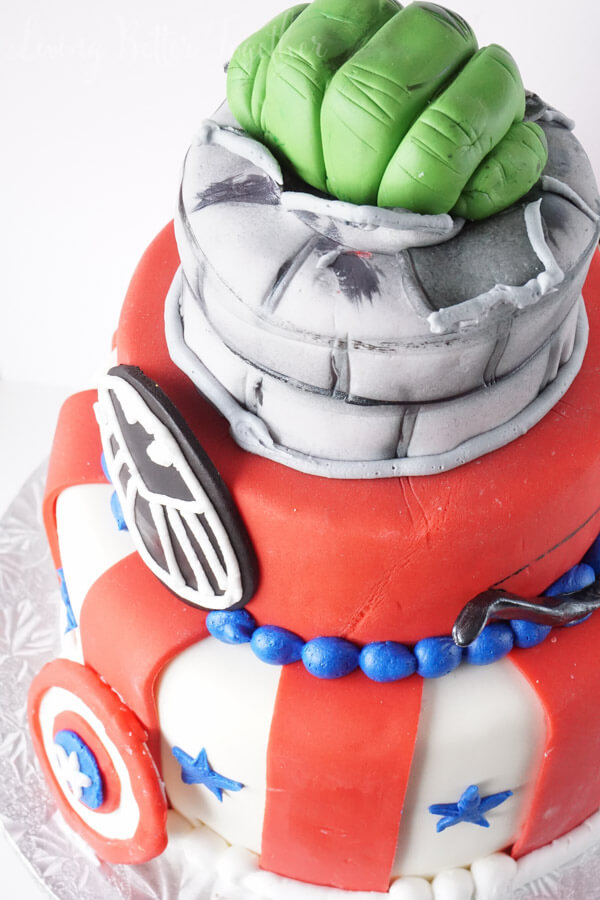 Be sure to download the Super Heroes Assemble app from iTunes or the Google Play store to unlock exclusive movie content. Plus, be sure to scan The Avengers displays at Walmart and Walmart.com to for some cool interactive features.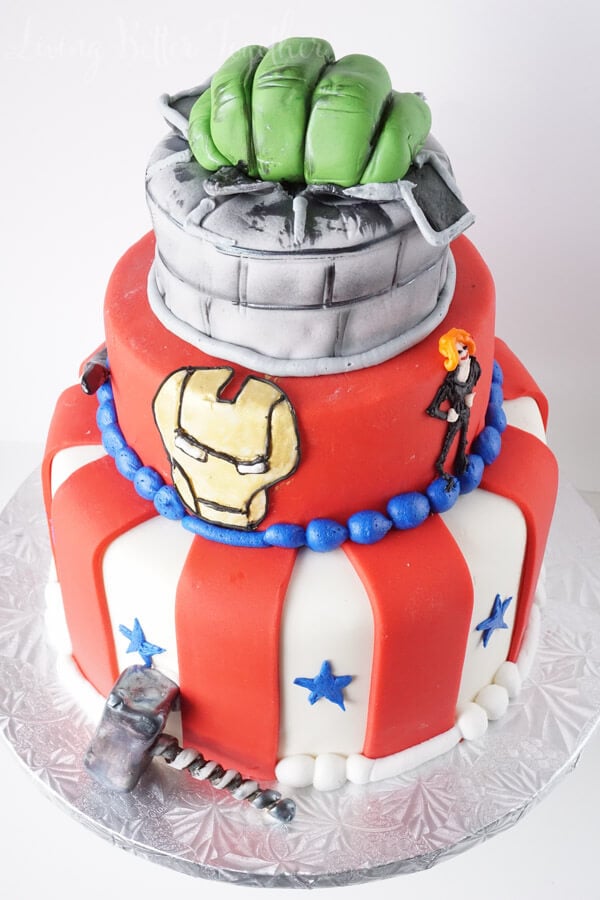 Here are some of the photos from our photobooth! I love the one of Matt and I. He had to be Cap, because Cap is my favorite, but I was told I had to be Hulk because our personalities match. That's a pretty fair statement too. You should check out the photobooth fun from our Captain America Party last fall!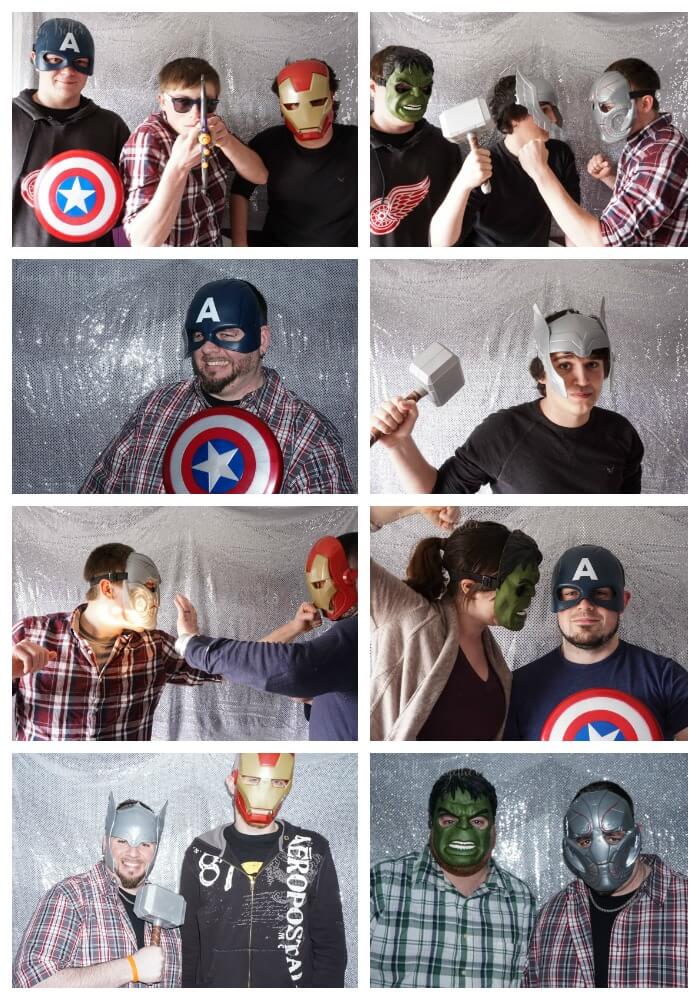 I still can't get over these pops, I absolutely adored how they came out! Plus I made the stand with Styrofoam, aluminum foil, and scrapbook paper! Just wrap the aluminum foil around the Styrofoam disc, and cut out the scrapbook paper (which I found at JoAnn) and glue dot it to the sides. Stick the Hulk Pops and there and BAM! Instant and awesome Avengers cake pop stand!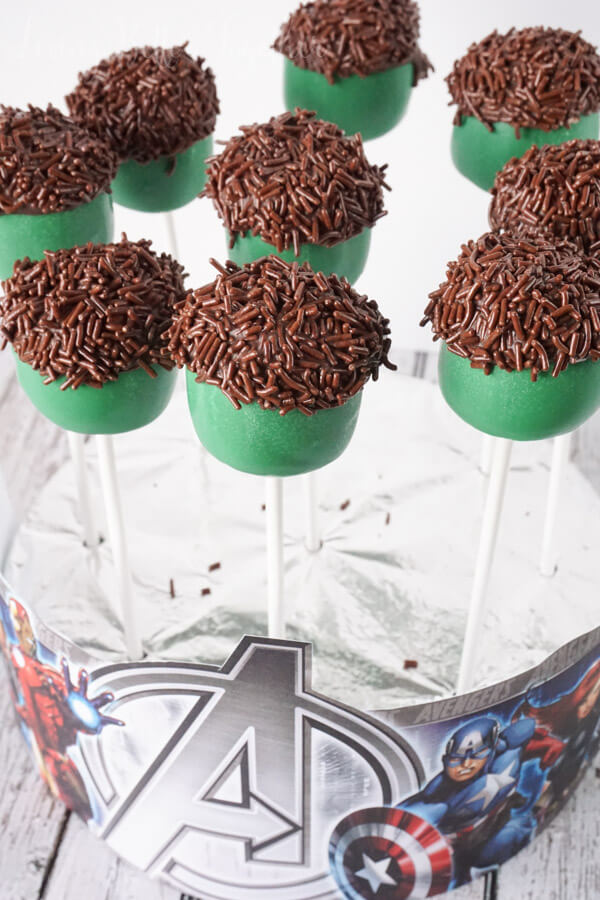 In between watch The Avengers, the guys played HeroClix, a strategy game designed around comic books. The new MARVEL's The Avengers: Age of Ultron set came out just in time for me to order in a box and let them have their fun! And look at that, Thor upgraded his hammer!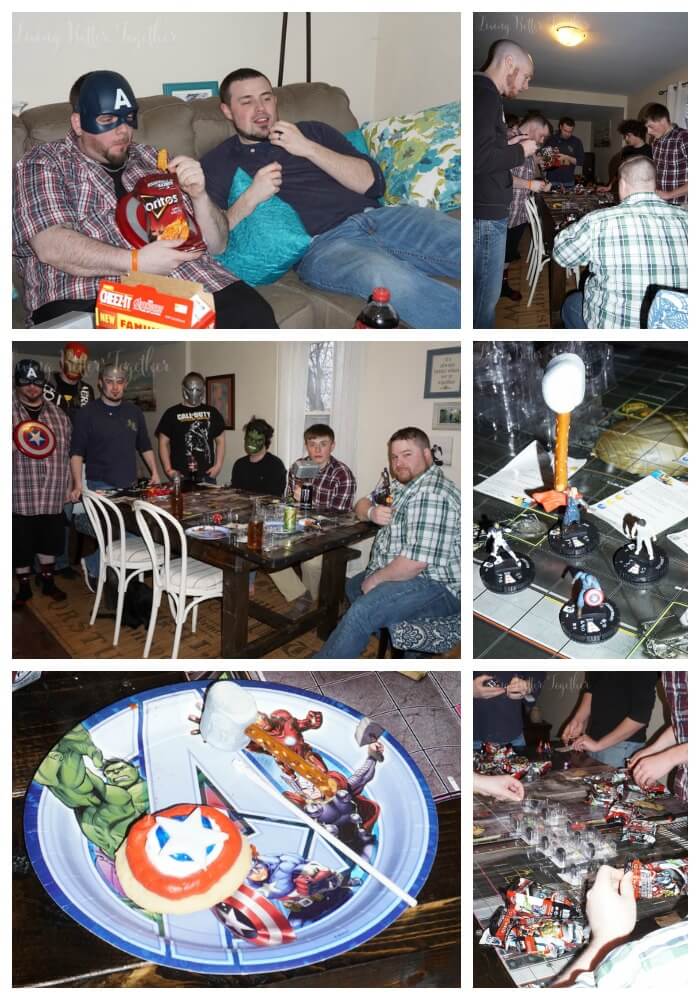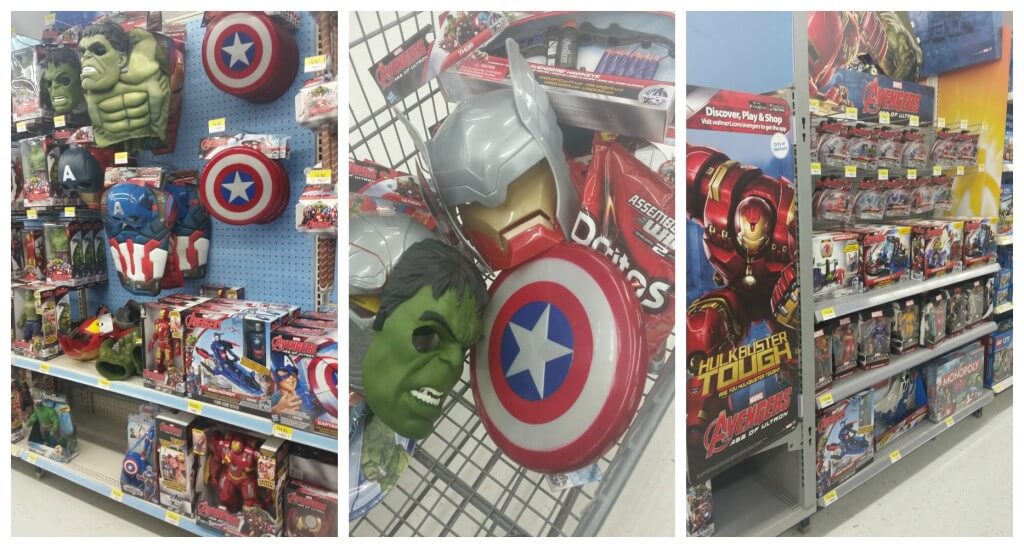 So how will you and your friends and family be celebrating the release of MARVEL's The Avengers: Age of Ultron?