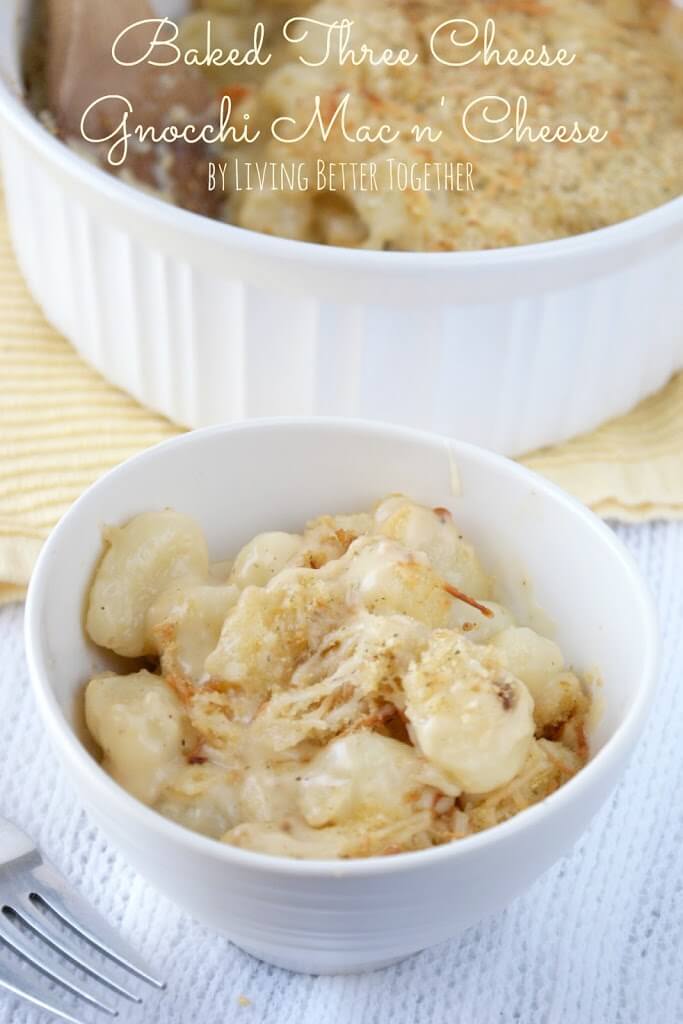 I would have to say that my go to comfort food is Homemade Baked Mac n' Cheese. My Nana makes our family recipe for almost every family event, there's just something about the crunchy top with that creamy and cheesy bottom. She always makes it in the same copper pot and I think that might even be the key to the perfect baked mac n' cheese.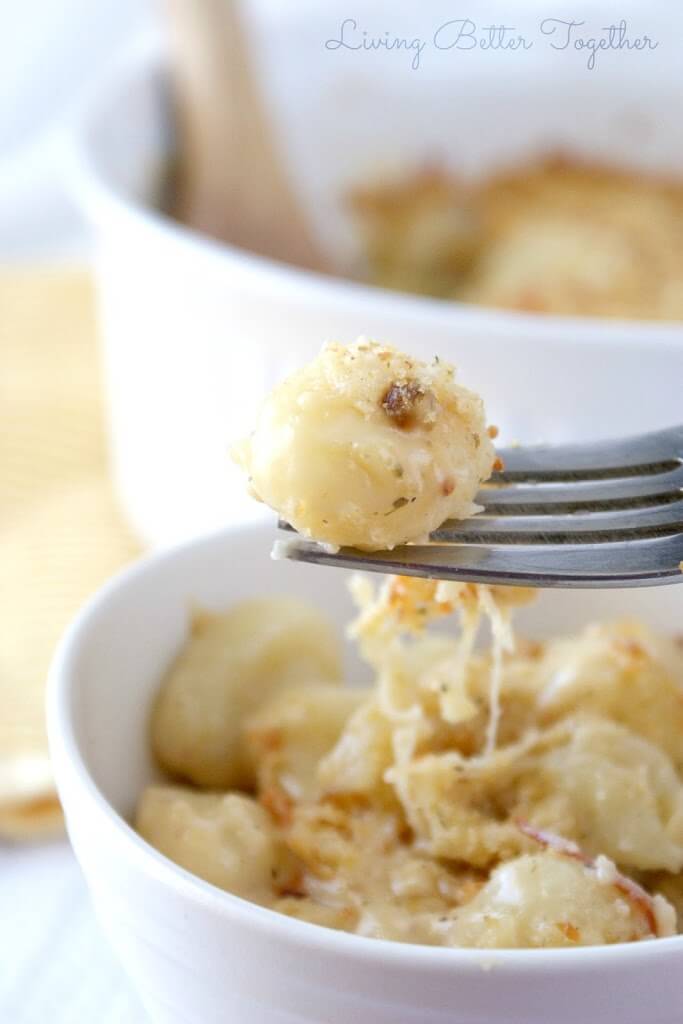 One of Matt's favorite foods is Gnocchi, so I thought, why not combine two of our favorite things and make a Baked Three Cheese Gnocchi Mac n' Cheese. It's perfect; creamy cheese, crispy crust, and perfectly cooked gnocchi make for an excellent meal any night of the week. Yes, even weeknights because it whips together in about 30 minutes!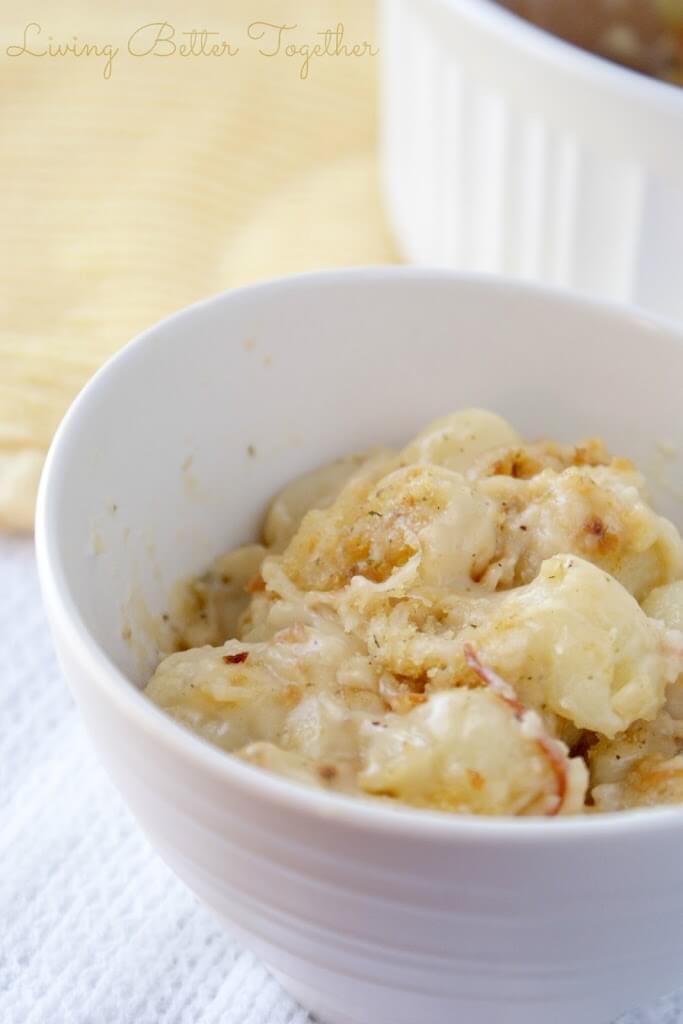 1 pound Potato Gnocchi

3 tbsp Butter

1 1/2 tbsp Flour

3/4 cup Milk

1/3 cup Shredded Cheddar Cheese

1/3 cup Shredded Mozzarella Cheese

2/3 cup Shredded Parmesan Cheese (divided)

1/4 cup Bread Crumbs

1 clove Garlic (minced)

1/2 tsp Onion Powder

1/4 tsp Sea Salt

1/4 tsp Crushed Black Pepper

1 tbsp Dried Parsley or a few leaves of fresh
Preheat oven to 375 F.

Cook gnocchi according to package instructions.

When it's done cooking, drain and transfer to a medium sized casserole dish.

While gnocchi is cooking melt butter in a medium skillet with garlic and onion powder.

Add in flour and wisk until bubbly.

Add in milk, salt, and pepper and stir until thick, about 2 minutes.

Add Cheddar, Mozzarella, and 1/3 cup Parmesan cheese to the skillet and remove from heat.

Wisk until cheese has melted.

Pour cheese sauce over the gnocchi and sprinkle with remaining Parmesan cheese, bread crumbs, and parsley.

Bake for 20 minutes or until top layer of cheese is melted and golden brown.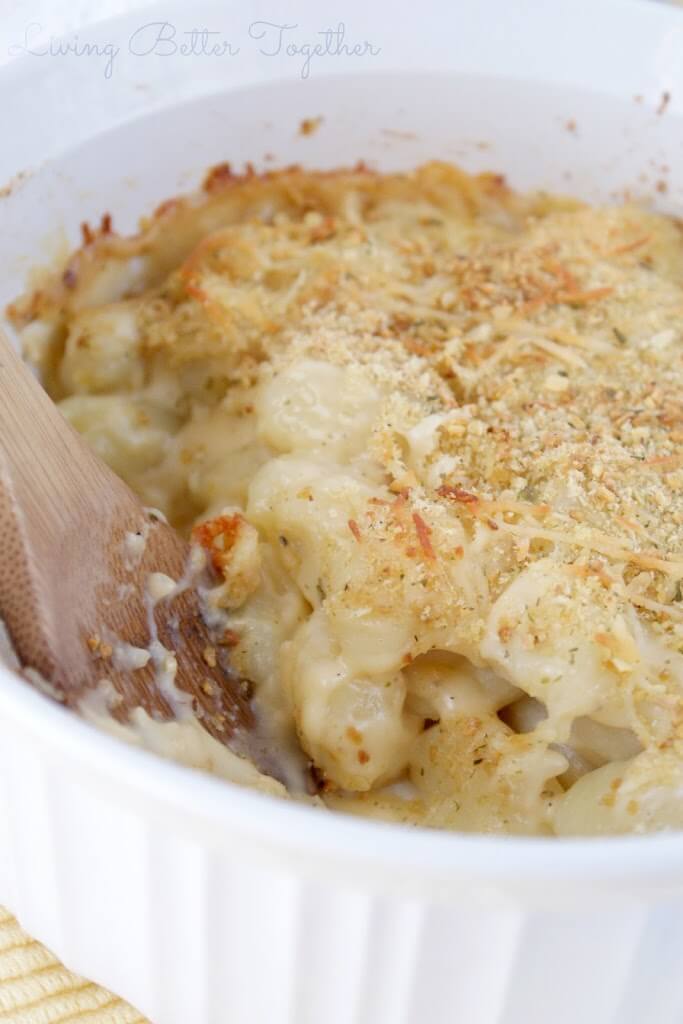 I'm pretty sure I love this more than homemade mac n' cheese – but not my Nana's of course. It's an easy dish that's guaranteed to wow the whole family and heats up great the next day for lunch!