Second Installment in the Stonewall Kitchen Series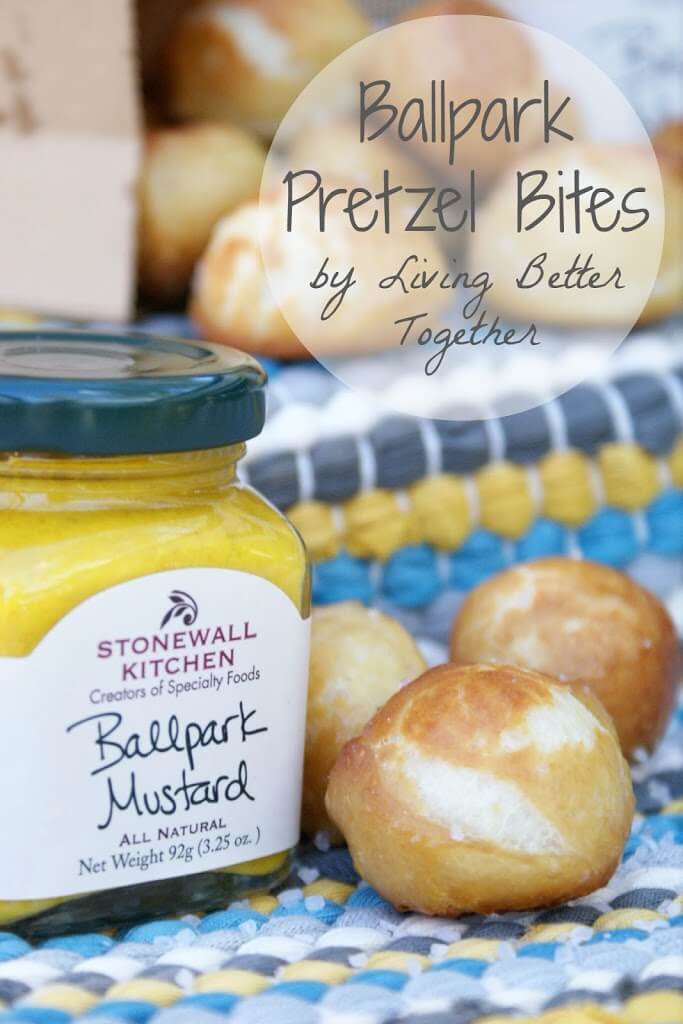 New England's beloved Red Sox are heading to the World Series! We're all pretty excited for Game 1 tonight, unless you're my husband, damn Yankee! To think that we went more than eight decades without a World Series win, and now here we are, preparing for the possibility of THREE in less than a decade! So I'm bringing you the taste of the Ballpark to get you ready for the game!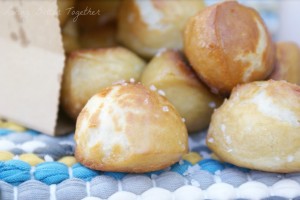 It wouldn't be a baseball game without peanuts, franks, and of course pretzels and mustard! This past spring, Stonewall Kitchen released their Ballpark Mustard, a tangy and bright mustard, perfect for any ball game! This mustard instant brought me back to evenings at Fenway; the crack of the bat, the roar of the crowd, and the soft pretzels. I knew that I had to feature this mustard in my Stonewall Kitchen Series here on the blog and it only seemed natural to pair it with homemade pretzel bites.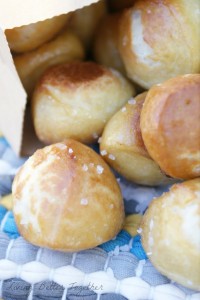 12 frozen dinner rolls

4 tbsp Baking Soda

1 tbsp Salt (for cooking)

2 tbsp Butter (melted)

Water

Coarse Salt
Any version or brand of frozen rolls will work as long as it's dough and not the warm and serve kind. If you want to make more than 12 rolls worth, say you have a huge party, the only ingredient you will need to adjust (other than the rolls) is you'll want to melt some extra butter to brush on them. The amount of salt you use is at your discretion. Keep the baking soda and salt amounts for the water the same.
Let dough thaw, mine took about 2 hours.

Cut rolls into 4 quartered pieces.

Place on a baking sheet for about 30 minutes to allow the pieces to rise a little.

Boil water in a large pot. Once water is boiling add baking soda and the tbsp of salt.

Preheat oven to 375 F.

Plop dough pieces in about 10 at a time for 30-45 seconds. Make sure to move them around so all sides get their turn in the water, remove with a straining spoon.

Put boiled pieces on paper towels to remove excess water.

Spray baking sheet with cooking spray and place the boiled pieces on it about an inch or so apart.

Once you've boiled all of the pieces and have them on the pan, pop them in the oven for 15 minutes.

Remove and coat with melted butter and coarse salt.

Dip in Ballpark Mustard and enjoy the game!
You're going to love the butter and salt combined with the tang of this amazing mustard! These are nice and soft on the inside with a perfect, slightly crisp, golden cook on the outside. The baking soda in the boiling water is the trick to getting that golden pretzel color, so you don't want to skip that step.
Want a pretzel that's more on the sweet side, cook them the same way but instead of adding salt coat them in Stonewall Kitchen's Cinnamon Sugar Mix and dip them in icing or Coffee Caramel Sauce.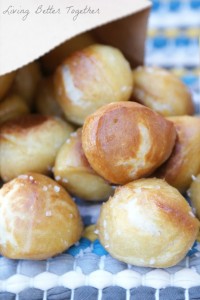 I loved combining two New England traditions in this recipe: Stonewall Kitchen & The Boston Red Sox. They make a pretty

good

tasty pair don't you think!
What's your favorite ballpark treat?