This post was sponsored by PAM Cooking Spray, but the opinions are 100% my own.
These Whole-Wheat Banana Nut Bread Waffles are the perfect way to start your day!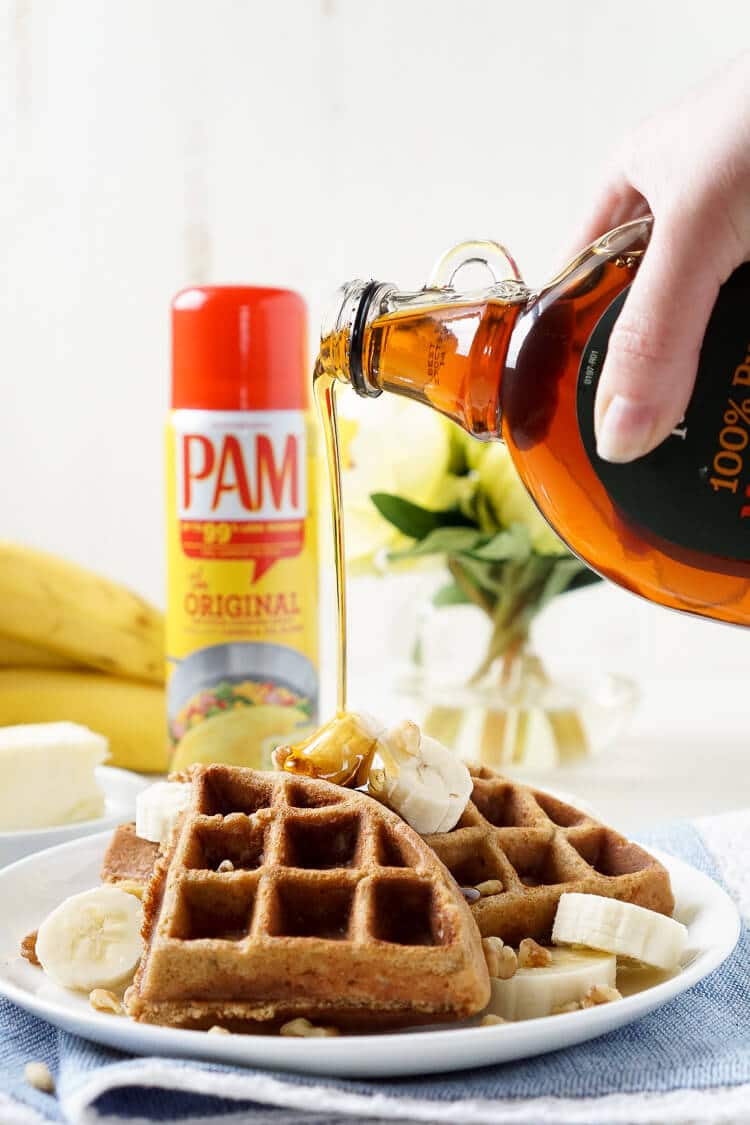 Spring is in the air. Does anyone else feel it? We've had a REALLY mild winter here in Maine this year, especially compared to the 120+ inches of snow that got dropped on us last year. But I'm not complaining, and I'm ready for the flowers to start blooming and the weather to warm up.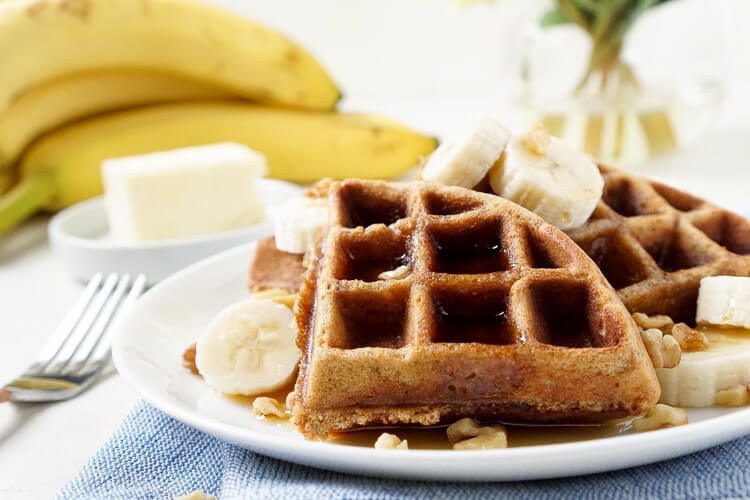 Even though we're not there quite yet, I'm feeling the urge to get out of the house more, which means on the weekends, I want a good homemade breakfast that does four things:
Tastes good!
Easy to make.
Quick to make.
Easy to clean up.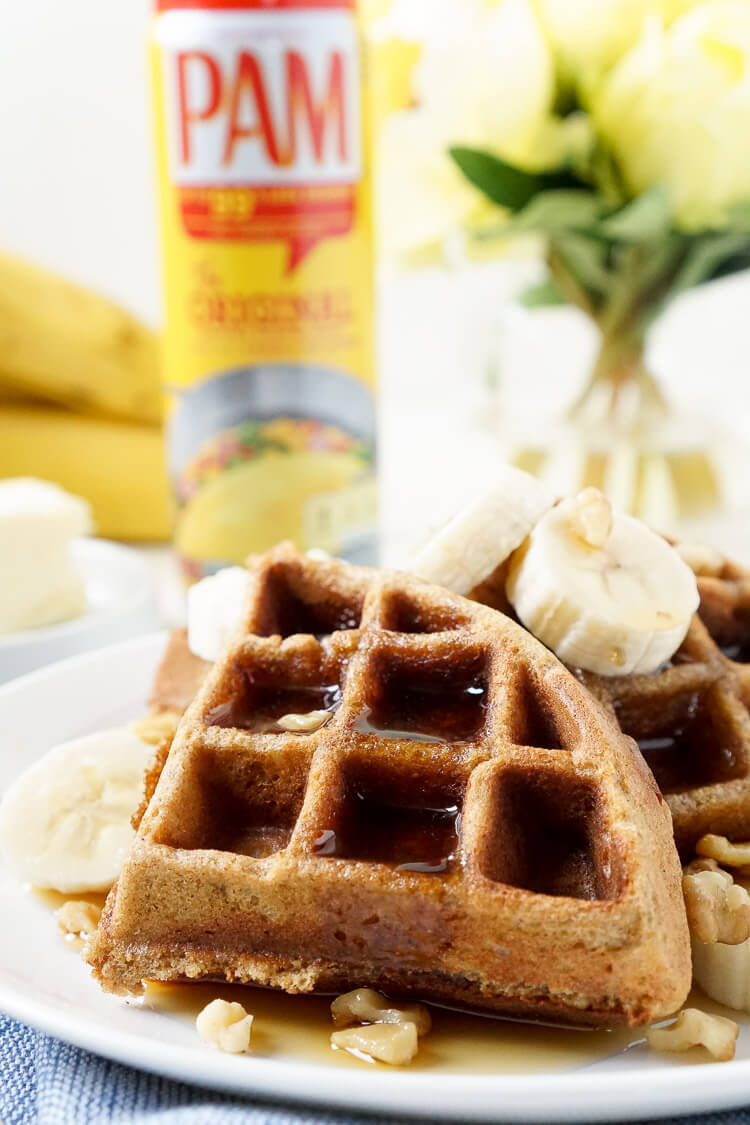 Lately, those four guidelines have equated to WAFFLES! I have a serious waffle addiction right now, and I'm loving trying out a bunch of different flavors, including these here Whole-Wheat Banana Nut Bread Waffles. I absolutely love banana bread, and I got to thinking that it would make a pretty fantastic waffle!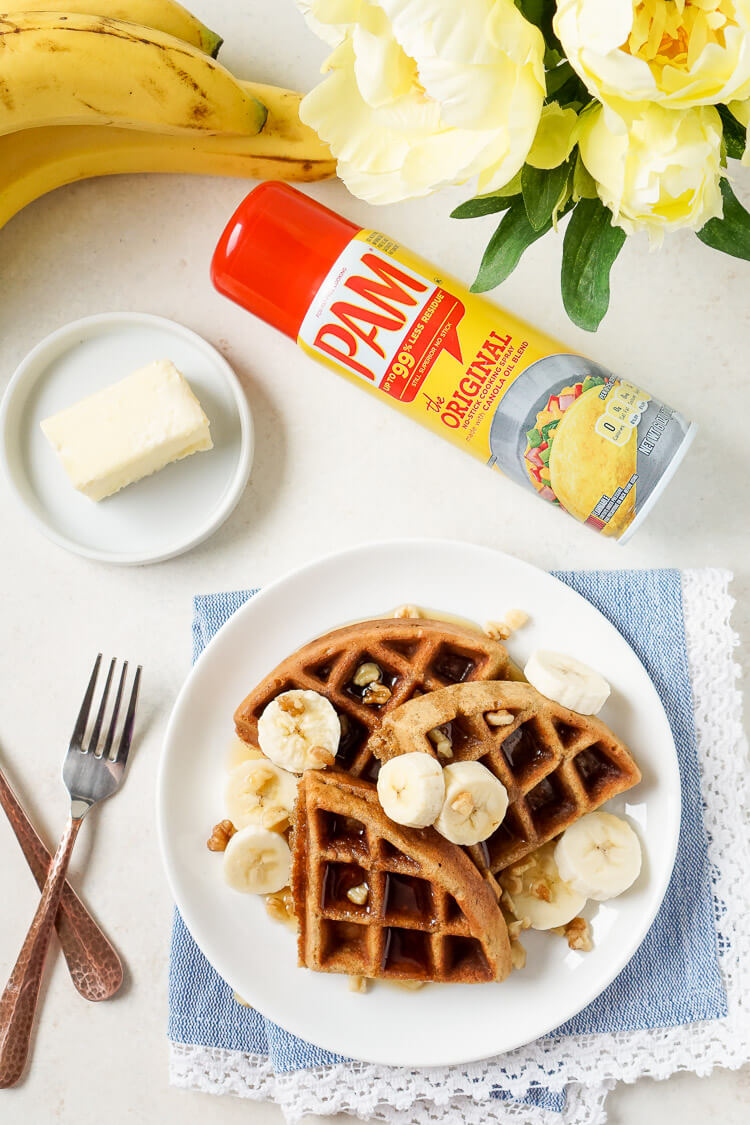 Hearty, filling, and flavorful in every way, and the best part is that thanks to PAM Cooking Spray, there's hardly a mess to clean up when I'm done. This means more time to get out and enjoy the day with my family! PAM Cooking Spray is essential when making a great waffle. It allows the waffles to get the crispy golden shell and pull away from the iron cleanly!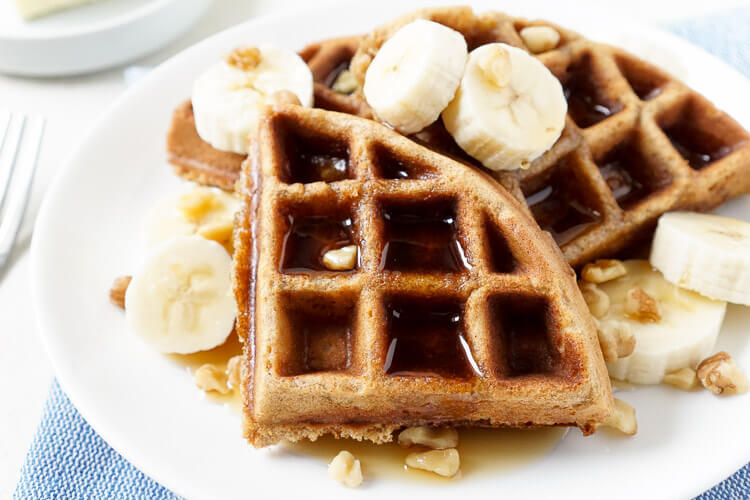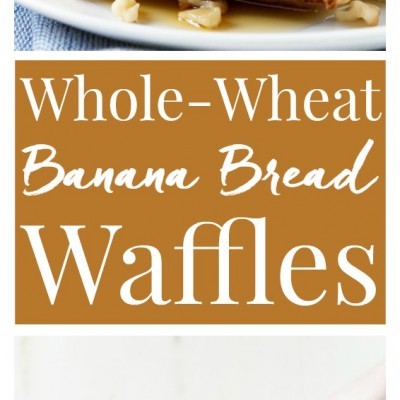 Instructions
Preheat Belgian waffle iron to medium-high heat.

Whisk together flour, sugar, walnuts, baking powder, baking soda, cinnamon, nutmeg, and salt

in a large bowl and set aside.

In a medium bowl, gently beat the eggs, then add the mashed bananas, oil, sour cream, and

vanilla and beat together until fully combined.

Fold the wet ingredients into the dry ingredients and stir just until combined. Lumps are okay.

Spray waffle iron with PAM Cooking Spray and pour waffle batter onto the iron, covering about

¾ of it. Close the top and cook for 4 to 6 minutes until golden brown, flipping halfway through.

Keep waffles warm in a 200-degree oven while you cook remaining waffles.

Serve with maple syrup, sliced bananas, chopped walnuts, and butter.
Notes
Freeze waffles in a large freezer bag for up to one month. Reheat in the toaster or in the oven at 300 degrees F.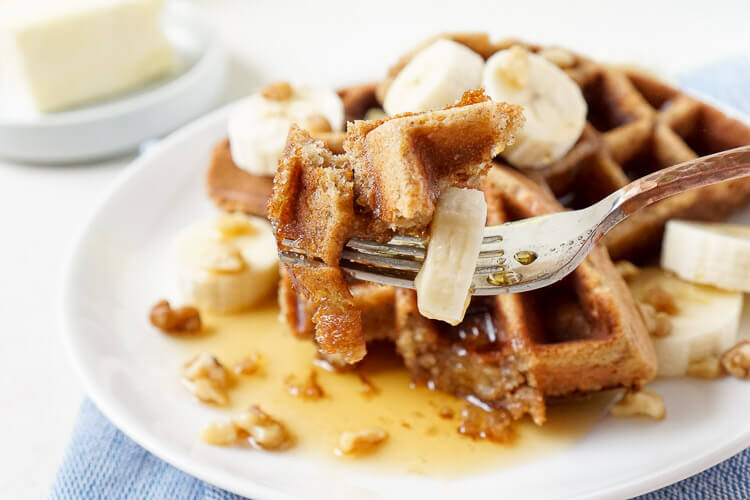 With all the planning that goes into putting together the perfect dish, using PAM Cooking Spray is a sensible way to save time in the kitchen. When you use PAM, you spend less time cleaning up in the kitchen, allowing for more time to be spent with the ones you love. Bonus? PAM Cooking Spray leaves 99% less residue than leading brands of margarine or bargain-brand sprays, so your dishes will turn out great and you'll spend less time cleaning up. *vs. leading cooking sprays (except olive oil), after spraying on glass bakeware, baking at 400 degrees F for 30 minutes, cooling, and then washing in a standard home dishwasher with detergent and repeating 4 times.