These are the Best Books I Read in 2015 and why I loved them!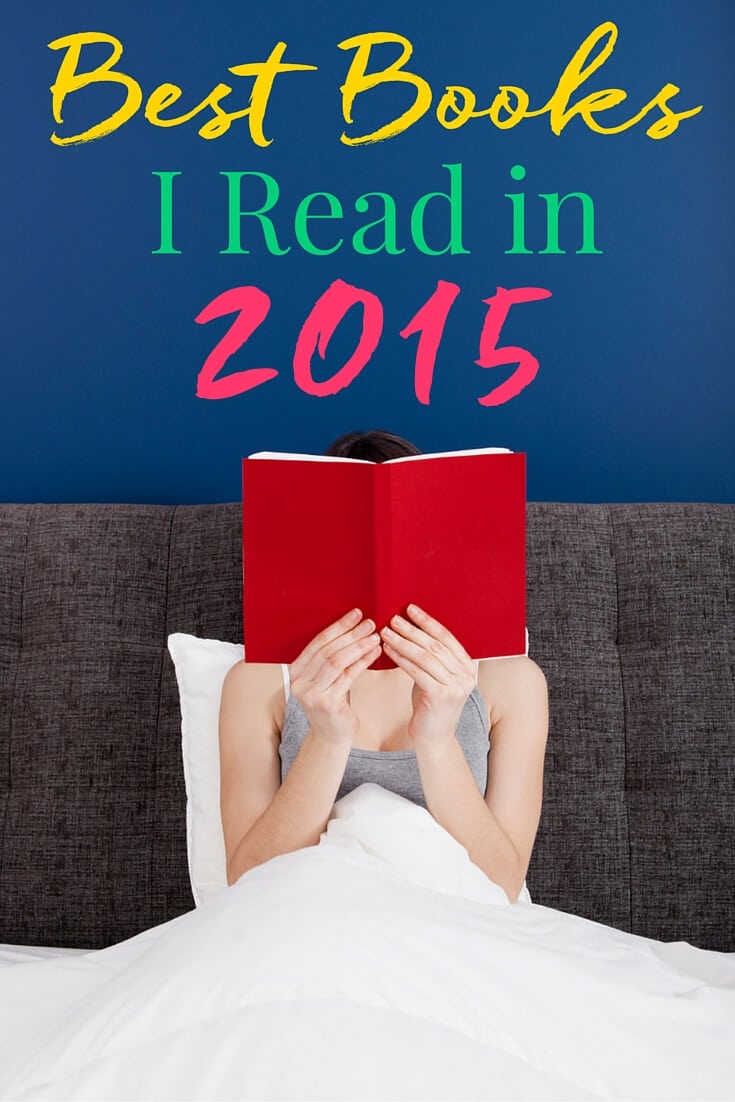 Wow, we're already a week into the new year, how did that happen! But I've gotten in a fair amount of reading so far and I've already started on my 2016 reading goal of 75 books! Last year, my goal was 50 and I reached it in September or October and then only read another 4, let's just say life got a bit crazy around that time. But I'm happy it's slowed down and bit and I can get back to doing one of my favorite things! But I wanted to share my favorite books from 2015 with all of you, you guys loved my Best Books of 2014 post and it still receives traffic daily, and if you didn't already see my Top Posts of 2015 list, well, let's just say, you guys really seem to love books as much as I do!
So I read some pretty amazing books last year and I also read my fair share of duds, I almost thought about writing a Worst Books I Read post, but that seemed a little harsh. But I will list the worst 5, how's that? I want to save you guys the torcher after all, though I'm sure there will be a few of you who have read them and loved them and will put me in my place. But that's what I love about books, just because you love one doesn't mean someone else will, but I do still highly recommend these ones!
So anyways, here are the worst books I read this year:
The First Fifteen Lives of Harry August by Claire North – Review found here.
Never Let Me Go by Kazuo Ishiguro – Review found here.
Beautiful Ruins by Jess Walter – Review found here.
The Young Elites by Marie Lu – This was such a letdown, the epilogue would have made a better story.
Station Eleven by Emily St. John Mandel – Review found here.
Don't forget to follow me on Goodreads, or join my virtual book club, The Blissful Bookworms!
---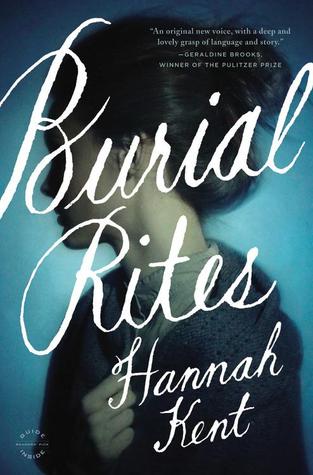 "To know what a person has done, and to know who a person is, are very different things."
Synopsis: Set against Iceland's stark landscape, Hannah Kent brings to vivid life the story of Agnes, who, charged with the brutal murder of her former master, is sent to an isolated farm to await execution.
Horrified at the prospect of housing a convicted murderer, the family at first avoids Agnes. Only Tóti, a priest Agnes has mysteriously chosen to be her spiritual guardian, seeks to understand her. But as Agnes's death looms, the farmer's wife and their daughters learn there is another side to the sensational story they've heard.
Riveting and rich with lyricism, BURIAL RITES evokes a dramatic existence in a distant time and place, and asks the question, how can one woman hope to endure when her life depends upon the stories told by others?
Why I Loved it: When I travel, I like to bring a book with me that takes place in the land I'm visiting. So when I was looking for books set in Iceland for my trip back in October, this book was at the top of most lists, and after reading it, I can see why. Kent has this hauntingly beautiful way of telling a story, and when you think about that fact that Agnes was a real person who lived and breathed and that she actually marks an important event in Iceland's history, it's all the more intriguing. Kent brings the landscape and people of 1800s Iceland to life in such a way that you feel you're there, which isn't hard when you're actually in Iceland with it's small population and grand setting. I found the story and the story within it quite compelling and look forward to more of Kent's work. I feel like a winter afternoon is the perfect time to read this book!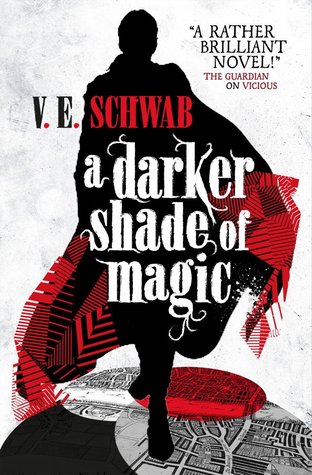 "I'd rather die on an adventure than live standing still."
A Darker Shade of Magic by V.E. Schwab
Synopsis: Kell is one of the last Travelers—rare magicians who choose a parallel universe to visit.
Grey London is dirty, boring, lacks magic, ruled by mad King George. Red London is where life and magic are revered, and the Maresh Dynasty presides over a flourishing empire. White London is ruled by whoever has murdered their way to the throne. People fight to control magic, and the magic fights back, draining the city to its very bones. Once there was Black London—but no one speaks of that now.
Officially, Kell is the Red Traveler, personal ambassador and adopted Prince of Red London, carrying the monthly correspondences between royals of each London. Unofficially, Kell smuggles for those willing to pay for even a glimpse of a world they'll never see. This dangerous hobby sets him up for accidental treason. Fleeing into Grey London, Kell runs afoul of Delilah Bard, a cut-purse with lofty aspirations. She robs him, saves him from a dangerous enemy, then forces him to another world for her 'proper adventure'.
But perilous magic is afoot, and treachery lurks at every turn. To save all of the worlds, Kell and Lila will first need to stay alive—trickier than they hoped.
Why I Loved it: I feel like this is one of the most balanced books I've ever read. The characters, the good, the evil, the worlds, everything is so well balanced. So while this doesn't make for the most exciting book I've ever read, it made for a really good one and a strong start to what I hope is a solid new series.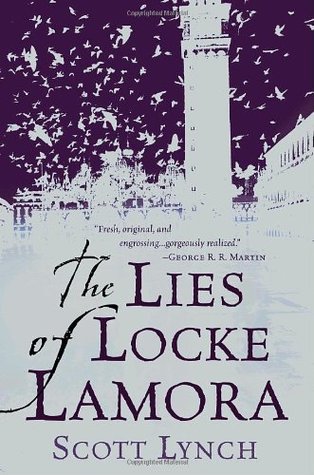 "There's no freedom quite like the freedom of being constantly underestimated."
The Lies of Locke Lamora by Scott Lynch
Synopsis: An orphan's life is harsh — and often short — in the island city of Camorr, built on the ruins of a mysterious alien race. But born with a quick wit and a gift for thieving, Locke Lamora has dodged both death and slavery, only to fall into the hands of an eyeless priest known as Chains — a man who is neither blind nor a priest.
A con artist of extraordinary talent, Chains passes his skills on to his carefully selected "family" of orphans — a group known as the Gentlemen Bastards. Under his tutelage, Locke grows to lead the Bastards, delightedly pulling off one outrageous confidence game after another. Soon he is infamous as the Thorn of Camorr, and no wealthy noble is safe from his sting.
Passing themselves off as petty thieves, the brilliant Locke and his tightly knit band of light-fingered brothers have fooled even the criminal underworld's most feared ruler, Capa Barsavi. But there is someone in the shadows more powerful — and more ambitious — than Locke has yet imagined.
Known as the Gray King, he is slowly killing Capa Barsavi's most trusted men — and using Locke as a pawn in his plot to take control of Camorr's underworld. With a bloody coup under way threatening to destroy everyone and everything that holds meaning in his mercenary life, Locke vows to beat the Gray King at his own brutal game — or die trying…
Why I Loved it: I must confess, I only gave this book 3 stars on Goodreads, yet it best out books with 4 or 5 stars to make the final cut for this list. You see, I think a book can still get 3 stars and be pretty great. For me, this book had an awesome plot and cast, but it just moved really slowly… I think Mr. Lynch might suffer from some of the same symptoms of Mr. Martin… ahem. This was the first book in a series of what is to be 7, I think, and I feel like now that the foundation has been set, the next few books will have a better pace.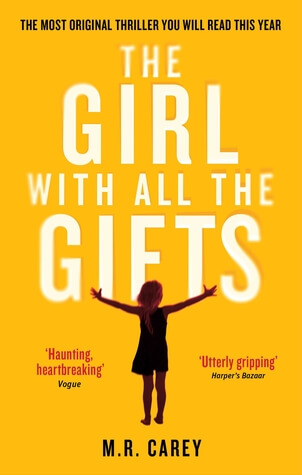 "you can't save people from the world. There's nowhere else to take them."
The Girl with all the Gifts by M.R. Carey
Synopsis: Melanie is a very special girl. Dr. Caldwell calls her "our little genius."
Every morning, Melanie waits in her cell to be collected for class. When they come for her, Sergeant Parks keeps his gun pointing at her while two of his people strap her into the wheelchair. She thinks they don't like her. She jokes that she won't bite, but they don't laugh.
Melanie loves school. She loves learning about spelling and sums and the world outside the classroom and the children's cells. She tells her favorite teacher all the things she'll do when she grows up. Melanie doesn't know why this makes Miss Justineau look sad.
Why I Loved it: This book is what all "end of days" books only hope to be. A powerful, haunting, and beautiful novel that will have your heart racing. If you think you don't like zombie books, that's okay, this isn't really a book about zombies, it's about humanity. Read my full review here. The film adaptation is anticipated to release this year.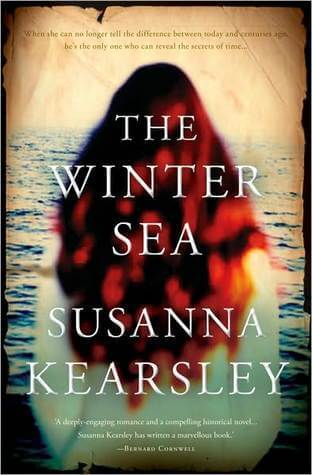 "Ye'll never best your fears until ye face them"
The Winter Sea by Susanna Kearsley
Synopsis: In the spring of 1708, an invading Jacobite fleet of French and Scottish soldiers nearly succeeded in landing the exiled James Stewart in Scotland to reclaim his crown.
Now, Carrie McClelland hopes to turn that story into her next bestselling novel. Settling herself in the shadow of Slains Castle, she creates a heroine named for one of her own ancestors and starts to write.
But when she discovers her novel is more fact than fiction, Carrie wonders if she might be dealing with ancestral memory, making her the only living person who knows the truth – the ultimate betrayal – that happened all those years ago, and that knowledge comes very close to destroying her…
Why I Loved it: I picked the sequel to this book up on an Audible sale having never heard anything about it but figured I should read the first book before the second, you know, because that makes sense and all. It was my first introduction to Susanna Kearsley and I've really come to love her writing. Of course, I'm a sucker for any story that takes place in Scotland, but it was such a moving story and I loved how it perfectly bounced between the two different timelines in the novel.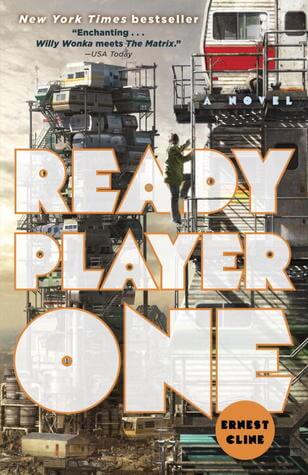 "No one in the world gets what they want and that is beautiful."
Ready Player One by Ernest Cline
Synopsis: It's the year 2044, and the real world is an ugly place.
Like most of humanity, Wade Watts escapes his grim surroundings by spending his waking hours jacked into the OASIS, a sprawling virtual utopia that lets you be anything you want to be, a place where you can live and play and fall in love on any of ten thousand planets.
And like most of humanity, Wade dreams of being the one to discover the ultimate lottery ticket that lies concealed within this virtual world. For somewhere inside this giant networked playground, OASIS creator James Halliday has hidden a series of fiendish puzzles that will yield massive fortune — and remarkable power — to whoever can unlock them.
For years, millions have struggled fruitlessly to attain this prize, knowing only that Halliday's riddles are based in the pop culture he loved — that of the late twentieth century. And for years, millions have found in this quest another means of escape, retreating into happy, obsessive study of Halliday's icons. Like many of his contemporaries, Wade is as comfortable debating the finer points of John Hughes's oeuvre, playing Pac-Man, or reciting Devo lyrics as he is scrounging power to run his OASIS rig.
And then Wade stumbles upon the first puzzle.
Suddenly the whole world is watching, and thousands of competitors join the hunt — among them certain powerful players who are willing to commit very real murder to beat Wade to this prize. Now the only way for Wade to survive and preserve everything he knows is to win. But to do so, he may have to leave behind his oh-so-perfect virtual existence and face up to life — and love — in the real world he's always been so desperate to escape.
Why I Loved it: Hand down the most fun book I read last year! If you grew up in the 80s, you're in for a real treat, and even 90s kids like me can appreciate the fun this novel imbodies. You can read my full review with these Cap'n Crunch Treats! The film adaptation is set to release December 15, 2017.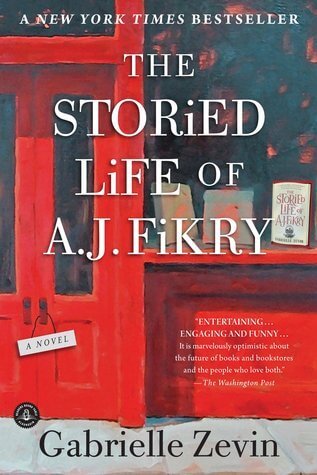 "Sometimes books don't find us until the right time."
The Storied Life of A. J. Fikry by Gabrielle Zevin
Synopsis: A. J. Fikry's life is not at all what he expected it to be. He lives alone, his bookstore is experiencing the worst sales in its history, and now his prized possession, a rare collection of Poe poems, has been stolen. But when a mysterious package appears at the bookstore, its unexpected arrival gives Fikry the chance to make his life over–and see everything anew.
Why I Loved it: By the time I got to the end of this book I was teary eyed and ashamed. Teary eyed because it was such a beautiful story and ashamed because I listened to it on audible. It's about a small independent bookstore owner, the irony was not lost on me and I almost immediately ran down to the bookstore on the first floor of my office to get an actual copy. I still will, but later this week – see this book was so good it made me buy it twice.
This book is about second chances. It's got a great cast of characters and it takes place on an island in New England. Now, I really loved having this story told to me, the narrator was great and really carried you through the story in a seamless way. The book is a bit of an emotional rollercoaster and really tugs at the heartstrings. it's a short book and a story you can get caught up in.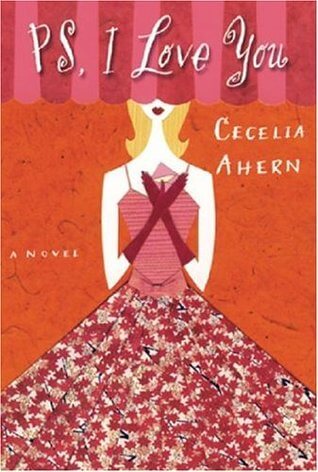 "You gotta be rich to be insane, Hol. Losing your mind is not a luxury for the middle class."
P.S. I Love You by Cecelia Ahern
Synopsis: Holly couldn't live without her husband Gerry, until the day she had to. They were the kind of young couple who could finish each other's sentences. When Gerry succumbs to a terminal illness and dies, 30-year-old Holly is set adrift, unable to pick up the pieces. But with the help of a series of letters her husband left her before he died and a little nudging from an eccentric assortment of family and friends, she learns to laugh, overcome her fears, and discover a world she never knew existed.
Why I Loved it: Can you believe the film adaptation for this came out over 8 years ago now. More than likely, if I see a film first, I'll never pick up the book, but for this one, I did. You see, the movie was so far out of my memory, that I didn't quite remember everything that happened and it seemed like the perfect book to accompany me to Ireland. Not only is the book BETTER, it almost always is, but it's different too. Where the film takes place mostly in New York, the book is set almost entirely in Ireland with different characters and a much better ending. Read my full review here.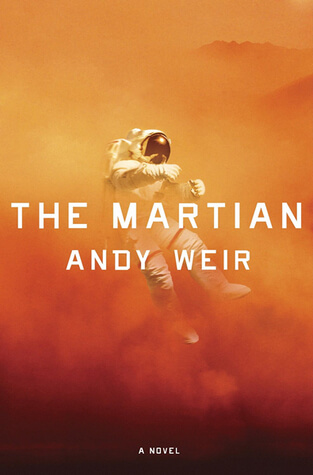 "Yes, of course duct tape works in a near-vacuum. Duct tape works anywhere. Duct tape is magic and should be worshiped."
Synopsis: Six days ago, astronaut Mark Watney became one of the first people to walk on Mars. Now, he's sure he'll be the first person to die there.
After a dust storm nearly kills him and forces his crew to evacuate the planet while thinking him dead, Mark finds himself stranded on Mars' surface, completely alone, with no way to signal Earth that he's alive — and even if he could get word out, his supplies would be gone years before a rescue could arrive.
Chances are, though, he won't have time to starve to death. The damaged machinery, unforgiving environment or plain-old "human error" are much more likely to kill him first. But Mark's not ready to quit. Armed with nothing but his ingenuity and his engineering skills — and a gallows sense of humor that proves to be his greatest source of strength – he embarks on a dogged quest to stay alive, using his botany expertise to grow food and even hatching a mad plan to contact NASA back on Earth.
As he overcomes one seemingly insurmountable obstacle after the next, Mark begins to let himself believe he might make it off the planet alive – but Mars has plenty of surprises in store for him yet.
Why I Loved it: This book sat on my to-read list for far too long, and why I finally picked it up, I was riveted. Mark Watney is one of the funniest characters I've ever met in a book and he's kind of a badass botanist too! Matt never wanted to read it because it sounded like Castaway in space… wrong. This book is a million times better! The film came out in November and is getting a fair amount of Oscar buzz, Matt Damon did an excellent job portraying Watney, but I still recommend reading the book before watching it!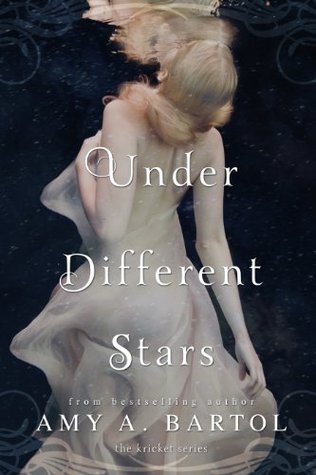 "I'm used to holding on to nothing as tight as I can."
Under Different Stars by Amy Bartol
Synopsis: Kricket Hollowell is normally not one to wish upon stars; she believes they're rarely in her favor. Well versed at dodging caseworkers from Chicago's foster care system, the past few years on her own have made Kricket an expert at the art of survival and blending in. With her 18th birthday fast approaching, she dreams of the day when she can stop running and find what her heart needs most: a home.
Trey Allairis hates Earth and doubts that anyone from his world can thrive here. What he's learning of Kricket and her existence away from her true home only confirms his theory. But, when he and Kricket lie together under the stars of Ethar, counting them all may be easier than letting her go.
Kyon Ensin's secrets number the stars; he knows more about Kricket's gifts than anyone and plans to possess her because of them. He also knows she's more valuable than any fire in the night sky. He'll move the heavens and align them all in order to make her his own.
When everything in their world can be broken, will Kricket rely upon love to save her under different stars?
Why I Loved it: So I picked this book up because it was really cheap on Audible, I do that a lot, and while sometimes I'm really let down, most of the time I'm surprised. Having never heard of this series before, the cover drew me right in. I LOVE the universe Bartol sets up within the series and I adore the characters. By the end of the series, Bartol will have you all mixed up in circles, not knowing how to feel, but it's good, I can promise you that much. I think if you love fun and quick YA or fantasy, you'll really enjoy this series!
P.S. I'm going to a secret signing hosted by Bartol in May and I can't wait!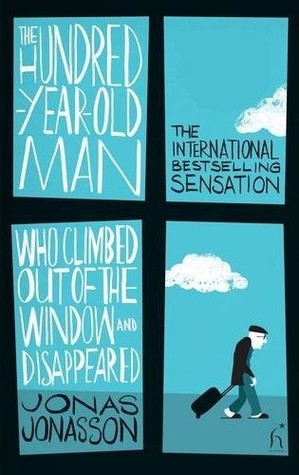 "Never try to out drink a Swede, unless you happen to be a Finn or, at least, a Russian."
The Hundred-Year-Old Man Who Climbed Out of the Window and Disappeared by Jonas Jonasson
Synopsis: It all starts on the one-hundredth birthday of Allan Karlsson. Sitting quietly in his room in an old people's home, he is waiting for the party he-never-wanted-anyway to begin. The Mayor is going to be there. The press is going to be there. But, as it turns out, Allan is not… Slowly but surely Allan climbs out of his bedroom window, into the flowerbed (in his slippers) and makes his getaway. And so begins his picaresque and unlikely journey involving criminals, several murders, a suitcase full of cash, and incompetent police. As his escapades unfold, we learn something of Allan's earlier life in which – remarkably – he helped to make the atom bomb, became friends with American presidents, Russian tyrants, and Chinese leaders, and was a participant behind the scenes in many key events of the twentieth century. Already a huge bestseller across Europe, The Hundred-Year-Old Man Who Climbed Out of the Window and Disappeared is a fun and feel-good book for all ages.
Why I Loved it: When I said Ready Player One was the most fun book, it was, but this was a close second. This was like the European Forrest Gump, only Allan is 100 years old and we look back on his crazy life and how he had a hand in some of the most monumental events in recent history as well as the crazy situation he's caught himself up in on his hundredth birthday. A little long, but so fun! The foreign film adaptation came out last year, but I have yet to see it.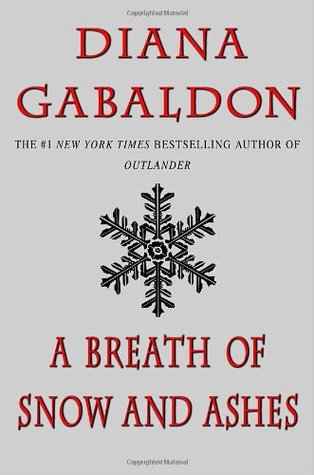 "All I want, is for you to love me. Not because of what I can do or what I look like, or because I love you – just because I am."
A Breath of Snow and Ashes by Diana Gabaldon
Synopsis: The year is 1772, and on the eve of the American Revolution, the long fuse of rebellion has already been lit. Men lie dead in the streets of Boston, and in the backwoods of North Carolina, isolated cabins burn in the forest.
With chaos brewing, the governor calls upon Jamie Fraser to unite the backcountry and safeguard the colony for King and Crown. But from his wife Jamie knows that three years hence the shot heard round the world will be fired, and the result will be independence — with those loyal to the King either dead or in exile. And there is also the matter of a tiny clipping from The Wilmington Gazette, dated 1776, which reports Jamie's death, along with his kin. For once, he hopes, his time-traveling family may be wrong about the future.
Why I Loved it: The truth is, I listened to the last few books of the Outlander series so fast, that they all kind of run together. But looking back, this is the one I gave 5 stars this year. I love Diana Gabaldon, I think she's one of the best writers of our time. And though her books are long and no one can survive the odds as many times as the Frasers, they're fun, they're entertaining, and they're addictive!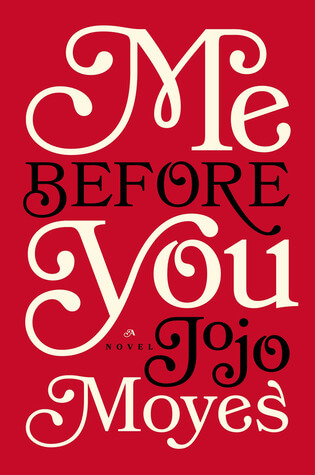 "Push yourself. Don't Settle. Just live well. Just LIVE."
Synopsis: Lou Clark knows lots of things. She knows how many footsteps there are between the bus stop and home. She knows she likes working in The Buttered Bun tea shop and she knows she might not love her boyfriend Patrick.
What Lou doesn't know is she's about to lose her job or that knowing what's coming is what keeps her sane.
Will Traynor knows his motorcycle accident took away his desire to live. He knows everything feels very small and rather joyless now and he knows exactly how he's going to put a stop to that.
What Will doesn't know is that Lou is about to burst into his world in a riot of colour. And neither of them knows they're going to change the other for all time.
Why I Loved it: Of the 54 books I read last year, this is the one that broke me. You can find my full review here. The film adaptation comes out this summer, make sure you read the book first!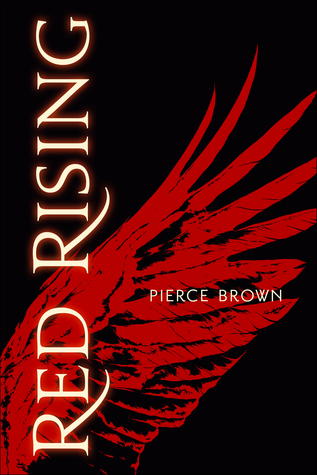 "I would have lived in peace. But my enemies brought me war."
Synopsis: Darrow is a Red, a member of the lowest caste in the color-coded society of the future. Like his fellow Reds, he works all day, believing that he and his people are making the surface of Mars livable for future generations.
Yet he spends his life willingly, knowing that his blood and sweat will one day result in a better world for his children.
But Darrow and his kind have been betrayed. Soon he discovers that humanity already reached the surface generations ago. Vast cities and sprawling parks spread across the planet. Darrow—and Reds like him—are nothing more than slaves to a decadent ruling class.
Inspired by a longing for justice, and driven by the memory of lost love, Darrow sacrifices everything to infiltrate the legendary Institute, a proving ground for the dominant Gold caste, where the next generation of humanity's overlords struggle for power. He will be forced to compete for his life and the very future of civilization against the best and most brutal of Society's ruling class. There, he will stop at nothing to bring down his enemies… even if it means he has to become one of them to do so.
Why I Loved it: Another book that sat on my to-read shelf for far too long. I owned it on Kindle for almost a year, then when it popped up for $2.99 on Audible, I grabbed that too and convinced Matt it would be a good book for us to listen to together. Boyo was I effin' right! After the first two hours of listening and laying some ground work, this epic story of Darrow the Helldiver truly takes off! Pierce Brown is bloody brilliant and did I mention he's also probably the hottest writer out there on top of it all!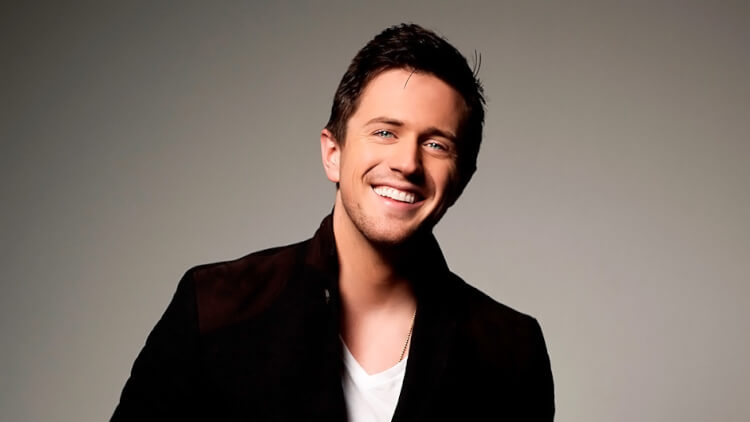 Source
See… I told you! Anyways, if I was going to recommend a book or series to anyone and everyone, it would be THIS ONE! Imagine Hunger Games, Star Wars, Game of Thrones all mashed up into one incredible book… *mind blown* right? So why haven't more people read this book, it makes me sad and it makes me question people, just go get the bloodydamn book already! I own it on Audible, Kindle, and Hardcover… the only book that's ever happened with, so obviously, I love this book! Darrow and the Howlers will not let you down. Pinky promise!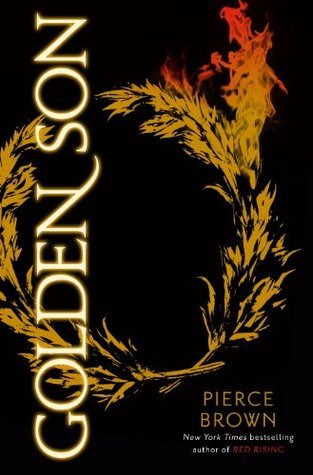 "Home isn't where you're from, it's where you find light when all grows dark."
Synopsis: Golden Son continues the stunning saga of Darrow, a rebel forged by tragedy, battling to lead his oppressed people to freedom from the overlords of a brutal elitist future built on lies. Now fully embedded among the Gold ruling class, Darrow continues his work to bring down Society from within.
A life-or-death tale of vengeance with an unforgettable hero at its heart, Golden Son guarantees Pierce Brown's continuing status as one of fiction's most exciting new voices.
Why I Loved it: Yes, that's right, two books for the same series and same author made the list. I don't normally do that, but these books are just. that. good. While Red Rising was pretty amazing, Golden Son leaves it in the dust. This book IS one of the BEST books I have EVER read, and that's not a list I put together lightly. But here's the thing, no book has ever made me feel the way the scene in the mines with Ragnar, Darrow, and Mustang did. I was on edge, I was crying, I was heartbroken, yet at the same time my heart was filled with joy and relief and then it was slightly crushed again. Pierce Brown knows how to move his audience, to wrap them around his finger and either break them or inspire them to rise up in a rebellion that isn't even real.
We finished listening to the last quarter of this book while we were in Scotland, and when the last chapter came to a close, we just sat in silence, reeling with what had just happened. So many emotions, yet we were speechless. Of all the books I read, this is the one that continues to command my thoughts, luckily, Brown released the first 3 chapters of Morning Star last month. And while it was nice to have a little taste of the final book, the next 5 weeks of waiting might just kill me! I've already pre-ordered a signed hardcover and the Audible book, which I highly recommend because the narrator is also amazing!
---
I hope some of the best books I read last year will make it on to your 2016 to read list and in case you're looking for any more ideas to add to the list, check these posts out: