These Things To Do In Kauai Hawaii are fun and exciting ways to explore and experience everything the island has to offer!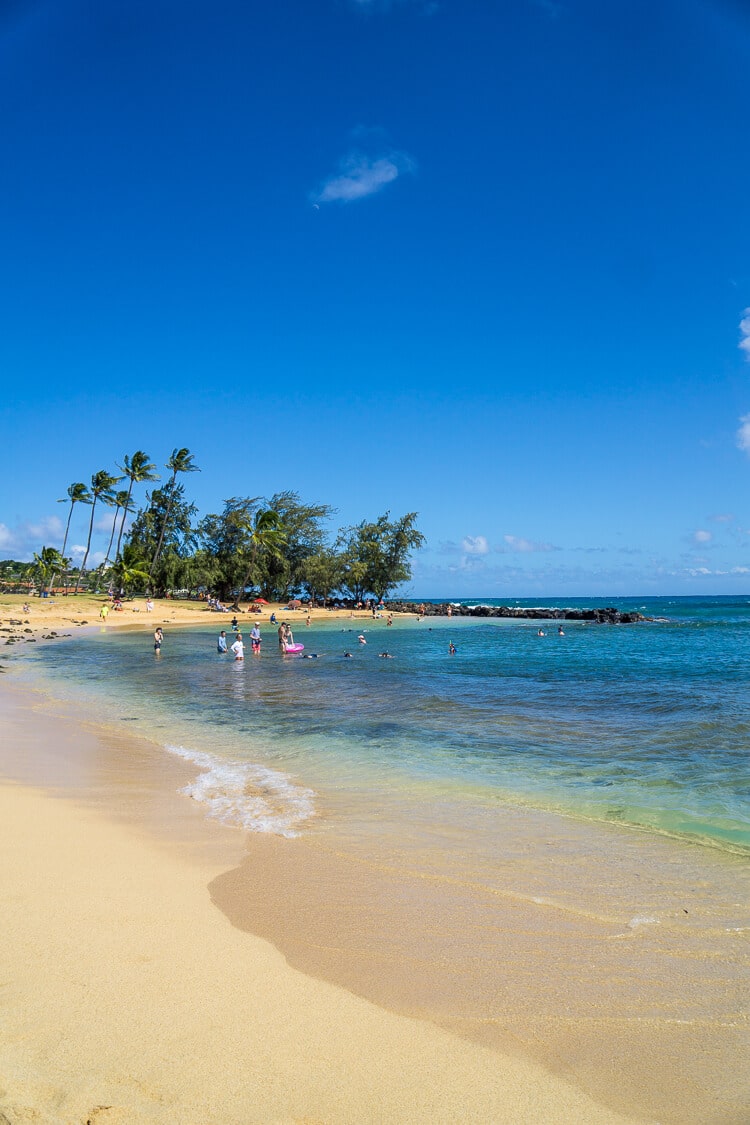 What To Do In Kauai Hawaii
I can't believe it's been six weeks since I left Kauai, Hawaii.
I'm pretty sure it will always be one of the best trips I've ever taken.
We got to experience so many amazing things while we were there and I'm itching to get back!
Kauai Hawaii is such a beautiful island with its lush green forests, vibrant blue waters, incredibly kind people and a colorful canyon that will blow you away.
If you're thinking about visiting Hawaii, make sure the island of Kauai is on the top of your list, in fact, you should spend the whole trip here like we did!
Don't forget to check out the best places to eat in Kauai too!
---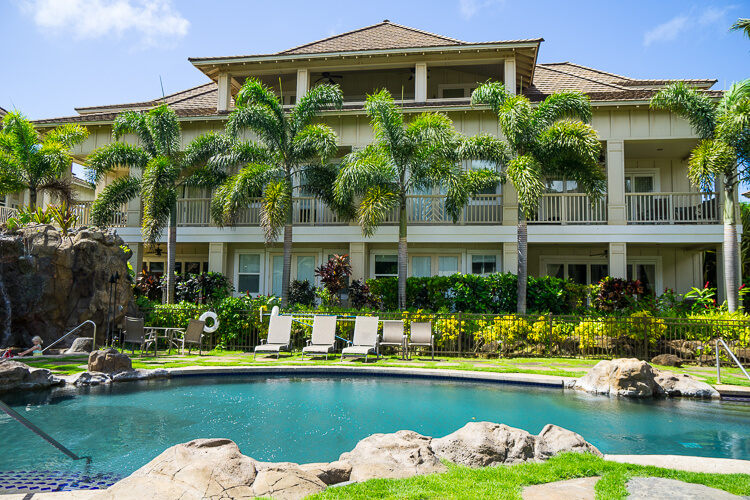 The Villas at Poipu Kai
I feel like the two big things to think about when it comes to booking a trip are transportation and accommodations.
You have to figure out how you're going to get somewhere and where you're going to stay once you do!
For us, the most important thing was finding accommodations that were centrally located on the island and not too far from the airport in Lihue. The Villas at Poipu Kai fit our needs perfectly!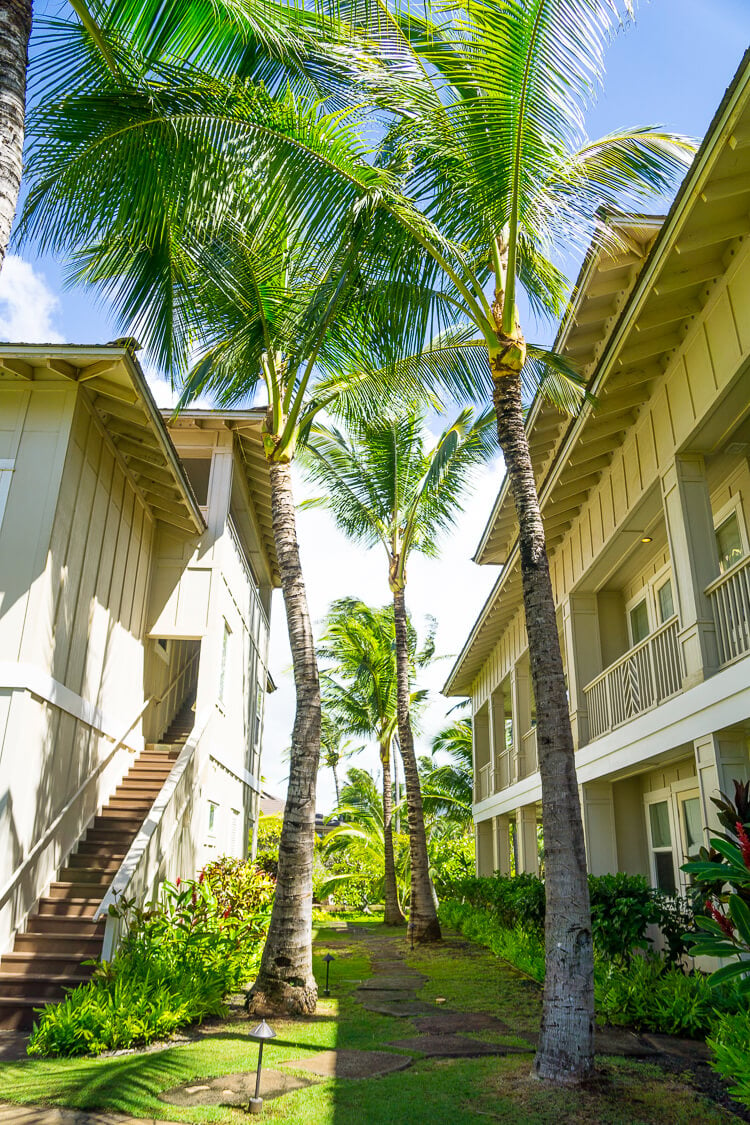 Our group split up into two villas that were 1600 and 2000 square feet; that's twice the size of my house!
The villas themselves are absolutely beautiful with gorgeous views, open-air living space, and comfortable beds and furniture.
They have a full kitchen and dining area which is perfect for the times when you want to cook in!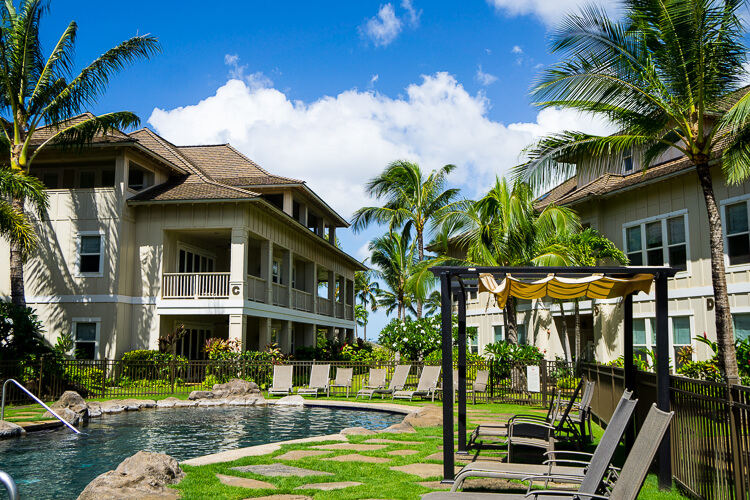 The villas offer parking, a lovely pool and hot tub that were perfect for soaking sore muscles after the day's adventures, and it's only 5 minutes from Starbucks, which was a huge highlight for most of our group!
We absolutely loved staying here, and I can't wait to bring my family back, with 3 to 4 bedrooms in each villa, the price is extremely affordable, and you can save even more using the deal below!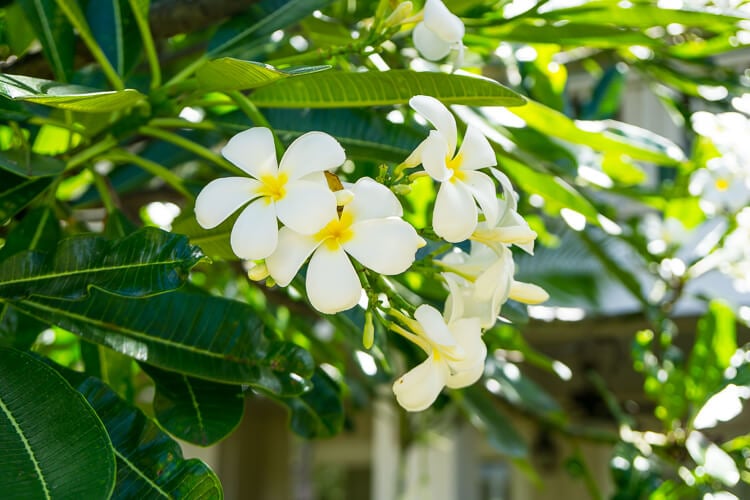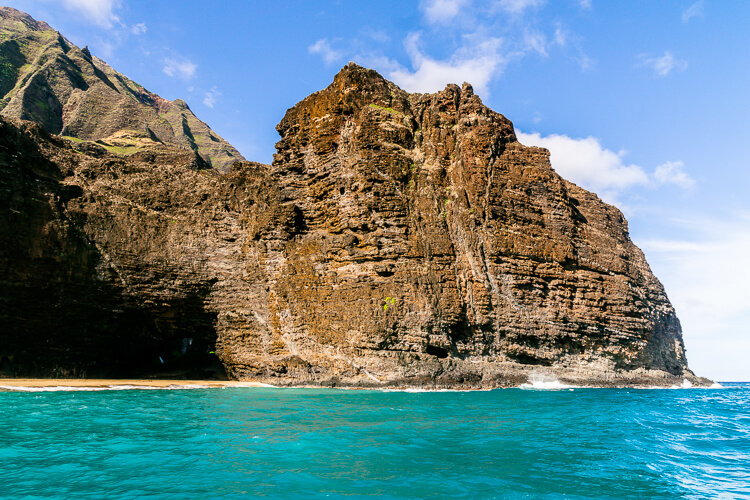 Holo Holo Boat Tours
You can't go to Kauai Hawaii and not go on a boat ride and if you're going to go on a boat you mine as well go on the best tour the island has to offer!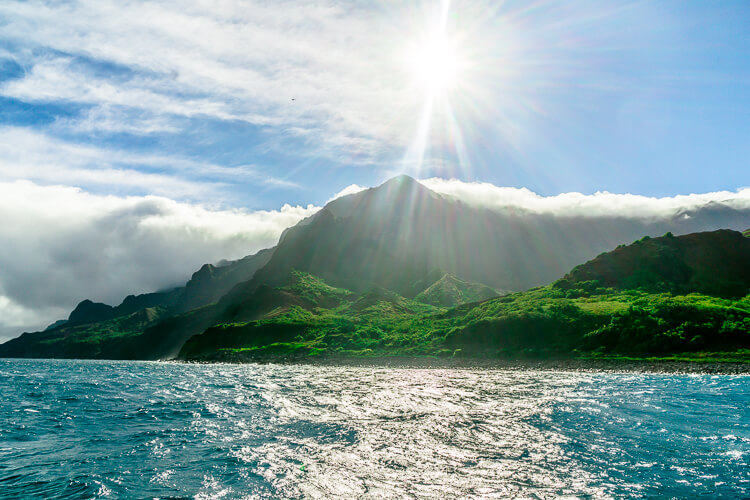 The Holo Holo Boat Tours in Kauai Hawaii have a variety of offerings including the Niihau and Na Pali Coast Super Tour which we went on during our trip.
On the tour, we received breakfast and lunch, and drinks throughout the day, alcoholic beverages only being served after snorkeling.
Getting to see the Na Pali Coast from the water was incredible, the sun was coming up over the mountains and the view was just spectacular, plus everywhere you looked there were dolphins.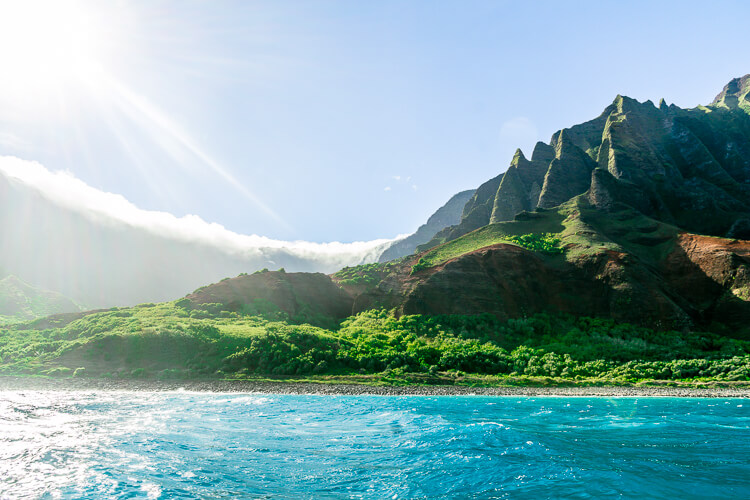 The ride itself can be a bit rough and I highly recommend Dramamine, LOTS of sunscreen, and make sure to drink a ton of water.
Wear your bathing suit under your clothes because there's nowhere to change.
If you have a bad back, you shouldn't go on this tour, there were times when the boat goes airborne and it hits hard coming down and in the choppy waves.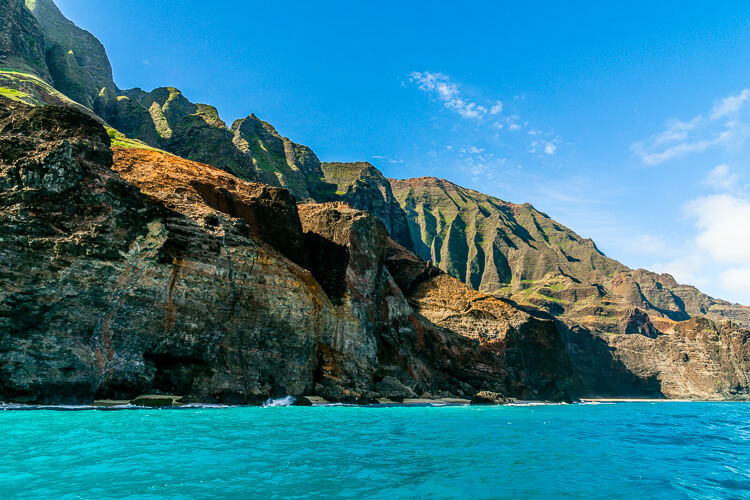 This tour was a lot of fun, but keep in mind that it is a long tour and will take up most of your day.
That being said, you will get to see and experience a lot of Kauai that you wouldn't be able to otherwise.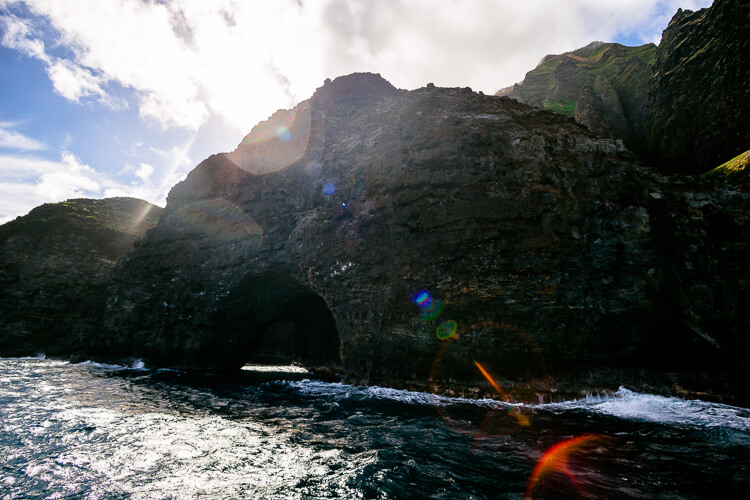 The coastline is just beautiful! Once leaving the Na Pali coast, we headed to the shores of Niihau, the Forbidden Island, not far from Kauai Hawaii.
Only people that are 100% Hawaiian are allowed on the island and it is by invitation only.
We snorkeled off the coast here for about an hour before lunchtime.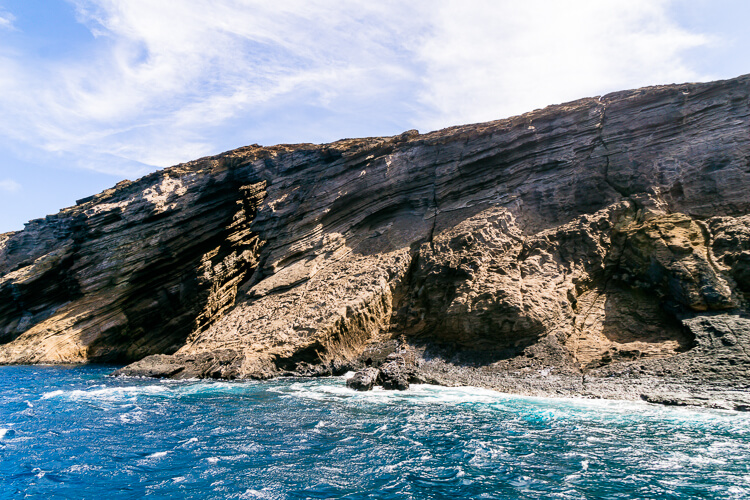 This was our awesome crew, they're all really attentive and know how to have a good time while always putting safety first!
Holo Holo offers a few different experiences, you can check them out here and book a tour today!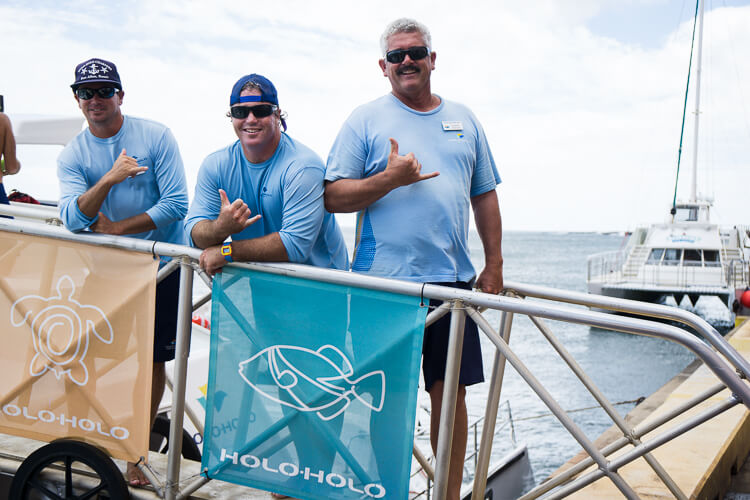 A few photos from our snorkeling experience!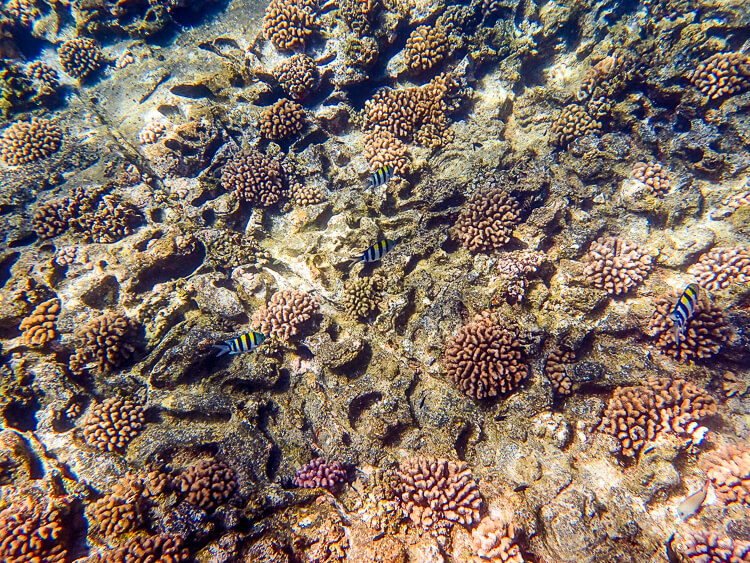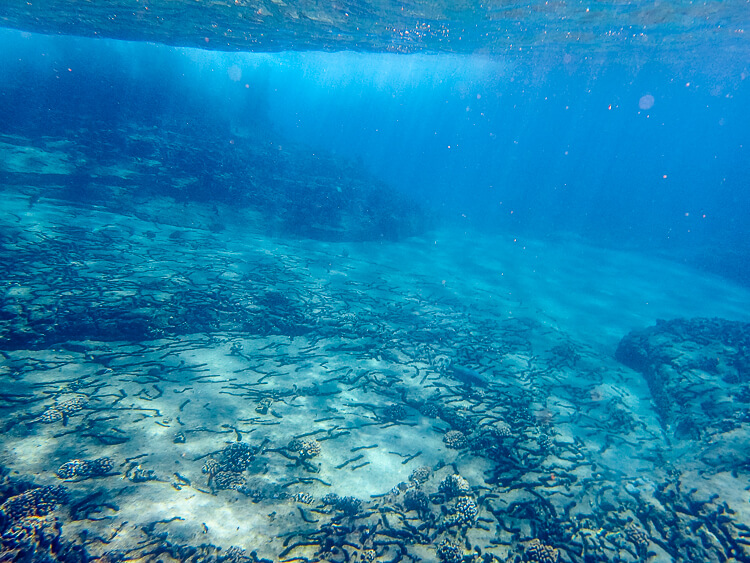 Poipu Beach Park
It's not as pretty as Flamenco Beach on Culebra Island, but it's still pretty gorgeous!
Poipu Beach in Kauai Hawaii was named America's Best Beach by Travel Channel, and once you walk over the small hill to reveal a beautiful sandy shore with turquoise waters, you'll know why!
Poipu Beach was just minutes from our villa, making it a convenient location to watch the sunrise or relax in the afternoons!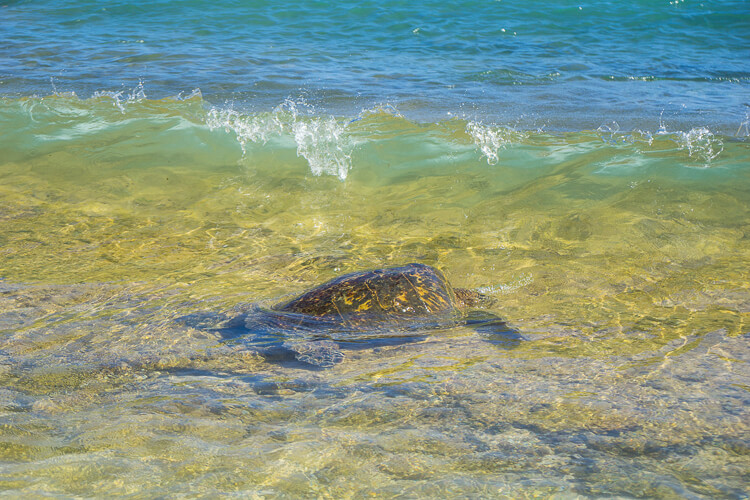 You'll almost certainly see sea turtles there too!
This beach is great for lounging, boogie boarding, snorkeling, and swimming.
The water is quite shallow near the shore, and the breakwater helps keep the waves from becoming too strong making it a great beach option for families traveling with small children as well as adults.
A little further out you'll find bigger waves making this location great for surfing as well.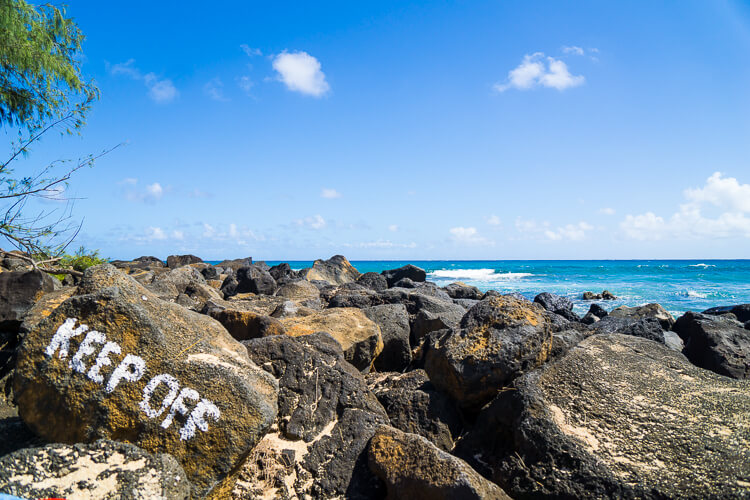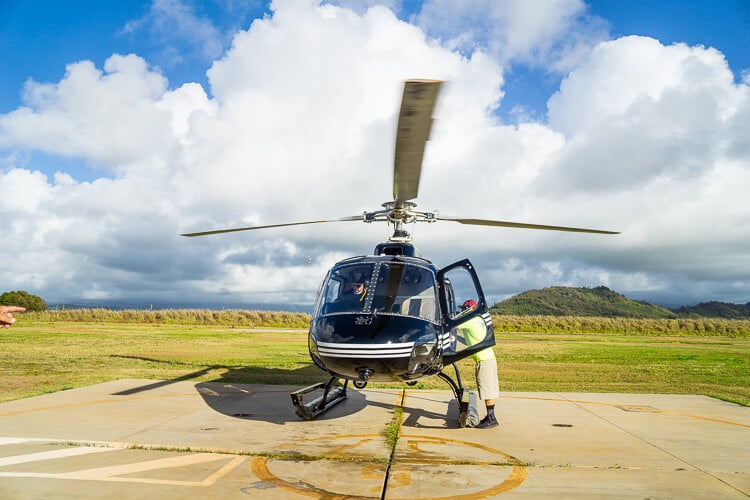 Sunshine Helicopter Tours
When we were in Kauai, a few of us decided to splurge a little and go on a helicopter tour of the island.
We chose the Ultimate Kauai Adventure Tour with Sunshine Helicopters and had an incredible experience.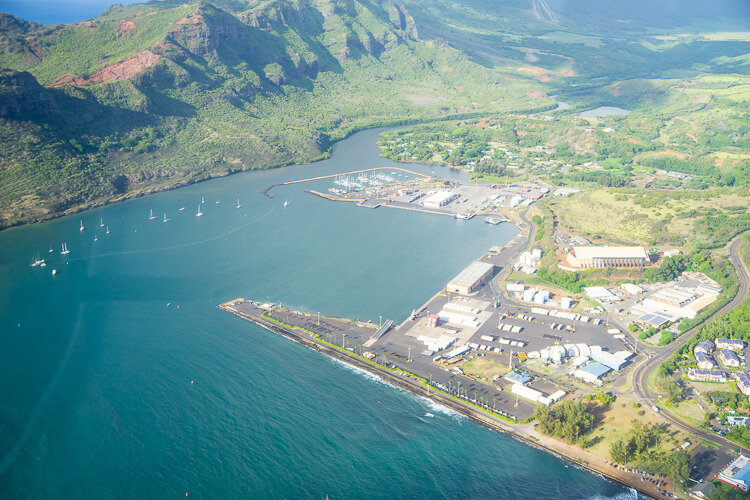 Our guide sure knew how to give a tour, we dipped, we dived, we spun, and of course, we flew!
If you even get the slightest bit nauseous from motion, definitely power up with some Dramamine before the tour!
We are nose down in the photo below; you can see the river running through the valley.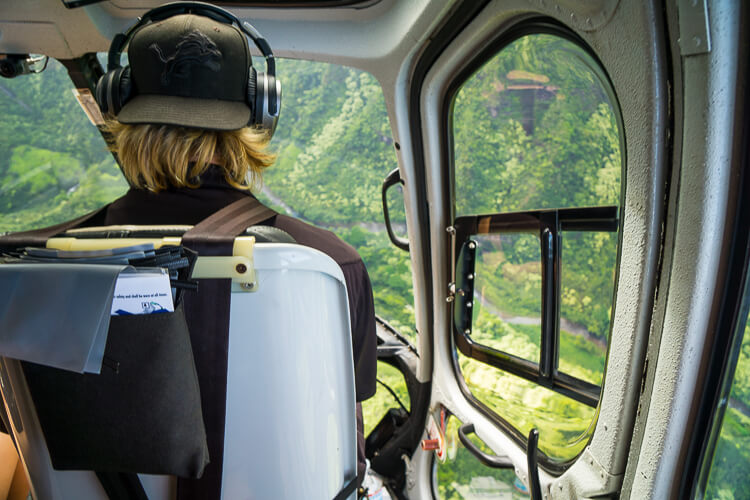 Kauai is such a beautiful island, and much of it is only accessible by foot, so seeing it from the air was a real treat!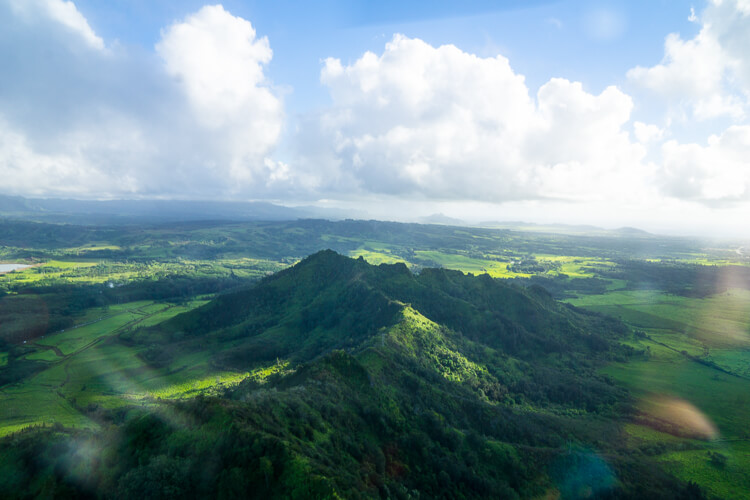 Once we got up into the mountains, all I could think was Jurassic Park; it felt just like the scenes when they fly in and out with the epic music playing.
The waterfall in the photo is often referred to as Jurrasic Falls, though it's Hawaiian name is Manawaiopuna Falls.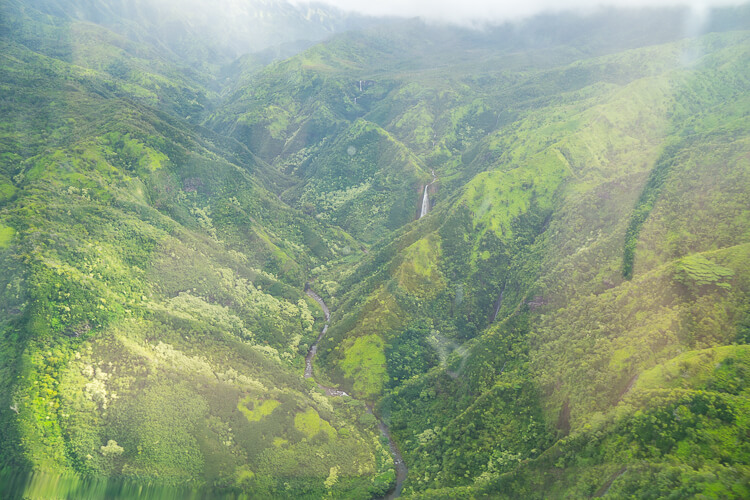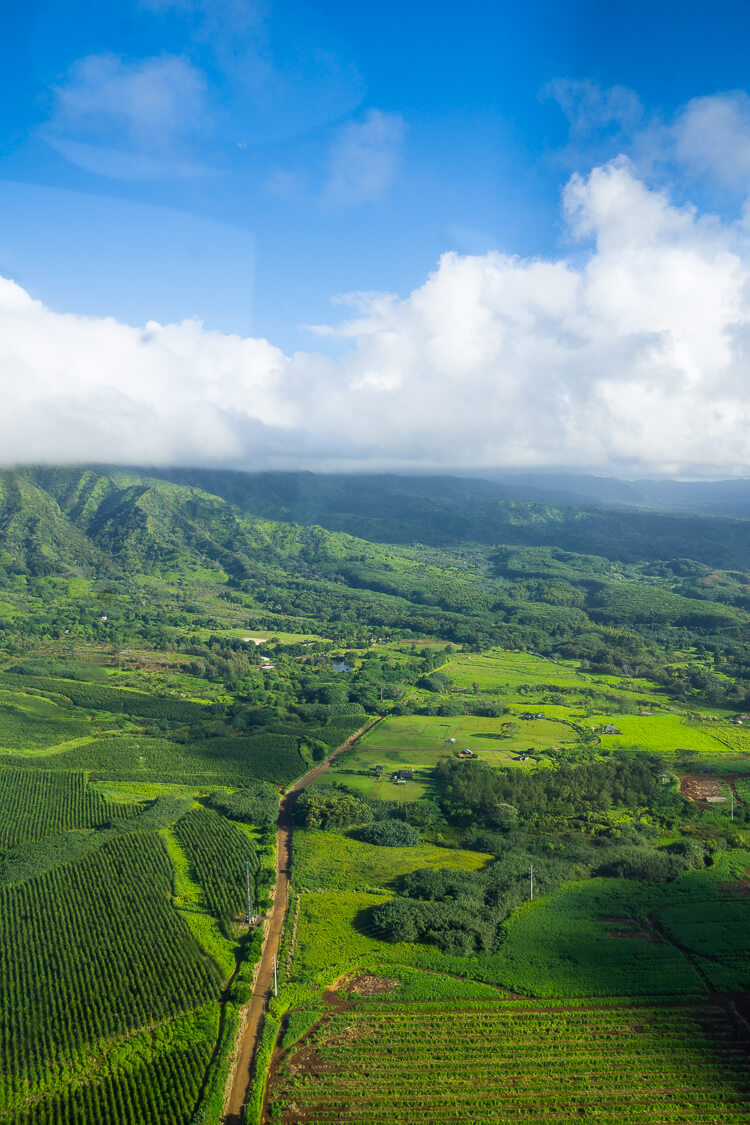 Eventually, we came around to the northern end of the island and were awestruck by the Na Pali Coastline.
The majority of this area is only accessible by foot or by sea, though rough ocean waters make some of these beaches quite dangerous.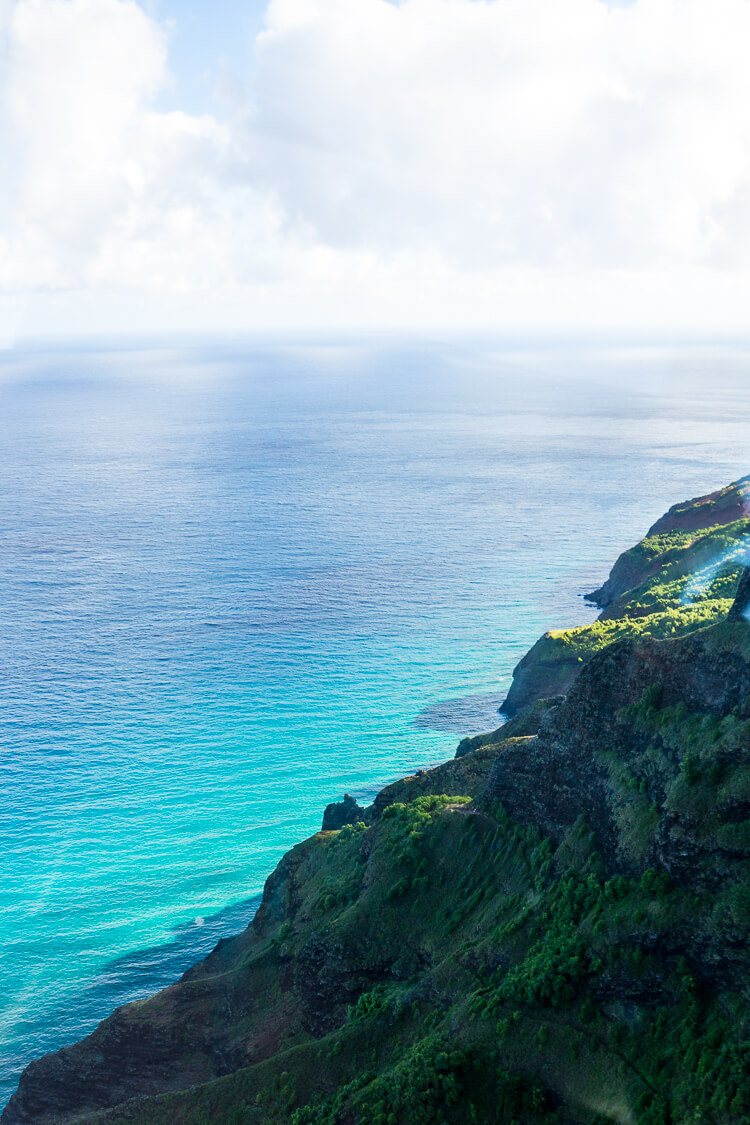 The turquoise waters are just magnificent; you can actually see the Holo Holo Tours boat from that morning below!
It was cool to be able to see this part of the island from the air and the sea, and I truly don't know which was more beautiful!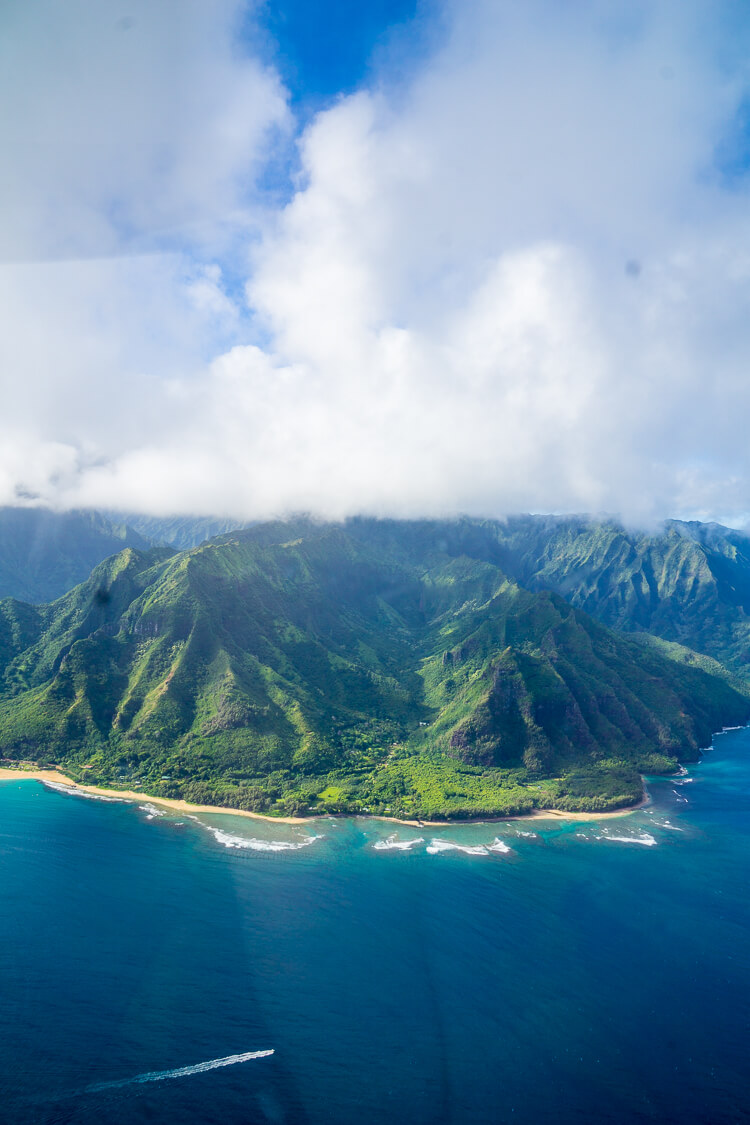 As we got further up into the mountains and craters, the mist and rain set in which laid the way for some stunning rainbows… and you know what song was playing when we saw them?
Yep, Somewhere Over the Rainbow, not going to lie, but it made me a little emotional.
I am so blessed to be able to do what I do, to live the life and have the career or my dreams and to be able to share it with all of you.
Words can never fully express how much my readers mean to me and how much I treasure each opportunity that comes my way! I love you, guys!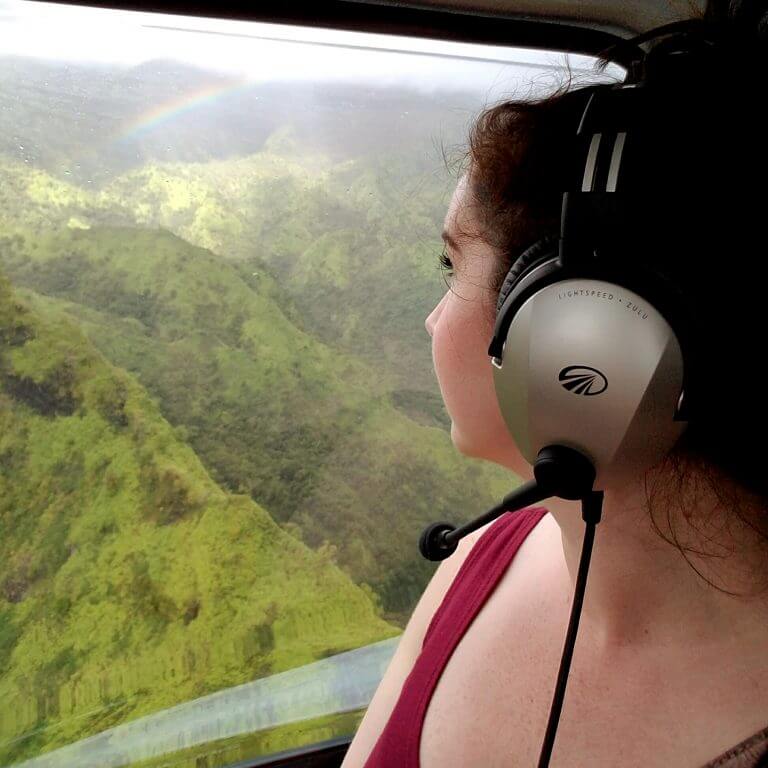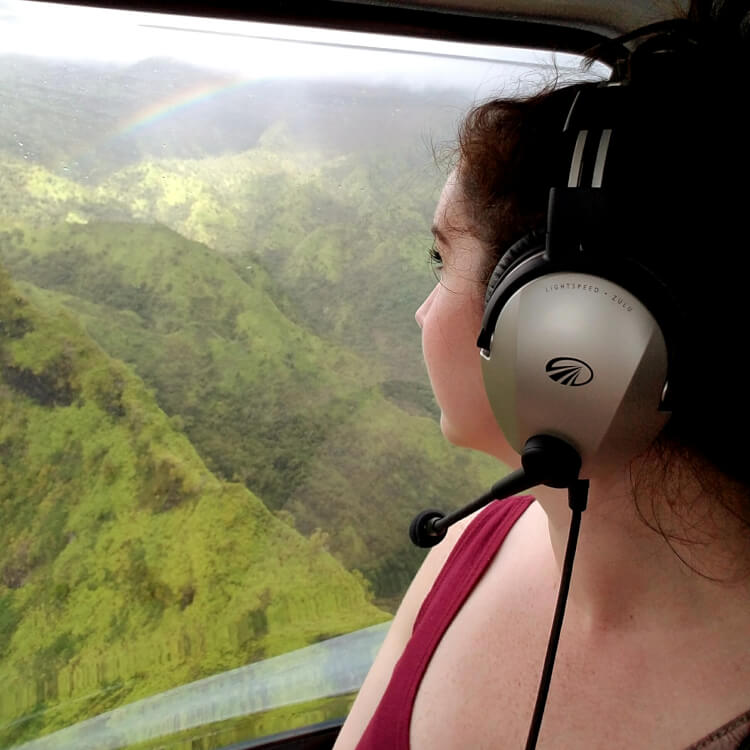 Alright, enough with the mushy gushy!
This tour was phenomenal, and I'm pretty sure I need to do a helicopter tour everywhere I go now that has an epic landscape.
You can't bet your butt I'll be doing one the next time I'm in Iceland!
Our tour lasted about an hour, and I'm sharing a few tips below on how to get the best experience possible!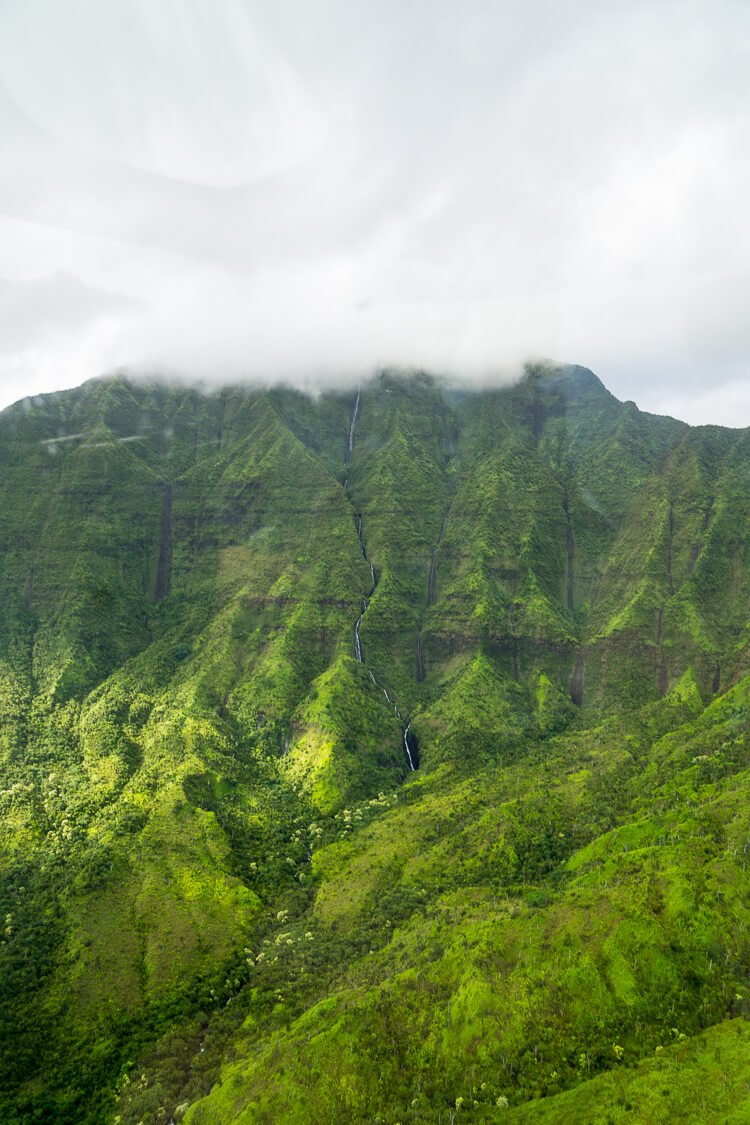 Tips for Doing A Helicopter Tour in Kauai Hawaii:
Wear dark clothing, and if you're light skinned, I recommend wearing long sleeves and pants, the reflection of the light colors can make it hard to see out the windows, especially if you're taking photos.
Take Dramamine an hour before your flight; I would advise this even for people who aren't susceptible to motion sickness because this is very different than planes, cars, and even roller coasters.
The tour offers raw video footage that you can purchase after the tour; the camera offers both an outward look from the helicopters and footage from inside, capturing your experience. You can pull still from the footage, so you have photos too. We didn't know this until afterward, and if I had, I probably would have left my camera behind and just enjoyed the experience. We got the package that included our group shot before getting in the chopper and the video, and I think it was around $70.00, and we'll all just share the files. Hopefully, we can get a video put together soon to share with all of you.
When they ask you for your weight when you register for the tour, be honest, because they do weigh you there and the guys LOVE to joke. They didn't believe me when I said the extra 5 pounds came from all the pina coladas!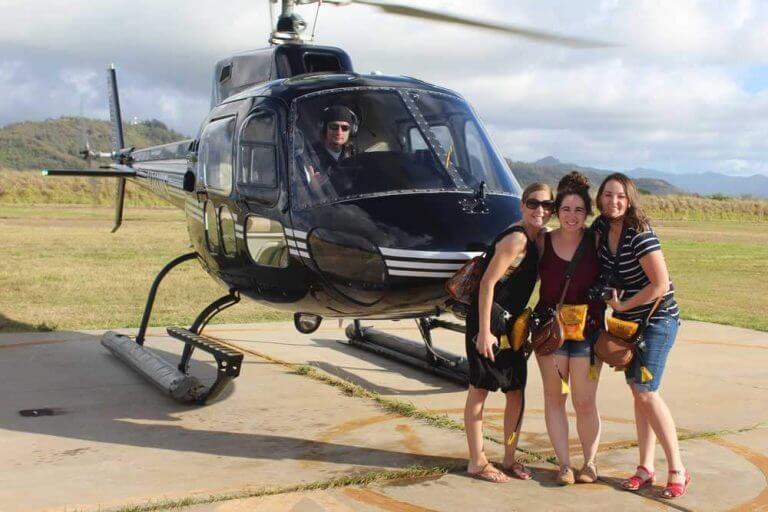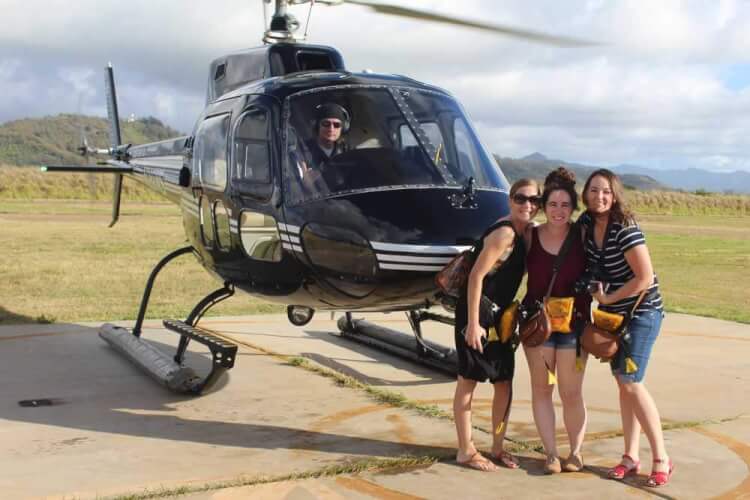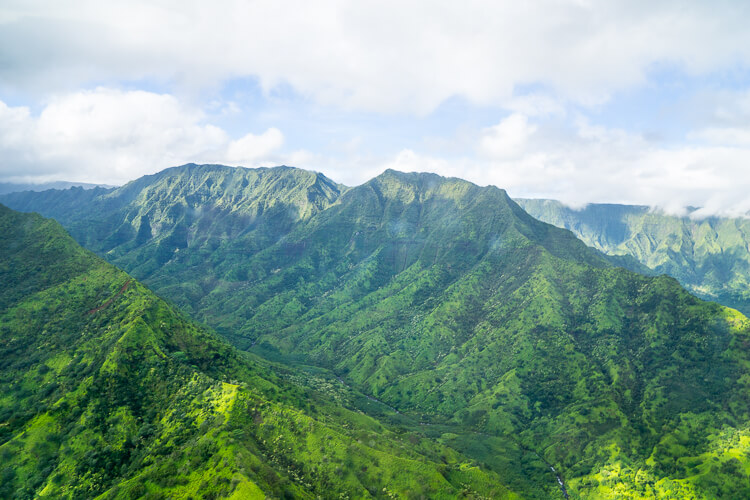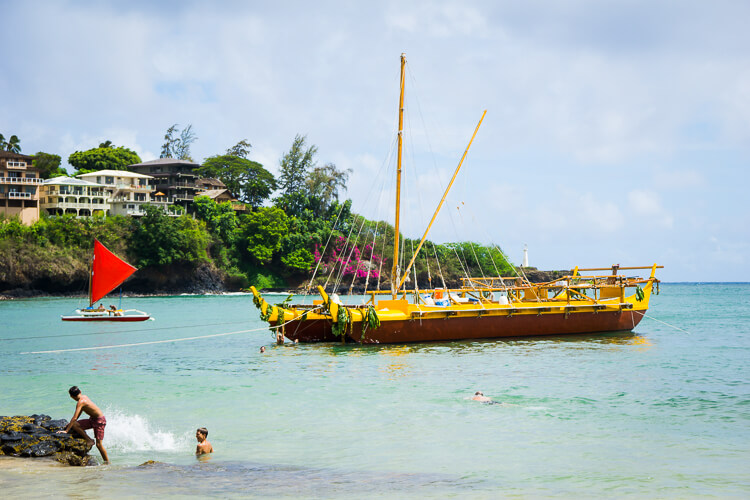 Go To A Festival
We accidentally stumbled upon this festival/celebration, and it was one of the highlights of the trip.
The events were celebrating the launch of the Namahoe, the first voyaging canoe built in Kauai in almost 500 years.
The canoe has taken over 20 years to construct and has been a passion and heritage project for the people of Kauai.
Many students worked on the canoe as part of their education as it was important to project spearheaders, John Kruse and Dennis Fujimoto, that the youth of the island have a hand in building this piece of history.
Many students worked on the canoe as part of their education as it was important to project spearheaders, John Kruse and Dennis Fujimoto, that the youth of the island have a hand in building this piece of history.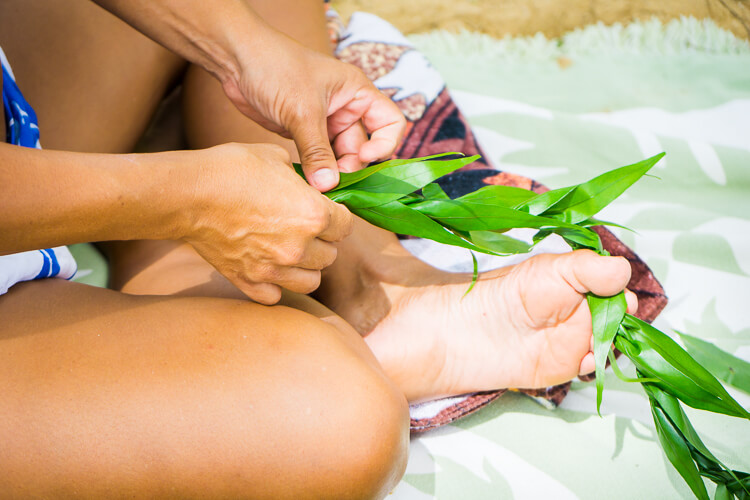 People came from all over the Pacific Islands to bless the Namahoe on her launch.
Kids were playing on the beach, and in the water, you could even go on the canoe to admire the work that went into it.
There was live music, vendors, Hula dancing, and Lei making.
The Leis John Kruse is wearing in the photos below were all blessings given to him by the children from the islands, once given to him he would wear them and then move them to hang from the side of the canoe.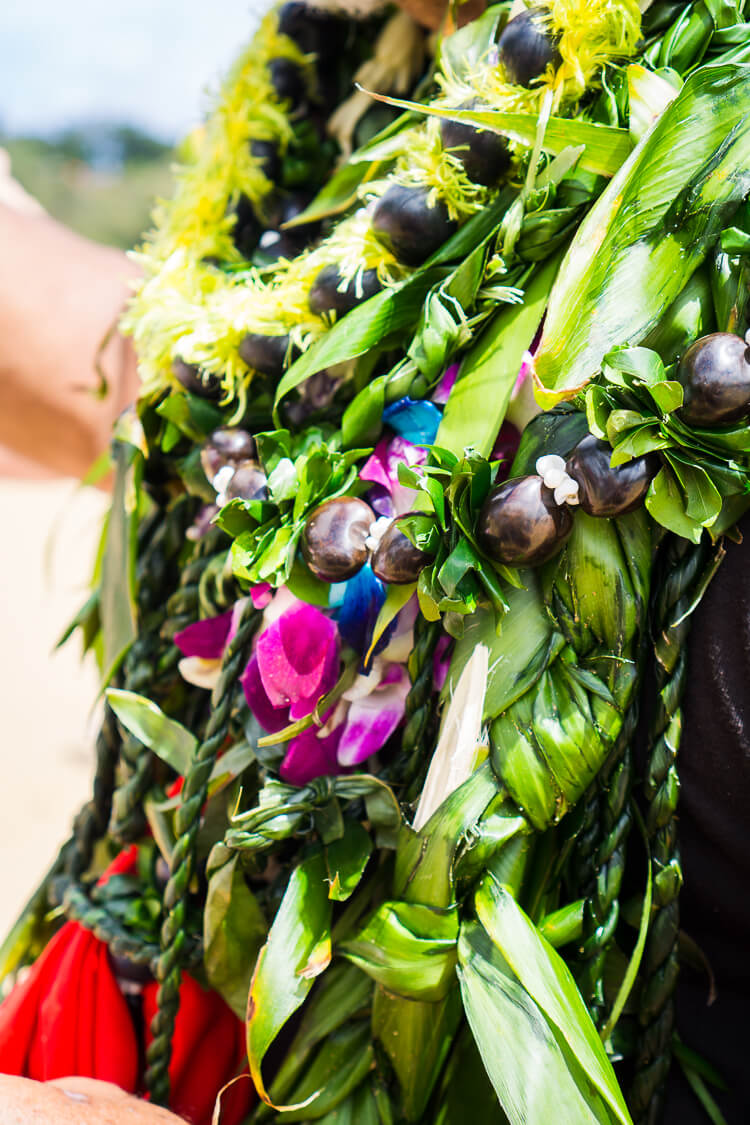 The whole experience was absolutely incredible and talking to John was so inspiring, he loved that bloggers are essentially storytellers and he believes that stories are how we hold on to our cultures and history.
So that's why I'm sharing his story and the story of Namahoe. You can read even more about Namahoe here.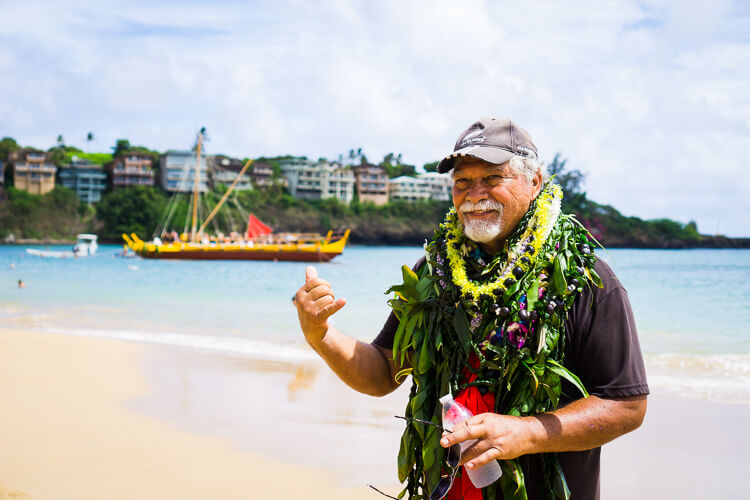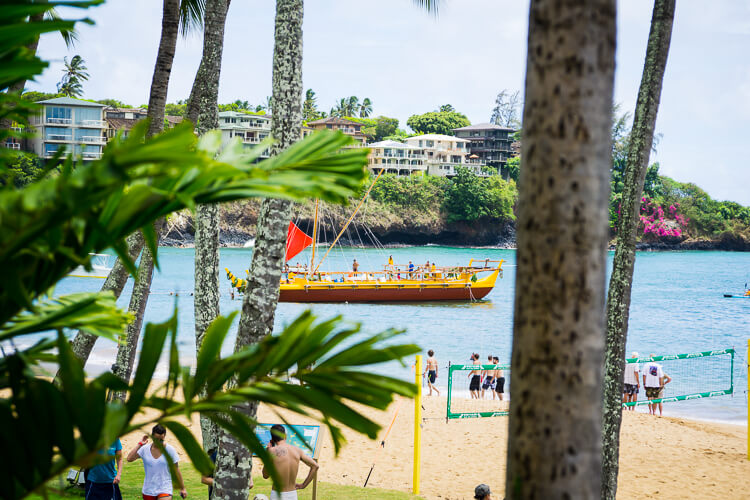 This was obviously not a recurring festival, but it doesn't hurt to check the local events calendar to find out what might be going on while you're there!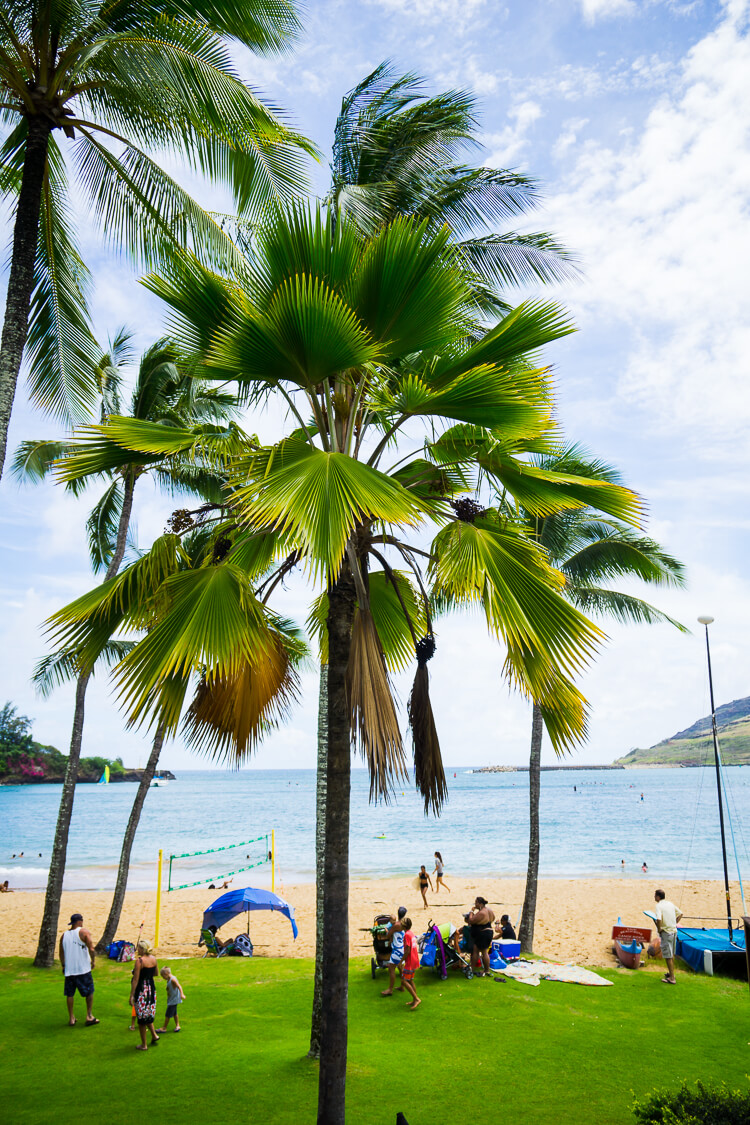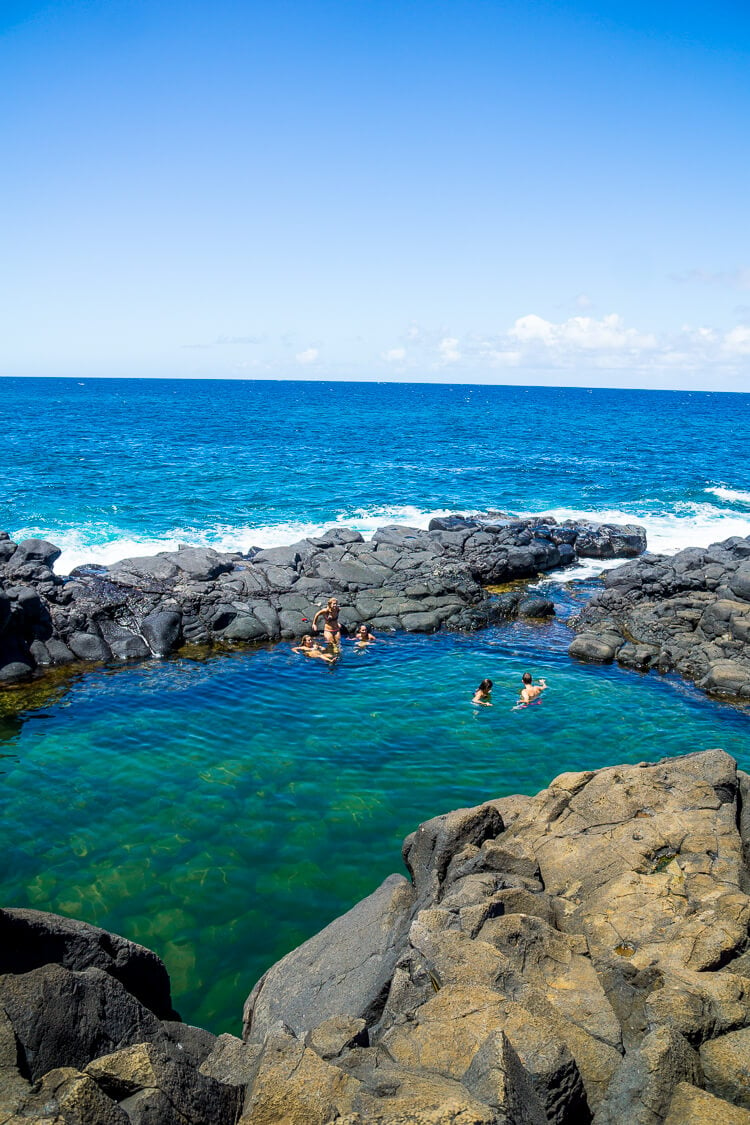 Queen's Bath
This short hike was recommended to us by several locals, and we decided to go after our helicopter tour since it was on the northeastern part of the island in Princeville and we were already partly there.
We did a quick check on trip advisor for the address and ratings, but we definitely should have read more of the reviews.
What the top review described as a short 15 minutes stroll, was a break-neck mud fest of a path.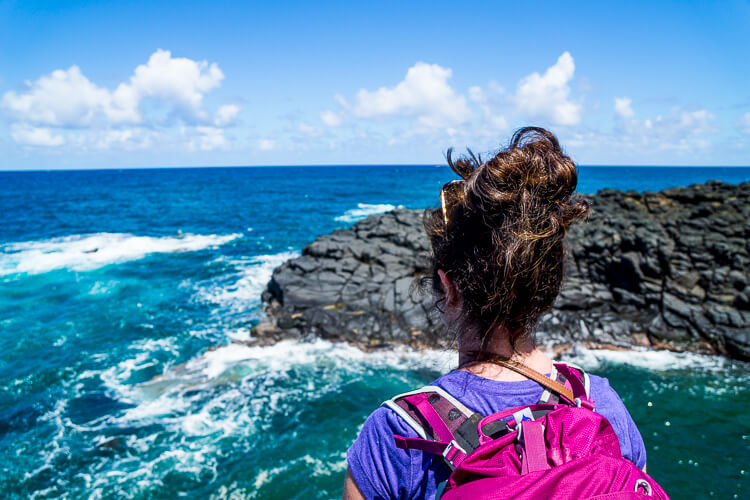 Half of us were wearing flip flops, and when it became clear that that review was written from a visit during the dry season, it was all or nothing.
So most of us did it barefoot, it was slick and slightly scary, I could barely keep my balance, but the result was worth the treacherous hike.
I would not recommend doing this hike with infants and small children during the time of year when the path is muddy.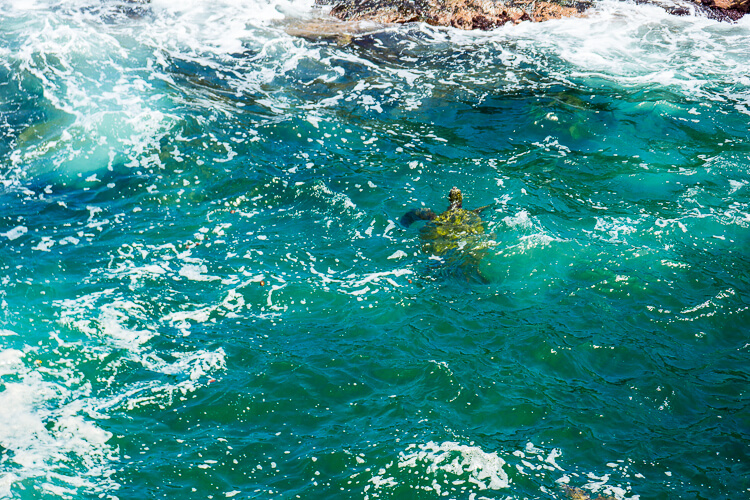 When you first come out of the trail, you're greeted with vast ocean views and just ahead is a small cove loaded with sea turtles.
There are rare algae that grow in the water here and they love it.
We counted 20 of them at one point!
You will walk by two rocky coves before actually getting the Queen's Bath, which unlike the other areas is a relatively calm swimming hole.
There aren't any lifeguards on duty and this location, especially the first two coves, one of which is known as the washing machine has claimed dozens of lives in recent years. So be smart.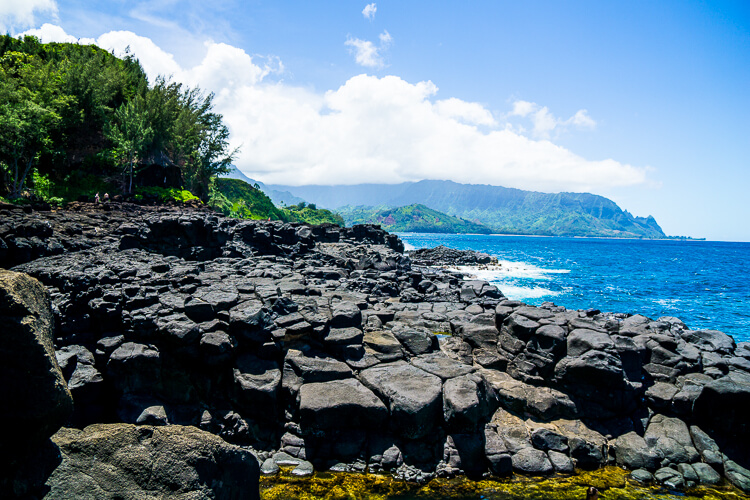 The access point to the trail is in a residential neighborhood and there are only 10 parking spots available.
Many people wait around for people to leave, but since we had two vehicles we decided to park at the golf course at the end of the road.
It's about a 1/2 mile walk to the trail entrance from the parking lot, but there are also restrooms at the golf course that is open to the public so it made for a good starting point.
The photo below is of the washing machine, the first photo under this section is the actual Queen's Bath and the photo with me and the turtle are the first cove which has mostly sheer cliffs and would be hard to access.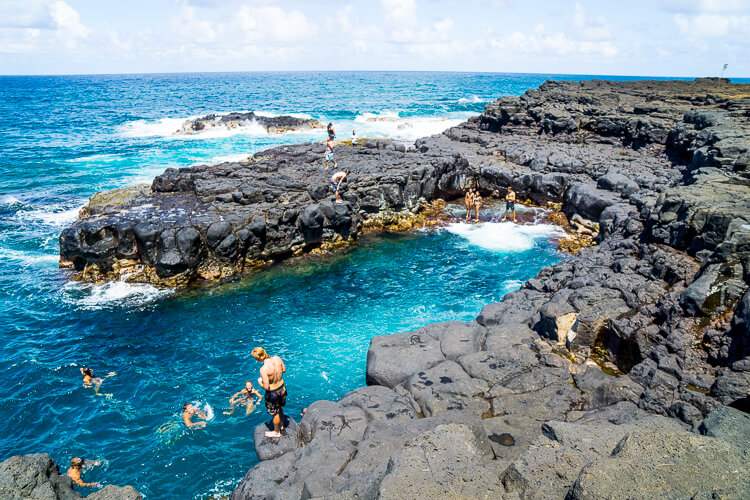 What our feet looked like from the hike back, they were even muddier on the way down!
The mud in Kauai Hawaii tends to stain, I'm pretty sure it could be used as an all natural sunless tanner 😉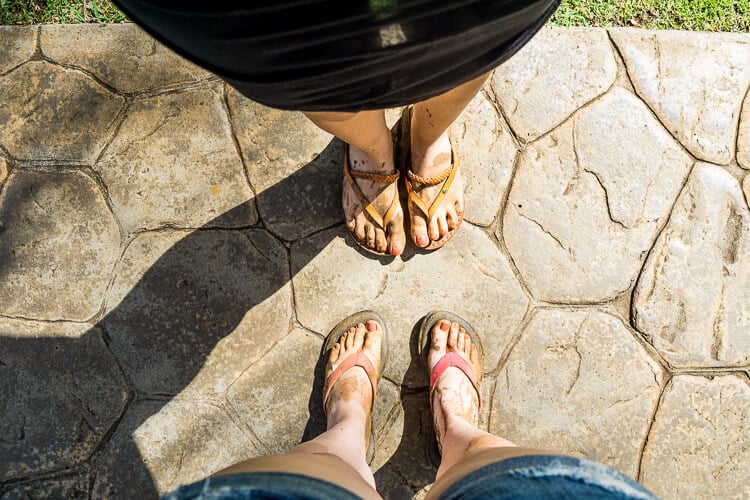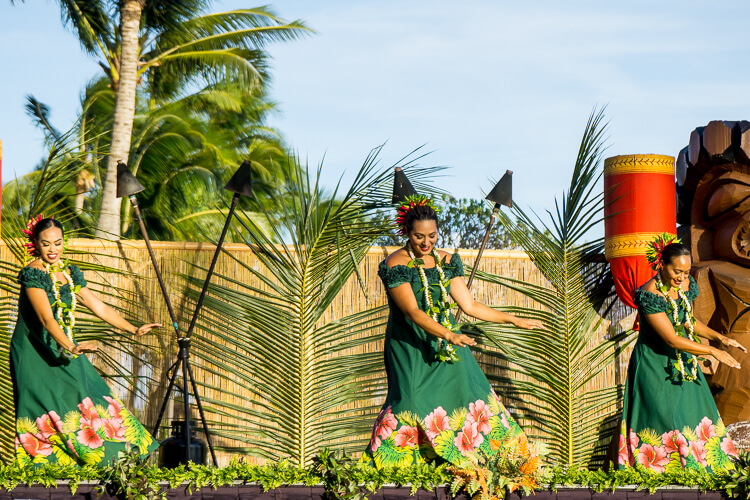 Auli'i Luau
I think Luaus are a rite of passage when you visit the Hawaiian Islands, maybe they're cheesy and touristy, but they're also A LOT of fun!
We went to the Auli'i Luau, the only one that actually takes place on the oceanfront in Kauai.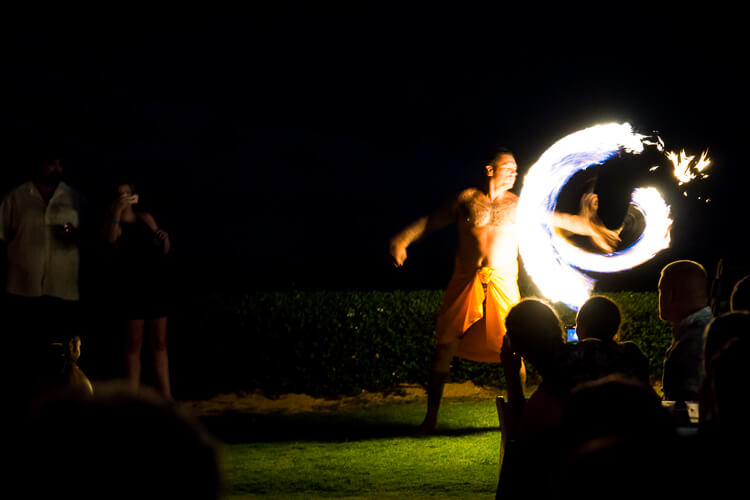 We had such a fun night at the Luau, the dancing and show were amazing and the food was pretty great too, you can read all about the food in my Best Places to Eat in Kauai post.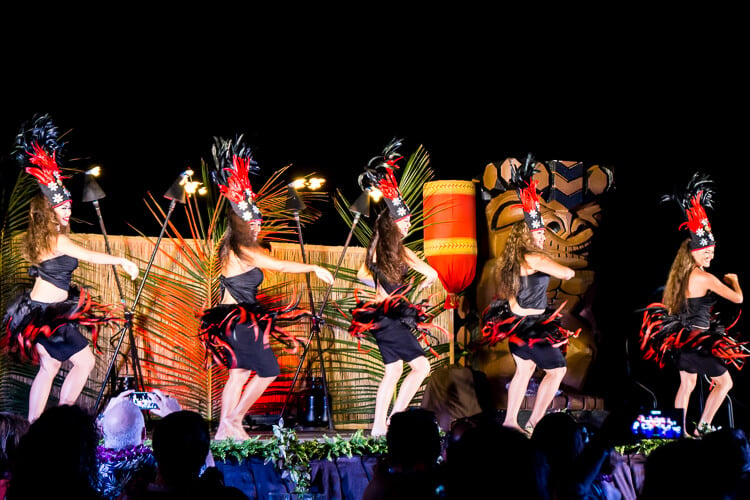 There were vendors as well, making it the perfect place to pick up some artisan-crafted gifts to take home with you!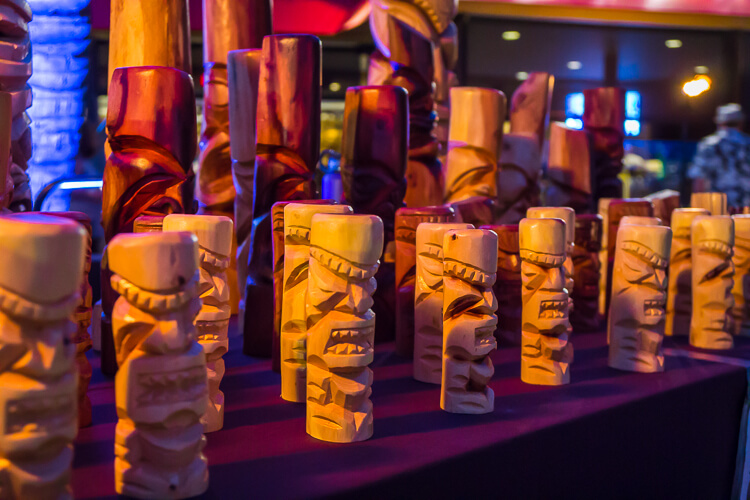 Plus, since you're right near the beach, you have an uninterrupted view of the incredible sunsets Kauai Hawaii has to offer!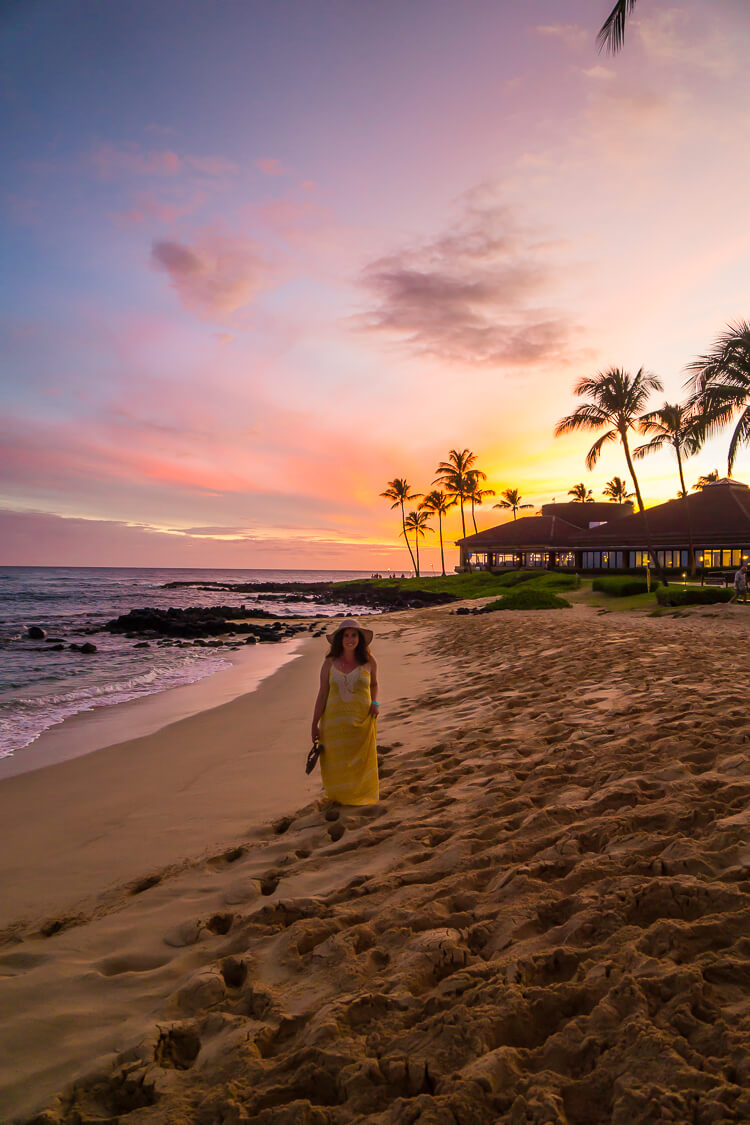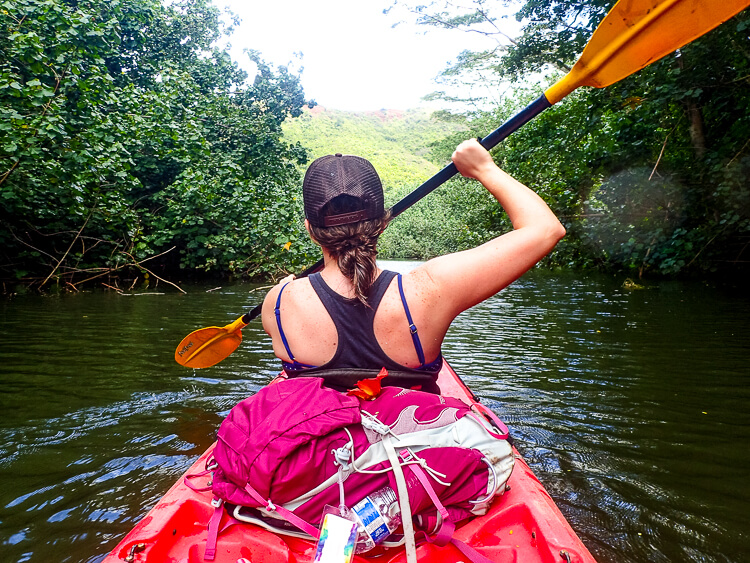 Rainbow Kayak Tours
We got the chance to kayak on the Wailua and Hule'ia Rivers, which was home to the first Hawaiians some 1500 years ago.
The Hule'ia River is also where scenes from Indian Jones and The Lost Ark were filmed.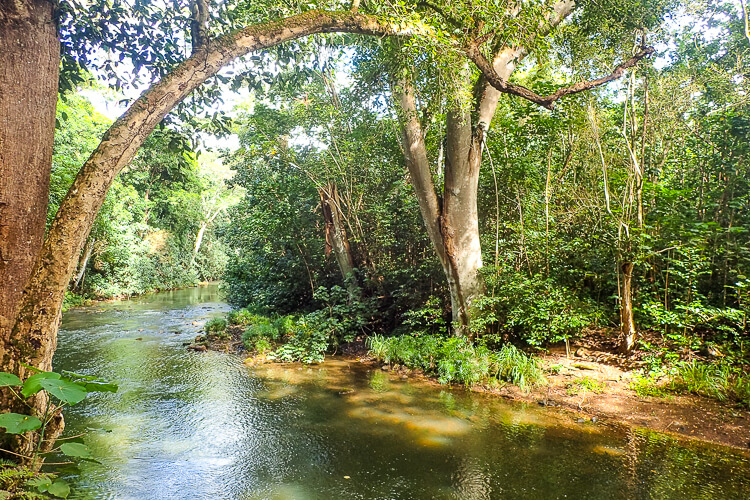 Pictured below are some of the ruins from the first Hawaiians.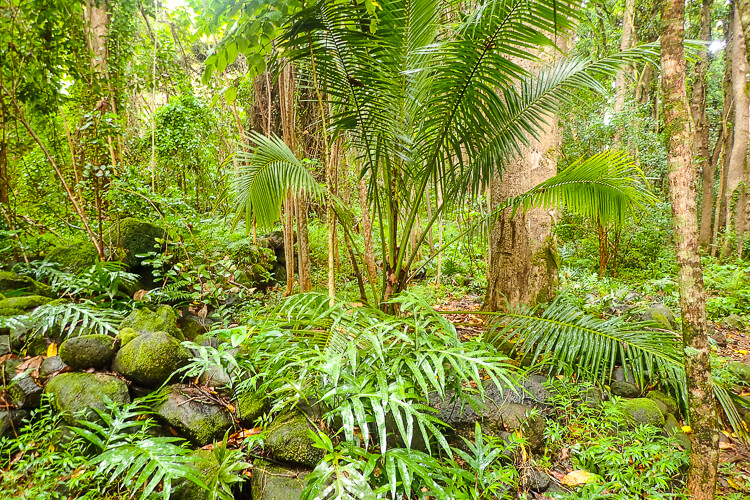 The flowers in Kauai Hawaii are just so pretty and I loved how the light was shining down through the trees on this one and had to snap a picture!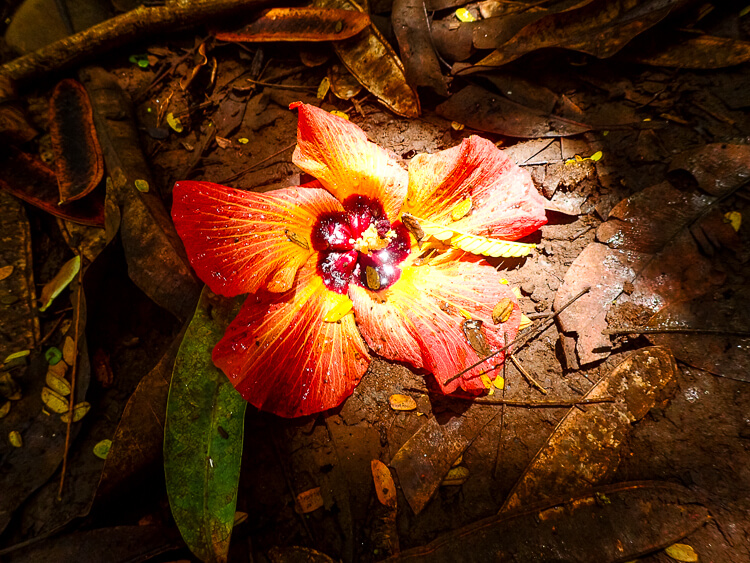 The tour was about 5 hours long, an hour kayaking each way, an hour hiking each way, and an hour at the waterfall for swimming and lunch.
Lunch is included with the tour and I was pretty impressed with the spread our guide put out for us!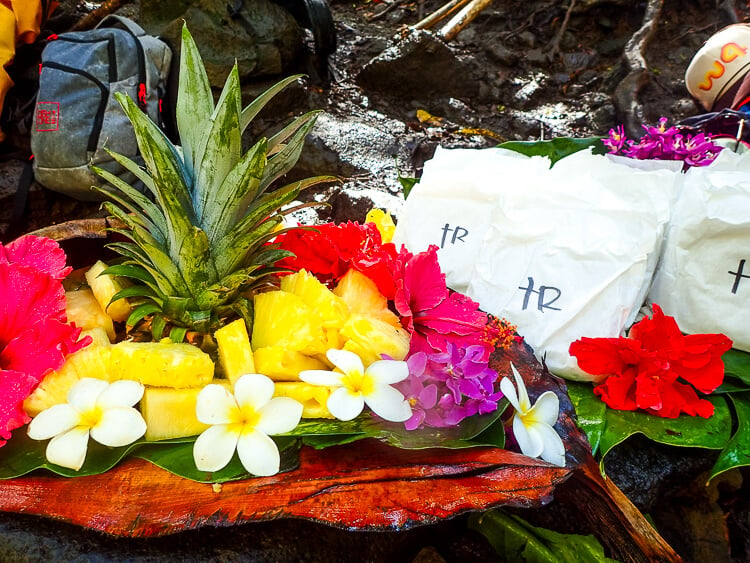 The Secret Falls in Kauai Hawaii is really pretty, but the water is freezing and the spray and wind from the falls make it a little unpleasant for just hanging out in the pool.
But bring our bathing suit just in case!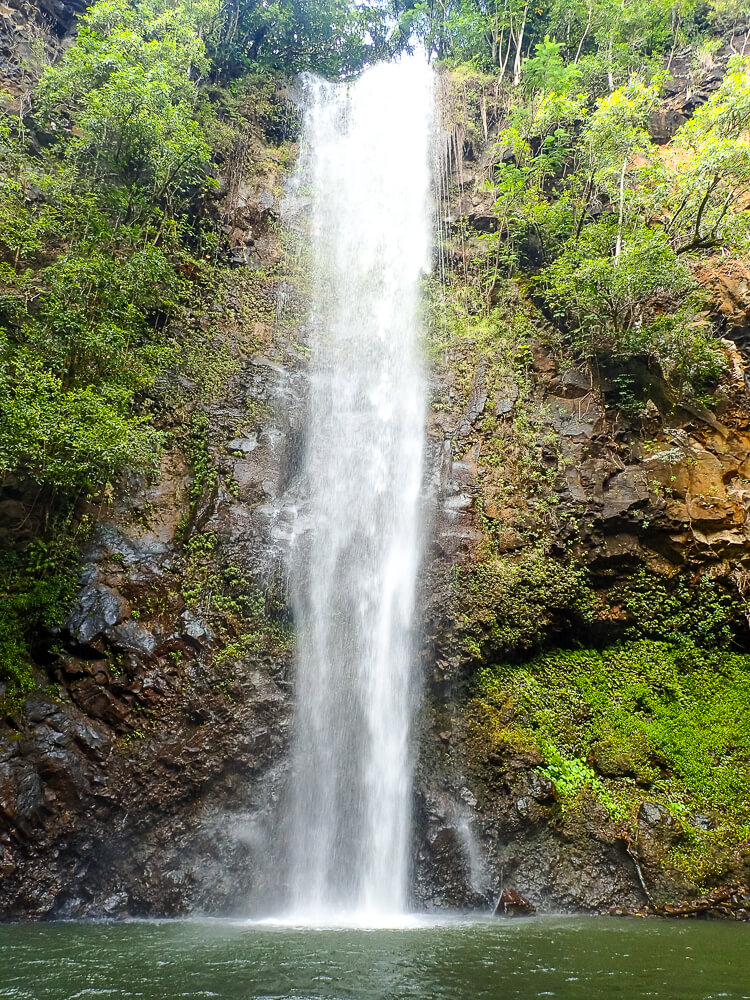 Rachael and I were the two experiences kayakers in the group and we buddied up and for some reason that put a target on our backs as everyone wanted to play bumper kayaks with us.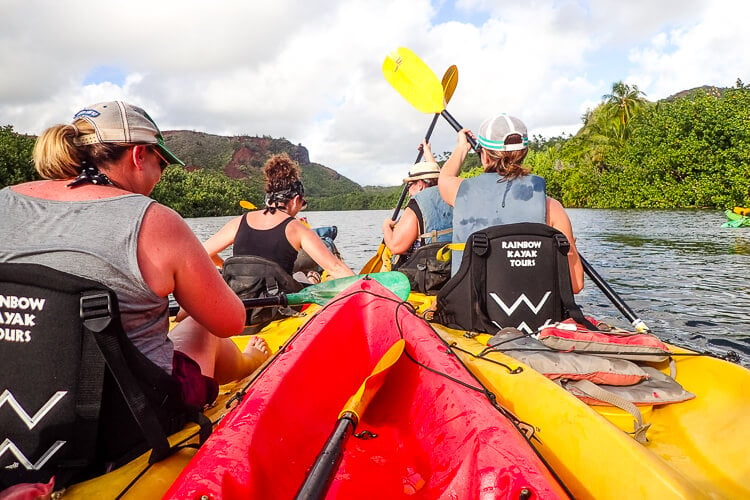 The views on the tour were beautiful and we had a picture perfect day!
I would recommend bringing a waterproof camera on this tour since you'll be crossing rivers on foot, kayaking, and near the falls, it's not really the best place for an expensive professional camera.
The tour does offer dry bags, however, and I'd highly recommend you wear sneakers or hiking boots as water shoes and flips flops will not hold up and will slow you down when it's slippery.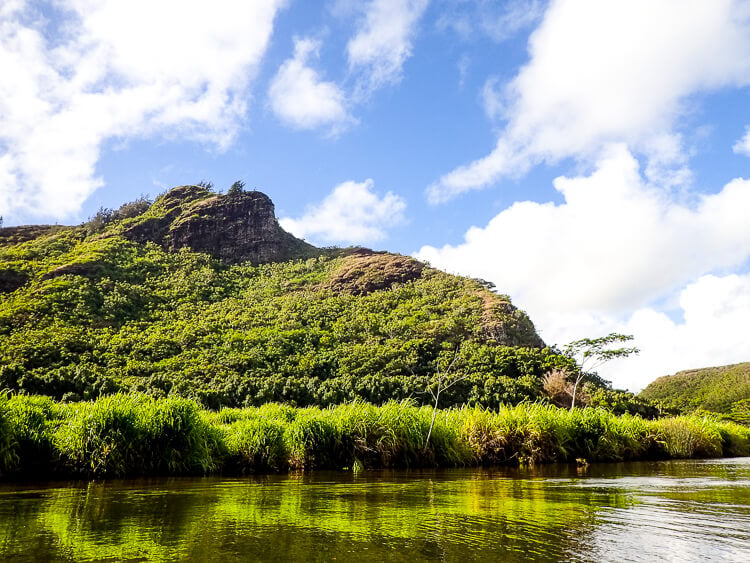 Waimea Canyon State Park
Waimea Canyon is located on the western side of Kauai Hawaii and is often referred to as the Grand Canyon of the Pacific.
It's bold colors and jagged layers make it quite the site.
With great lookout points, you can get beautiful views of the canyon and if you do a helicopter tour you'll see it from the sky.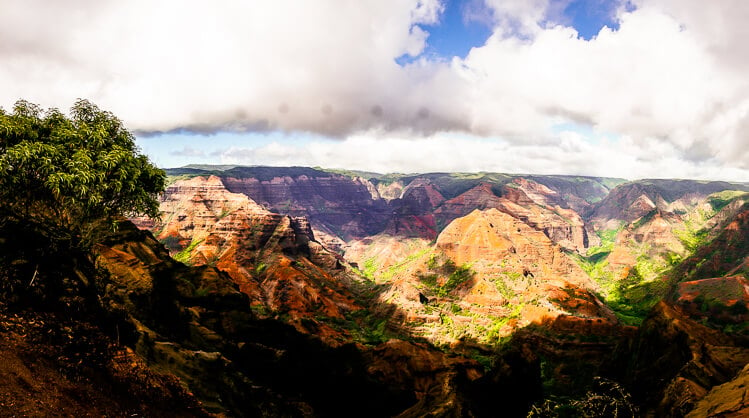 The lookout points are wheelchair accessible and a great way to see the canyon, but if you're feeling more adventurous, there are tons of hiking trails within the canyon.
The Canyon is about 10 miles long and 3000 feet deep.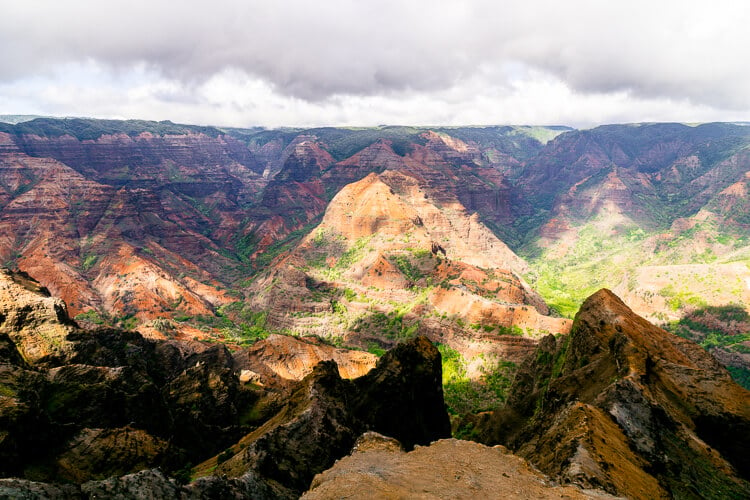 ---
Make Reservations and Plan Your Trip To Kauai, Hawaii Today!
The Villas at Poipu Kai | 2373 Ho'ohu Rd, Koloa, HI 96756 | (866) 407-0249
Holo Holo Boat Tours | Port Allen Marina Center, 4353 Waialo Road, Suite 5A, Eleele, HI 96705 | (808) 335-0815
Poipu Beach | Koloa, HI 96756 | 808-742-7444
Sunshine Helicopters Kauai | 3416 Rice St #203, Lihue, HI 96766 | (808) 240-2577
Queen's Bath | Kapiolani Rd, Princeville, HI 96722
Auli'i Luau | Sheraton Kauai, 2440 Hoonani Road, Koloa, HI, 96756 | (808)-634-1499
Rainbow Kayak Tours | 440 Aleka Pl #2, Kapaa, HI 96746 | 1-808-826-2505
Waimea Canyon State Park | Waimea Canyon Dr, Waimea, HI 96796
Even though some of these Kauai, Hawaii excursions were complimentary, that has no bearing on these recommendations. All opinions are 100% honest and my own!