These Birthday Cake Blondies are made with an adapted yellow cake box mix and are so easy to make! They're sweet and fun and loaded with sprinkles!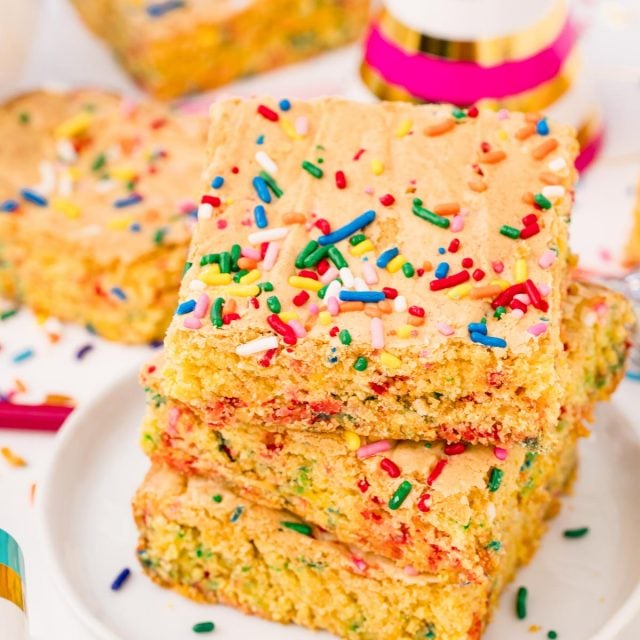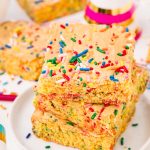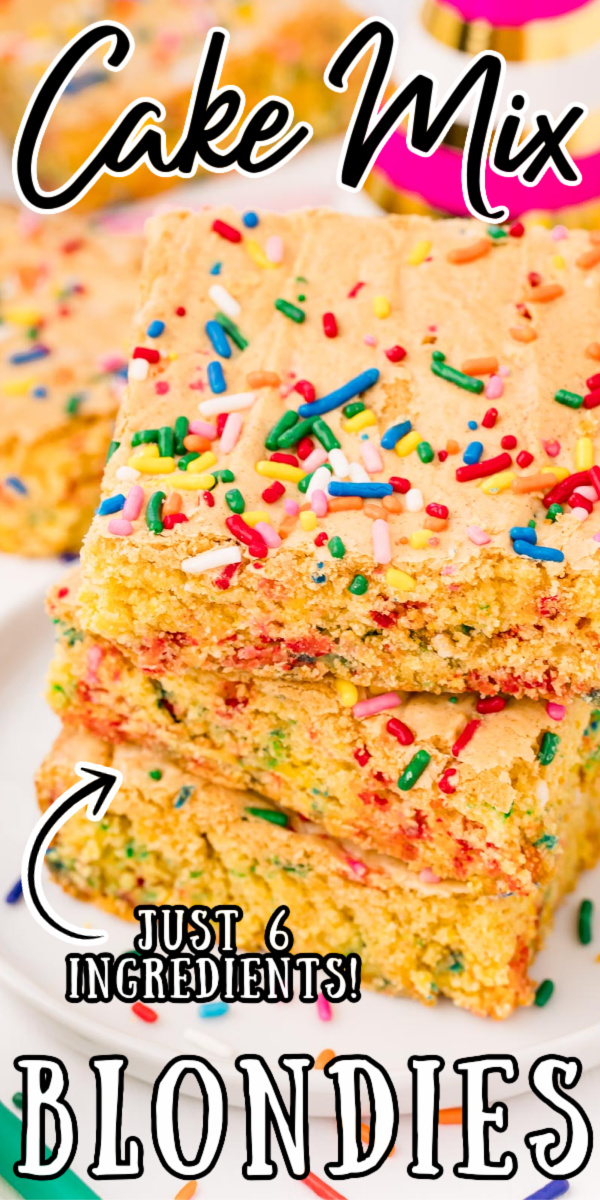 Birthday Cake Blondies combine rainbow sprinkles, a yellow box cake mix, and 4 pantry staple ingredients to make a deliciously chewy treat!
Nope, it's nobody's birthday, I just had a craving for something delicious and cake batter-y! When that craving hits I also love making up my 5 ingredient Birthday Cake Milkshakes or these sweet and chewy Birthday Cake Pudding Cookies to cure my sweet tooth!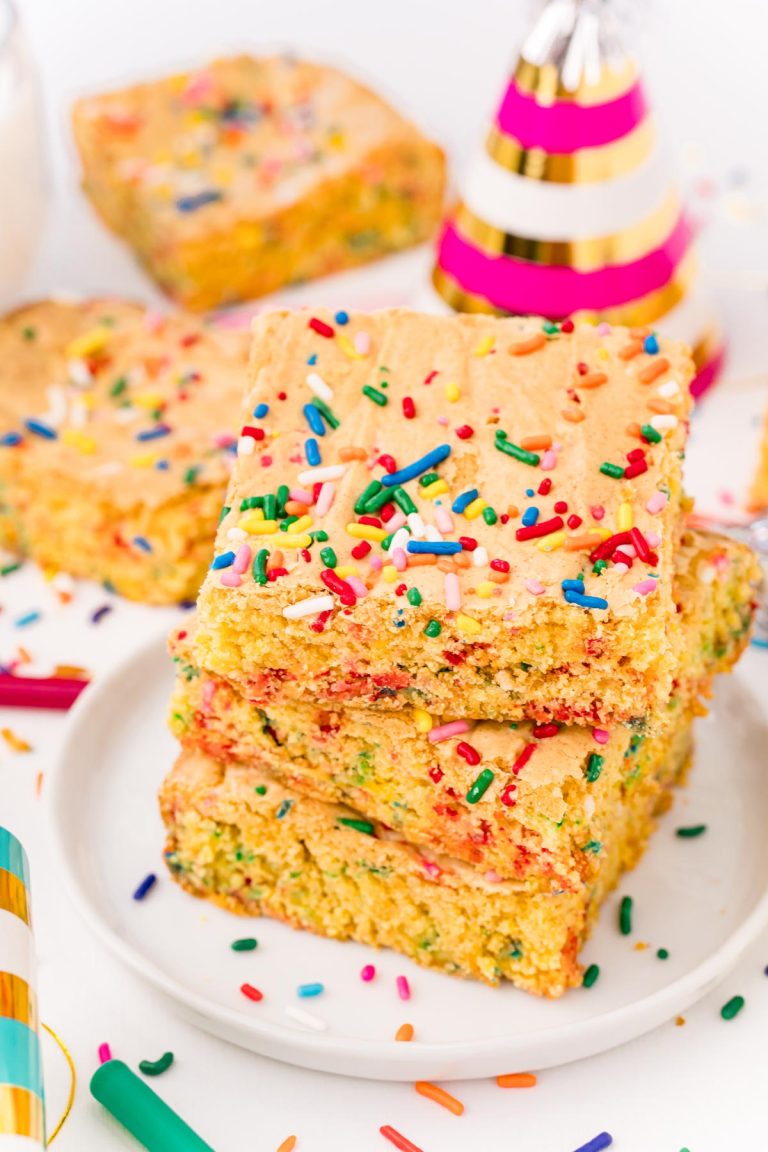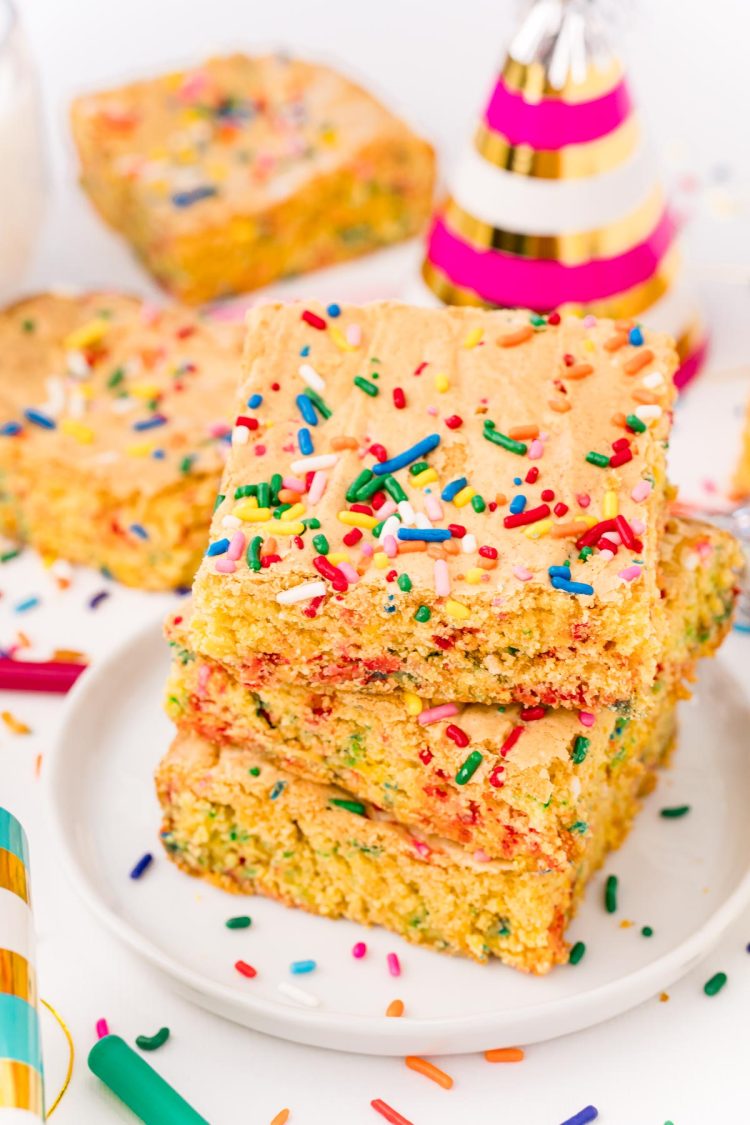 These Birthday Cake Blondies are a sweet and delicious treat that's incredibly easy to make! With just 5 minutes of prep, 35 minutes of baking, and minimal ingredients you get a fun colorful treat that everyone will be excited to eat up!
As much as I enjoy baking from scratch, every now and then I just want something that I can whip together quickly without having to drag out a bunch of ingredients from the pantry. Plus this recipe creates a pretty minimal amount of dishes… now that's a recipe worth celebrating, am I right?!
These are perfect for those who don't necessarily like cake but still want something sweet to enjoy at the party! Warm them up and make Birthday Cake Blondie Sundaes and skip the cake altogether. Just put a candle in a blondie and you're good to go!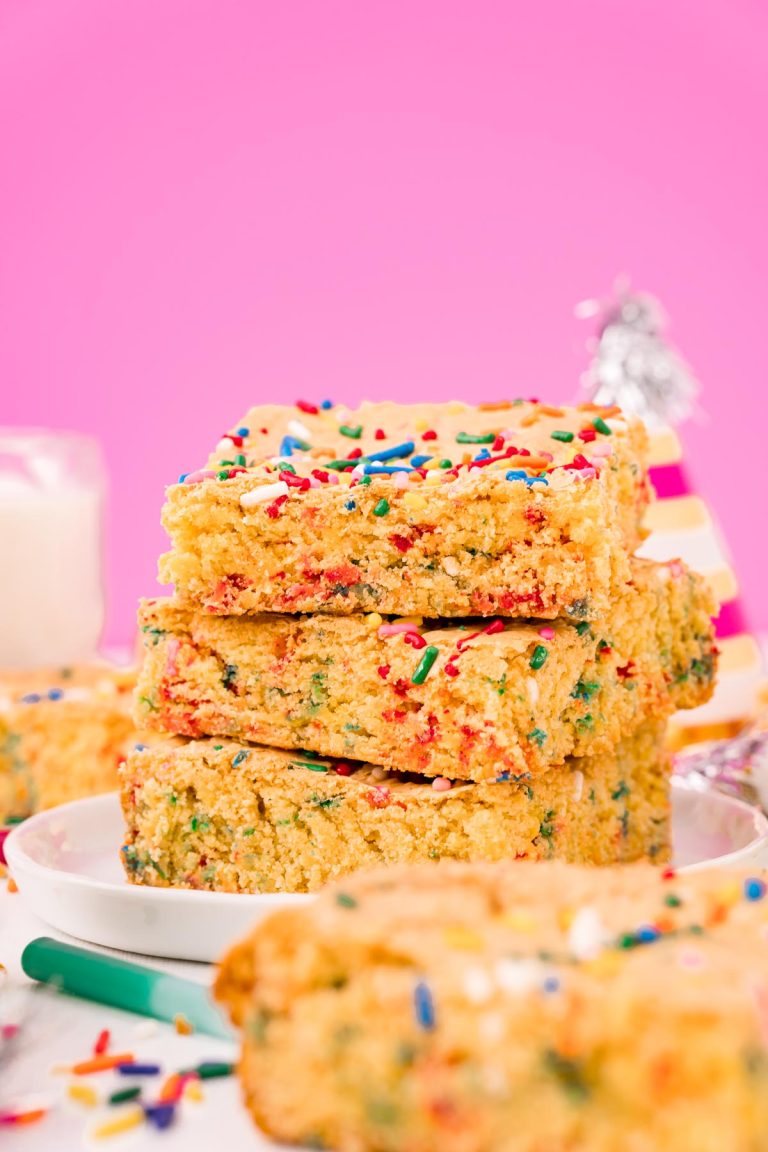 Ingredient Notes
If you're in need of a tasty treat that takes no time to put together and bakes up quickly, look no further than this Cake Batter Blondie Recipe! To whip up a batch you'll need a boxed yellow cake mix, vegetable oil, whole milk, an egg, vanilla extract, and rainbow sprinkles!
Love mixing up recipes to create yummy and fun variations? Swap out the yellow cake mix for any boxed cake mix of your choice! Try a chocolate cake mix, red velvet, strawberry, or even just a white cake mix!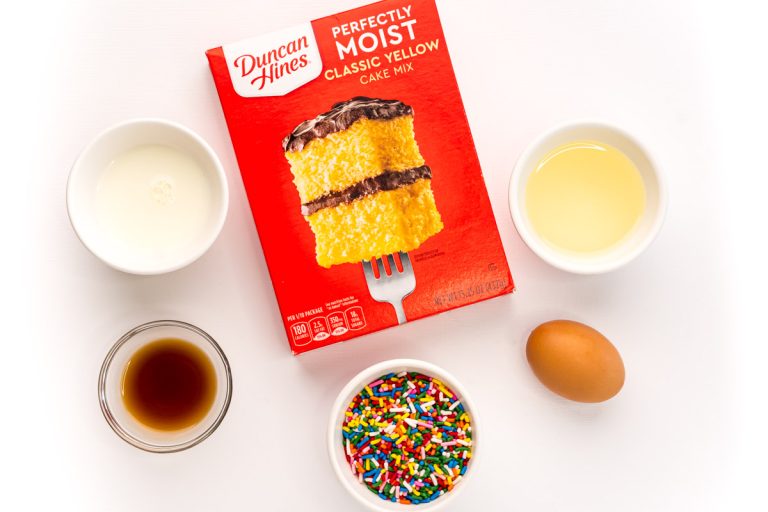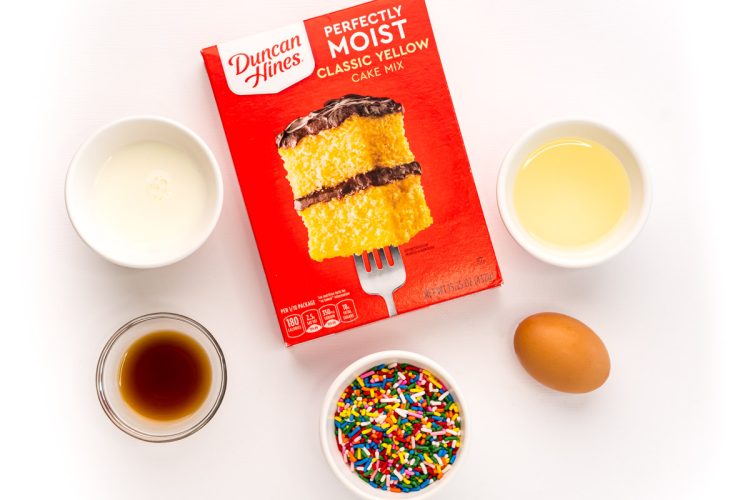 How To Make Birthday Cake Blondies
Add the egg, yellow cake mix, vegetable oil, milk, and vanilla extract into a large bowl, whisk the ingredients together thoroughly.
Fold the sprinkles into the batter gently.
Spread the batter out evenly into a prepared baking pan and top with more sprinkles.
Bake at 350 degrees F until golden brown or when a toothpick inserted into the center of the blondies comes out clean. For best results, allow them to cool completely in the baking dish before slicing and serving!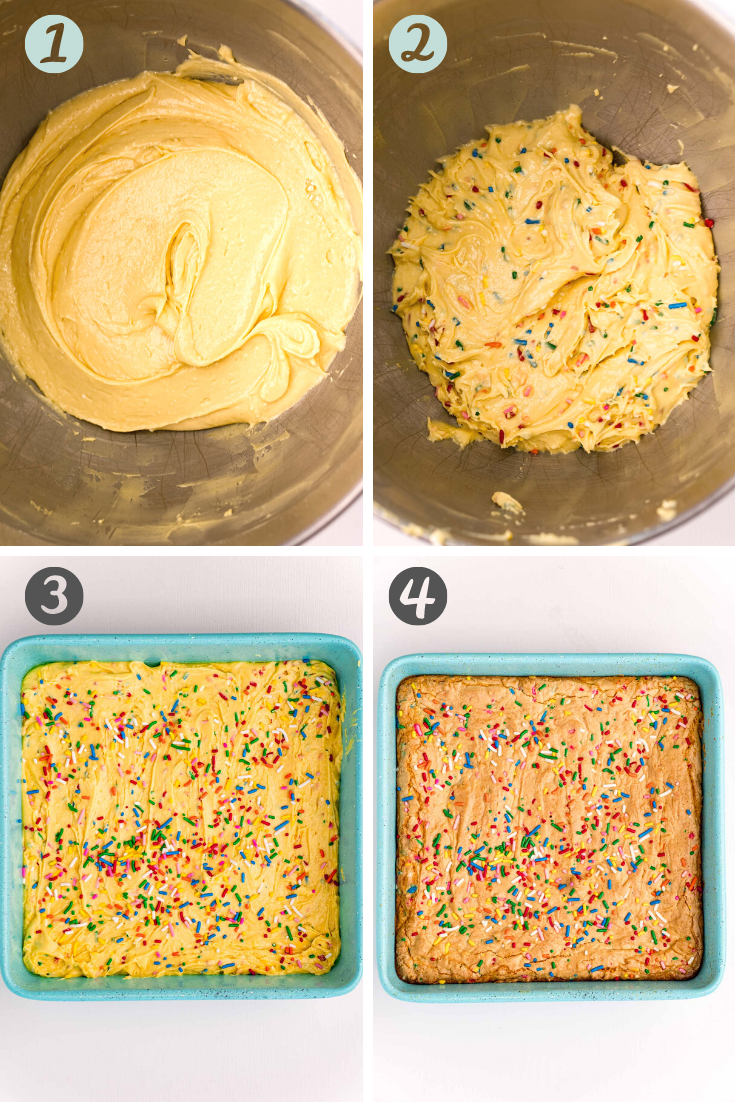 Freqently Asked Questions
How To Store
Keep these Cake Mix Blondies stored in an airtight container kept at room temperature. Enjoy within a week!
Do These Blondies Freeze Well?
They sure do! To do so, allow the blondies to completely cool then just slice them into individual serving sizes and wrap them tightly in plastic wrap. Place the wrapped squares into a Ziploc freezer bag then put it in the freezer for up to 3 months.
What Other Sprinkles Can I Use For These Blondies?
I'd recommend sticking with the long, thin rainbow jimmies since they hold their shape the best when baking. Using other sprinkles like nonpareils may break down and bleed into the batter.
Can I Add White Chocolate Chips Into This Recipe?
Definitely! I think that would make for a delicious variation on these blondies!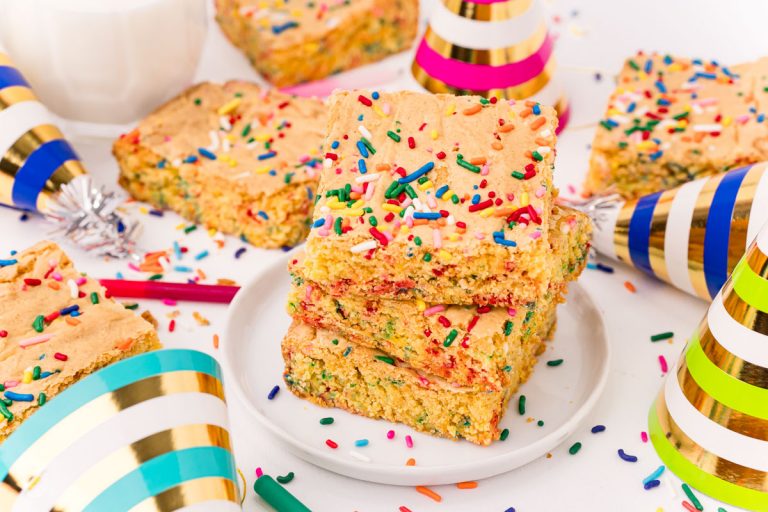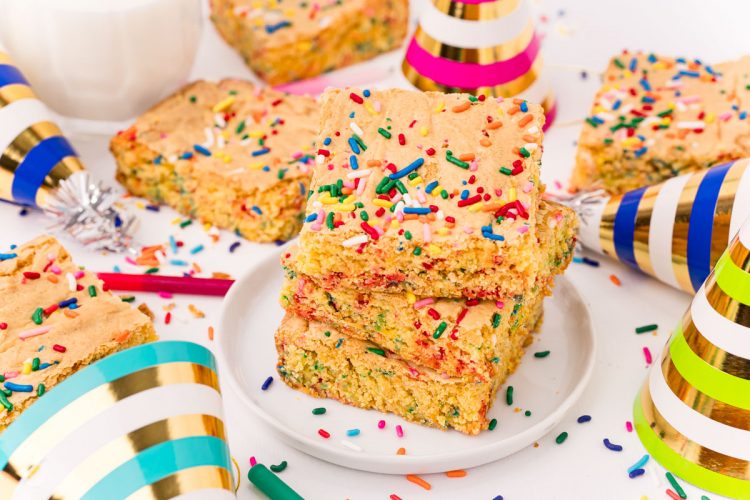 These Cake Mix Brownies are so chewy and fun, I mean, you just can't go wrong with rainbow sprinkles! You'll love them, your kids will love them, your guests will love them! Grab another dessert recipe that's loaded with fun rainbow sprinkles!
👋 Let's Connect!
If you've tried this recipe, please let me know how you liked it in the comments below and leave a review. I love hearing from you!
Don't forget to tag me – @sugarandsoulco – on Instagram and Pinterest with your photos or join our Sugar & Soul Show-offs Community and share them there, where you can join our recipe challenges!
This recipe was originally published in March 2014 and was updated in January 2022 with new photos and clearer recipe instructions.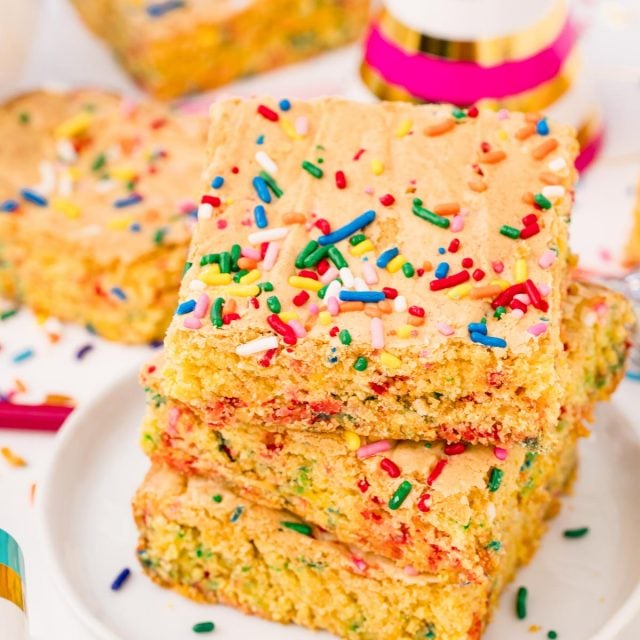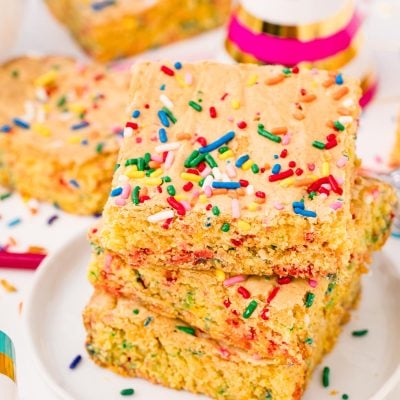 Birthday Cake Blondies
These Birthday Cake Blondies are made with an adapted yellow cake box mix and are so easy to make! They're sweet and fun and loaded with sprinkles!

Instructions
Preheat the oven to 350°F and grease a 9×9-inch baking pan or line it with parchment paper and set aside.

Mix together the cake mix, vegetable oil, milk, egg, and vanilla extract. The batter should be well mixed but stiff.

Transfer batter to the prepared baking pan and spread evenly with a rubber spatula. Bake for 30 to 35 minutes until a toothpick comes clean from the center of the blondies.

Blondies should rest for a couple of hours before cutting for best results.
Notes
This recipe will work with any cake mix flavor if you want to mix it up.
Add a layer of frosting for a true cake-like experience.
Nutrition
Calories: 315kcal | Carbohydrates: 56g | Protein: 2g | Fat: 8g | Saturated Fat: 6g | Cholesterol: 18mg | Sodium: 427mg | Potassium: 40mg | Sugar: 33g | Vitamin A: 35IU | Calcium: 130mg | Iron: 1.3mg