Dreaming of going to the Blue Lagoon Iceland and not sure what to bring, when to go, and what package to book? Here are my tips for visiting this luxurious geothermal spa in the heart of Southern Iceland.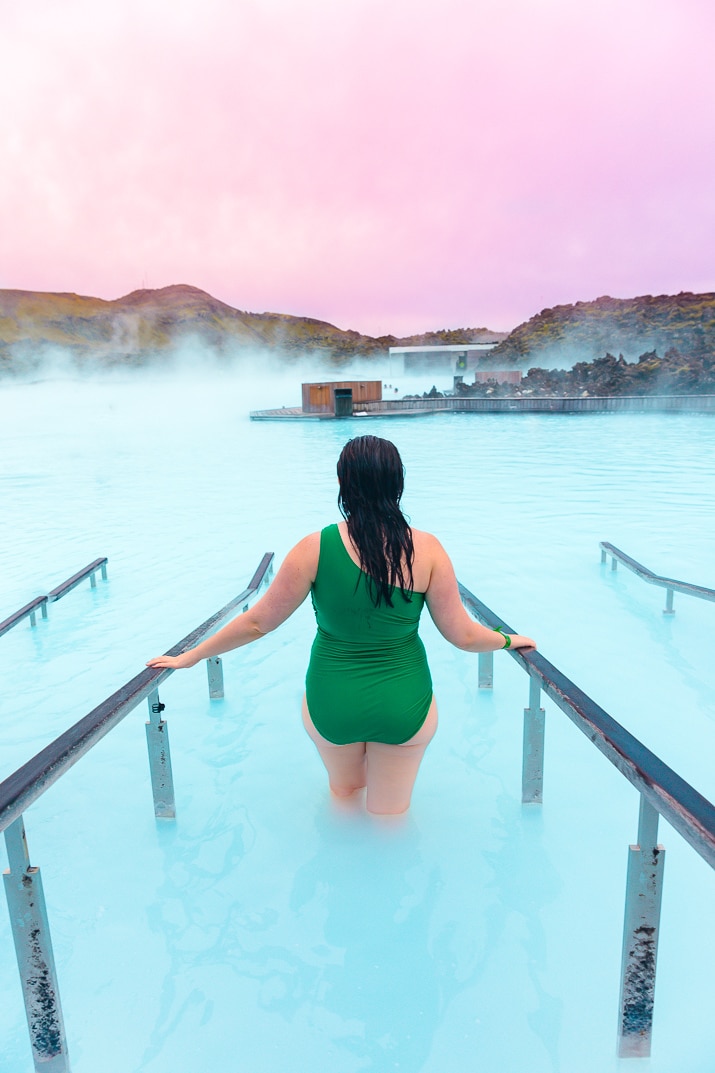 Blue Lagoon Iceland
The Blue Lagoon Iceland was named one of the 25 wonders of the world by National Geographic a few years back, but did you know that this little piece of blue bliss is not a naturally occurring phenomenon like many of Iceland's other attractions? The Blue Lagoon Iceland is the aftermath of the geothermal seawater used by the Svartsengi geothermal plant to heat about 85% of Iceland's homes and businesses.
So while the water is natural and loaded with minerals that can do amazing things for your skin, the spring itself is the result of the plant, much like it's blue sister in the north, the Myvatn Nature Baths. Iceland sure has made the most of this happy accident, almost 80% of the people who visit Iceland also visit the Blue Lagoon, making it the most popular attraction in the country. So here's what you need to know before you go!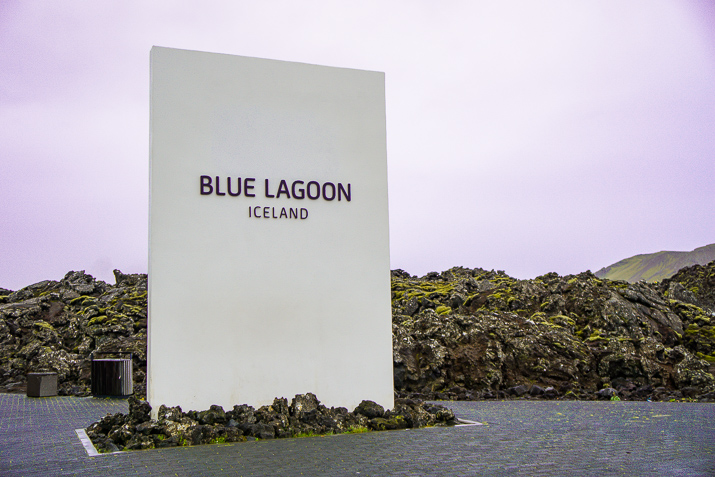 The Blue Lagoon Geothermal Spa in Iceland might just be one of the most relaxing experiences you'll ever have. Between the warm water, mud masks, swim up bar, and in-water massages, you may never want to leave the place! But let's be real, the place is a little expensive, is it worth it? Yes and no. I've gone twice and I've visited the Myvatn Nature Baths as well, I say if you're doing the Ring Road, head to Myvatn instead, but if you are sticking to the southern part of the country, then I feel like it's worth splurging on!
How Much Does The Blue Lagoon Iceland Cost?
Ages 2 to 13 get FREE general entrance into the Blue Lagoon, add-ons may be purchased.
For those 14+ there are 4 different packages you can choose from:
Standard
Cost: $57.00
Includes:
Entrance to Blue Lagoon
Silica Mud Mask
Comfort
Cost: $76.00
Includes:
Entrance to Blue Lagoon
Silica Mud Mask
Use of Towel
1st drink of your choice
Algae Mask
Premium
Cost: $96.00
Includes:
Entrance to Blue Lagoon
Silica Mud Mask
Use of Bathrobe
Use of Towel
Slippers
1st drink of your choice
Algae Mask
Table reservation at LAVA Restaurant
Sparkling wine at LAVA Restaurant
Luxury
Cost: $498.00
Includes:
Entrance to the Exclusive Lounge
Private Changing Room
Entrance to Blue Lagoon
Silica Mud Mask
Use of Bathrobe
Use of Towel
Slippers
1st drink of your choice
Algae Mask
Table reservation at LAVA Restaurant
Sparkling wine at LAVA Restaurant
Spa Journey Product Set
What Time Does The Blue Lagoon Iceland Open?
| | |
| --- | --- |
| Season | Opening hours |
| 1 Jan – 25 May | 8:00 – 22:00 |
| 26 May – 29 Jun | 7:00 – 23:00 |
| 30 Jun – 20 Aug | 7:00 – 00:00 |
| 21 Aug – 1 Oct | 8:00 – 22:00 |
| 2 Oct – 31 Dec* | 8:00 – 21:00 |
How Long Do You Need At Blue Lagoon Iceland?
Personally, I feel like 2.5 hours is plenty, but I'm not one for crowds so I like to go early and leave before it gets super busy. Most people stay between 3 to 4 hours, which I think is a perfectly acceptable time if you plan on getting a massage or eating at LAVA (which I recommend you skip and go to Bryygjan for langoustine bisque instead). It will take you about 30 minutes to get in and shower and change and another half hour on the other end to do the same, this means about 1.5 hours in the lagoon.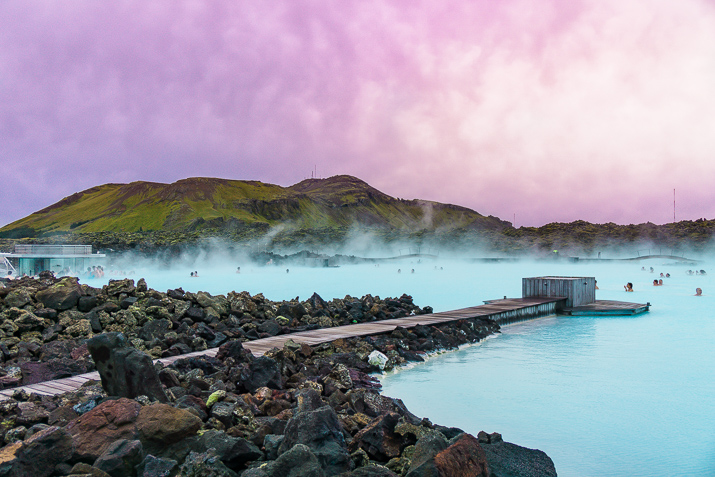 What To Pack For The Blue Lagoon Iceland?
Bathing Suit – This would be the absolute must-bring item out of anything else you could bring. I'm a firm believer that the best suit is one that fits. You can rent a bathing suit at reception if this was a spur of the moment decision or you lost your luggage.
Waterproof Camera – Cameras and phones are allowed in the lagoon, just remember that you're using them in the water at your own risk. Once you shower, you are free to go in and out of the locker room as you please, so you can take your camera out and bring it back in and go back to the lagoon or you can keep it with you the whole time.
Towel – If you choose the Standard package, a towel is not included with your entrance fee, therefore the cheapest way to enjoy the Blue Lagoon is to bring your own towel.
Hair Brush – While the Blue Lagoon provides hair dryers, you will need to bring your own brush or comb.
Sunglasses – You may need them, you may not, so it's best to bring them and put them in your locker just in case.
Tips For Visiting Blue Lagoon Iceland:
Go Early OR Late – My advice would be to go early any time of year, try to book the earliest time slot. They only let so many people in per hour so by getting there early, you will be able to get through the prep process quicker and enjoy fewer crowds in the water. If you're coming in on an early morning flight, I recommend booking the lagoon for the earliest time the morning of your arrival. You can pick up your SADcar rental and drive to the Blue Lagoon in about 10 minutes. Take a snooze in the parking lot while you wait for the doors to open.
If you're going during the late autumn and winter months, staying late could mean some epic views of the Northern Lights while relaxing in the milky blue water with a drink in your hand. In the summer months, you're in the land of the midnight sun and can enjoy the lagoon while most tourists sleep!
Use Lots Of Conditioner – The minerals in the water will do amazing things to your skin, but not for your hair. It's extremely important that you either keep your hair out of the water or lather it in tons of conditioner before entering the lagoon. When you take your pre-shower, load your hair up with conditioner and DO NOT rinse it out.
Do The Masks – Seriously, your skin will love you and feel amazing for several days after, plus they make for fun selfies!
Rinse Your Swimsuit – It's very important that you rinse your swimsuit and don't just throw it in the dryer at your Airbnb because the minerals can damage your clothes if not washed out before drying.
Plastic Bags – But now you have a wet swimsuit… good thing the Blue Lagoon provides plastic bags to put them in so the rest of your stuff doesn't get wet, eh?
Remove Jewelry – The minerals and algae in the lagoon can be damaging to the metals and should be taken off before entering the water.
Reserve Your Spot – It's really important to reserve your spot ahead of time since this is a hot destination and they only let so many people in per day. Reserve as early as possible to get your pick of entrance times.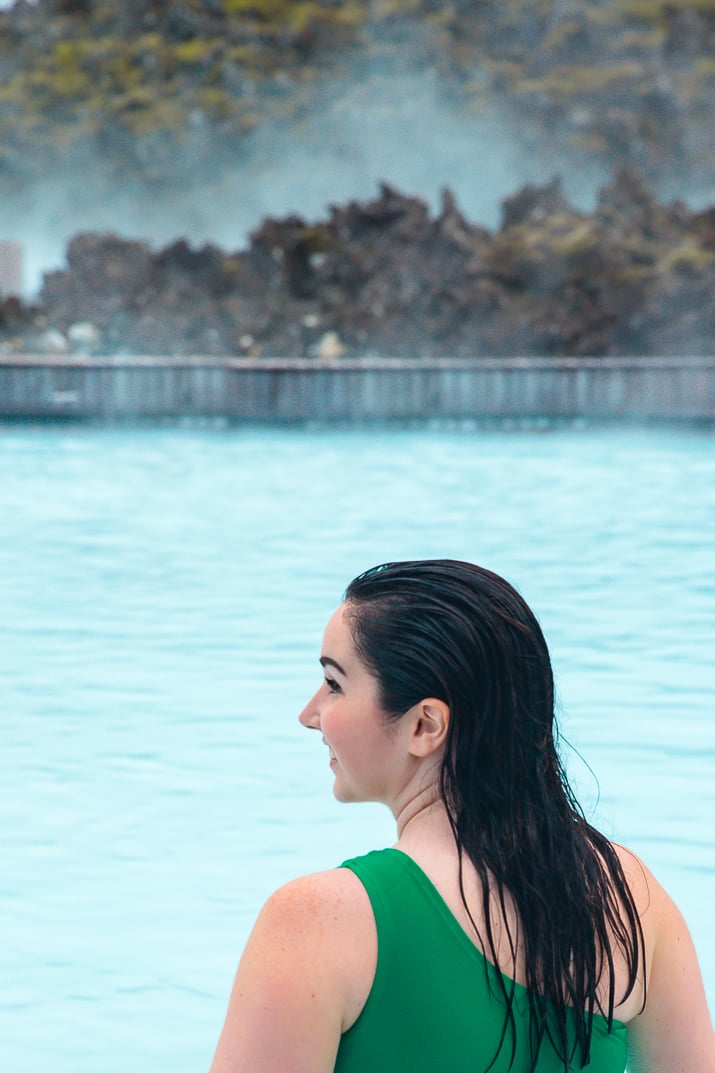 Getting To Blue Lagoon Iceland:
Location: Grindavik, Iceland
From Keflavik Airport: 20 Minutes By Car
From Reykjavik: 50 Minutes By Car
Bus Transfer Schedule can be located here
---
I've been to the Blue Lagoon twice, my recent stay was complimentary in exchange for sharing my experience and tips with all of you! Book your trip to Blue Lagoon Iceland today!
Pin These Blue Lagoon Tips For Later!