This post may contain affiliate links. Using these links, I earn a small commission at no additional cost to you!
A Day At Bondi Beach is an absolute must when visiting Sydney, Australia. Go swimming, surfing, and eat your way along the boardwalk!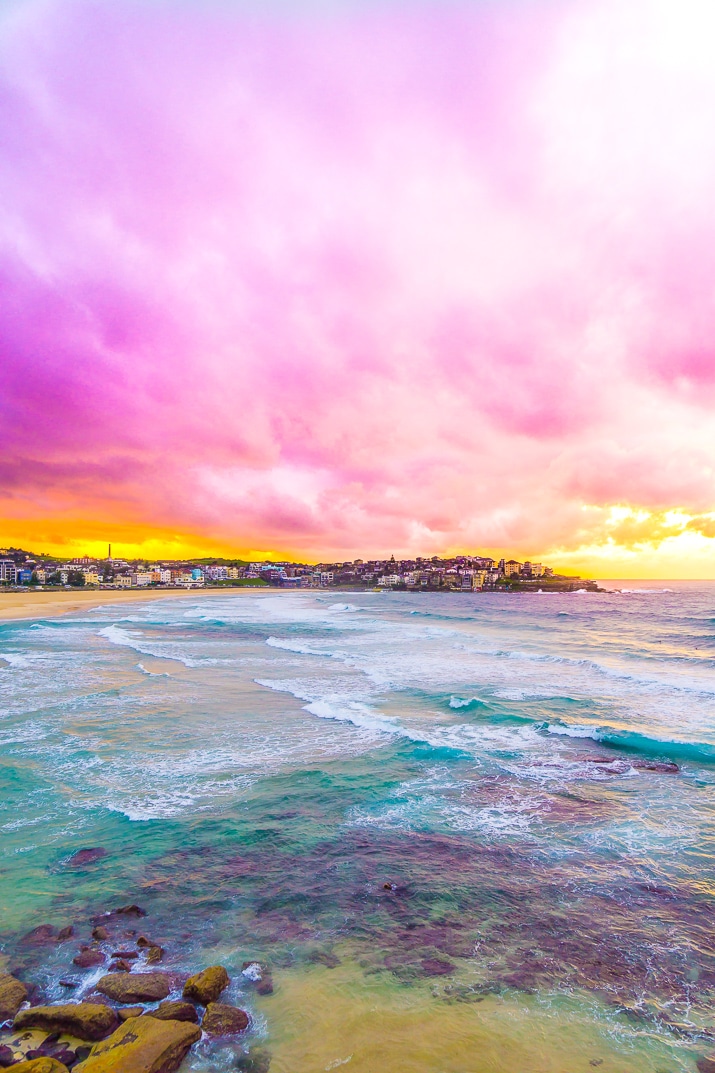 A Day At Bondi Beach
PIN IT TO YOUR TRAVEL BOARD ON PINTEREST!
FOLLOW SUGAR & SOUL ON PINTEREST FOR MORE TRAVEL IDEAS!
"There's a sunrise and a sunset every single day, and they're absolutely free. Don't miss so many of them."
― Jo Walton
I am definitely not a morning person, like, at all. Just ask my father who used to drag me out of bed every morning for school and my husband who sometimes still has to for work. I've been alive for just over 10,000 days and I'm almost ashamed to admit that I've missed almost as many sunrises.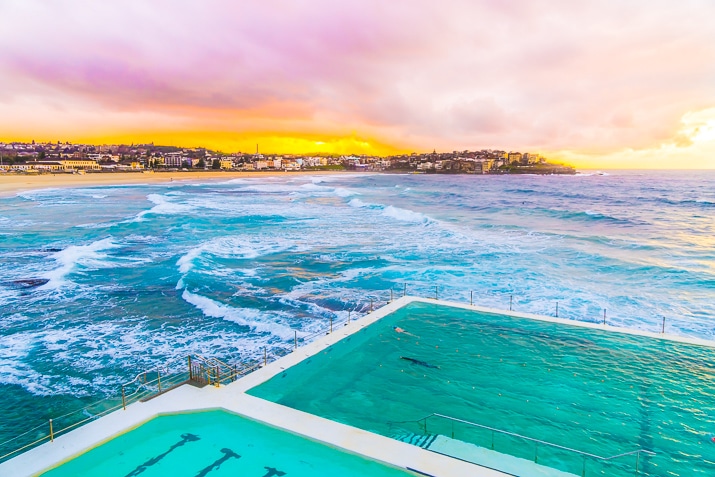 But when I travel, I always try to see at least one, there's just something kind of special about watching the sun rise in another part of the world. The sunrises I saw in Scotland and Israel were two that I will never forget and this one at Bondi Beach will fall in line just behind them.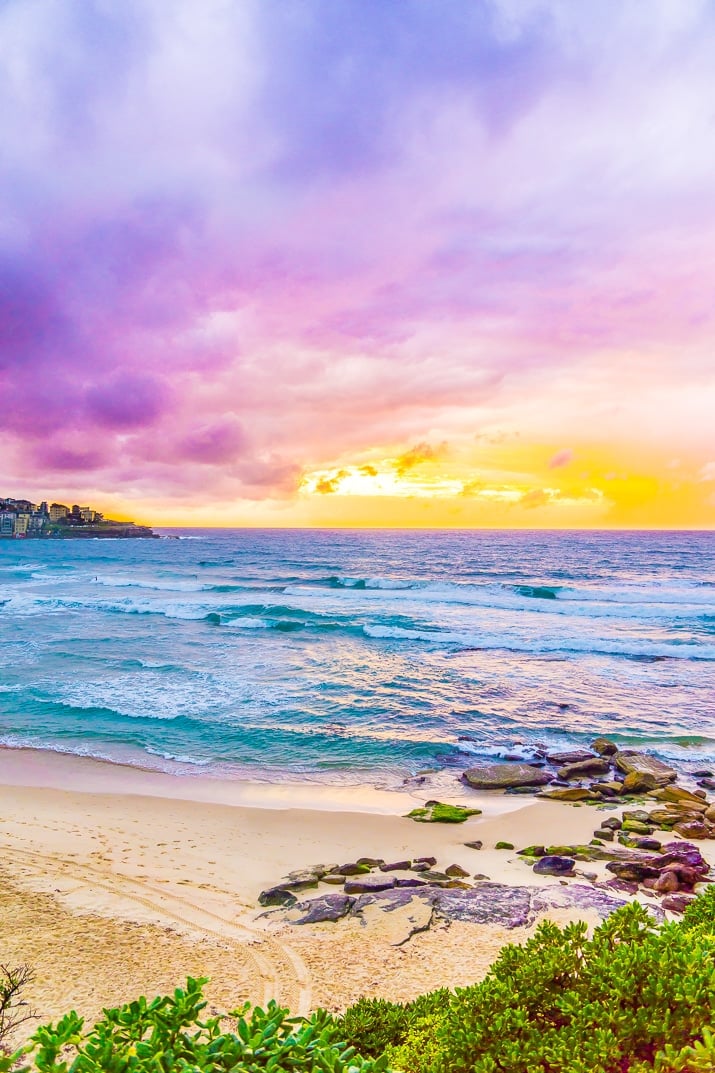 The beach was so peaceful and beautiful as the sun rose up over the eastern coast of Australia on the outskirts of Sydney. A handful of runners and dog walkers and a few early morning surfers dotted the long shoreline, and while the skies quickly turned to overcast, the colors of the morning sun danced their way toward us for a few brief but stunning minutes.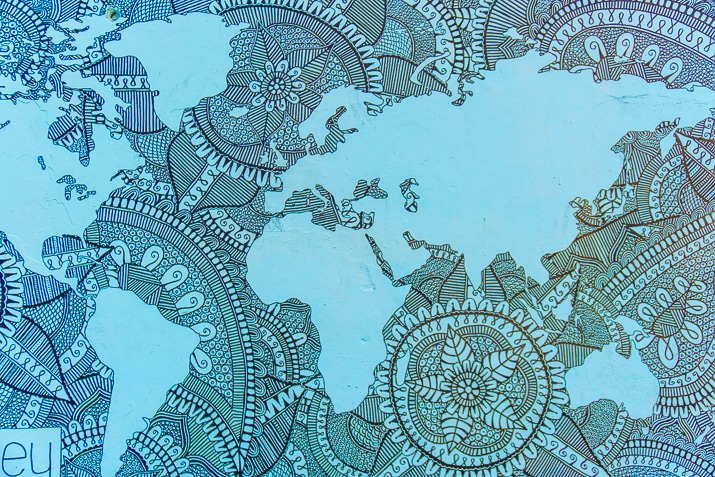 You can't visit Syndey and not check out Bondi, especially in the autumn and winter when the water is warm and the people are few. Since we were heading there for some swimming and surfing, I really wanted to catch the sunrise too, and I'm so glad we did.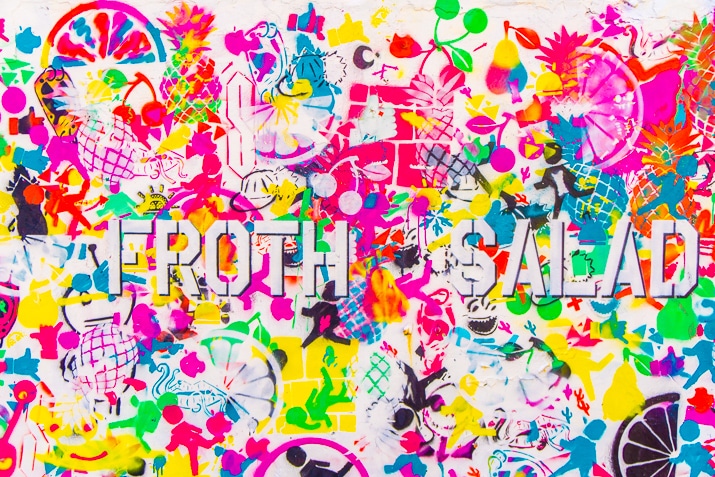 We took an Uber from our Airbnb to the beach, there is public transportation to Bondi Junction and the beach, but it would have meant switching buses a few times and a pretty long trip. We opted for Uber because we had more control over the time we left and it was a shorter, more direct option.
If you have never used Uber before, I highly recommend it, just download the Uber app which allows you to book a private car service that's way cheaper than a taxi. Uber is available all over the world, so it really comes in handy when traveling or at home when you just want to go out with friends and don't want to worry about a DD.
Use code: rebeccah4399 to get your first ride FREE!
I love Uber because no money ever exchanges hands, there's no awkward "Do I tip, don't I tip, how much do I tip?", you link up your credit card or paypal to your account and it charges automatically when your trip concludes. This means that you can just jump out of your car and go when you arrive at your destination… perfect when you have 60 seconds left to check in for your flight <<< been there!
[su_button url=" https://www.uber.com/invite/rebeccah4399ue" target="blank" background="#708e44″ size="5″ center="yes" rel="nofollow"]Sign Up For Uber And Get Your First Ride FREE![/su_button]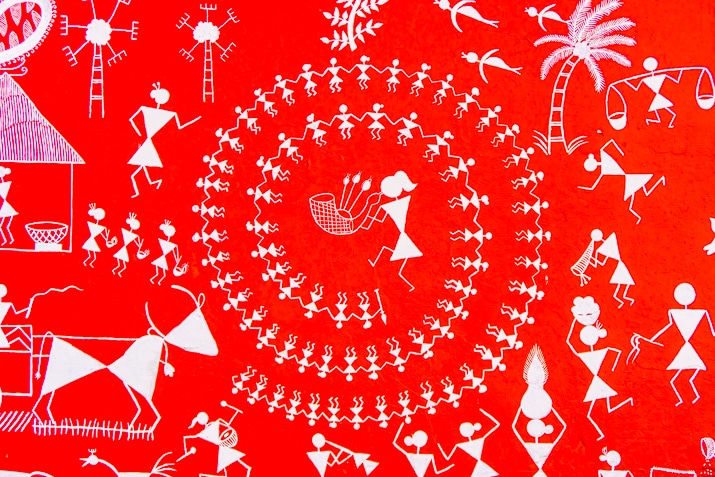 We walked along the mural covered boardwalk towards the Iceberg pools and caught the sunrise before heading to breakfast at Speedos Cafe, these are some of my favorites.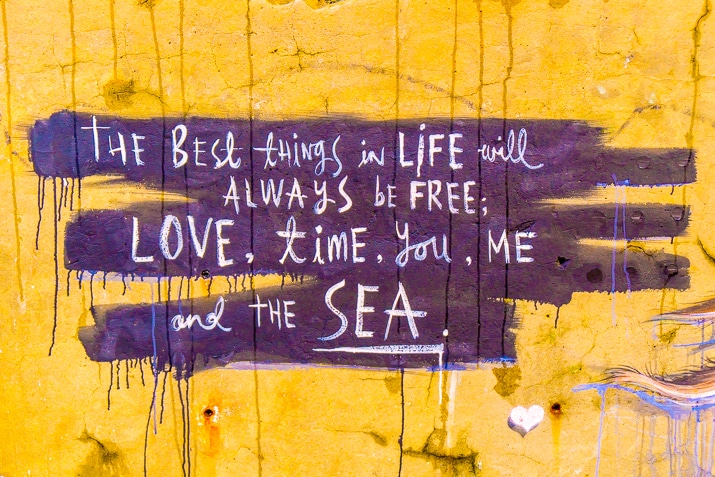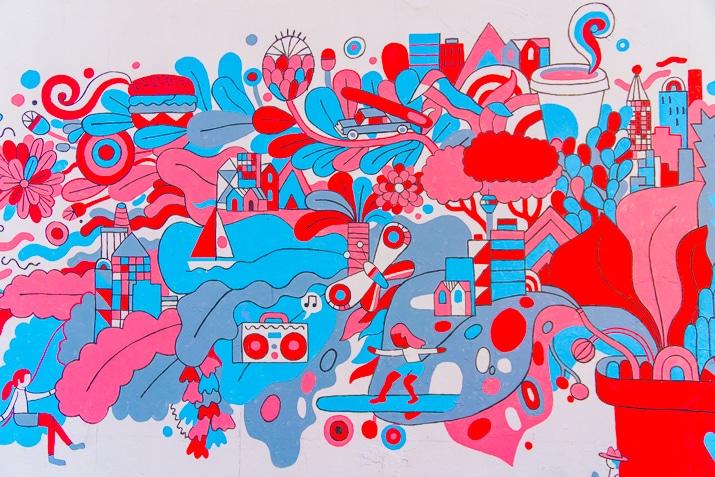 Speedos Cafe is open from 6 am to 5 pm each day and has free wifi. They serve up a variety of food options from sweet cinnamon buns to refreshing fruit bowls, to delicious lunch plates – seriously regretting not going back after surfing and getting their Pulled Lamb and Quinoa Bowl – umm… yum!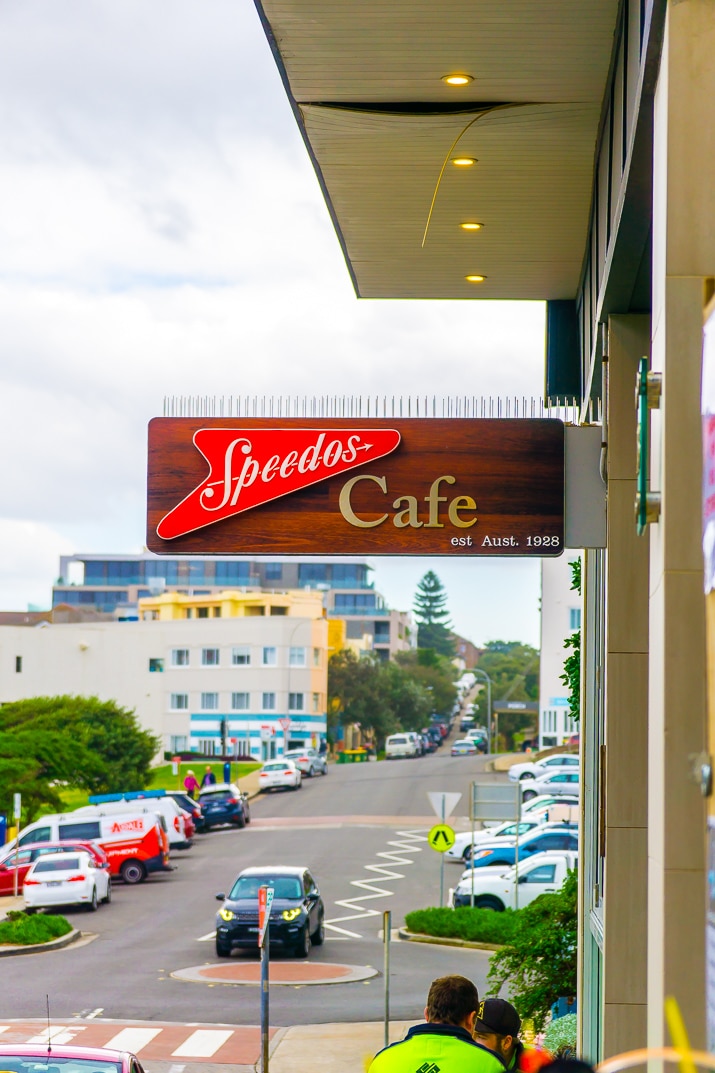 I got the Caramelised Banana + Chia Vegan Pancakes and they were SO yummy! I also got a cinnamon roll and their Lazy Summer juice, both were also super tasty.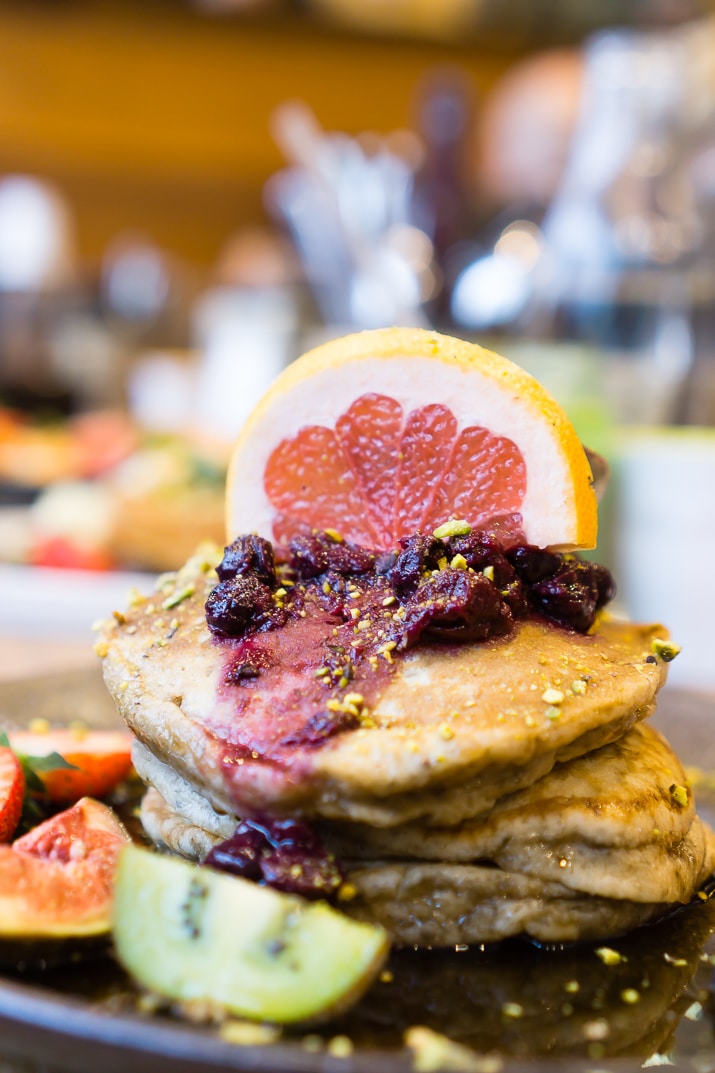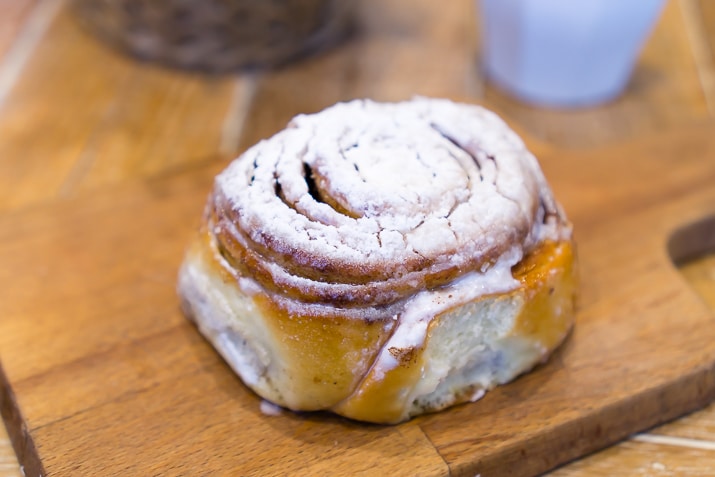 One of my biggest regrets from my trip to Hawaii last year was that I didn't learn how to surf. Well, this time I wasn't going to let the opportunity pass me by, even if it was the middle of winter (which really felt like early New England summers). So I partnered with KKday and Let's Go Surfing for some surf lessons while visiting Bondi Beach.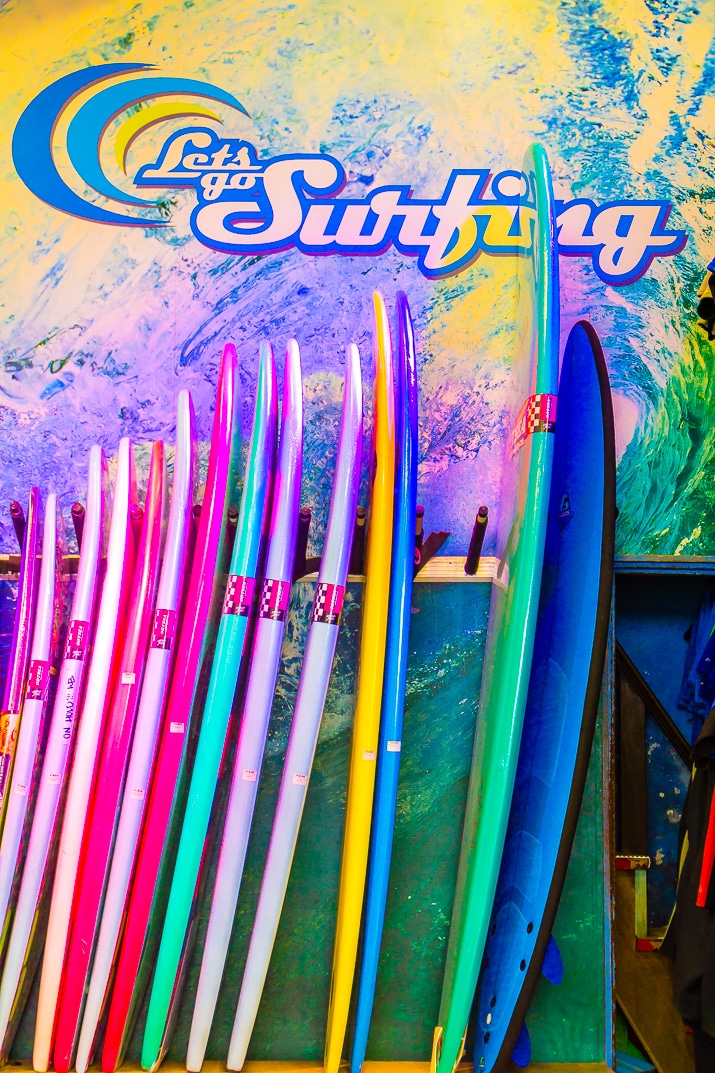 They provided us with everything we needed for the experience, the wet suits, boards, t-shirts, and photos. And honestly, I've never had so much fun getting the crap beat out of me – by mother nature. Seriously though, every time I nose dived, belly flopped, and fell on my ass, I came up out of the water smiling and laughing. It was just that fun!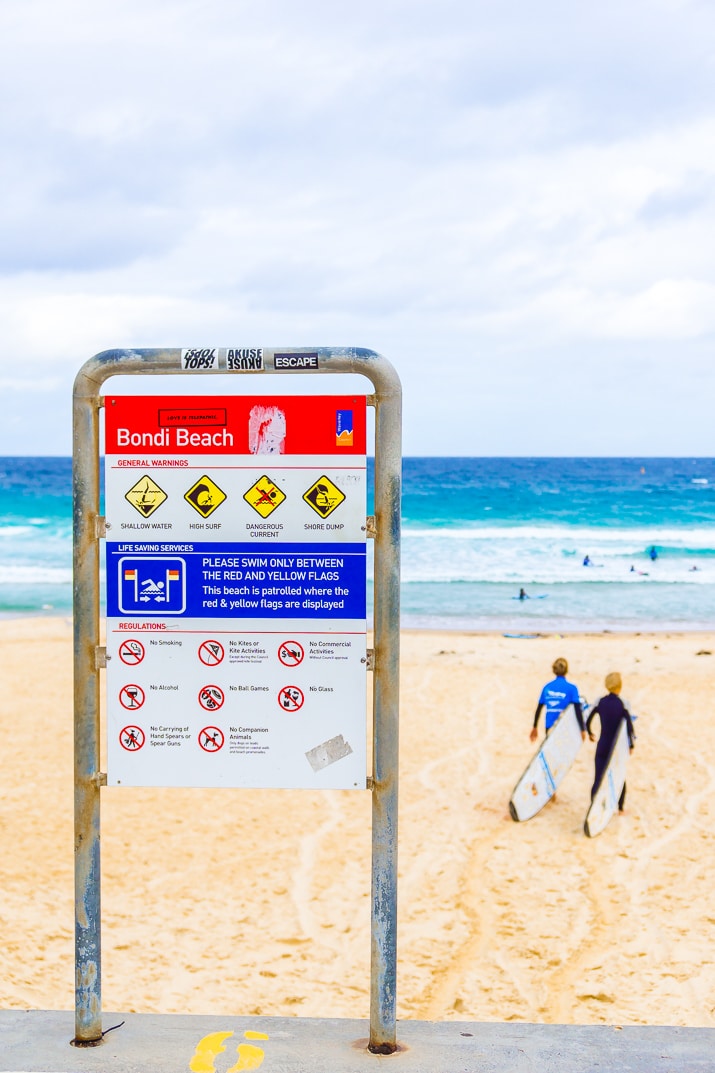 We did a two-hour lesson with our instructor, Shannon, he was very knowledgeable and easy going and we had a great time learning from him about surfing and Bondi itself. I was glad that we saved this for one of the last days of our trip because it was definitely one of the highlights and I can't wait to go surfing again – even if I'm not great at it!
[su_button url="https://www.kkday.com/en/product/productlist/A06-001?start=1&countryname=Australia&city=A06-001-00002&cityname=Sydney" target="blank" background="#708e44″ size="5″ center="yes" rel="nofollow"]Book Your Bondi Beach Surfing Experience Today![/su_button]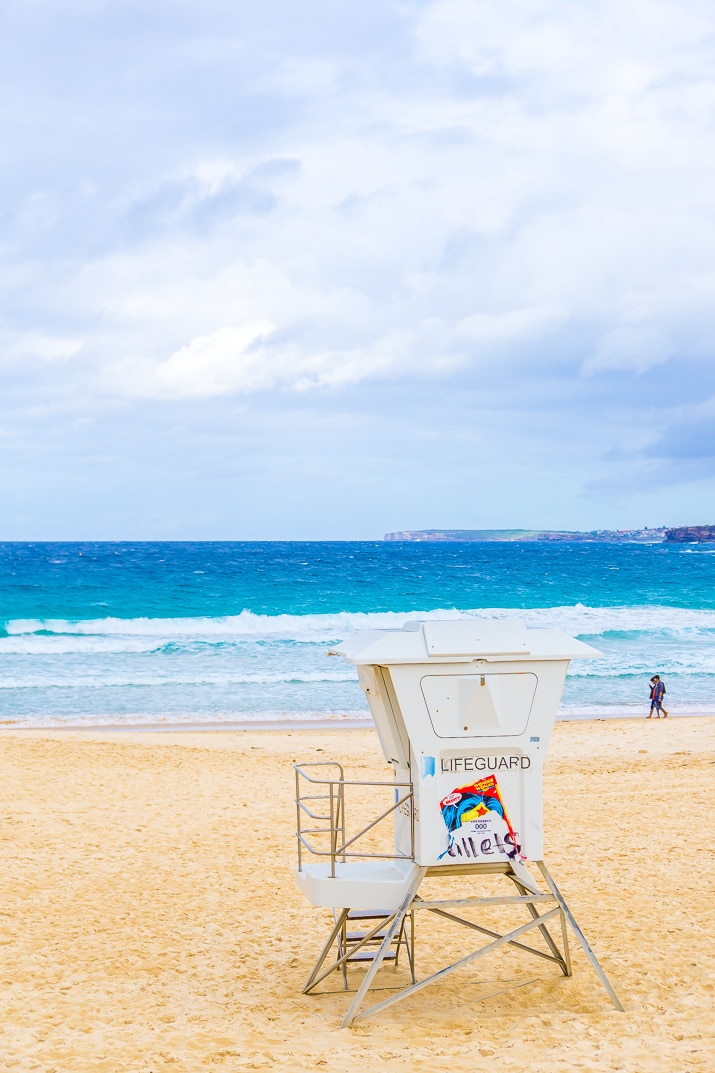 After crashing surfing, it was time for dry clothes and some lunch.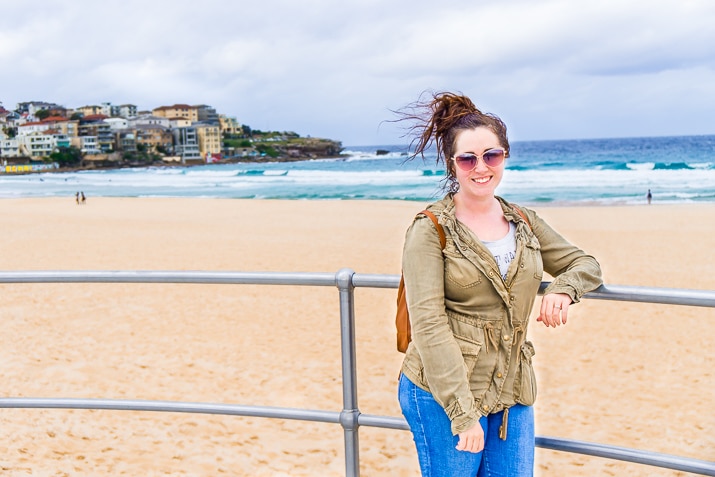 We ate at Little L, it's a bit up the hill behind the surf shop, they recommended it to us and it was delish, we got it to go and enjoyed our lunch at a picnic table overlooking the beach.