These Cheez-It Chicken Nuggets are made with moist white meat and Cheez-It Cheddar Grooves and served with a Spicy Thai Peanut Dipping Sauce.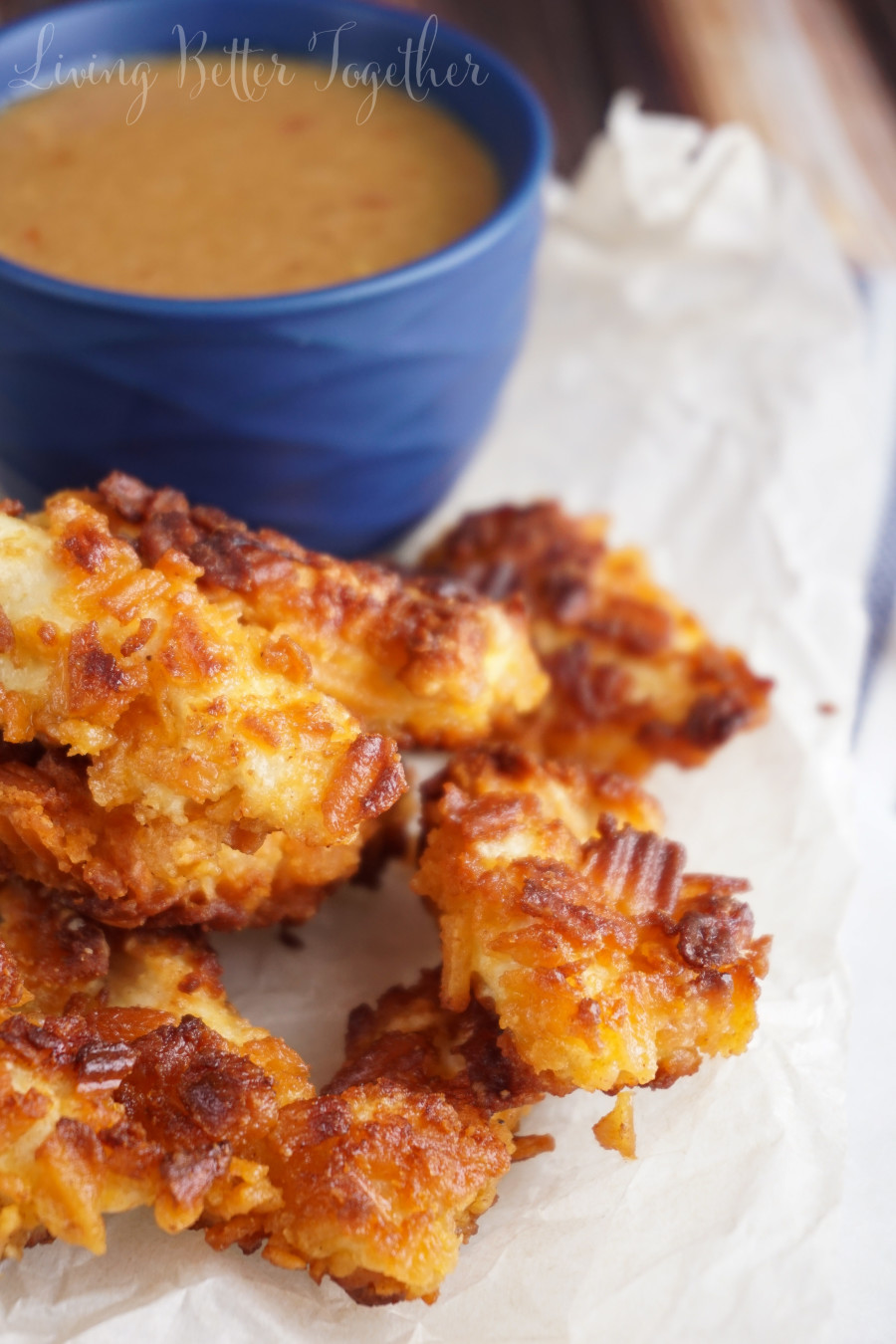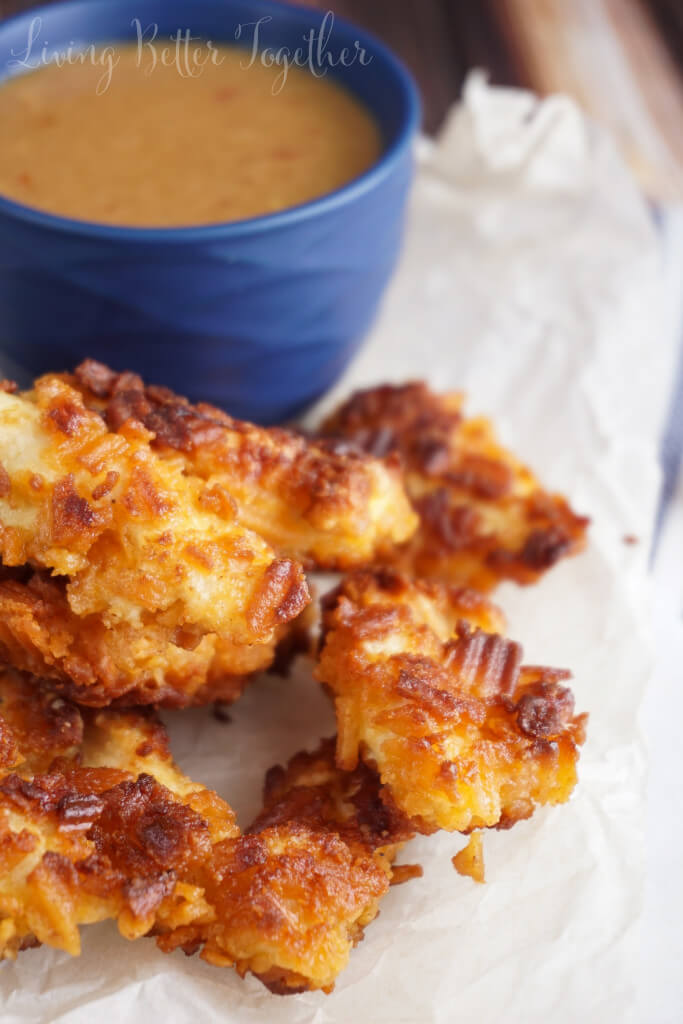 It seems like we've gone from one playoff season and into the next! Since I had some great Football recipes, I couldn't let the Basketball season pass by without a little love, ya know? I stumbled upon these new Cheez-It Grooves in Original Cheddar at Walmart last week and thought they'd make a wicked good breading for chicken nuggets.
I was so right, these Cheez-It Chicken Nuggets were the perfect game time snack to settle in with. I also picked up a couple of bags of the new Cheez-It Crunch'd to go with my nuggets! Can you tell I love cheese, it's a weakness.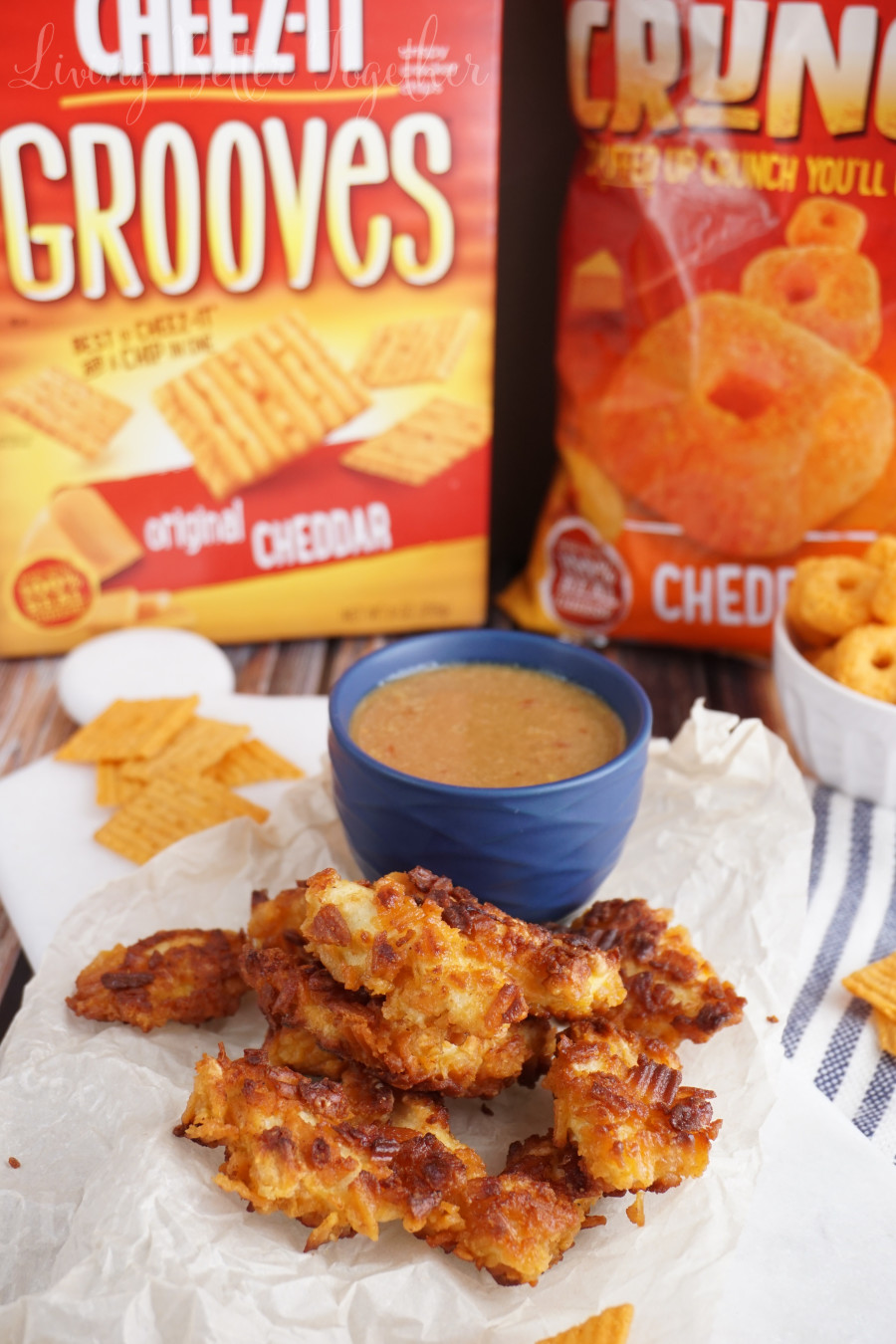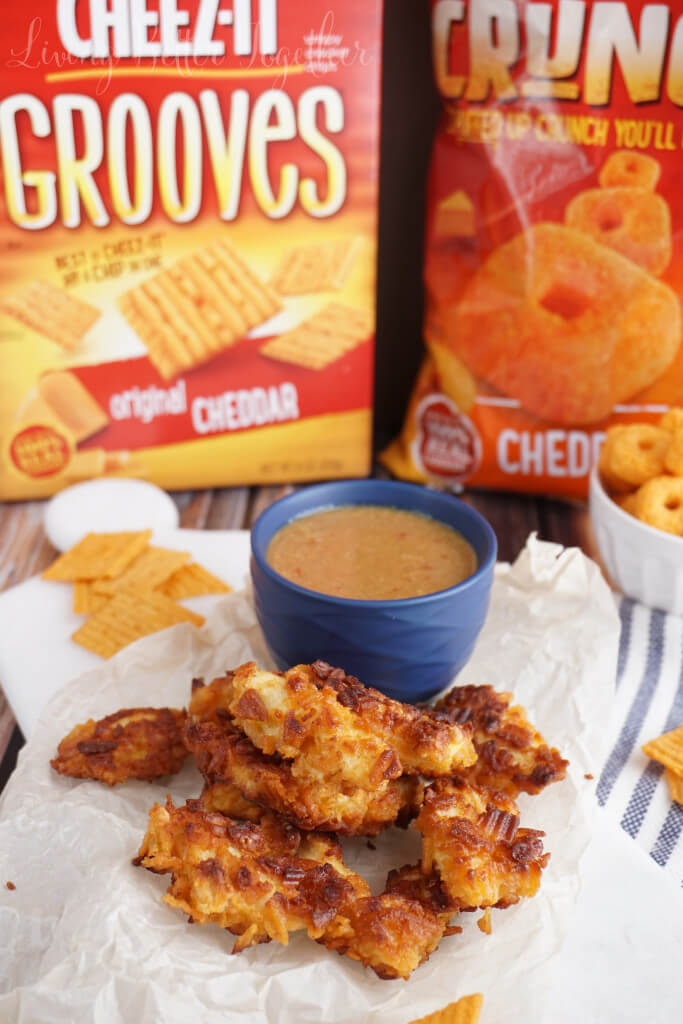 Okay, first off, I didn't actually cook these. I've mentioned it several times over that I'm a baking girl – See Healthy and Easy Turkey Chili. Luckily, I've got an awesome husband who will step in a bring some of these crazy ideas to life for me! I definitely picked a winner – did I mention he does ALL of the dishes too? No, you can't have him!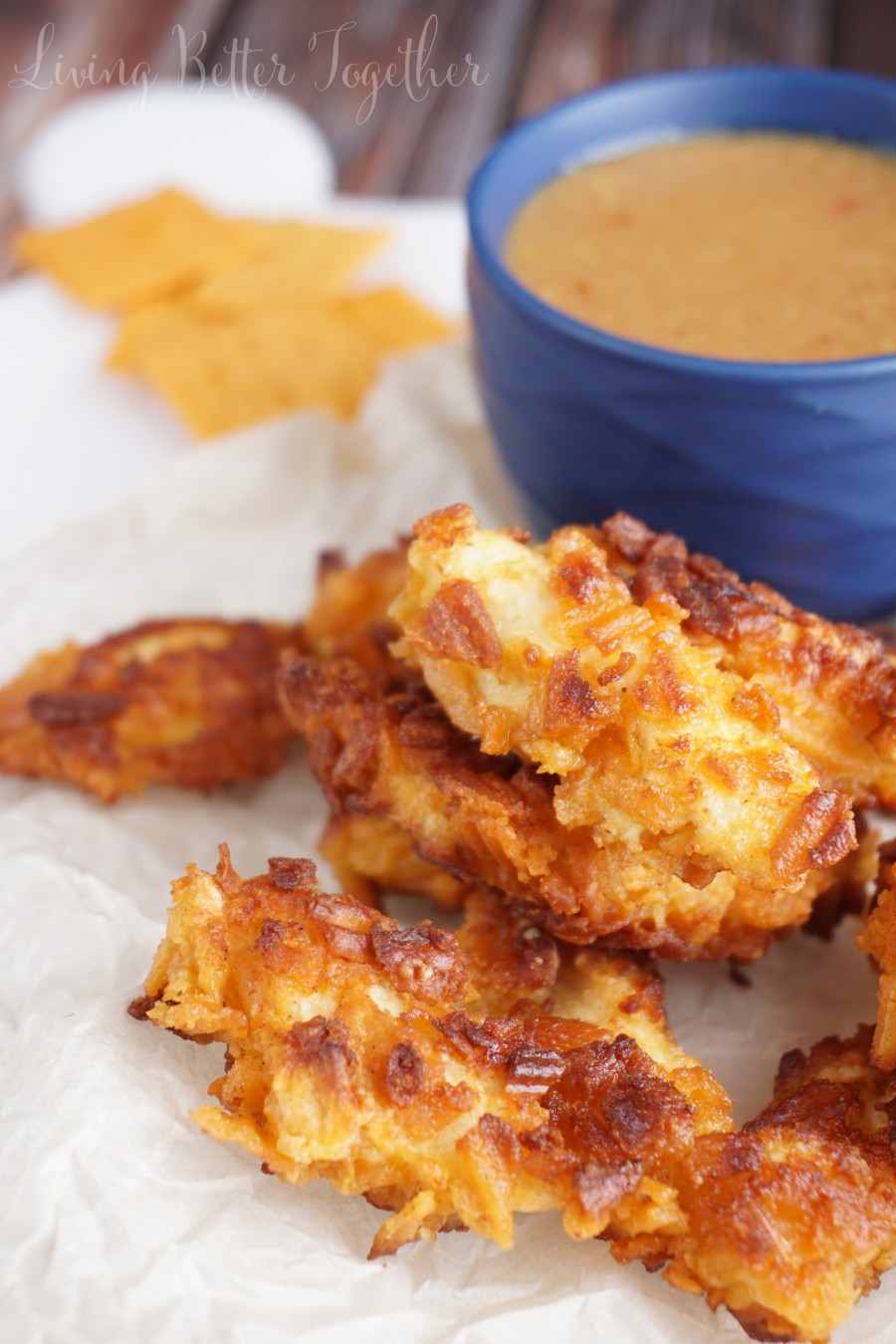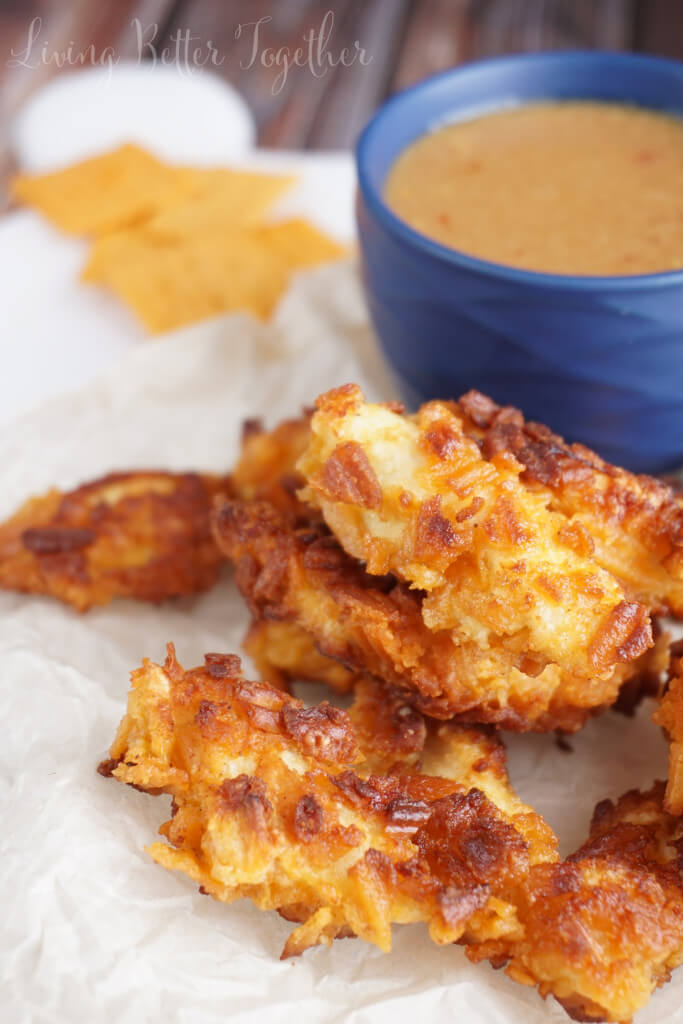 Anyways, Cheez-It is dedicated to using only 100% real cheese, which is baked into every delicious cracker. Matt thought that adding a little crushed pepper into the breading mix to match that bold cheddar flavor would pair nicely with the Spicy Thai Peanut Sauce he whipped up to dip these puppies in!
I never played basketball, I was way too short and uncoordinated for it. Funny, because everyone thought I was going to be so tall and perfect for it until I hit 5th grade. I was the tallest kid in my class and then suddenly I stopped growing. Hello, 5 feet for life?
I've never actually been an avid follower of professional or college basketball either, but I managed the Men's team in high school. It was a lot of fun and the games were always tense and crazy with lots of screaming fans. My freshman year we won the Eastern Maine Championship after coming back from being 17 points behind at half time. It was a crazy game and a night that I'll definitely hold onto the feeling of for the rest of my life.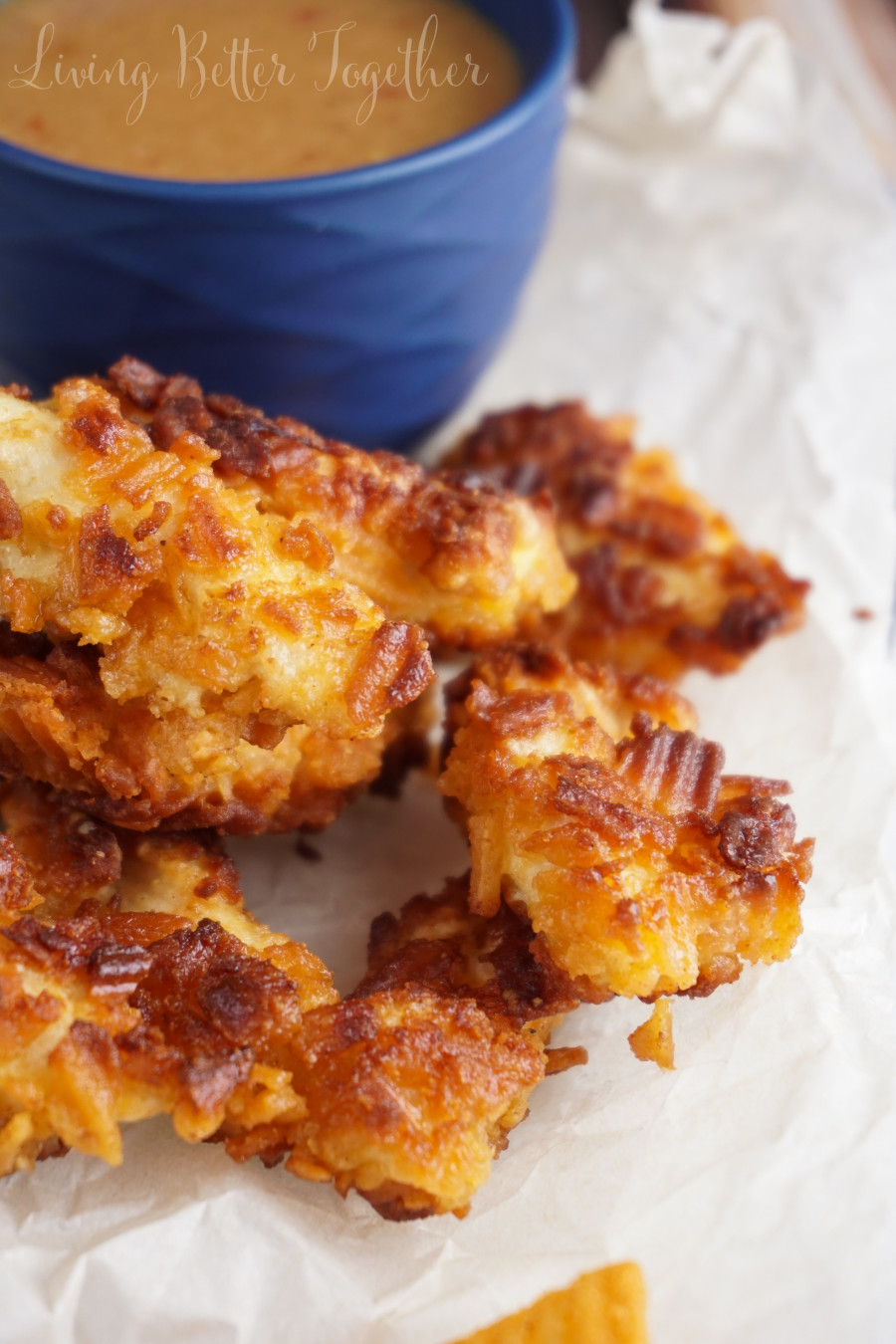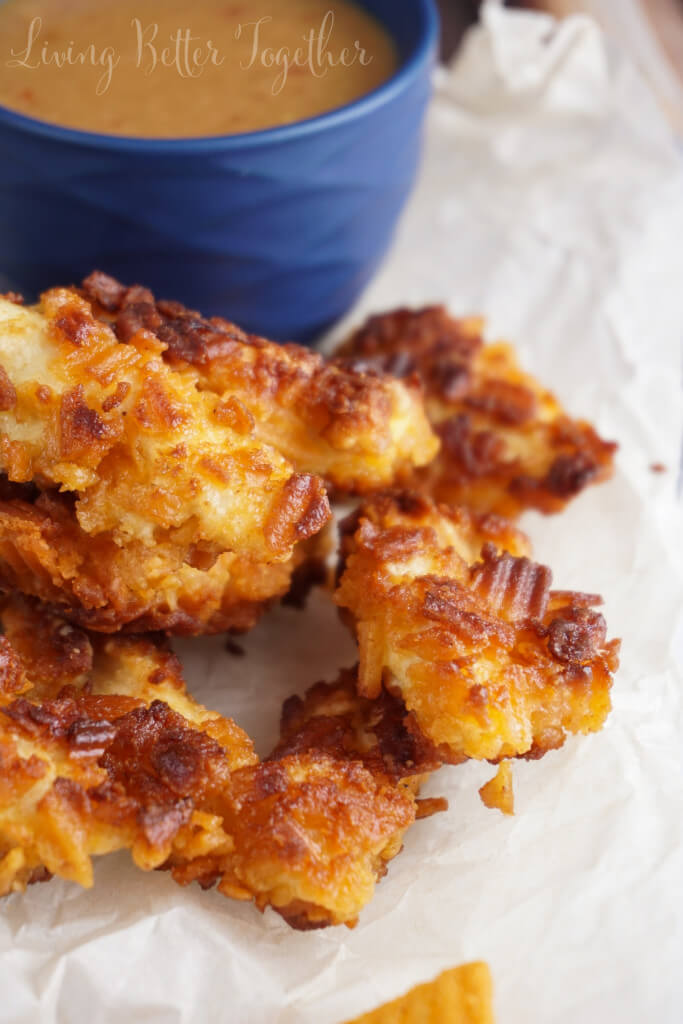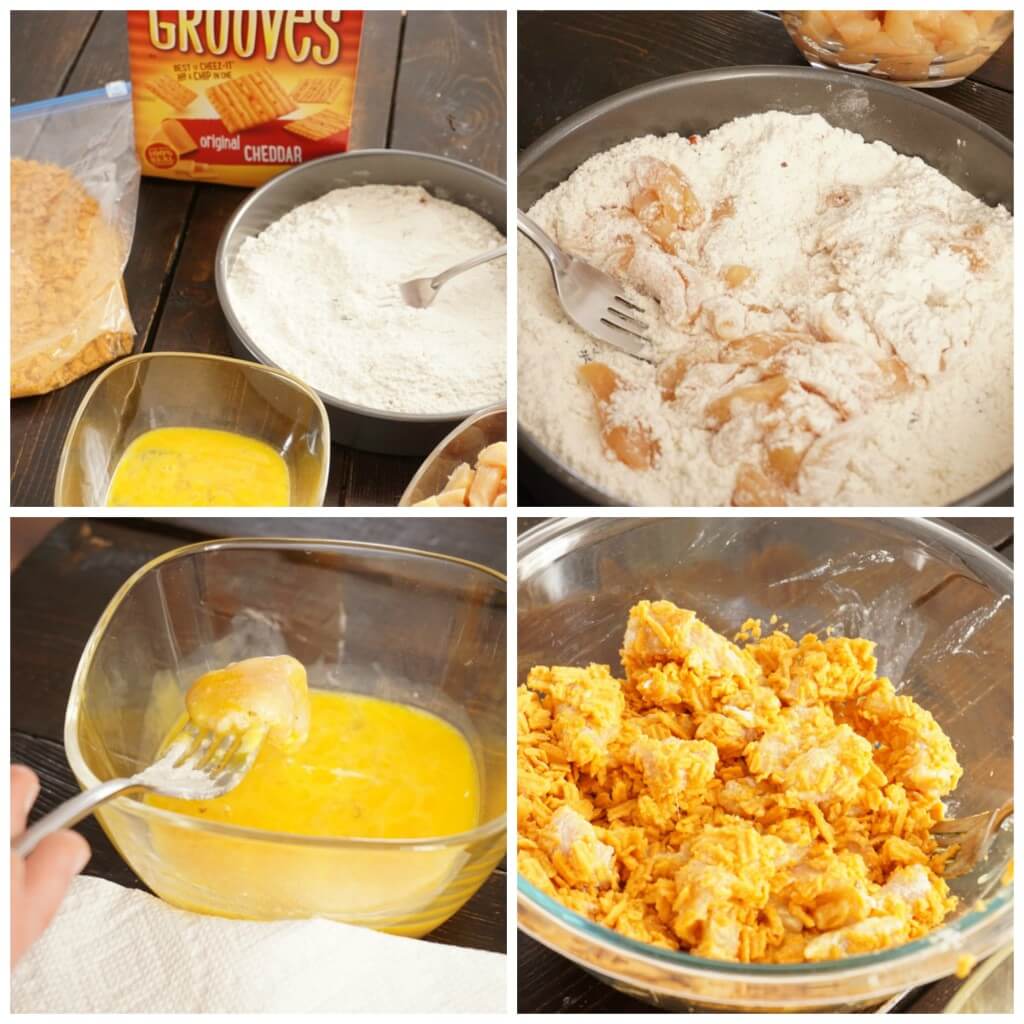 You might also enjoy my Baked Chicken Wings and Air Fryer Chicken Wings recipes!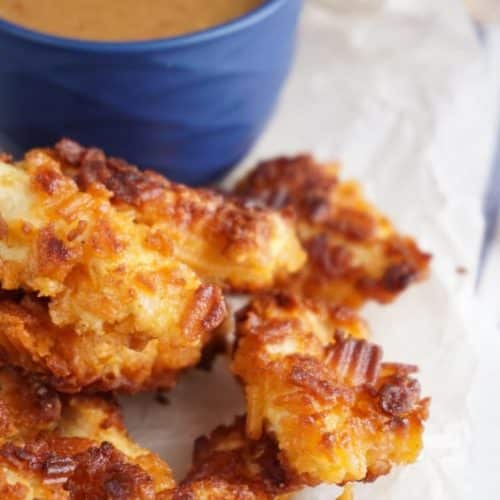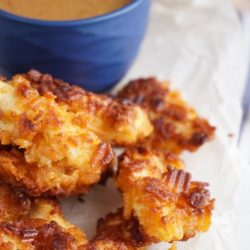 Cheez-It Chicken Nuggets
These Cheez-It Chicken Nuggets are made with moist white meat and Cheez-It Cheddar Grooves and served with a Thai Peanut Dipping Sauce.
Instructions
Prep ingredients by placing flour in a large bowl, crushed Cheez-It Grooves in a large bowl and whisky up the eggs in a small bowl and setting aside.

Cut chicken into small 2 inch by 1/2 inch strips.

Roll the chicken in the flour and then dip chicken pieces in egg using a fork before tossing in the Cheez-It Grooves crumbs.

Mix with the crumbs and drop chicken nuggets into a large pan that's 1/4-1/2 inch full of hot fry oil.

Cook until they're golden brown on one side and flip to finish cooking, about 4-5 minutes total.

You'll make about 3-4 batches.
Notes
Crush Cheez-It Grooves in a large Ziploc bag with a rolling pin or by putting them in a food processor.
Nutrition
Calories:
194
kcal
Carbohydrates:
16
g
Protein:
21
g
Fat:
4
g
Saturated Fat:
1
g
Polyunsaturated Fat:
1
g
Monounsaturated Fat:
1
g
Trans Fat:
1
g
Cholesterol:
130
mg
Sodium:
316
mg
Potassium:
337
mg
Fiber:
1
g
Sugar:
1
g
Vitamin A:
192
IU
Vitamin C:
1
mg
Calcium:
21
mg
Iron:
2
mg