[disclaim] Today's post is sponsored by
Nikos® Feta
cheeses, and you guys know how much I love cheese! [/disclaim]
This Creamy Roasted Jalapeño Feta Dip is made with just 8 simple ingredients, making it an easy appetizer that's perfect for summer entertaining!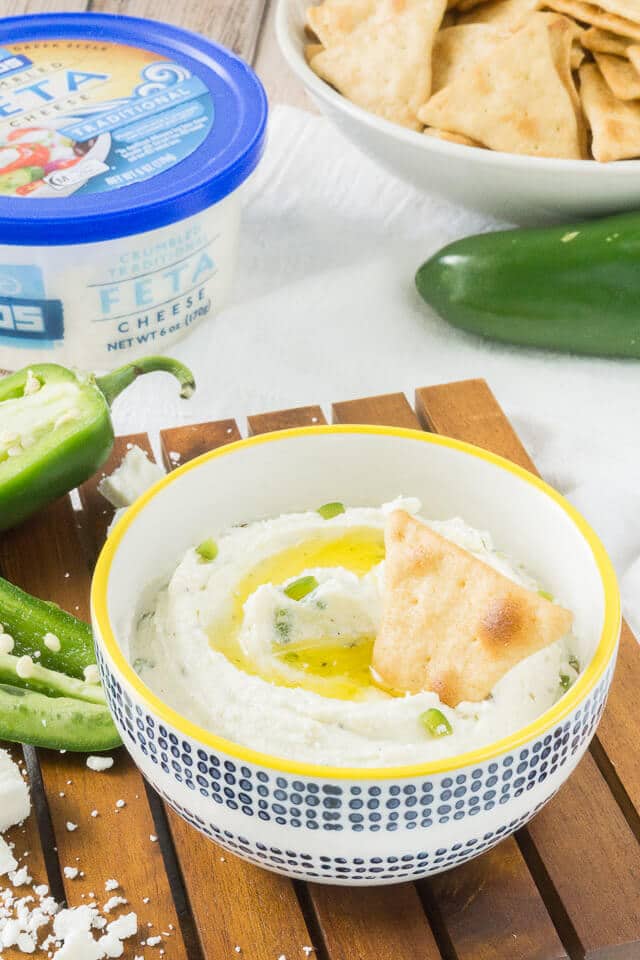 I love entertaining all year round, but I feel like it's easiest to try "out there" recipes in the summertime. I think summer brings out the adventurous side in all of us, whereas fall and winter make us yearn for the comfort of the classics. Well, today the classics are staying in grandma's cookbook and something new and fun is coming out to play!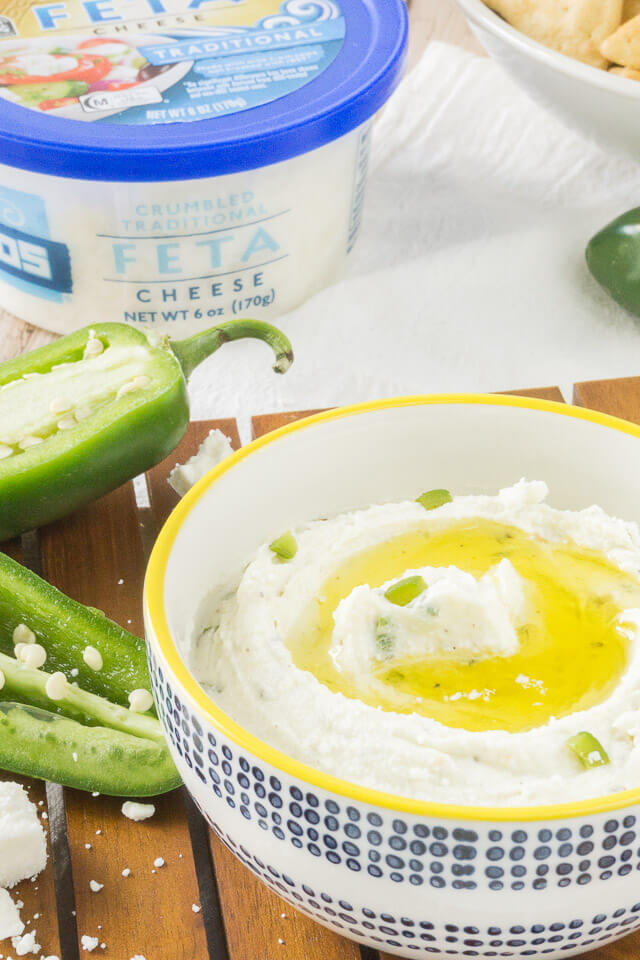 Now, I'm a dip girl and I'm a firm believer that you can't have a party without a great dip! Usually my Baked Spinach & Artichoke Dip is the star of the party, but I wanted to mix things up a little and work with a new base cheese: Feta. I'm a fan of feta and I love working into new recipes and seeing how I can pair it. Feta is such a diverse cheese with great flavor. You can use it in pasta salads, on burgers and even in desserts like these gorgeous No Bake Feta Fruit Tarts!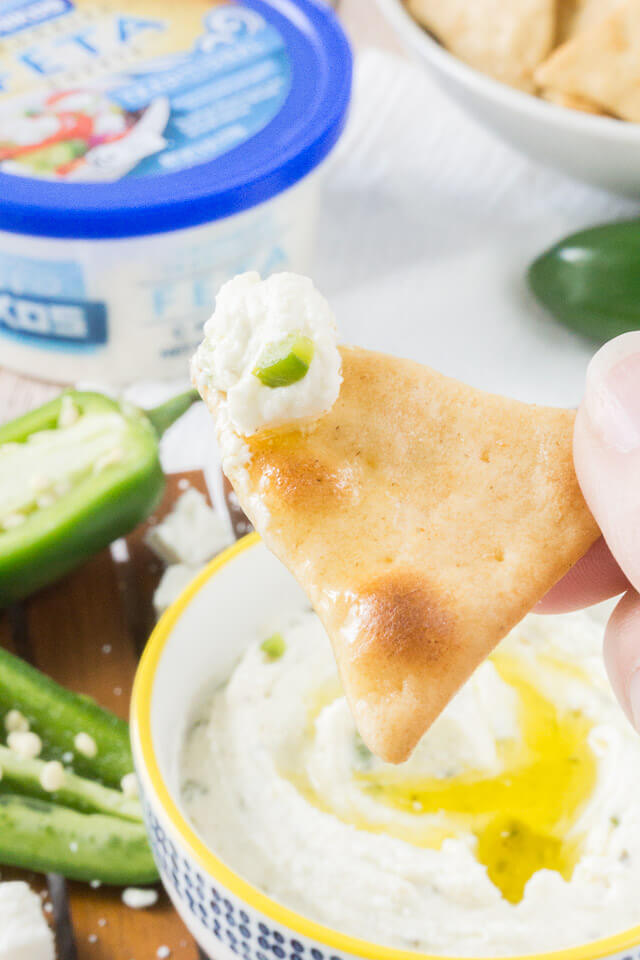 Matt and I have been on a bit of a jalapeño kick lately. We're loving pickled jalapeños in our quesadillas and I thought roasting them and adding them to this dip was a fab idea! I was right, and the roasted heat of the peppers melded so well with the creaminess of the feta and cream cheese. The garlic acts as a middle man and brings around a nice balance while the olive oil adds a final note of flavor that heightens the feta. Since the dip is creamy, it's perfect for serving with tortilla or pita chips or even with toasted baguette slices.
The problem is, I don't always want to throw a party in order to mow down on the good stuff. So I decided to make this dip in a "for two" portion. Not that Matt is going to eat it, he IS NOT a dip guy! Oh well, more for me, right! You can just double the recipe for a party sized bowl of it! Keep your summer recipes fresh and healthy with Nikos® feta and don't forget to enter the amazing giveaway for a trip to Hawaii, keep scrolling for details!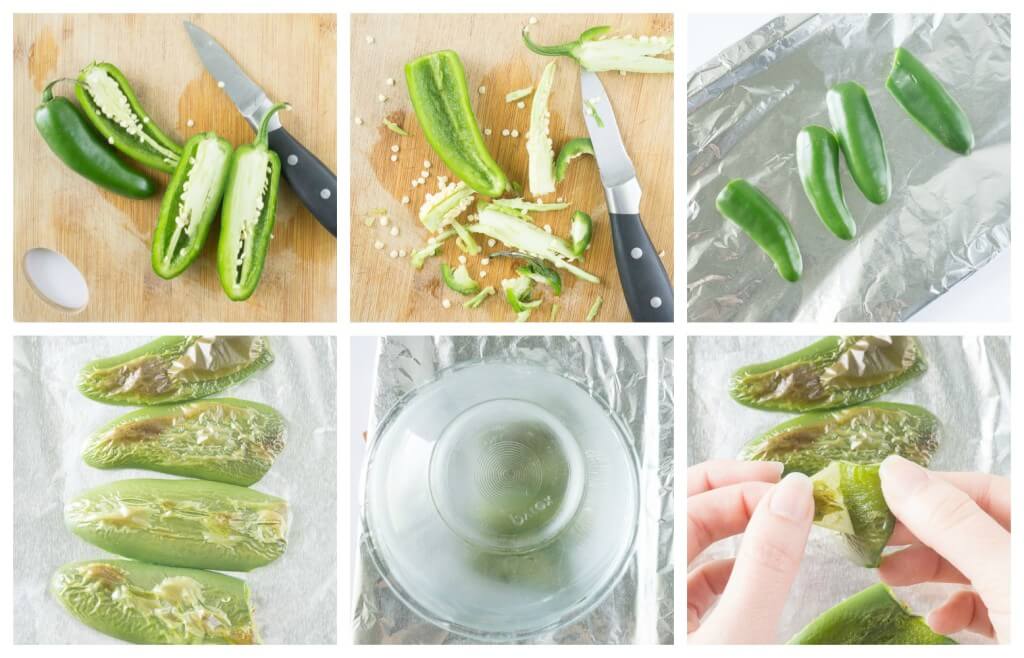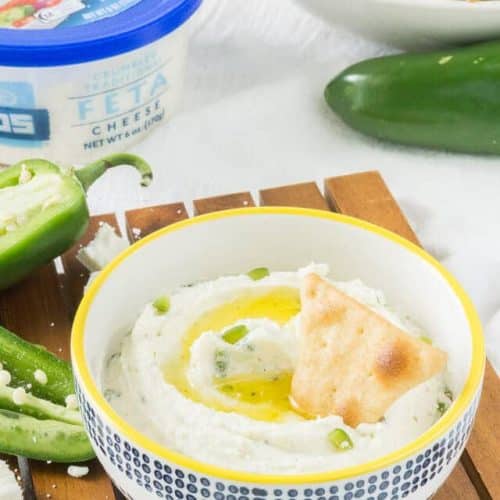 Ingredients
Instructions
Roasted Jalapeno:
Slice Jalapeno in half and remove seeds.

Place open side down on a tin foil lined baking sheet and broil on high for 3-5 minutes until skins begin to darken. Keep a close eye on them.

Remove from oven and steam them by placing a a bowl face down over them for 5 minutes.

Remove skin and finely dice jalapenos.
Dip:
Add in cream cheese, heavy cream, garlic, salt and pepper and pulse until smooth.

Stir in prepared roasted jalapenos and transfer to a serving bowl.

Serve immediately or place in the fridge for up to 3 days.

Drizzle with olive oil just before serving.
Notes
Double recipe for a party portion.
Win a Trip!
Nikos® Feta is hosting a giveaway this June/July! One lucky contestant will win a seven-day, six-night trip to Honolulu, Hawaii, during the 2015 Hawaii Food & Wine Festival (August 29 – September 13, 2015).
Trip package includes:
1. Roundtrip airfare for Grand Prize Winner and Guest from the
airport nearest the Grand Prize Winner's residence to Honolulu, Hawaii
2. Standard hotel accommodations for 6 nights/7 days)
3. $500 USD in spending money for the Grand Prize Winner.
The Approximate Retail Value of the Grand Prize is $3,500.
To enter, visit www.NikosFeta.com or the "Hawaii Trip" tab on Facebook.com/NikosFeta (desktop only) between June 1 – July 31, 2015, and fill out the entry form. That's it! Full contest information is available in the Official Rules accessible via either site starting June 1st.
Don't forget to follow Nikos Feta on Facebook, Pinterest, and Instagram!