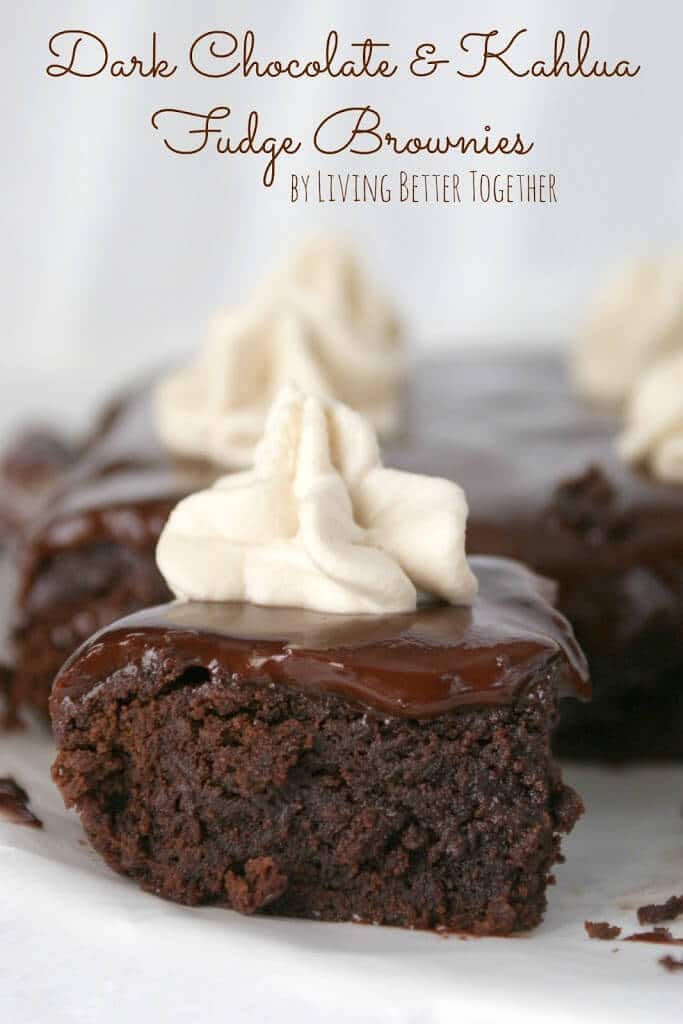 The other day I started thinking… I don't think I've ever made brownies from scratch.
I tend to gravitate towards the Ultimate Brownie mixes, you know, the ones loaded with chocolate chips and chocolate sauce and as gooey as it gets. But lately I've been craving a rich and decadent dark chocolate brownie, something I was sure I wasn't going to find in a box. So it was time to venture out and make my first set of brownies from scratch.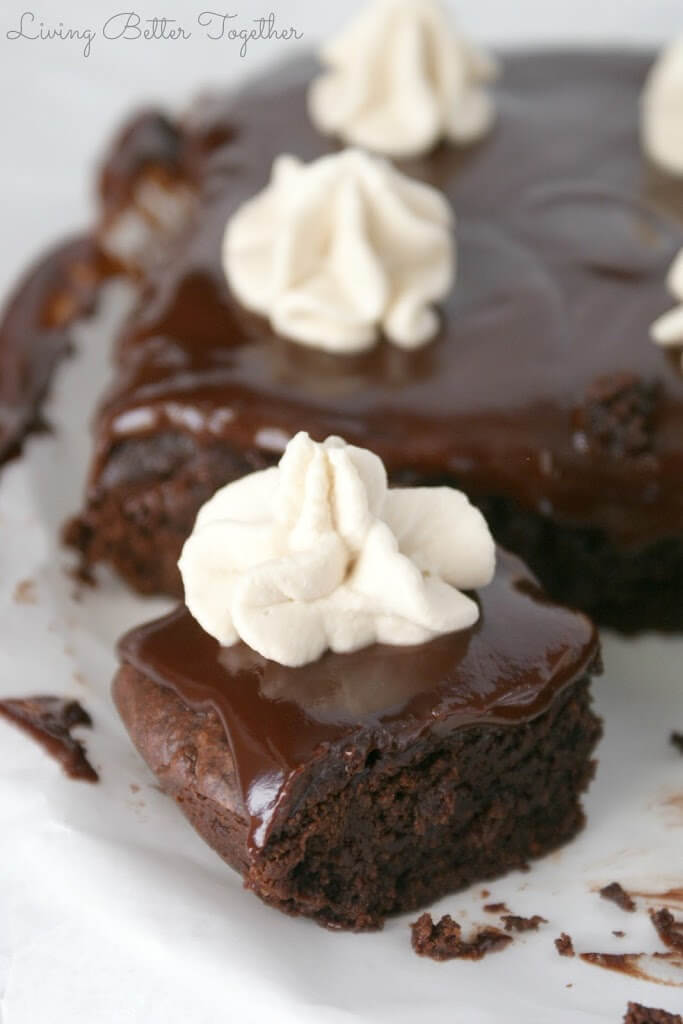 Now, I'm a sucker for rich dark chocolate, but I'm not one for basic, so of course I had to add a little kick… Kahlua!
I love, love, love the depth of flavor it added to the brownies. I'm pretty sure Kahlua is one of my favorite things to bake with, especially when paired with chocolate! These are definitely going to be often in our house and they're perfect for a girls night or bridal shower. I imagine they'd be killer in a brownie sundae with vanilla or coffee ice cream.
Alright, so let's get to the recipe you all want!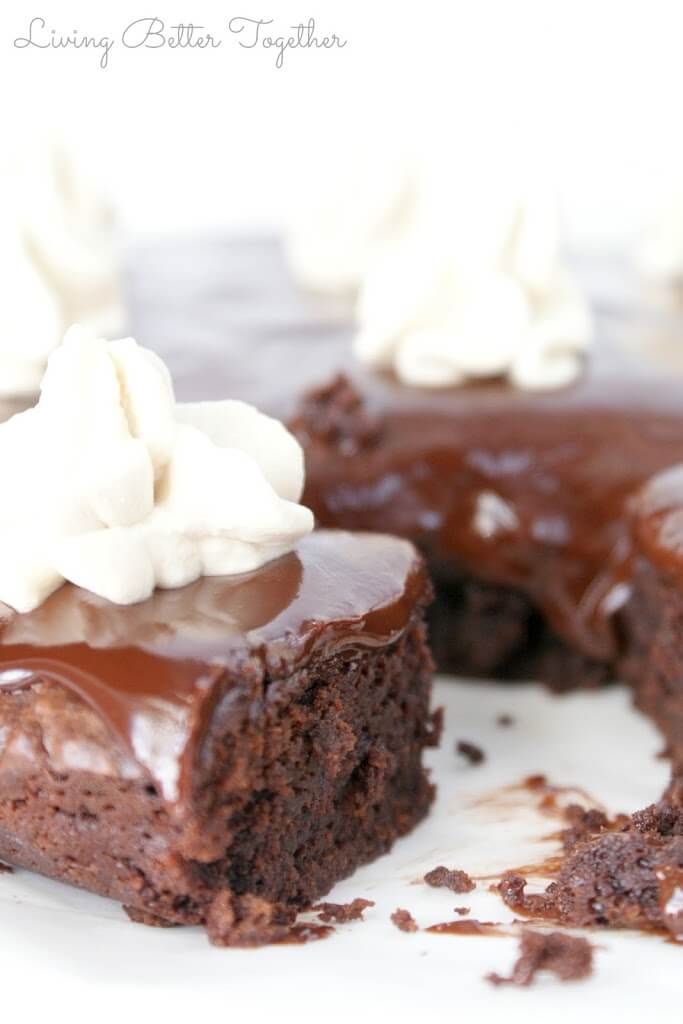 Makes 9 Brownies
1/2 cup (1 stick) Unsalted Butter

1 cup Sugar

2/3 cup Cocoa Powder

Dash of Salt

1 tbsp Vanilla Extract

2 Large Eggs

1/8 cup Kahlua

1 cup All Purpose Flour

1/2 tsp Baking Powder

2 tbsp Instant Espresso (finely ground)

1 2/3 cups 60% Chocolate Chips (divided)

2/3 cup Heavy Cream
Preheat oven to 350 F.

Melt butter in a medium saucepan over medium heat, once melted, add sugar and stir continuously for 2 more minutes.

Remove from heat and stir in cocoa powder and salt, let cool for 5 minutes.

While wet ingredients are cooling combine flour, baking power, instant espresso and 1 cup of the chocolate chips in a medium bowl.

Once the 5 minutes have passed, add vanilla, eggs, and Kahlua and wisk until well blended.

Wisk in dry ingredients until well blended.

Grease or line an 8 x 8 in baking pan with parchment paper.

Pour batter into prepared pan and spread out evenly, bake for 23-25 minutes.

Remove brownies from oven and allow to cool completely, this is why I like to use parchment paper, because I can simply pick up the edges and move it to a cooling rack to cool faster.

Once brownies have cooled, it's time to make the ganache, add heavy cream and the remaining 2/3 cups of chocolate chips into a small pot over medium heat.

Let cream and chips heat for about a minute or so and then begin wisking constantly, after a minute or two you will get a creamy rich chocolate.

Let the ganache cool for several minutes before pouring over the brownies, it will thicken as it cools. Once you pour the ganache over the brownies, let it set for an hour before slicing.

Top each brownie with a dollop of Kahlua Whipped Cream.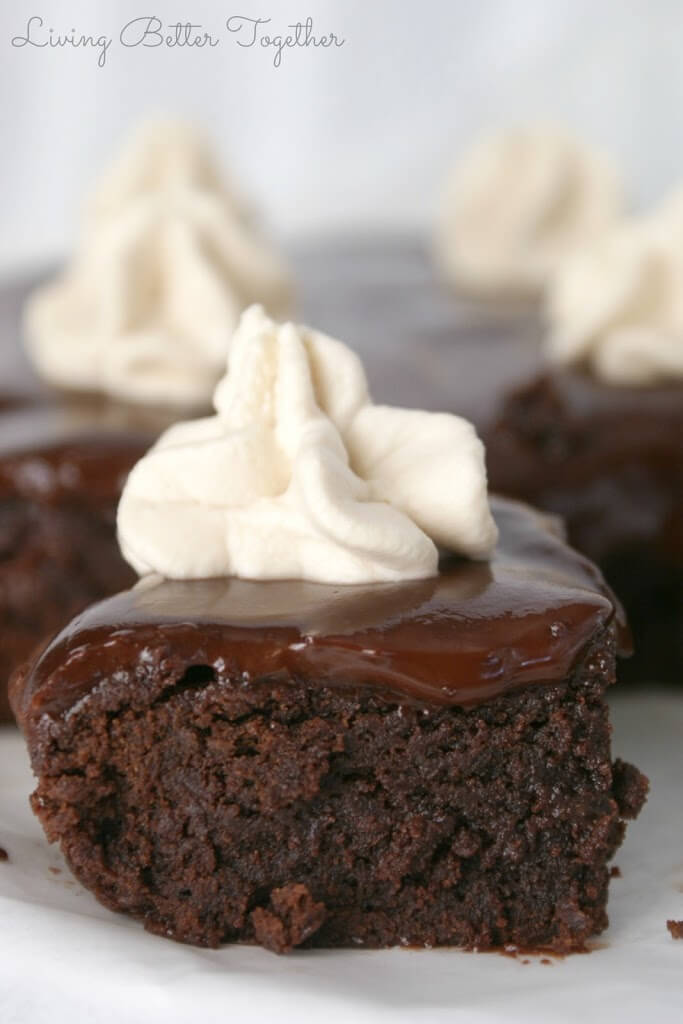 These brownies were everything I hoped for and more! Rich, decadent, moist, fudge-like, dark, boozy, need I go on? Now, if you're like my husband and not a big fan of dark chocolate, you might not be as crazy as I was about these brownies. But if you love dark chocolate, you're going to die over these!

I only had one before I gave the rest away because I'm trying to be good, but man do I regret it. I almost made a second batch today because I was kicking myself for not at least saving myself another before sending them home with my in laws. I'm sure my thighs re thankful I didn't.