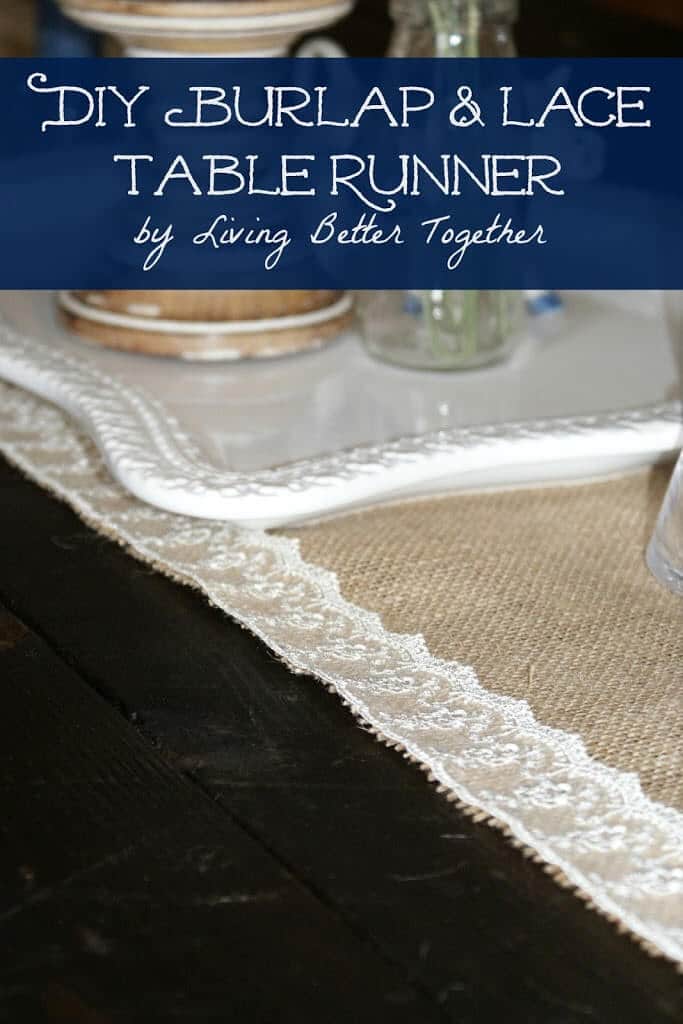 I fell in love with a burlap and lace table runner on Etsy a few months back and knew it would be perfect for my dining room makeover and farmhouse table. However, when it came time for me to order it last week, I realized the runner was going to be about 8-10 inches shorter than I wanted. I didn't really want to wait for a custom order, or pay for the cost of a custom order, so I decided to try my hand at making my own.
Burlap happened to be on sale last week for $2.99 a yard, so that pretty much solidified my decision to make my own. I needed 2 1/2 yards of burlap and it was actually wide enough that I can make 3 more runners. The woman at the fabric store walked me through how to properly cut burlap, it's quite a nifty little trick.
I measured the width of the runner 12 inches in from the edge and found the piece of burlap that marked that line.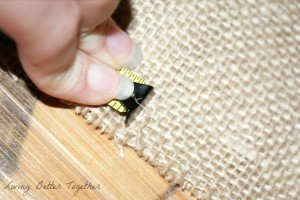 Then I used the end of a monkey hook, you can use a pencil or anything with a small end, and I began pulling the piece of burlap out.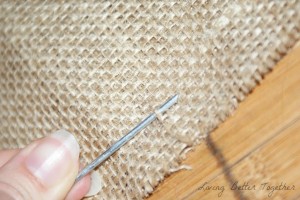 In smaller pieces of burlap, you can just pull the string and with a little effort it will come right out. Mine was quite long though so I would go about 4 inches ahead and pull the string out with the end of the monkey hook and then go another 4 inches or so and continue until the whole string was out.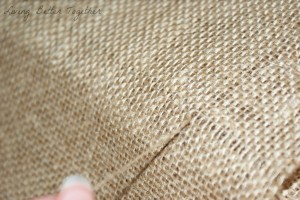 This will leave you with a space like you see below, you'll now use scissors to cut down the line where you just removed the burlap string. You should now have what will ultimately be your runner. I also evened and shorted the end a bit by using the same technique. This technique allows the burlap to stay together whereas if you tried to cut the burlap without doing this, you might cut several strings and you would get fraying.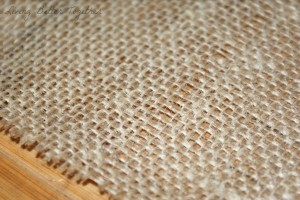 Now it's time to apply the lace. You can pick any lace you want, but you'll want it to be about 1 1/2 – 2 inches in width. Make sure that you can get your lace in for strips, for example I bought mine on rolls that were 9 ft to cover the 7 1/2 ft length I needed. You don't want to be piecing lace together. I used Tacky Glue, it came with a brush top which made it really easy to apply. I simply applied the glue along the edge of the runner and pressed the lace down over it making sure to line my lace up with the edge of the runner.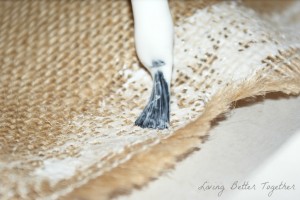 If there are spots where the runner edge was bumping up, I just snipped one spot on the white string where the bump was to release the pull. I laid some plastic bags and books over the lace while it dried. The glue goes on white but dries clear.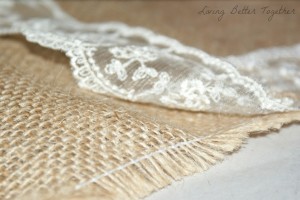 The lace I used was so pretty and I really love the touch it added to the burlap and to my dining room.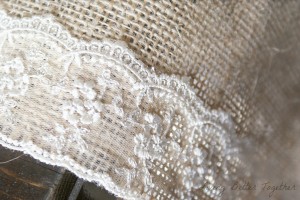 The best part about this runner was that I didn't have to sew anything! Who doesn't love a no sew project?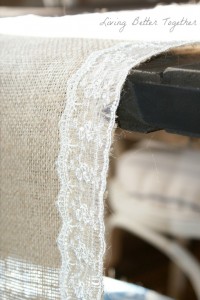 The dining room is finally starting to come together now that I have my table done. Now I just need to finish the chairs, build a bench, and finish the gallery wall.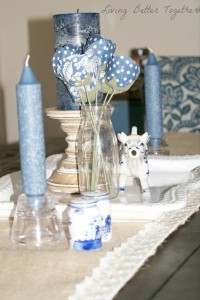 This runner cost me about $15.00 to make, much better than the $40.00 the Etsy one would have run me, and I love it just as much!