This blog post was sponsored by Starbucks but the opinions are completely my own based on my experience.
A Capsule Wardrobe can keep you looking fabulous all season long and reduce the time it takes to get ready for the day or pack for a trip!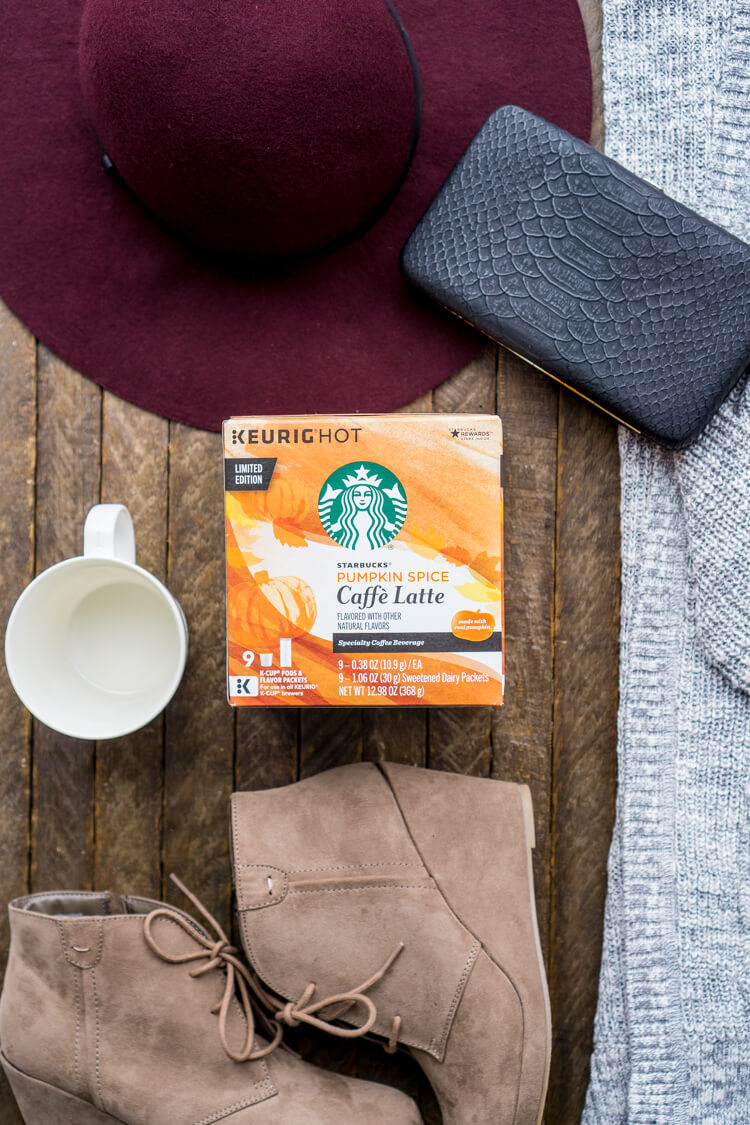 I was in Hawaii last week in beautiful 80 to 90-degree weather, and when I walked out of Logan Airport in Boston, a New England fall had rolled in while I was gone. It seems hard to believe, but I guess it's finally time to admit that it's here. Once Starbucks' PSL rolled out, there was no stopping the scarves and boots that followed, and don't you know it, the changing of the leaves weren't far behind either.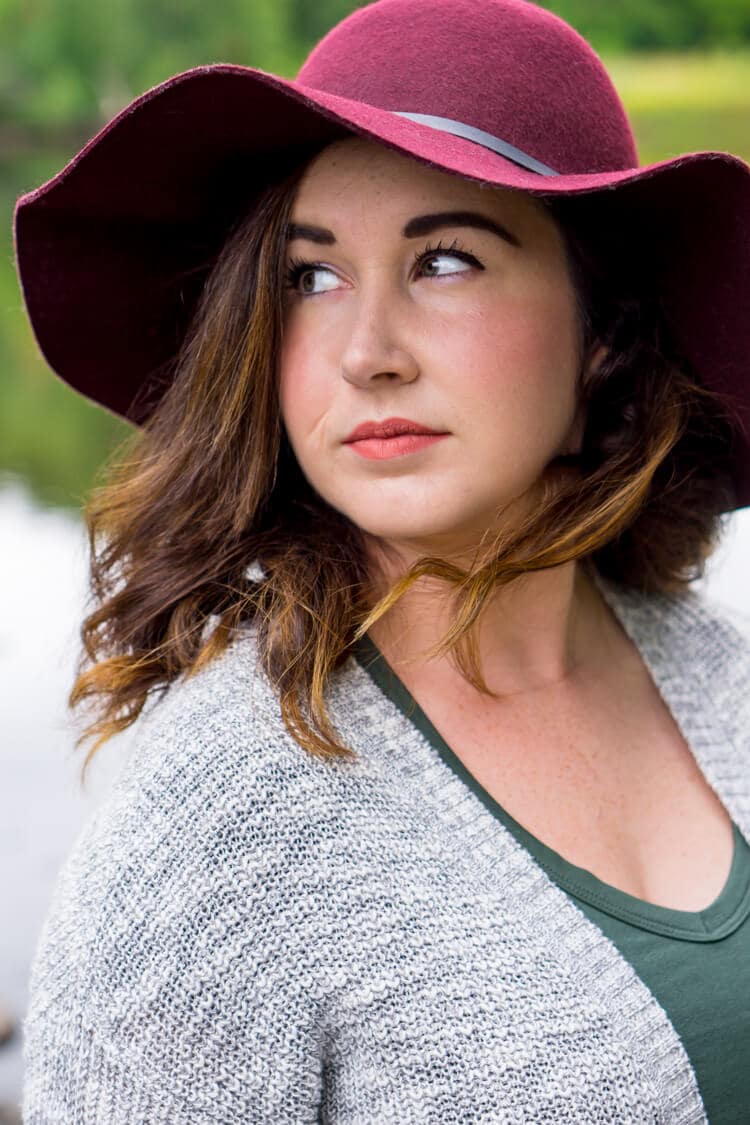 I've been desperately holding on to summer, not wanting it to slip away and take the bikinis and iced tea with it, but here we are. And I guess you could say I'm coming around; fall is my favorite season after all. I love the crisp air, burning scented candles, and mugs of hot tea and cider. And I love the fashion trends that always arise with the transition into cooler weather, not to mention the rich and beautiful colors they come in.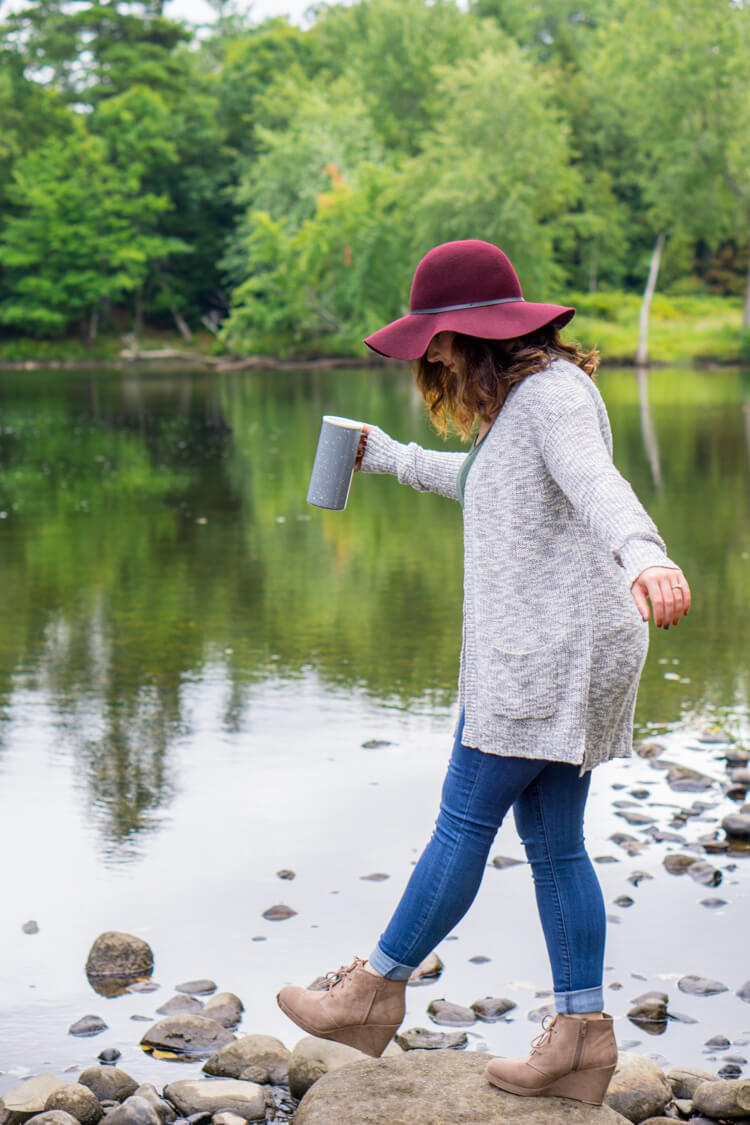 Lately, I've been thinking that it's time to start a capsule wardrobe. I have so many clothes, and I only wear half of them. Traveling so much makes it hard because I often find myself traveling to places with alternate climates to home. But I am bound and determined this fall to get everything organized and have a system in place, so when I get up in the morning it won't take me so long to get ready and when I head to Poland in a couple of months, I'll just pack up my capsule wardrobe and call it good. Easy peasy.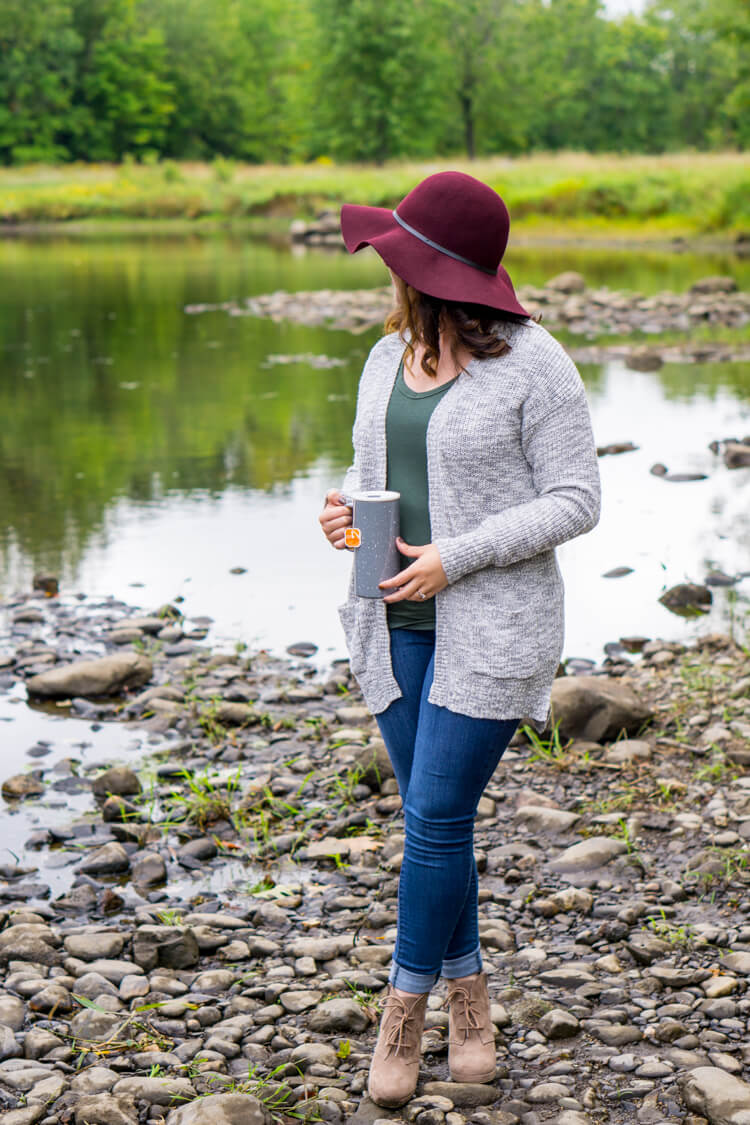 So what is a capsule wardrobe, you ask?
Capsule wardrobe is a term coined by Susie Faux, the owner of a London boutique called "Wardrobe" in the 1970s. According to Faux, a capsule wardrobe is a collection of a few essential items of clothing that don't go out of fashion, such as skirts, trousers, and coats, which can then be augmented with seasonal pieces.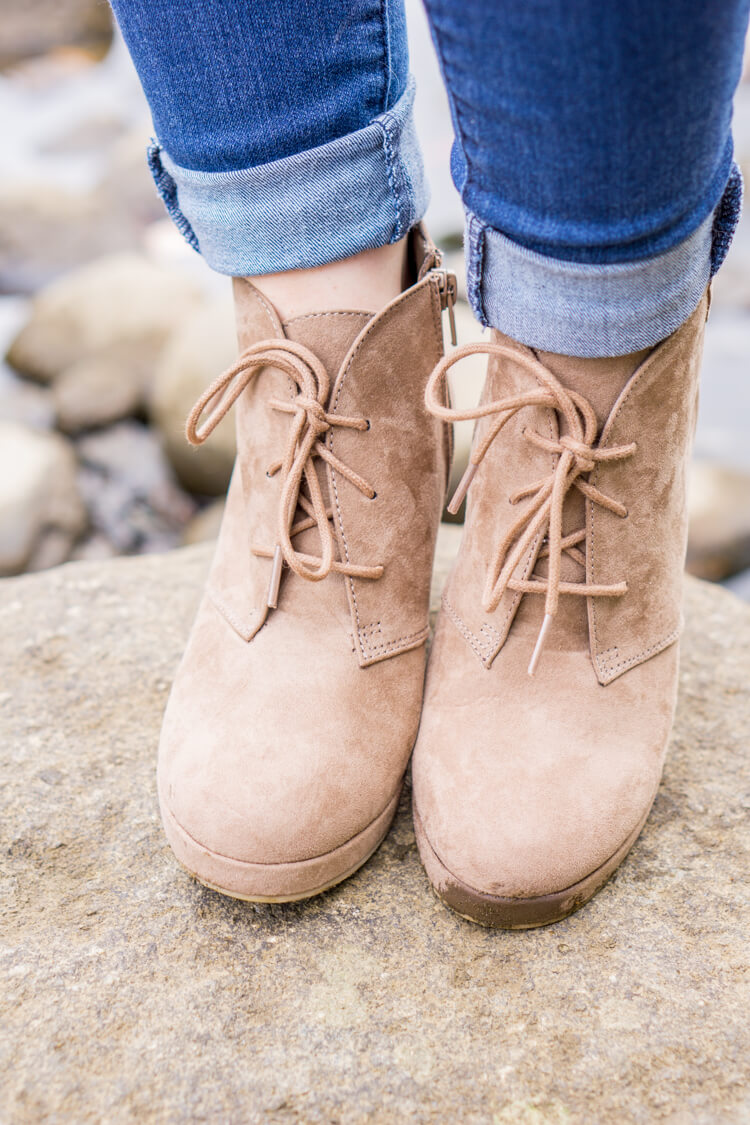 My capsule wardrobe will be designed around a small selection of key pieces that can work amongst each other to create several looks. I think aiming for 14 looks (2 weeks) overall is a good place to start with a capsule wardrobe. Some can make their capsules go for 21, but I try to be realistic because I know there are some pieces I won't wear nearly as often, but still love.
I have found that when it comes time to establish a Capsule Wardrobe, you tend to want to spruce up your closet so you have super chic and fashionable pieces you love and won't get tired of as the season goes on. That's why I always swing into Target for fun and in-season pieces I know I'll look and feel great in!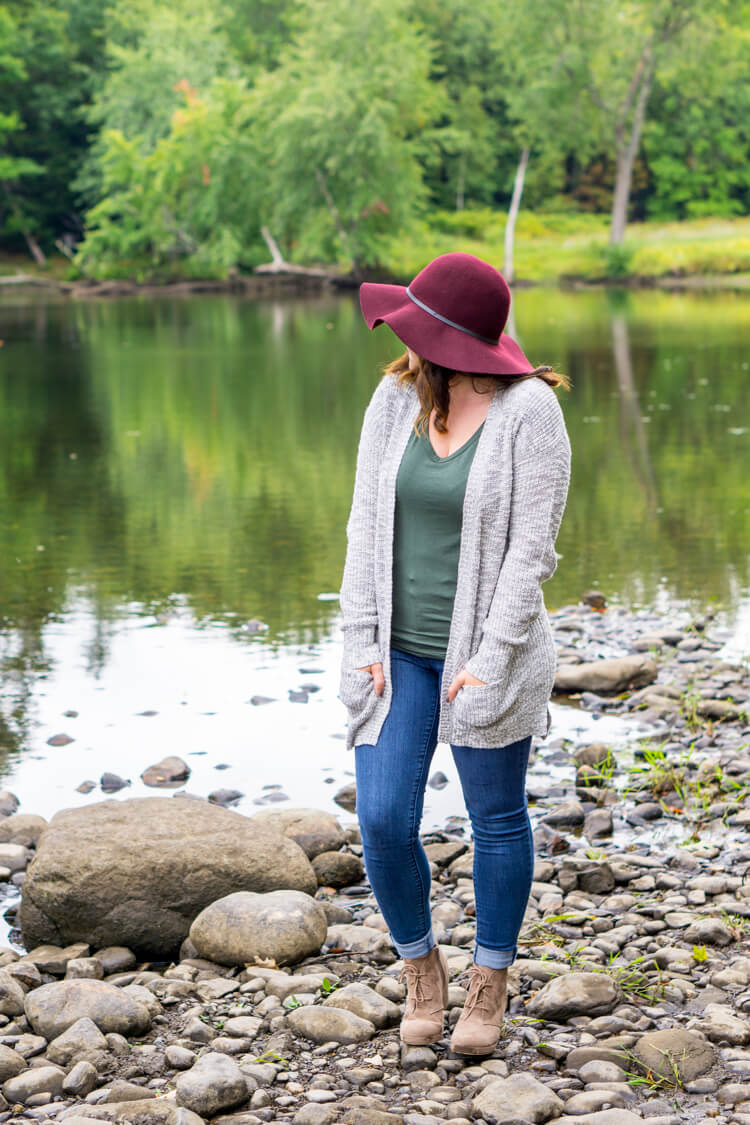 I love that Target is always on trend and affordable, which sure makes a whole new wardrobe easier to swallow. But one of the things that I love about a capsule wardrobe is that you should really only be purchasing clothes four times a year unless you need a specific item you don't already have in your closet.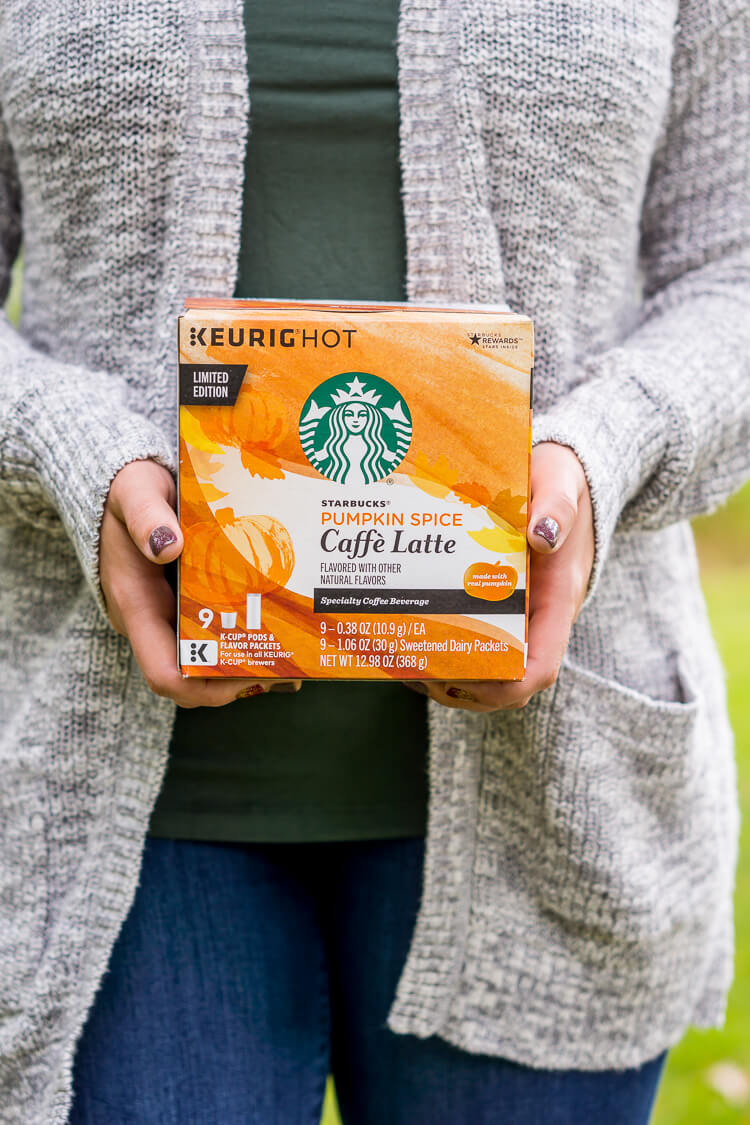 Okay, so let's talk about what makes up a great capsule wardrobe. Of course, it can look a little different for everyone depending on location, career, and other factors. You might have to trade out a few pairs of jeans for some trousers and a skirt or maybe add a few more dresses for the office. But either way, I think my calculations are a good place to start.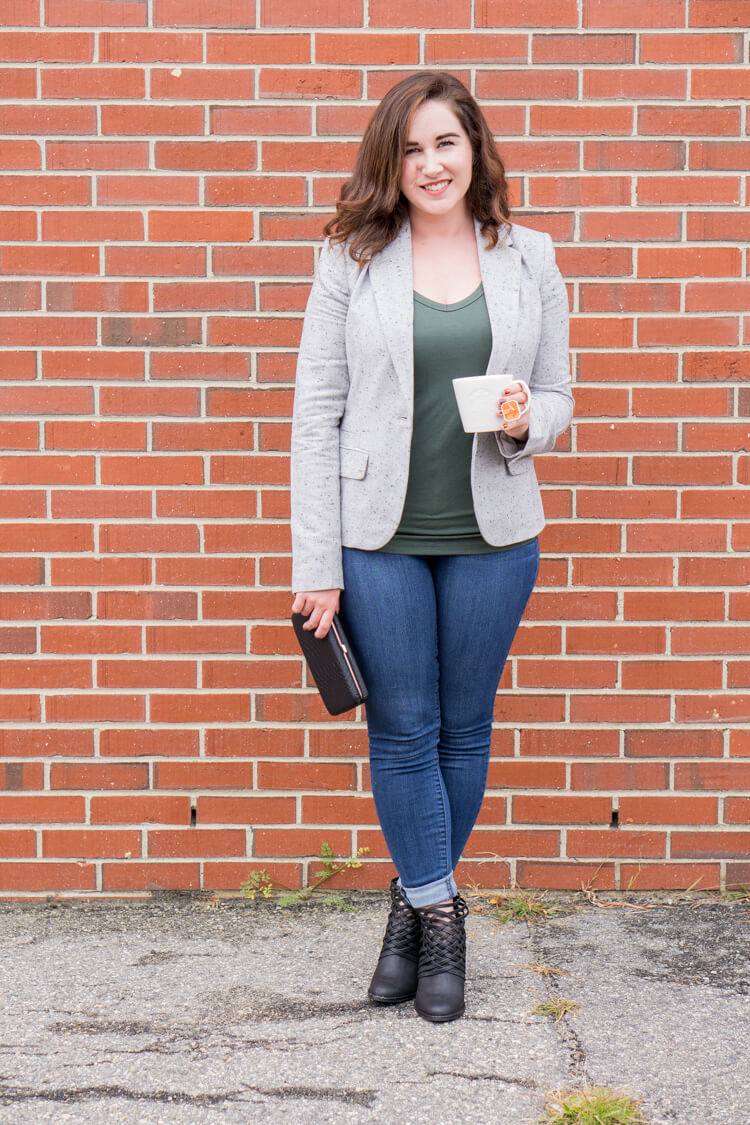 Tops – For me, personally, I love a more casual look. I'm all about the graphic tees and layered button-down shirts, throw in a cardigan, a couple of camisoles, and a cargo vest, and we have the makings for a great mix of looks. But with the cooler weather, we need to layer up even more and that means jackets. If there's even a possibility of business meetings, make sure a cute blazer is hanging in your closet. This Textured Tailored Blazer from Target can easily be paired with a black pencil skirt or dress up a pair of jeans. Other must haves are a leather jacket and a utility jacket (my favorite).
Bottoms – Since I work for myself, I get to pick my dress code, which means jeans, all the jeans. But I'm not going to fill my wardrobe with five pairs of similar jeans, nope; each pair is selected with a purpose. I have a solid pair of medium/dark wash jeans that I can wear every day, but also dress up when needed. A millennial wardrobe isn't complete without a great pair of distressed jeans. Colored jeans are also killing it in the fashion world this year, and I'm all about the red and olive green tones that can make a bold statement when paired with neutral tones. Lastly, I'm loving gray jeans right now, a little edgy, super casual, and a great look all year round.
Dresses – Even with the crisp air sweeping in, dresses are still in season when paired with the right tights and boots. For me, three dresses is a good number to have on hand. Keep a couple of casual dresses for date night, and make sure to have something a little dressier for last minute special events.
Shoes – Every girl's best friend. Or addiction. Fall means boot season, but it's booties that are stealing the show this year! The number one rule with booties is to always roll and never tuck those jeans. Make sure to keep a nice pair of flats and a trendy pair of heels out of storage so you're ready for anything.
Accessories – These are definitely where you'll see a lot of variations in the wardrobe. For me, I don't really wear jewelry, but I'm sure many of you will want to add cute statement necklaces and other great pieces to your wardrobe. But don't forget a cute floppy hat, scarves, a clutch, and a crossbody bag.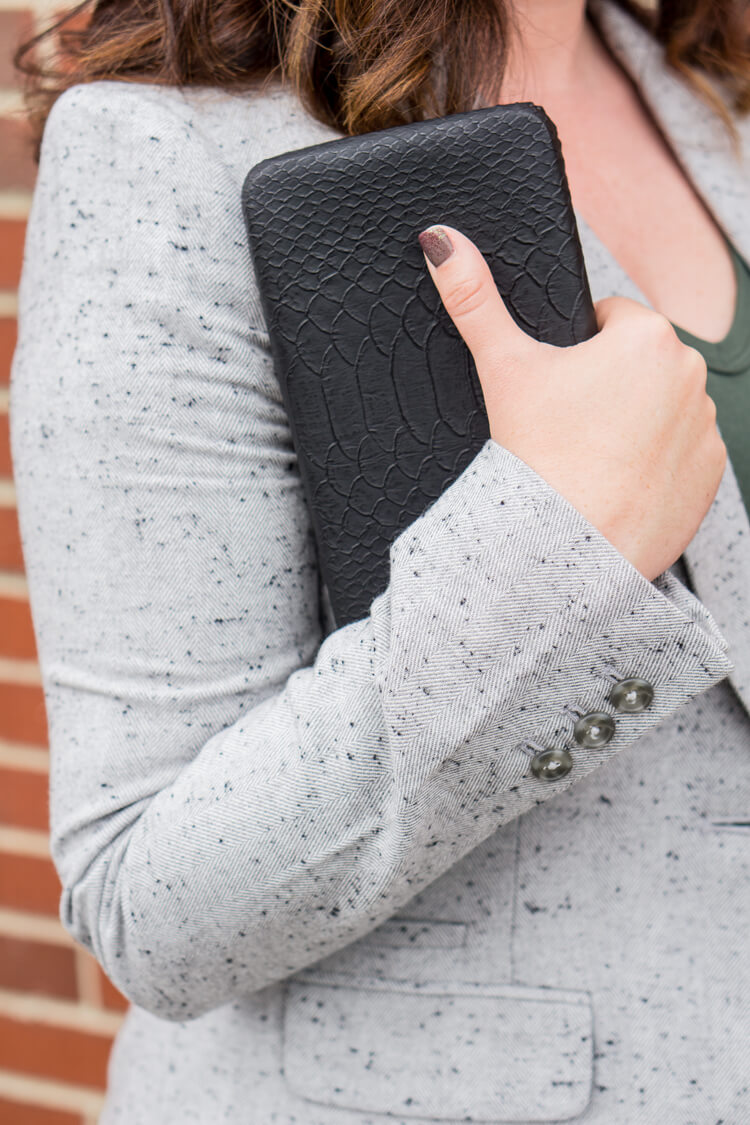 What's in my Wardrobe:
4 Tees
2 Camisoles
1 Blouse
1 Cardigan
1 Flannel Button-Down
1 Denim Button-Down
1 Cargo Vest
1 Blazer
1 Leather Jacket
1 Utility Jacket
3 Dresses
5 Jeans
1 Floppy Hat
2 Scarves
1 Clutch
1 Crossover Purse
2 Boots
1 Flats
1 Heels
Check out my Capsule Wardrobe board on Pinterest to check out all of my favorite pieces from Target this fall, including all of the pieces you see in these photos.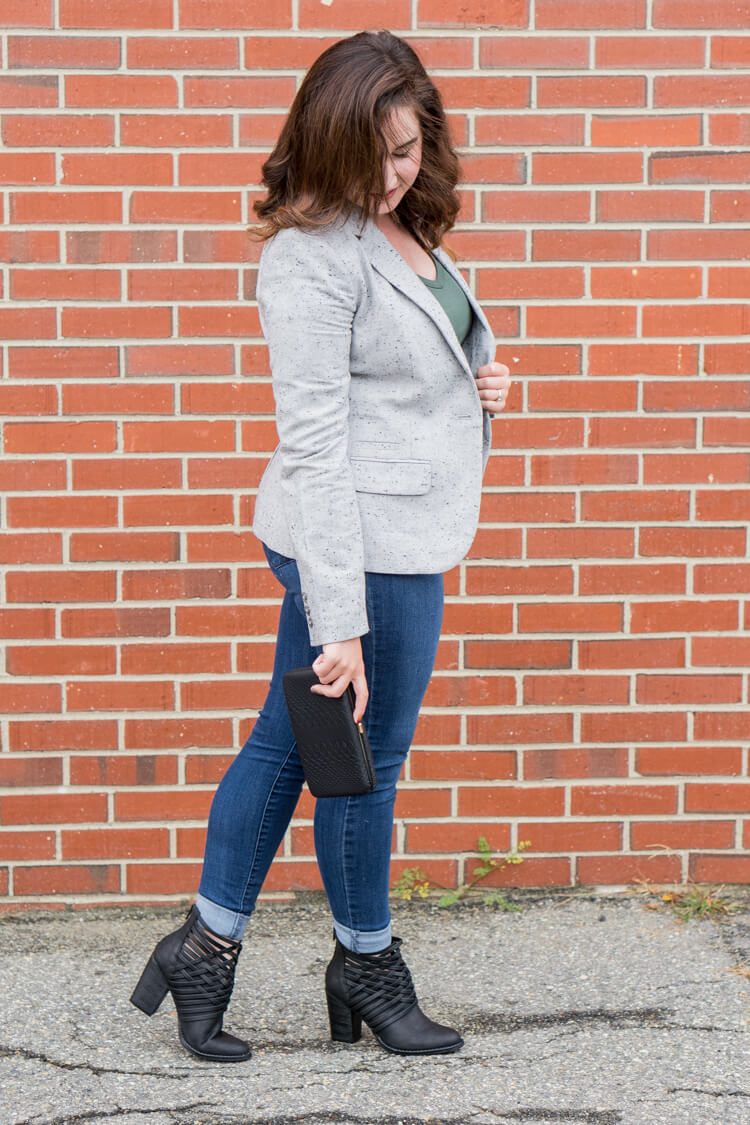 Oh, and I almost forgot. If you're like me, there's one more accessory you just can't go without – a cute mug. Whether you're on the go or spending the morning at the office, make sure to serve your homemade Starbucks up in style. Have you tried the new Tazo Chai Pumpkin Spice Tea yet? It's incredibly flavorful with a great body and warm seasonal notes. Plus, you can now get your favorite PSL in k-cups. Life = complete.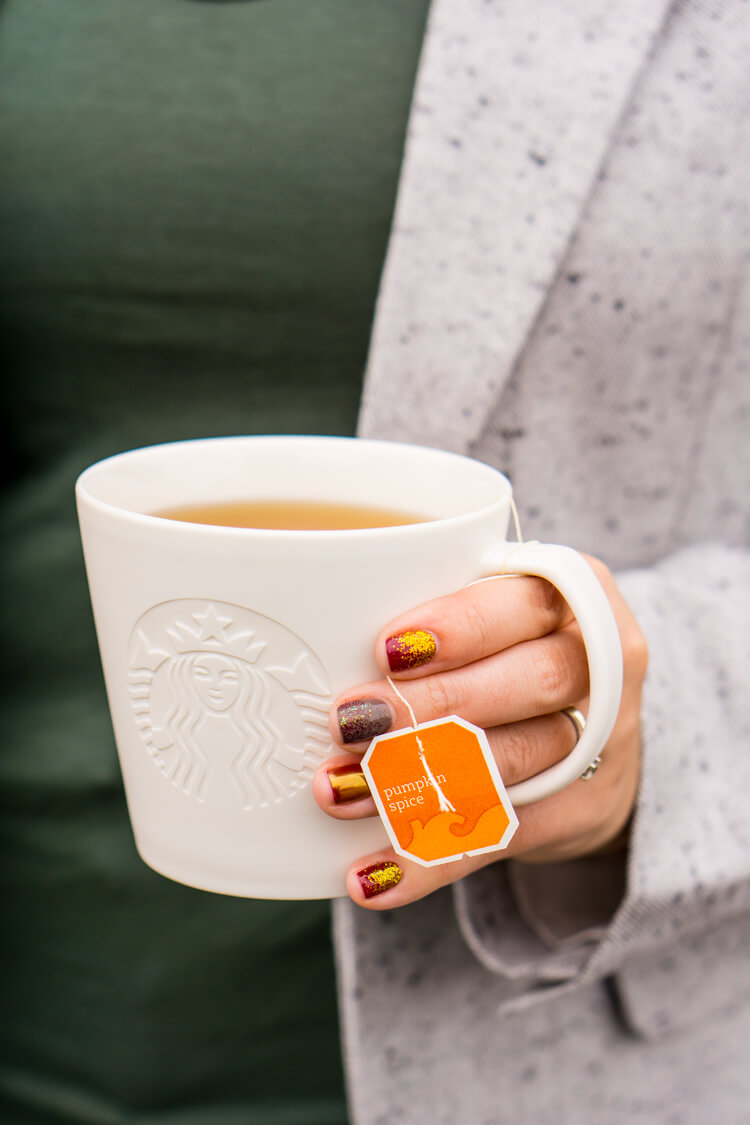 No matter what your fall has in store, make sure to plan your capsule wardrobe accordingly for a simpler routine and great look all season long! Don't forget to check out the cute graphic tees and cozy scarves at Target while stocking up on your favorite Starbucks products!