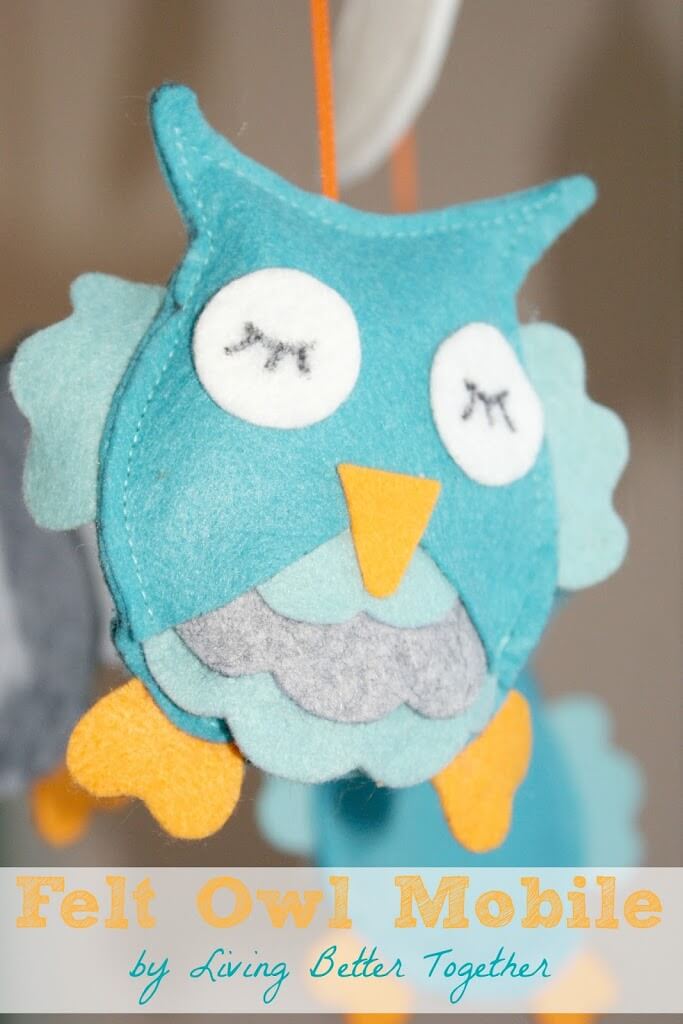 I know, baby stuff isn't something you're used to seeing here on the blog. However, I have a new baby cousin who will be joining the family due on Thanksgiving. This past weekend we showered his parents with love and gifts to help them get ready or their new bundle of joy. My uncle and his girlfriend decided to do owls with white, grey, teal, and orange.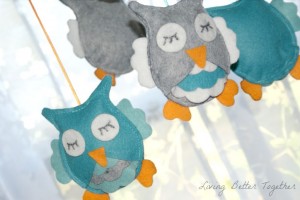 When I first saw these felt owl mobiles on Etsy, I knew I had to get one for them… then I saw the price tag. $90.00!!! and that doesn't even include the shipping! So I decided to make them myself!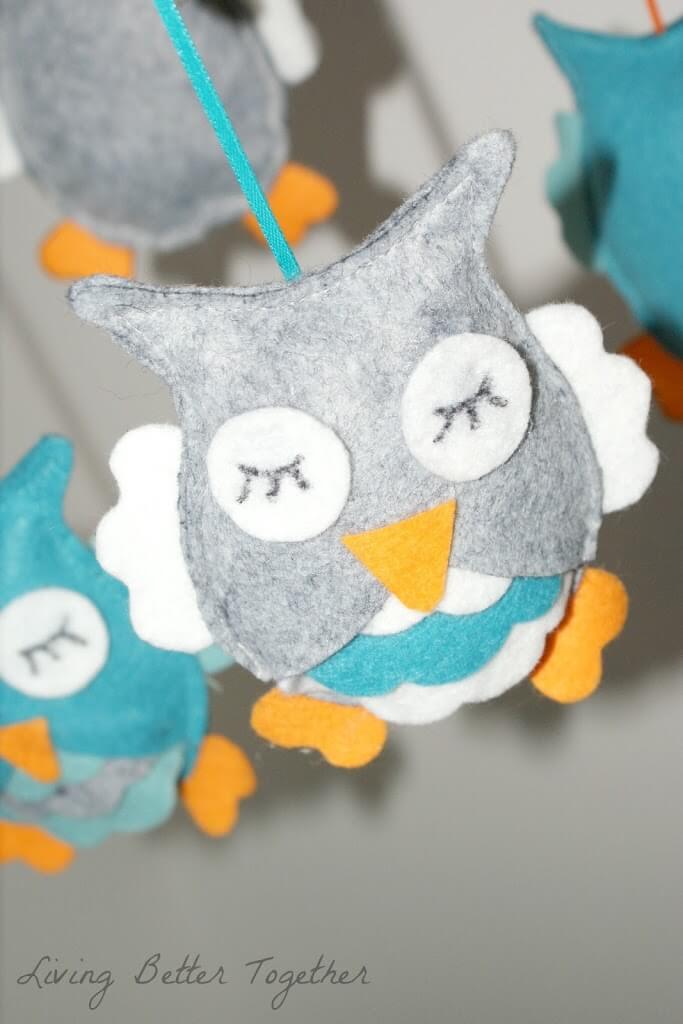 They were actually pretty easy to make, it took a while to make the template, but once we got going it came together pretty quick. It was also nice to have my mom's help on the sewing machine!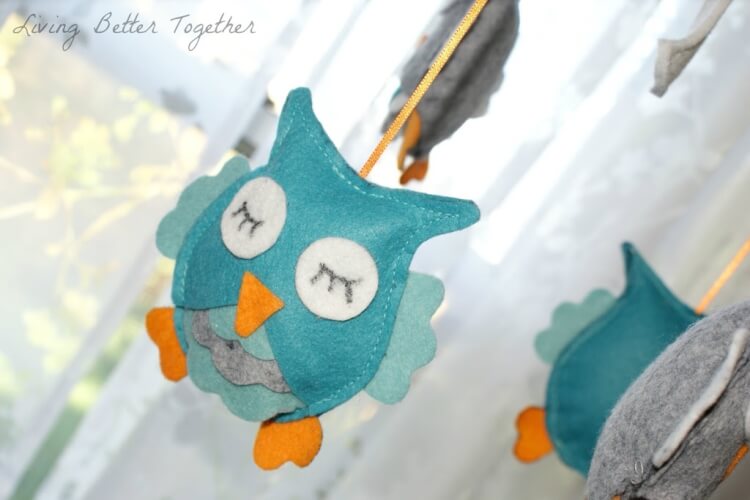 I think it came out so good and I saved quite a bit too, the materials cost just less than $20.00! I love making homemade gifts for people and I love it even more when they love them. You don't have to hang this over a crib, it would look cute in a corner over a rocking chair too.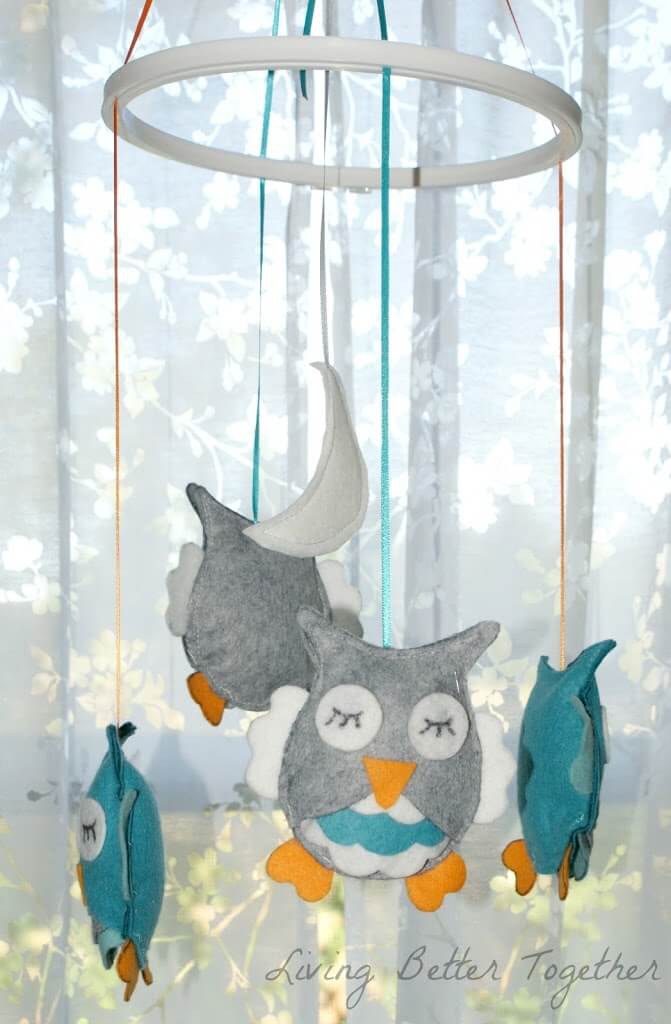 Materials:
felt (1 piece per owl, plus whatever colors you choose to use for the feathers, beaks, and eyes) I bought my felt here and used Peacock, Smokey Marble, White, Baby Blue, and Mac 'n Cheese.

thread

hot glue gun and glue

sharpie

thread and sewing machine

ribbon

embroidery hoop

cotton fill

Owl Template <—Click to Print
Instructions:


Step 1: Print owl template, click here. The little triangle with a 4 in it is the beak.
Step 2: Cut pieces out of the template and trace onto the felt using a white nail pencil or something else that will leave light marks.
Step 3: Cut pieces out of the felt and lay out your owls to make sure they are complete sets.
Step 4: Glue your feathers together using a glue gun, then run the glue along the edge of the feathers like in the photo below.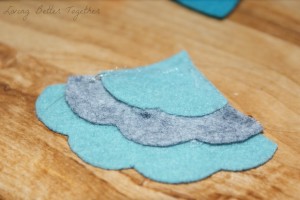 Step 5: Place the face piece over the edge of the feathers and glue, press down firmly. Glue eyes and beak to face. Use a Sharpie to make the lashes, you could use thread too and sew them on.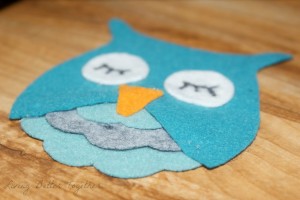 Step 6: On the back piece, place the wings and the feet where you plan to sew them in and make little marks on each side of them.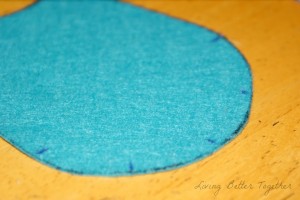 Step 7: Sew wings and feet on.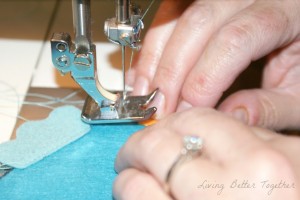 Step 8: Sew top full piece and face/feather piece to the back piece, you will need to sew your ribbon into the top of the owl at this point. Leave a small hole in the bottom of your owl so that you can insert the cotton filling. Use a pencil or pen to help push the filling up in so your owl looks nice and puffy. Sew up the whole.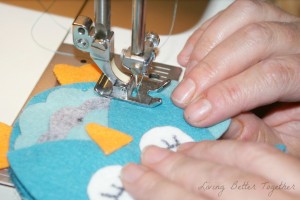 Step 9: Put the ribbon through the embroidery hoop. Tie all the ribbon pieces together. I cut the ribbon so that it was nice and long and could be adjusted depending on where the mobile is hung.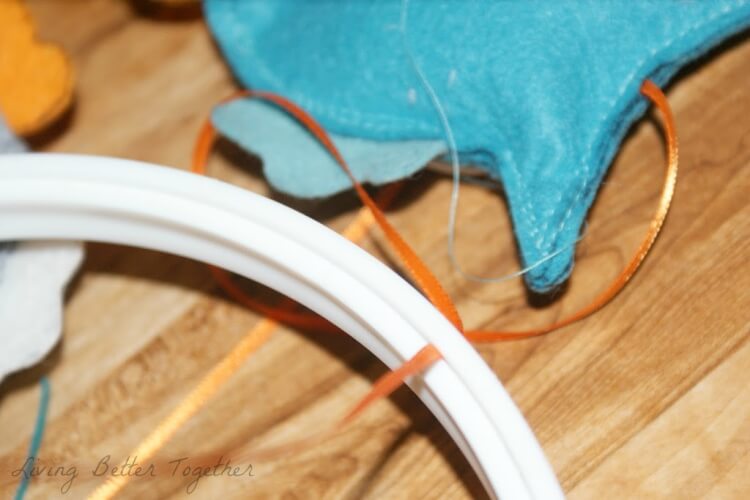 We actually have three babies coming into the family between November and January, so you'll probably be seeing a fair amount of baby crafts here and there!