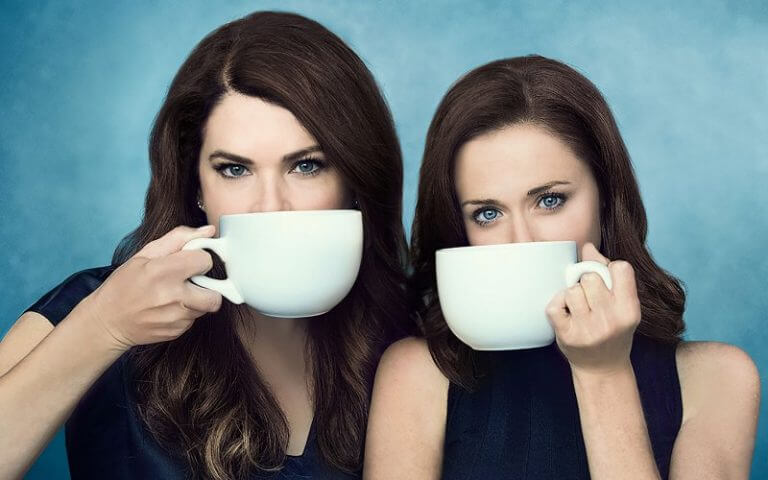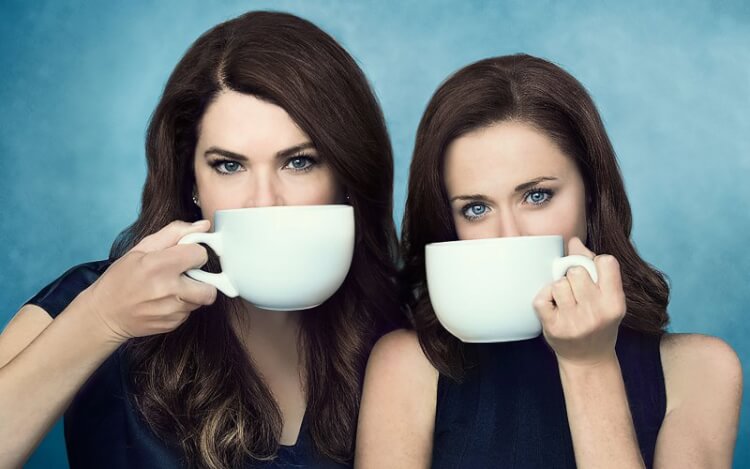 Okay, so I'll be the first to admit that I was a late comer to the Gilmore Girls Universe, in fact, I didn't really love it in the beginning, and it took a while for me to connect with the characters or maybe I connected too much and tried to distance myself, I'm not sure. You see, I don't usually talk about this, since I don't usually get into the nitty gritty here on my blog, but I am the daughter of teen parents, just like Rory. My mom, like Lorelai, was 16 when she had me.
Unlike Lorelai, my mom didn't run away from home after having me; she finished high school, and her and my father got married after she graduated. But that story wouldn't make for good TV, now would it? Even though our relationship isn't quite like theirs, my mom and I get along great (unless we're in Iceland). We're friends. We fight (Mostly in Iceland). She's my mom; I love her. And maybe Gilmore Girls hit a little too close to home. Sure, we've always had extra support, we were never alone, but the similarities are strong.
And over time, the show grew on me; I came to love Stars Hollow and it's residents. I came to love the witty, pop culture referencing banter, silly plot holes, and completely out of whack timelines. And I haven't been able to decide if I was fortunate to know there was a revival coming the entire time I was binging the original series, or if I missed out by not having the Gilmore Girls in my life all along. But now, here we are. I've finished A Year In The Life, and I am not happy.
The revival as a whole started slow and got better, the Life and Death Brigade was EVERYTHING (in fact, my husband was like "why wasn't THIS the show?") and it was going pretty good until those final four words and then it lost me. I have and always will be team Logan, even if what they did to his character in the revival totally pissed me off, and what they did to Rory's character pisses me off too (not only is she the "other woman" *AGAIN*, she's cheating on her own boyfriend as well) seriously, WTF!
So the final four words we've all been waiting for were:
Rory: "Mom."
Lorelai: "Yeah."
Rory: "I'm Pregnant."
At first, when the screen cut to black, I laughed… because this was an effin' joke, right? And then I was really upset
You see, I get all the poetic "circle of life" shit that just happened in those four words: Logan is Christopher. Jess is Luke. Rory is Lorelai, now pregnant, without a paying job, a place to live, and on her own. Sound familiar? It's not that this isn't okay, in fact, it's pretty common and I have a lot of respect for single (or separated) parents who take great measures to provide the best life they can, but in this instant, it's NOT okay, and here's why.
You see, for me, I know how damn hard my mom worked to raise me right, to make sure I had everything I ever needed. She always put me first and worked 2 to 3 jobs at a time and went to college while doing so. And I did my best to repay her and my dad by being the best kid I could be (minus one really bad year of hating the world). I got good grades, I didn't get into trouble, I volunteered, I worked, I did everything a good daughter should do. But I know that everything she did was so that I could have a better life so that I could do anything I wanted, so I wouldn't have to struggle like her, so I could do the things she never got to do because she had me.
Lorelai reminds me of my mum.
Now can you imagine me turning around as an adult to tell her I'm in the same position she was after everything she did for me, she'd be there for me, I'm sure of that, but I can't help but think she would feel like she'd failed as a parent. And I can't help but think that Lorelai would have similar feelings.
And yeah, so what if Rory is now 32 (or 33 by the end), it's not as bad as if she were in high school, but I'm pretty certain that someone who worked as hard as Lorelai would be upset about her daughter following the same life path after everything she did. I'm sure the pregnancy wasn't planned, but seriously, these final four words weren't a beautiful full circle moment in the story, they were a slap in the face.
It was like Rory saying: "Hey, mom. I know you worked your ass off to provide me with a better life and bigger opportunities and you've finally married Luke and probably feel like you've got it together, but here's a massive bombshell of a wedding gift, you're going to be a grandma. I've been sleeping around with my engaged ex-boyfriend and here we are. I know you wanted more for me, but hey, you were such a good single mom and I'll be one too. Oh, and can you maybe give me a job at that new Inn of yours? Or if you're pissed, because that's reasonable and we tend to way overreact and not talk for months when we fight, maybe I'll run away and manage the B&B Colin just bought in New Hampshire."
What was beautiful was the idea of Rory writing this series herself, a little memoir, a sweet story looking back on her life. Why couldn't we have ended it there? Where Lorelai says "Drop the the, just Gilmore Girls" and then there could be a little moment and Rory says "I love you, mom." But nope, those four little words would make too much sense.
Instead, we have to add the window scene with Jess (which almost converted me to team Jess – I partially blame This Is Us too), and those terrible last four words. Now, I know everyone has their hopes up for a spin-off or annual continuation of the series because Netflix lists it as S1 (Season 1), but remember, these were the final four words Amy original planned to end the series with, long before the age of revivals.
I know many thought it was perfect and sweet, but not me. Yeah, I'm upset and feeling a little passionate about all of this, I guess you could say I was feeling pretty invested in the show at this point. There was so much potential here and it was wasted, in my opinion. Maybe we'll get more answers and won't be left fuming over this cliffhanger forever and Amy will have a chance to redeem herself, but chances are this is all we'll get. In which case, the revival is dead to me.