These Football Stadium Sugar Cookies are so easy to make and they're going to be the talk of the party during playoff season!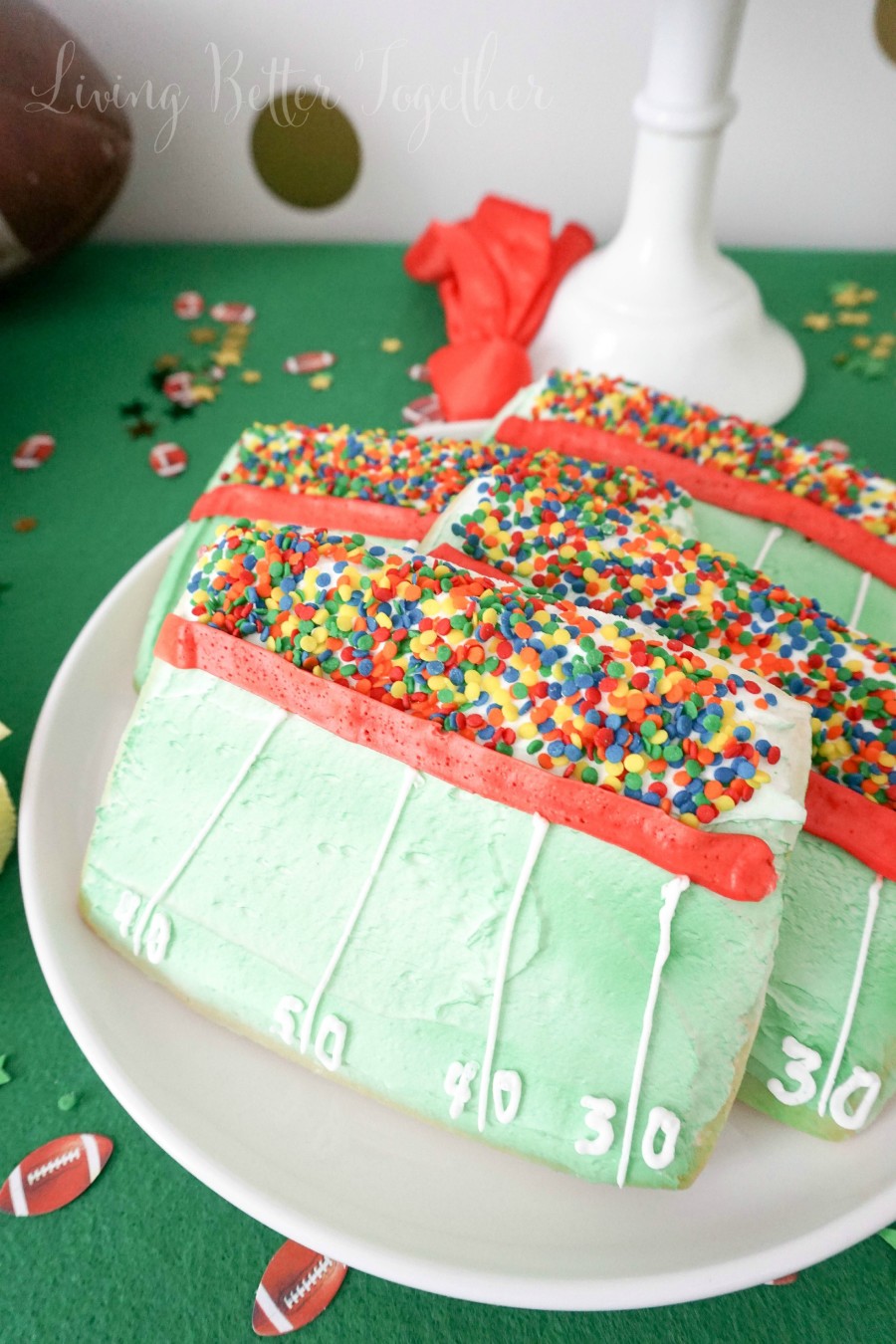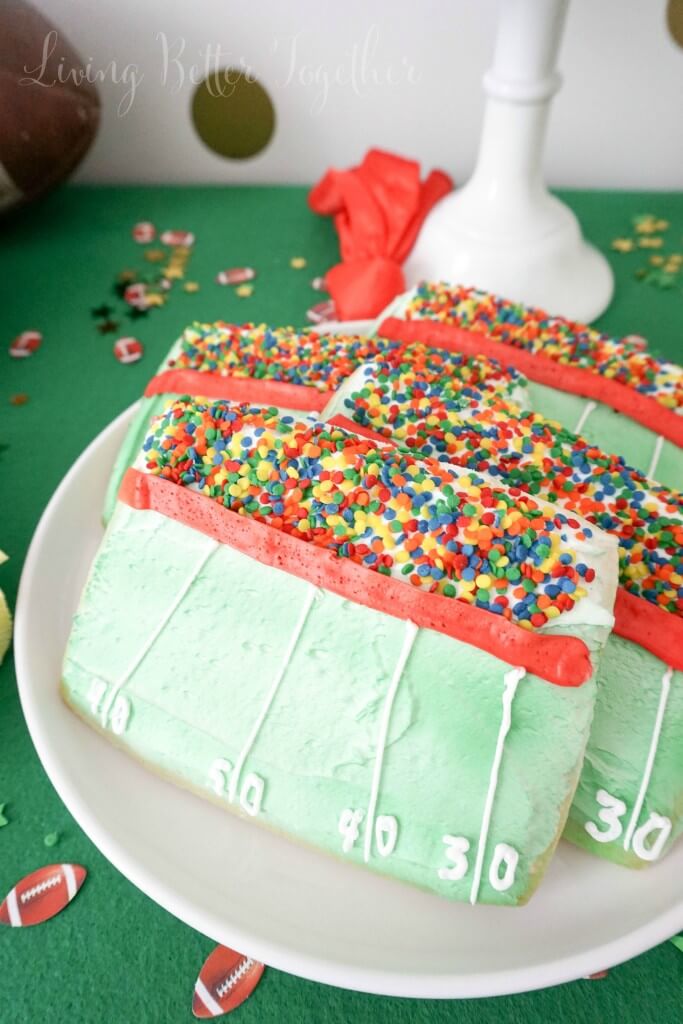 It's football playoff season, which means that most of you are spending your weekends cheering and screaming at your TV screens. But you can't scream at the refs on an empty stomach now can you? Don't worry, I've got you covered with these SUPER fun Football Stadium Sugar Cookies.
Made from my grandmother's sugar cookie and royal icing recipes, these cookies beg to be eaten. But then I went and decorated them up and they're almost too cute to eat, but you're going to eat them anyway because let's face it, they're cookies… with frosting… and sprinkles.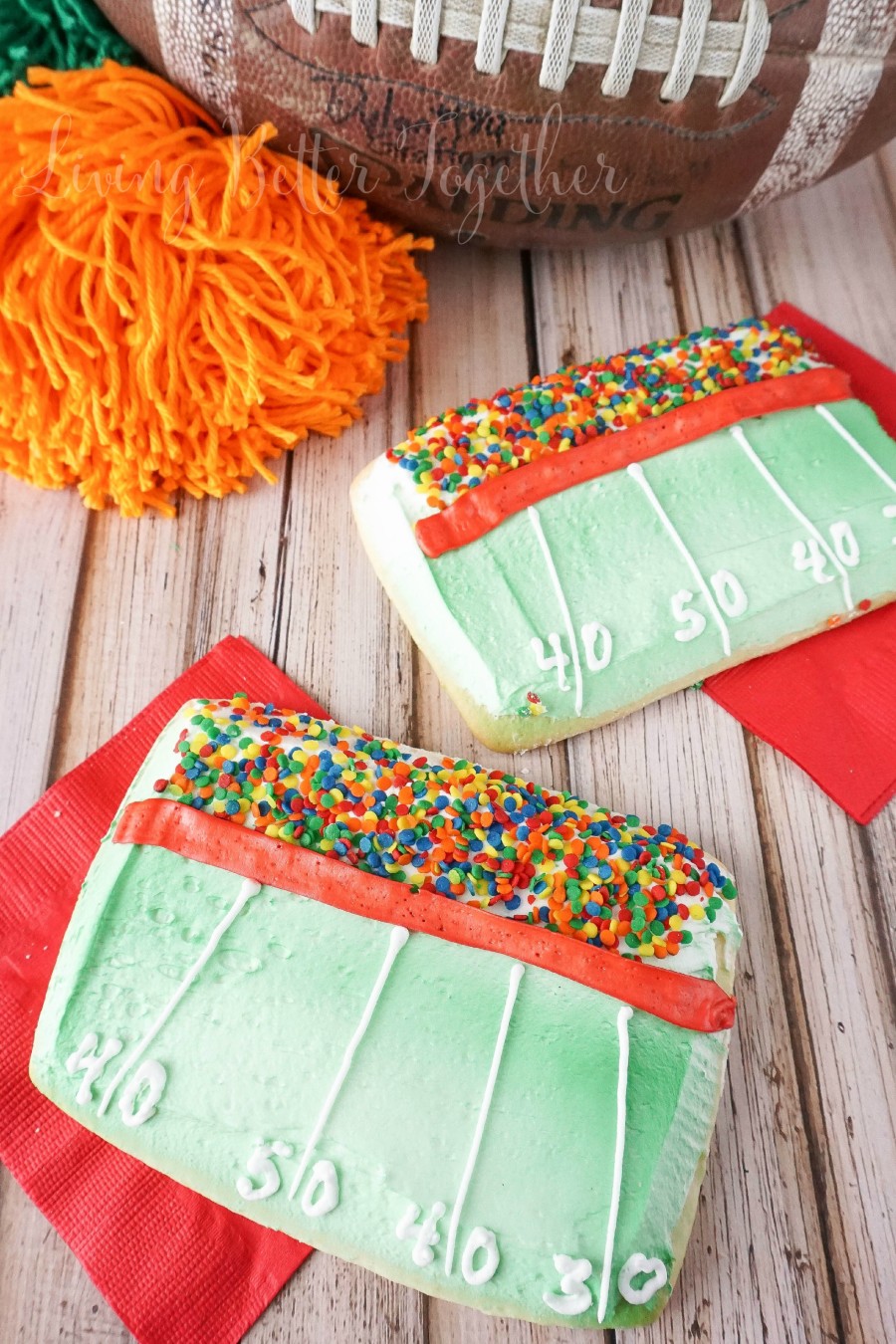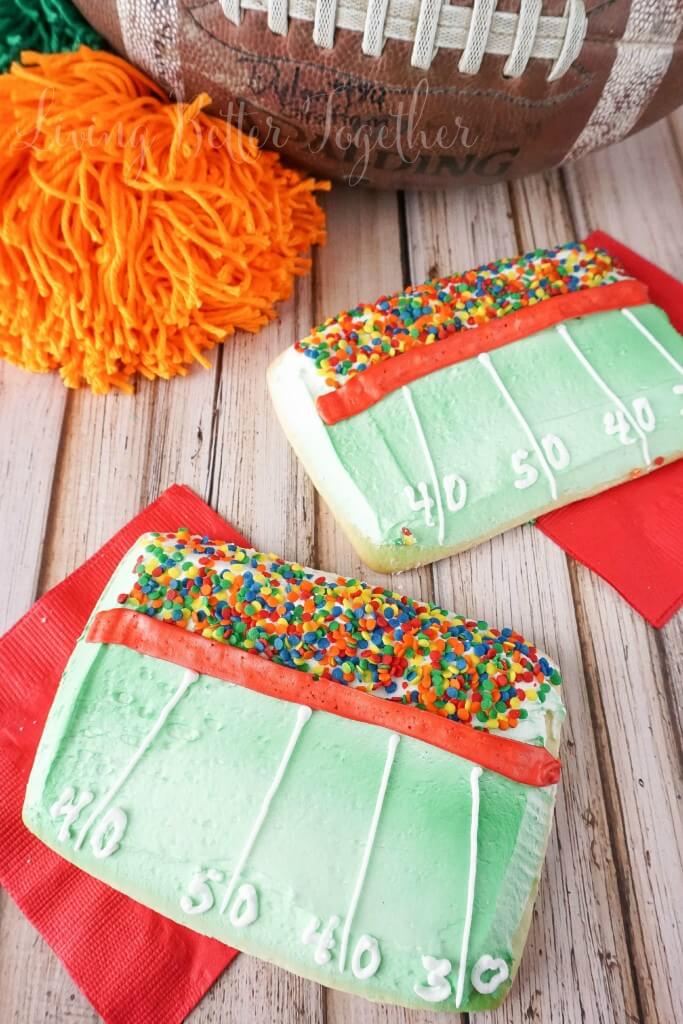 But seriously, how cute are these cookies!? They actually look like a football stadium. Just admit it, they're très adorbs and you want them all! Plus when you make them, all your friends will go gaga over them and you'll be a football party hero! Yes, these cookies totally equal hero status!
You could easily make these a soccer field too, or do them as squares instead of rectangles for baseball fields. They're just so fun to make and everyone always loves them! You really just can't go wrong with an old fashion sugar cookie frosted in anticipation for the big game!
Keep scrolling for more great game day party recipes, printables, and decor ideas from some of my bloggy friends!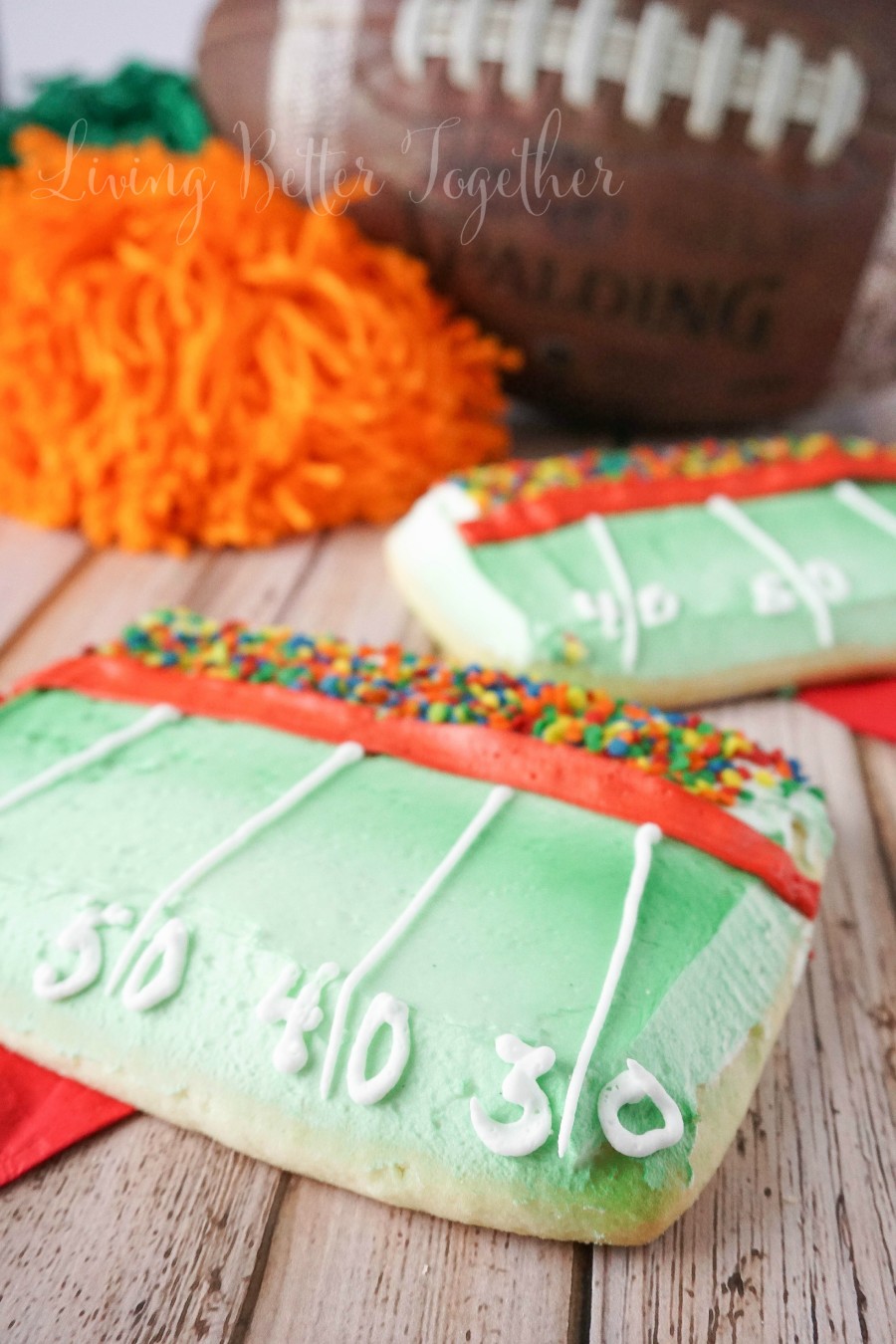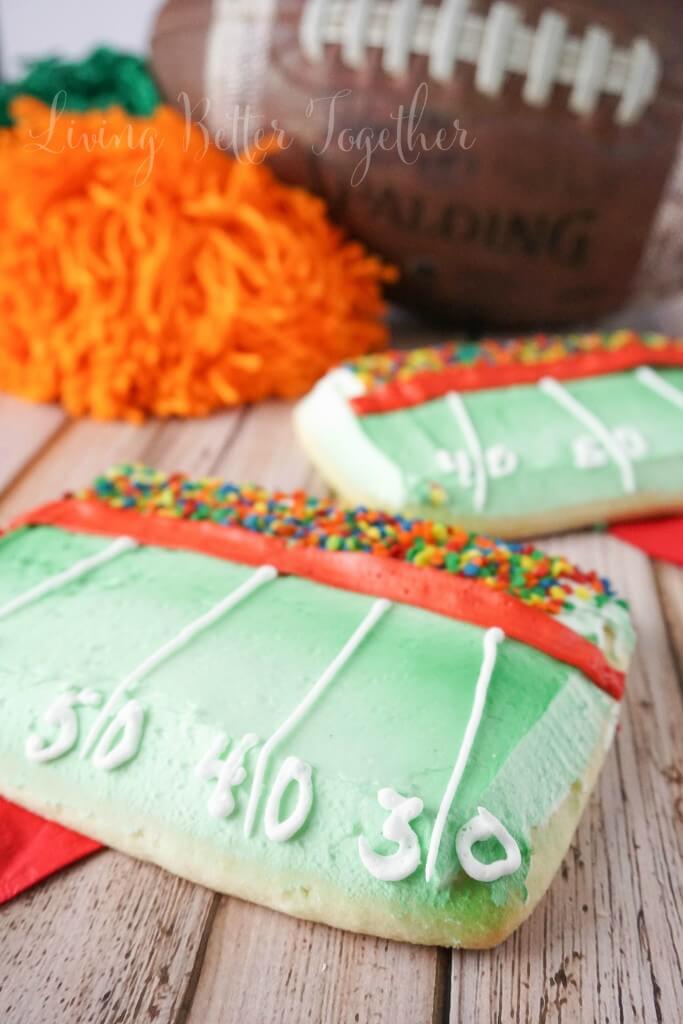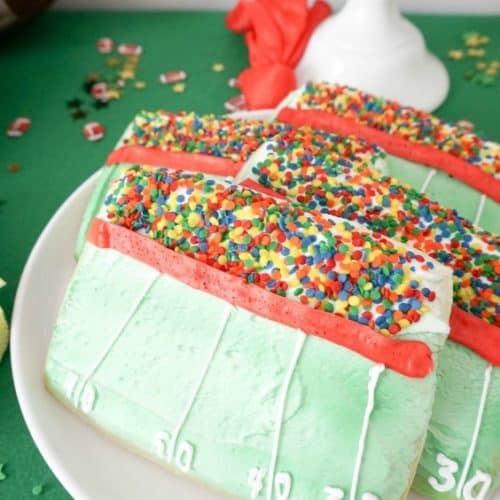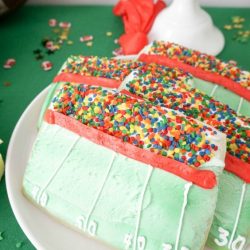 Football Stadium Sugar Cookies
Simple sugar cookies that are so easy to make but pack a major WOW factor for game days!
Ingredients
Royal Icing:
3

tbsp

Meringue Powder

1

lb.

Confectioners' Sugar

6

tbsp

Warm Water

Red Food Coloring

Rainbow Confetti Sprinkles
Instructions
In a large bowl or stand mixer, cream together shortening and sugar until light and fluffy.

Add eggs and vanilla and beat until well blended and smooth.

Sift together flour, salt, baking powder, and baking soda and slowly add to creamed mixture.

Mix well.

Chill dough for at least 3 hours.

Preheat oven to 375 F.

Roll dough to ¼ inch thickness on a lightly floured board.

Use a floured square cookie cutter to cut out cookies, these were jumbo 4 x 6 cookies, I've made 2 x 3 inch ones as well and that's probably what I'll make for our Super Bowl party.

Once you cut cookies out of dough, mold back together and repeat process until dough is gone.

Place cookies on a parchment lined baking sheet and bake for 10-12 minutes, edges will start to turn a golden brown when done.

Let cool completely before icing.

Add ingredients to a stand mixer, do not use a hand mixer, and beat for 15 minutes until still peaks form.

Divide frosting into a 1/4 cup for white, 1/2 cup for red, and the rest will be green. Mix with food coloring until you reach desired tones.

Use a frosting spatula to spread green frosting over the entire cookie.

Add red frosting to a decorating tool or bag with a flat tip and frost a strip across the cookies lengthwise, there should be about 1/3 of the cookie above the line.

Add white frosting to a decorating tool or bag with a fine point tip and draw out yard lines in the large section below the red line.

Sprinkle confetti sprinkles on the frosting in the top 1/3 of the cookie above the red line to create your crazy and wild fans!
Notes
You can use any white frosting, homemade or store bought.
You can use rainbow colored nonpareils instead of confetti sprinkles for the stands.
You can use sprinkles in team colors too!
Nutrition
Calories:
478
kcal
Carbohydrates:
76
g
Protein:
3
g
Fat:
18
g
Saturated Fat:
4
g
Cholesterol:
27
mg
Sodium:
211
mg
Potassium:
61
mg
Sugar:
53
g
Vitamin A:
45
IU
Calcium:
17
mg
Iron:
1.5
mg