This is a sponsored post written by me on behalf of Frontera Wines for IZEA. All opinions are 100% mine.
Kick up your game day menu with this Fromage Fort (Wine and Cheese Dip) and Merlot Meatballs!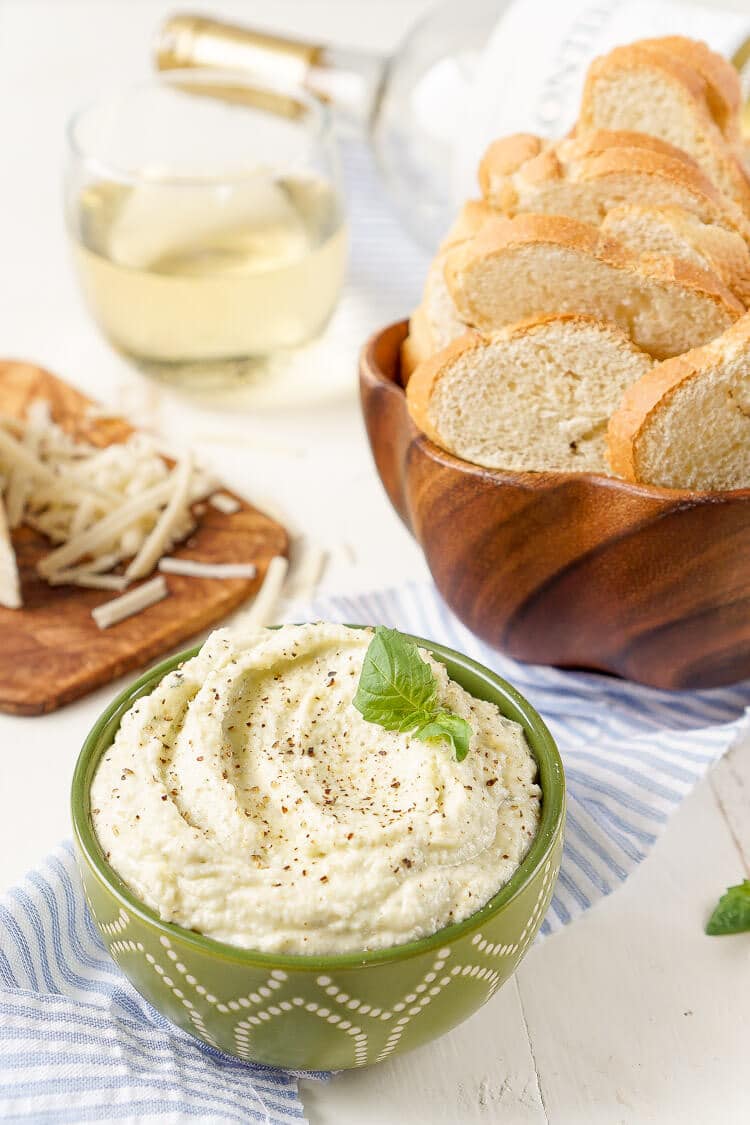 Anyone who knows me knows that whenever I host a party, I'm usually making untraditional dishes! I have this need to try new things and have all my friends and family act as taste testers! So this past weekend when we had our friends over for the game, instead of making something traditional like my Baked Buffalo Chicken Dip, I decided on a dip that is actually SUPER traditional, but not here in the states! Fromage Fort! Which is actually a traditional French cheese spread made with white wine, Fromage Fort means 'Strong Cheese', and that is something it most definitely is!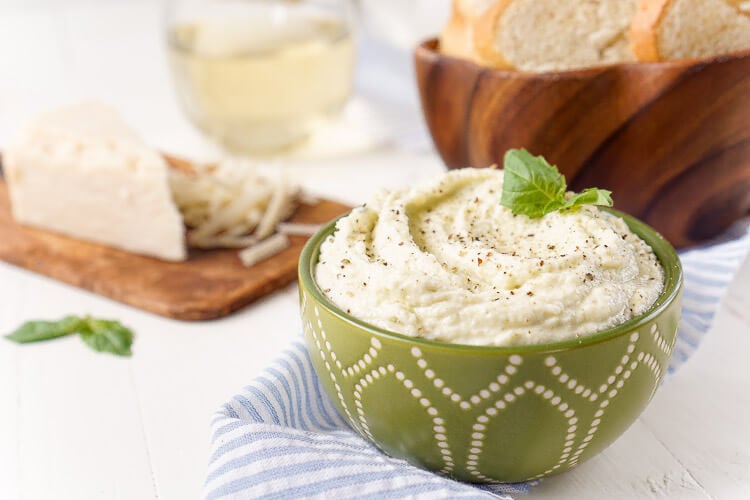 So one of the things I REALLY love about the recipe is that it's traditionally made with leftover cheese. I know I'm not the only one who has partial blocks and bags of cheese in the fridge that need to be used up, and this is just the way to do it! All you need is a pound of whatever variety of cheeses you want and a white wine like Frontera's Chardonnay and you're minutes from an incredible dip!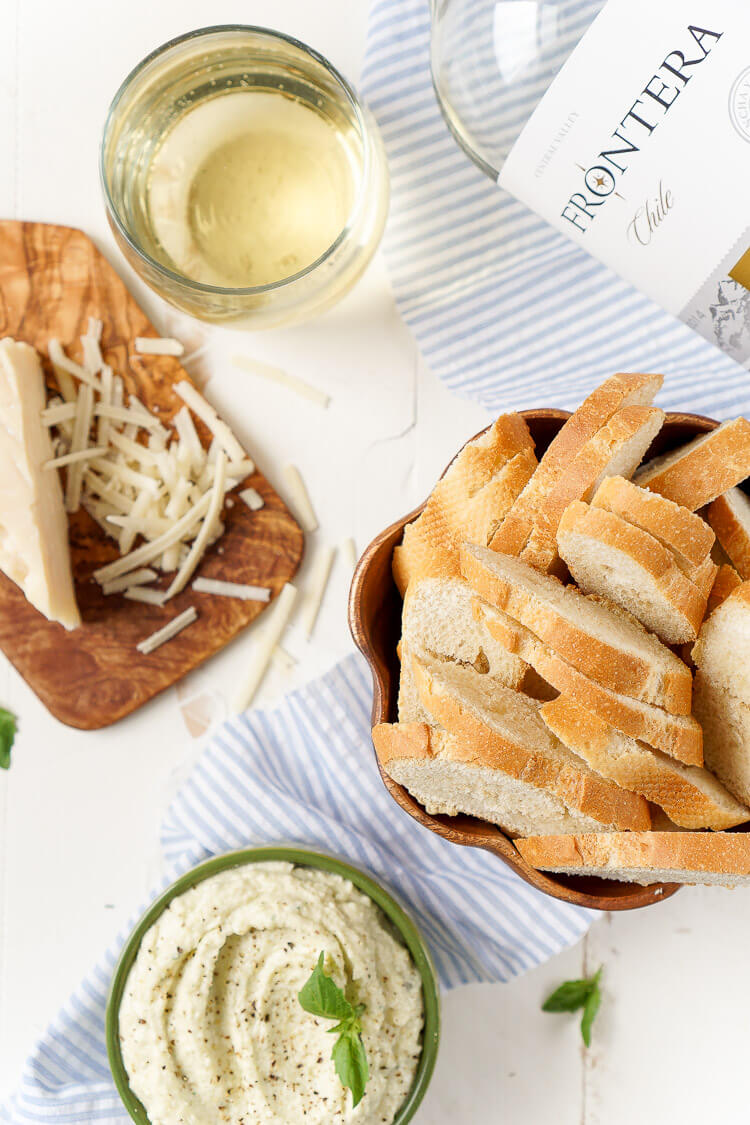 I happened to have almost a full block of Parmesan in the fridge and some remnants of shredded swiss, I wanted something sharp to accompany them, so I want with a nice aged cheddar. I added basil to my dip, but parsley is also a great option. A little less than a tsp of horseradish and a clove of garlic helps give it a zing and bring this dip to life! The wine both smooths out the dip and gives it a bold finish with some serious depth of flavor! What's also nice is that this is a dip that's served at room temp, so it's going to contrast nicely with both hot and cold dips at the party!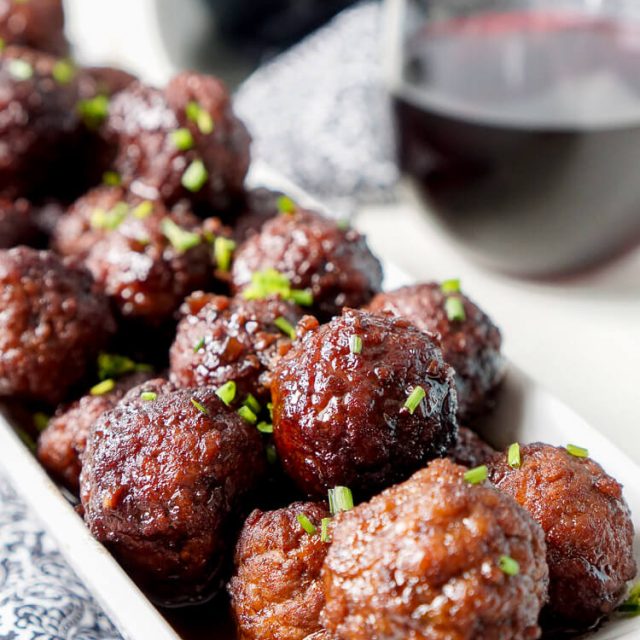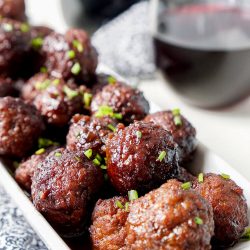 Fromage Fort - Wine and Cheese Dip
What a great way to use leftover cheese! This Fromage Fort is a French wine and cheese dip that uses up leftover cheese for an exceptional dip that's super easy to make! Ready in just 5 minutes!
Ingredients
1

lb.

leftover cheese

at room temperature. I used a mix of Parmesan, Sharp Aged Cheddar, and Swiss.

1/2

cup

Frontera Chardonnay

3

tbsp

unsalted butter

softened

2

tbsp

fresh basil or parsley

3/4

tsp

horseradish

1

clove

garlic

Salt and Pepper to taste
Instructions
Remove any rinds from the cheese and grate or chop cheese into small cubes.

Add all ingredients to a blender or food processor and blend until creamy and smooth, scraping down the sides as needed. I usually add half of my wine in with the rest of the ingredients and the other half after the first round of blending.

Serve immediately or store in the refrigerator for up to 1 week. Cheese will harden up in the fridge and soften as is comes back down to room temperature.

Serve with fresh cracked black pepper.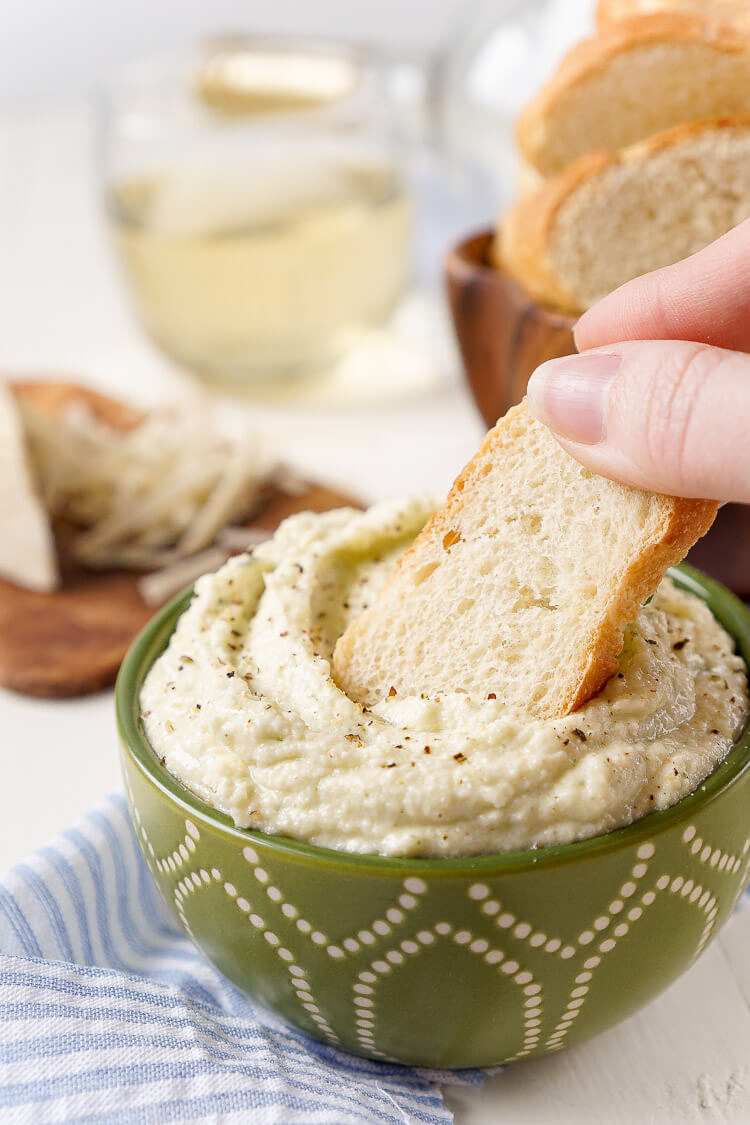 Sometimes I go a little over the top with my parties, but in this instance, I really just wanted to keep it low key but with bold flavors! Did you see the Citrus Sangria I posted yesterday? That was a huge hit, who says you need beer to enjoy the game, wine and sangria are perfect for football Sunday!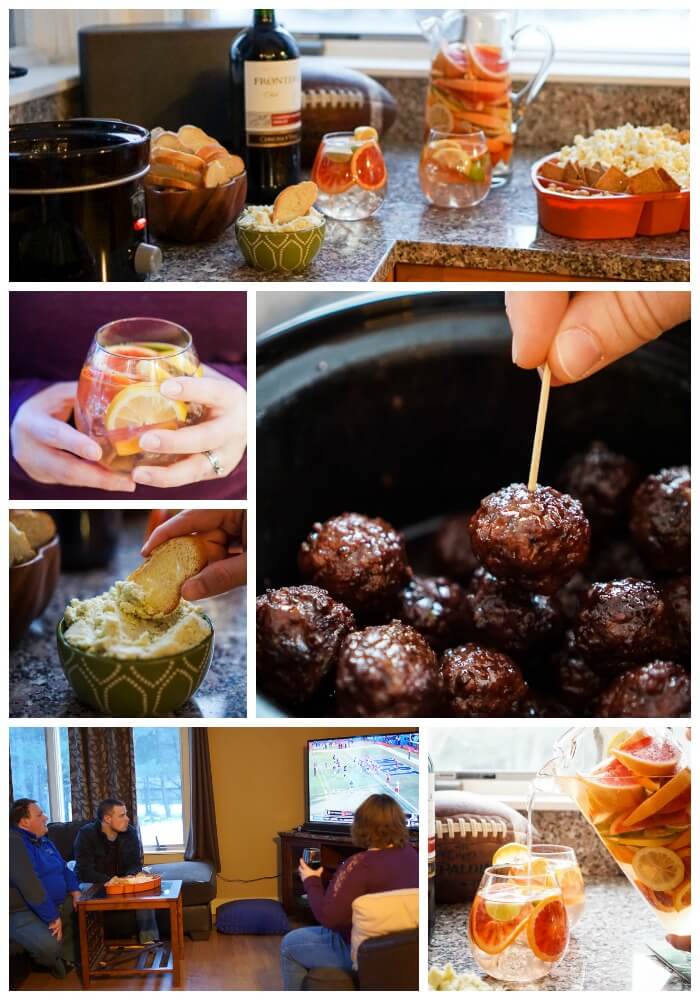 And game days are never completely with something cooking in the crock pot! I'm a HUGE fan of cocktail meatballs and decided that rather than making my traditional sauce with cranberry and chili sauce, I wanted to make something from scratch! These Merlot Meatballs are made with a balsamic vinegar and Frontera Merlot wine reduction that's laced with garlic and honey for a flavor profile that will blow your traditional game day sauces out of the stadium!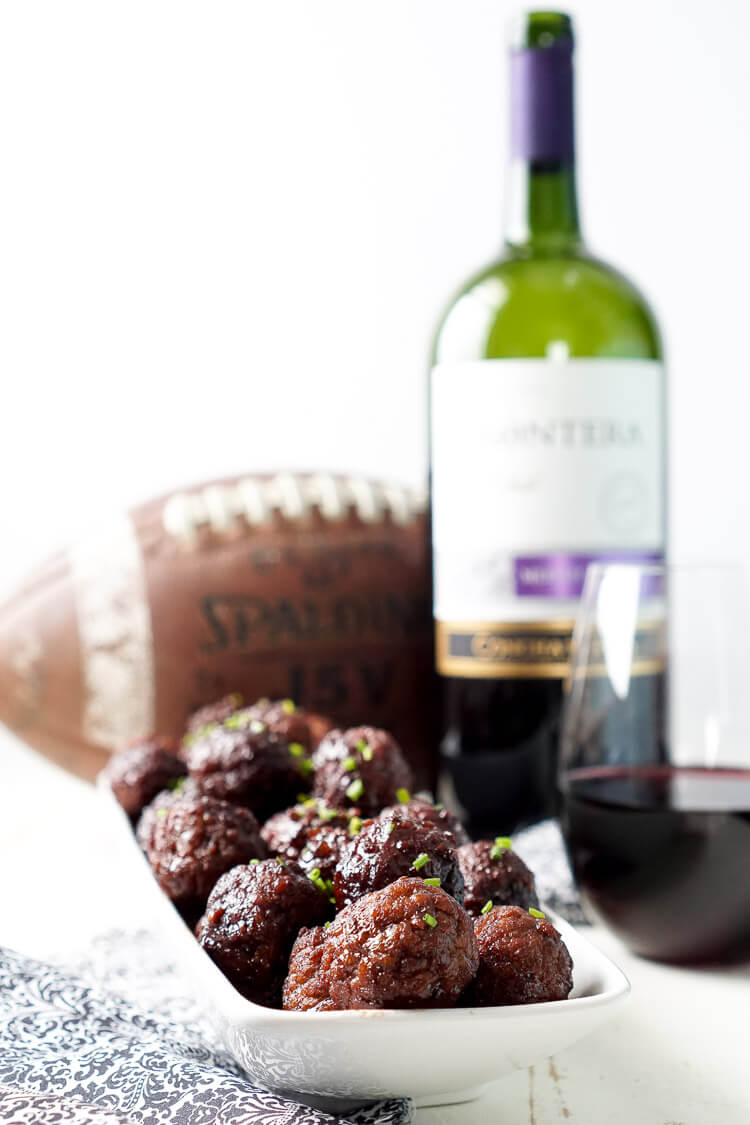 These Merlot Meatballs have so much body to them, the sauce is out-of-this-world-good! I seriously could have put it on ice cream… okay, maybe that's not true, but you get the idea! I owe it all to the Frontera Merlot wine, it's an award-winning wine made with exceptional quality at a value price point! The 1.5-liter bottles make it so you can have some to cook with and plenty to serve on game days! Seriously, skip the beer and start prepping for a wine infused football Sunday you'll never forget!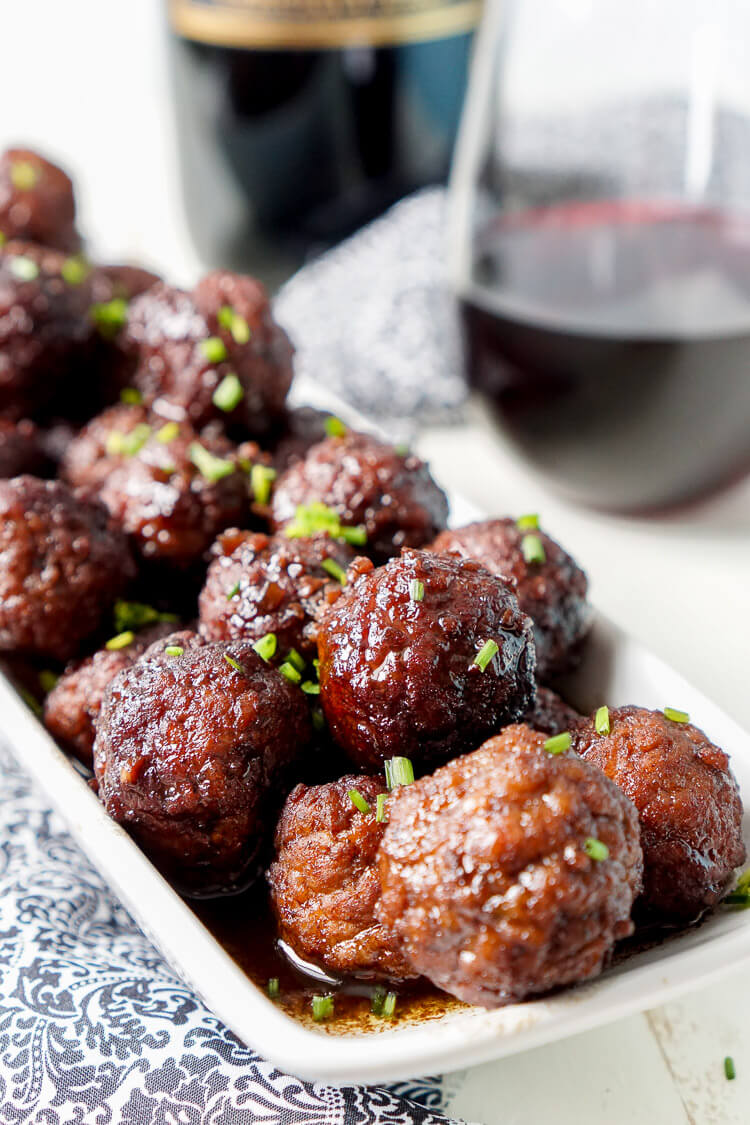 Right now, Frontera Wines are hosting a Game Day Photo Contest for a chance to win ,000.00! Snap a picture of your guests enjoying wine during your Game Day Party for a chance to win Big Bucks! Visit www.Facebook.com/FronteraWine for more details. And don't forget to visit the Simply Delicious wine cocktail recipes from Frontera – all are easy to make and use simple ingredients that are inexpensive pantry staples: www.fronterawines.com/cocktails!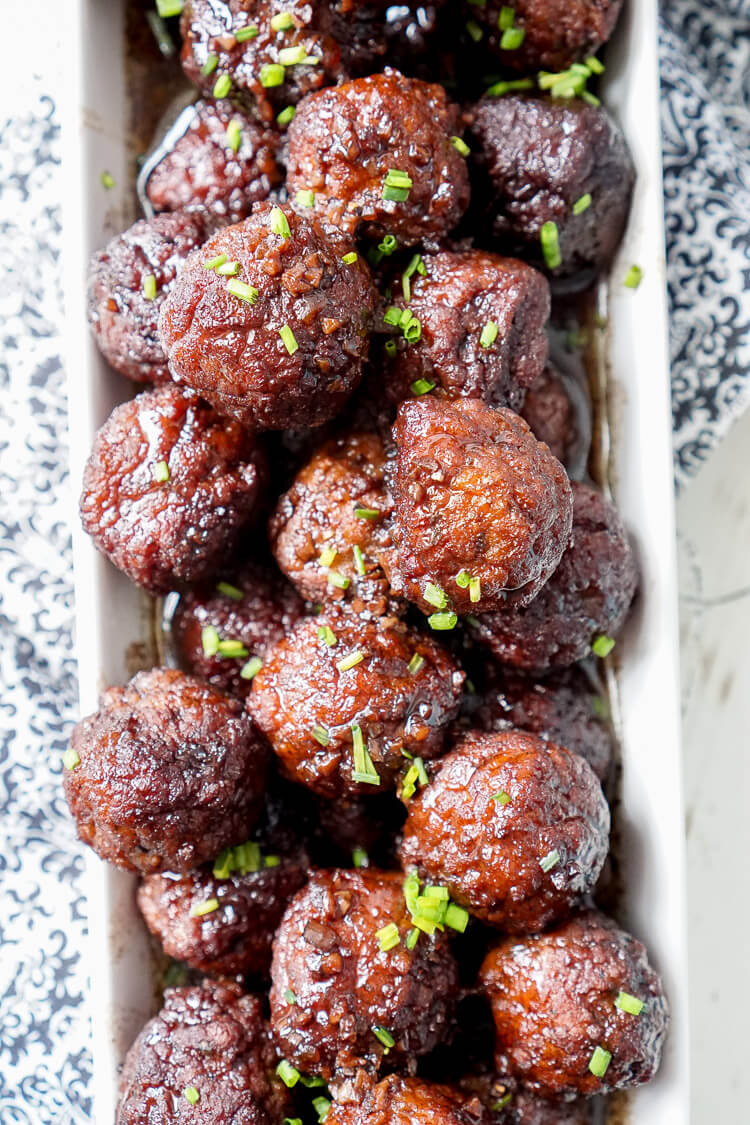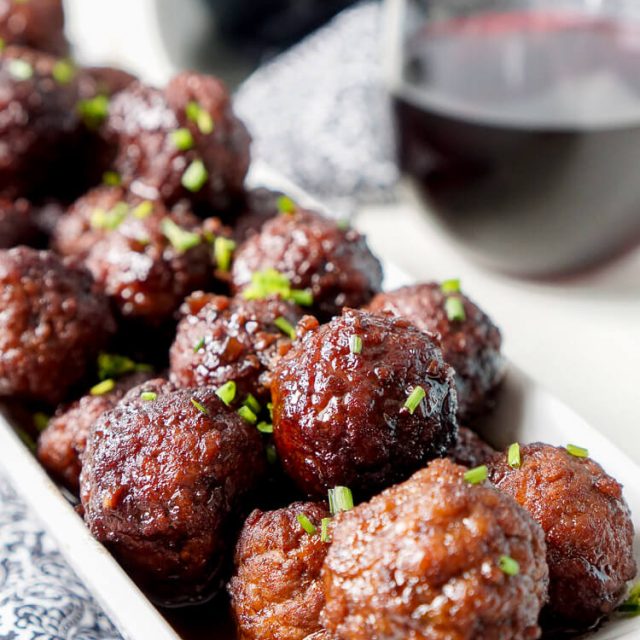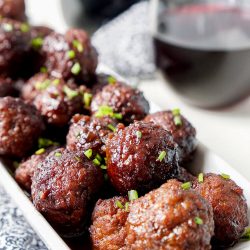 Merlot Meatballs
These Merlot Meatballs are made with a balsamic vinegar and Frontera Merlot wine reduction that's laced with garlic and honey for a flavor profile that will blow your traditional game day sauces out of the stadium!
Ingredients
1

26 oz. bag of bite-sized Italian or Swedish meatballs

1/2

cup

balsamic vinegar

1

cup

Frontera Merlot wine

3

cloves

garlic

minced

1

tsp

soy sauce

1/3

cup

honey

10

tbsp

unsalted butter

cubed

1

tsp

corn starch

1

tsp

water
Instructions
Turn on the slow cooker to low heat and add the meatballs so they can begin thawing.

Add the balsamic vinegar, Frontera Merlot, garlic, soy sauce, and honey to a saucepan over medium-low heat and bring to a boil.

Reduce the heat to low and simmer for 20 to 25 minutes.

Then add the cubes of butter to the mixture, stirring constantly to thicken as the butter melts.

In a small prep dish, stir together the corn starch and water until starch dissolves, then stir into sauce.

Cook for another 2 to 3 minutes, stirring constantly, then pour sauce over the meatballs in the slow cooker.

Cover slow cooker and cook on high for 1 1/2 to 2 hours or until meatballs reach an internal temperature of at least 160 degrees F.