This post may contain affiliate links. Using these links, I earn a small commission at no additional cost to you!
Looking for a magical Maine vacation in the woods but not too far from the coast? Head to Tops'l Farm for some Glamping in Maine!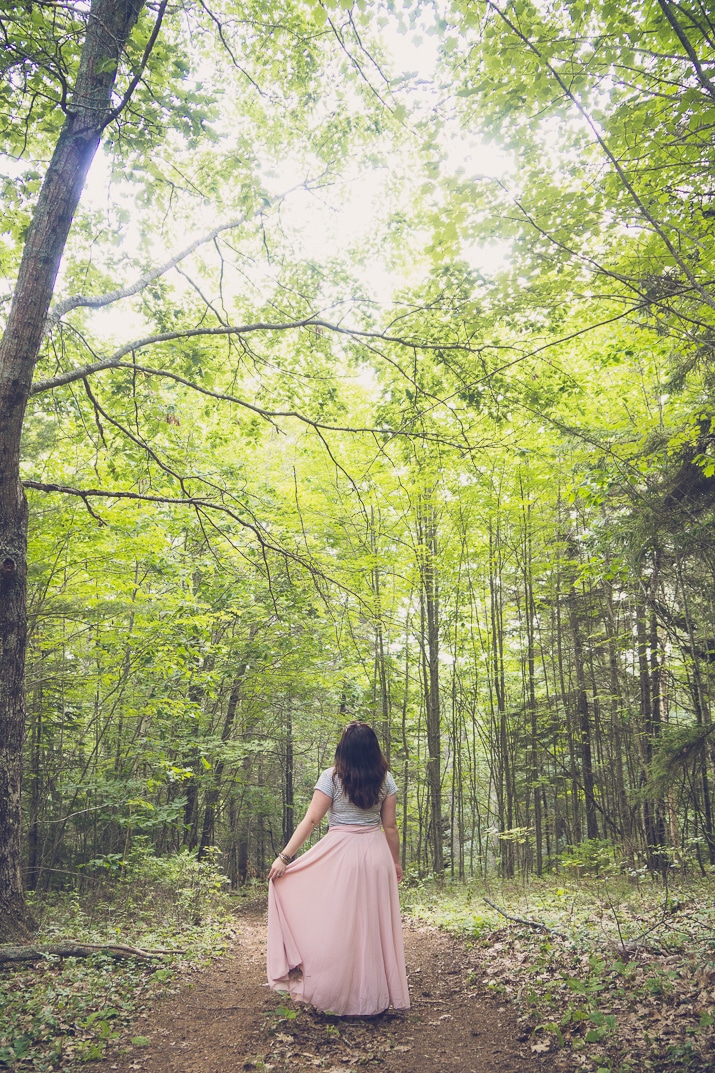 Glamping in Maine at Tops'l Farm
PIN IT TO YOUR TRAVEL BOARD ON PINTEREST!
FOLLOW SUGAR & SOUL ON PINTEREST FOR MORE TRAVEL IDEAS!
I like the city. I like the concrete. I like big business. I like being a CEO of my own company and having a lot of responsibilities. At the same time, when I can go off with a backpack or off on a surfboard or even off on a run somewhere in the woods – that's where I'm really happy. – Matthew McConaughey
In the last two years, I've traveled all around the world, but sometimes, the best trips, are the ones close to home. A few weeks ago, Matt and I spent the weekend at Tops'l Farm in Waldoboro, Maine, just a couple of hours from our house. And it was the perfect little retreat from the chaos we now call life.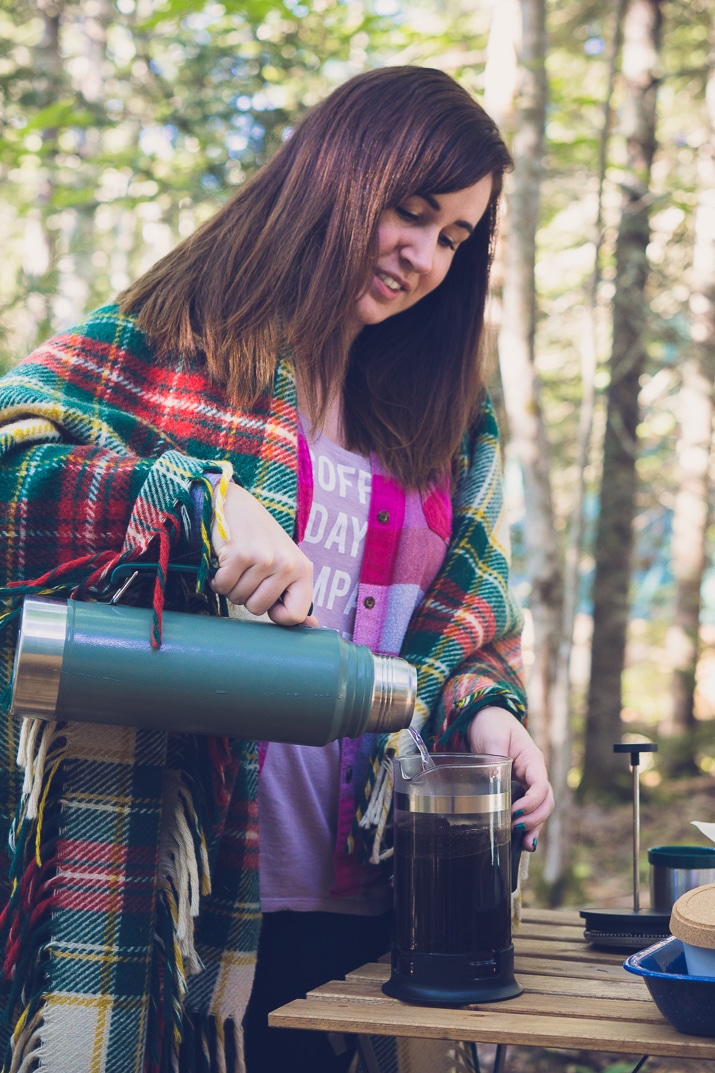 As a child, the woods were my playground, I spent the summers climbing trees and playing manhunt and in the winters we built epic snow forts on the wooded lot where I grew up. Needless to say, my feet were usually bare and dirty and my hair was usually the home of a few sticks. So while the woods have always felt like home to me, I hardly spend much time in them anymore.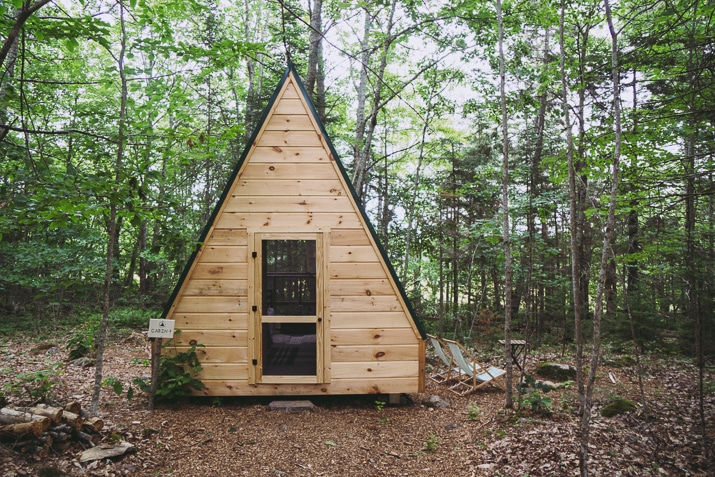 And I think that's what made Tops'l Farm so magical. The weather was absolutely perfect which made for a gorgeous weekend in Midcoast Maine and it felt good just to unwind and (mostly) unplug for a couple of days. Tops'l Farm perfectly captures the essence of Maine. There's nothing quite like roasting hot dogs over the fire for dinner and waking up to the sounds of the birds and the light dancing through the leaves.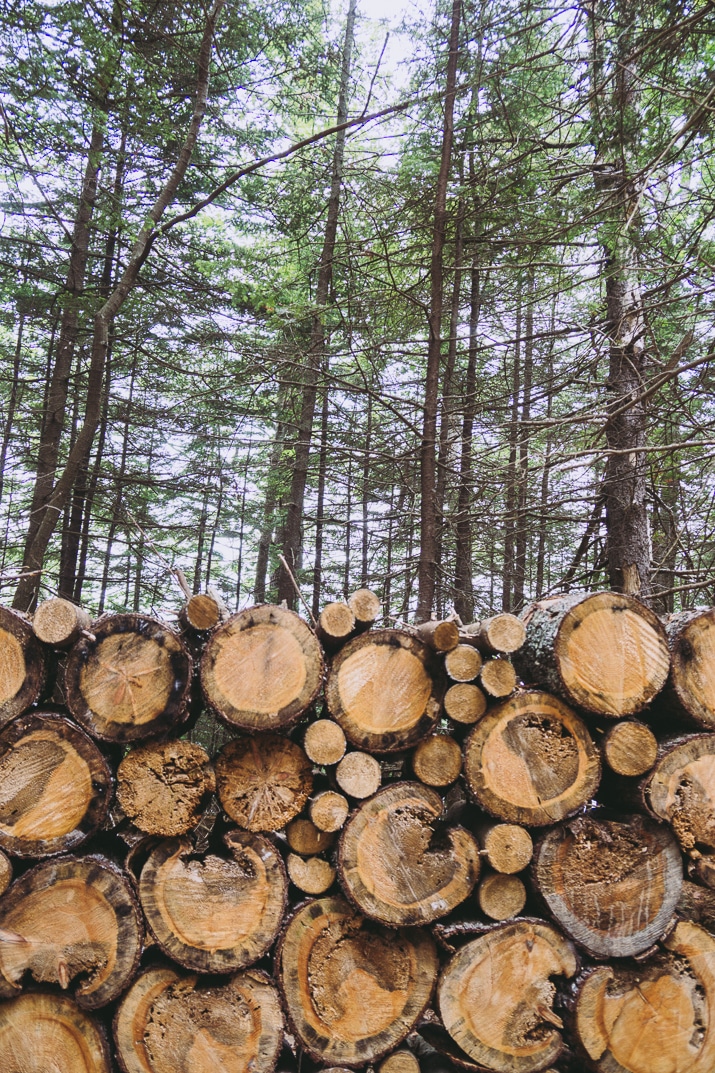 I met Sarah Pike earlier this year through my Spicy Cilantro Lime Aioli post and when I found out that her and her husband, Josh, were building a glamping retreat here in Maine, I just had to go and check it out and they were kind enough to host us for the weekend! I've been glamping before in the Scottish Highlands, but Sarah and Josh have really pulled out all the stops when it comes to luxury within the pines.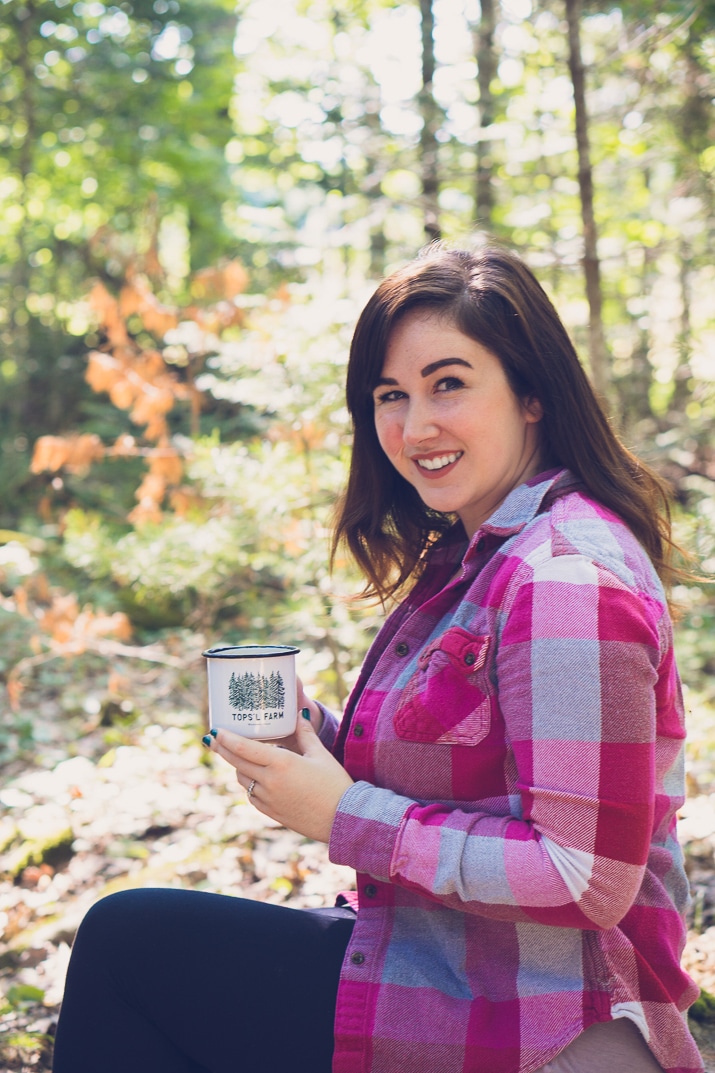 Their A-frame cabins and canvas tents provide comfortable accommodations and each site has a private fire pit and chairs. The tea light lanterns, enamel mugs, and soft sheets will have you feeling right at home, and if you're looking to make things a little cozier, grab the wool tartan blanket in your cabin or tent and sit by the fire.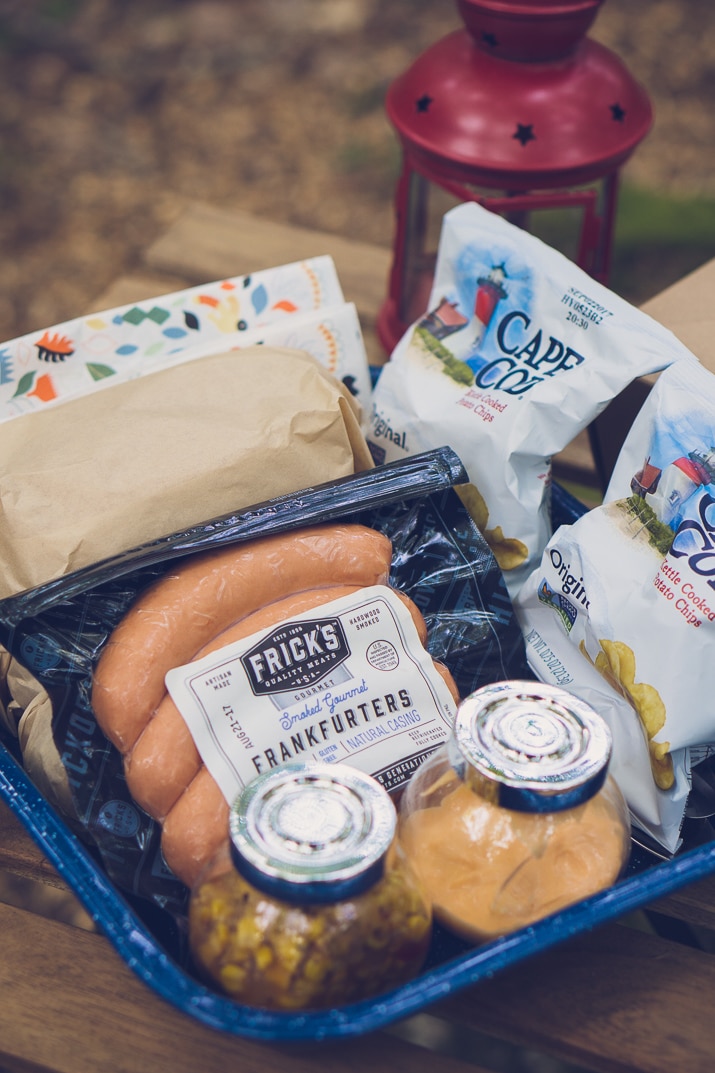 Even though there are tons of restaurants in Midcoast Maine, we opted for Tops'l Farm's gourmet hot dog kit for dinner our first night there and it definitely hit the spot. We had the options of corn relish and Bahn mi topping for our hot dogs which we roasted over the fire with sticks.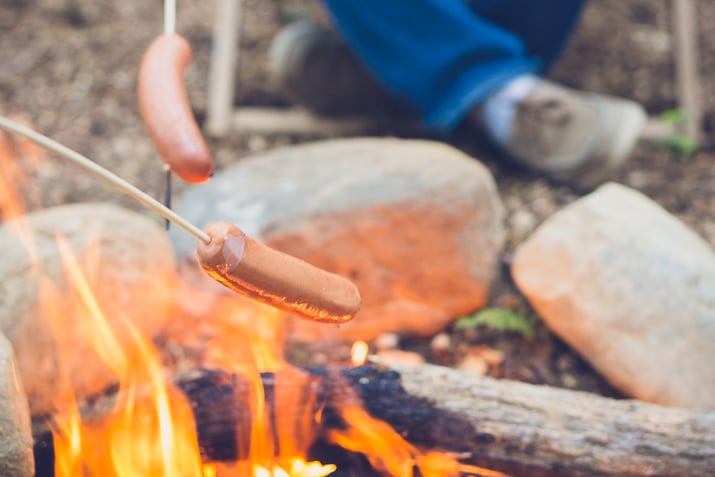 And you can't go glamping without indulging in a little chocolate, or rather s'mores. We enjoyed the Tops'l Farm s'mores kit loaded with the traditional fixing plus some delicious caramel and sea salt… talk about yummy!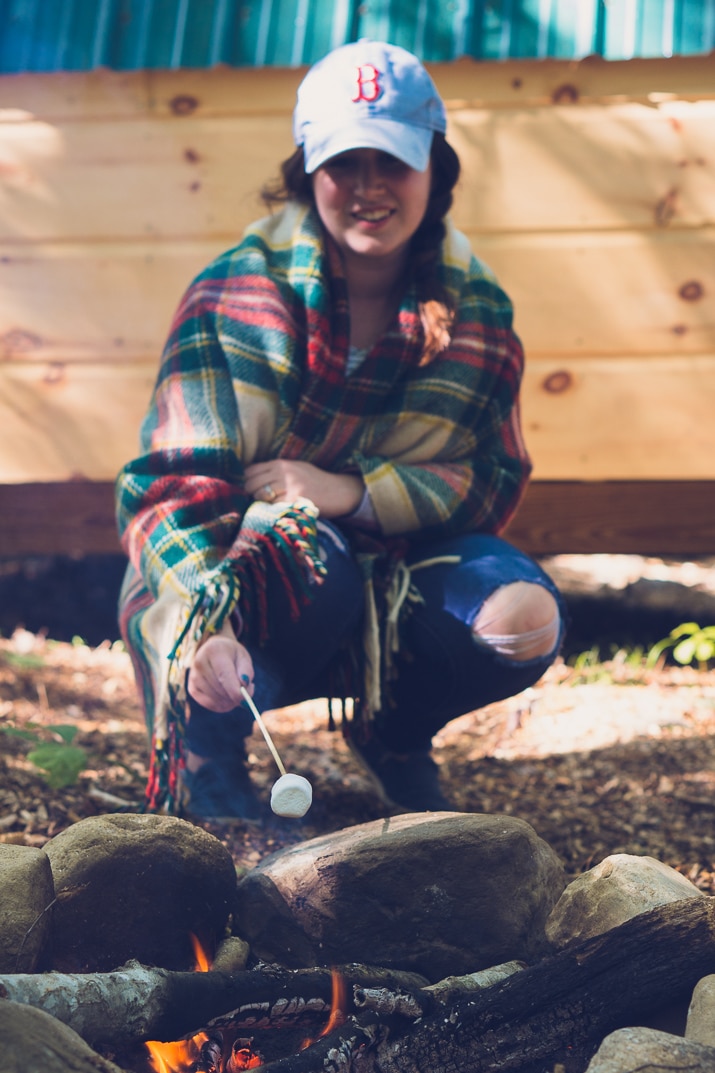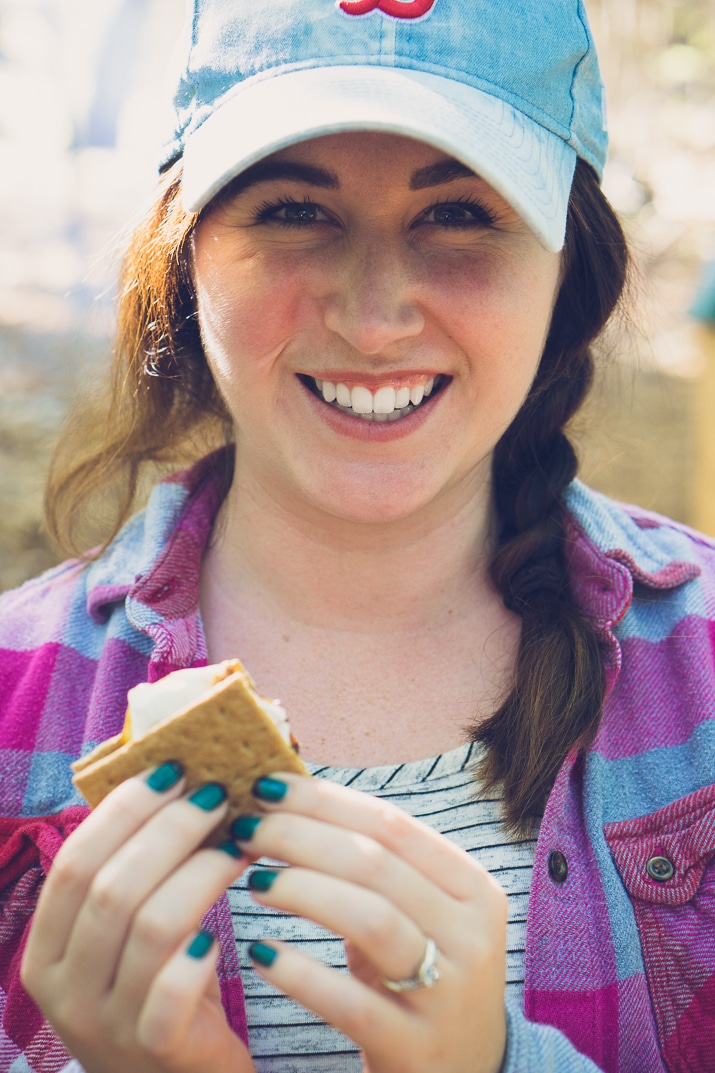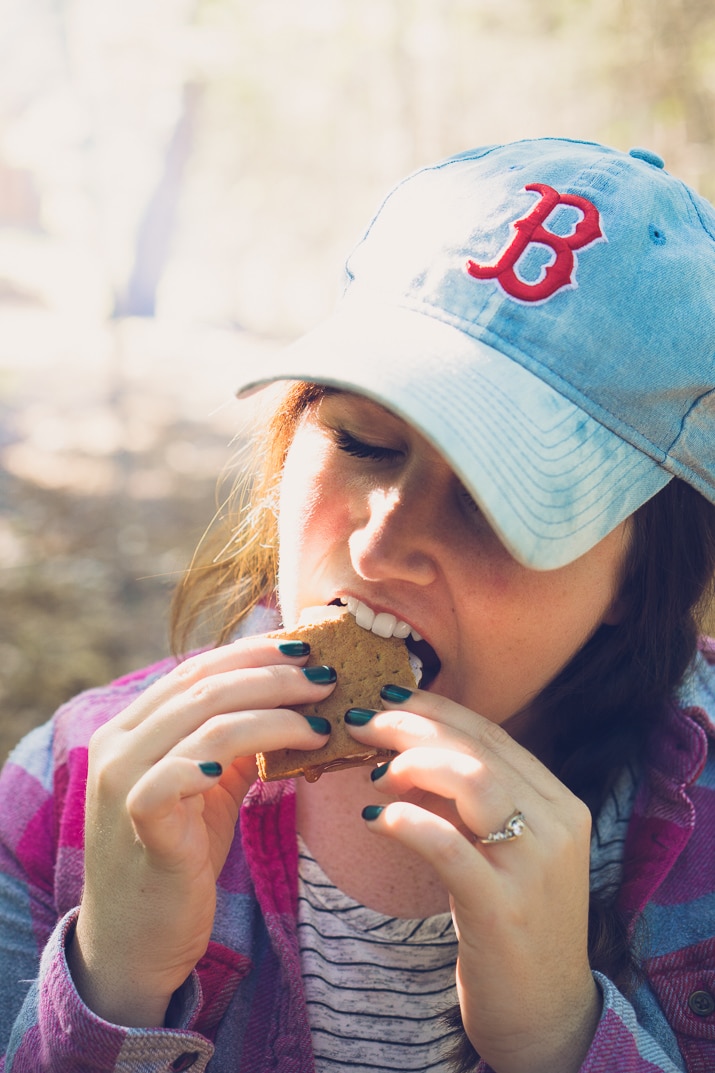 Clearly, I enjoyed them.
The two mornings we were there we enjoyed the French Press and Muffin service delivered right to our cabin. There's something about waking up and having breakfast be ready for you.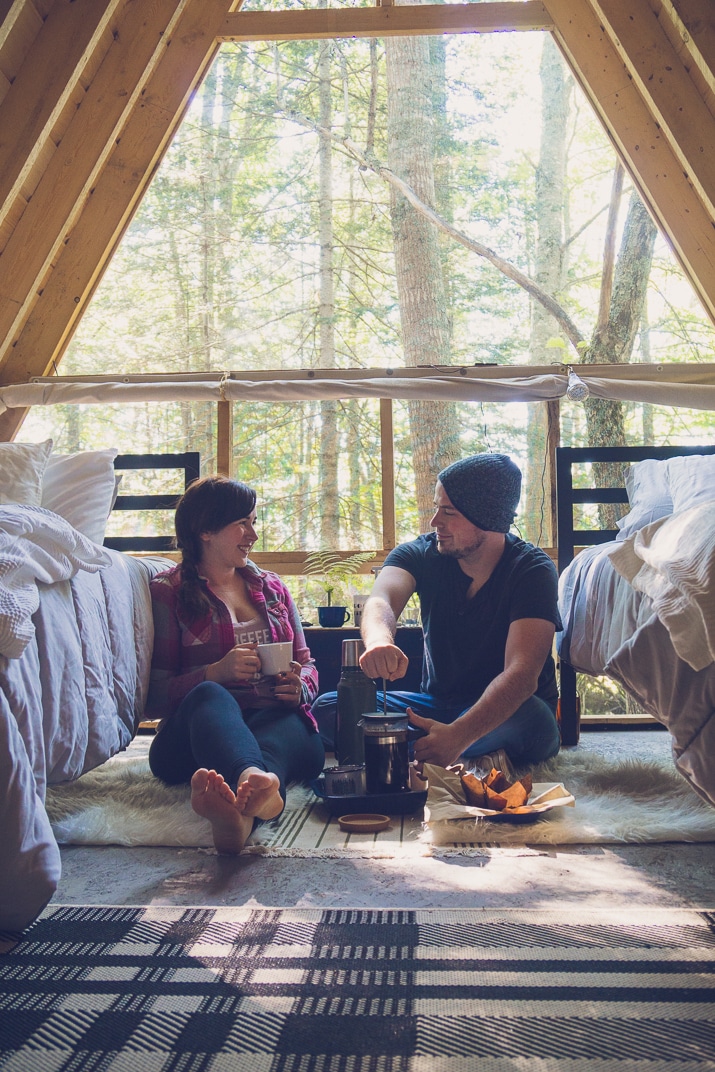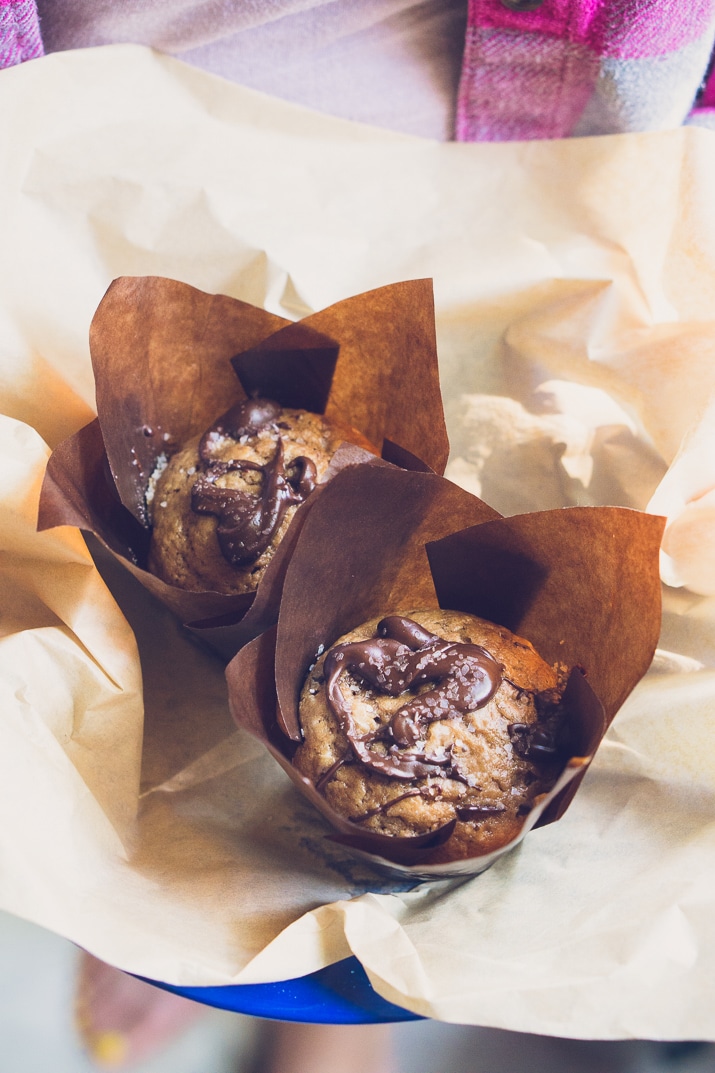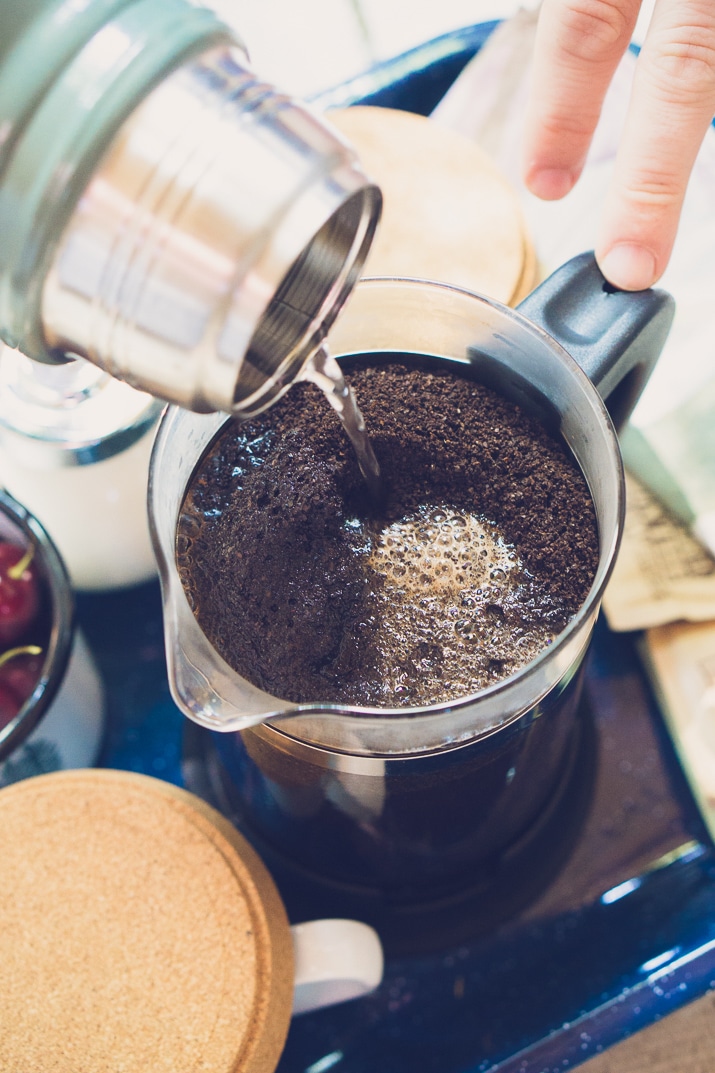 We pretty much lazed around all morning and read before taking a quick trip into Rockland for lunch where we ate at Cafe Miranda.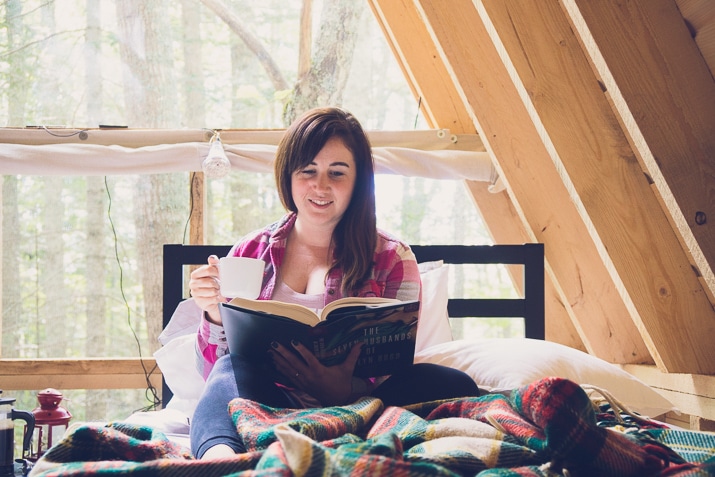 We were there for the Family Summer Camp Weekend and enjoyed dinner in the big barn on Saturday night. The barn can be reserved for large groups for catered dinners, perfect for those interested in hosting retreats on the property. If you do have an evening catered, request the fried chicken <<< all the heart eyes!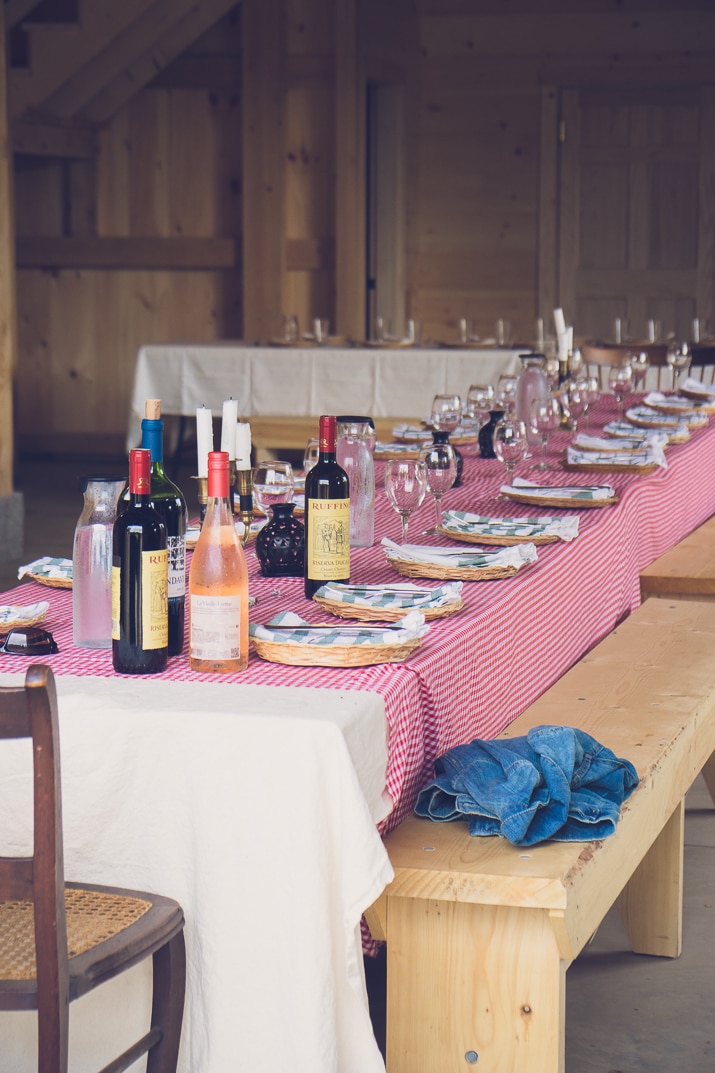 There are both A-frame cabins and Luxury Canvas tents available for accommodations at Tops'l Farm, we stayed in an A-frame cabin and loved it! Let me show you around!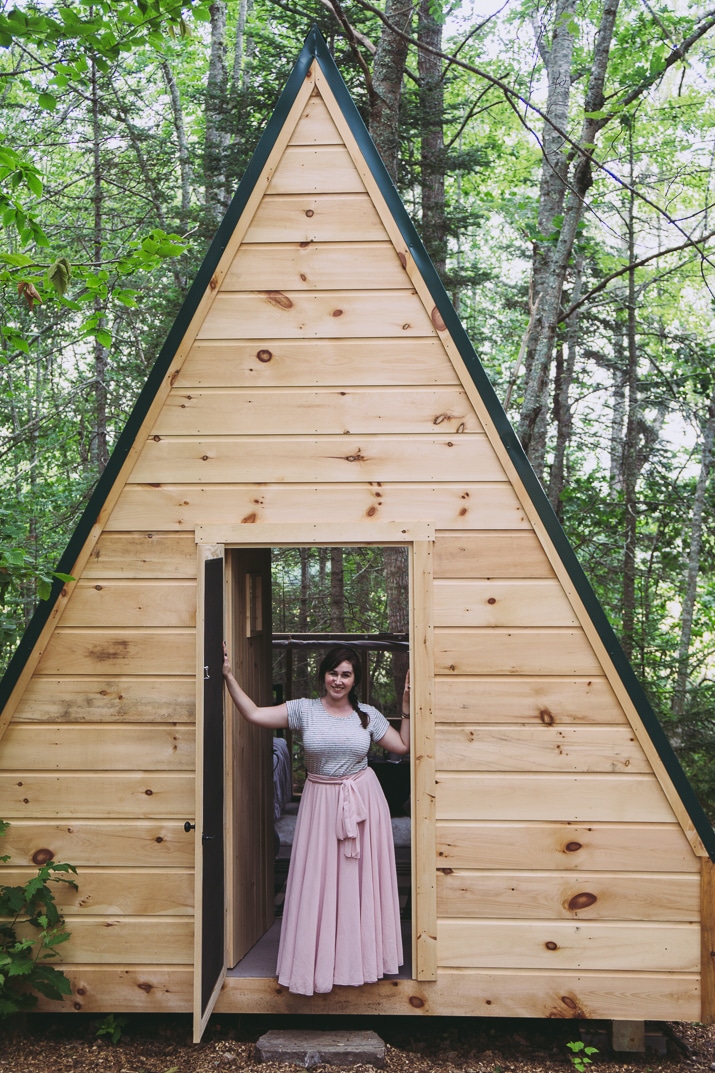 The back side of the cabins are made with screens and plexiglass for a floor to ceiling view of nature, there's a canvas cloth that can be rolled down for a bit of privacy.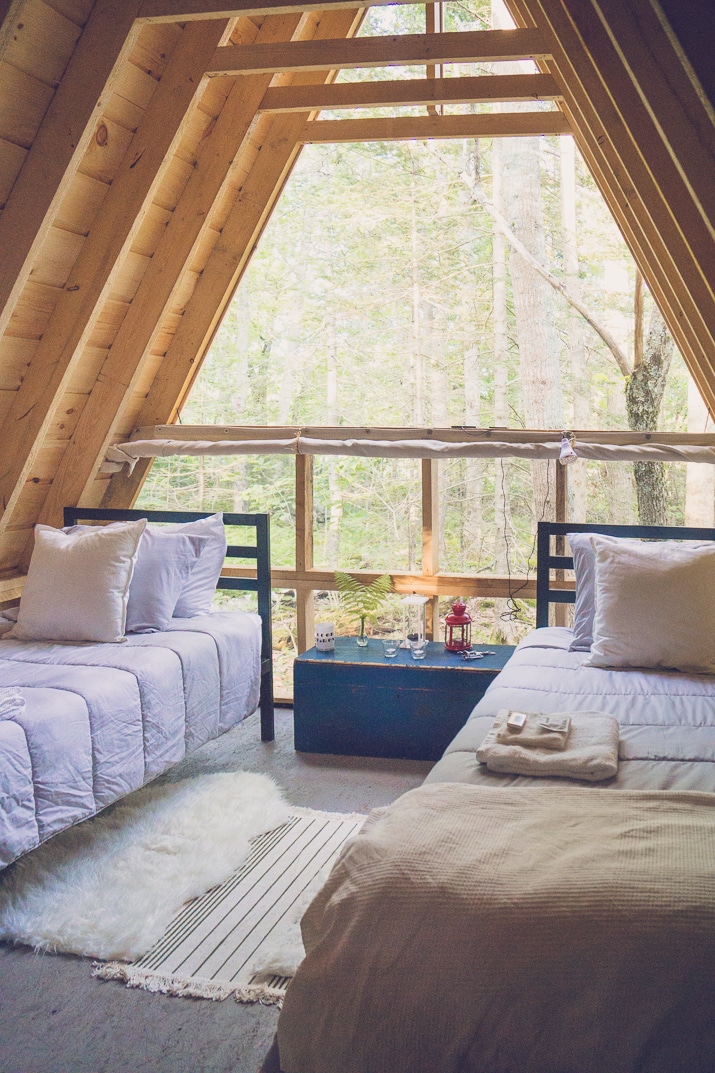 We were each provided with fresh towels and face cloths and a box of matches (of course).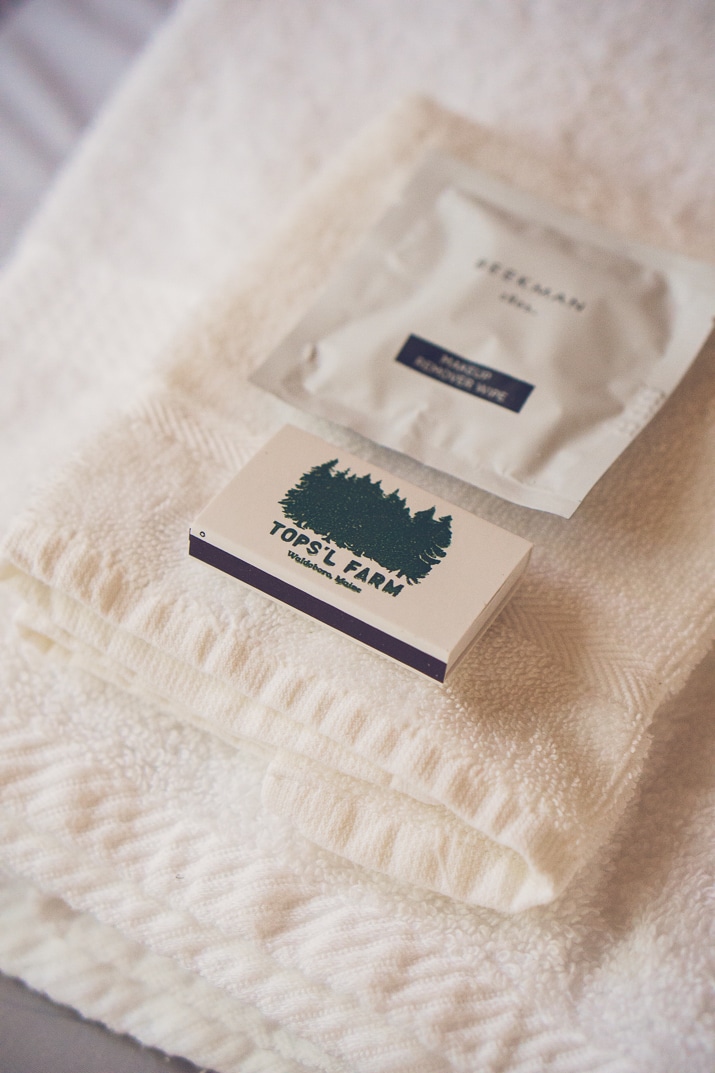 And if you want to fill your cooler up with beer and hard cider, the trees can help you with those caps 😉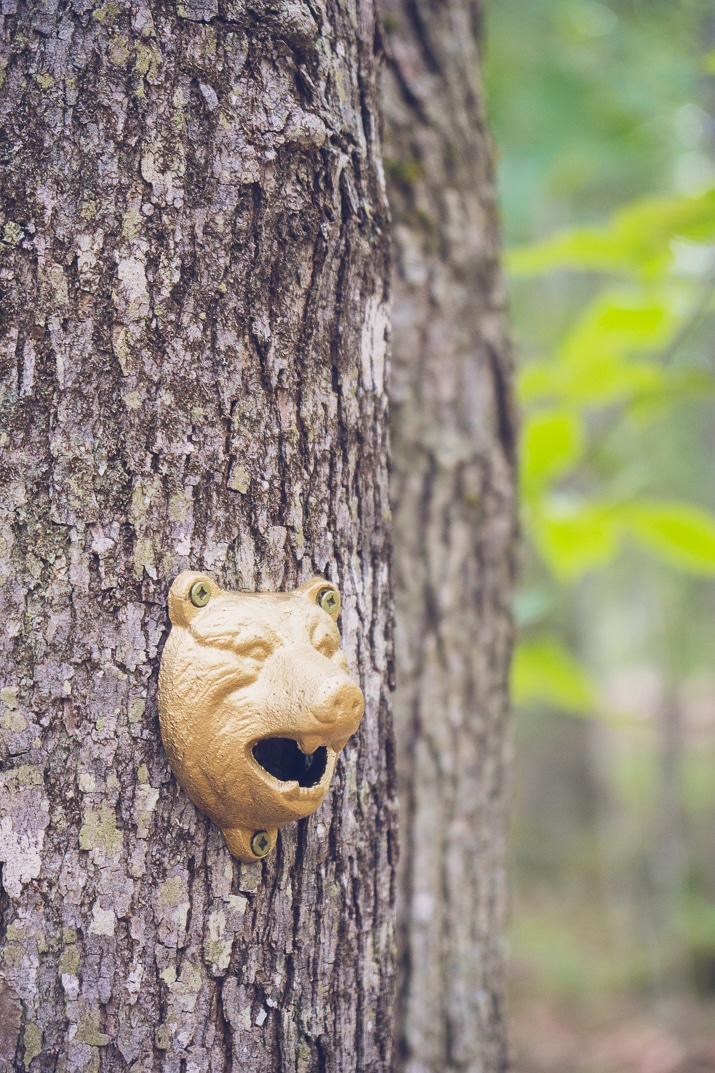 Seriously, everything little thing about this place is adorable!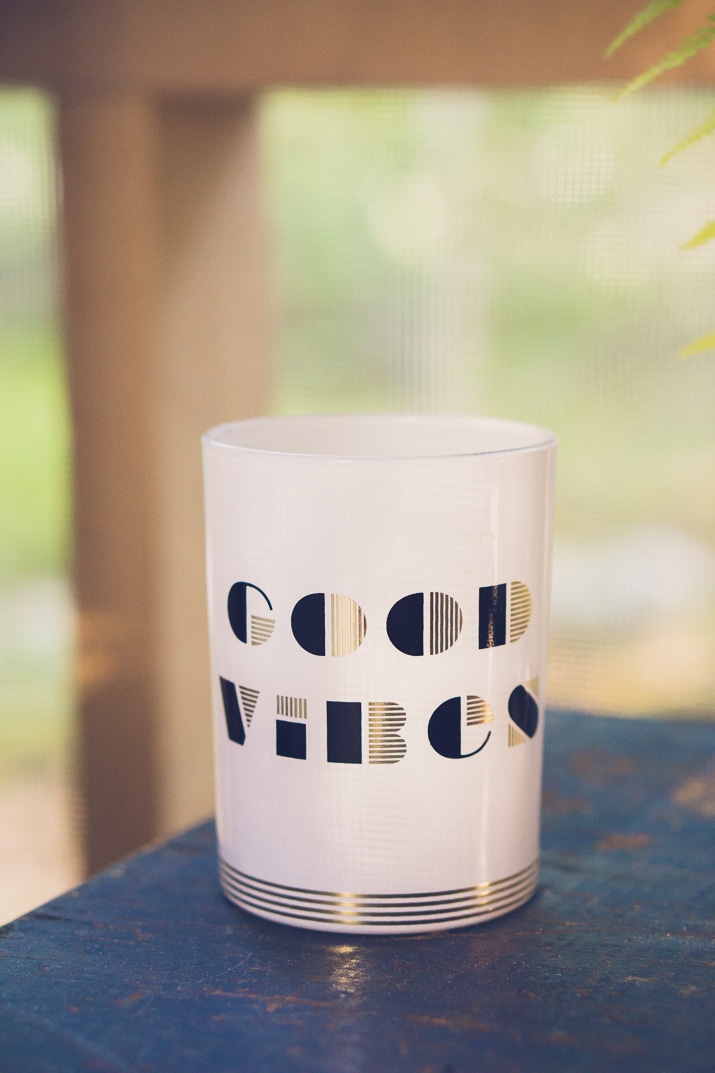 What To Bring Glamping
Playing Cards and a Cribbage Board
Cooler
Water
Snacks
Hat
Swimsuit if you head to the coast
Sweatshirt or light jacket
Hiking Boots or Sneakers if you want to go hiking
Long Pants
Shorts
T-shirts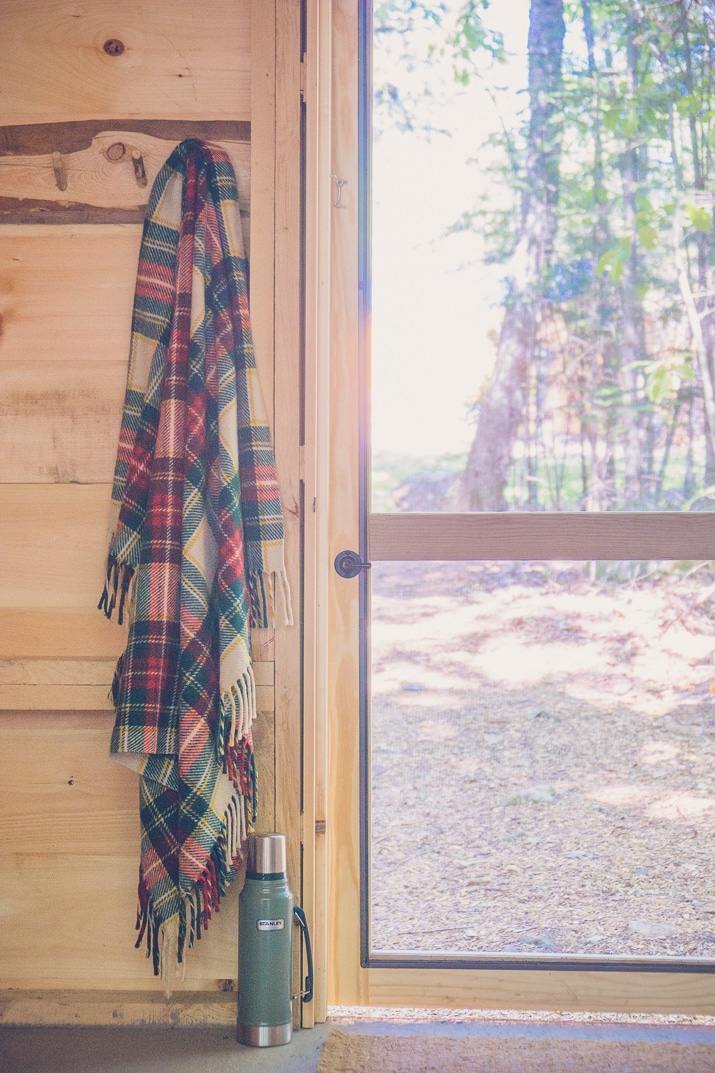 Here's a photo of the canvas tents.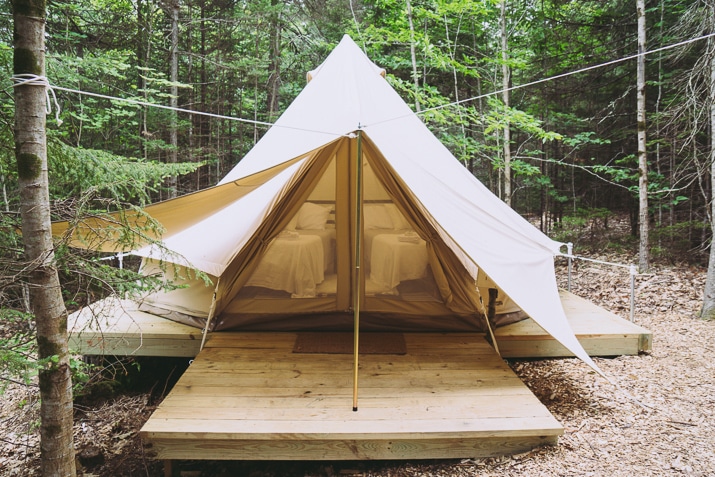 There's also a central building outfitted with showers, bathrooms, a sink for cleaning dishes, games, and power outlets if needed. There's also lawn games, picnic tables, and a large fire pit that makes this perfect for hosting family reunions or corporate retreats!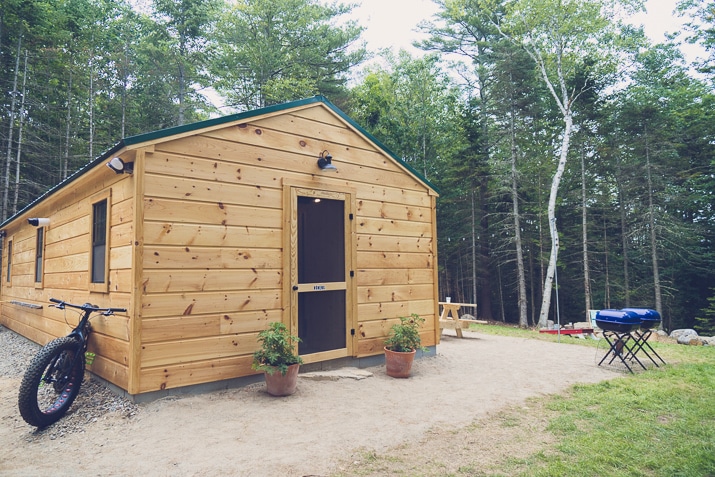 Down by the river you'll find the big Yurt where Tops'l Farm hosted a yoga retreat earlier in the year, it's also a great gathering place for big parties!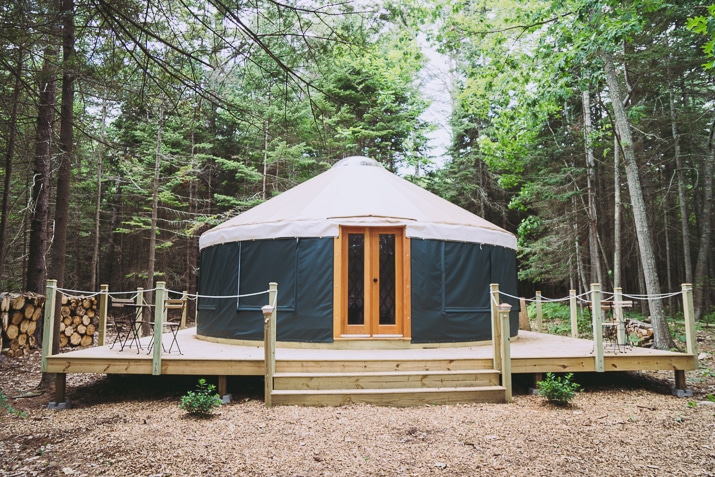 So there you have it, Glamping at Tops'l Farm in Waldoboro, Maine, the perfect place to kick your feet up and stay a while!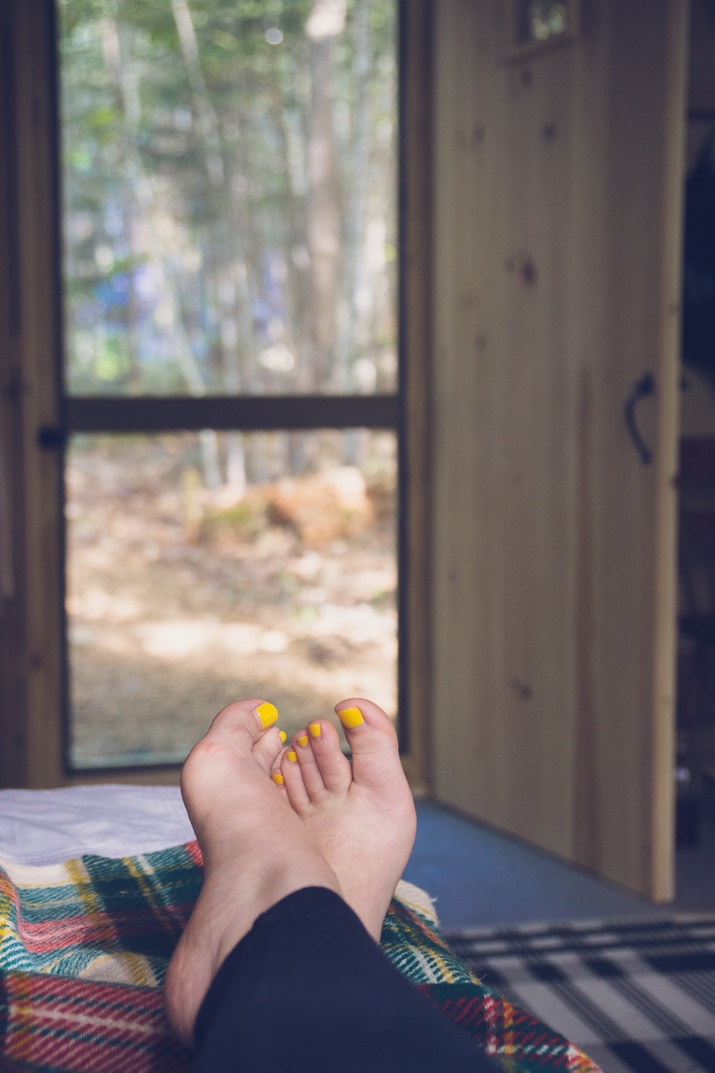 Tops'l Farm | Waldoboro, ME 04572 | +1 (435) 640-6440