Golden Tote Review July 2016 – Try Golden Tote out today and get 5 fun clothing items shipped right to your door each month!
With Summer upon us, I'm looking to fill my closet with all the cute things, but I'm also ridiculously short on time, so when a Golden Tote shows up on my doorsteps with cute items for my warm weather wardrobe, I'm always a happy girl!
For those of you unfamiliar with Golden Tote, the Founders are clothing designers from LA, and they work with fashion brands to get you deep discounts, and they also design clothing items as well. New sales launch the first Monday of every month! Here's how it works:
Sign up for the Golden Tote newsletter, so you're notified with each month's tote is available.
Each tote is personally curated and includes a variety of items to complement your wardrobe.
Choose your tote; there are three different ones to choose from:
The Mini Tote for $49 for two clothing items, retail value up to $200, you pick one item from the boutique and your stylist sends you one secret item.
The Golden Tote for $149 for five clothing items, retail value up to $600, you pick two items from the boutique and your stylist sends you three secret items.
The Surprise Tote for $89, your stylist sends your three secret items.
Check out my Facebook Live Unboxing Video so you can see my initial thoughts on my Golden Tote Review for July 2016!
Perfect Pocket Shorts – Medium – My Pick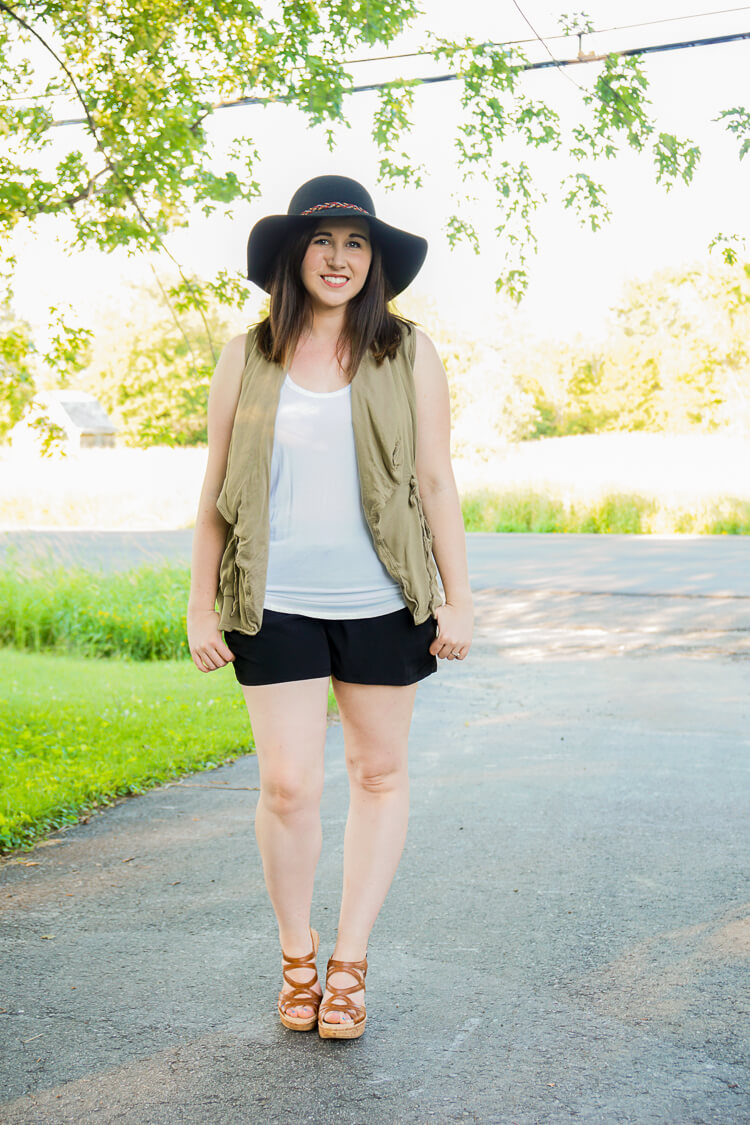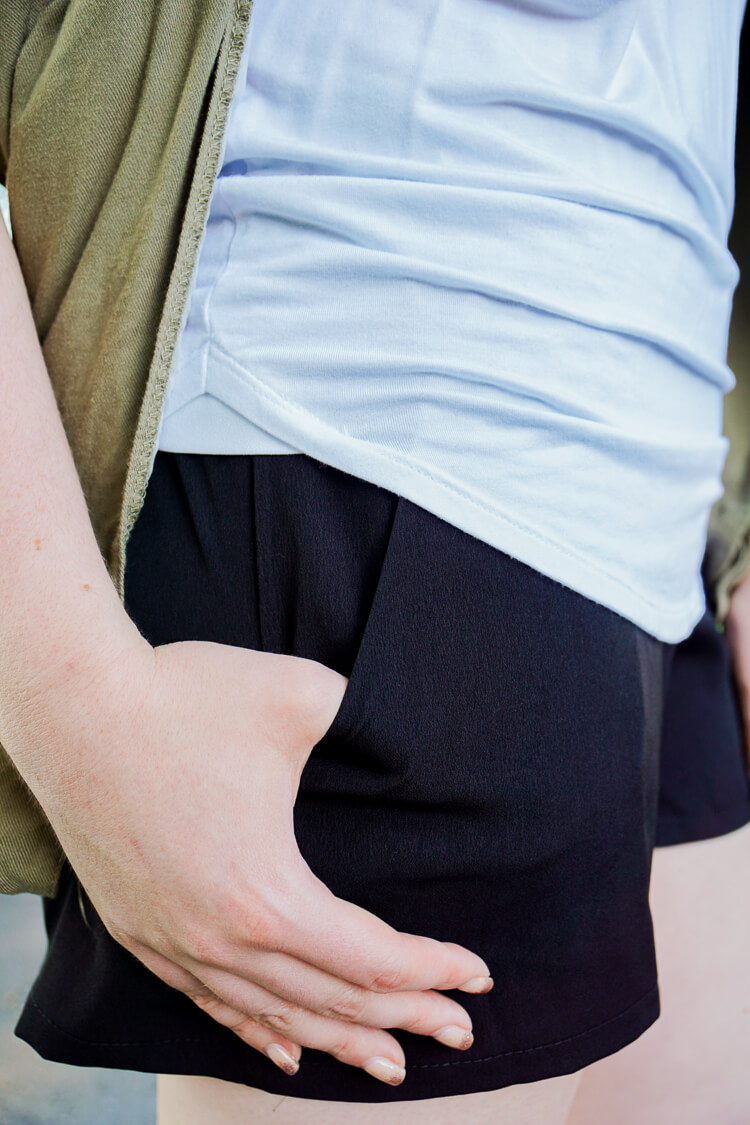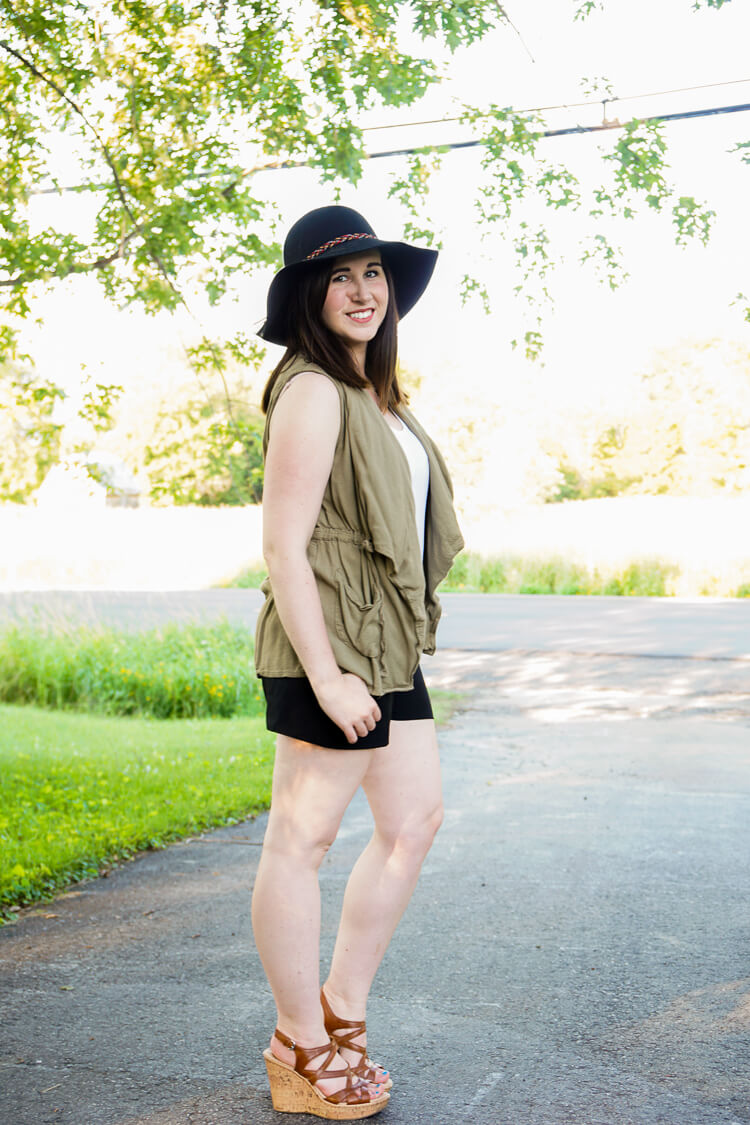 Thoughts: I've been in desperate need of shorts for summer, and I really hate it when they don't have pockets, so I was instantly drawn to these. Generally, I wouldn't have picked black, but it was the best out of the color options. These shorts are 100% polyester; they're light and thin and would probably dry really fast should they get wet at the beach or on amusement part rides. The pockets are a pretty good size, and I can fit my phone in them pretty easily without fear that it's going to fall out. The entire waistband is stretchy, and I usually prefer those that are only stretchy halfway around, but overall they're a pretty cute short and I'm sure I'll wear them tons this summer! I dressed it up a bit here with wedges and a vest, but you could easily wear it with flip flops and a t-shirt for a more casual look.
Juicy Watermelon Dress – Medium – My Pick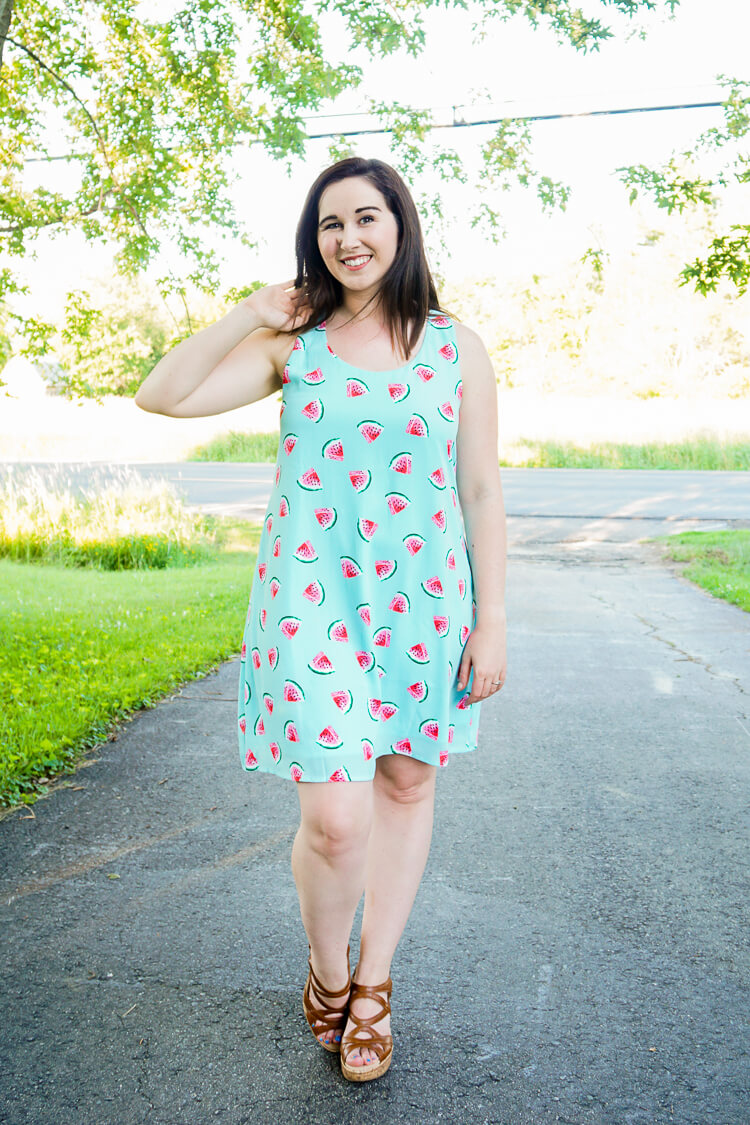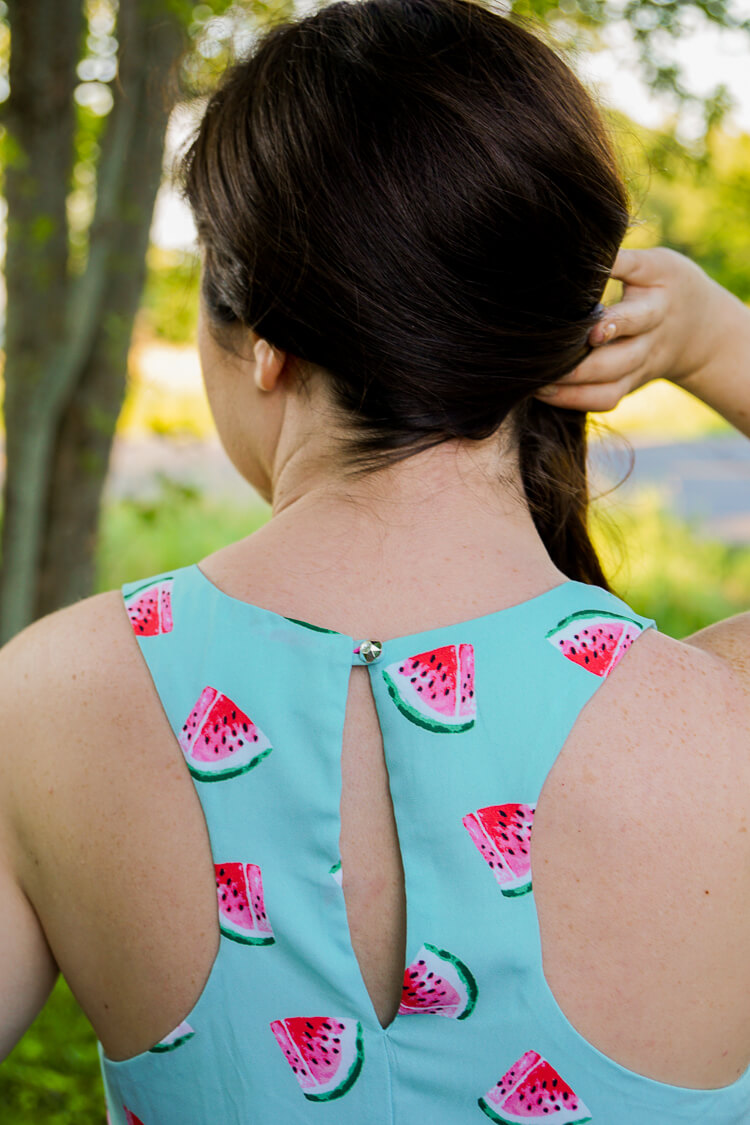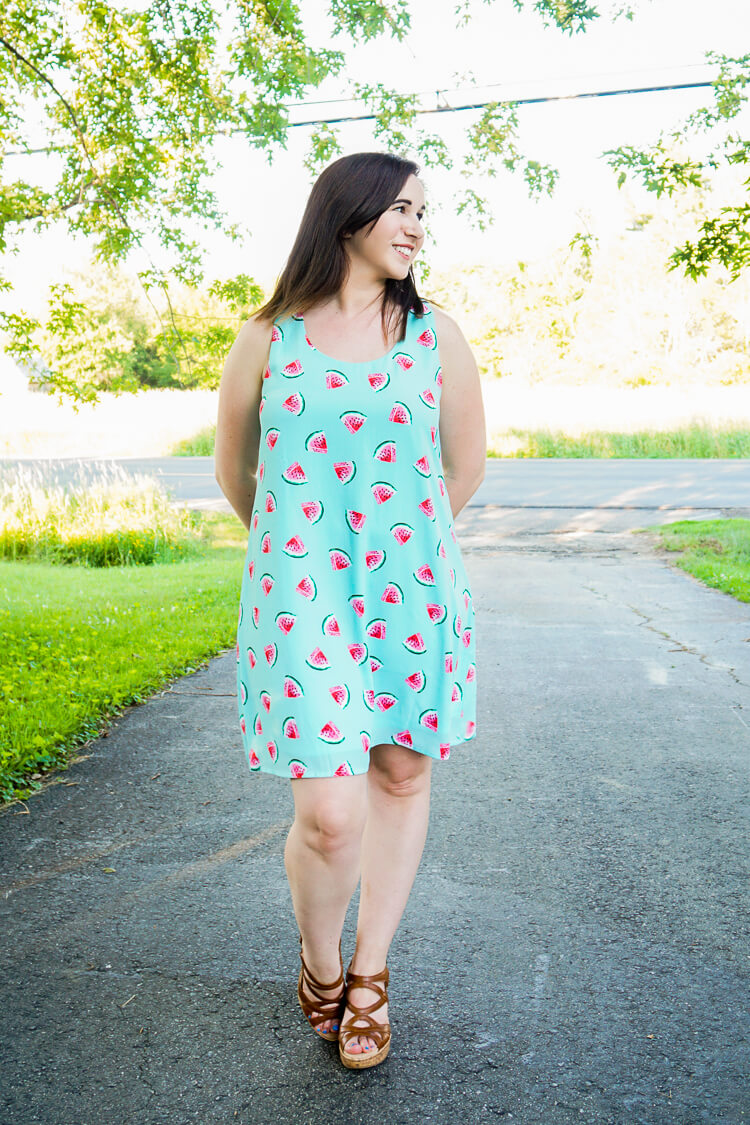 Thoughts: GUYS!!! This dress! As soon as I saw this dress in the boutique, I knew it had to be mine! The funny thing is, it's quite unlike most things in my closet, but it's now one of the cutest. I mean, how cute are those WATERMELONS!!! And watermelons are the new pineapples or flamingoes or something like that, right? Which means this is a super trendy piece all your friends will envy you for! The pictures seriously don't do this dress justice! It is so freakin' cute and super flattering in real life, and I can't wait to wear this fun piece all summer long.
Joy & Co Floral Lace Top – Small – Secret Item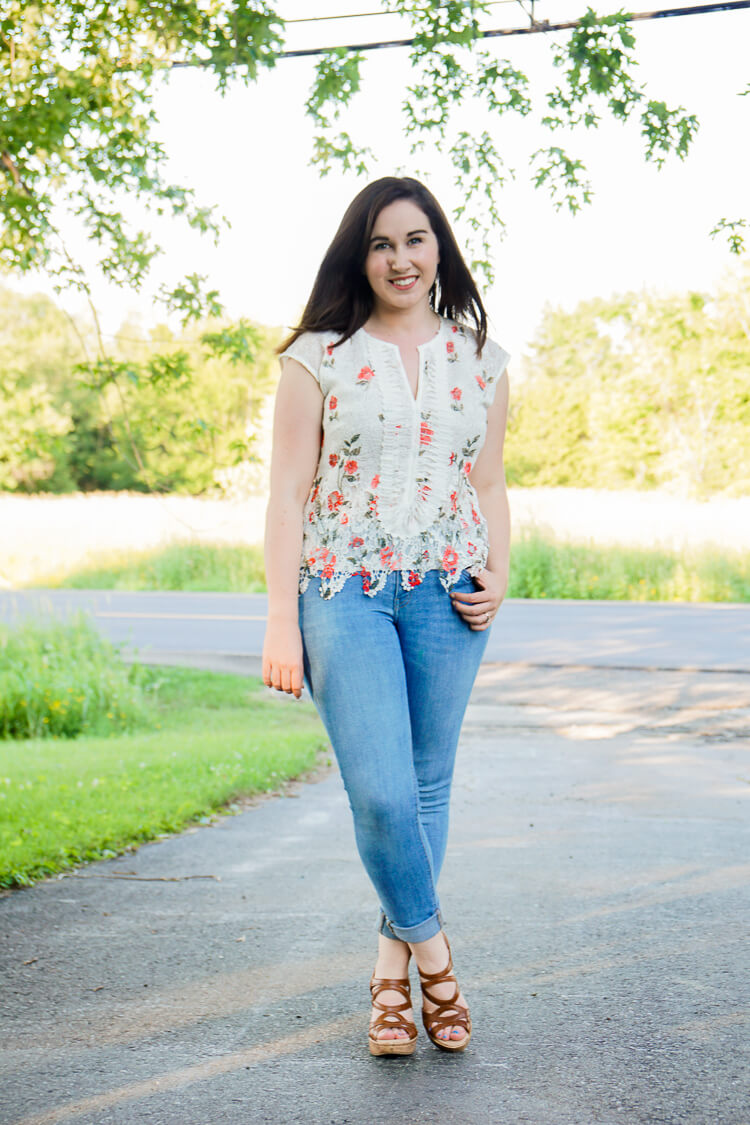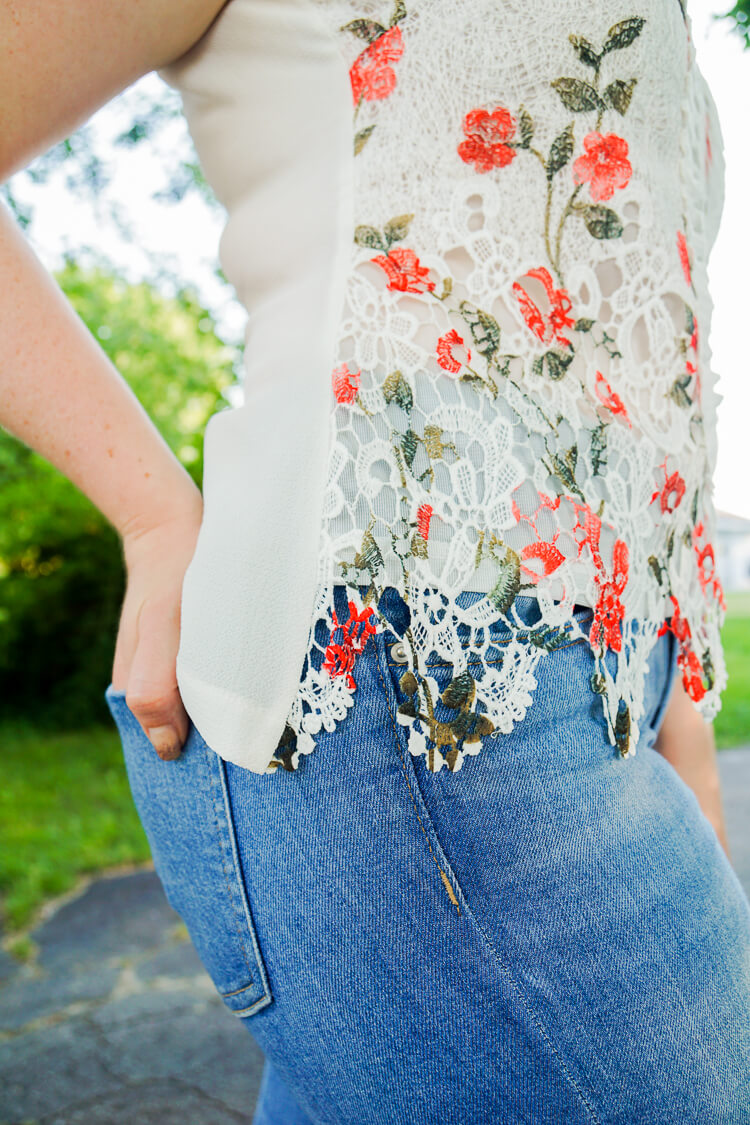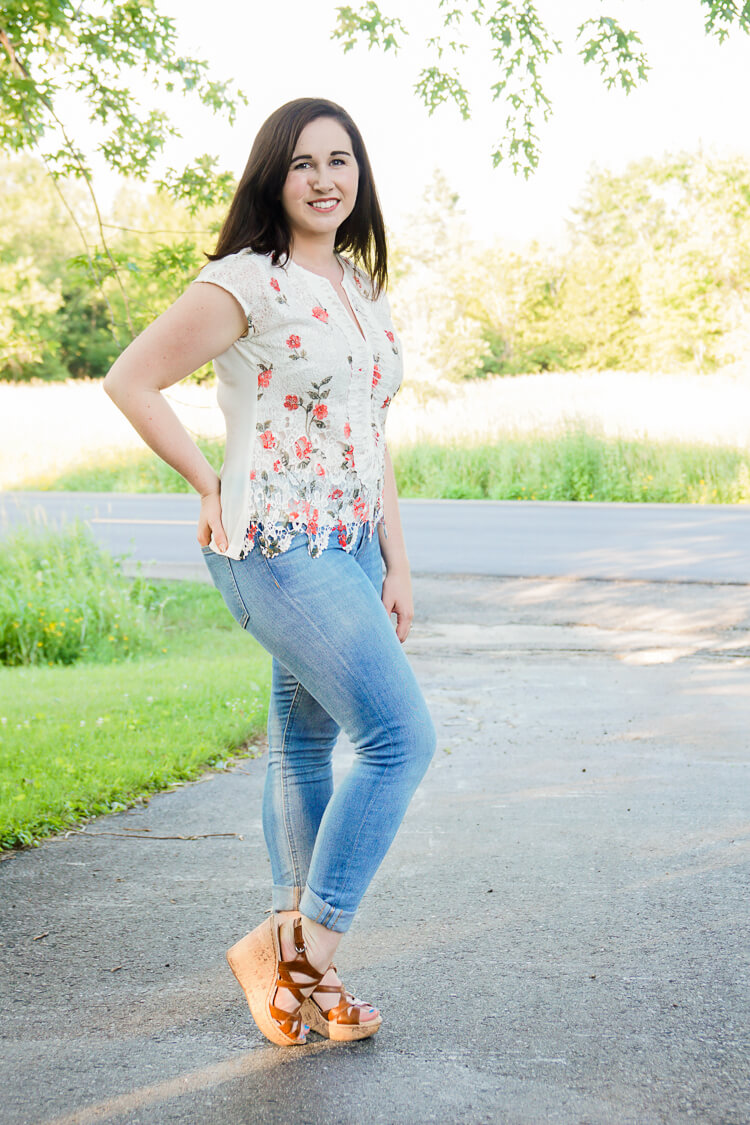 Thoughts: Not going to lie, I do not love this top, I don't even like it. It's not a great cut, and the design feels too old for me. The mix of materials was nice, but everything else about this top was all wrong, for me anyway. Luckily, my Golden Tote receipt includes a link to this Buy, Sell, & Trade group on Facebook, so maybe it's someone's unicorn.
Gilli Striped Midi Dress – Medium – Secret Item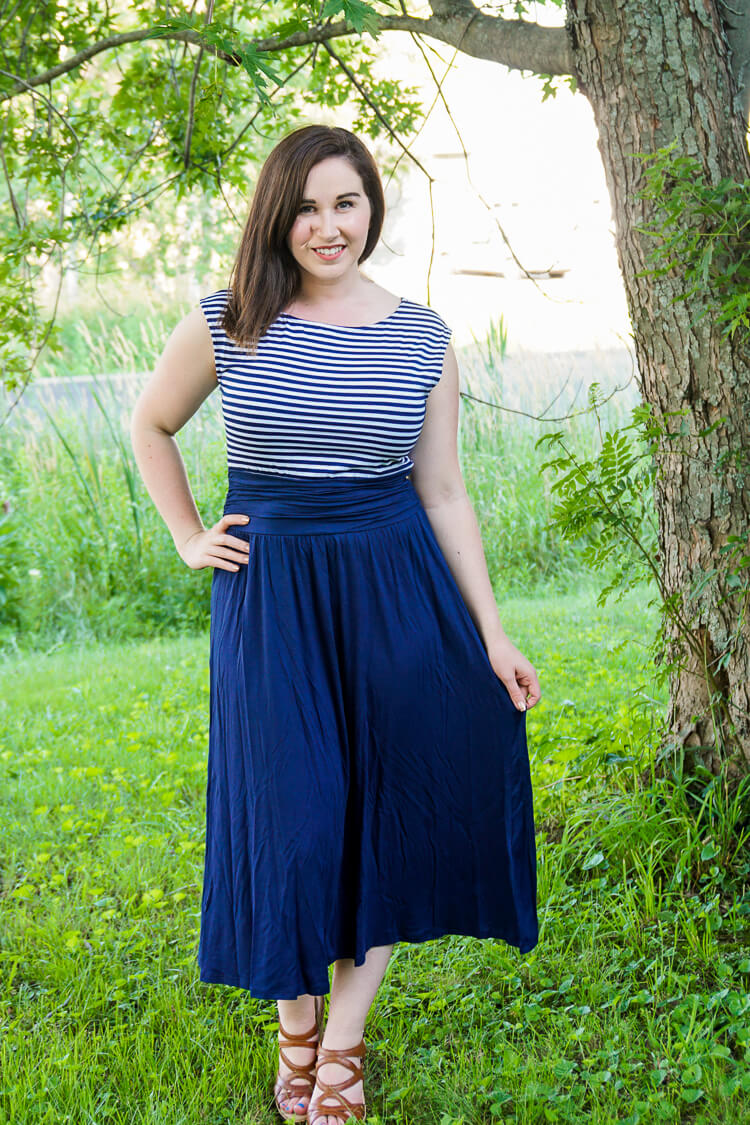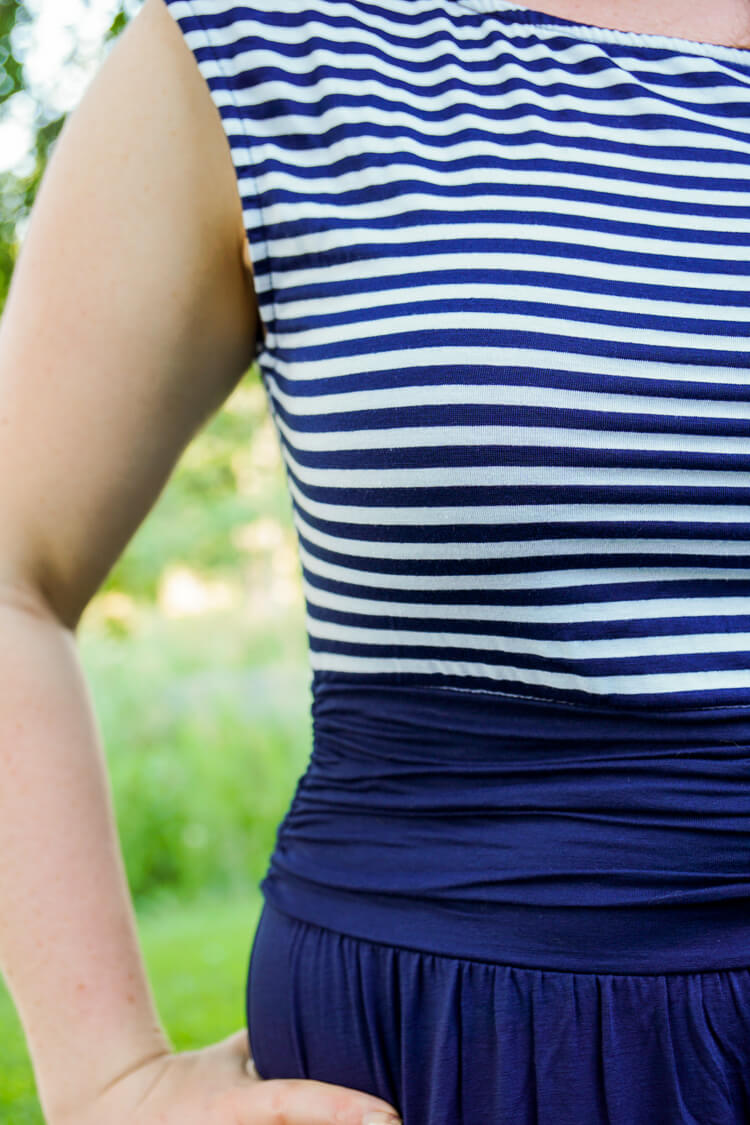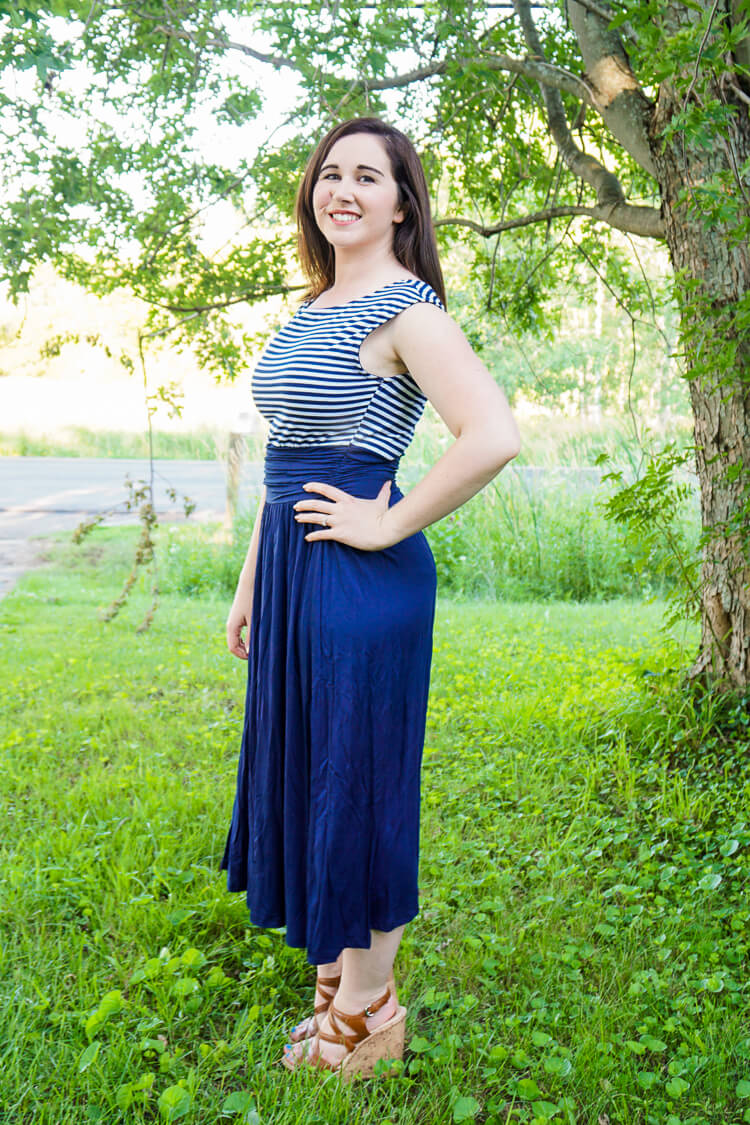 Thoughts: This dress is really cute and something I would normally pick out for myself. Gilli brand is famous for it's soft and comfortable materials and this dress is just that. However, I would have preferred that this dress was either floor/ankle length or knee length, I'm not loving the length it is now, so I'll probably have my mum hem it for me!
Jella C Floral Sleeveless Top – Small – Secret Item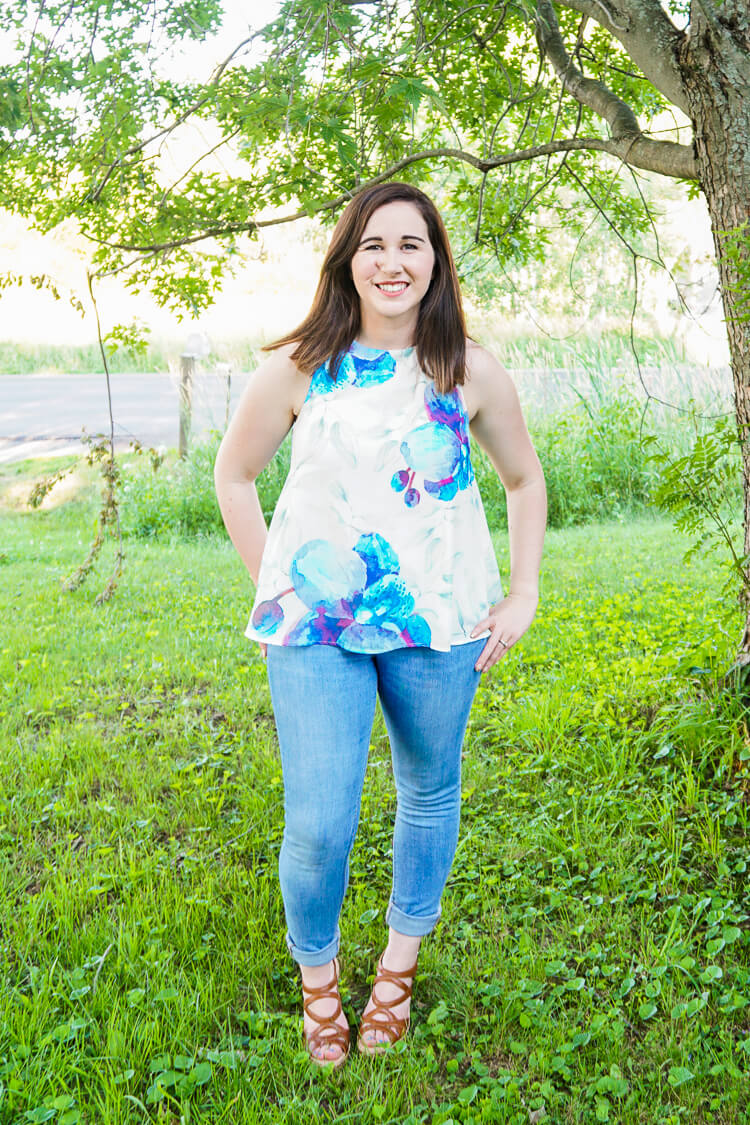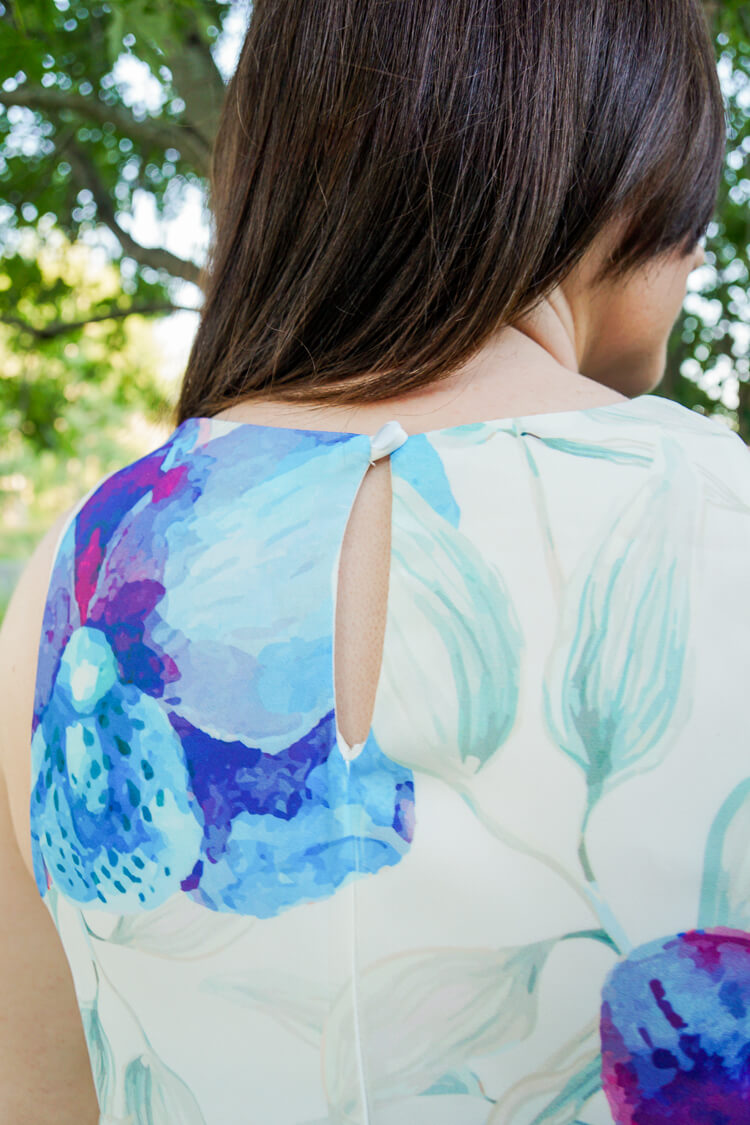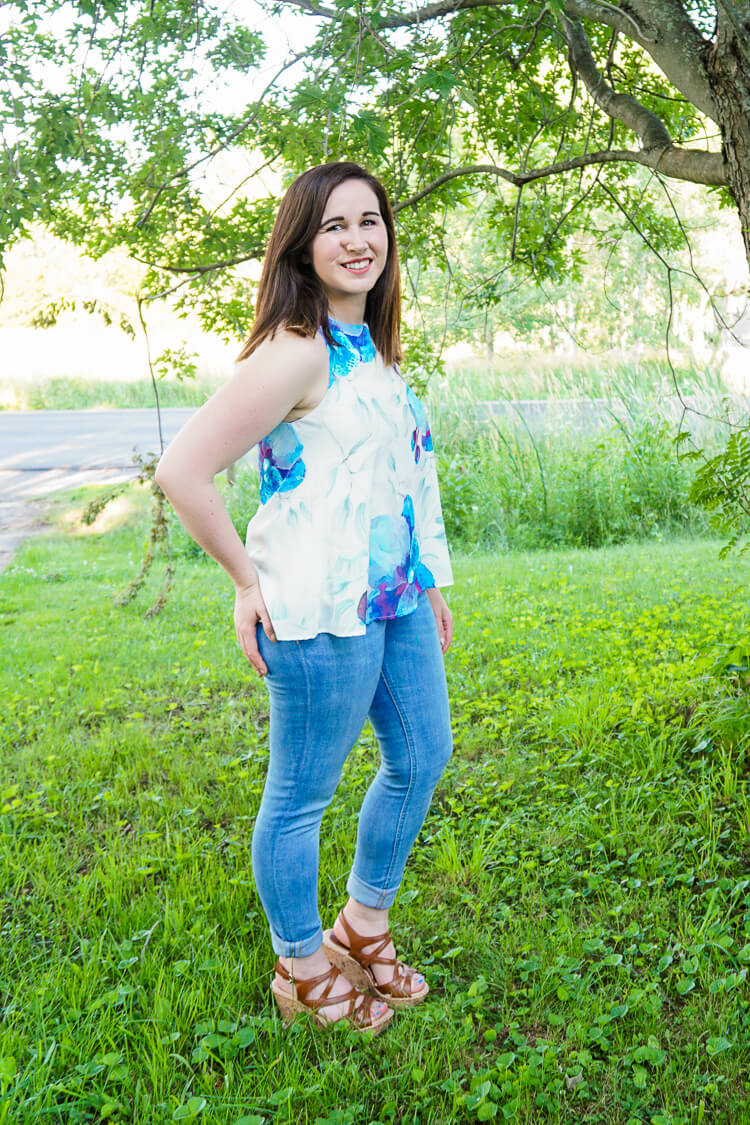 Thoughts: I adore this top. Unfortunately, it's a little too snug around the bust, so my assistant is going to take it off my hands… she didn't need much encouragement. I love the watercolor print, and the cut is super fun and feminine, you could wear this with jeans and wedges or white bottoms and heels for a night out.
---
What did you think of my Golden Tote Review? Any pieces you just have to have? Do you want to try Golden Tote out for yourself? Sign up here.