Thank you, General Mills for sponsoring this post and supporting this site, the content and opinions expressed here are my own.
This Grilled Southwest Chicken and Suddenly Grain Salad is a great combo of juicy chicken, wholesome grains, and fresh veggies bursting with flavor! Have it on the table in 30 minutes!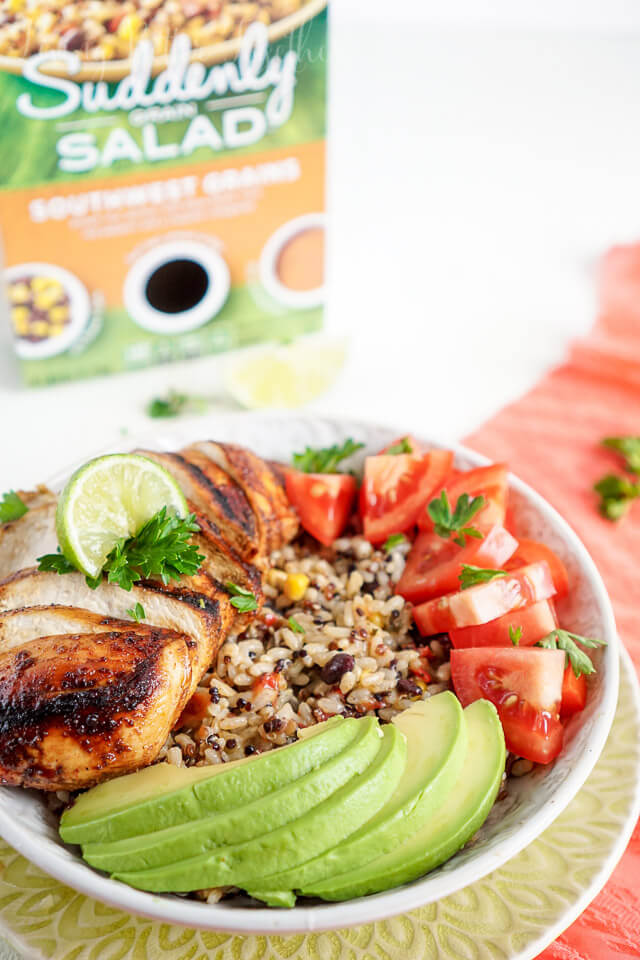 So I know I posted a Halloween recipe yesterday, but I'm still not quite ready to let go of summer and easy grilled dinners. I mean, are we ever truly ready to let go of the greatness that is grilled food. Probably not, and that's why some of us will continue to grill on our back decks in 24 inches of snow.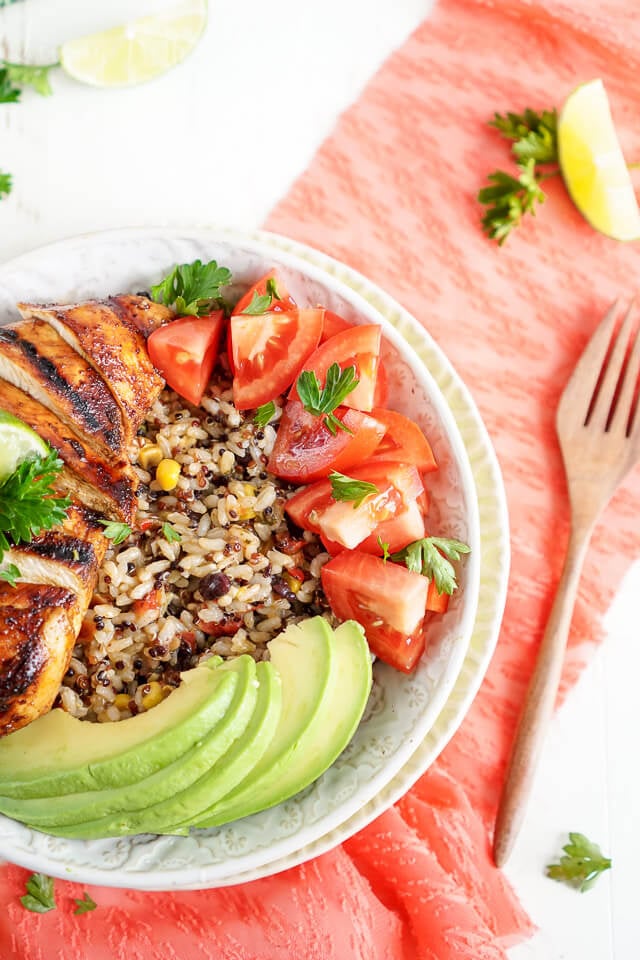 When it comes to grilled proteins, I love loading up the fresh veggies and pairing them with a starch like pasta or rice. I'm currently crushing on the Suddenly Grain Salad kits. You guys know the Suddenly Salad I'm talking about, right? I swear every person has a box stashed in their pantry for that last minute get together! Yeah, you know the ones!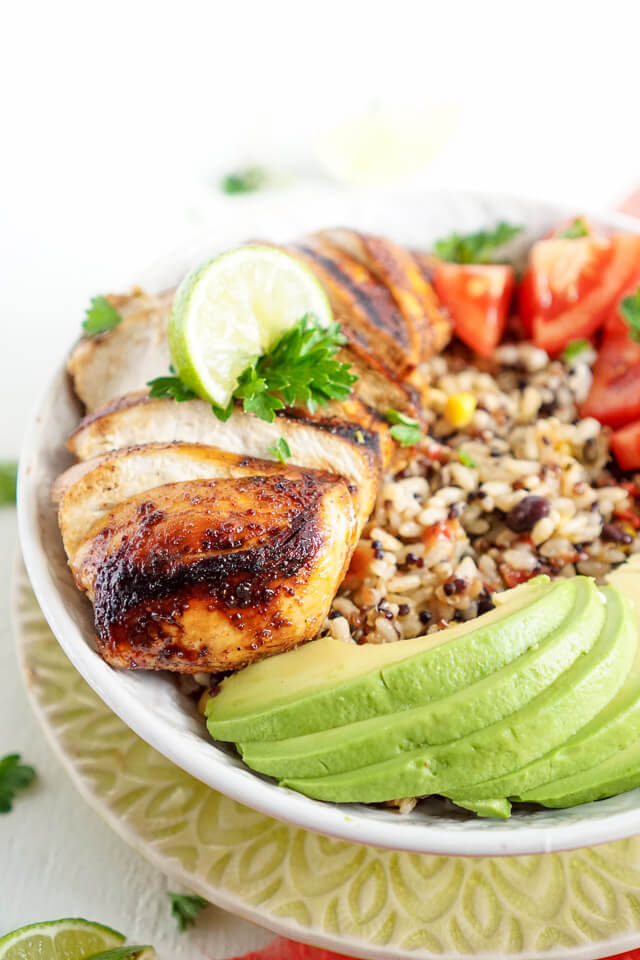 Well, I'm super excited that they're venturing into a new territory with their line of grains featuring Harvest, Tuscan, and Southwest flavor combos. Of course I was immediately drawn to the Southwest and was instantly craving a bowl of these grains loaded up with veggies and a grilled Southwest chicken breast with a spritz of lime juice.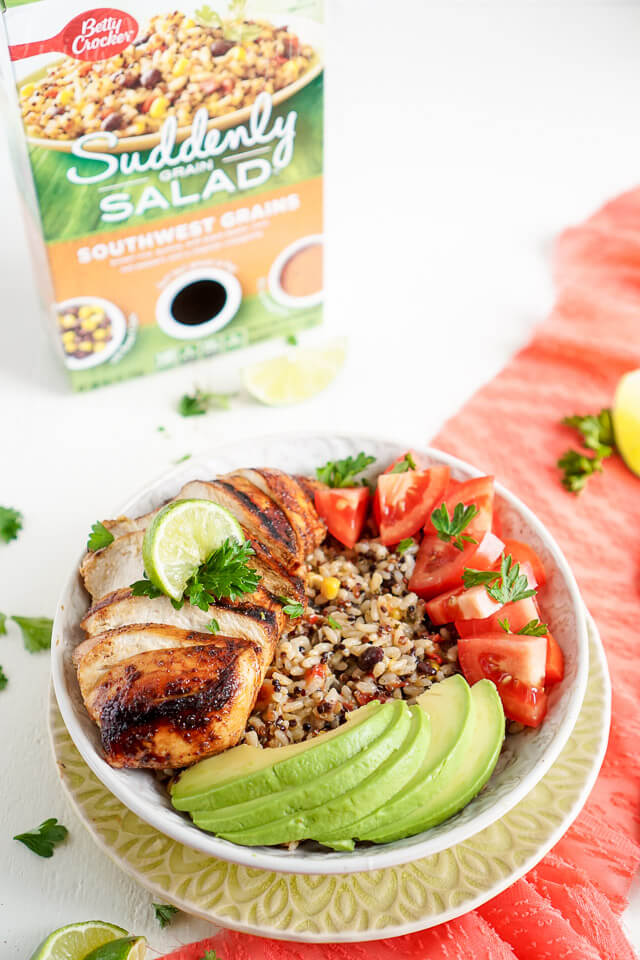 This meal is so fresh and flavorful, it definitely combats the crispness in the air and makes you feel like summer is alive and well!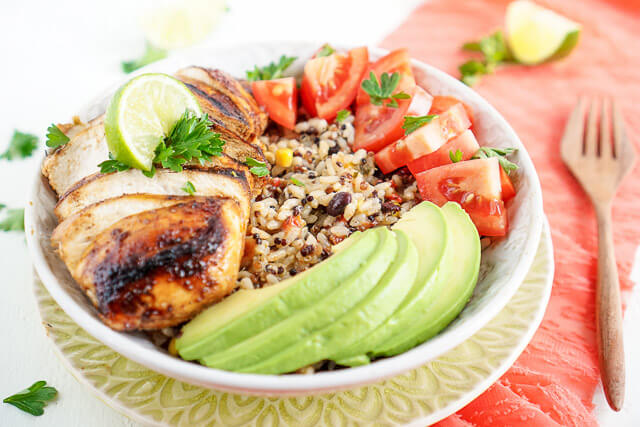 This dinner is such an easy meal to prep, making it perfect for those crazy week nights. You can brine the chicken ahead of time so take a couple minutes to do it in the morning before you leave for work. Then when you get home, it takes less than 30 minutes from start to finish to get this beautiful bounty on your plate! And you know what the BEST part about this whole dish is? It's great hot or cold, so add the leftovers to a wrap for tomorrow's lunch!
So what are you waiting for? Grab you coupon for a $.75 off a box of Suddenly Grain Salad NOW! Click for coupon.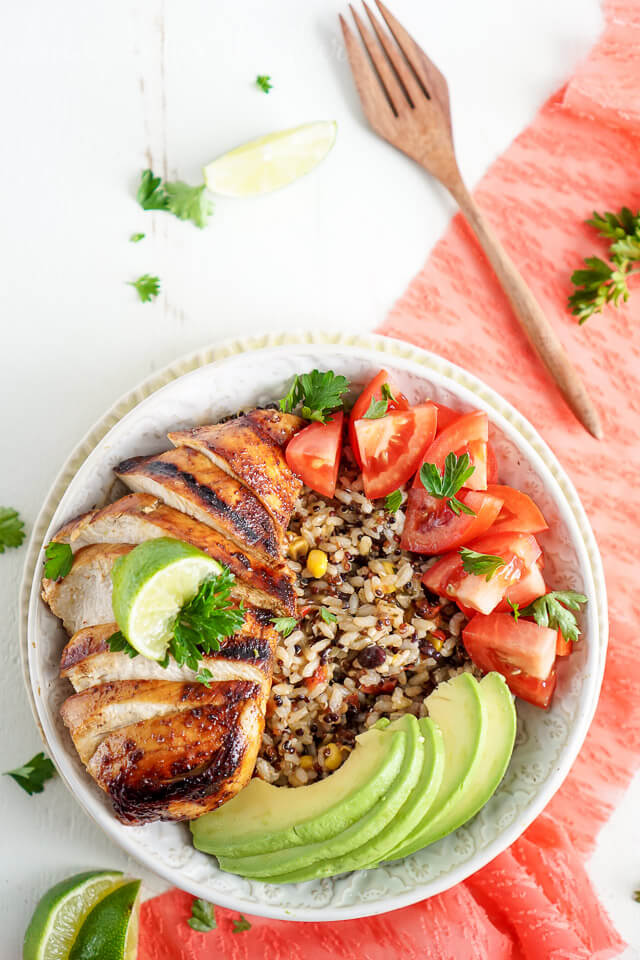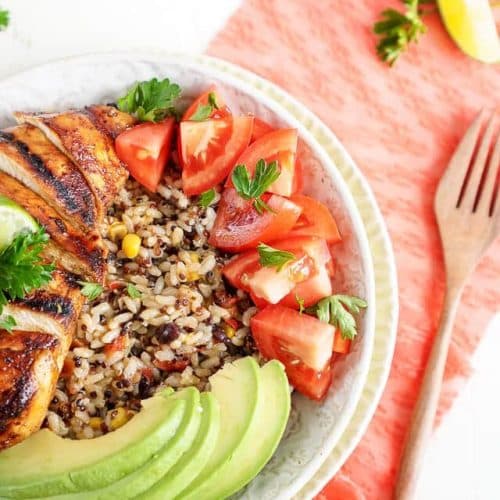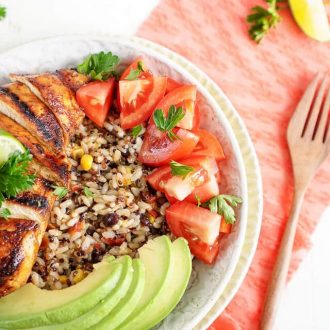 Instructions
Combine granulated sugar and water in a large bowl or Ziploc bag and brine your chicken for 30 minutes to 8 hours.

Remove from water and pat dry.

Combine seasonings in a medium sized bowl and rub all over the chicken.

Cook on the grill directly over flame for about 4-5 minutes on each side, only flipping once.

Move to an area of the grill where the heat isn't so direct to finish cooking, about another 10 minutes.

Chicken is done when internal temp reaches 165 F.

Transfer to a cutting board to rest for a few minutes before slicing and adding to prepared Suddenly Grain Salad with fresh vegetables.

Garnish with parsley and a squeeze of lime juice.
Notes
Every grill will cook a little differently, so please make sure to check the internal temp before eating.
Chicken can also be baked at 350 F for 45-60 minutes.