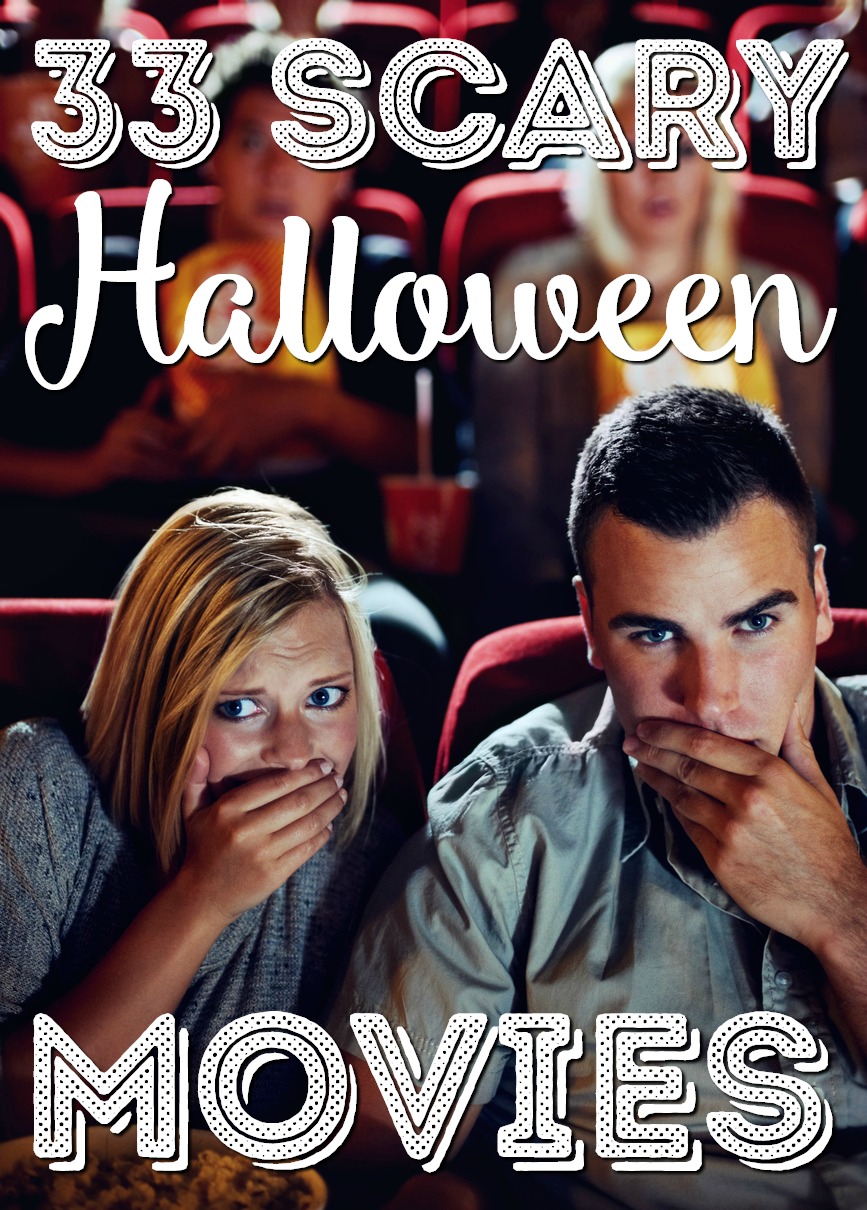 33 Must-see Halloween Movies and series for every mood and audience. Grab a hot drink and a bowl of popcorn, because things are about to get scary!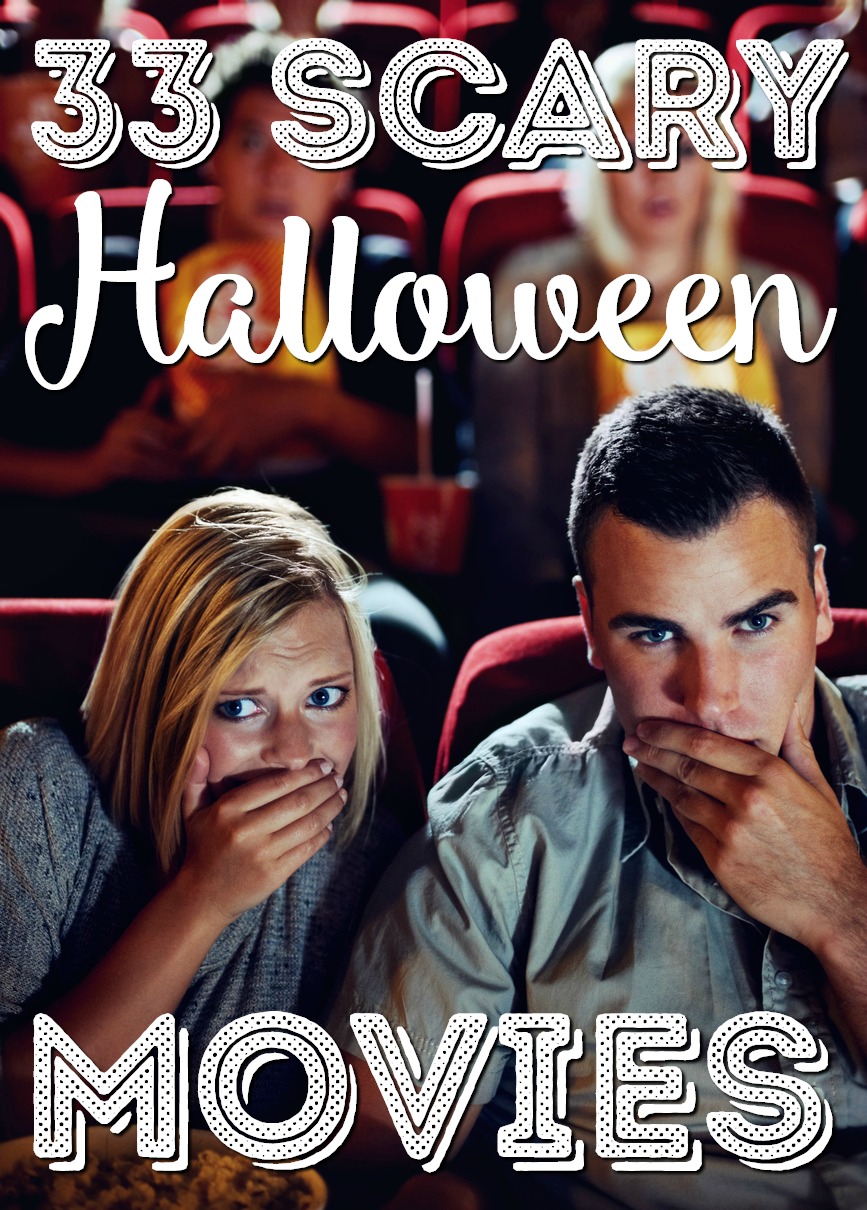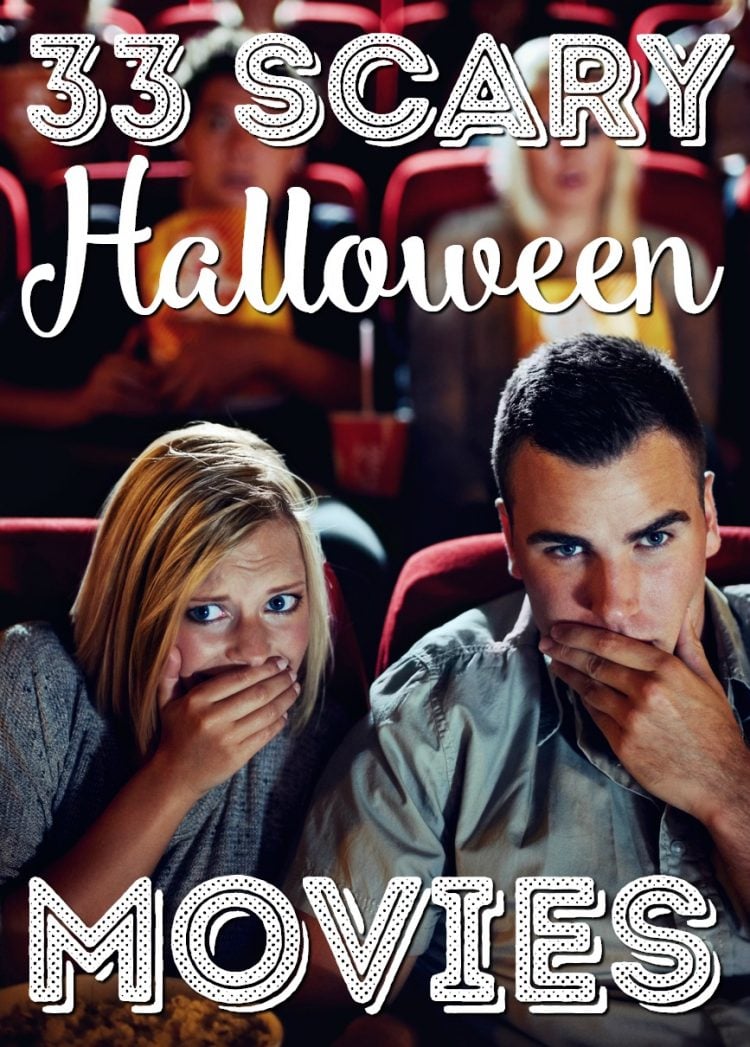 Halloween movies are a family tradition! If you're anything like me, you think that the days surrounding Halloween are some of the best of the year! Autumn scenery, apple picking, hayrides, pumpkin spice, spooky stories, and of course, heaps of candy contribute to the season's festivities. And sweater weather means cozying up on the couch with a steaming mug of cider and a stack of Halloween movies!
33 Must-see Halloween Movies
PIN IT TO YOUR BOARDS ON PINTEREST!
FOLLOW SUGAR & SOUL ON PINTEREST FOR MORE GREAT IDEAS!
The secret to a great Halloween movie marathon is variety, whether you binge watch them back-to-back, watch one a night, or even one a week. Family-friendly films are nostalgic, creepy Halloween movies give you chills, and thrillers will keep you on the edge of your seat, and there are a time and a place for all of them!
If you're looking for more great Halloween ideas, check out this Halloween Music Playlist and make this Goosebumps Punch for all your parties!
Halloween Movies for the family:
1. Casper – Who doesn't love the friendliest ghost that ever was? This heartwarming story is filled with love, beautiful imagery, and a dose of humor – just watch out for Casper's three crazy uncles.
2. Hocus Pocus – This is an all-time favorite for just about everyone who's seen it! Enjoy laughs and spooks as three curse-wielding witches come back to life. Watching this film should be an annual tradition!
3. It's The Great Pumpkin, Charlie Brown! – The Peanuts gang stars in this sweet movie that takes place in innocent days-gone-by. But no matter what, this classic cartoon will always be timeless.
4. Corpse Bride – Victor prepares for an arranged marriage… but finds himself betrothed to a lovesick corpse, instead! Directed by Tim Burton, you'll be captivated by this fantastical film.
5. ParaNorman – Norman, who can speak with spirits, overcomes being "different" to save his whole town in this heartwarming tale brought to life with eerie animation. A star-studded cast voices the characters, and there are moments of adult humor that'll go over the kids' heads.
6. Coraline – After moving to a new house, poor Coraline finds herself constantly bored – until she discovers a portal to another world. This creepy movie has an underlying lesson to be careful what you wish for!
7. Tower of Terror – You've been on the ride and heard the tale – but have you seen the movie? Starring a young Kirsten Dunst, this Disney movie goes deep into the legend of the Hollywood Tower Hotel and its haunted elevator.
8. Practical Magic – So you know up front: this PG-13 flick may be a bit too mature for young viewers. But this magical story of female bonds that transcend generations is a great watch for mothers and their teenage daughters.
Halloween Movies to make you chuckle:
9. Shaun of the Dead – Love zombies? Love comedy? This funny film of a 30-something deadbeat whose life turns upside down when zombies invade the town is sure to entertain.
10. Get Out – Chris finally meets his girlfriend's parents on a weekend trip, and he gets a strange feeling from her family. The film is punctuated with comic relief (or uncomfortableness) as he uncovers some scary secrets.
11. Young Frankenstein – If freaky flicks aren't really your thing, this 70's spoof following Dr. Frankenstein's grandson is widely considered one of the funniest movies of all time.
12. The Rocky Horror Picture Show – This cult classic of a couple who stumbles into the mansion of a mad scientist and his cohorts has everything: music, mystery, drama, eeriness… and it's absolutely, positively strange.
Halloween Movies to give you goosebumps:
13. The Woman in Black – Arthur Kipps, played by Danielle Radcliffe, encounters supernatural beings much different than those at Hogwarts. A small village, a haunted mansion, and a disturbed spirit set the stage for a story that's sure to make you shiver.
14. Sleepy Hollow – The spine-chilling legend of an undead horseman searching for his decapitated head comes to life. This star-studded film is a must-see in the days leading up to Halloween.
15. What Lies Beneath – An unfaithful husband, a vulnerable wife, and a ghost with a message from beyond fill this film with drama, betrayal, and moments that make you jump!
16. The Others – During World War II, a woman and her two children move into a coastal mansion while her husband is off at war. The family experiences strange occurrences and bumps in the night… until they discover a mind-bending truth.
17. The Sixth Sense – An outcast child has a gift for communicating with spirits, and it's not always pretty. This story is filled with heart, scares, and a twisted ending that turns the whole narrative on its head.
18. The Ring – A stringy-haired girl climbing out of the television puts a fearful spin on a modern mode of entertainment. Then you'll discover the terrifying backstory, which uncovers the real reason behind the spirit on the screen.
19. Insidious – An evil spirit tries to take possession of a little boy in a coma, and his family is so desperate to help, they enter an alternative realm to face the entity head-on. This story is not only spooky, it explores a spine-chilling concept.
20. The Shining – The movie based on the Stephen King novel is almost 40 years old… and still as eerie as ever! This film about a writer who slowly turns psychotic while staying in an empty hotel with his family is almost three hours long – so stock up on snacks!
Halloween Movies
that make your heart race:
21. Carrie – Another Stephen King creation, a bullied girl reaches her breaking point when she's the victim of a cruel prank at prom. That's when she uses her secret telekinesis powers to wreak havoc on the town.
22. Amityville Horror – When a father becomes possessed by a demon, he begins to turn on his family. Loosely based on a true story, the movie about a house that holds an evil entity was released in 1979, then remade in 2005.
23. Silence of the Lambs – A serial killer – who's also a cannibal – is a psychiatrist who's mad and in a mental institution. He helps investigators solve a case, playing mind games all the while.
24. Seven – Another puzzler, this film follows detectives who go out to capture the man behind a slew of murders. The thing that connects these victims is that, in some way, each of them represents the seven deadly sins.
25. Texas Chainsaw Massacre – A group of teenagers venture to a remote farmhouse and find themselves pursued by a killer who wears a mask made of human skin. Released in 1974 then remade in 2003, this is a true slasher movie!
Halloween Movies
that have s
cary series:
26. Underworld – Vampires and werewolves battle it out in this frightening flick. If fantastical creatures and storylines are your thing, make sure to add this series to your fall movie list.
27. Saw – These graphic movies depict a demented killer who puts his victims through emotional and physical torture. The concept is creative, but each scenario will definitely make you squirm.
28. Final Destination – Disclaimer: you may never feel safe on car rides, airplanes, or roller coasters again! In these movies, premonitions spark actions that lead to many creative ways to die.
29. Friday the 13th – A full dozen movies make up this franchise. These center around vengeful murders connected the death of Jason, a child who drowned at Camp Crystal Lake. In many of the films, Jason comes back to kill while donning a creepy hockey mask.
30. Nightmare on Elm Street – These movies may keep you up at night! Villain Freddie Krueger murders a group of teens in their dreams – or shall we say nightmares. As it turns out, their parents know a secret that has to do with this night stalker.
31. Scream Movies – This clever series revolves around characters who are aware of common horror clichés, which come out in their interactions with a killer named Ghostface. However, this awareness doesn't always spare their lives.
32. Scary Movies – Five flicks complete these horror comedies, which spoof classic and modern horror movies. The references are sure to make you chuckle, especially if you're well-versed in the scary movie genre.
33. Halloween – Rounding out the list is the franchise which is named after the holiday! The roots of Halloween begin with Michael Meyers, a boy who kills his sister and is put in an asylum. Fifteen years later, he escapes, and unleashes his murderous wrath on – you guessed it – Halloween!