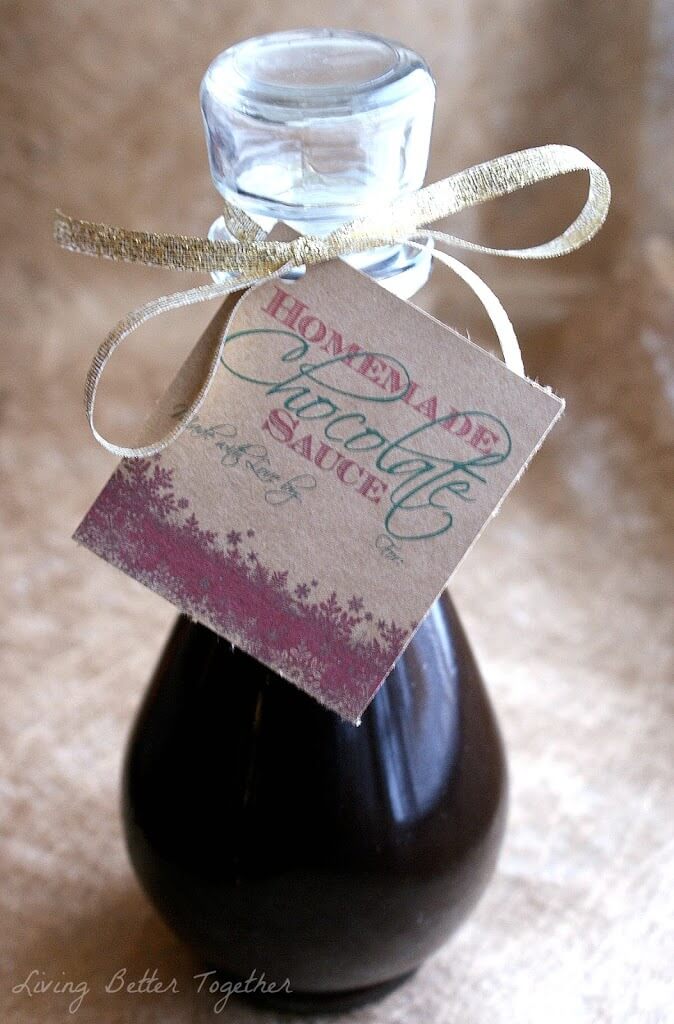 This year, in addition to our Want, Need Wear, Read, we're going to be putting together food baskets for our family this year. These baskets will be made up of both homemade and store bought goodies that Matt and I love! We'll be including things like our Homemade Marshmallows, Homemade Vanilla Extract, and this incredible Homemade Chocolate Sauce.
Now I don't know about you, but one of my fondest memories from my childhood is my Nana popping a hole in those Hershey's Chocolate Sauce cans and pouring it over my ice cream. Matt loves a big glass of chocolate milk made with thick syrup. So this stuff isn't going to stick around long in our house and it's probably a good thing we know they're for gifts!
This syrup is rich, decadent, sticky, and oh so amazing! I'm pretty sure it's a new holiday tradition in a bottle.
Makes 5 cups, I made three batches for my 5 bottles.
Ingredients:
1 1/2 cups Water

3 cups Sugar

1 1/2 cups Cocoa

1 tbsp

Homemade Vanilla Extract

1/4 tsp Sea Salt

2 tbsp Light Corn Syrup
Directions:
Combine water and sugar in a large pot and bring to a boil.

Wisk in cocoa a half cup at a time, making sure it's dissolved before adding more.

Add vanilla, note that when you add the vanilla, the sauce will bubble and could hit you so be cautious.

Add salt and corn syrup.

Heat on low heat for about 10 minutes, until it starts thicken.

Remove from heat and let cool completely in pot before pouring into containers.

Use a funnel to pour your sauce into your containers and add a ribbon and gift tag.
Get your FREE printable gift tags here.
Store in a air tight container in the fridge or cool dark place. Sauce should keep for several months. If you store it in a glass container you can easily heat this up in the microwave to drizzle over ice cream, or use to make hot chocolate or chocolate milk. The possibilities are endless!
I got my bottles from Hobby Lobby.