These Mini Peanut Butter Marshmallows are so easy to make right at home and take no time at all! They're the perfect addition to hot cocoa and make for some killer s'mores!
Did you know that when I we started Living Better Together the idea was for it to be a shared blog that both Matt, my husband, and I would contribute to? Yeah, well, obviously I kinda took over. Matt still makes a contribution though, usually it's picking up my mess of a kitchen when I'm done with it or running to the store to grab butter because I'm in the middle of a recipe and made the mistake of assuming there was some in the fridge. It's more like a contribution to my sanity than anything else, but it counts!
Sometimes though, he's even more awesome than I thought possible and he creates the content for three blog posts in the same week. Yup, you guessed it, every post this week was created by Matt. He didn't write them, but he put together The Ultimate Christmas Party Playlist, made these Havarti Monte Cristo's, and he whipped out his mad marshmallows making skills to give you guys these tasty little things!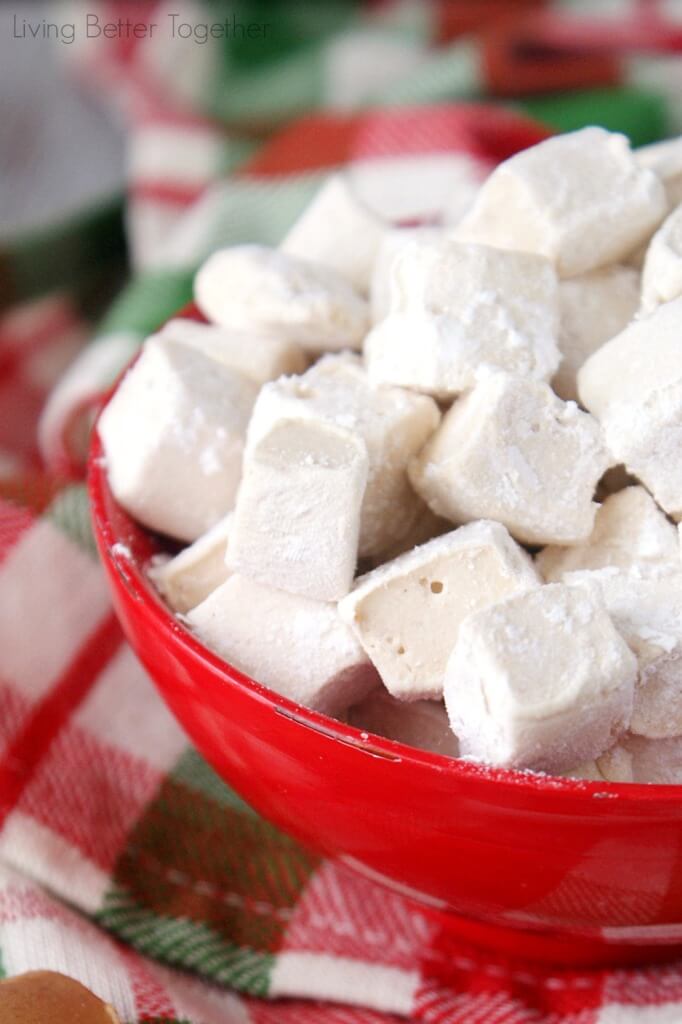 When I found out that the Peanut Butter Bash secret ingredient for December was marshmallows, I decided to take the theme quite literally and asked Matt to make these Peanut Butter Marshmallows for you guys! And because he's the best, he did!
They ended up being mini marshmallows because the weight of the peanut butter deflated them a little, but that's okay, they still tasted awesome and had great texture! I added them and a tbsp of peanut butter to my hot chocolate and good lord it was good! You might remember from my Homemade Marshmallows post this time last year that they're no where near as hard to make as they sound, seriously, you'll never want store bought marshmallows again!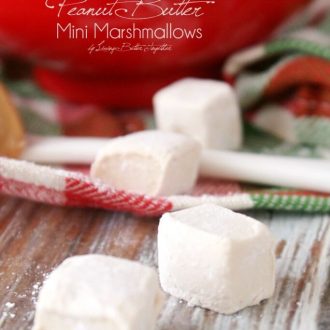 Homemade Peanut Butter Mini Marshmallows
Make these Mini Peanut Butter Marshmallows right at home in no time at all, they're the perfect addition to hot cocoa and make for some killer s'mores!
Print
Pin
Rate
Instructions
Add gelatin and 1/2 water into the bowl of a stand mixer.

Combine remaining 1/2 cup water, sugar, corn syrup, and salt in a small sauce pan. Place over Medium-High heat, cover and cook for 3 to 4 minutes.

Uncover and clip a candy thermometer to the side of the pan a continue to cook until temp reaches 240 F. Should take about 7 to 8 minutes. Once mixture reaches this temperature, immediately remove from heat.

Turn the mixer on low speed, while running, slowly pour sugar mixture down the side of the bowl into the gelatin mixture.

Once you have added all the sugar syrup, turn speed to high and whip until mixture becomes very thick and lukewarm, about 15 minutes.

Add peanut butter and vanilla during the last minute of whipping, mixture will deflate some.

Combine confectioner's sugar and corn starch together in a medium bowl.

Lightly spray a 9 x 13 baking pan with cooking spray and dust with the confectioner's sugar mixture.

Evenly spread marshmallow cream out in the pan.

Sprinkle with more confectioner's sugar mixture.

Let set uncovered for at least 4 hours, preferably overnight.

Once set, turn marshmallows out onto a cutting board and slice into 1/2 in. wide strips with a pizza cutter dusted in confectioner's sugar mixture.

Cut the strips into 1/2 inch cubes.

Once cut, dust every side of each marshmallow with confectioner's sugar mixture, make more mixture if needed.

Store in an air tight container for up to 3 weeks!
Notes
If using the marshmallows for s'mores, cut into two inch squares.
Adapted from Alton Brown
Don't forget to check out all of the other great Peanut Butter and Marshmallow recipes below or follow our Peanut Butter Bash Board on Pinterest!