Who knew planning the trip of your dreams could be so fun! Here's a brief walk through of How to Plan your Vacation using Pinterest and it's new and improved Map Boards.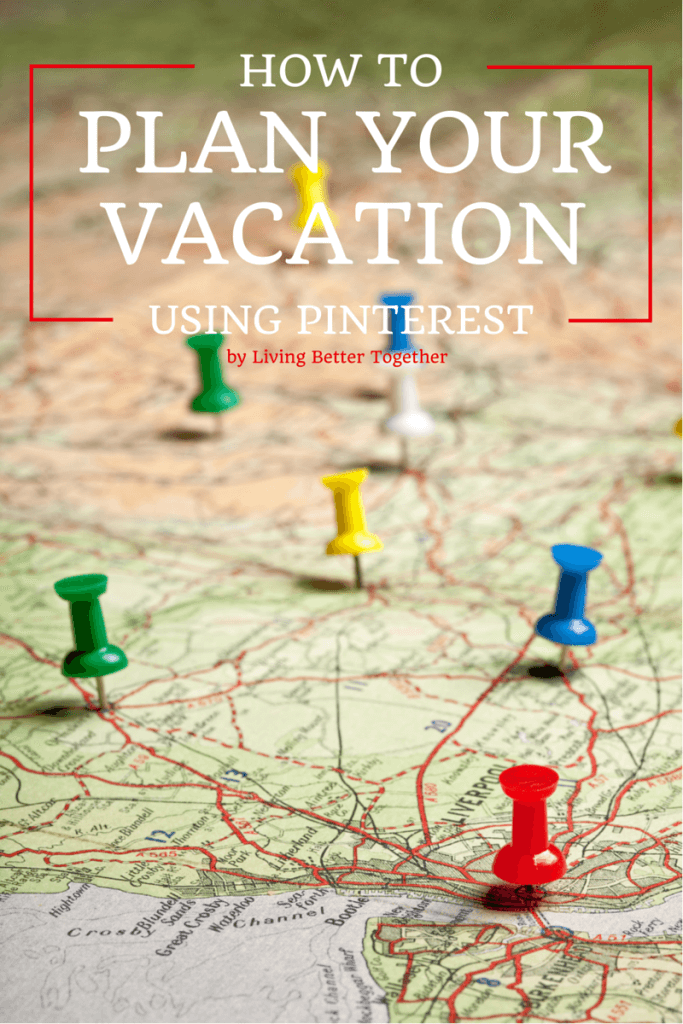 I'm sure I've probably mentioned it before, but technology and I just don't get along. It's like I touch something and it breaks, no joke. I hardly ever do laundry (its in our scary basement) and when I went to dry a load last November, the dryer just stopped working, it was a year old. Needless to say, I'm not allowed to touch it anymore. Anyways, along the lines of what I was just saying, MapQuest hates me. I swear it's out to get me (lost).
So when it comes to planning trips, I try to avoid MapQuest as much as possible. I'll use it to check driving times between destinations and what not, but I don't find it to be all that user friendly. So when it was time to start planning our trip to Ireland and Scotland in a couple months, I decided to use a tool that most of you have heard of but have probably never used. Pinterest Maps. Way cooler than MapQuest, right?
If you have a Pinterest account, then you're well aware that it's a great place for discovering new things, gawking at pretty pictures, and planning breakfast. When I first joined Pinterest, one of the first boards I created was my "Oh the Places You'll Go" board. I pinned lots of photos of pretty places that I one day hope to see. The great thing is that you can pin from all over the web so if you see a place you want to go from another site, just pin it!
When Pinterest first started its map boards, I didn't really use them. They were small and I don't think they were all that user friendly. A few weeks ago though, I got a notification that Pinterest was upping their game! So of course, I had to check them out! The improved map boards are so awesome and a wicked cool way to plan your trip!
You know what the coolest part is though? If you're going on a trip with multiple people, you can invite them all to pin to the board. My mom and I are currently planning a trip to Iceland in the fall, it's great because both of us can add things and it makes it so much easier to plan together! Plus, we can send each other pins and talk about the trip through Pinterest Messages!
So anyways, the Pinterest Map Boards are a wicked cool tool and I thought I'd do a quick walk through on them and hopefully inspire you to plan your next vacation on Pinterest too!
We'll be doing this walk through on my Ireland~Scotland~2015 board if you want to follow along!
[line]
Create a new board or you can edit an existing travel board to add a map as seen below. Note that if you want to keep your board secret, you can, but once you turn the secret button off, you can't turn it back. This is also where you can add people to pin to your board.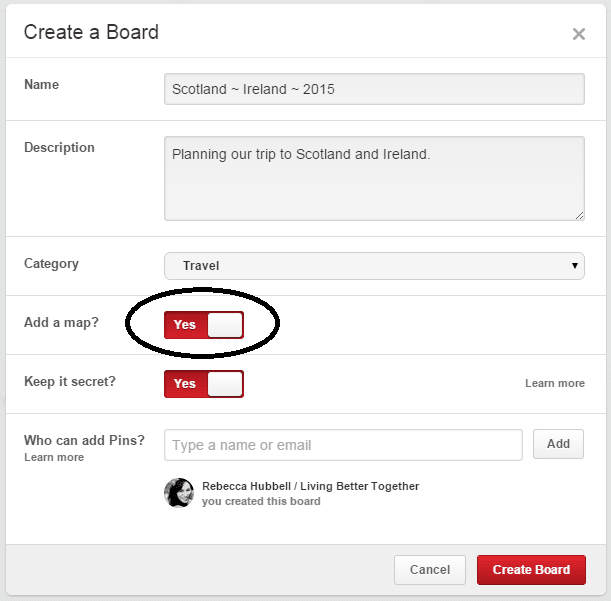 Hit "create board" and you've got yourself a blank map to start pinning your dreams (plans) to.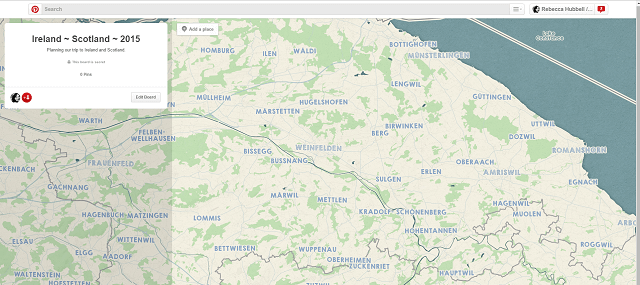 Now that you've got a board, you've got to go out and get some pins! I just typed Scotland and Ireland into the search tool when this board was just a dream and not a reality. I was just pinning anything and everything to it that interested me and that I wanted to see. When we finally booked our trip, I was getting more specific with my searches like "Inverness" and "Fingal's Cave". Once you've pinned your pins to the board, you can go into your board and see your pins and the blank map.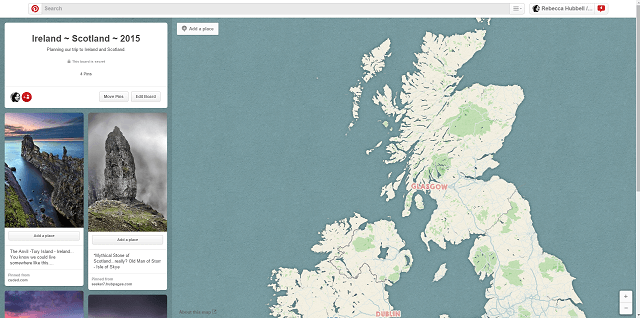 What I love about the maps is that the pins don't automatically add themselves once they're pinned to the board. I think this is great because I only want to pin things to the map that we're actually going to do or see. Plus, I've got some pinned posts like "10 Things to do in Dublin", it's not something I want to add to my map, just a post I want to read and have easy access to.
So in order to add the pin to your map, you've got to click the "Add a place" button.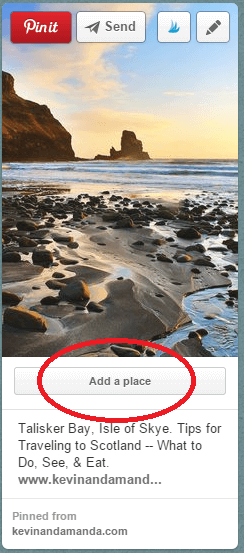 Once you click the "Add a place" button, a little search tool is going to pop up. You'll need to start typing the name of the location into that search tool and then select the location you want. Most locations are right in the descriptions of the pin as seen above so it's easy to figure out what to type in.
To make sure you've got the right location, when you hover over one the the search options, a little pin will show up on the map. So if you're looking for something in Europe and the pin takes you to the U.S., you've got the wrong location.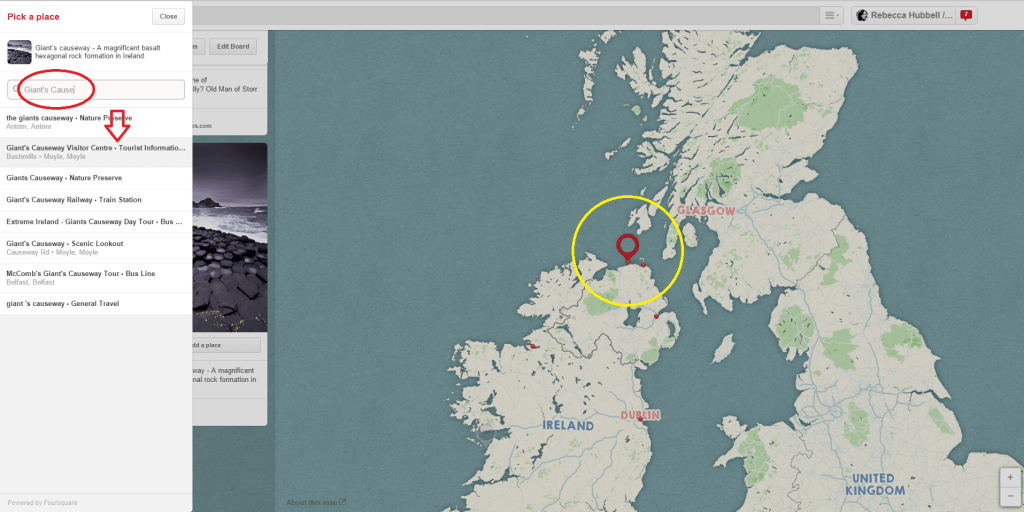 Once you've found the location you want to add, just click it and it adds an actual pin to your map. Yay, you're going places now!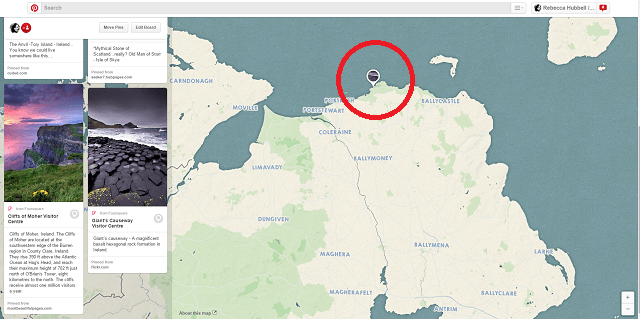 A few pins later and you're well on your way to planning your perfect vacation. In the image below, I wanted to point out a few useful tools and tips.
The arrow all the way to the left is pointing to an indication on the pin itself that the pin location has been added to the map. This is super helpful if you're scrolling through a couple hundred pins and aren't sure if you've added something yet or not.
The arrow in the upper right is indicating that I have added 3 pins within Edinburgh. This little red number will be great for helping you plan your time. If you have 10 things pinned in one place and only 3 in another, you'll know you're probably going to allot more time from your trip to the place with 10. Make sense?
Lastly, in the bottom right hand corner, there's a zoom tool, perfect for when you want to focus your planning in a specific city.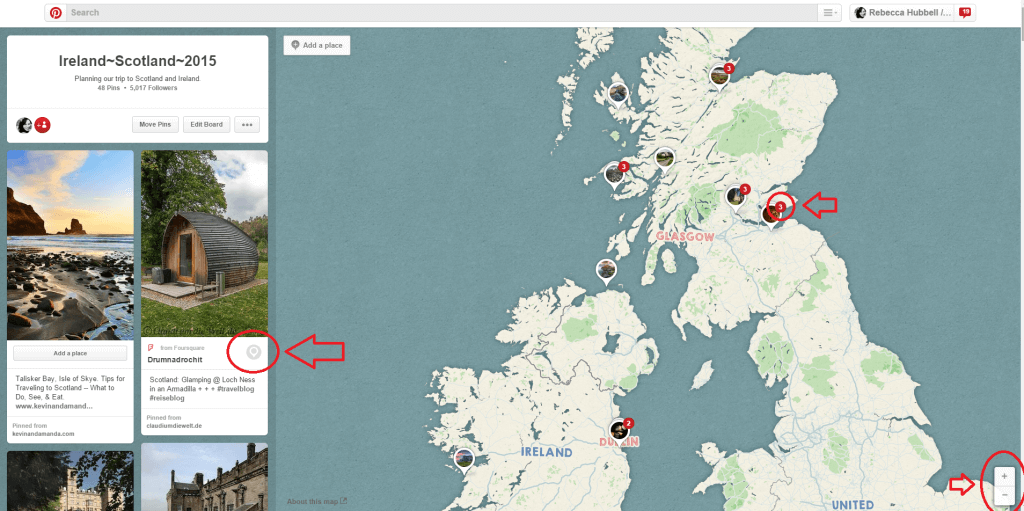 The image below is actually another cool thing about those little numbers. When you click on them, it zooms you into that area shows you everything within the cluster. These were the 3 pins I had near Inverness.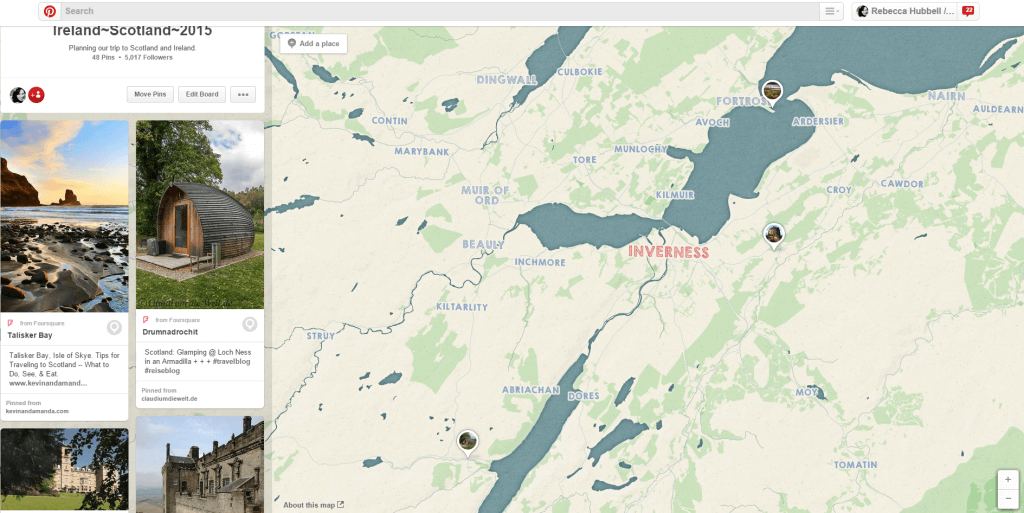 I love that you can also click on a pin on the map and it will pop up with a location description. You can also see over to the left that it automatically scrolls to the pin so you can read the full description and of course, see the pretty pictures! Did you also notice that even the map pins have little bubble photos!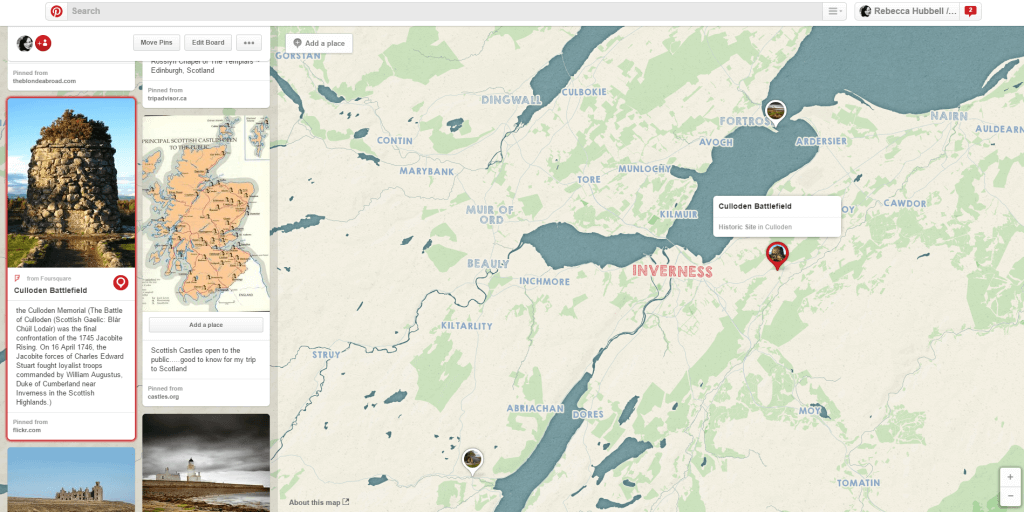 You can zoom in really close on the maps to see roads and whatnot if you want to.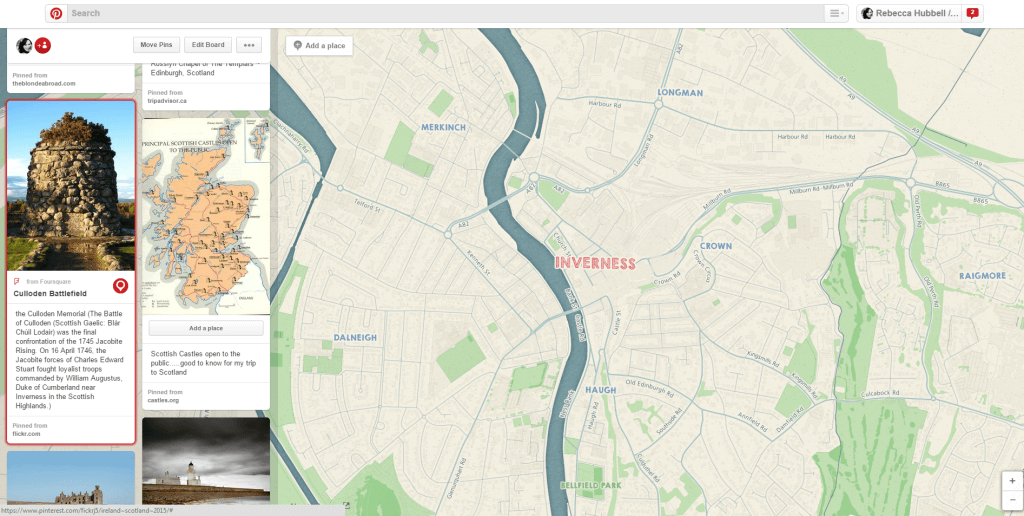 The other great new feature is that you don't have to go out and use the search bar to look for pins. If you know just what you're looking for you can click the "Add a place" button in the top left hand corner. A search bar will pop up and you can type in your location, similar to what we did above.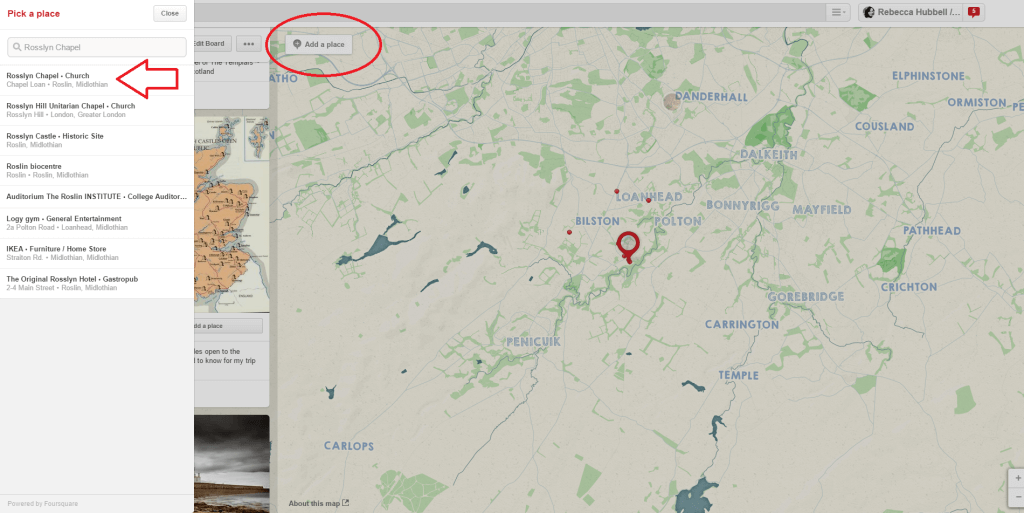 Once you select your location, then you'll get to pick an image to pair that location with.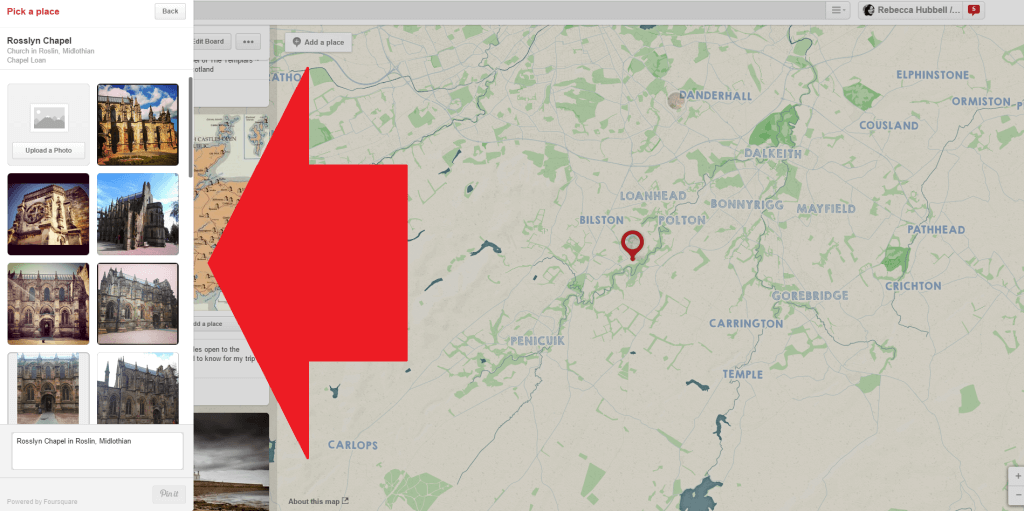 Now you've got a good start to your board, you can remove pins by hitting the "edit" icon and clicking "remove place" and then saving your changes.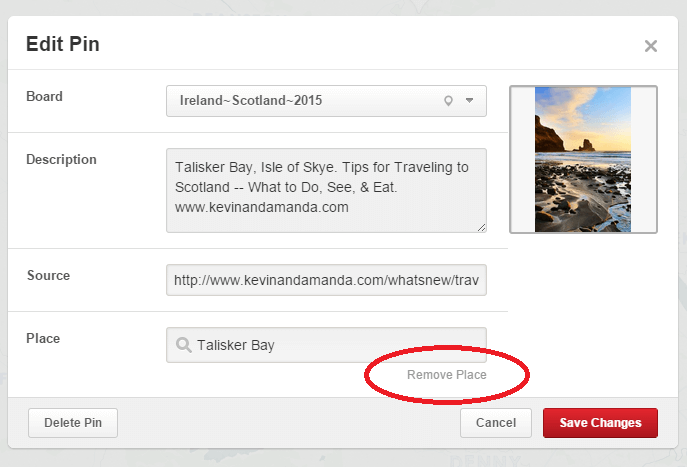 This is such a cool and interactive platform to plan your trips on. It's definitely helped me a lot as we prepare for our trip and I hope it will be a help to you as well! I'll be sharing more details on our trips plans in the coming weeks!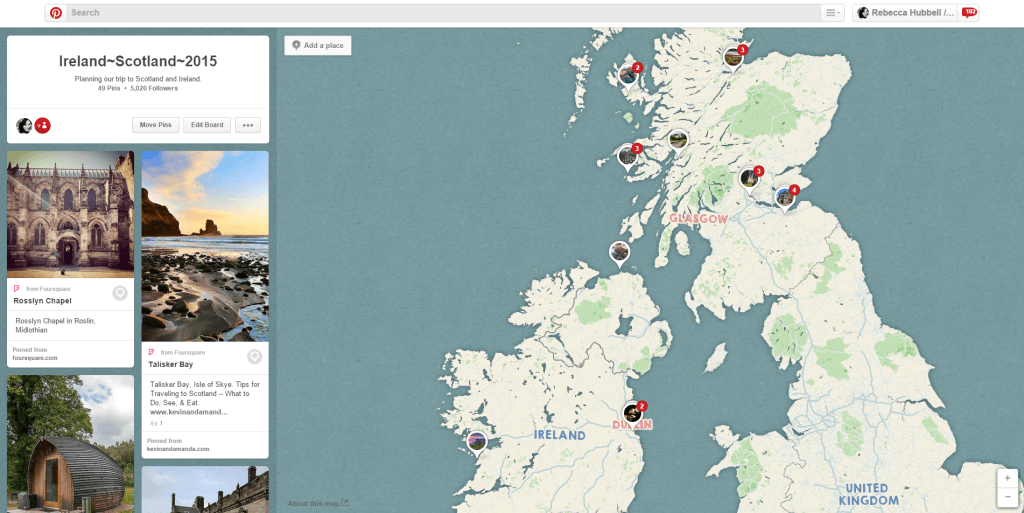 Where are you heading next and what dream vacation will you plan using a Pinterest map board?
I love to blend my traditional Maine roots and millennial imagination. I have a serious sweet tooth, an Audible addiction, and I'm always up for exploring new places!