Iceland 3-Day Itinerary – Looking for Things to do in Iceland? Here's the ultimate travel guide to everything you need to see, eat and do in Iceland during your weekend getaway or stopover!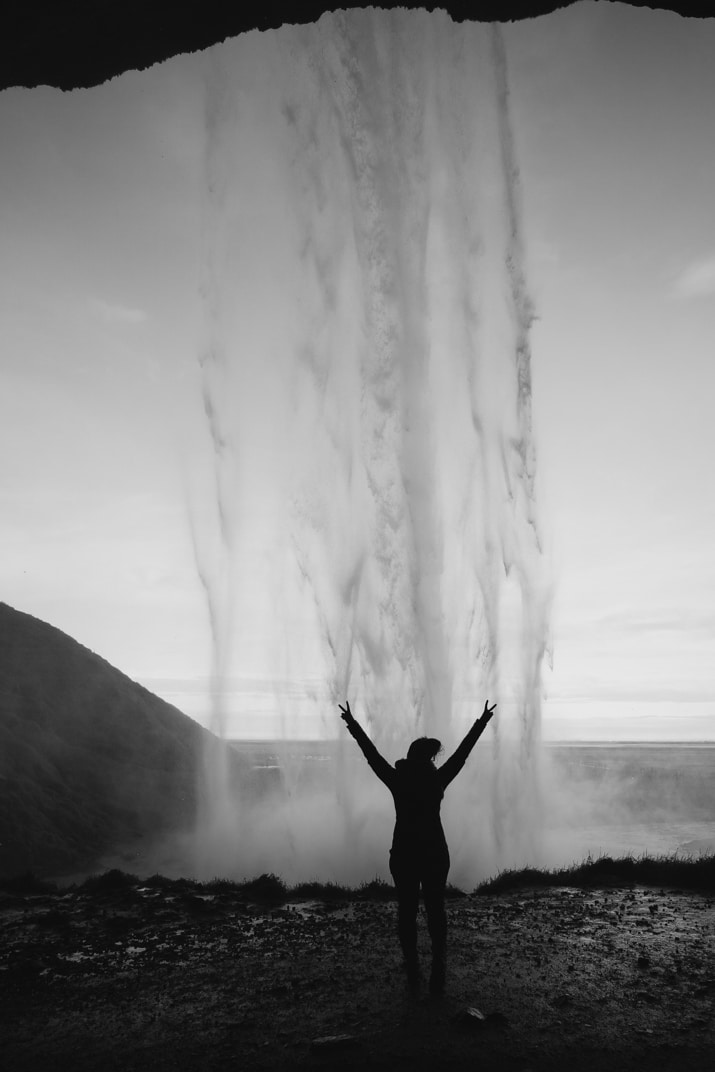 Iceland Stopover Itinerary
Expansive lava fields and towering volcanoes. Hot springs and icy seas. Shaggy horses and diamond beaches. Tranquil auroras and roaring waterfalls. Bold, Majestic, and Raw. This is Iceland.
I've been to Iceland more than any other country and it is truly a magical destination. Each trip has been different, the first time was a mother-daughter trip and we saw the highlights of the south.
The second was another family trip and we drove the entirety of Iceland's famous Ring Road. This last one, was a girl's weekend stopover, cramming as much as possible into 56-ish hours.
Having been before and bringing my friend, Rachael, with me who had never been, I wanted to show her the best time ever! So we teamed up with the Blue Lagoon and SADcars for one epic weekend in the land of ice and fire!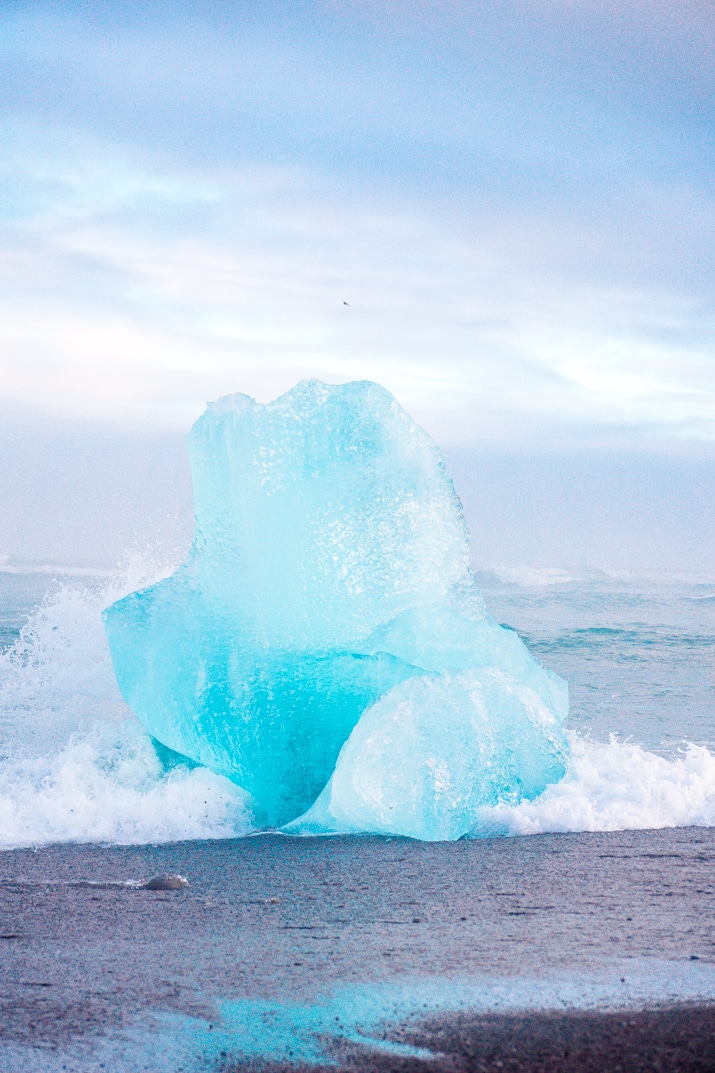 Best Time To Go To Iceland:
Personally, I would say late September/early October or May. These are the shoulders seasons and will still give you about 12 hours of daylight without the high costs and major crowds of the summer months.
A Few Things To Bring With You:
Good Hiking Boots: I love my Ahnu boots, I've had them for three years now and they go with me on almost every trip!
Skyroam: You're going to need a GPS, so instead of renting one with your rental car, invest in a Skyroam which allows you to get wifi for up to 5 devices and costs around $8 per day. It only charges you when you use it.
Camera: Sure, many get by with just their phone, but if you want beautiful quality photos of your adventures, I highly recommend investing in a good camera. I shoot with a Sony a6000 and love it because it's lightweight and travels well. I use the 16-70mm lens for travel.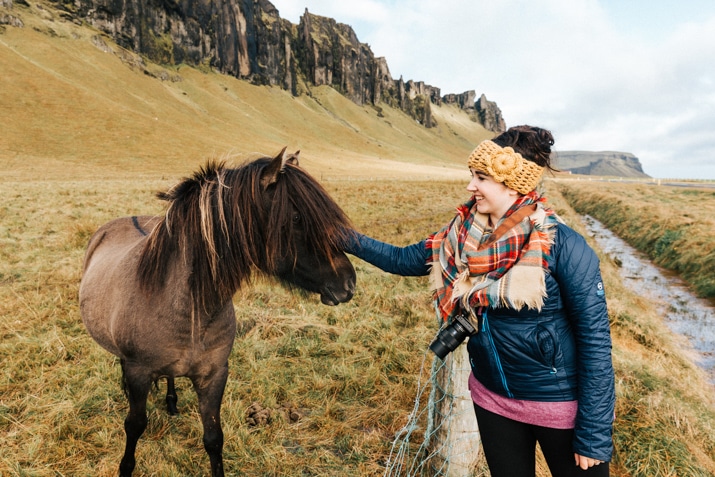 Things To Know Before You Go:
Currency:
The Icelandic currency is the Króna (ISK), but the card is king in this part of the world. However, I recommend taking out a small amount of cash for things like donation boxes/small entry fees to sites or souvenirs from small shops. I would say $50.00 worth would be plenty. Also, it's very important that you have a card with a PIN to get gas at many of the gas stations.
Language:
The national language is Icelandic, but most people are bilingual, especially the younger generation which starts learning English in 4th grade. So you should be able to get by just fine speaking English.
Safety:
Iceland is known for being the safest country in the world in terms of crime. The real risks come from nature and trying to get the perfect selfie, so be aware of your surroundings and be very cautious.
Road Rules:
The rules of the road should be taken very seriously, here are some of the basics, but ask your rental car company if there are any others you should know about.
You'll drive on the left side of the car and on the right side of the road (like you would in America).
Headlights need to be on during all hours of the day when operating the vehicle.
Seatbelts are required.
Never go off-roading.
There are a few one-lane bridges around the country, so either pay attention to the lights or wait your turn.
Speed cameras are a thing in cities and towns, so if you didn't adhere to the limits, don't be surprised if you get a ticket a few weeks after your trip is over from your rental car company.
When you pass a gas station, fill up. This isn't really a law, but it's a good rule to live by since you never know when you'll see the next gas station.
Never pull off on the shoulder of the road, there really isn't a shoulder to speak of and it creates unnecessary risk.
Be aware of sheep, they are everywhere and you need to slow down for them, that goes for loose horses too.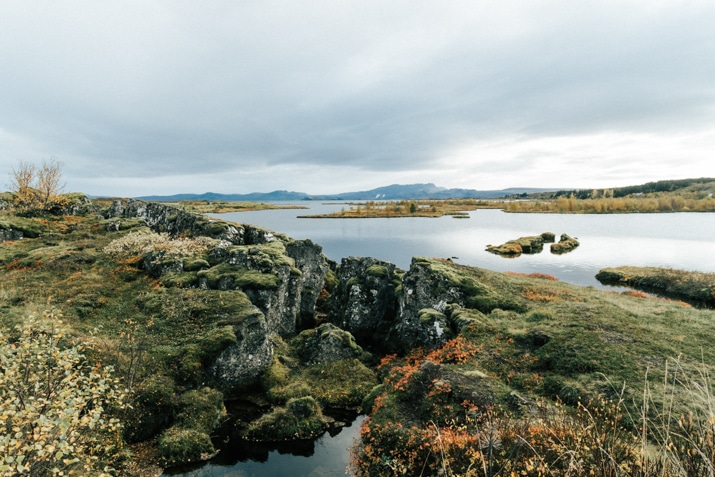 Here's my custom Iceland Map that you can save that outlines the whole Itinerary!
Day 1 Morning
I would say the majority of flights going to Iceland from North America arrive very early in the morning, usually between 4 and 7 am. You'll be super excited when you land, but also SUPER tired, so in my opinion, the best way to start the day is at the Blue Lagoon.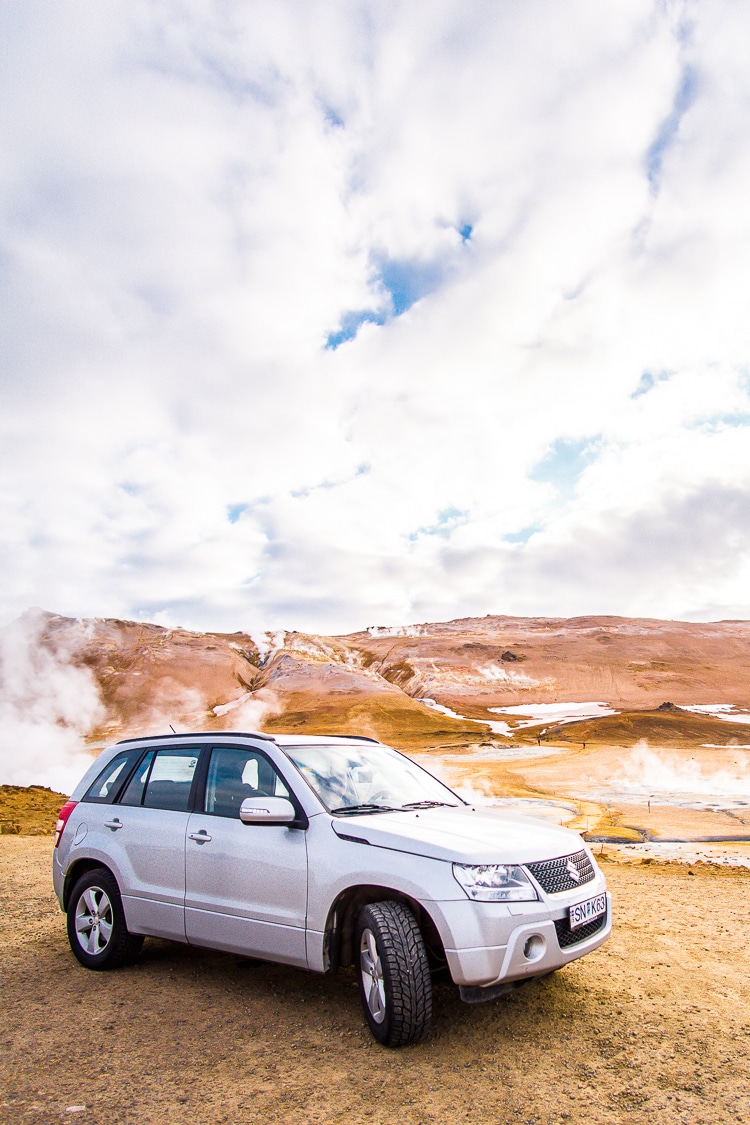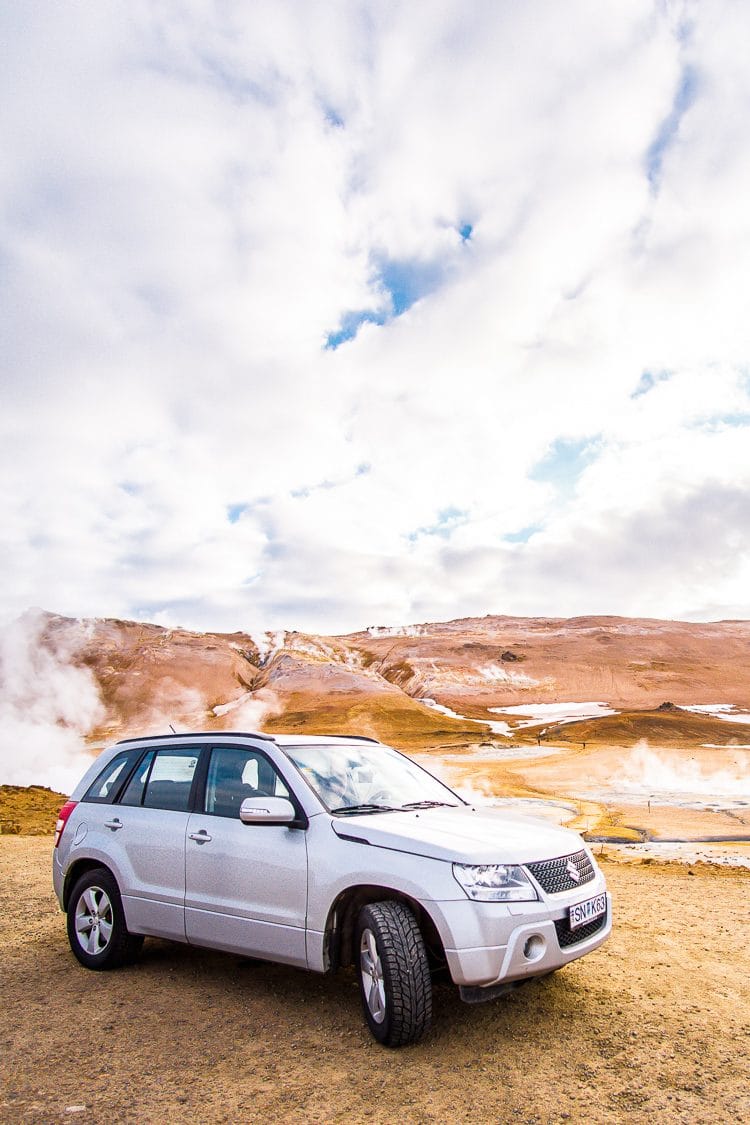 6:00 am – SADcars
You can read about why I love renting SADcars, and once they pick you up at the airport and take you to get your rental car, you'll likely need to get gas (make sure you bring a card that has a PIN) and then you'll need to fuel your own bodies!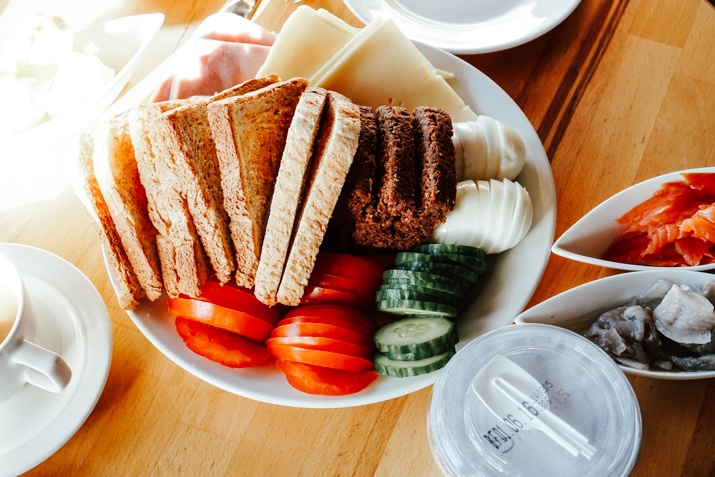 7:00 am – Café Bryggjan
You'll likely be hungry once you land in Iceland and there's no better way to start your trip than with a true Icelandic Fisherman's Breakfast at this place! They technically open at 7, but head over right after you get your rental car because they tend to open when they're ready, we've shown up at 6:30 am and they have been open.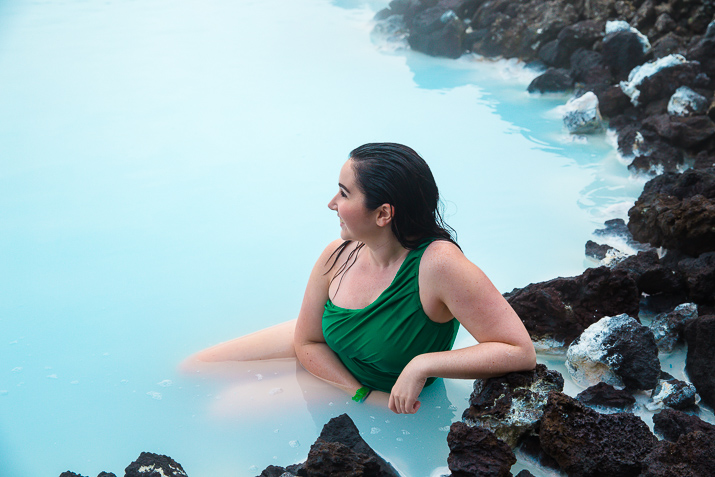 8:00 am – Blue Lagoon
Starting your day and your trip here will allow you to relax a little, soothe any sore muscles for being crammed into a tight flight and get a strong taste of this amazing country! Check out all of my tips for visiting the Blue Lagoon.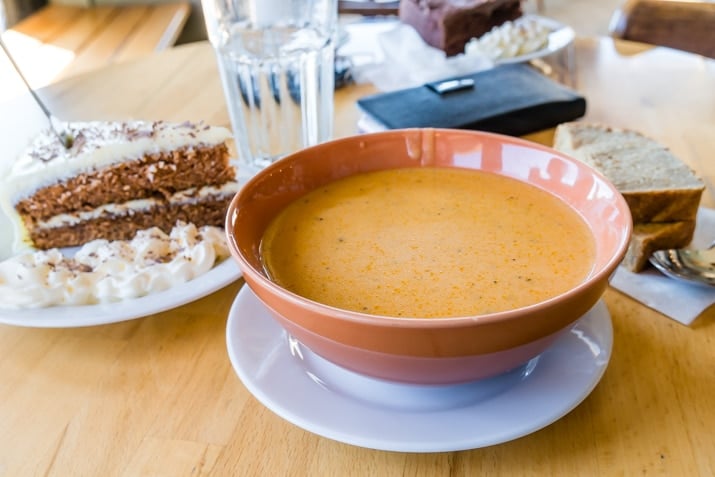 11:00 am – Café Bryggjan
Yep, I admit, I love this little cafe, but I promise you that it would be a shame if you left Iceland without having a bowl of Langoustine soup. It' will cost you around $16.00, but it's a bottomless bowl and so freaking good!
And it's WAY better than the overpriced lunch you'll get at the Blue Lagoon. I don't even like lobster but I love this soup and look forward to it every time I go!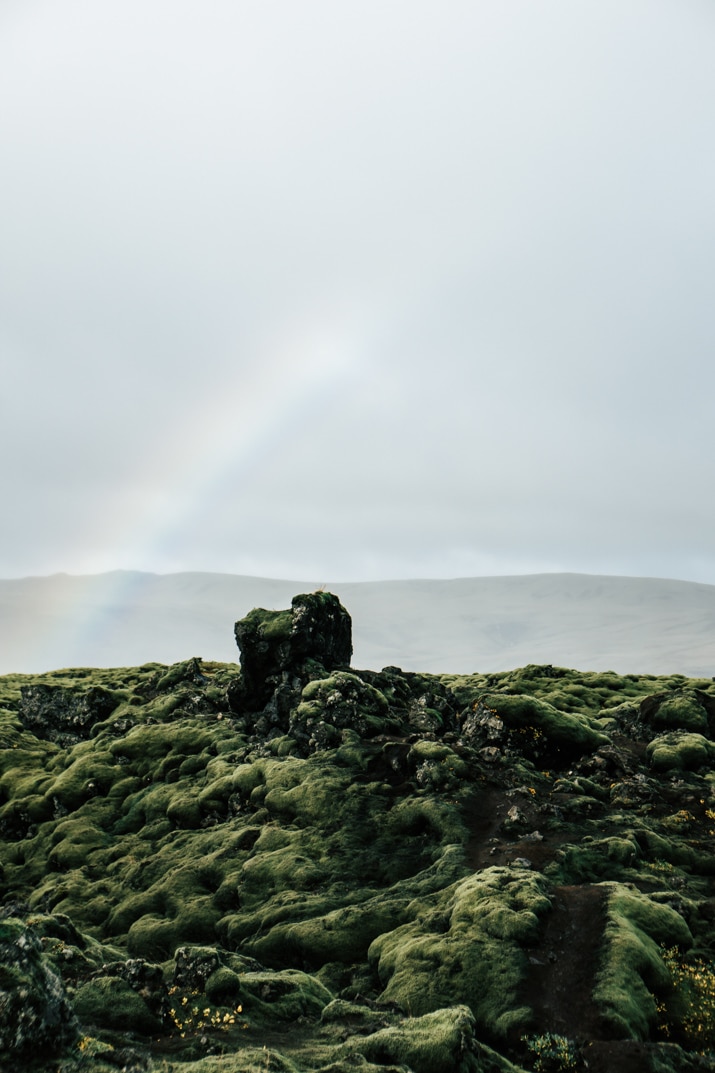 Day 1 Afternoon
Okay, so here you have some options because you can't fit in all three of these amazing experiences in 3 days without skipping a lot of other amazing things.
I would say that Day 1 will be your expensive day because it's the only time on this trip where I'll really recommend eating out and investing in tours because there's so much to do and see for FREE!
So spend your afternoon doing something incredibly amazing, a once in a lifetime experience that you will never forget.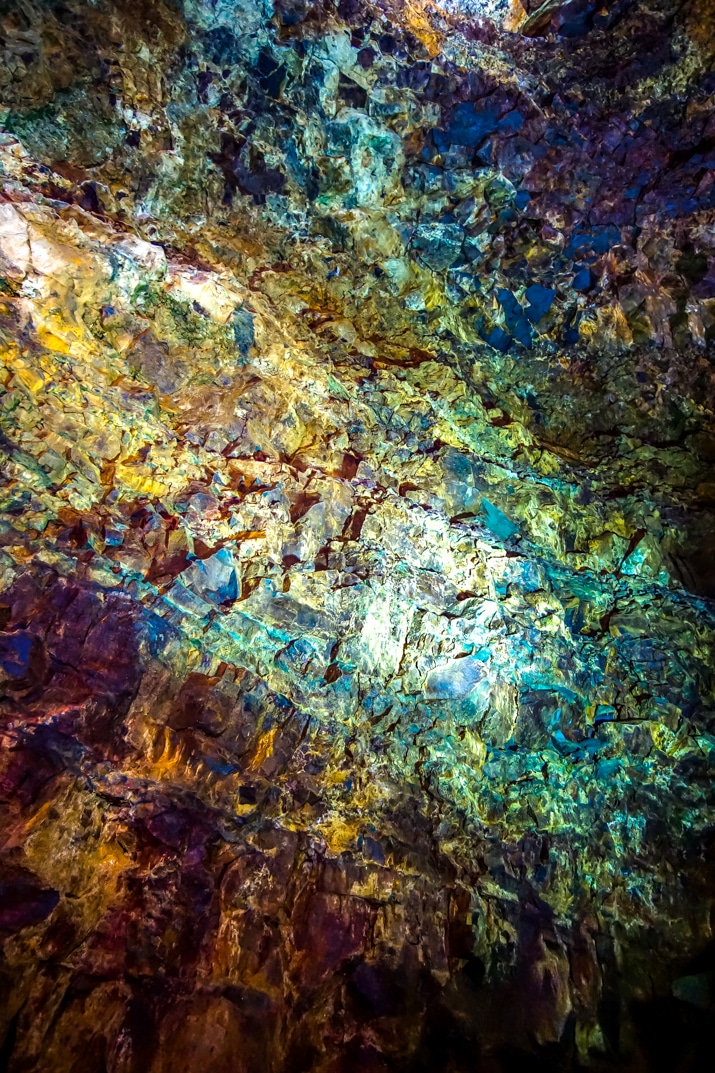 Option 1: Inside The Volcano
I did this during my second trip to Iceland with my mom and brother and it is by far one of the coolest things I have ever done. The Inside The Volcano tour is the most expensive of the tours I'll recommend, about $415.00 (see, I wasn't kidding), but it's so worth it and this is the only place in the world you can actually go inside a volcano!
However, tours only happen May through October with four a day starting at 8, 10, 12, and 2. The starting point for the tour is a little less than an hour from the Blue Lagoon, so if you stick to the morning schedule, you'll need to select the 12 or 2 pm tour.
The tour lasts for about 4 to 5 hours and includes a hiking to base camp where you'll get a brief overview of the volcano and a warm bowl of Icelandic Lamb Stew. Then you'll head inside the volcano for about 30 to 45 minutes where you'll be able to walk around and explore. And then you hike back.
Bring hiking boots, sneakers will make for a rough hike. Bring waterproof pants and a warm jacket because there still may be snow on the ground and it could be wet and chilly inside the volcano.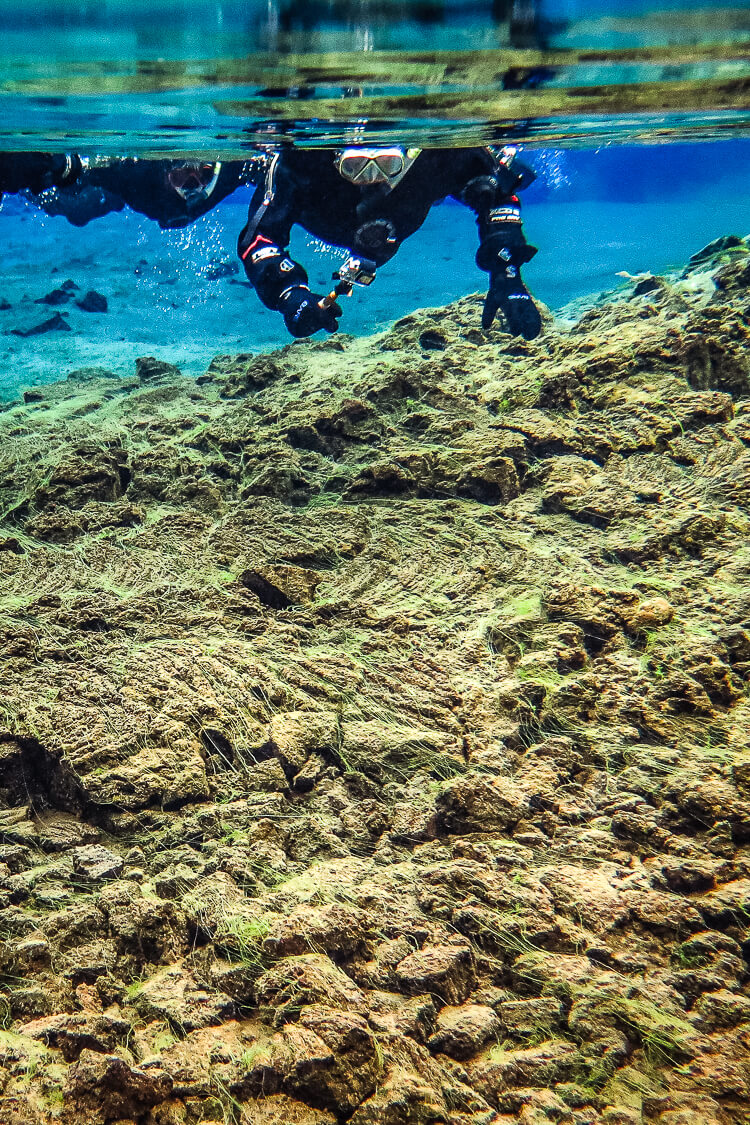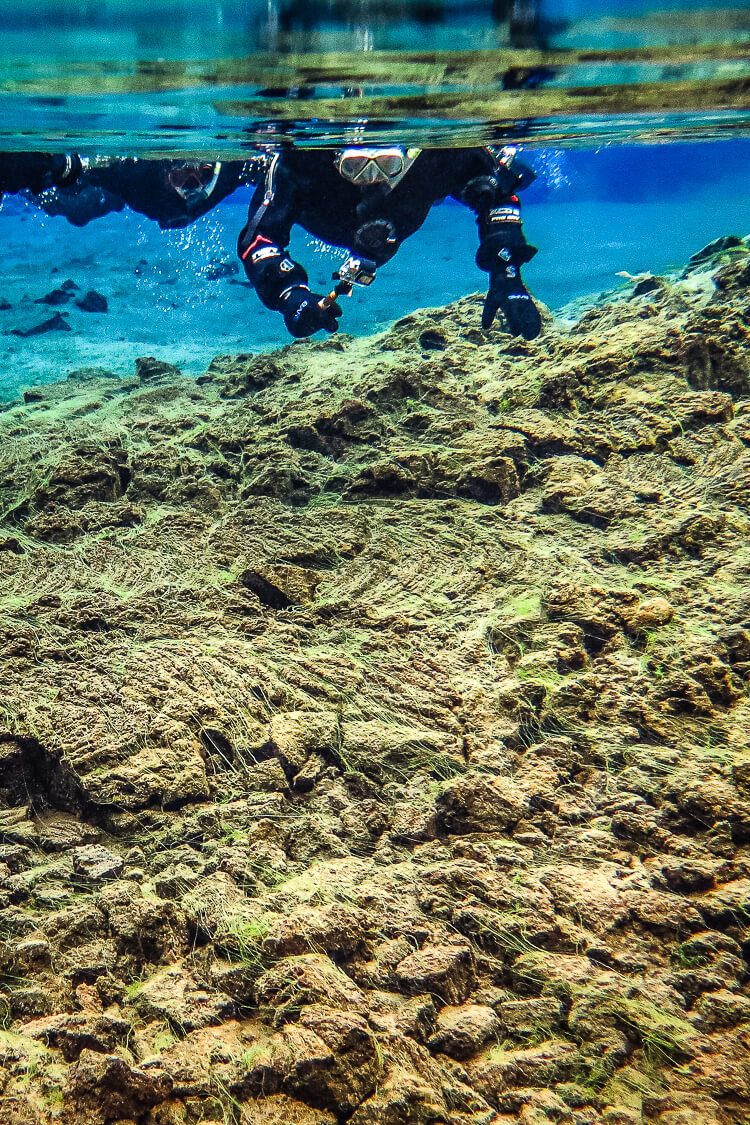 Option 2: Silfra and Thingvellir National Park
Do you love snorkeling? How about going snorkeling in some of the clearest water in the world? And between continents! I've been fortunate enough to get to do this twice in my life and both left me in awe! Read about my full experience snorkeling in Silfra between the tectonic plates and you'll see just why I think it's so amazing!
This tour is a bit cheaper than going inside the volcano, there are a bunch of different tour companies so prices vary, usually between $150 and $250 depending on a few different things. Your tour will last about 2 to 3 hours and run all year long!
Silfra is located in Thingvellir National Park, so this is a great afternoon to explore it. Thingvellir was the home to Iceland's Parliment (the world's oldest) from the 10th to 18th centuries and is a UNESCO World Heritage Site and absolutely gorgeous, especially around sunset.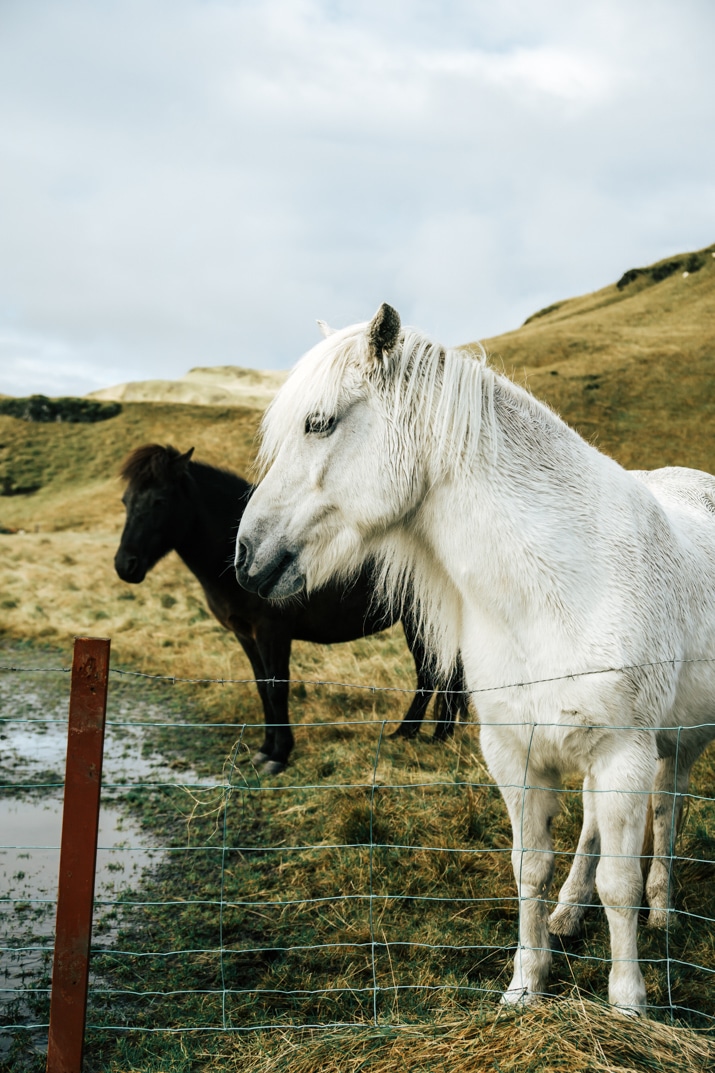 Option 3: Horseback Riding
This is something I did during my first trip to Iceland and I must say, I think we got the true Icelandic experience. As we set out on our horses, the rains and wind started rolling in as the sky turned to dusk, but we headed out into the field with our host and guide, Guðjón and his dog to help heard in the sheep for the night.
It's was truly amazing to watch the dog work and to take part in something that was a real everyday part of life for many Icelanders, I find very few things experienced during travel is as wholesome and wonderful as our horseback riding tour was.
We chose to book through our Airbnb host, Tjaldholar Farm, it's about $50.00 for a 1-hour tour and $100.00 for a 2-hour tour. I have stayed at this farm each time I've gone to Iceland and our families have become friends.
It's a beautiful location in Hvolsvöllur, South Iceland, nestled between volcanos and a good central location for exploring the Southern part of the country. If you want to book your horseback riding tour you can email tjaldholar@gmail.com or you can make a request when booking your Airbnb with them.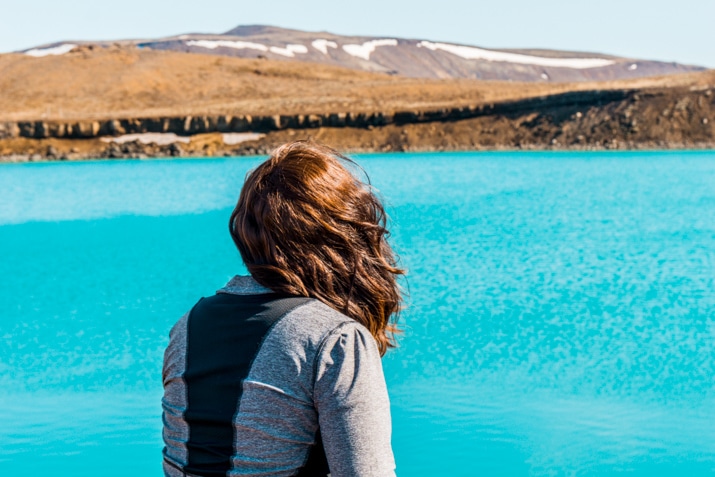 Option 4: The Golden Circle or Reykjanes Peninsula
Okay, so the Golden Circle and Reykjanes Peninsula aren't nearly as exciting as the three tours I mentioned above, but if you're on a budget, you can do pretty much all of these things for free! Read about the Golden Circle and the Reykajanes Peninsula.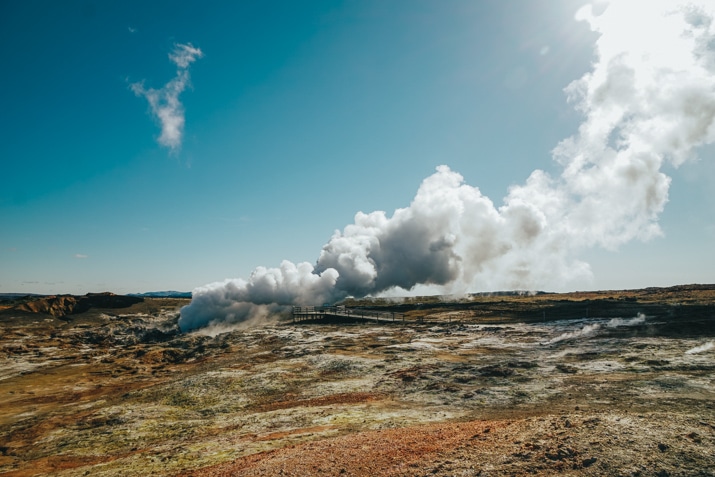 Day 2 Morning
You don't want to dilly dally this morning because we've got a lot of (amazing) ground to cover, and we want to do our best to be the tourist crowds. So pack or eat a quick breakfast and some snacks and download an Audible Book because we're also going to be spending a lot of time in the car!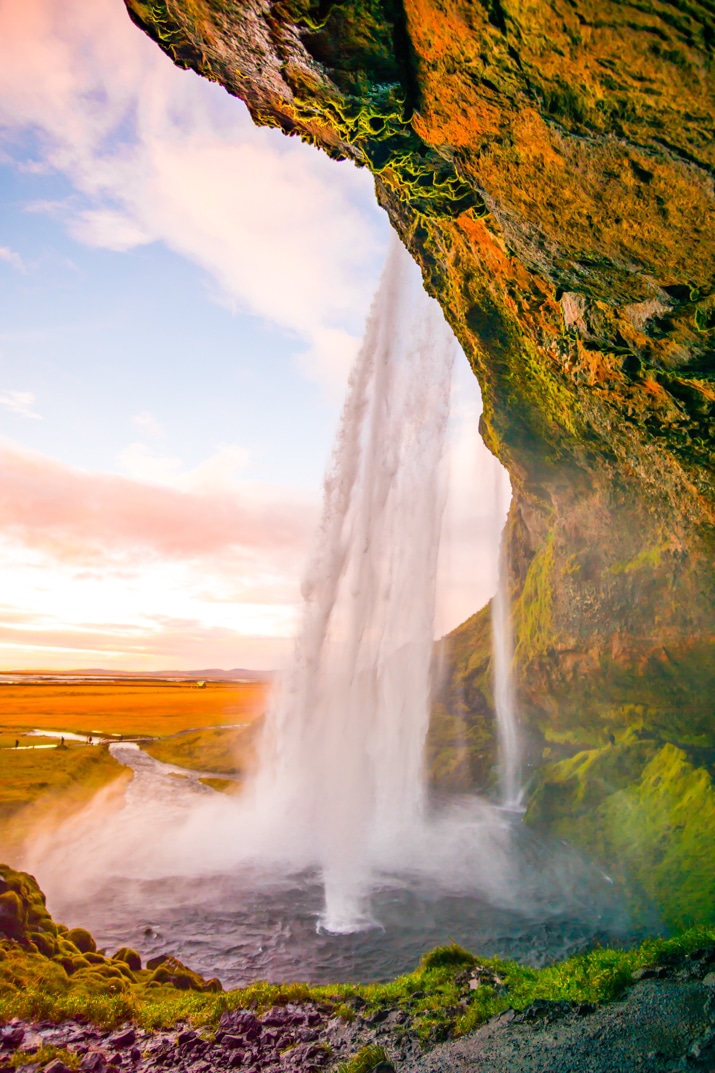 8:00 am – Seljalandsfoss
Personally, I think this is the most well-known waterfall in Iceland, some beg to differ, but I feel like it's in every commercial you see promoting the country, and for good reason! It's absolutely beautiful.
I'm putting down 8:00 am as a starting point, but depending on the time of year, you can adjust, getting there for sunrise or as early as possible would be best. There is a path where you can walk behind the waterfall, but be prepared to get wet and dress appropriately.
I would recommend wearing thin but warm layers and then bringing a waterproof jacket and pants to put over them.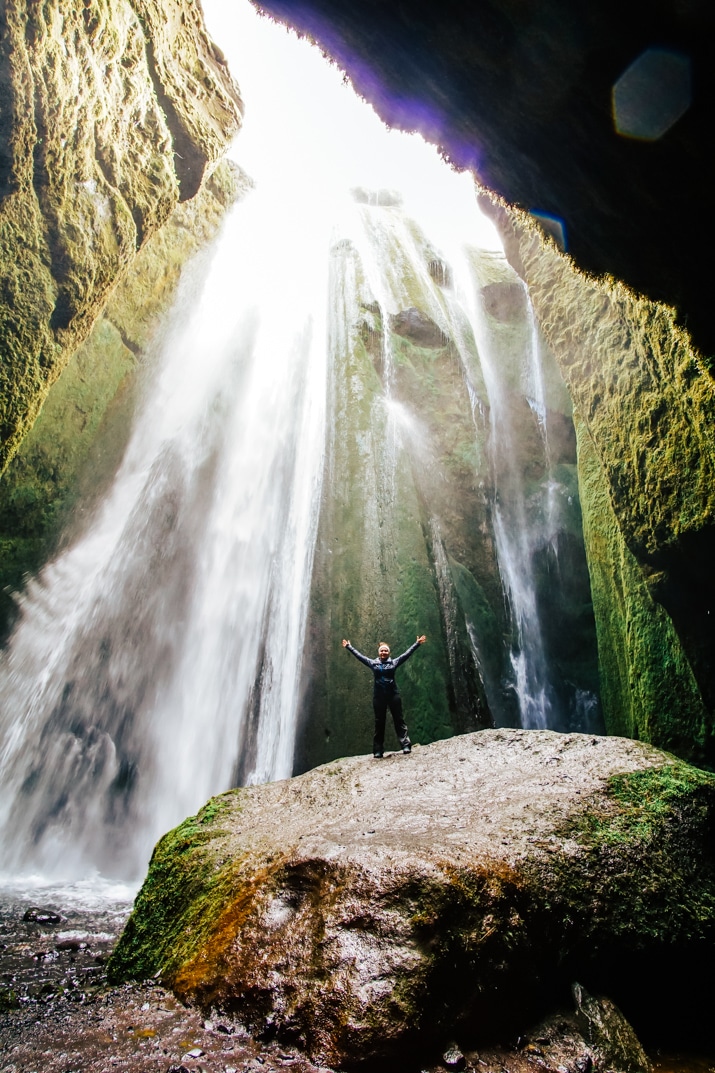 8:30 am – Gljúfrabúi
Also known as the Hidden Waterfall, this one is right next to Seljalandsfoss, but tucked away behind the cliffs. You can walk there from the other falls or simply drive a few hundred yards down the road and walk up to it from there.
This waterfall is pretty epic but there's really no way in or out without getting pretty drenched. So again, be prepared and if you want to take pictures inside (because obviously) then be sure to pack a waterproof phone case.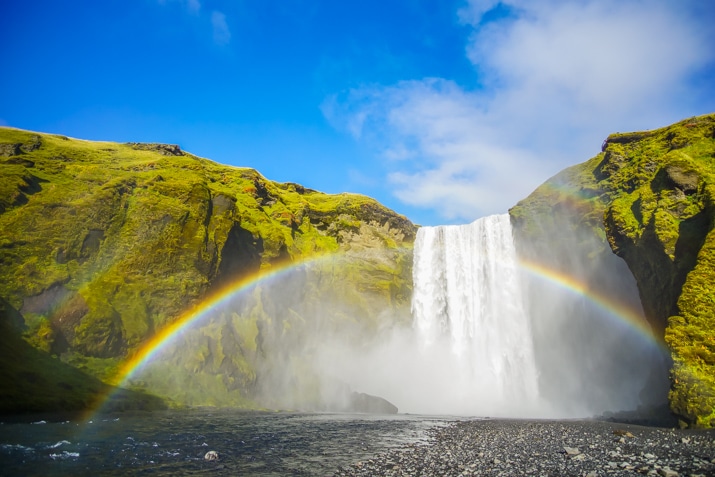 9:15 am – Skogafoss
Just a few miles down the road you'll find Skogafoss, one of the biggest waterfalls in Iceland and famous for its rainbows and double rainbows! The falls drop into a river and you can walk right up to the base of it, but you can also walk the 527 stairs to the top to get a bird's eye view.
However, I personally thought the view from the bottom was better and there are more fun things to save your energy for!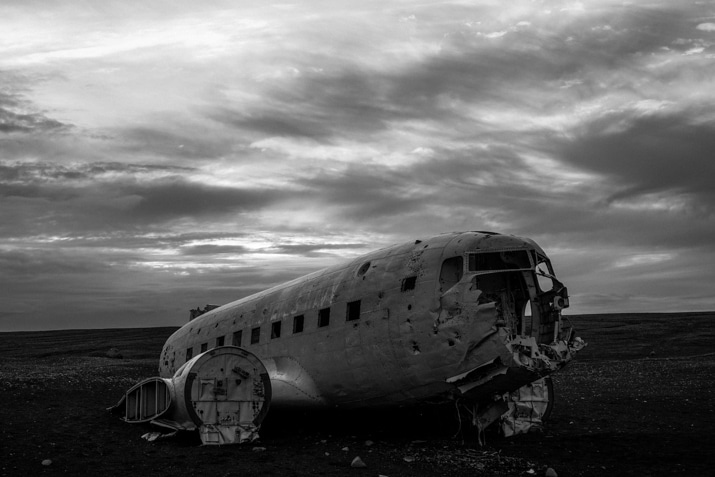 10:00 am – Sólheimasandur Plane Wreck (OPTIONAL)
Some might call this place a photographer's dream, but really it's the wreckage of a US Navy plane that crashed on the beach in 1973. I've only been here once, during my first trip to Iceland, but it was cool and I'm glad we went.
At the time I went, you could drive down to the wreckage, but now local landowners have banned vehicles due to tourists not staying on the path and damaging the land. You can now park your car in the parking area that has been established near the road and walk to the wreckage, about 4km or a 40-minute walk each way.
So, here's the thing, if you're really crunched on time i.e. daylight, I would probably skip this. It's cool, but not worth the 2-ish hours you could be spending taking in natural treasures. If it's summer and you have all the daylight in the world and are super into photography, go for it!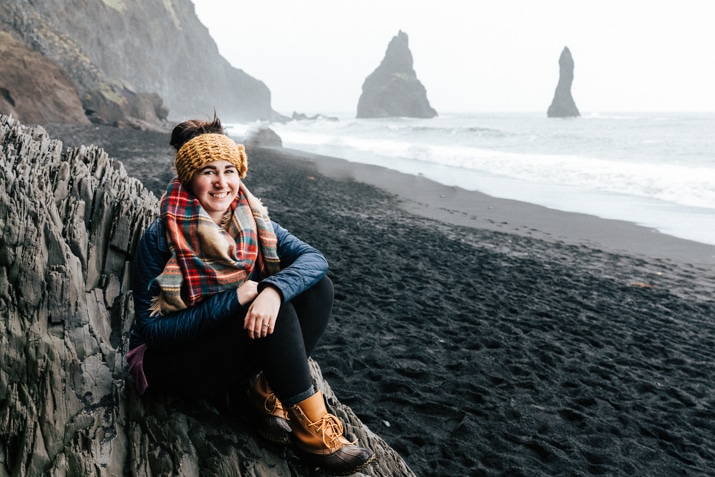 10:30 am – Reynisfjara
It should take you about 30 minutes to get to Reynisfjara from Skogafoss. This is the famous black sand beach where you can see the troll stones. When the tide is low, you can go inside the caves made of hexagonal basalts, but be very aware of your surroundings as the tide comes in quick and several people (and tripods) have been swept out to sea and died on this beach. A half hour or so there should be plenty.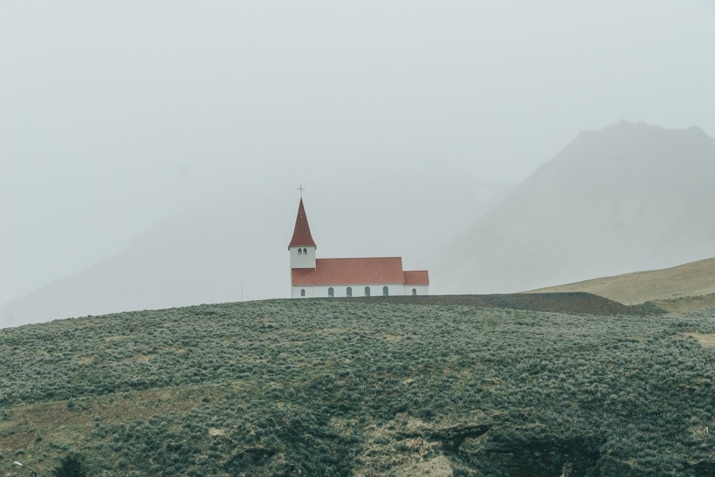 11:15 am – Vik
Ah, the rainiest part of Iceland. But still one of my favorites. The little church up on the hill is super cute and makes for some great views. I recommend popping into the IceWear factory for some goodies and the gas station in the center of town serves up some pretty cheap and delicious lamb soup.
Even if you're not up for soup, there are other options, and I highly recommend you eat because this is the last bit of civilization you're going to see for a long time. 😉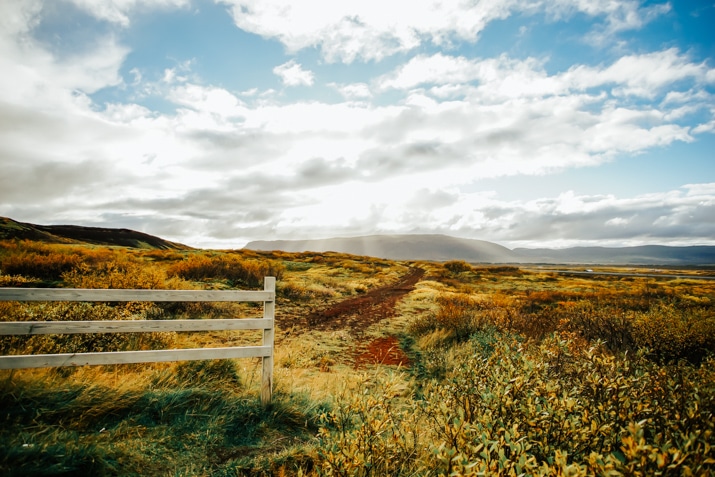 Day 2 Afternoon
After grabbing some lunch, it's time to hit the road for the long haul. Up until now, there's been a lot of stops to break up the journey, but there won't be as many in this last stretch.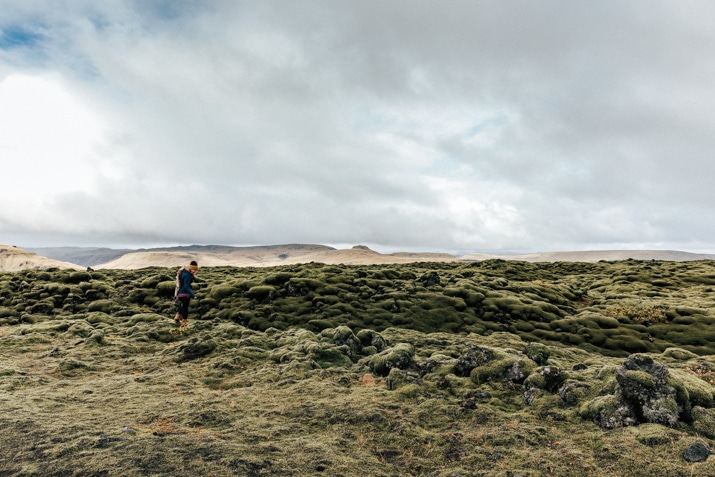 1:30 pm – Eldhraun Lava Field
So, this lava field actually stretched on for miles and miles, and you can't miss it, especially in the spring, summer, and fall when it's covered with lush green moss.
There are plenty of designated areas to pull off for pictures, remember that you NEVER want to just pull off the side of the road, it's illegal in Iceland.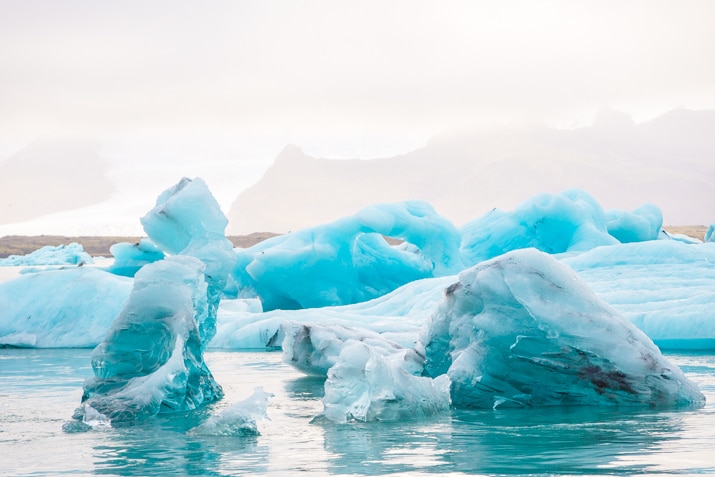 4:00 pm – Jökulsárlón Glacier Lagoon
With a quick stop at the lava fields, you should still reach this destination by 4:00 pm. I'm speaking from experience when I tell you I think the boat tours are a waste of money, the lagoon is so beautiful from the shore.
This is a top attraction in Iceland, Jökulsárlón is a glacial lagoon, bordering Vatnajökull National Park in southeastern Iceland. Its still, blue waters are dotted with icebergs from the surrounding Breiðamerkurjökull Glacier, part of larger Vatnajökull Glacier. In winter, the fish-filled lagoon hosts hundreds of seals.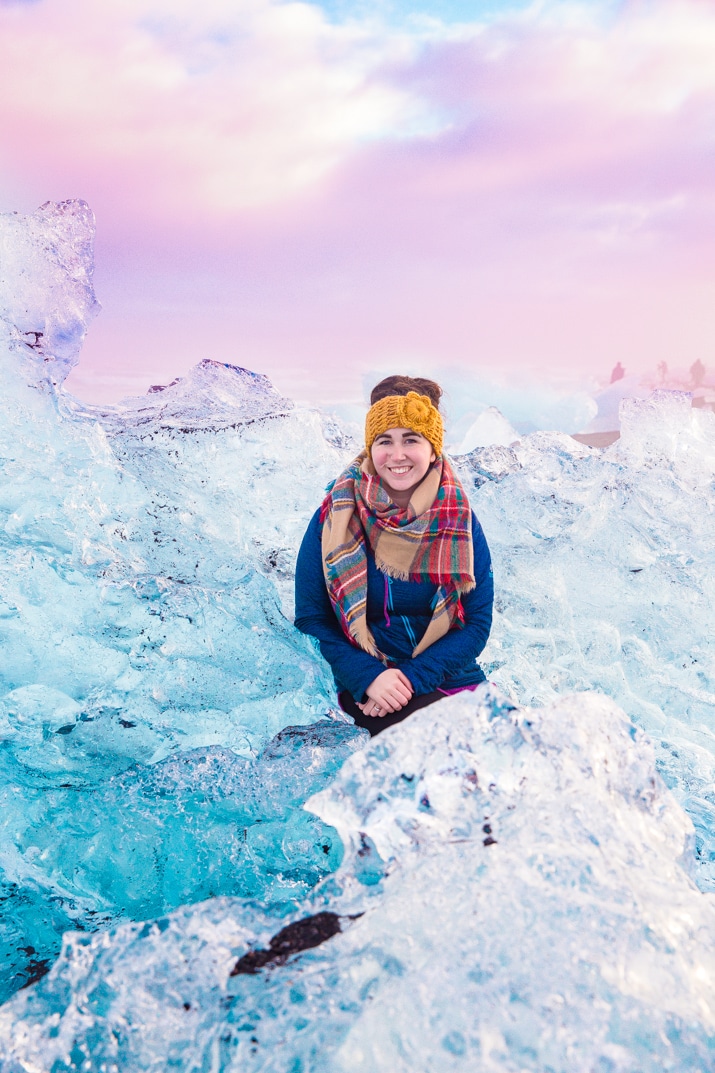 4:30 pm – Diamond Beach
The Glacier Lagoon flows through a short waterway into the Atlantic Ocean, leaving chunks of ice on a black sand beach, known as Diamond Beach. A great place to check out before heading back west.
Day 2 Evening
Depending on how tired you are and how much daylight is left, you might be able to fit in one more highlight on the way back to your Airbnb.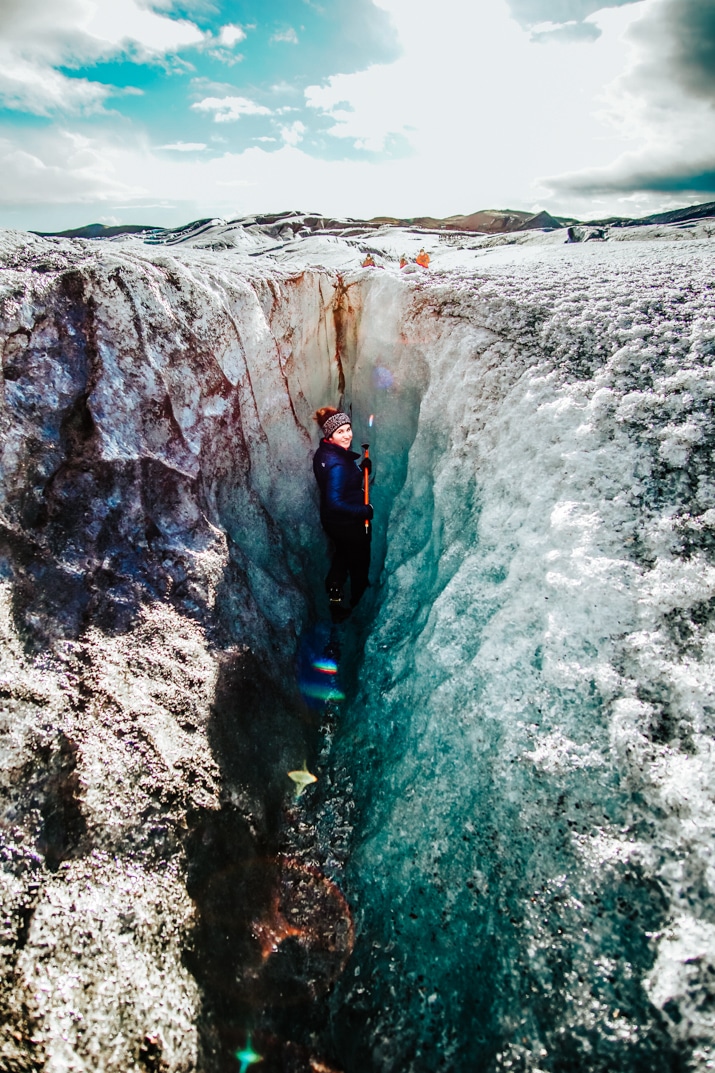 Skaftafell
During my first trip to Iceland, we decided to hike the Svínafellsjökull glacier in Skaftafell National Park. We did the Blue Ice tour which was around $110.00 per person. This is the glacier that was used in the filming of Interstellar and it was a super fun tour. However, the tour is about 3 hours long and only runs hourly from 10:00 am to 3:00 pm.
That being said, you can still walk up to the base of the glacier and see it, you just can't go on it.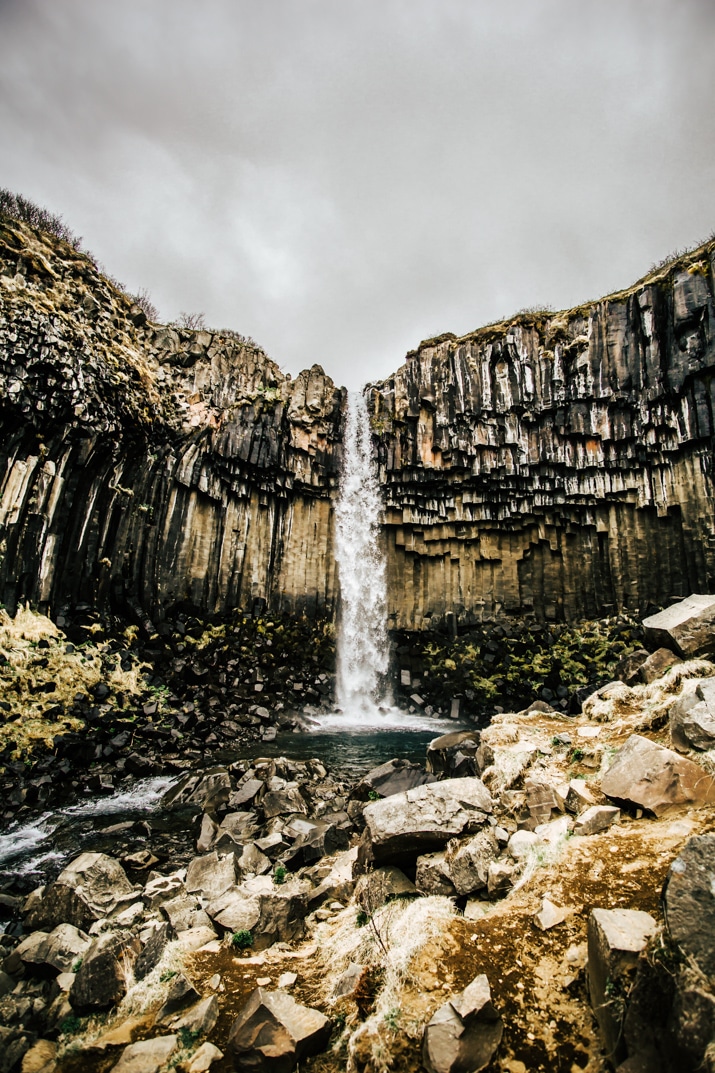 Svartifoss
My favorite waterfall in Iceland. It's a milk 45-minute hike each way from the Skaftafell visitor center and parking lot. But I love these waterfall because I think the hexagonal basalts surrounding it make it truly unique and beautiful.
Dinner – Hotel Anna
If you want an authentic Icelandic meal and you're okay with splurging a bit (because food in Iceland is expensive) then I highly recommend hitting this place up on the way home, it's just a half hour or so outside Hvolsvöllur.
I don't think you can go wrong with anything on the menu, and if they have it, I highly recommend the cured horse appetizer, it's one of the best things I've ever eaten in my life. They're open for dinner from 6:30 to 9:00 pm.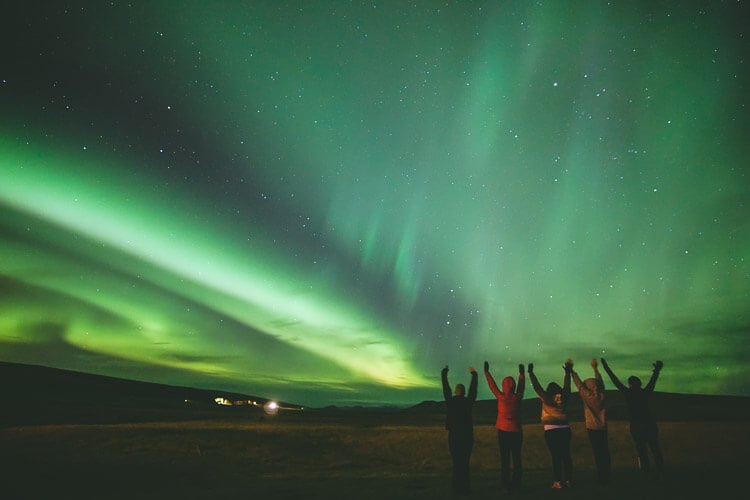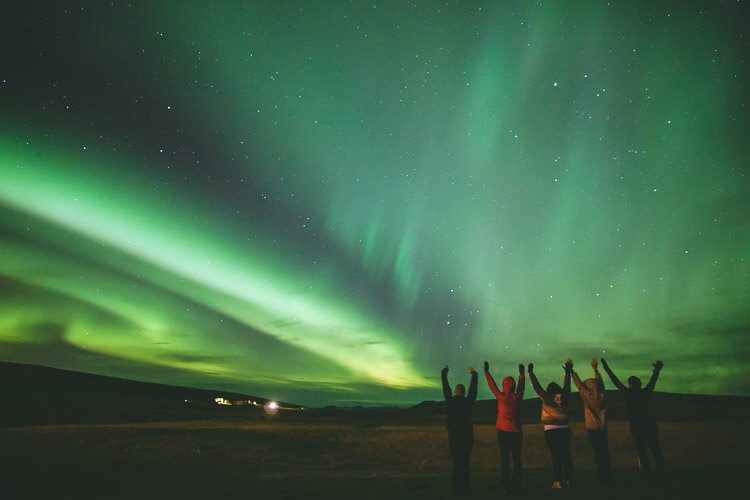 Dark – Northern Lights
If you're lucky enough to be in Iceland from Late September to Late March, there's a good chance you'll get to see the Northern Lights. A truly incredible experience I believe everyone should have in their life. You can read about my experiences seeing the Northern Lights in Iceland.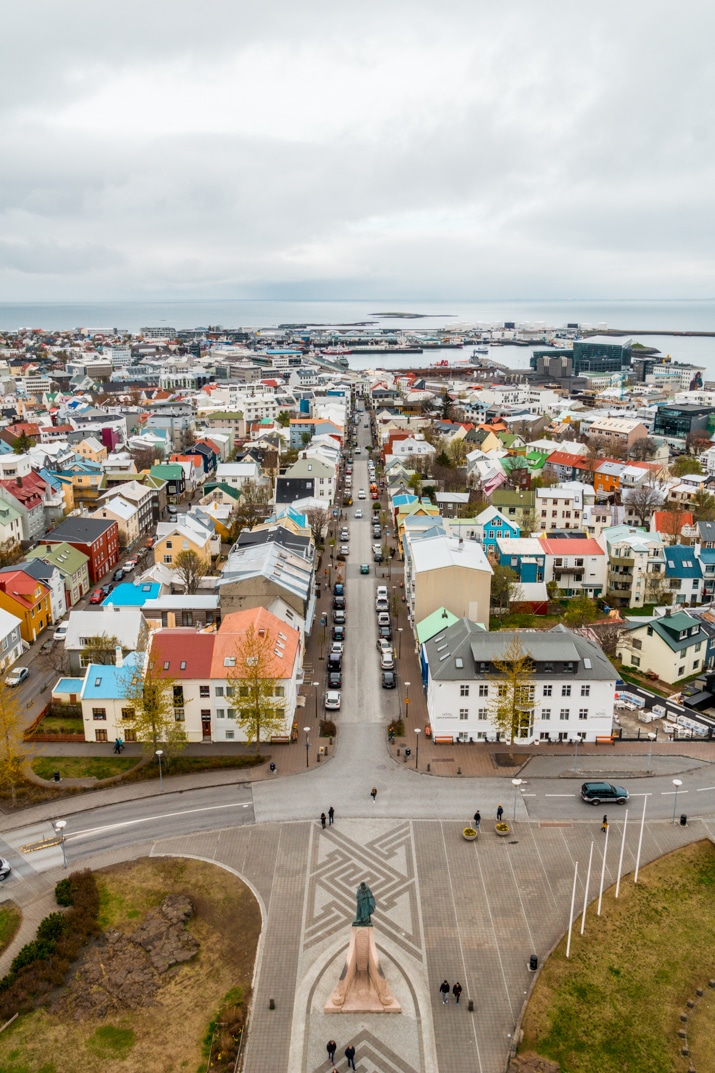 Day 3 Morning
It's time to go and explore Iceland's capital city of Reykjavik, but not without first stopping at one of my favorite places!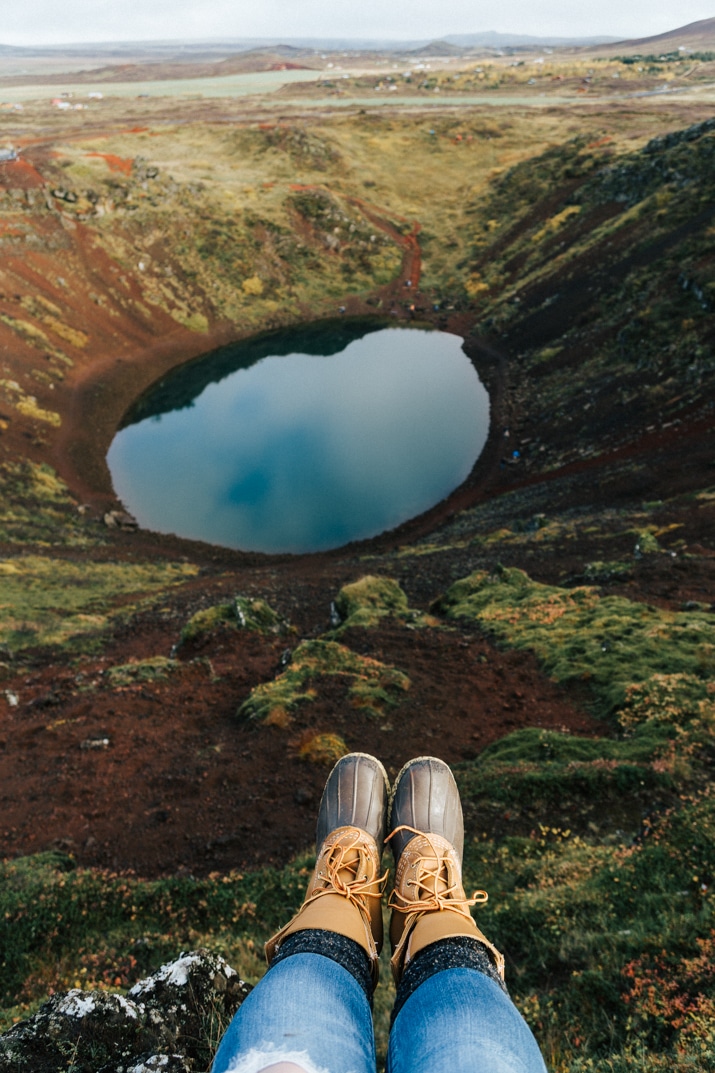 8:00 am – Kerið
I fell in love with this volcanic crater during my first trip to Iceland and I love it still even after seeing so much of the country. You won't find spectacular waterfalls or glittery icebergs, but it's simply beautiful all the same.
This crater is part of the Golden Circle, so you might actually do it during the afternoon of Day 1, but if you don't, I still think it's the best part of the circle and worth going a little out of the way for. Personally, I wouldn't worry about seeing Gullfoss or Geysir (you've seen prettier waterfalls and the Geysir is okay, but I think this is better).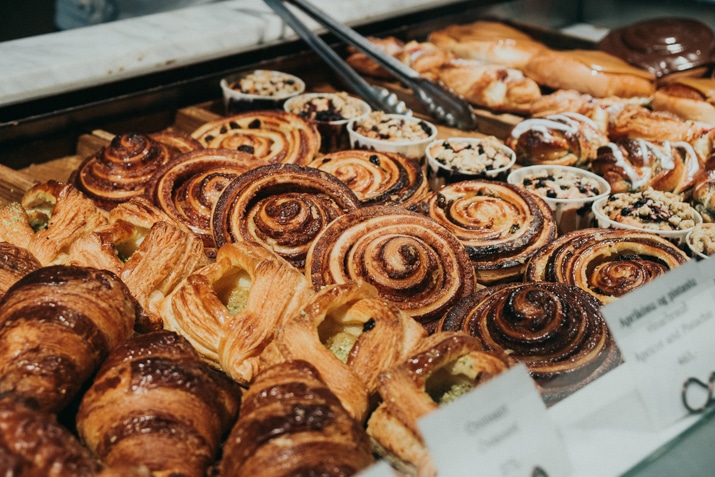 9:30 am – Sandholt Bakery
When you arrive in Reykjavik, I recommend putting your GPS in for Harpa Concert Hall and parking in one of the lots along the water near it. Then it's time to grab some breakfast at the best bakery in town! I highly recommend the almond croissants, although they don't always have them.
10:00 am – Hallgrímskirkja
This iconic church is not to be missed while you're in the city, it's architecture is simple and bold and the tower gives a great view of the city. I think it costs about $8.00 to go up. You'll also find the Leif Erikson monument out in front of the church.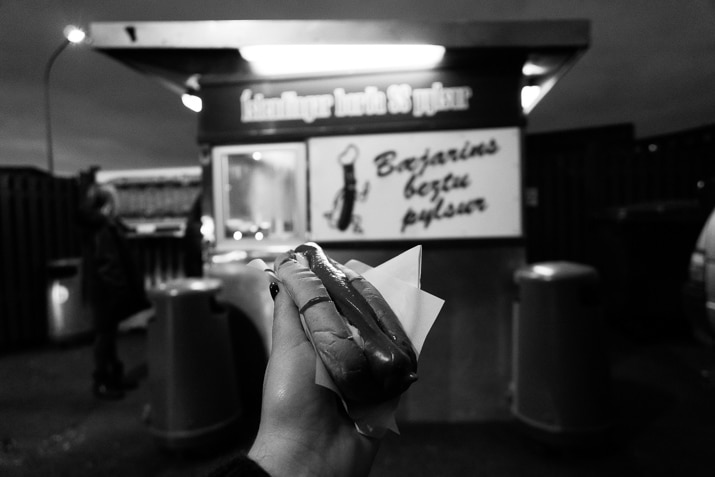 11:00 am – Bæjarins Beztu Pylsur Hot Dogs
Lunchtime! You can't leave Iceland without getting one of their famous hot dogs… they really are the BEST hot dogs in the world, Bill Clinton wasn't lying about that! Hit up the stand in the center of the city, chances are the lines will be long but they move pretty fast.
They're open from 10:00 am until at least 1:00 am and on some nights 4:30 am, so if you find yourself in Reykjavik for longer, you have plenty of opportunities to get one! Get it loaded and get 2!
You'll also find these hot dogs at gas stations around the country and they're only about $3.00 which makes them the cheapest, most delicious things ever!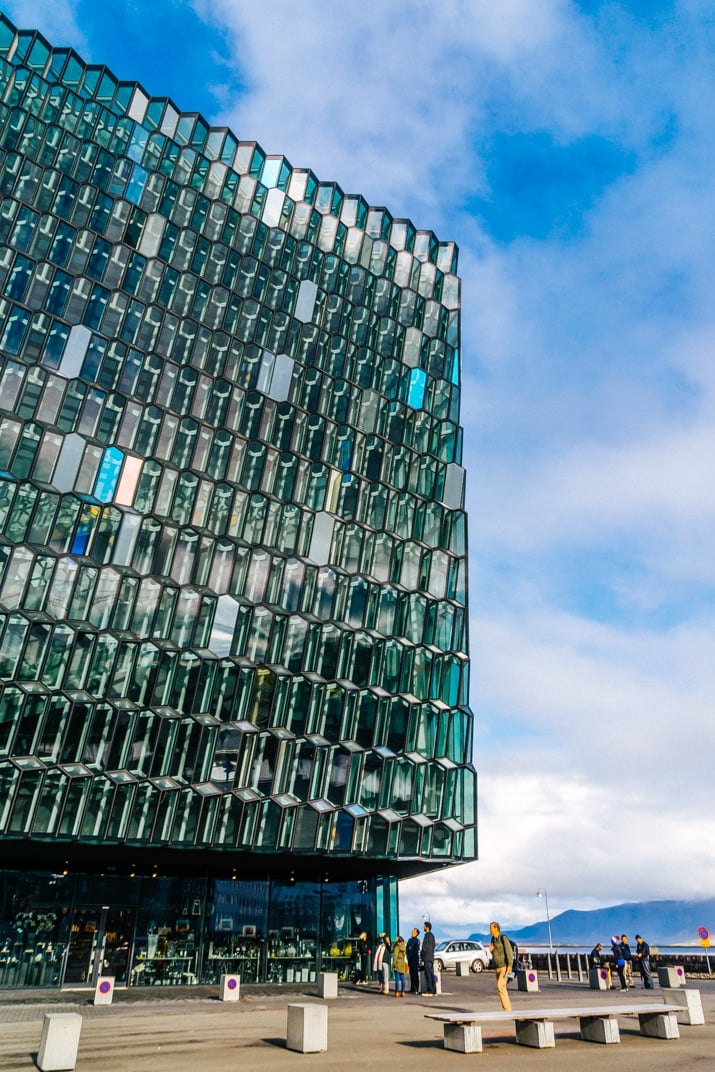 11:30 am – Harpa Concert Hall
Walk a few blocks over from the hot dog stand to this beautiful concert hall. You can go inside for free (great bathroom stop) and explore the beautiful architecture and exhibits. It's especially beautiful to see at night because the outside lights up in a bit of a show!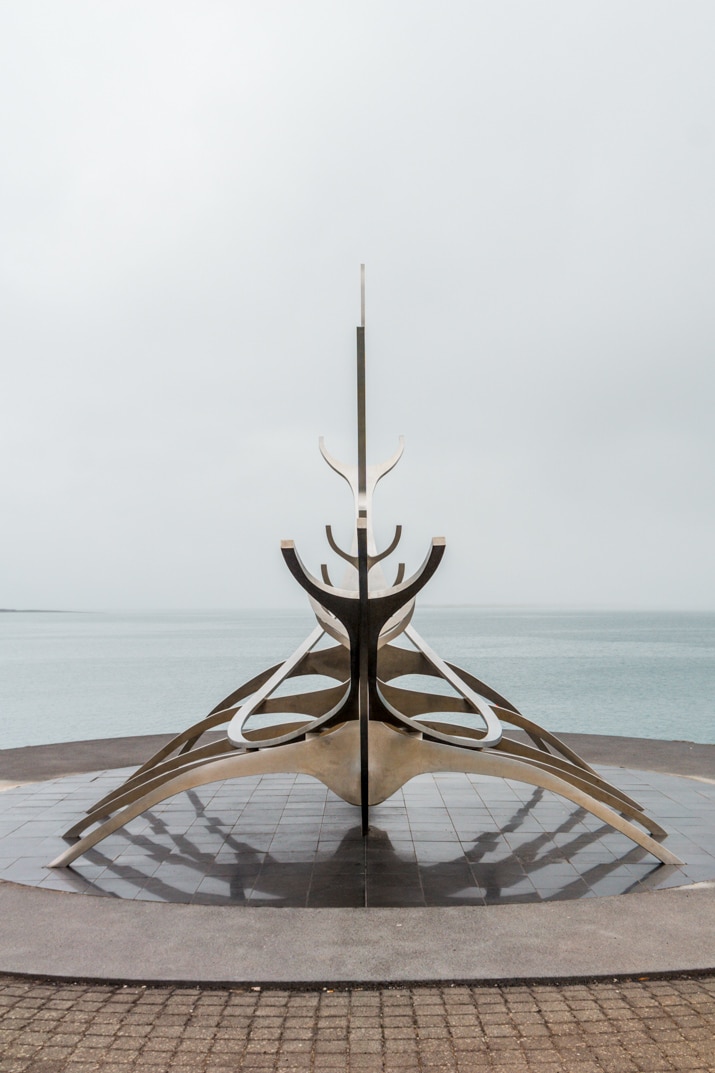 12:30 pm – Sun Voyager
Before heading back to the car, take a short stroll along the banks to check out this sculpture made by Jón Gunnar Árnason, the Sun Voyager is described as a dreamboat or an ode to the sun.
Day 3 Afternoon
Many of the flights to Europe and to the US depart in the afternoon from Keflavik, so make sure to watch your time and account for driving, returning the rental car, and the shuttle. If you have extra time, explore more of the city or the Reykjanes Peninsula.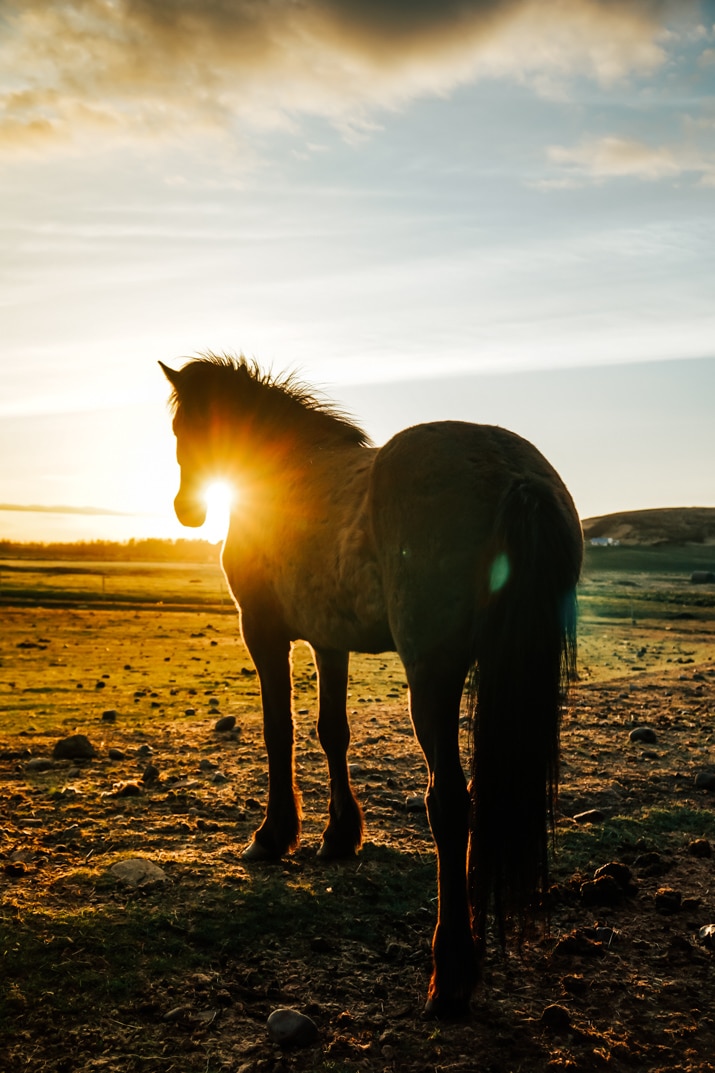 Pin this Travel Guide for Later!