So you wanna be a blogger, but is blogging right for you? This post breaks things down a bit and helps you decide if you're ready to take on the internet!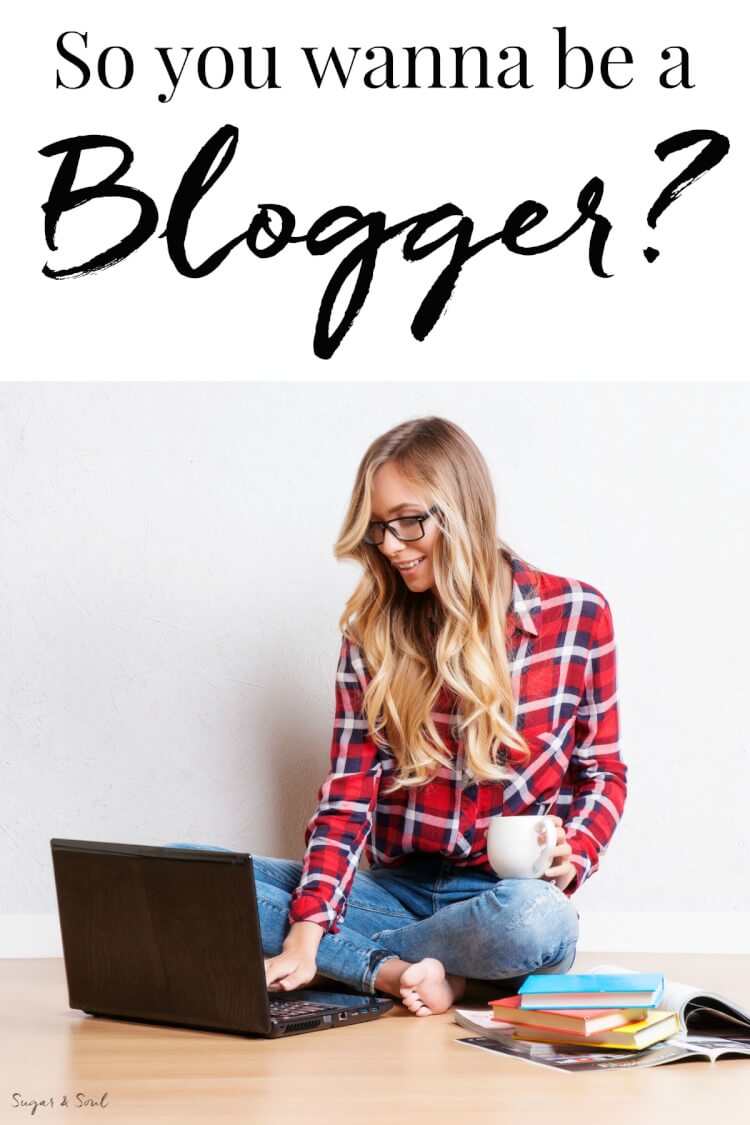 There are tons and tons of posts, ebooks, and podcasts out there telling you how to start a blog. While we're going to get to that as well, that's not where we're going to start in this fun new series here on Sugar & Soul. We're going to begin by laying things out and taking a good hard look at them and a good hard look at yourself. Before starting a blog, you need to know if blogging is right for you!
Why do you want to start a blog? Are you looking for a creative outlet like I initially was or are you looking for a way out of the 9 to 5? Maybe there's a topic you're really passionate about and you want to share your knowledge and discuss it with others? What is it about the prospect of blogging that excites you? You don't need to decide right away, you can start for fun and then decide to grow it into a full time career like I did. But it's still important to consider for our next post in the series, so think on it!
A few things you should know. First of all, if you're looking to just have fun, then there won't be a lot of pressure and you can pretty much do what you want. That means deciding what to write and when you want to write it. This is a great option for those who love their day jobs or stay at home with the kids who just want a little something on the side for fun and the occasionally bit of spending cash.
If you want to take this serious (code for make money), you've got to be prepared to work your ass off and give up pretty much all of your spare time. While I was still working full time, my work breaks and lunches were all dedicated to the blog, I'd get home at 6 and go right to the computer and begin work for the second time that day. My weekends were spent in the kitchen and photographing. Date nights, TV, family time, walks with the dog, they all came second to growing the blog. It was like working two full time jobs! Like I said, blogging isn't for everyone.
When you're passionate about something and dedicated to it, it's hard not to let it consume all of you. It can be hard to maintain that work-life balance, but after almost 3 years and having finally made the move to full time blogger, it's paying off. I was lucky enough to have a husband who supported me, to help and to hold me through it. If this is something you want to pursue, you should definitely talk it over with your family because it will have a major impact on all your lives.
Most people are not an insta-success when they start blogging, but it does happen. Maybe you'll be one of the lucky ones, but you'll probably be just like the majority of us and get super physched when you finally reach 25 pageviews in a day! Dude, that was an exciting time!
You don't have to be a good writer to be a blogger, there are plenty, and I mean plenty of bloggers who can't write, but they make up for it in other ways. I love to write, but I'm not amazing at it, but my skills have grown since I started. If you have a great personality that comes through in your posts, great content, great photos, and a strong understanding of what the hell you're doing, or even if you have just a little bit of each of those things like I'd like to think I have, you can definitely make it in this business.
You see, there's a place out there for all of us, and there are people who want to connect with us. Hey, you might even meet one of your best friends (or several of them) through the process like I have! That's what makes blogging so awesome! But the nice thing about blogging is that you can put as little or as much of yourself out there as you want. You can also start a blog about pretty much anything! There are even blogs out there that teach bloggers and writers how to be better, they're successful at it too. So whether it's food, fashion, horses, music, video (Yup, you could be a Vlogger too), green living, travel, cars, seriously… anything you can think of! What do you want to write about?
Let's touch on the money side of things, there are a tons of different ways to make money in this media. Through sponsored content with brands, website ads, affiliate programs – the possibilities are endless. Did you know that some bloggers make $35,000+ A MONTH! A month, guys! That's insane! But it just goes to show you how a lot of hard work and a little luck can change your life.
Blogging is not all pretty pictures and puppies. You'll get nasty comments, there will be tech issues that will pretty much break you, there will be expenses (emoitional/physical/monetary) and oh, hey, self employment taxes. There will be deadlines and requirements that seem impossible to meet, there will be times where you second guess everything you're doing and feel like a complete failure. There may occassionally be times where you throw things across the room and drop a slew of words that are way too vulgar to even comprehend and then you'll spend an hour crying on the floor, because damn it, blogging is hard.
The thing to know is that you're okay, it's okay, and it's all going to be okay. Wanna know why? Because if you decide to pursue this path, I'm here to help. Through these posts, through email, I want to help YOU! I have an incredible support system and I want to help you find one too. I want to save you from the mistakes I've made and teach you the things I wish I'd known when I was first starting.
If you think you're ready to do this thing and you really wanna be a blogger, think about the things I talked about. Nail down what you're doing it for, fun or money (or both), what you want to blog about, and most importantly, what you want to call your blog. Your blog's name should be relatively short, it "should" indicate what your blog is about, and you should make sure it's not already taken by typing it in here. You should also make sure it's something you LOVE so you don't have to rebrand later on like I did.
So do those things, and I'll see you next week where I'll walk through setting up your blog and the different options you have to do so! In the meantime, feel free to ask any questions in the comments below!