This post has affiliate referral links. When you sign up for Stitch Fix under my referral, I receive credit towards my next fix. You can earn too once you sign up!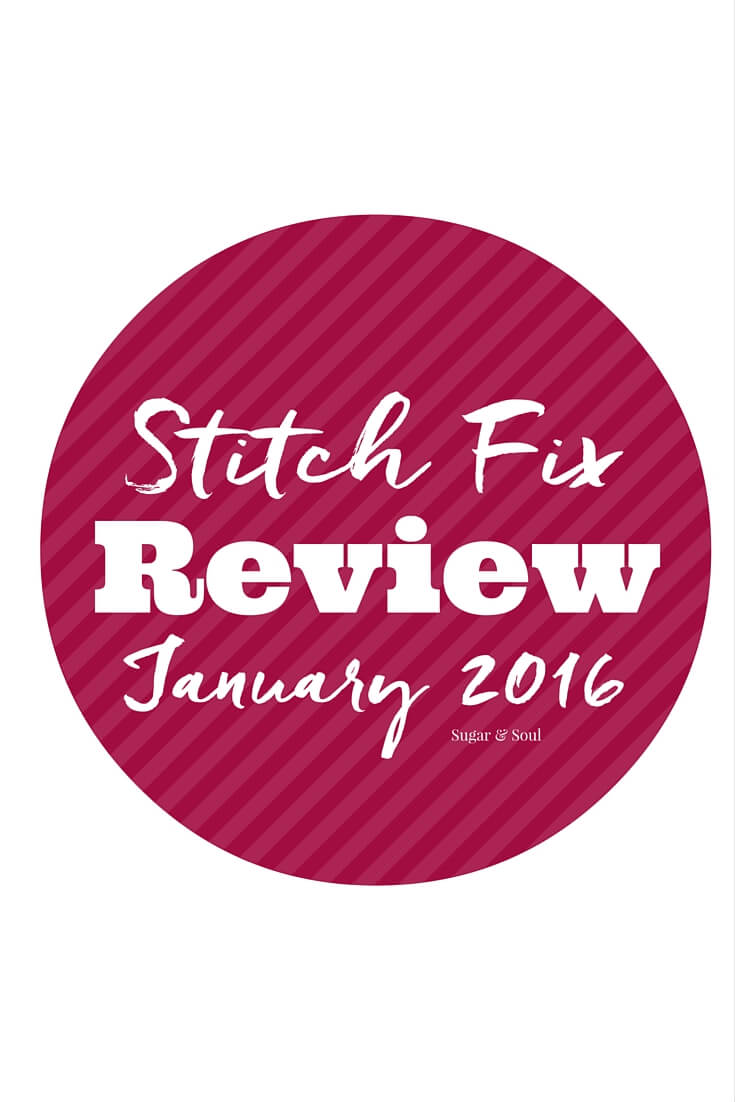 It's been a few months since I've gotten a fix, my last one was back in August/September. I had decided to hold off on scheduling anymore when I left my day job, since I really had all the clothes I needed and wanted to be better about budgeting now that I was self-employed. But a few weeks ago I decided to treat myself to a fix, I missed them and they're seriously just so fun! Plus I was feeling like my closet needed a little freshening up! So here's my January 2016 Stitch Fix Review, I hope you see some pieces you want in your next fix or I encourage you to give this fun service a try!
Have you guys gotten any fixes in the last few months? Any pieces that you absolutely love? Or maybe this is your first time hearing about Stitch Fix and let me tell ya, you're in for a bit of a treat!
How it works:
Sign up for Stitch Fix here and schedule your first shipment!
You pay a $20.00 stylist fee when your fix ships, which you can put towards anything you keep from it. You can choose bi-monthly, monthly, or bi-weekly shipments.
You will be matched with a personal stylist that will select five items she thinks will be PERFECT for you and ship them directly to your door. Try them on, decide what to keep, fill out your fix feedback survey and send the rest back in a prepaid package included from Stitch Fix. Easy, right?
If you keep everything from your fix, you get a 25% discount on the entire fix!
Only available within the US.
Check out my tips for getting a great fix here.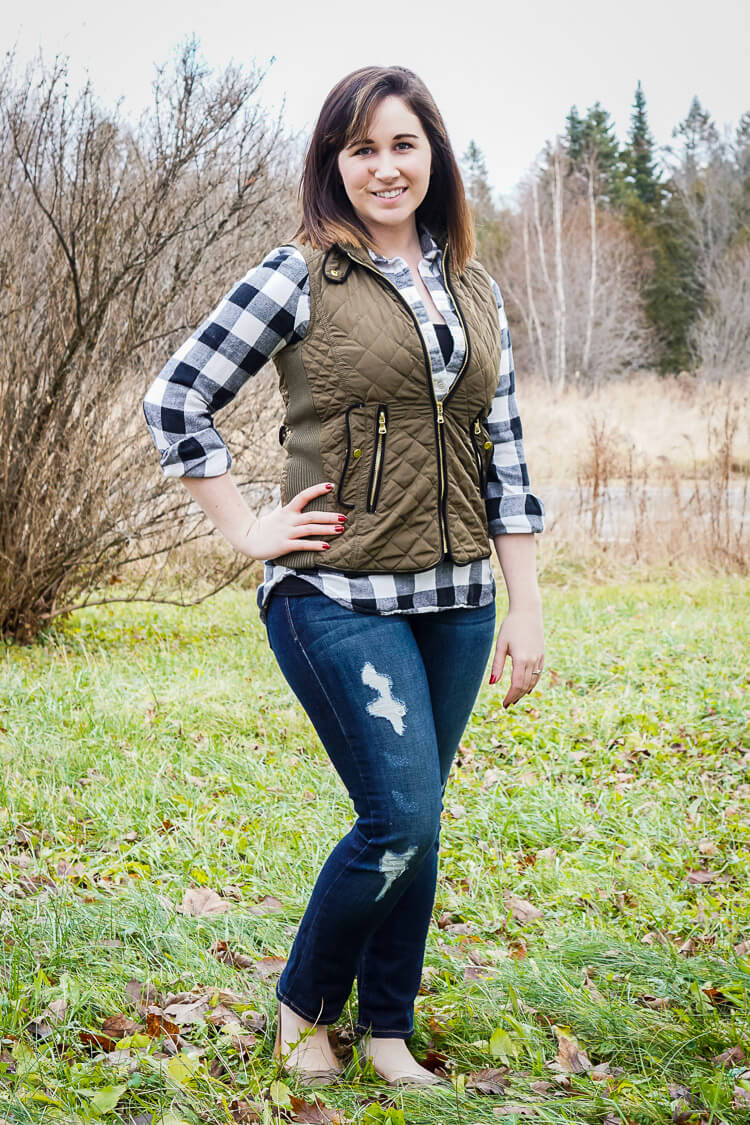 Fate – Rowan Quilted Vest – S ($78): I had requested a grey quilted vest that I had seen in someone else's review, but this is what my stylist was able to find. I actually really liked this vest! The color was very me and I loved the black details, the gold details were okay, it worked with the vest but also made me feel like it gave the piece a timeline, gold is in right now, but it might not be next year and since this is a seasonal piece, I wasn't willing to drop this kind of money on something I might only wear a few times. Speaking of seasonal, I also felt like the season for this vest had already passed, even though it's chilling here in the winter, I felt like it was more of a fall piece and too dark for a spring piece.
Verdict: Returned.
Just Black – Paislee Distressed Straight Leg Jean – 6P ($78): So I really love the Just Black Jeans and I really hate straight leg jeans, so as much as I loved the coloring and the fit, from the knee down they were a no-go.
Verdict: Returned.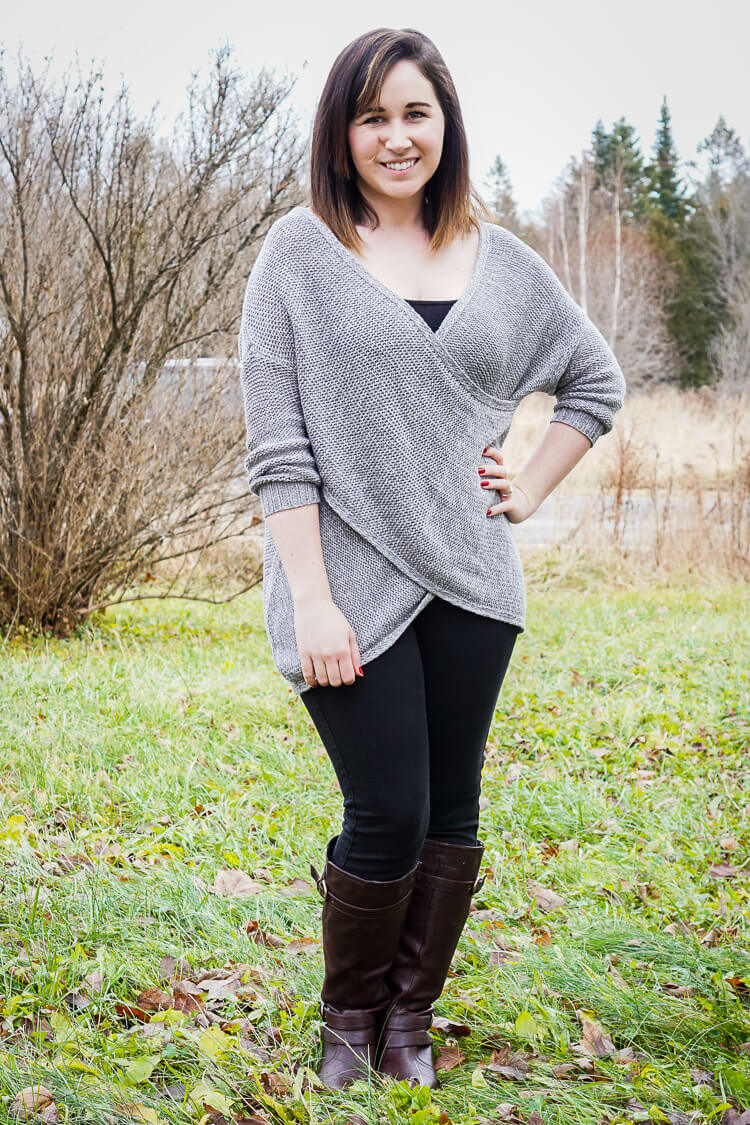 RD Style – Wakefield Crossover Sweater – S ($68): I love grey and I've been feeling like I've needed a little more of it in my life for a while now. This crossover sweater is both unique and fun! Since it covers my butt, I can totally wear it with leggings (See Guide to Wearing Leggings) and it looks great with my Just Black Black Jeans from my first fix too! I love that I can dress it up, or it's great for yoga or lazy days at home. It's soft too!
Verdict: Kept!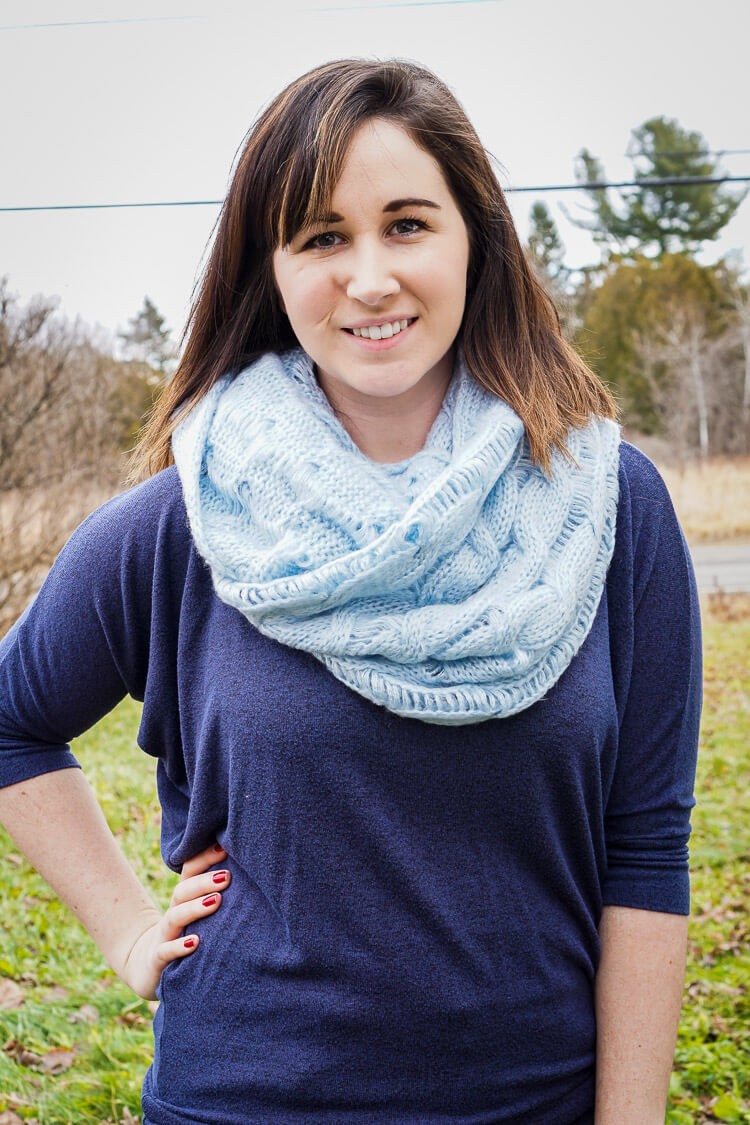 Shiraleah – Lennox Cable Knit Infinity Scarf ($38): This scarf was super soft and I loved the knit and the color was quite beautiful, but it wasn't my color.
Verdict: Returned.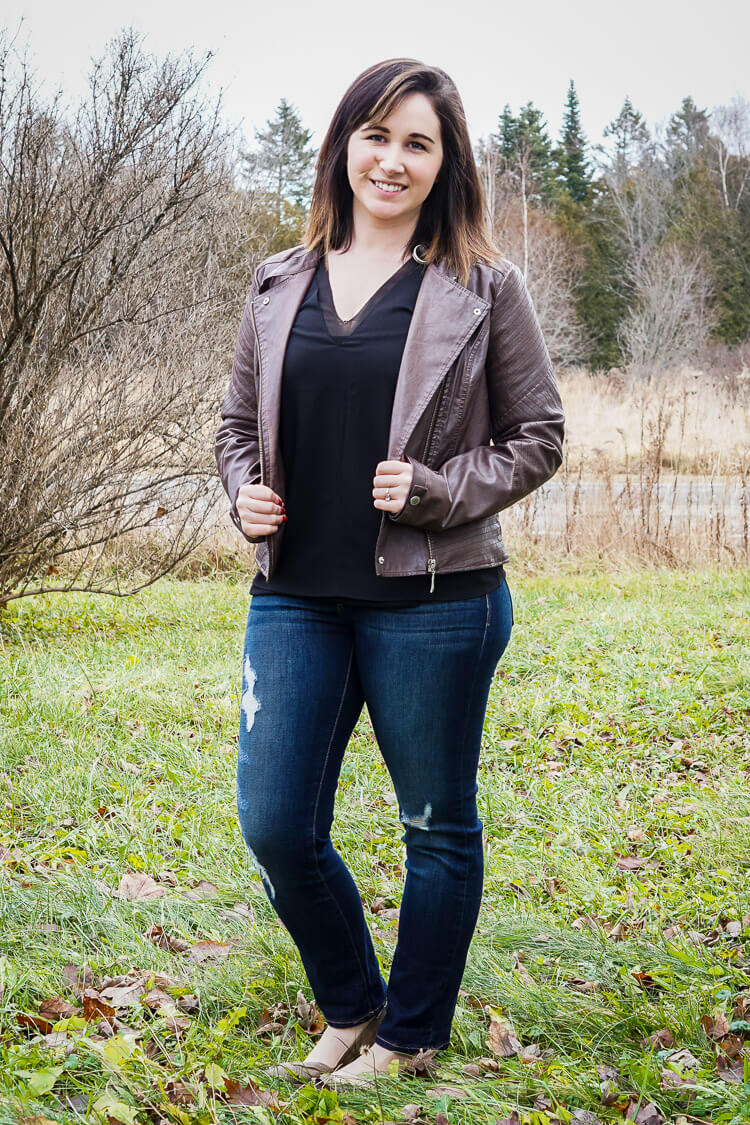 Cooper & Ella – Sonoma Keyhole Back Blouse – S ($88): First of all, this was the most expensive piece in my fix… ummmmm… WHAT? Secondly, I have the SAME EXACT top in a coral color that I bought last spring at TJMaxx for all of $20.00. While the brand names are different, the tags looked the same but with different names an the details, cut, and fabric were all the same. Not gonna lie, that was a huge turn off. It was also a little tight around the chest.
Verdict: Returned.
Well there you have it, my January 2016 Stitch Fix Review! Overall, I was really pleased with this fix, it was definitely my style, even if some of the colors and fits were a little off. I plan to schedule another one for a few weeks from now before my girl's trip to California! When will you be scheduling your fix?
Not everyone has as great of an experience as me, so here's some tips on getting a great fix.
Pinterest. Have a fashion Pinterest Board? Share the link to it with your stylist so they can keep up with what you're loving as the seasons change.
Details. Be very detailed on your initial survey when you sign up for your first fix. You also want to be detailed on your return survey about each piece. Like for the Raspberry dress, I told my stylist that I loved the color and material but the cut just wasn't ideal for my life.
Honesty. Sometimes we're tempted to say we're a smaller size than we really are, but you need to give exact measurements to ensure a great fix. You look better in clothes that are the right size than when you try and squeeze into clothes that aren't.
Trends. Have a particular trend or style you're loving or a particular piece you're looking for? Let your stylist know and they'll try to hunt it down for you.
Events. Have an event coming up or going on vacation, let your stylist know so they can help you look your best!