Ksiaz Castle & Hotel in Poland is a charming castle with budget-friendly accommodations nestled in the hills and mountains of Poland.
Ksiaz Castle & Hotel is such a gorgeous place, a pink fairy tale castle high on a hill in the south of Poland. I've always wanted to stay in a castle, those Disney movies put a long of ideas in my head 😉 We didn't get the chance when we were in Scotland, but that's okay, staying the night here and exploring the maze of corridors, was such a perfect experience.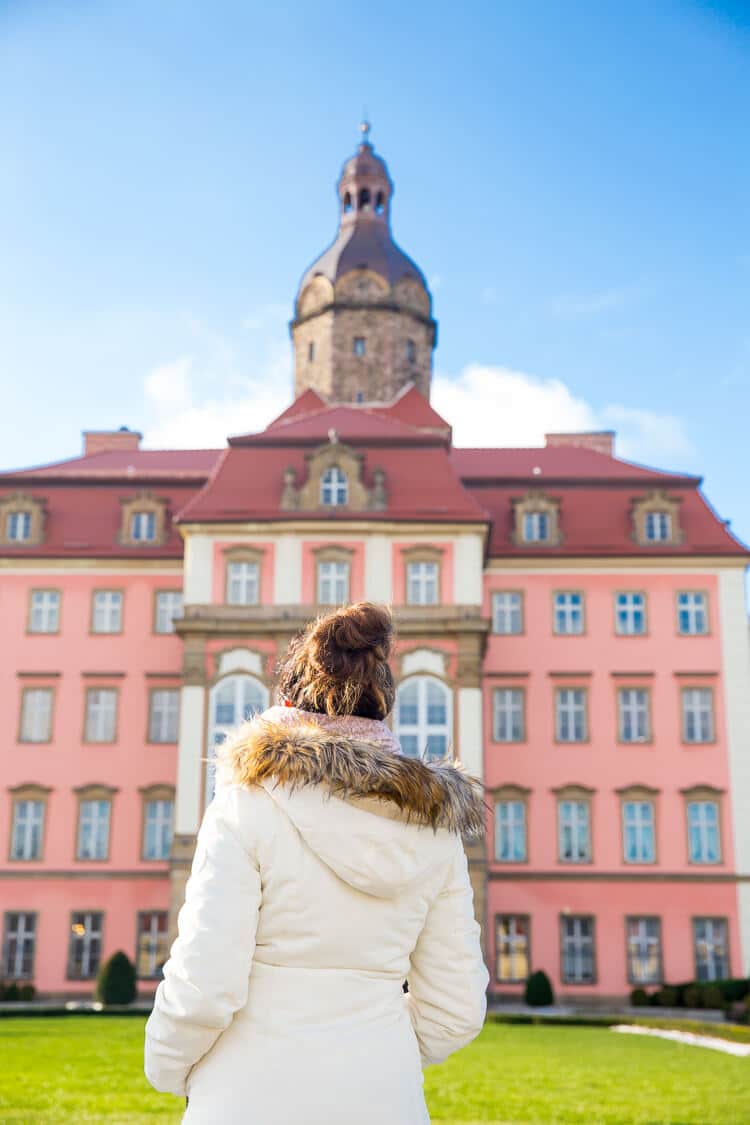 Since last year, I've been so fortunate to be able to travel and explore many corners of the world (with more to come!). One of my more memorable excursions involved staying in the beautiful Ksiaz Castle in Wałbrzych, Poland.
Due to some airline strikes, I found myself rather stuck in Frankfurt and ended up driving 10 hours on the Autobahn to get to Krakow, Poland. I couldn't help but admire the many German Castles we passed along the way, they made me even more excited for my own castle stay.
I went to Poland with my friends Rachael and Courtney, and while we wanted to tour its bustling and architectural cities, we also chose to dive into the picturesque countryside. This is why we chose to spend the night in a castle, and it was an experience that I will never forget.
Ksiaz Castle & Hotel In Poland
PIN IT TO YOUR Travel BOARD ON PINTEREST!
FOLLOW SUGAR & SOUL ON PINTEREST FOR MORE TRAVEL IDEAS!
We decided to stay at Ksiaz Castle because of its gorgeous grounds and rich history. If those walls could talk, I can only imagine the stories they'd tell. The origin story of this castle is a mystery, but according to the landmark's website, the first written account of the structure dates back to the 13th century.
In its hundreds of years of existence, the castle hosted many historical figures and members of royalty — but this list of occupants also has a darker side.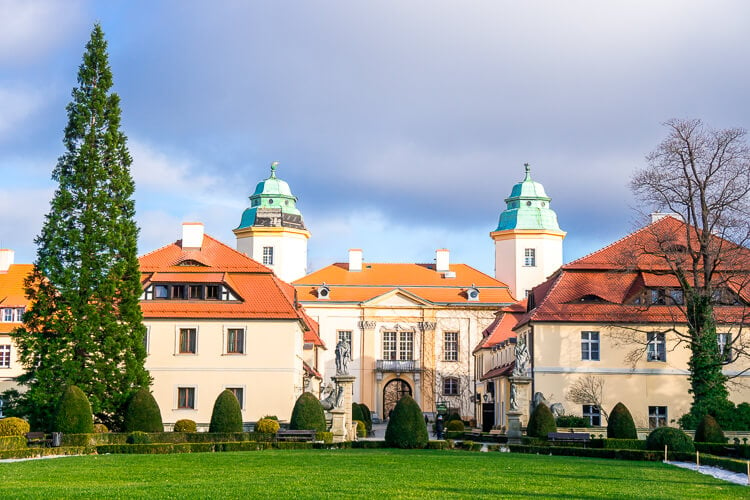 Ksiaz Castle sits just 40km or so north of the Czech Republic border in what was once part of Germany before the boundary lines were reestablished after WWII. During the Holocaust, it was intended to serve as one of Hitler's residences after it was taken over by Nazis in 1941.
A paramilitary force known as "Todt" stationed themselves in the castle, and over the next four years, performed some reconstruction. This included building a series of underground tunnels — but no one knows exactly what they were used for.
However, there are other prominent figures that called Ksiaz Castle home in the years leading up to World War II. The Prince and Princess of Pless lived there, and Princess Daisy became one of the most notable people associated with the castle's history.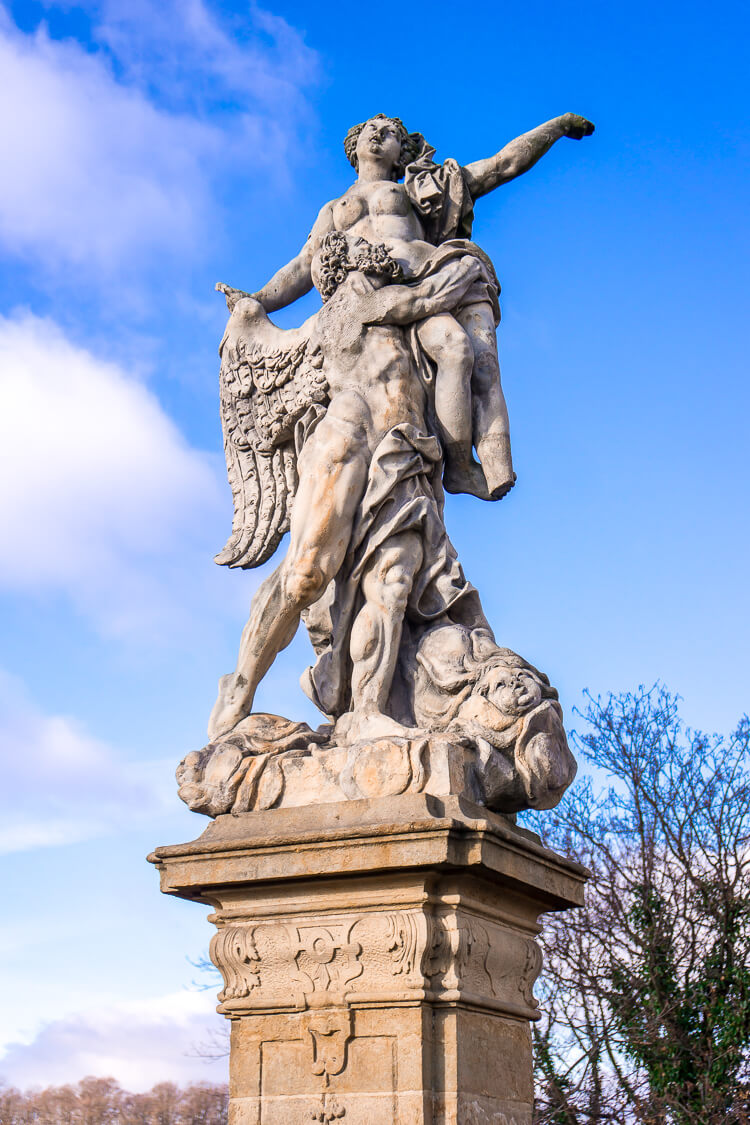 Born Mary Theresa Olivia Cornwallis-West, Princess Daisy was not wealthy before marrying into royalty. But during a masked ball thrown by the Prince of Wales, she met Hans Heinrich XV von Hochberg, Prince of Pless, who was 11 years her senior.
He later proposed and they were married in 1891 when Princess Daisy was 18. After spending their honeymoon traveling the world, the pair moved into Ksiaz Castle and went on to have four children.
The Princess' people knew her as being beautiful, down-to-earth, and progressive. She divorced her husband when she was 50 years old and went on to publish a memoir called Better Left Unsaid. It served as a scandalous exposé of her life as a princess and was read by people all over Europe and the America.
Daisy's other claim to fame was that her brother was Winston Churchill's stepfather (even though he was the same age as his stepson — scandalous!). Churchill eventually became the Prime Minister of the UK, and also stayed at Ksiaz Castle on many occasions.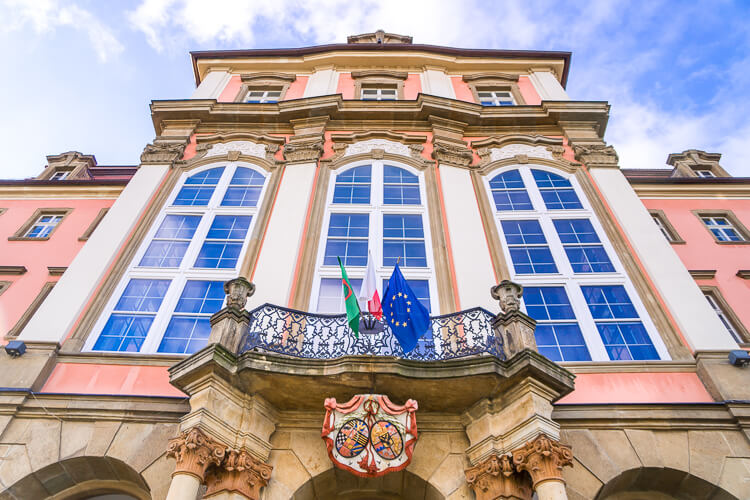 Given these snippets of the vast history steeped in the castle's immaculate grounds, you can imagine why we were so intrigued to visit this site! But aside from the mysteries of centuries gone by, there was an element of fantasy that was brought to life: we were at a real-life castle!
Staying here was like a dream come true. It brought me back to my childhood filled with Disney princesses wearing bright-colored gowns and seeking adventure and romance. I couldn't help but imagine how fun it would have been to grow up in a castle such as this, running along the maze of corridors, up and down staircases and through the perfectly manicured gardens. I bet some epic games of hide and seek were played here by the royal family.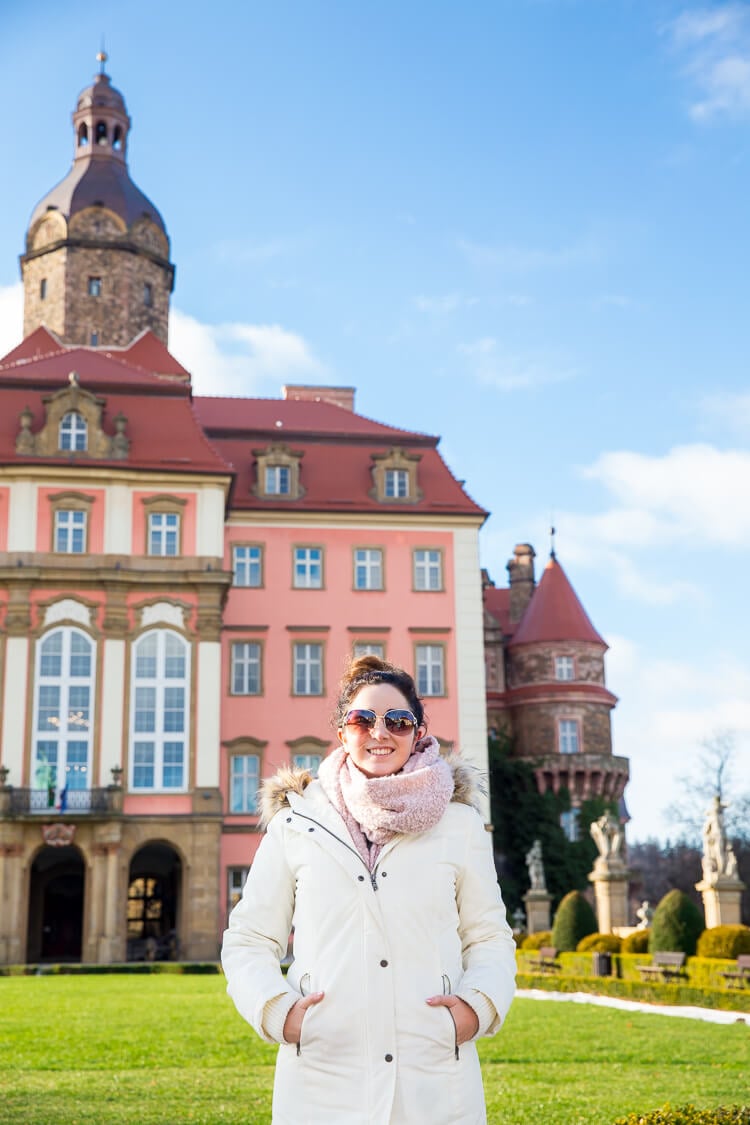 The castle truly is a maze, but it was so fun to explore. Each room is filled with ornate details, from the meticulously patterned floors to the richly textured wallpaper, to the mural-covered ceilings. There are audio guided tours, but we chose to do a self-guided tour following the numbered signs around the castle.
The majority of the staff in the castle do not speak English, but there are English translations for all of the written tour descriptions throughout the castle. I'm not 100% sure on this, but I think you can hire or request an English speaking guide ahead of time.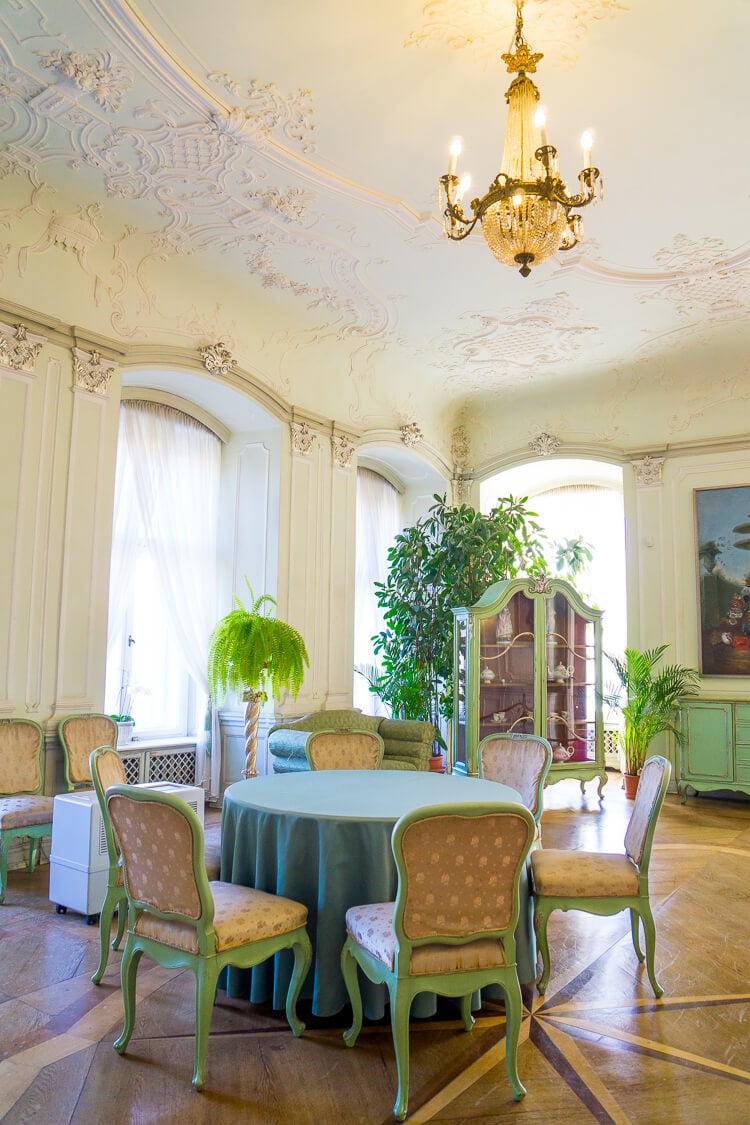 While the castle's stunning architecture will keep you meandering for hours, there are lots of other things to do in and around its sprawling grounds. On the property is the Palm House, a giant greenhouse filled with lush and exotic plants (it was built in the early 20th century by the Prince of Pless as a gift for his wife, Daisy). The castle also offers spooky, story-filled evening tours as well as less regular tours in daylight, though the guides only speak in Polish.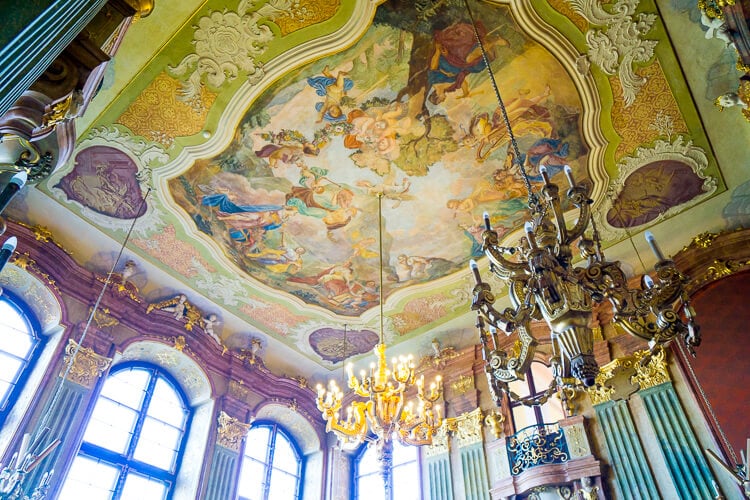 But there's even more outside the castle walls to explore, in the city of Wałbrzych. The Town Hall looks like a castle itself, topped with tall spires sitting behind a lit fountain. There's the Szczawno-Zdrój, or the Mineral Water Pump Room, in which you can drink in the health benefits of mineral waters.
If you dare, you can tour the mysterious Underground City of Osówka, which was built in the 1940's for an unknown purpose (which could be the same purpose that the Nazis built tunnels under Ksiaz Castle around that same time). Then there's the Old Mine Science and Art Center, a unique work of art in itself which was built, amazingly, in and around a mine.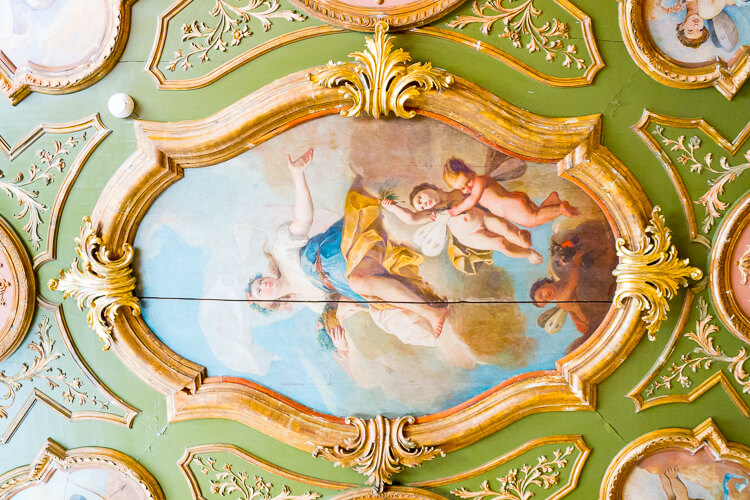 It goes without saying that staying at Ksiaz Castle gives you a central position to some of the best attractions that the area has to offer. Additionally, the accommodations are as budget-friendly as they are beautiful. We stayed in the gatehouse where there are a little hotel and restaurant, in a three-bedroom suite that costs about $74 per night. A single room runs a little less than $40, and the Royal Apartment is just $122 per night.
This place a wonderful destination for an affordable getaway whether it's just for you, a girl's weekend, a family vacation, or even a honeymoon. If you've ever fantasized about being royal, a stay at Ksiaz Castle must be added to your bucket list!