Magic Reindeer Food is a simple and fun Christmas tradition! Make it in minutes with pantry staples and snag these FREE printable labels to package it up for the kids to spread on the lawn to guide Rudolph and Santa to your house on Christmas Eve!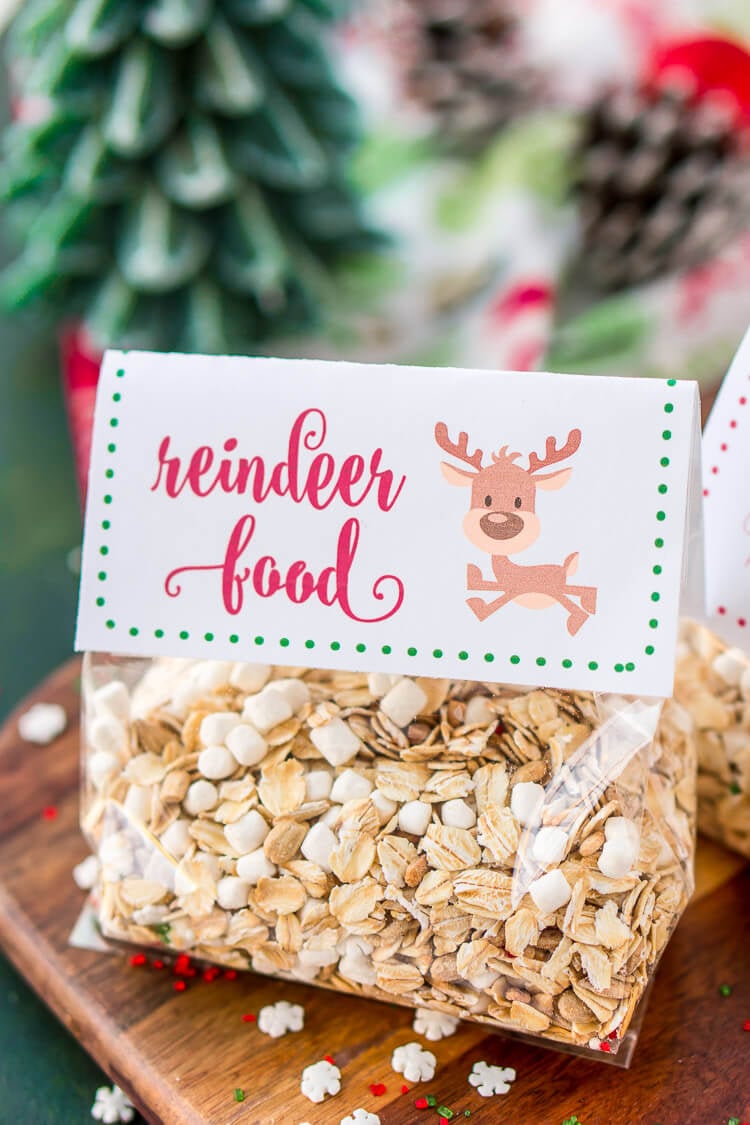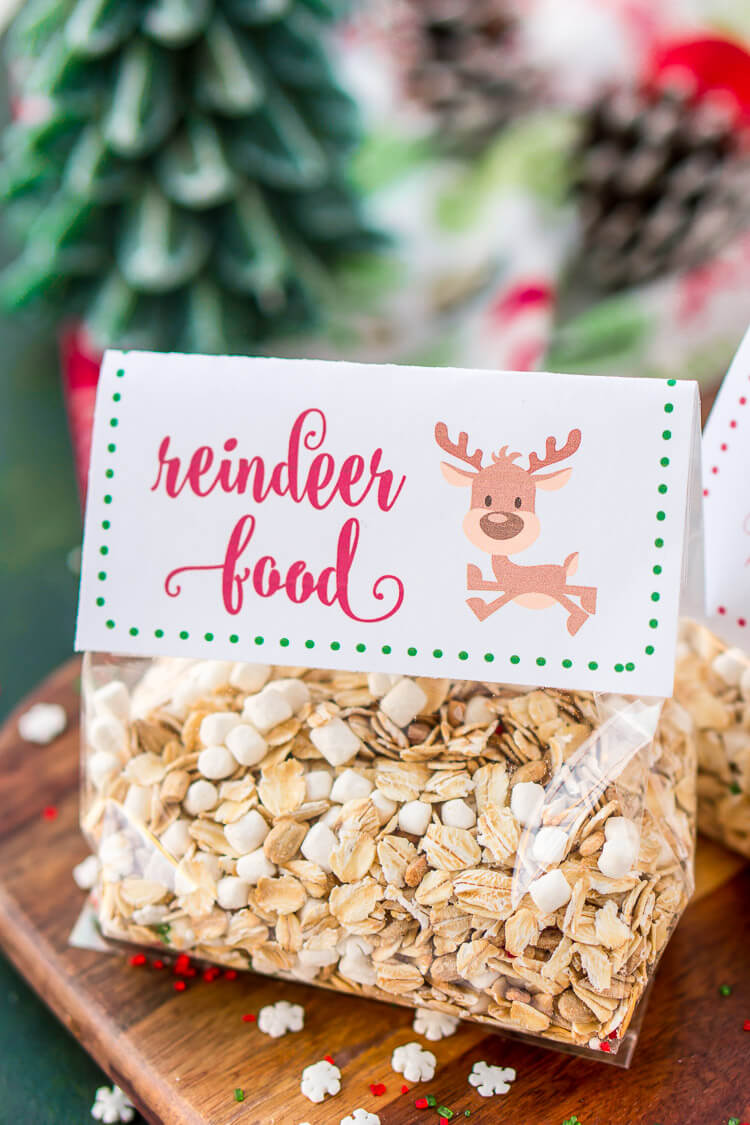 I've been wanting to post this recipe/craft since the first Christmas I was blogging. But every year it seems I run out of time, and looky here, It's getting posted as my last Christmas post this year. But hey, at least I'm finally posting it, right?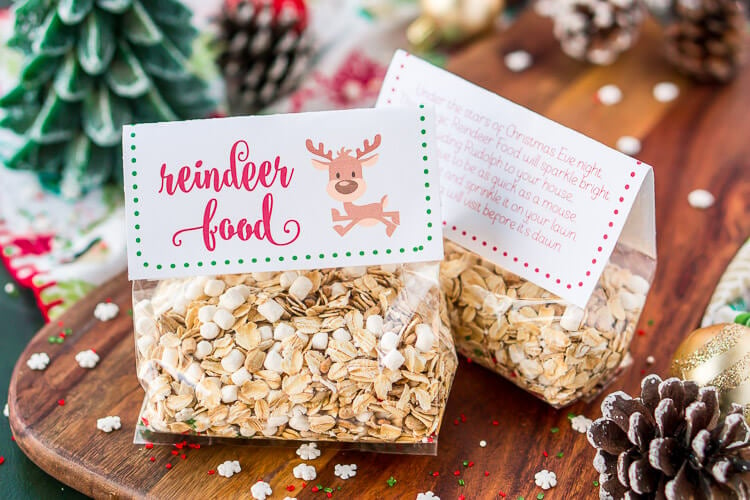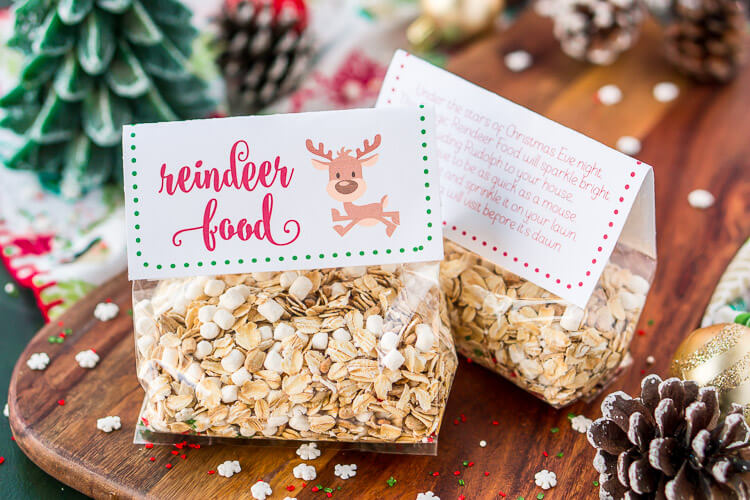 And I know this isn't a new idea, if you're around my age, you probably grew up sprinkling Magic Reindeer Food on your lawns on Christmas Eve. It was one of my favorite things to do, and now each year I try to make up little containers of Magic Reindeer Food to give to all the little kids in my life. And one day, it's a tradition we'll carry on with our own children.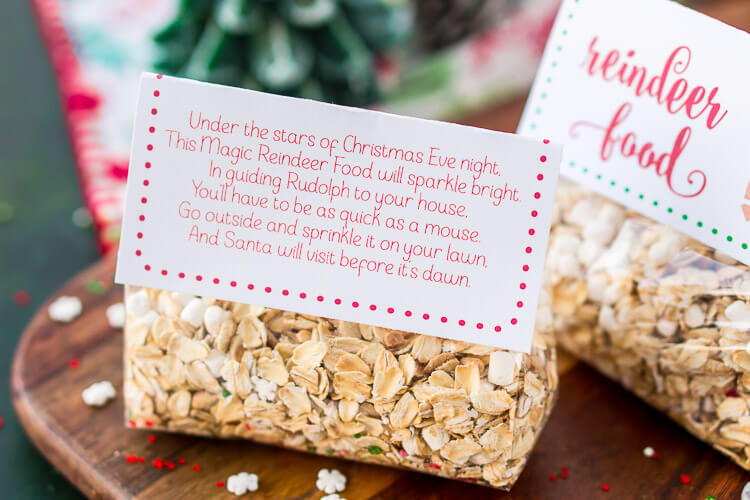 For those of you who are new to the idea of Magic Reindeer Food, read this poem that's included on the free printable tags that go with this recipe:
Under the stars of Christmas Eve night,
This Magic Reindeer Food will sparkle bright.
In guiding Rudolph to your house,
You'll have to be as quick as a mouse.
Go outside and sprinkle it on your lawn,
And Santa will visit before it's dawn.
These lovely tags were designed for me by Cori from Hey, let's Make Stuff – because she's WAY better at this stuff than I am!
This is a fun way to preserve the magic of Christmas and allow your kids to have even more fun on Christmas Eve. When I was a child we always opened our Christmas Eve present, got into our pajamas, set out some milk and cookies, then sprinkled the Magic Reindeer Food on the lawn right before bed. It was always fun and exciting thinking about how Rudolph was on his way and I was lending a helping hand.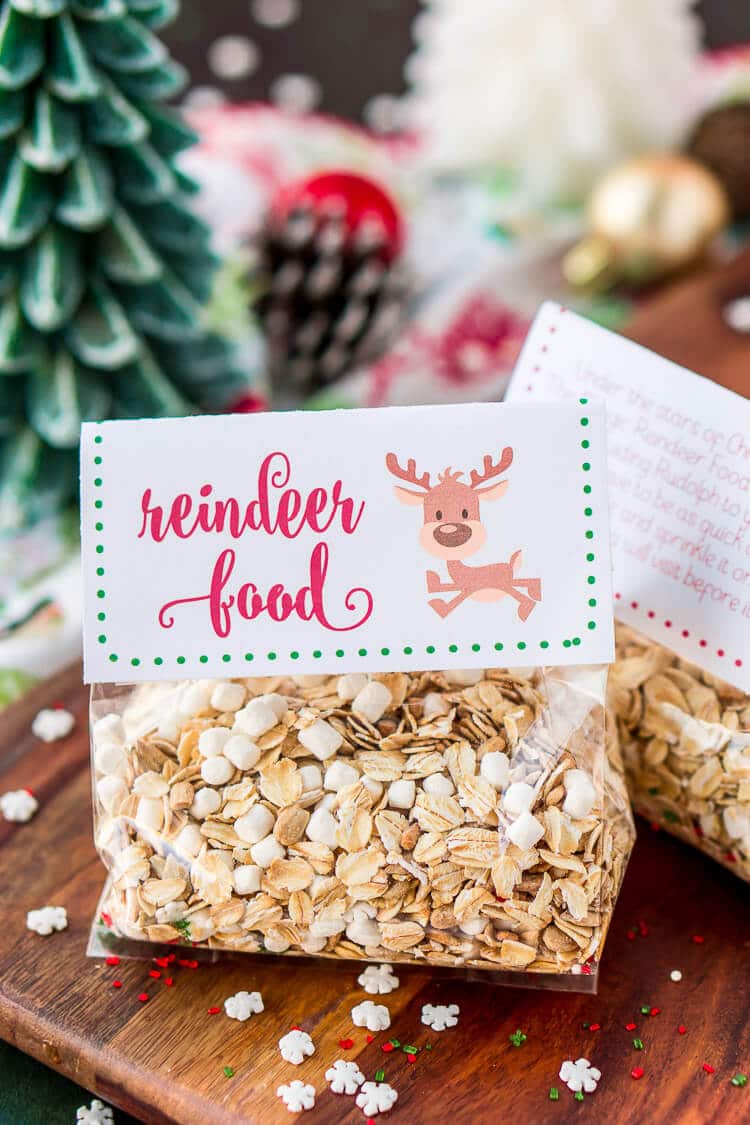 So I encourage you to mix up this easy recipe for Magic Reindeer Food and package it up for your children and other neighborhood kiddos. And keep this simple tradition alive. The recipe itself can, of course, be altered, since Reindeer aren't too picky. But keep in mind that you don't want to include anything in the recipe that could be dangerous to animals like dried fruit, chocolate, glitter, etc. Stick with things like oats, nuts, and sugar based products that will dissolve easily.
Rebecca Hubbell
Yields 3 cups
Magic Reindeer Food Recipe & Tags
5 minPrep Time
5 minTotal Time
Ingredients
2 cups old fashioned oats
1/2 cup mini cocoa marshmallows
1/2 cup sunflower seeds
4 tablespoons holiday sprinkles
Instructions
Mix all ingredients together and divide into four baggies and seal with double stick tape and a printable Magic Reindeer Food label.
7.6.2
798
https://www.sugarandsoul.co/magic-reindeer-food-recipe-printable-labels/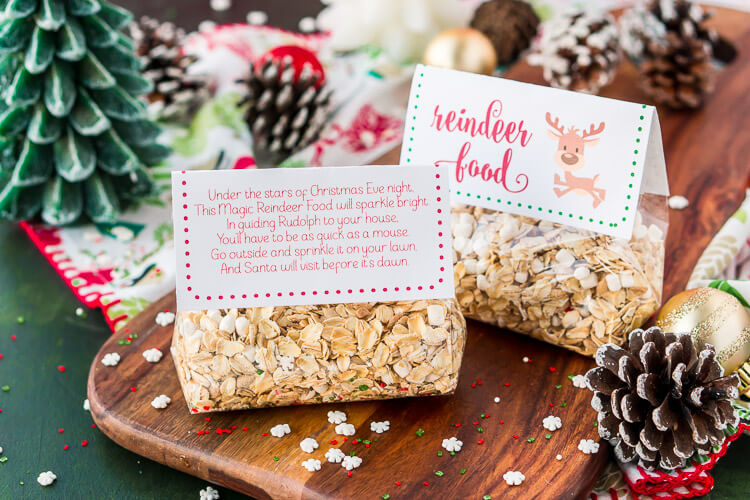 Products Used: Cutting Board – Napkins – Cello Bags – Card Stock – Double Stick Tape