There's nothing quite like native Maine berries in the summertime. I love picking berries right off the bush, they're still warm when you pop them in your mouth and your hands are covered in sweet juices! Berry picking in Maine is a family tradition for many, but I hadn't been since I was a kid. This year I went with my Mum and it was so nice to just be able to enjoy some time together as well as some of the wonderful flavor Maine has to offer!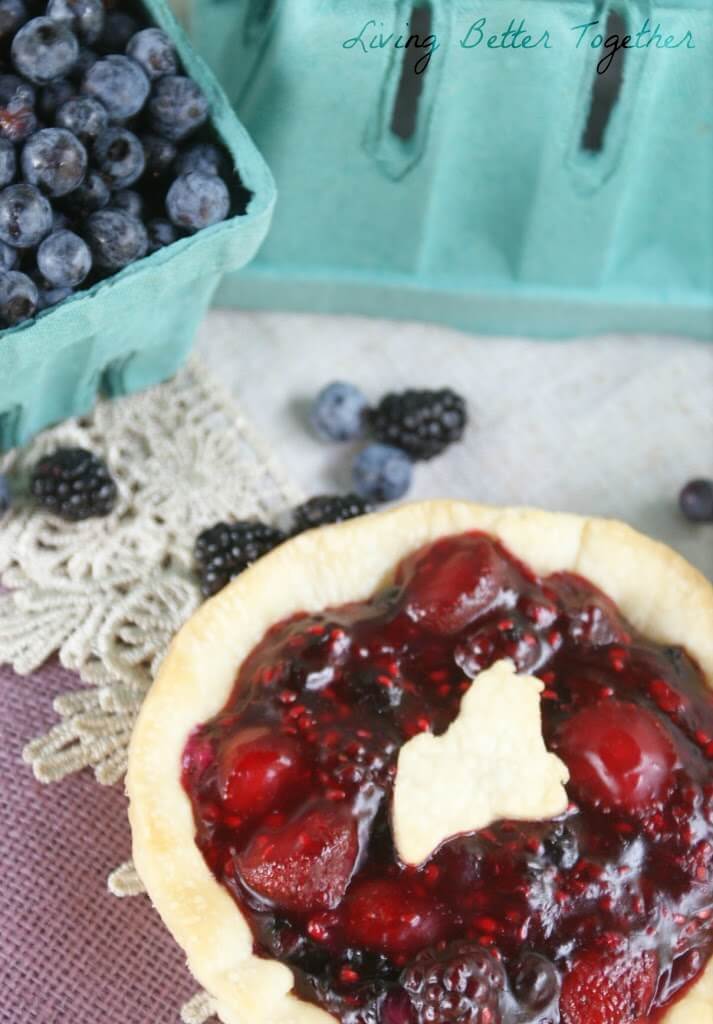 Berry seasons in Maine pretty much line up one right after the other, as one ends a new one begins. My mother and I picked strawberries and raspberries, and I froze some of mine because I knew I wanted to make a berry pie once blueberry and blackberry season rolled around, and that's just what I did.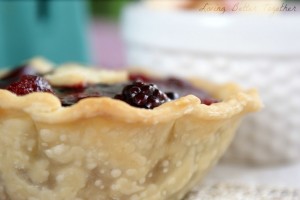 Now, pies intimidate the crap out of me. I think I have attempted to make two from scratch in the past and both were failures. I'm hoping to perfect the pie crust this fall, but in the meantime, I'll stick with the refrigerated roll out kind. Normally I love a pie with crust on the top as well as the bottom, but I wanted to make a pie that would be delicious both hot and chilled, yes chilled, it's amazing! Therefore, I decided to just do a bottom layer.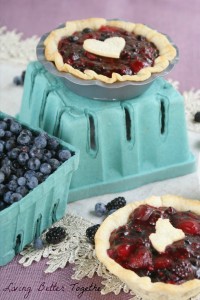 Makes 4 Mini Pies or 1 Large Pie
1 Box Refrigerated Rolled Pie Crust

1 tbsp Butter (melted)

3/4 Cup Sugar

1/4 Cup Corn Starch

1 Cup Blueberries

1 Cup Blackberries

1 1/2 Cup Raspberries

1 1/2 Cup Strawberries

1 tbsp Lemon Juice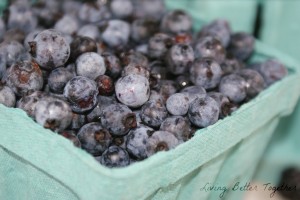 Preheat oven according to temperature on dough packaging.

Depending on the size of the pie you are making, use a bowl or a plate to cut the dough so that it hangs over the edge of the pie pan about a 1/2 to 1 inch before pressing it down in the center.

Cut away any extra pieces of dough that over hang once you have pressed the center down and shaped the dough.

Shape the edges of your dough however you like.

Brush edges of crust with melted butter.

Bake for about 8-10 minutes until edges have started to brown.

You will have some extra dough if you want to get creative like I did and cut out some pieces for the top, do you like my little State of Maine? I did that freehand! Alright, well at least my husband was impressed by it!

Brush pieces of dough with butter and bake at the same temperature, but they only take a few minutes to cook.

Meanwhile in a large saucepan, combine sugar, corn starch, lemon juice, and berries and cook over medium heat until the mixture thickens and just comes to a boil. Remove from heat.

Pull crust(s) from the oven, and place on a cooling rack.

Spoon pie filling into crust(s), top with dough garnish, and allow to cool completely.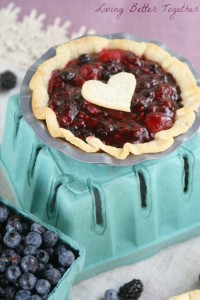 You can eat this pie at any temperature and it will be delicious! I love my berry pies chilled or warm with a side of vanilla ice cream! Look at the beautiful berry filling!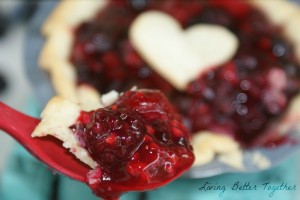 This was a really simple and delicious pie recipe, it only took about a half hour to whip up. Matt even ate it, and he isn't normally a pie guy! I'll take that as a WIN in the wife department!
Also, I love when the light cooperates with my photos! No edits on these babies!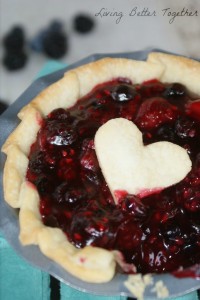 I used these pans for my pies!