This post is sponsored by Philadelphia Cream Cheese, all opinions and content is that of Sugar & Soul.
This Maple Cheesecake with Roasted Apples is rich and creamy and loaded with fall flavor! It's a grand addition to the holiday table, especially if you're looking to impress with taste and presentation!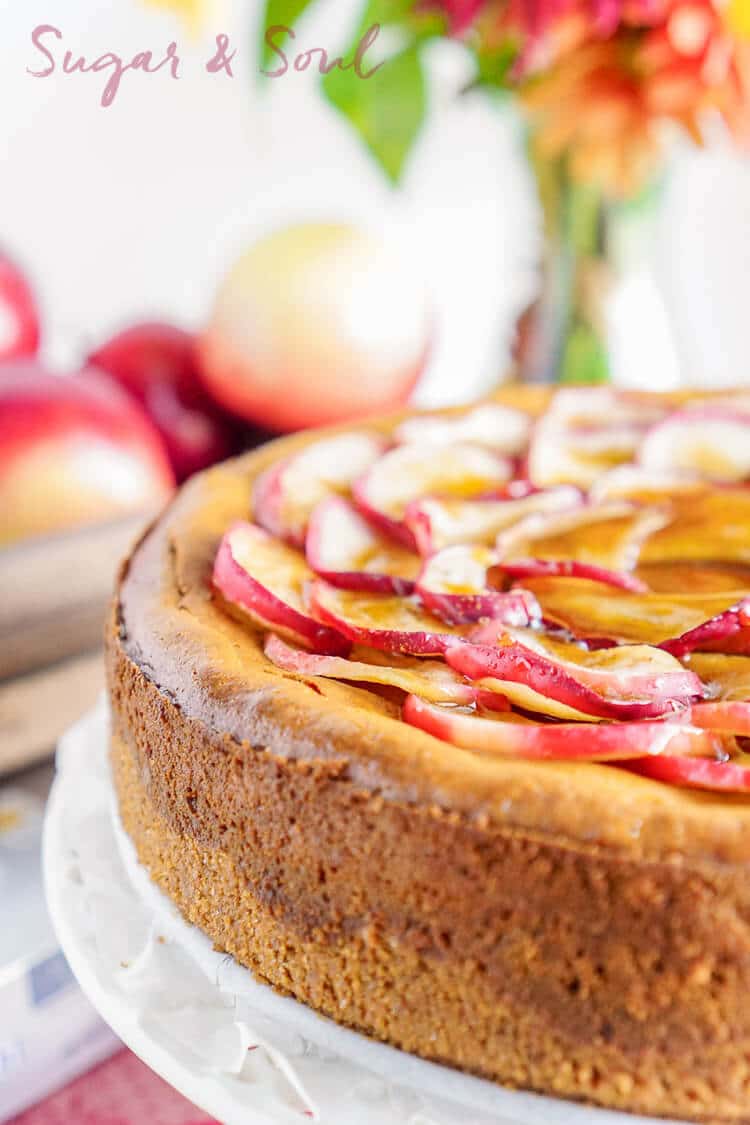 Can you believe how fast the holidays have crept up on us? Halloween was already a couple weeks ago and in just a week and a half we'll be sitting down at the table for Thanksgiving dinner, which means you should probably start planning that amazing menu now if you haven't already!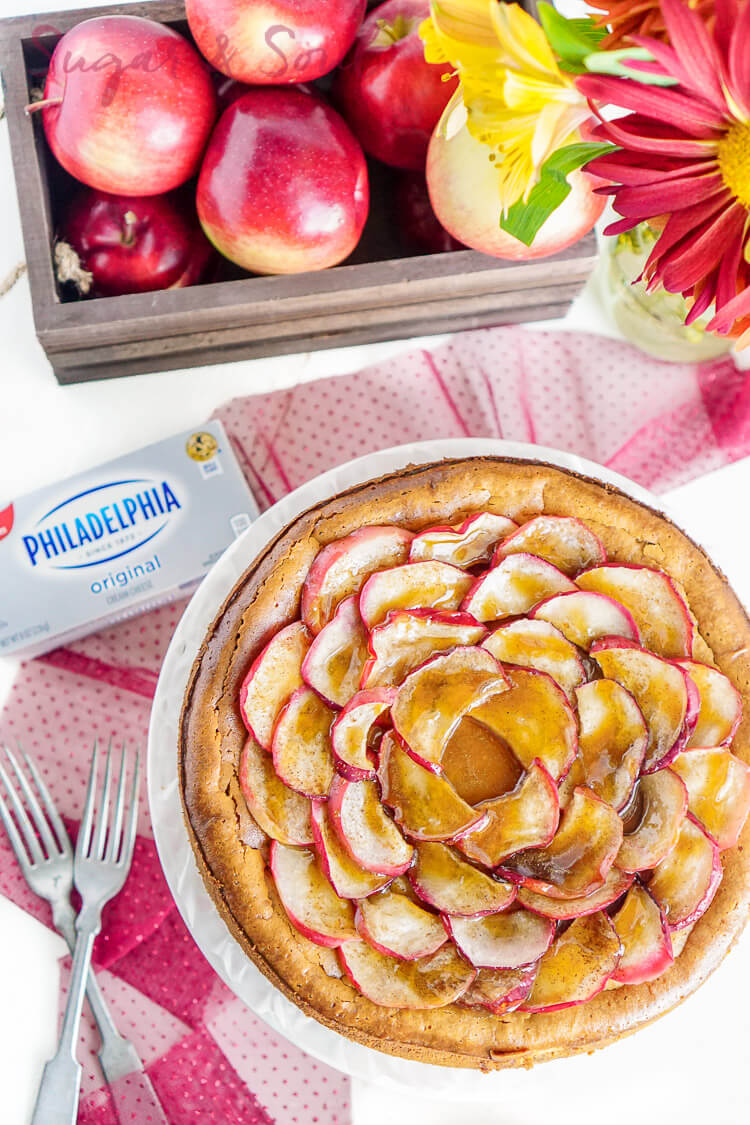 Thanksgiving always sounds so daunting. I mean, there's this turkey you have to cook and then a million side dishes and they all have to hit the table at the same time and be hot to boot. But let's not forget that you can't follow up such a grand meal with a simple and boring dessert! (Shhh…don't tell the apple and pumpkin pies I'm talking about them, okay?) You have to serve a dessert that makes a statement and puts all the others to shame. Of course, we're still going to invite the others, because they'll make this stunning cheesecake shine even more. 😉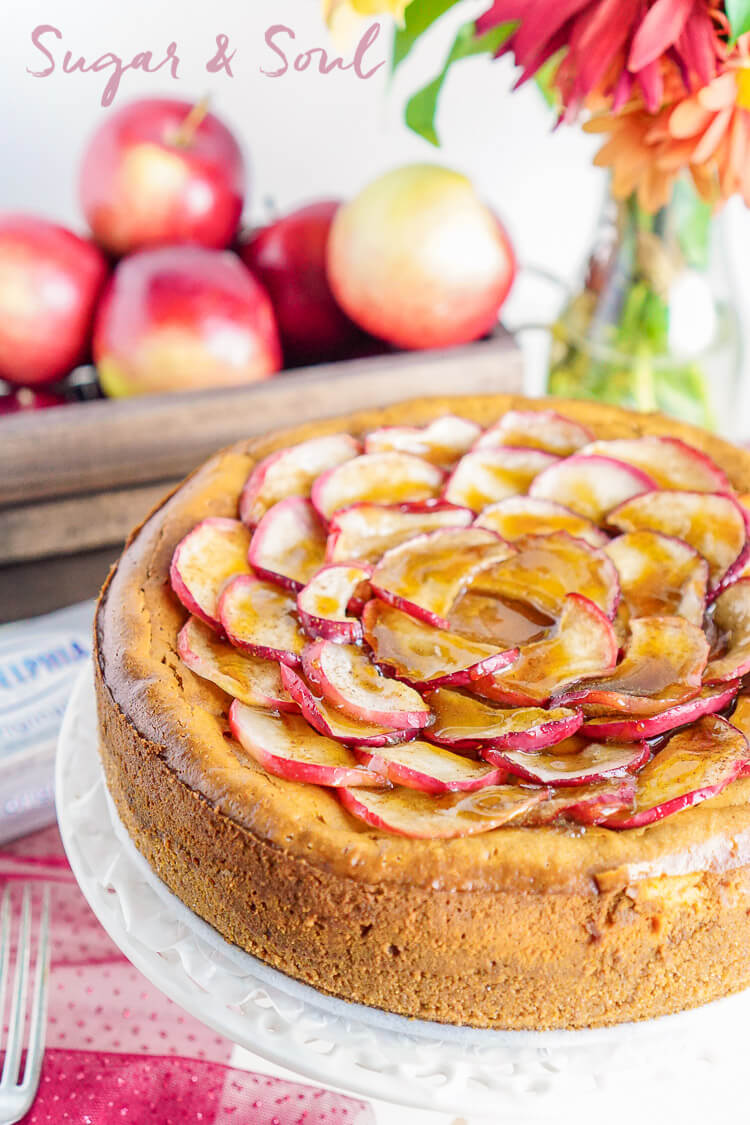 This cheesecake is loaded with amazing maple flavor, and it's almost like eating pancakes. The three blocks of Philadelphia Cream Cheese give it a rich and creamy base, and the graham-cracker crust hugs it so perfectly you know they were meant for each other! It's finished off with apple slices that have been roasted with maple syrup, brown sugar, and apple pie spice for a cozy and flavorful topping.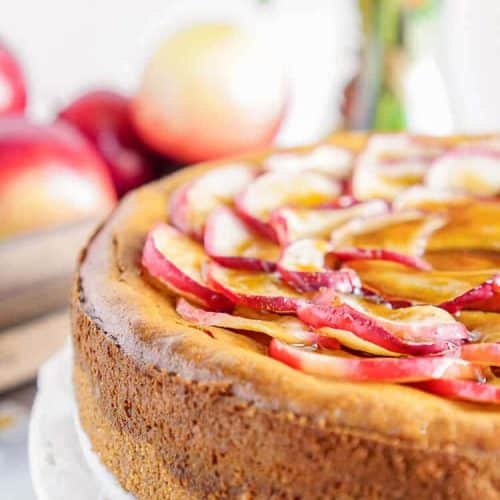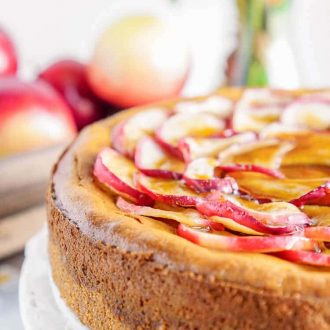 Maple Cheesecake with Roasted Apples
Print
Pin
Rate
Prep Time:
8
hours
30
minutes
Total Time:
10
hours
30
minutes
Instructions
Preheat oven to 375 degrees F. Line the bottom of a 9-inch springform pan with parchment paper and clip the sides in around it; set aside.

In a medium bowl, combine graham-cracker crumbs and sugar, then make a crater in the crumb mixture and pour in the melted butter. Stir until evenly coated. Add crumb mixture to the prepared pan and press into the bottom and about halfway up the sides of the pan.

Bake for 10 minutes, then reduce oven heat to 325 F.

While crust is baking, add 1 1/4 cups pure maple syrup to a small saucepan, bring to a boil, and cook until syrup has been reduced to a cup, stirring occasionally. Cool to room temperature.

In a large bowl or stand mixer fitted with a paddle attachment, cream together the cream cheese and brown sugar until smooth. Beat in sour cream, flour, vanilla, and salt. Slowly beat in the cooled syrup. Add in the beaten eggs and mix on low speed just until combined.

Pour into the prepared crust and smooth out so the batter is even.

Place the springform pan in a larger baking pan and fill larger pan with 1 inch of hot water to create water bath.

Bake at 325 F for 1 1/2 hours or until center has set and the top has lost its sheen. Remove from water bath and cool on a wire rack for 10 minutes, then use a paring knife to run along the edge of the cake to separate it from the pan.

Cool for 1 more hour on wire rack. Transfer to fridge to cool for an additional 6 hours, preferably overnight.

To make the topping just before serving, line a lipped baking sheet with parchment paper and preheat oven to 450 degrees F.

Slice apples into ?-inch-thick slices and then slice in half; arrange apples on the pan. Use a basting brush to brush apples with 1/4 cup maple syrup. Sprinkle with brown sugar and apple pie spice, then bake for 15 minutes.

Remove apples from oven and use the basting brush to brush the apples with the juice from the pan; broil on low for 3 to 5 minutes.

Remove pan sides from cheesecake and arrange apples on it. Finish by drizzling with remaining 1/4 cup maple syrup. Slice with a sharp knife.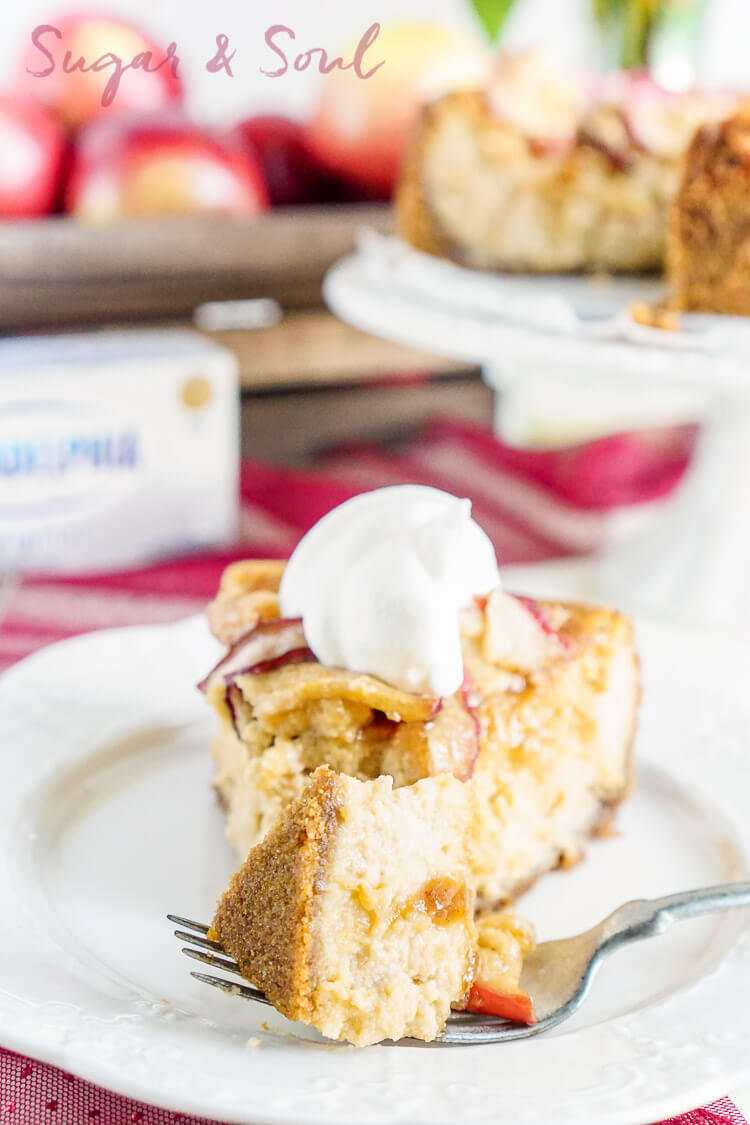 Thanks to Philadelphia Cream Cheese for allowing me to partner with them to come up with some fun and delicious recipes this holiday season! I had a blast, and this cheesecake is definitely a new family favorite that will be hitting our table this Thanksgiving! Do you have any favorite holiday recipes using Philadelphia Cream Cheese? I'd love to hear your favorites in the comments below. For some additional inspiration, click here.