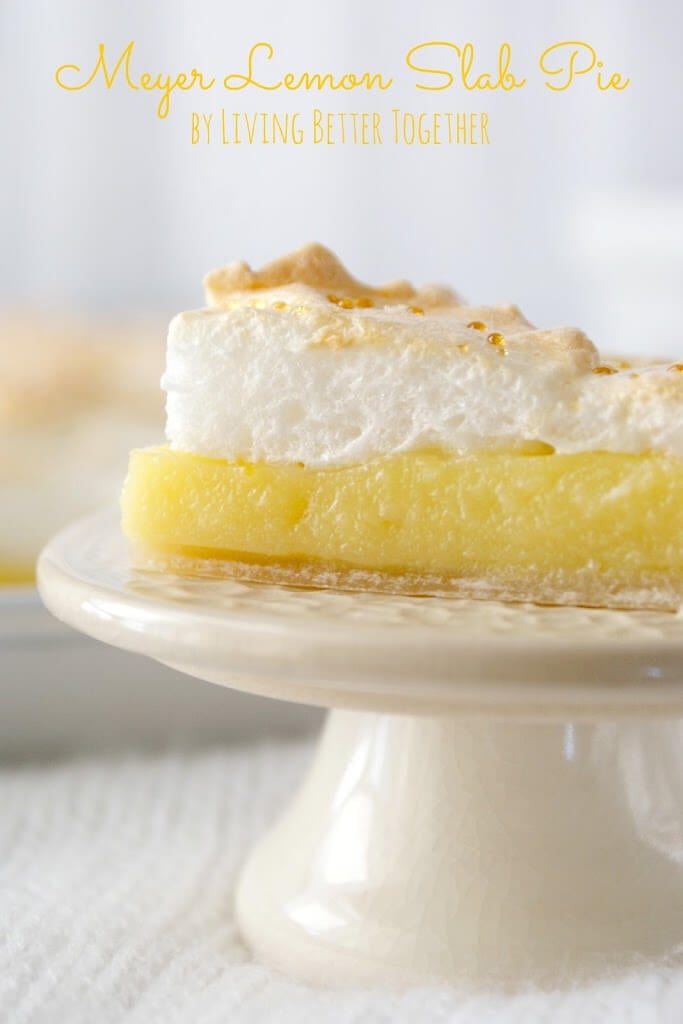 I'm a Lemon Lover, but until today I had never had Lemon Meringue Pie.
True Story.
So what made me decide to make one today? Well, a couple of weeks ago one of my coworkers asked me to make something delicious that smelled like the hand soap at our office, no joke. It's called Lemon Meringue Cheer from Bath & Body Works and it smells awesome! So the pressure was on to make something as delicious as that soap smelled.
So in the words of Barney Stinson: Challenge Accepted!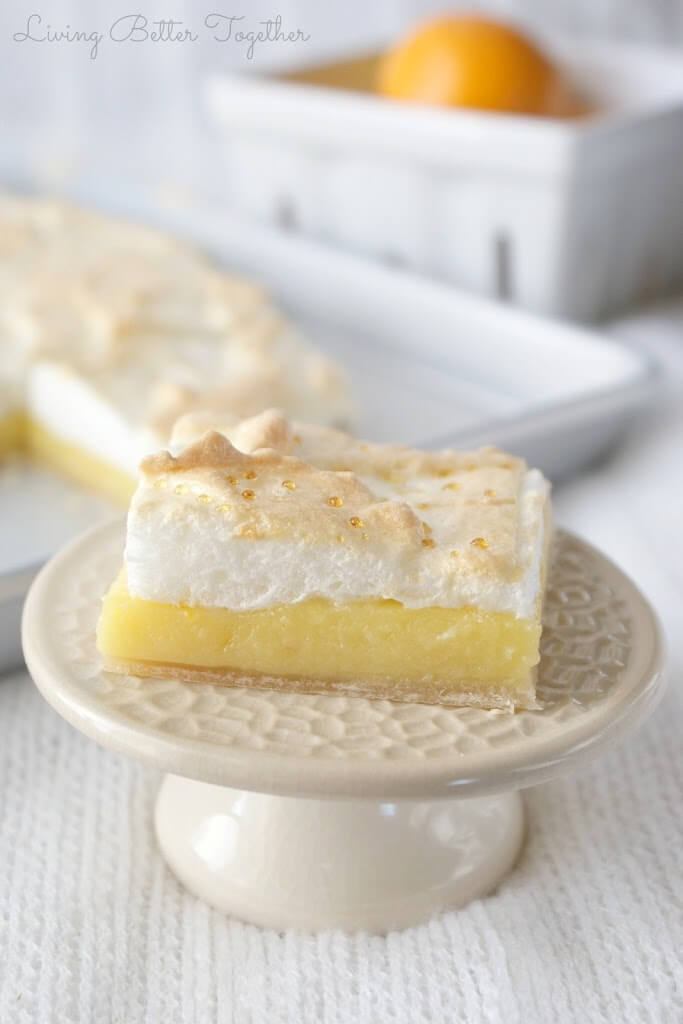 I wasn't really into making a standard lemon meringue pie, I wanted to make it my own. I'm a huge pie lover and one of my favorite kinds of pies to make is slab pie. I find that the layers are a much better ratio this way, plus it's the perfect kind of pie to bring to a party because it can be cut up into squares instead of thick slices. I also decided to use Meyer Lemons as they are sweeter than your standard lemon and I didn't want my pie to be very tart.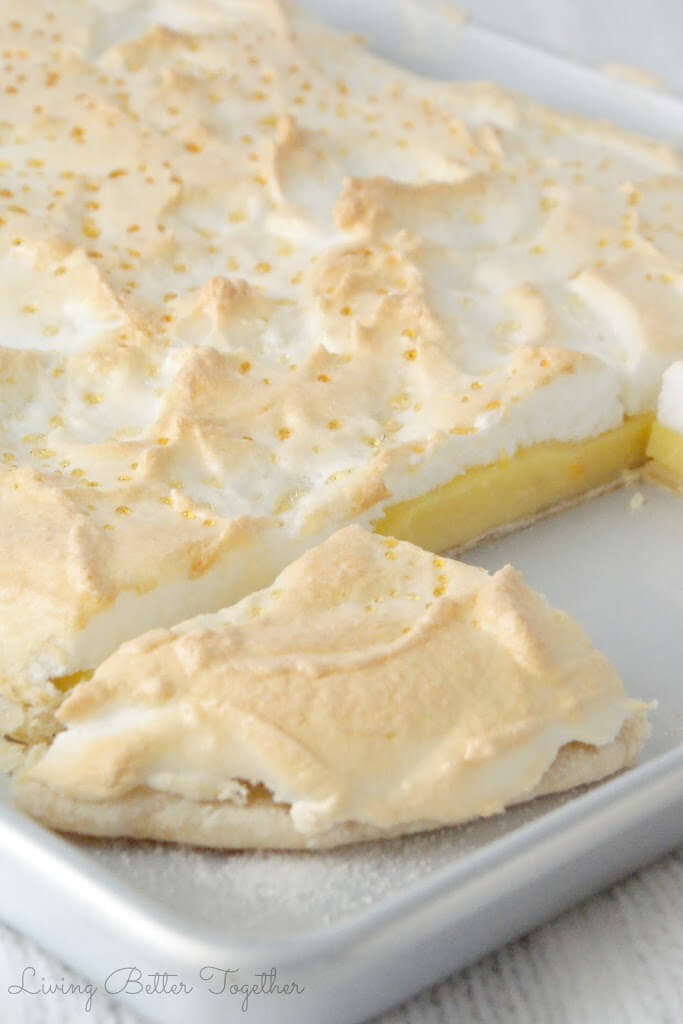 Meyer Lemon Meringue Slab Pie
Ingredients
2

cups

+ 3 tbsp Sugar

divided

3

tbsp

Flour

1/4

cup

+ 1 tsp Cornstarch

1/4

tsp

Sea Salt

2 1/4

cup

Skim Milk

1/2

cup

Meyer Lemon Juice

about 4 lemons

Zest of 2 Lemons

4

tbsp

Butter

divided

6

Eggs

room temp

2 - 9

inch

Prepackaged Pie Crusts
Instructions
Preheat oven to 425 F.

On a large greased baking sheet, preferably 12 x 18 inched, roll out the two 9 inch pie crust. You'll want to overlap them like a ven diagram and use a rolling pin to roll out the middle so you have what looks like a big oval.

Roll and pinch up the edges of the pie crust to make a little wall.

Melt 1 tbsp of butter and brush it over the enter pie crust. Sprinkle the crust edges with 2 tbsp of the sugar.

Bake crust for 15-20 minutes or until edges are golden brown, when crust finishes turn the oven down to 350 F.

Meanwhile, crack and separate egg whites and yolk into two separate bowls.

Pour egg whites into a stand mixer and beat on medium speed with the wisk attachment until foamy. Once foamy, begin adding a 1/2 cup of sugar gradually until gone. Beat until stiff white peaks form, about 10 minutes.

Meanwhile, combine 1 1/2 cups sugar, cornstarch, flour, salt, lemon juice, lemon zest, and milk in a medium saucepan.

Cook over medium-high and stir frequently until mixture comes to a boil. Add in remaining 3 tbsp of butter and wisk until melted.

Once butter has melted, add 1/2 cup of the lemon mixture to the bowl of egg yolks and whip until combined, then wisk egg mixture back into the sugar mixture.

Bring to a boil and continue to cook while stirring constantly until thick.

Your crust should be done by now, before adding your filling, use a spatula to press down any bubbles and air that might have snuck up under the crust during baking.

Pour filling into the middle of the crust and gently work it out the the edges, spread meringue out on top of the lemon filling making sure to go all the way to the edge of the crust to seal the pie.

Bake in the oven for 11-13 minutes, or until meringue is golden brown.

Cool on the pan for 1 hour, then transfer to the fridge to finish cooling for at least two hours before cutting and serving.

Serve chilled to room temp.
Notes
It is very important that the filling is hot when you put the meringue on so that the underside of the meringue cooks.
Nutrition
Calories:
113
kcal
Carbohydrates:
19
g
Protein:
2
g
Fat:
2
g
Saturated Fat:
1
g
Cholesterol:
46
mg
Sodium:
66
mg
Potassium:
51
mg
Sugar:
17
g
Vitamin A:
165
IU
Vitamin C:
0.3
mg
Calcium:
35
mg
Iron:
0.3
mg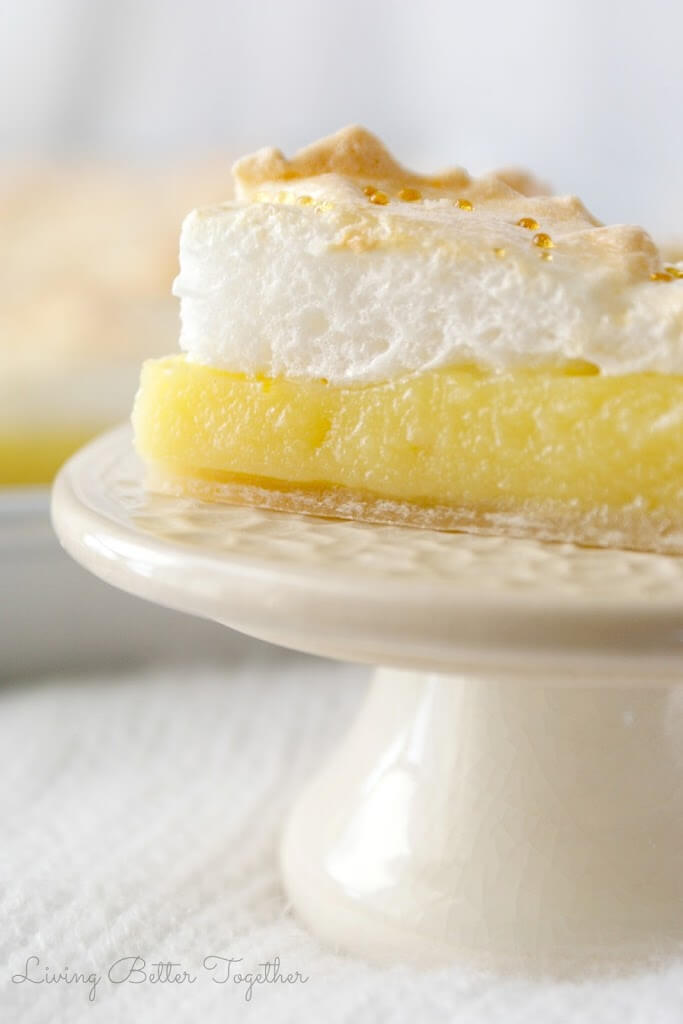 When I put this puppy in the oven, I kind of just held my breath, it was either going to be amazing or terrible.
Well, guess what… it turned out pretty damn amazing!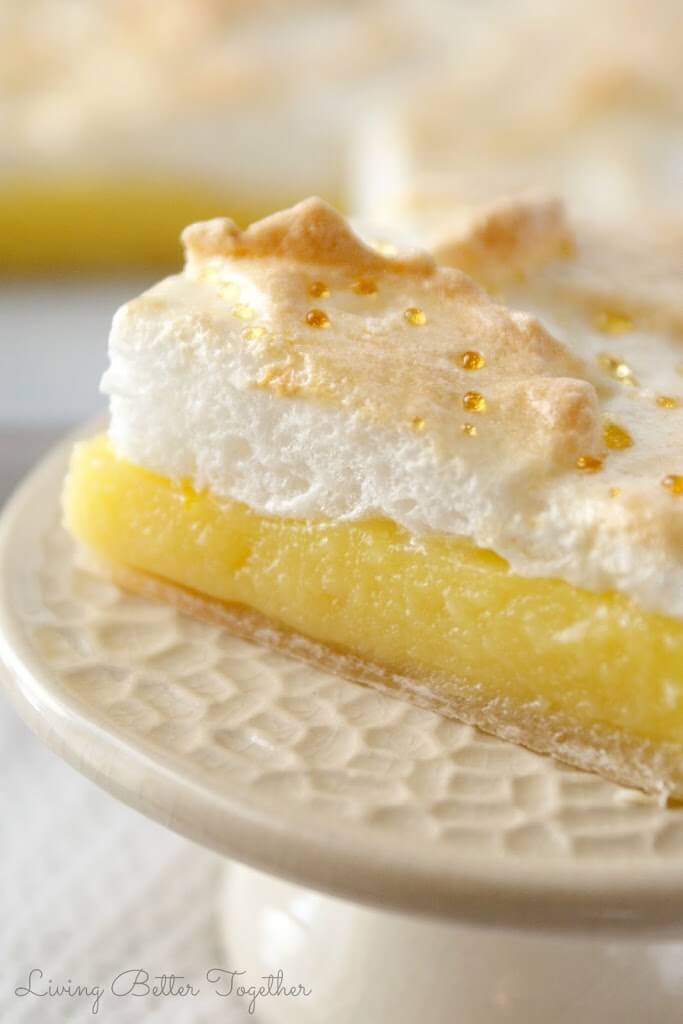 It's the perfect ratio of crust, luscious meyer lemon filling, and golden fluffy and light meringue! If you're a lemon lover like I am, you're going to die over this pie!
At first, the idea of this pie seemed pretty daunting, but I am so happy I decided to go for it! I'm very pleased with how it turned out and I was pleasantly surprised at how easy it was. Even though I had all the pieces of the pie going at once it wasn't that difficult to make. As long as you manage your time well, this pie actually whips up pretty quick and sets in half the time of a standard lemon meringue pie, making it perfect to bring to a potluck or party!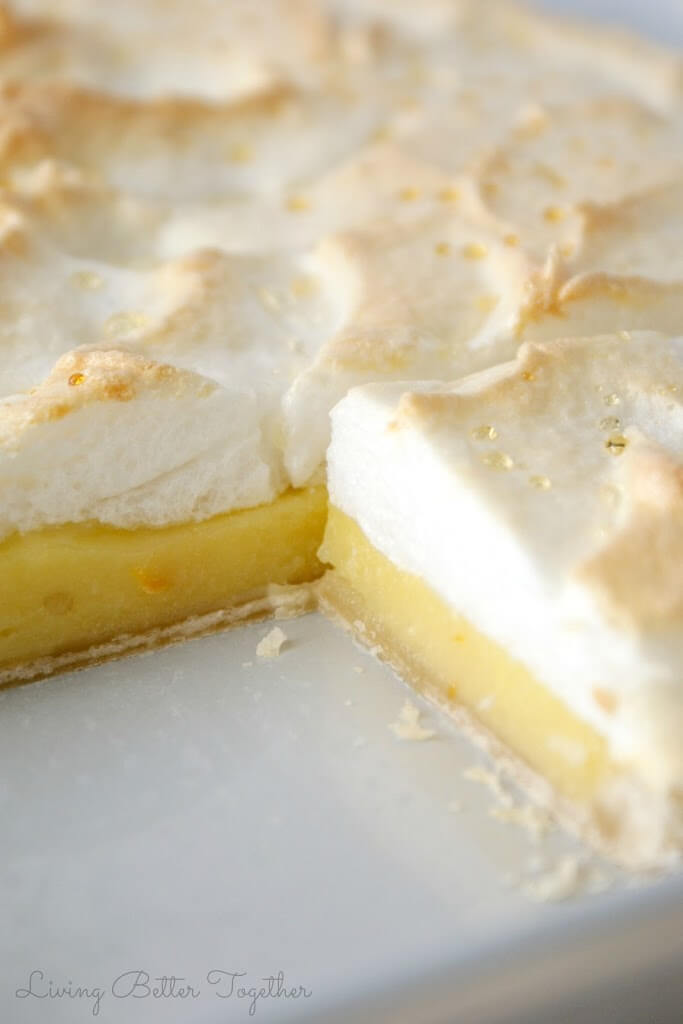 And because it was so pretty, here's one more photo to drool over!