These Cocoa, Milk and Hershey's Kisses for Santa Gift Sets are so cute and the perfect way to skip out on the cookies! Plus I'm sharing some free printables!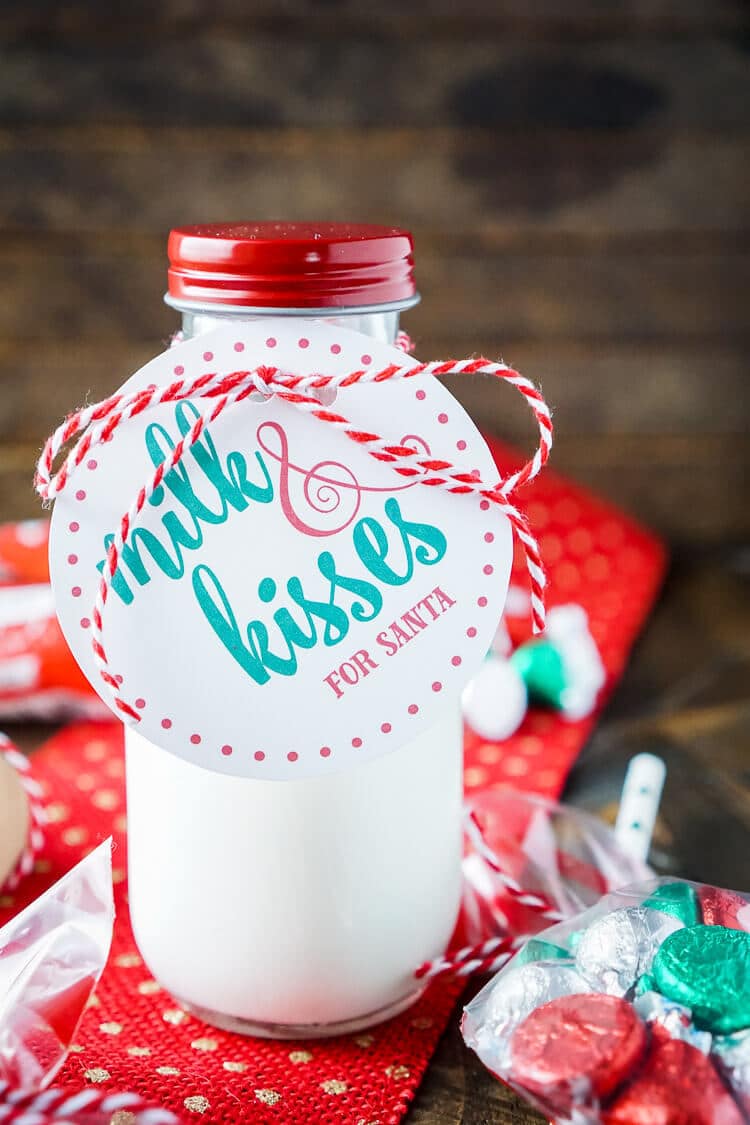 Traditionally, Santa gets Milk and Cookies on Christmas Eve and while cookies are amazing and super fun to make! Maybe Santa needs a little break from the cookies and having to pound a glass of milk in the 5 seconds he's at your house to deliver presents. What about starting a new tradition and leaving Santa a to-go styled treat that he can take with him on his journey around the world? So instead of Milk and Cookies, how about Milk and Kisses for Santa!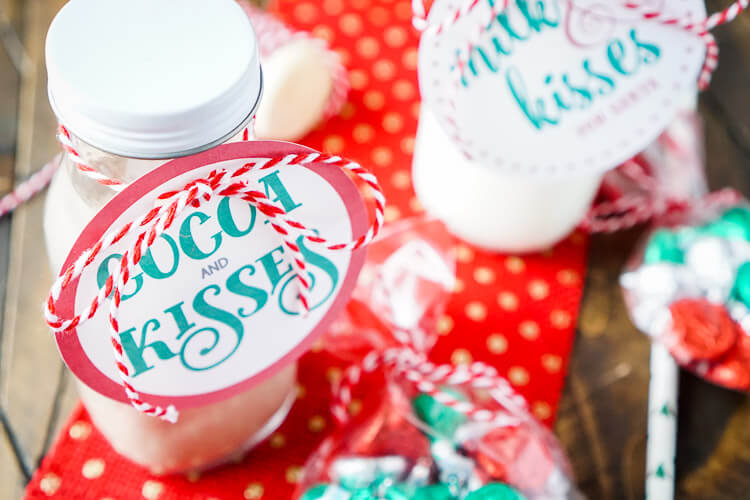 By putting the milk in an old-fashioned milk bottle with a cap, you still get that nostalgic touch and Santa will be super excited to be able to take a little bundle of Hershey's Kisses back to the sleigh with him. And don't forget to include a straw!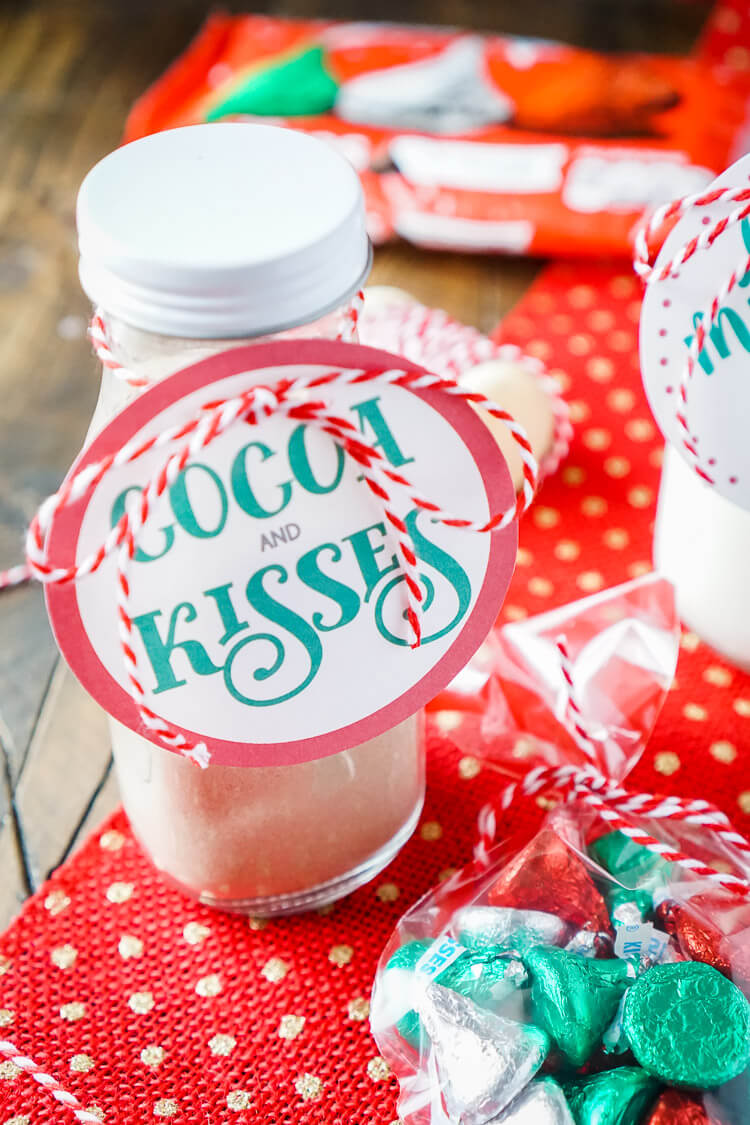 I also love the idea of sending Santa back to the North Pole with a bottle filled with Homemade Cocoa Mix! This way he and Mrs. Claus can relax by the fire and warm up with some cocoa and Kisses as Christmas Morning rolls in. Doesn't that sound heavenly? I bet he'll think so too and appreciate you being so thoughtful 😉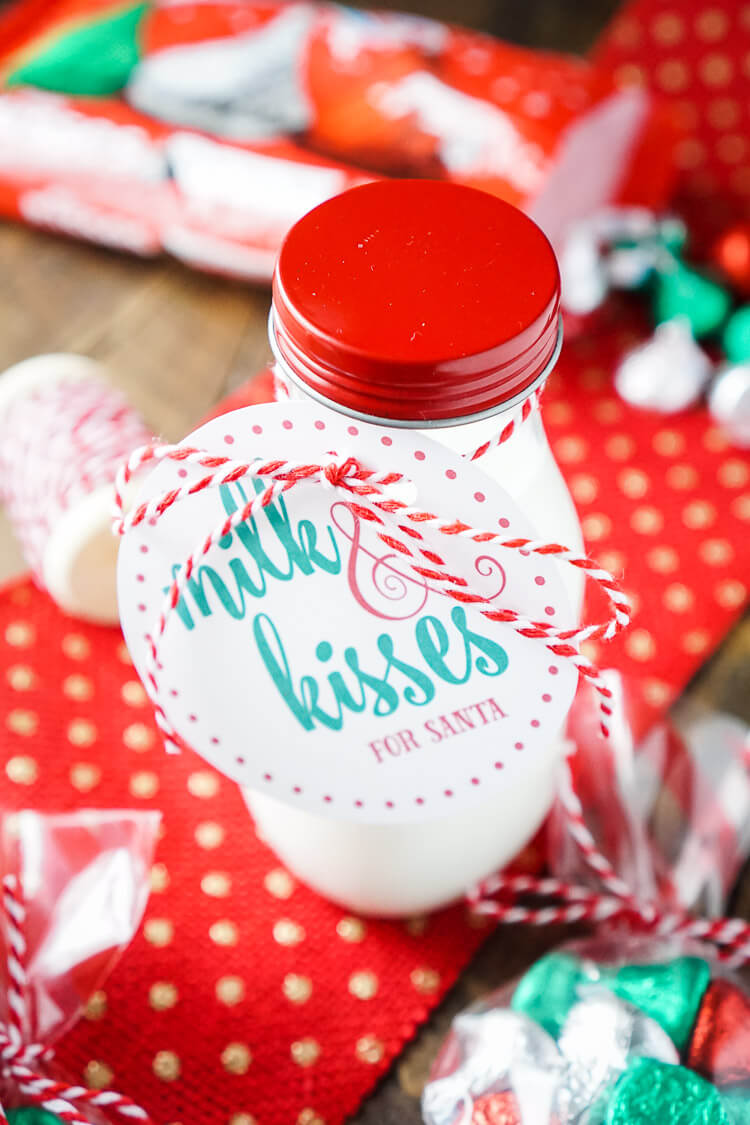 These little gift sets make great neighbor and teachers gifts too! The cocoa mixture yields four cups of cocoa, and who doesn't love Hershey's Kisses chocolates, am I right? The Hershey Company has so many wonderful flavors of Hershey's Kisses this year from Milk Chocolate in red, green, and silver foils to Dark Chocolate with Mint Truffle, and my favorite, Hershey's Hugs candies!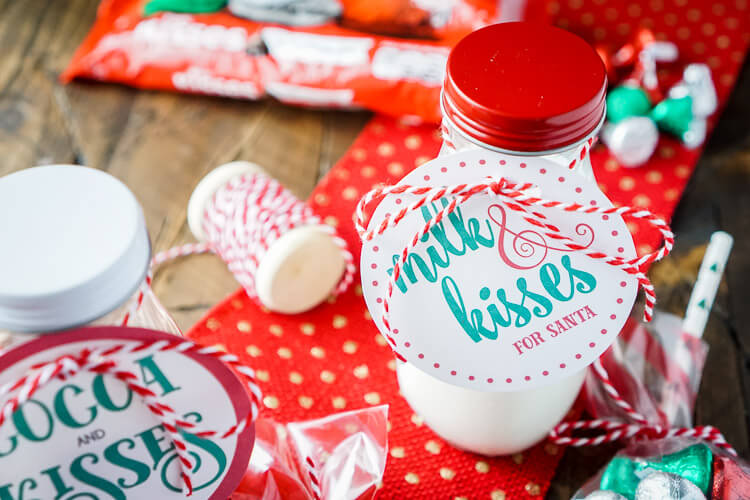 I know what you're thinking: but mine will never look as cute because I don't have those SUPER cute tags. Well, I have a pretty AWESOME friend named, Cori, she blogs over at Hey, Let's Make Stuff and she made up these tags so they were printable and you can all have them too! for FREE! She really is pretty awesome, right? There's 4 designs to choose from and two different sizes, so pick and choose or use them all!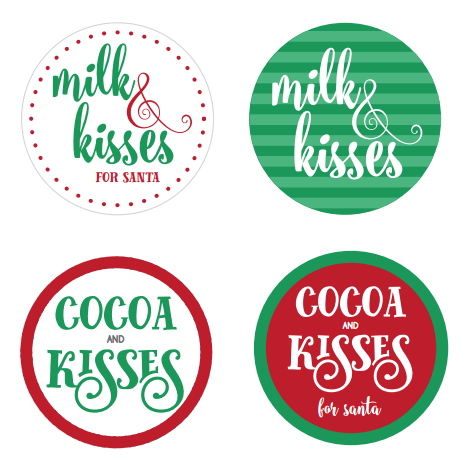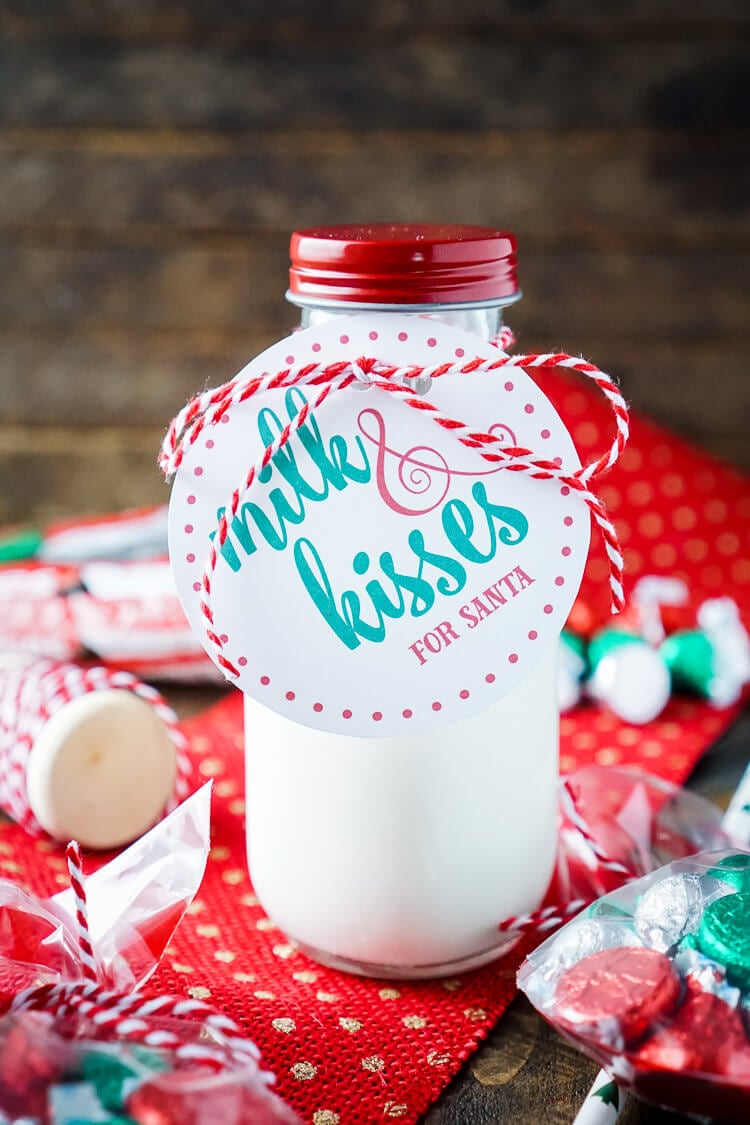 Just print off your tags, punch a couple holes close together at the top and loop your baker's twine through the holes and around the neck of the bottles so your twine ends are both out in front the of the label, then tie a bow! Then put your Hershey's Kisses in little cello bags, wrap with baker's twine and slide in a straw before tying your bow. This is a great little project to do with the kids and little mess and lots of memories! Grab the recipe for the homemade cocoa mix below!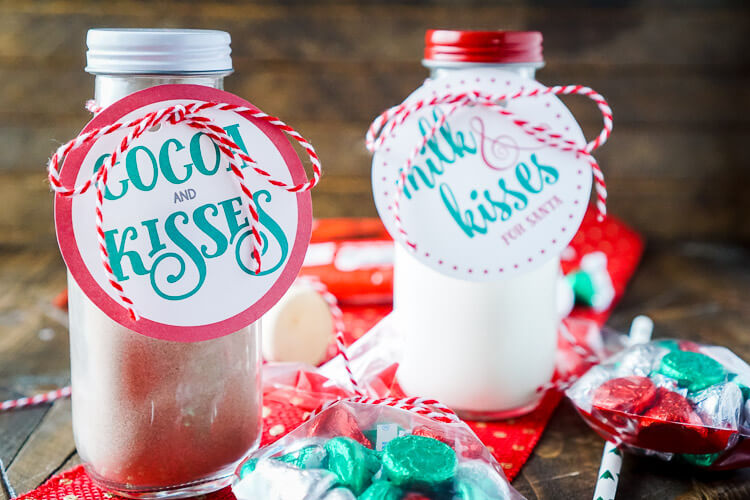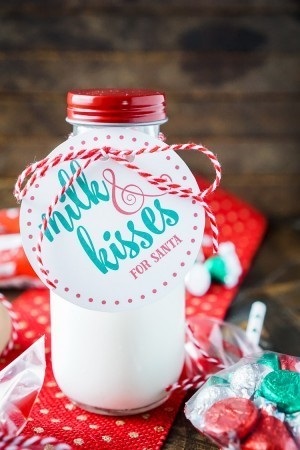 Homemade Cocoa Mix
These Cocoa, Milk and Hershey's Kisses for Santa gift sets are so cute and the perfect way to skip out on the cookies!
Ingredients
¼

cup

Powdered Milk

¼

cup

Nesquik

2

tbsp

Instant Chocolate Fudge Pudding Mix

dry

2

tbsp

Confectioners' Sugar

1

tbsp

Cocoa Powder

1

tbsp

Powdered Creamer
Instructions
Mix together powdered milk, Nesquik, pudding mix, sugar, cocoa, and creamer in a small bowl and transfer to a glass milk bottle.

Mix into 4 cups of hot Whole Milk when ready for cocoa and serve with marshmallows or whipped cream and sprinkles!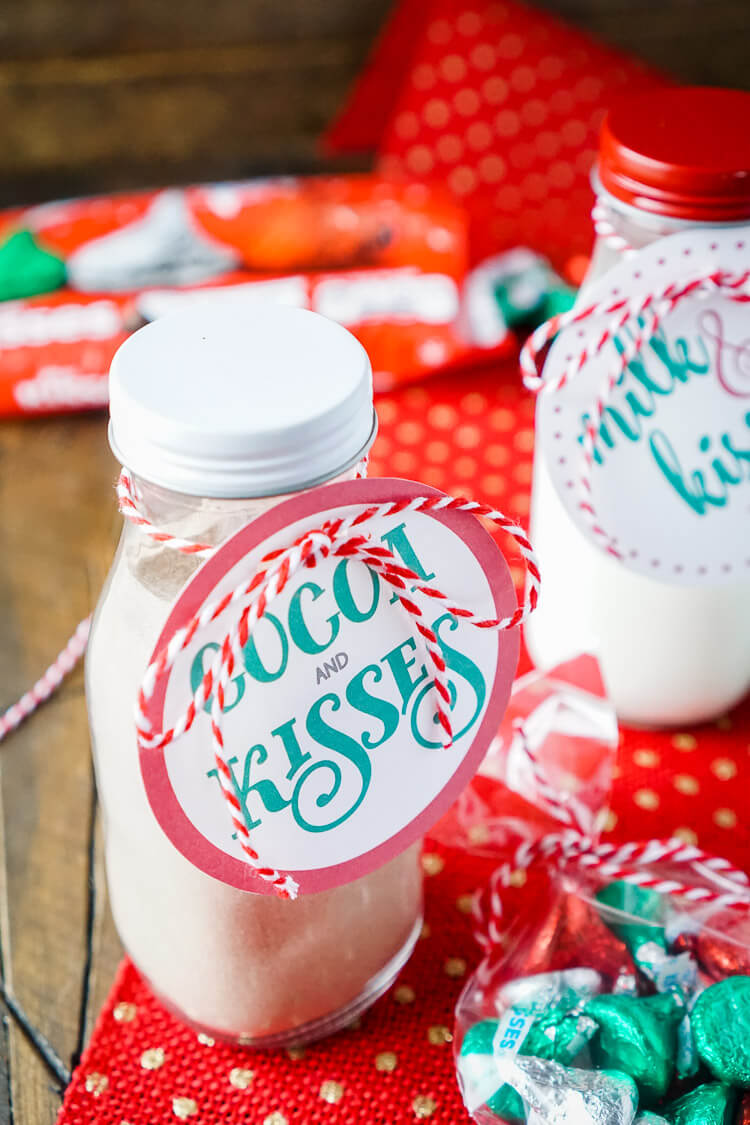 What kind of treats do you leave Santa on Christmas Eve? Think you might be making these Cocoa, Milk and Kisses for Santa gift sets this year, don't forget they make great gifts for others too!