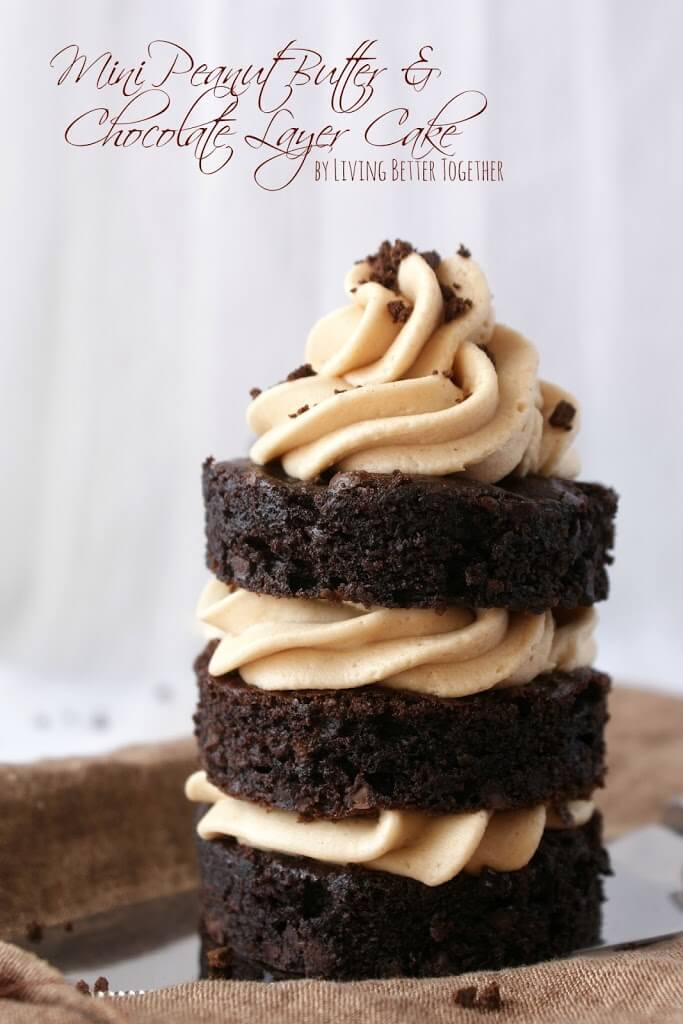 Hey you! Hello? Are you with me? Great, I thought I might have lost you in the photo for a minute there! The cake looks pretty damn amazing, right? I legit can't get over how much I loved these Mini Peanut Butter and Chocolate Layer Cakes!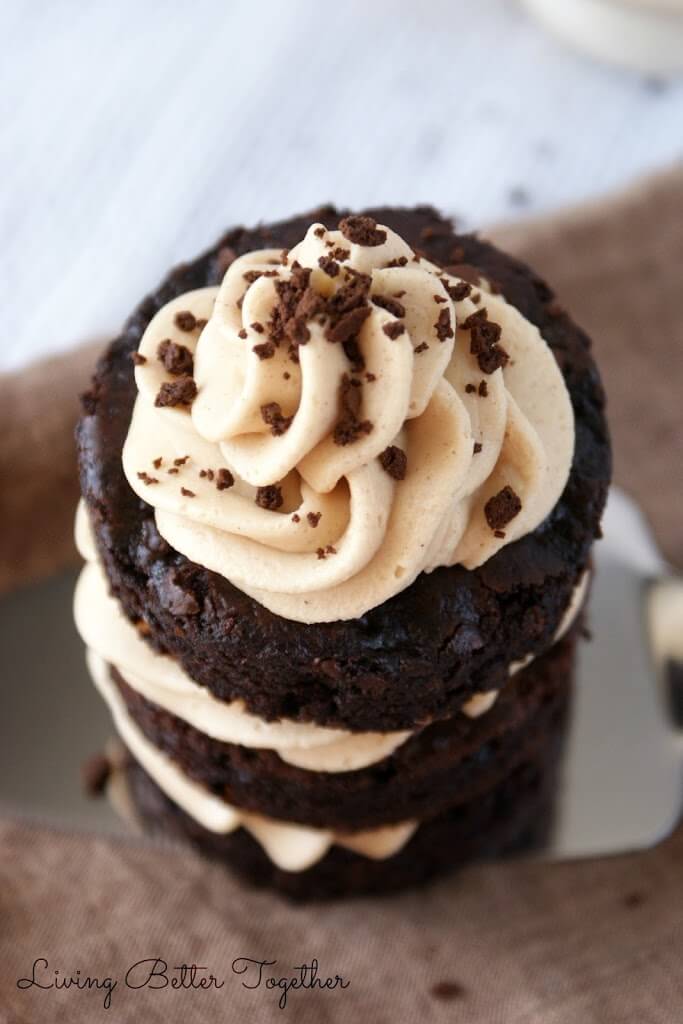 Why did I love them so much? If these photos don't speak for themselves… here are three reason why I love them:
1. Peanut Butter and Chocolate. Hello!
Alright, I lied, there's actually four reasons…
4. You can make them have as few or as many layers as you want!
Yup that's right, you can make a mini one layer cake for the kids. A mini two layer cake for the husband who claims three is ridiculous. And a mini three layer cake for yourself because you're a peanut butter and chocolate lover and these layers don't scare you – but that calories might, so let's just not think about them, okay?
You can attempt more than three, but it will probably just topple over and you'll end up with pants caked in peanut butter.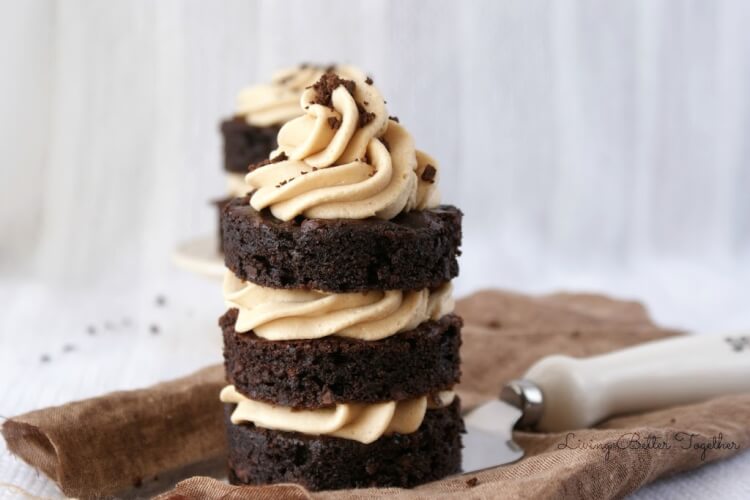 So I'm pretty much in love with these cakes, I mean what's not to love. I was fortunate to have great lighting to photograph this cake; you can see how moist it is, you can see the soft mini chocolate chips, you can even tell how fluffy the frosting is! Photography is pretty amazing in that way, and it's something that has grown from a childhood hobby to a true passion and hopefully one day, a career!
Alright, well let's get back to these cakes, you're probably eagerly awaiting the recipe, huh?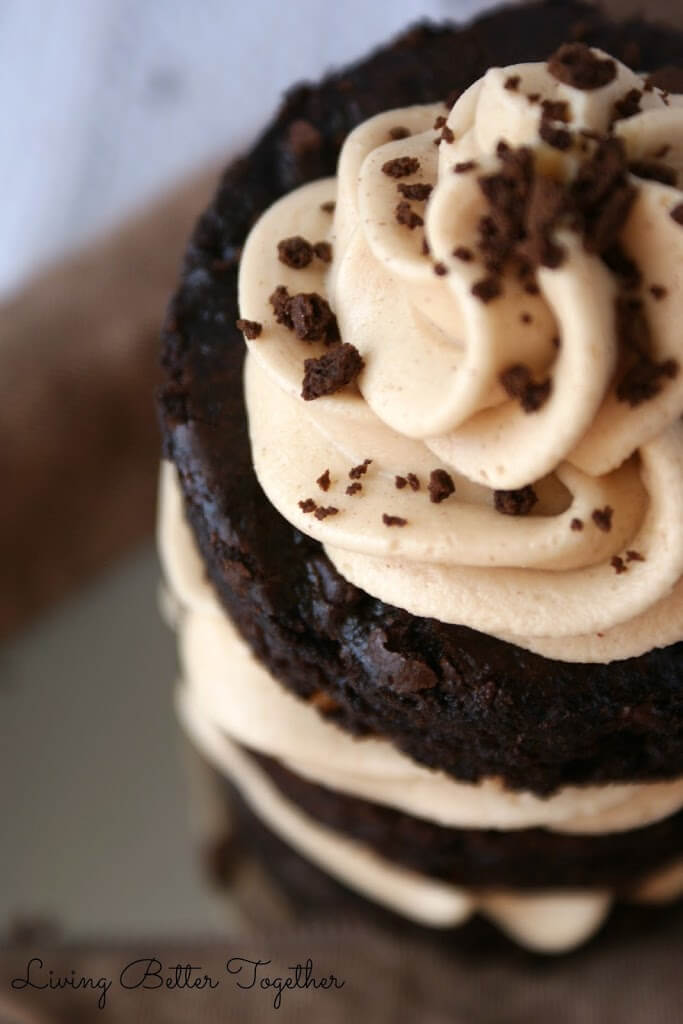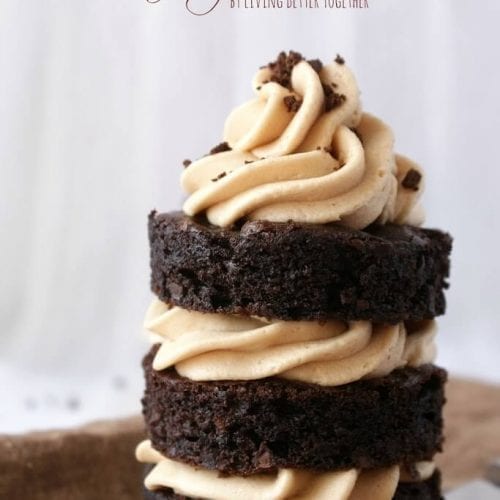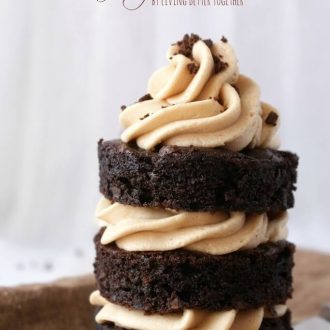 Mini Peanut Butter & Chocolate Layer Cakes
Simple and delicious chocolate peanut butter layer cakes.
Print
Pin
Rate
Servings:
25
layers + scraps
Ingredients
Cake:
3.9

oz.

Package Jell-O Instant Chocolate Pudding

4

Eggs

1

cup

Sour Cream

1

cup

Vegetable Oil

1/2

cup

Milk

1

tbsp

Homemade Vanilla Extract

1/4

tsp

Sea Salt

10

oz

bag Mini Semi Sweet Chocolate Chips
Instructions
Cake:
Preheat Oven to 350 F.

Mix all ingredients until combined and pour into a greased 12 x 18 jelly roll pan with a 1 inch edge. Spread cake batter out evenly and to the edges.

Bake for 22 - 25 minutes or until fork comes clean.

Remove from oven and allow to cool completely in the pan.

Use a 2-5/8 inch round biscuit/cookie cutter to cut your pieces of cake.
Frosting:
Cream Butter.

Add vanilla and peanut butter and beat until well mixed.

Add confectioners' sugar a cup at a time until you reach the consistency you want.

Use a decorating tool with a large star tip to pipe frosting onto cakes. Pipe it between each layer as well as the top.

Make sure to line your cakes up when adding each layer so you don't get the leaning tower of dessert.

Optional: Top with jimmies for added fun!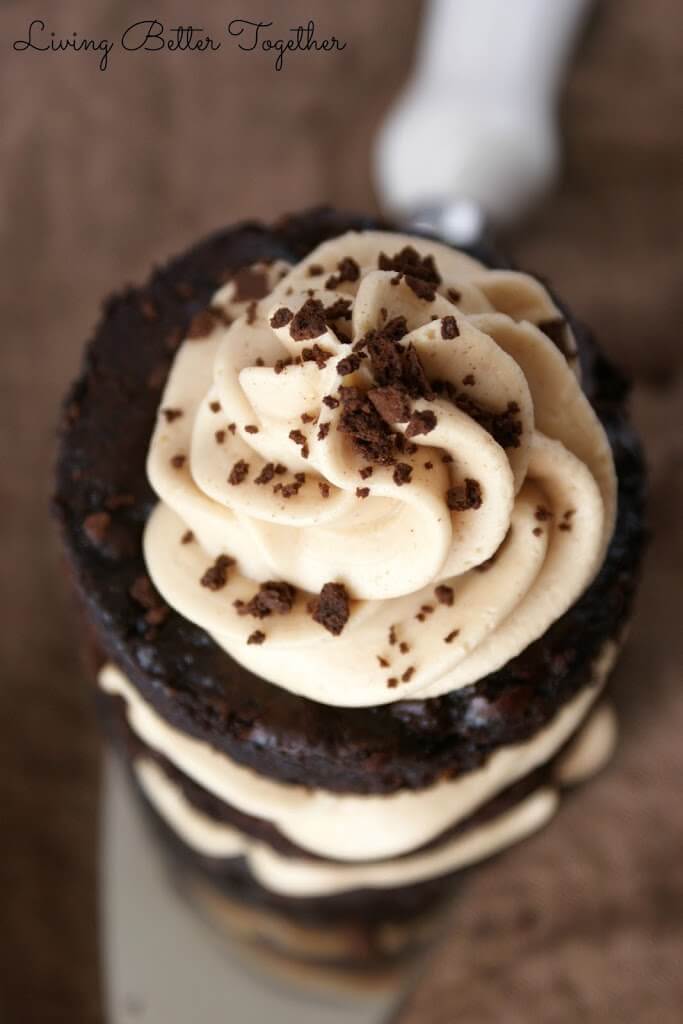 It's funny because up until my senior year of high school I didn't like cake, I didn't like peanut butter, and I didn't like chocolate (except brownies, weird, I know). I'm pretty sure that it's Matt's fault that I love them so much now, they're three of his favorite things! They say your palate changes around the age of eighteen and your likes and dislikes change with it, that's probably a more accurate reason. I'm glad my tastes changed, all those years I had no idea what I was missing! As you can tell from this post and my Peanut Butter and Chocolate Surprise Cupcakes, I'm clearly making up for lost time!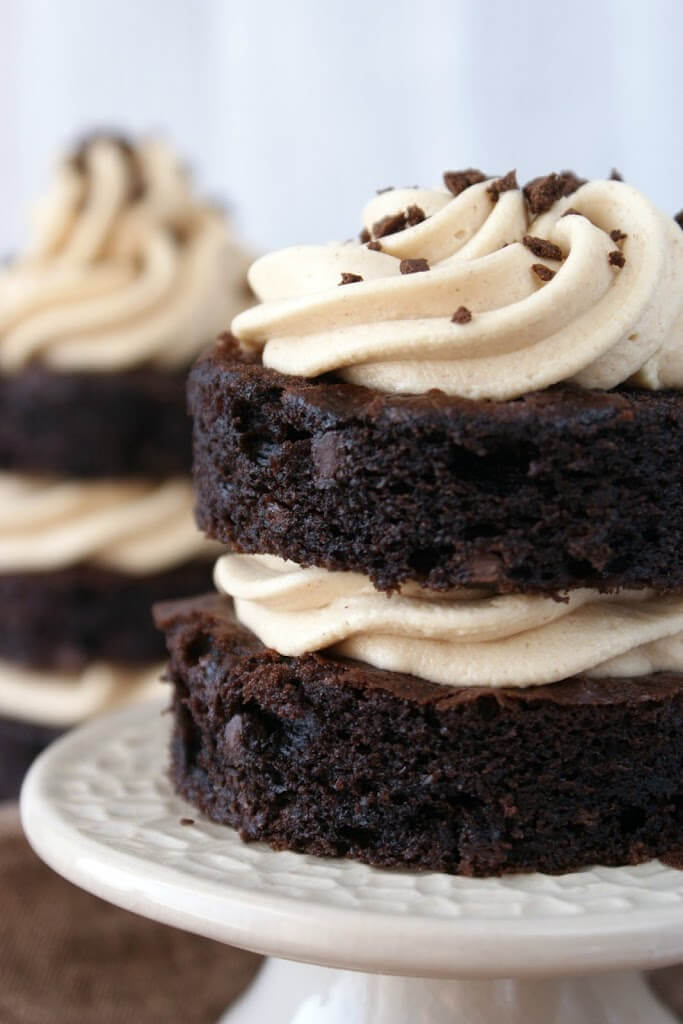 These cakes are absolutely perfect for birthdays, dinner parties, or just for getting through a long ass weekend of home repairs. Seriously though, this cake was probably the only reason no one got murdered with a tub of wood putty last weekend! But anyways, I think you get the idea about how awesome these cakes were. They're easy to make, easy to execute, and last time I check It's never been difficult to eat cake!
Unless you're that kid from Matilda…