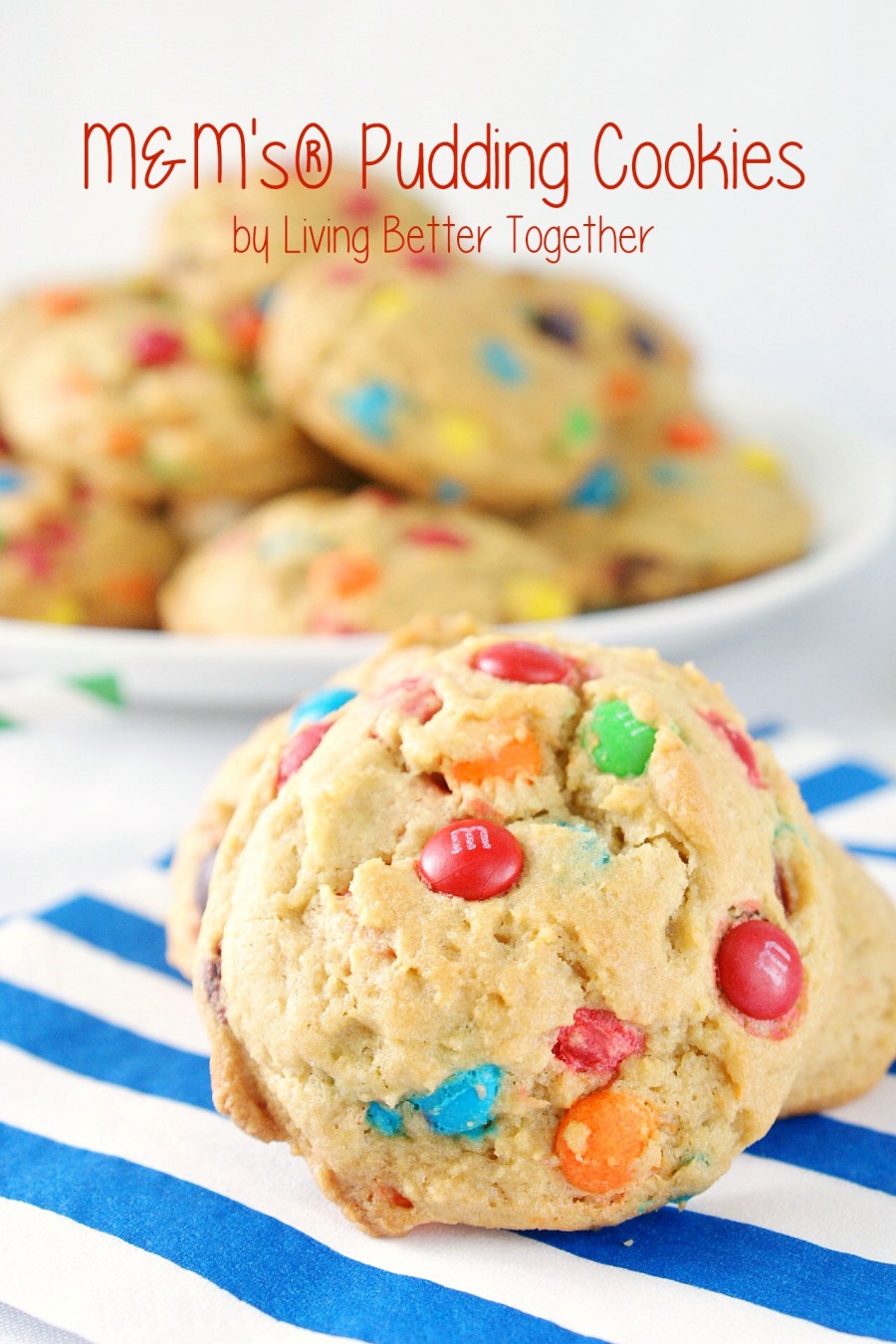 There's just something about an M&M's® cookie and it's almost as classic as the chocolate chip cookie. The fun pops of coated candy and the slightest crunch in each bite set it apart from it's beloved counterpart though. Nowadays M&M's are most commonly found in Monster Cookies, but it's the ones with classic butter notes and sugar that take me straight back to my childhood. When I was a kid, M&M's cookies were a serious treat, I mean what kid who doesn't love candy in their cookies. It wasn't until college though that I learned a few tricks that really helped my homemade cookies sing.
If you've been hanging out here for a while, then you may have noticed that all of my pudding cookie recipes are very similar. I have a base recipe that is super easy to alter and I've NEVER EVER had a failed batch! All thanks to three simple tips. Believe it or not, I learned these new tricks in my public speaking class. Our last speech of the semester had to be a demonstrative speech and one of the culinary students did How to make the Perfect Chocolate Chip Cookie. She was kind enough to share some of her favorite cookie tips and from there, I formed the foundation of my cookie recipe and the rest is clinging to my hips history.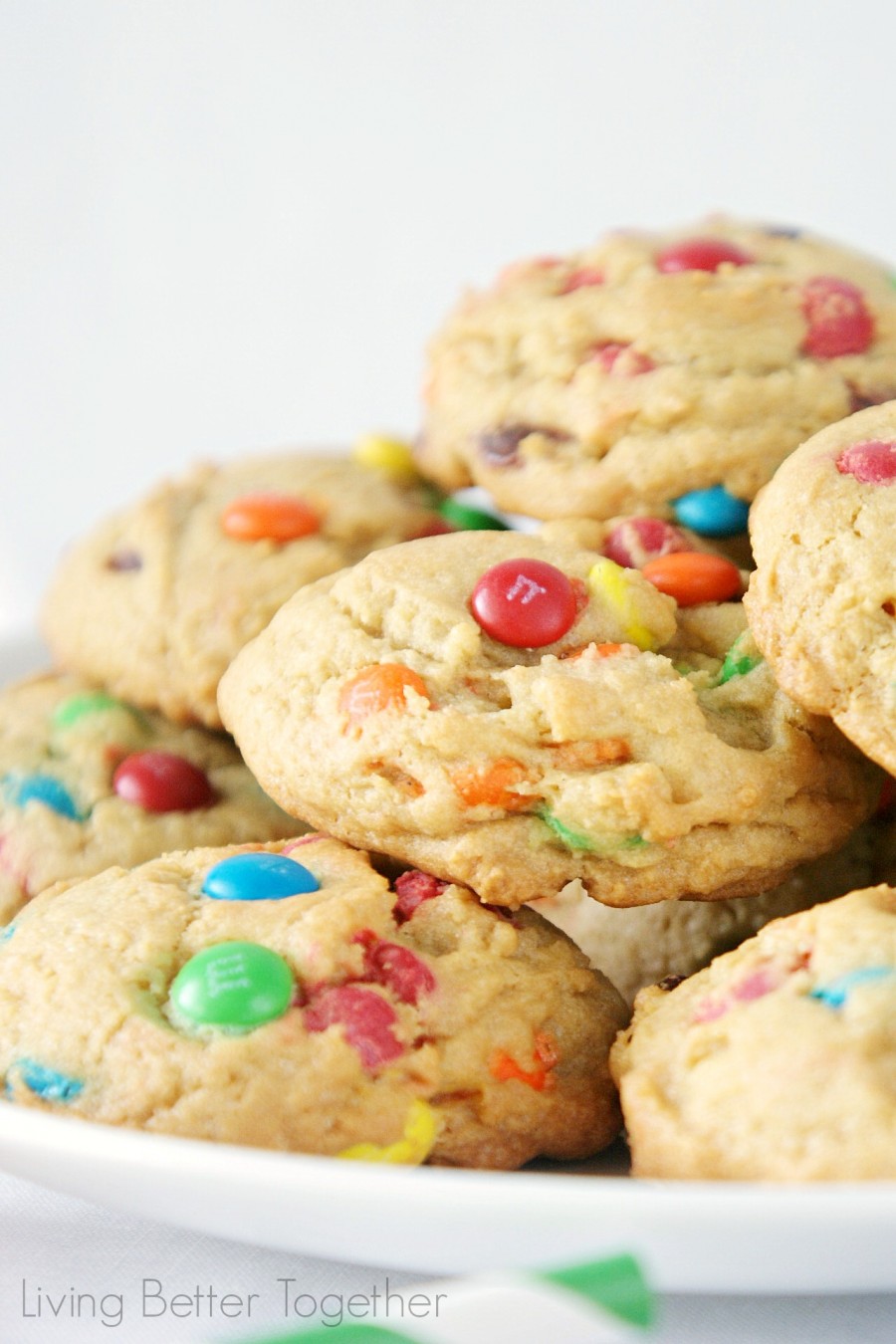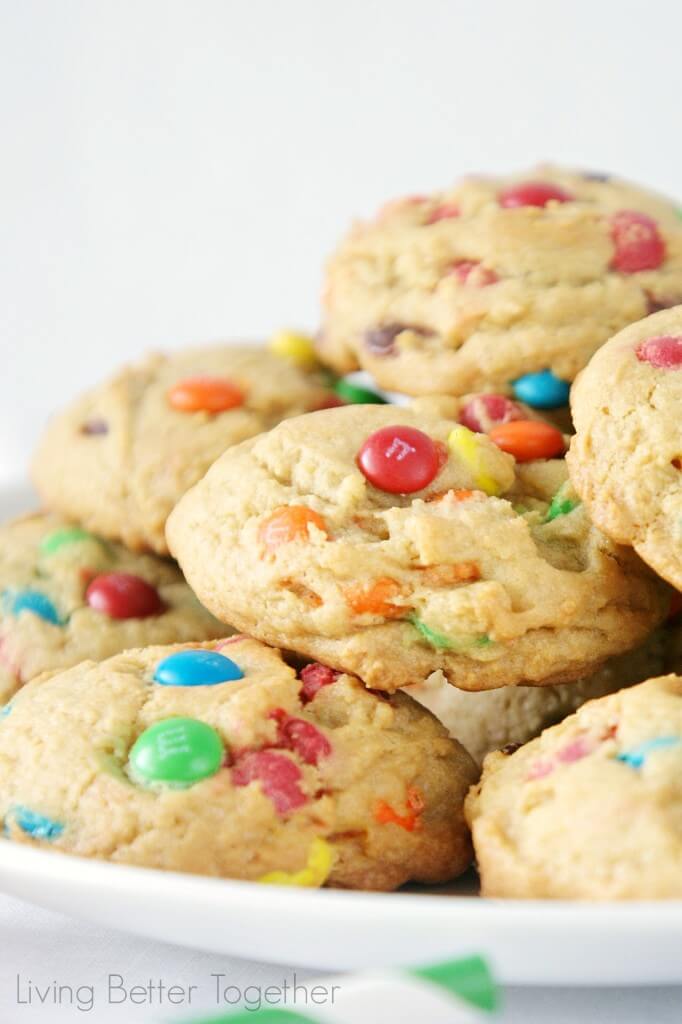 So what are those awesome tips? Well, you've seen them in all of the instructions to my pudding cookies. But let's break it down, shall we?
1. An extra yolk: The extra yolk adds richness to the dough and helps to bind it. It also helped the cookies get the beautiful crisp outer shell while maintaining that perfectly chewy inside.
2. Instant Pudding Mix: When she adding vanilla pudding to her dough, I thought, now that is genius! It's the key to soft cookies that NEVER harden. Okay, I can't say never because they never last long enough for me to know, but they're good for a least several days without sticking a piece of bread in the bag.
3. No Liquid: Sure, you might day that eggs and butter could be your liquid, but I'm talking about milk, water, and oil. Leave them out! They will flatten your cookies and prevent them from becoming beautiful golden puffs of amazingness!
4. Chill that dough! I know, I know… who wants to wait for cookies, but really you're waiting on perfection. Chilling the dough for at least two hours and preferably overnight is KEY to getting the perfect pudding cookie. Chilling allows the gluten to relax and helps create a soft texture and prevents spreading in the final product. In cookies like my Bourbon & Toffee Brown Butter Chocolate Chip Cookies the chilling allows the flavors in the cookies to strengthen!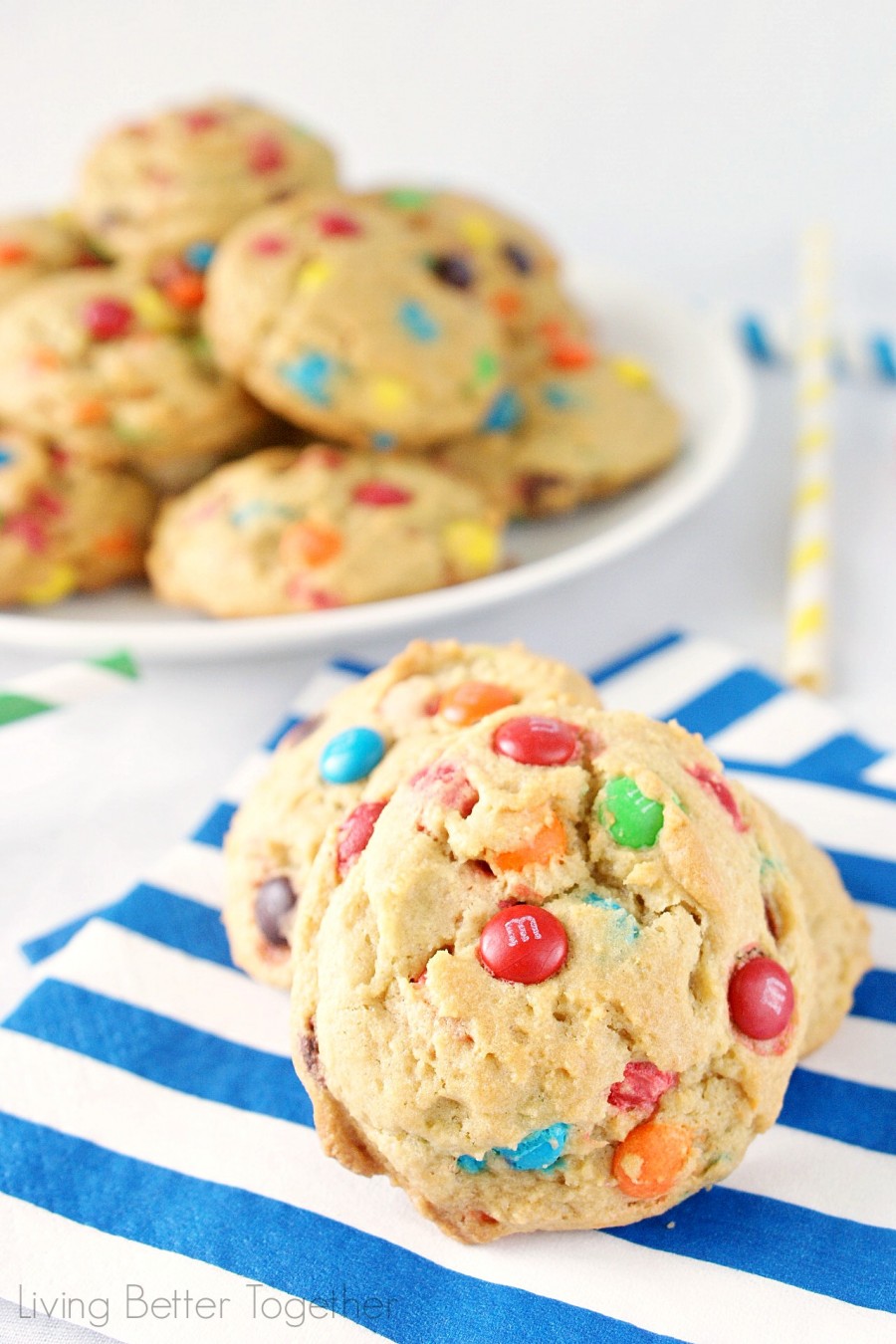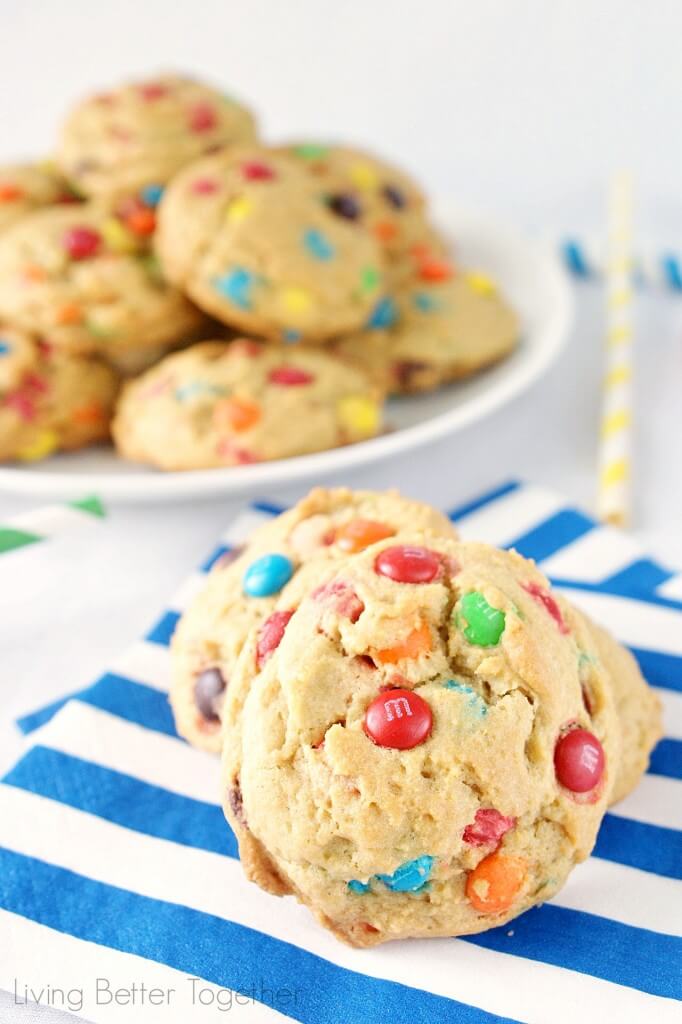 See, those are some pretty cool tricks, right? And they yield some pretty awesome cookies! It's funny because my co-workers and a good chunk of my family refer to me as the cupcake girl, but Matt will tell you that it's my cookies that keep him around! I made these cookies on Saturday and today for his birthday he wanted Peanut Butter Chocolate Chip Pudding Cookies… so stay tuned for those babies in the coming weeks! Plus I've got some Salted Caramel ones in the queue from a couples weeks ago!
In the meantime, check out these other great pudding cookie recipes:
Double Chocolate Chip Pudding Cookies
[Tweet "The PERFECT M&M's® Pudding Cookie Recipe! Come get it! #cookie #M&Ms #dessert #recipe"]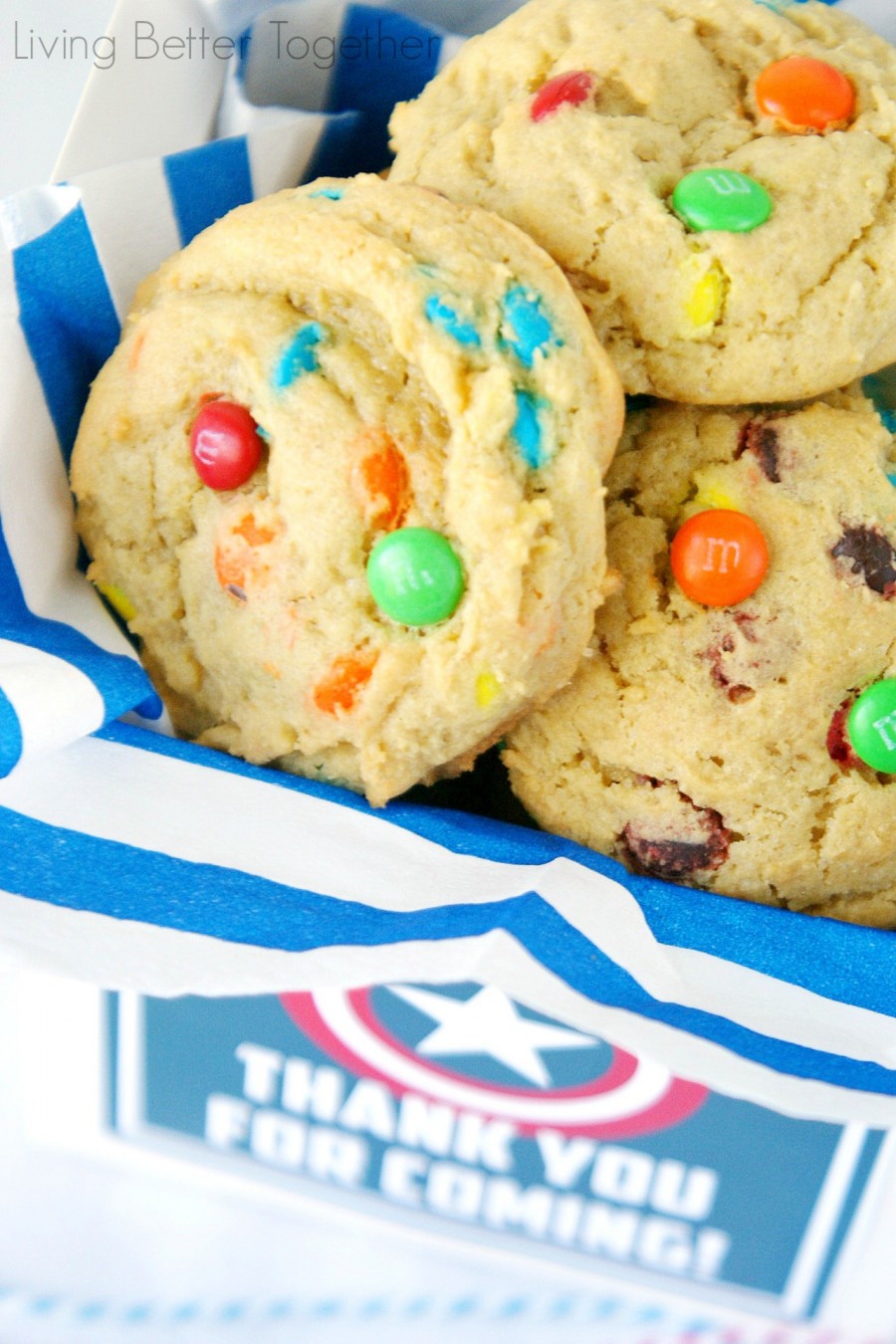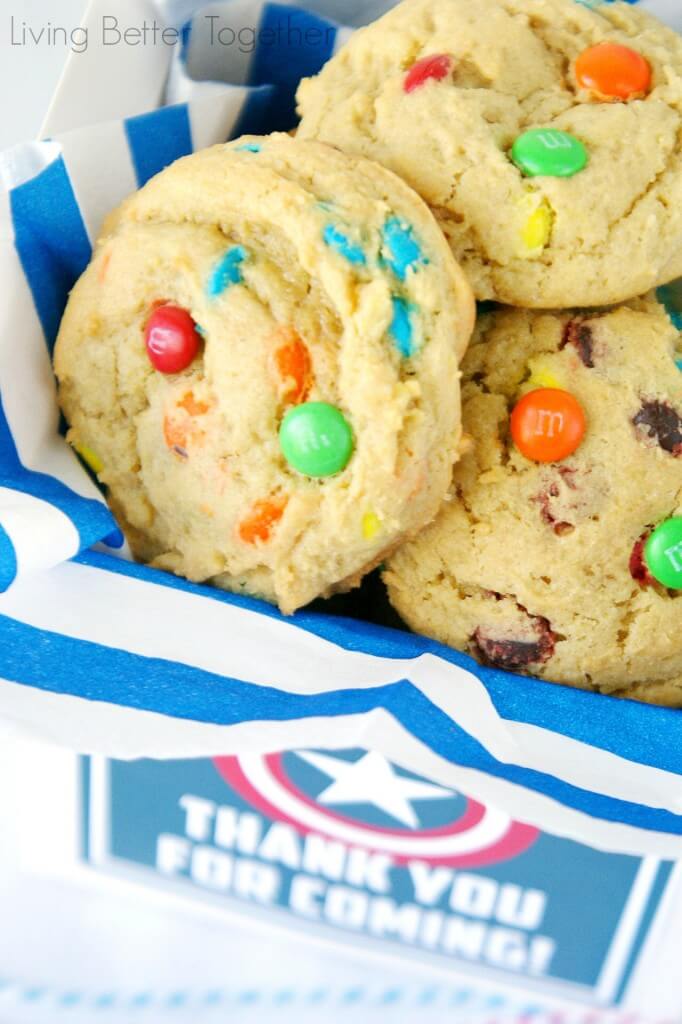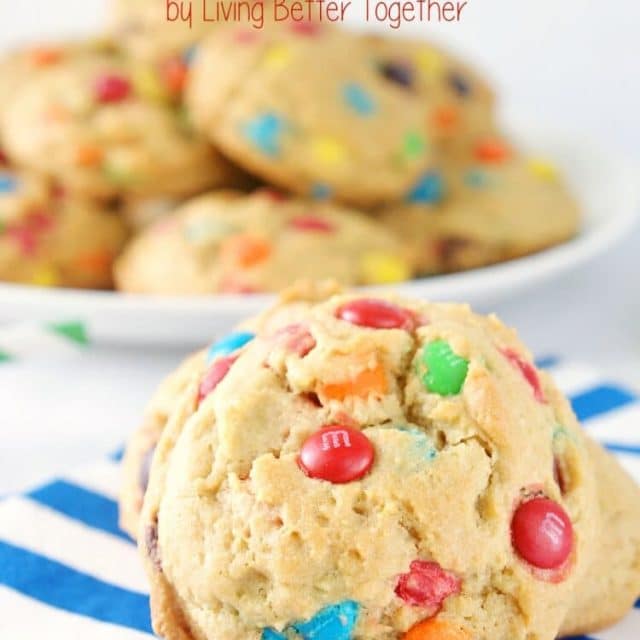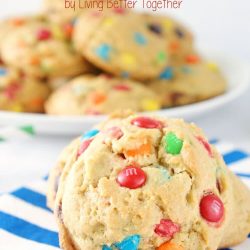 M&M's® Pudding Cookies
The BEST M&M's® Pudding Cookies. Sweet, buttery, and loaded with our favorite coated candies and baked to perfection!
Ingredients
1/2

cup

1 stick Unsalted Butter (room temp)

1/4

cup

Sugar

1

3.4 oz. package Instant Vanilla Pudding Powder

2

Eggs

1

Additional Egg Yolk

1

tsp

Vanilla Extract

2

cups

Flour

1

tsp

Baking Soda

1/2

tsp

Salt

2

cups

Mini M&M's®
Instructions
Cream butter and sugars together until smooth.

Add pudding, eggs, additional egg yolk and vanilla. Beat for about one minute on medium speed.

In a separate bowl, combine flour, baking soda, and salt.

Add dry ingredients to the wet ingredients a 1/2 cup at a time and mix until combined.

Fold in M&M's, I usually do this with my hands so they don't get cracked or broken.

Mold into a giant ball and wrap tightly in plastic wrap.

Chill for at least two hours. Remove from fridge a little while before baking so the dough can soften a bit and is easier to work with.

Scoop 1 1/2 tablespoon sized scoops onto a nonstick baking sheet about two inches apart.

Bake at 350 F for 13-15 minutes.

Cool on pan for a couple of minutes before transferring to a cooling rack.
Notes
You do not have to chill your dough before baking, but I highly recommend it as it adds to the texture of the cookies! You can use chocolate pudding instead of vanilla for extra indulgence.
Nutrition
Calories:
65
kcal
Carbohydrates:
8
g
Protein:
1
g
Fat:
3
g
Saturated Fat:
1
g
Cholesterol:
21
mg
Sodium:
71
mg
Potassium:
12
mg
Sugar:
1
g
Vitamin A:
100
IU
Calcium:
4
mg
Iron:
0.5
mg
I made these cookies as favors for Matt's Captain America themed Birthday party which will be on the blog Friday, so stay tuned for all the fun!