Soft and Chewy M&M Cookies combines pantry staple ingredients with instant vanilla pudding mix to create sweet and buttery M&M cookies! Prep these mouthwatering cookies in just 15 minutes!
Can't get enough of desserts that are filled with M&Ms? Then you'll also want to check out this M&M's Cookie Cake or these Oreo Magic Bars (7 Layer Bars)!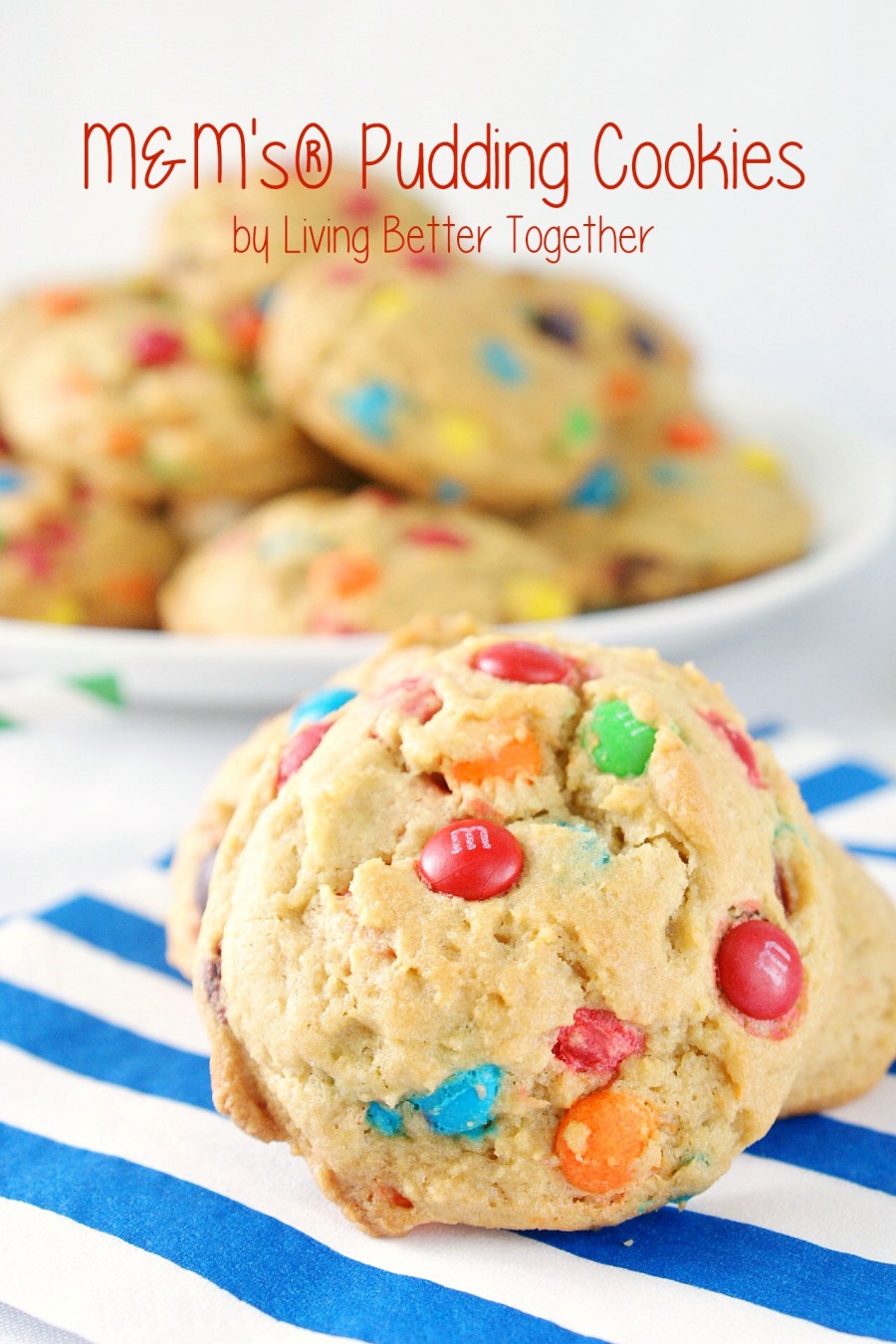 These M&M Cookies are exactly what everyone's cookie dreams are made of! They're sweet yet buttery, studded with pops of color thanks to the mini M&Ms, and are incredibly soft and chewy!
I find with most cookie recipes that they can be soft and chewy the day they're made but by the next day they turn a bit hard. Usually I have to store a slice of bread in the container with them to help maintain their softness but that isn't the case with these M&M Cookies!
Instead they stay super soft and chewy for days thanks to the instant pudding mix!
5 Reasons Why This Recipe Works!
Feeds A Crowd! This easy-to-make recipe whips up about 3 dozen cookies, the perfect amount for parties and classroom treats! Or you know, to just have at home to snack on all week too!
Perfect For Holidays! Grab a bag of colored themed M&Ms to make these cookies match the holiday! Think Halloween, Christmas, Valentines Day, and even Easter!
Easy Ingredients! If you love recipes where you have the majority of the ingredients right in your pantry then these are the cookies for you!
Never Fail Recipe! None of my pudding mix cookies have ever failed in the soft and chewy department so I can aways count on this recipe when I make it!
Change Up The Pudding Mix! You can swap out the vanilla pudding mix and instead use chocolate pudding mix for extra indulgence!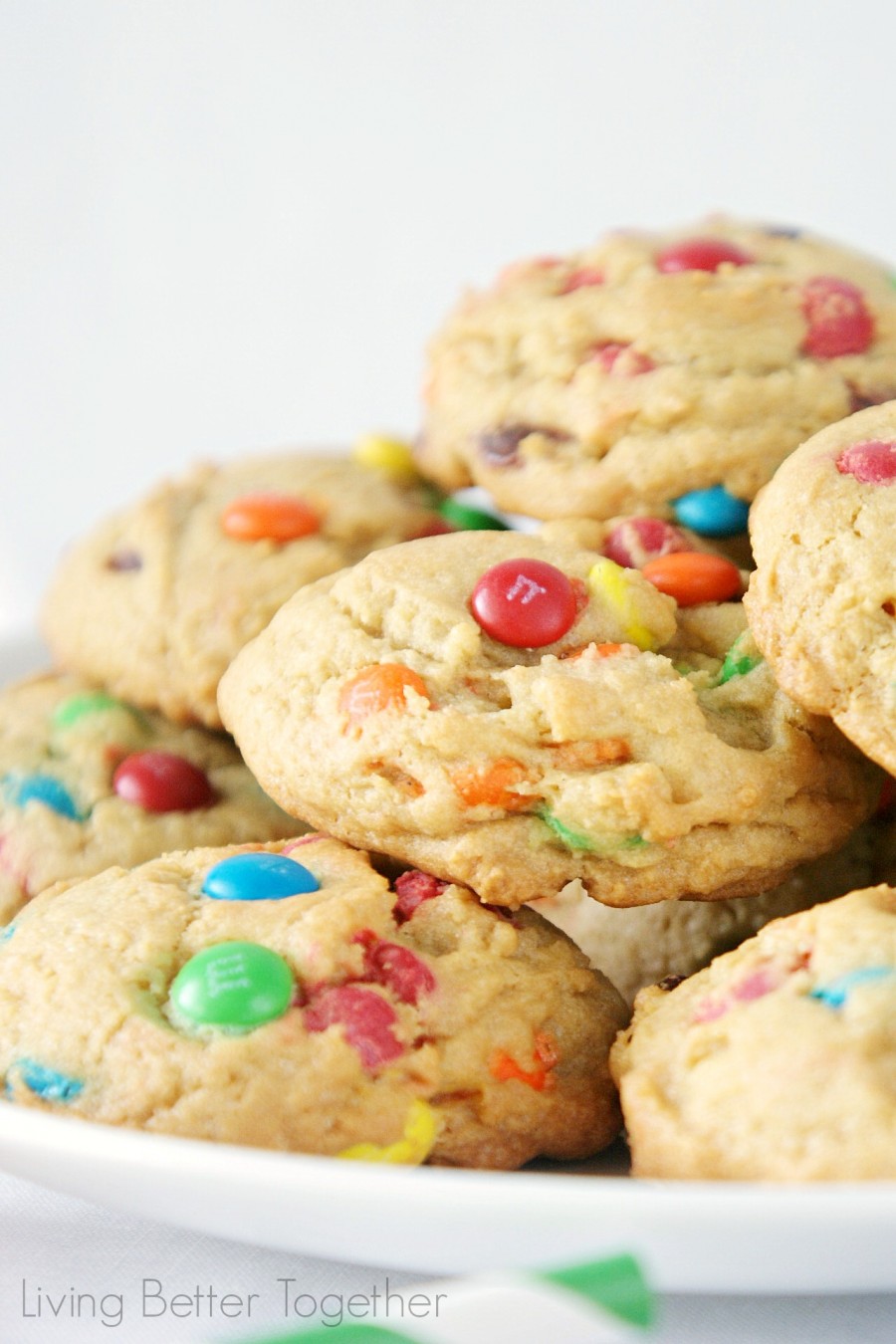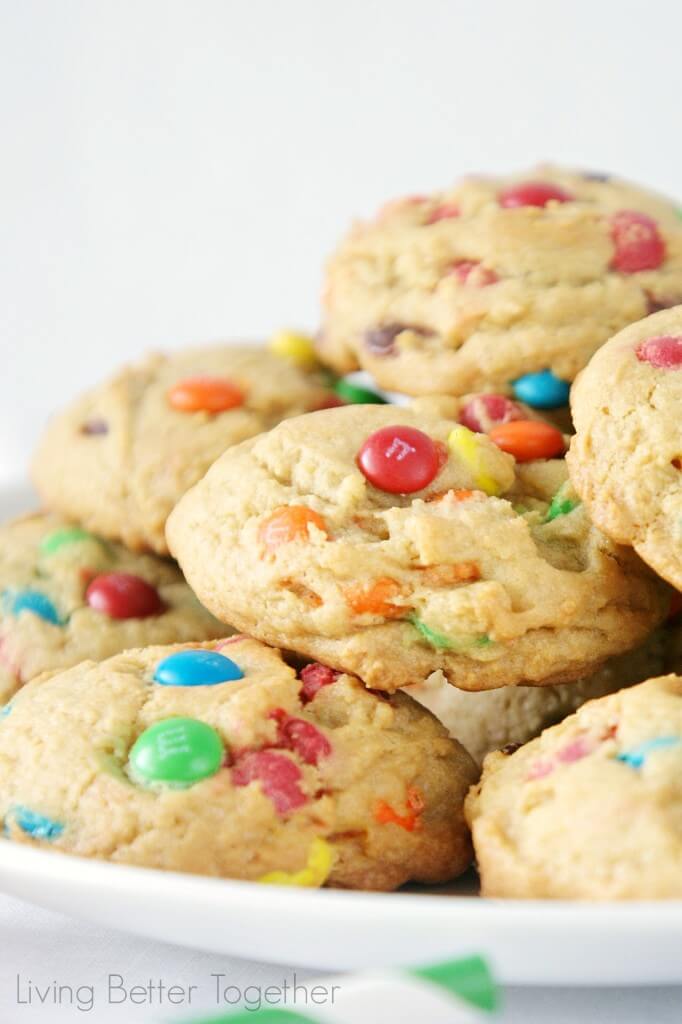 Ingredient Notes
Wondering what's in this M&M Pudding Cookie Recipe that makes them so good? First the obvious ingredient, instant vanilla pudding mix.
This ingredient makes the cookies super soft but even better than that, it KEEPS them soft and chewy for DAYS! Gone are the days of grabbing a cookie on the second or third day and having them be hard, for this you can thank the pudding mix!
The rest of the ingredients list for these cookies include unsalted butter, granulated sugar, light brown sugar, vanilla extract, all-purpose flour, baking soda, salt, M&Ms, eggs, and an additional egg yolk. The additional egg yolk provides extra richness to the dough while helping to bind the cookies together.
Once the cookie dough is made it does get chilled in the refrigerator. This may seem like a pain, but it's totally worth it for the flavor and texture it helps bring to these cookies!
Chilling the dough is actually key to getting the perfect pudding cookies since it allows the gluten to relax and helps create a soft texture that prevents spreading in the final product.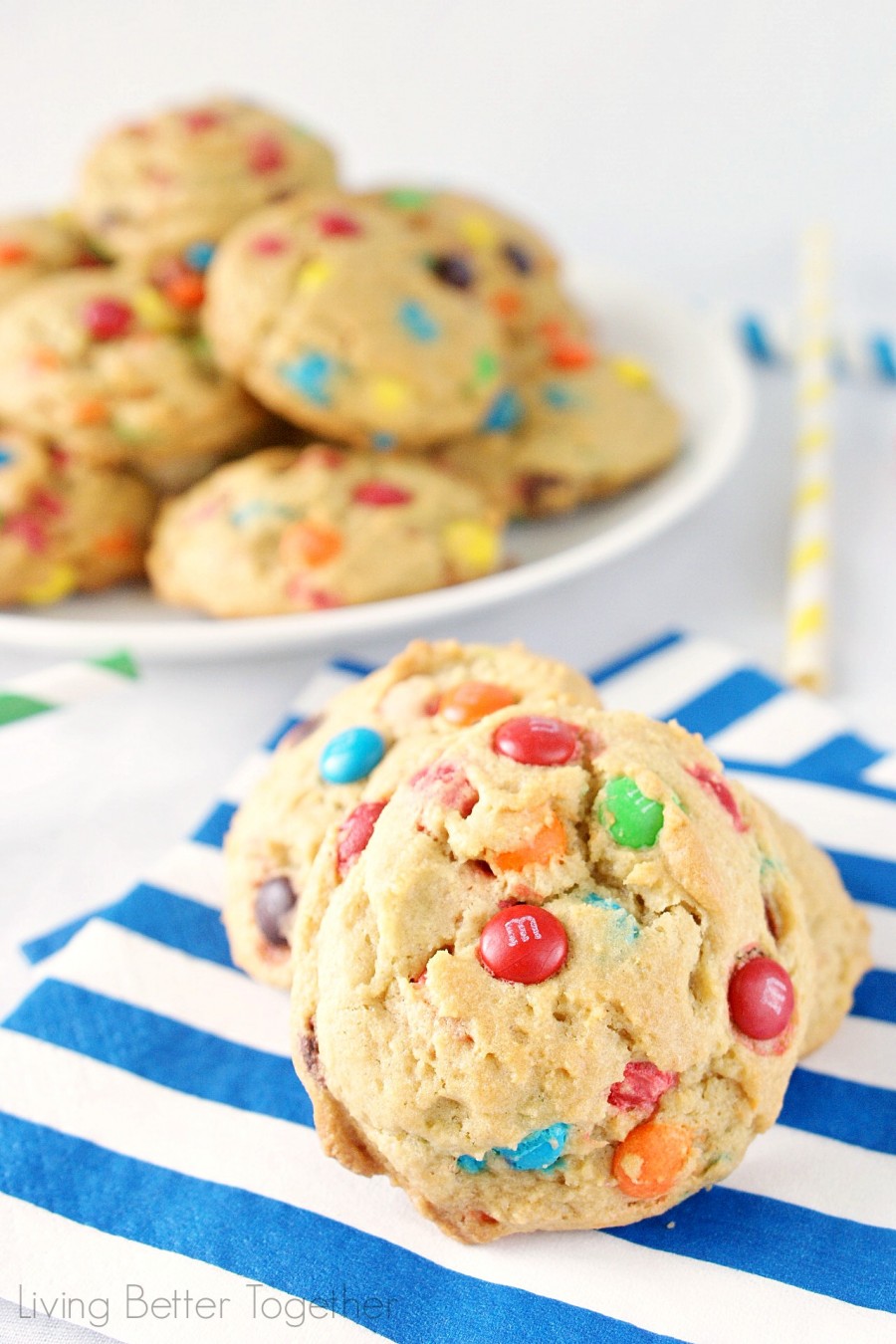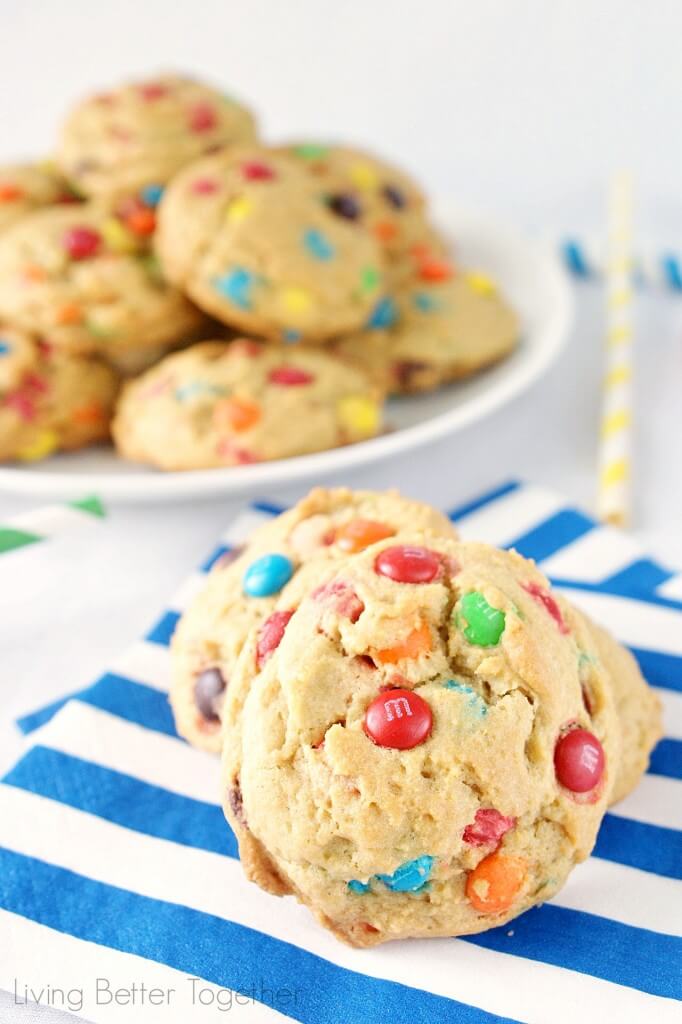 How To Make Soft and Chewy M&M Cookies
Cream the butter and sugars together until smooth using a mixer fitted with a paddle attachment.
Beat in the dry pudding mix, eggs, additional egg yolk, and vanilla.
Whisk together the flour, baking soda, and salt in a seperate bowl. Then add the dry ingredients into the wet ingredients a little at a time.
Fold in the M&Ms gently.
Wrap the mixing bowl with plastic wrap and place it in the refrigerator to chill.
Remove the dough from the fridge a little while before baking to allow the dough to soften.
Scoop the cookie dough out onto a baking sheet that's lined with parchment paper.
Bake the cookies until the edges are golden brown. As the cookies are coming out of the oven you can press additional M&Ms into the tops of them.
Cool the cookies on the pan before transferring them to a wire rack to finish completely cooling.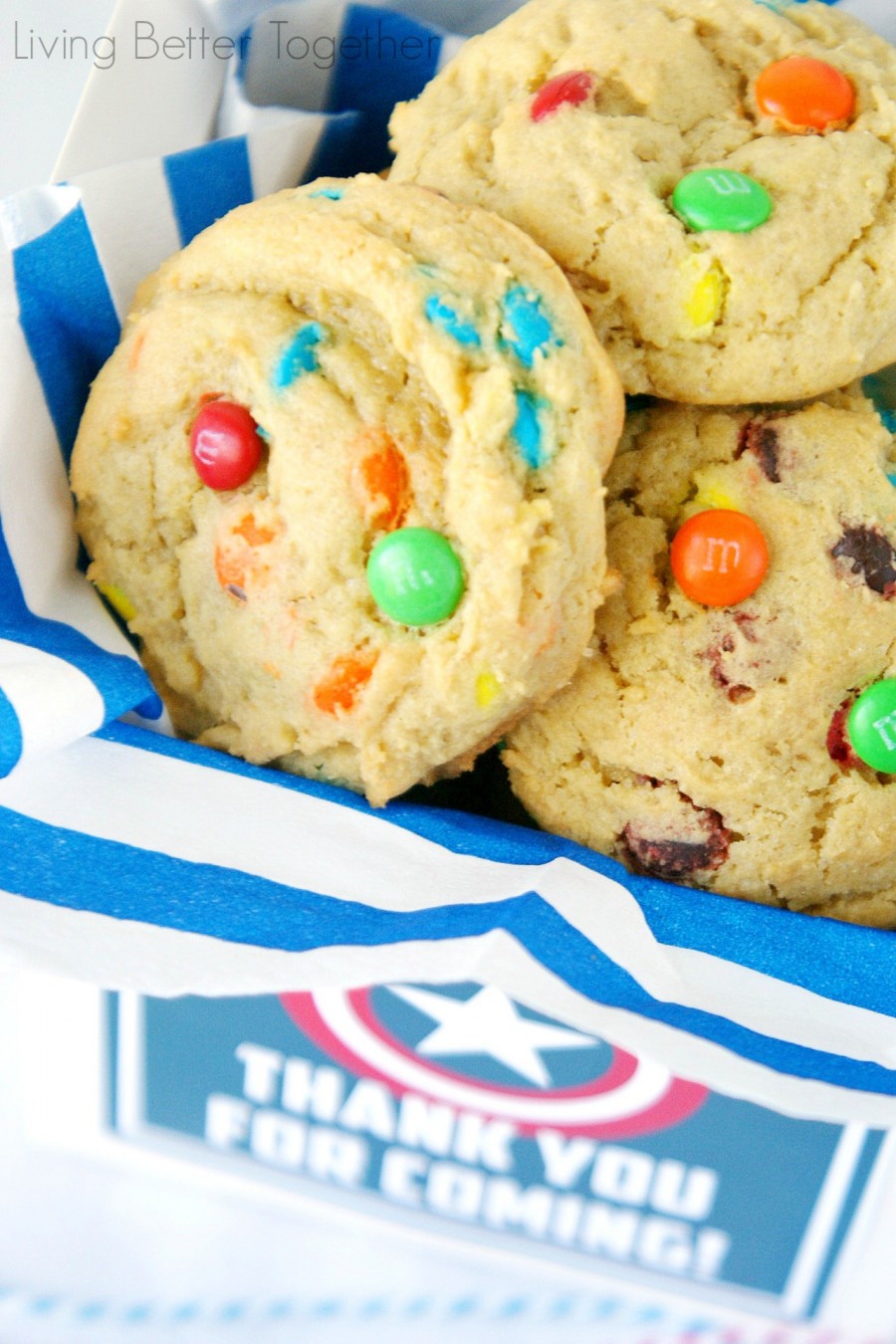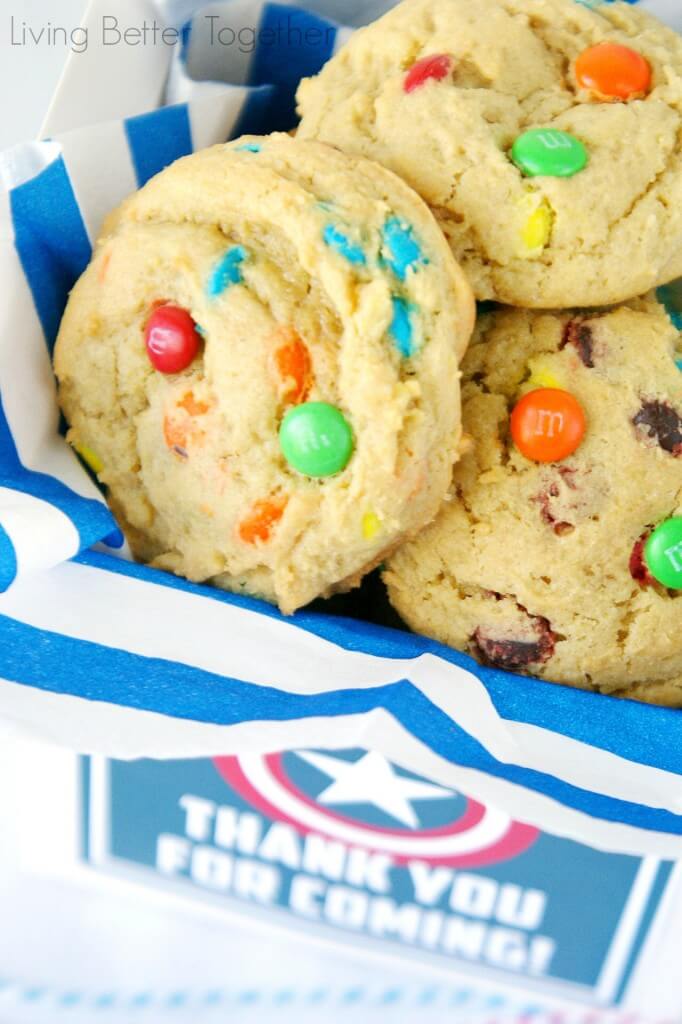 Frequently Asked Questions
How To Store
Keep these M&M cookies stored in an airtight container or Ziploc bag and eat them for up to 4 to 5 days!
Do I Have To Chill The Cookie Dough Before Baking It?
You don't have to but I do highly recommend it. Doing so adds a wonderful texture to the cookies that make the wait more than worth it!
Can I Make Jumbo Cookies Using This Recipe?
Of course! All you have to do is use a large cookie scoop to portion the dough out and then bake them for about 14 to 16 minutes. Just keep in mind that making jumbo cookies will result in fewer cookies so you may want to double the recipe if you're feeding a crowd!
If these M&M Pudding Cookies gave you your first taste of soft, chewy pudding cookies I'm willing to bet you're on the hunt for more! Don't worry, I've got you covered! Here are more popular pudding cookie recipes you'll love as much as this one!
👋 Let's Connect!
If you've tried this recipe please let me know how you liked it in the comments below and leave a review, I love hearing from you! And don't forget to tag me – @sugarandsoulco – on Instagram and Pinterest with your photos!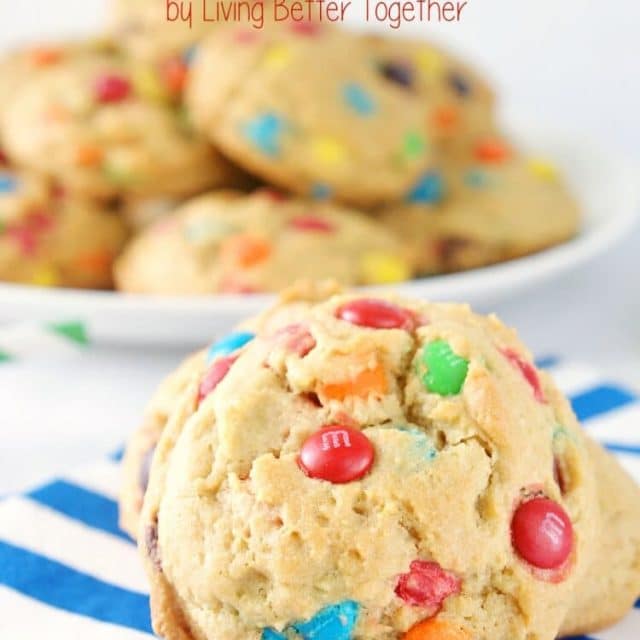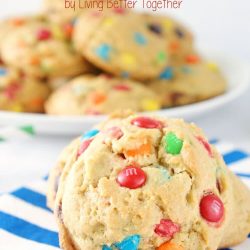 M&M Pudding Cookies
The BEST M&M Pudding Cookies. Sweet, buttery, and loaded with our favorite coated candies and baked to perfection!
Instructions
In a large bowl or stand mixer fitted with a paddle attachment, cream together the butter and sugars until smooth.

Add the dry pudding mix, eggs, additional egg yolk, and vanilla. Beat for about one minute on medium speed.

In a separate bowl, whisk together the flour, baking soda, and salt.

Add dry ingredients to the wet ingredients a little at a time and mix until combined.

Gently fold in the M&Ms, until evenly distributed throughout the dough.

Cover the mixing bowl with plastic wrap and chill for at least two hours and up to 2 days.

Remove from refrigerator a little while before baking so the dough can soften a bit and is easier to work with.

Preheat the oven to 350°F and line a large baking sheet with parchment paper.f

Bake the cookies for 11 to 13 minutes until the edges are golden brown. Press additional M&Ms into the cookies as soon as they come out of the oven if desired.

Allow the cookies to cool on the pan for a couple of minutes before transferring to a wire rack.
Notes
You do not have to chill your dough before baking, but I highly recommend it as it adds to the texture of the cookies!
You can use chocolate pudding instead of vanilla for extra indulgence.
You can use a large cookie scoop to make jumbo cookies and bake for about 14 to 16 minutes.
Nutrition
Calories:
65
kcal
Carbohydrates:
8
g
Protein:
1
g
Fat:
3
g
Saturated Fat:
1
g
Cholesterol:
21
mg
Sodium:
71
mg
Potassium:
12
mg
Sugar:
1
g
Vitamin A:
100
IU
Calcium:
4
mg
Iron:
0.5
mg